This no-churn pumpkin pie ice cream is creamy and flavorful, with warm spices, candied ginger, and crushed graham crackers. It's a taste of your very favorite autumn pie, without all the work. No ice cream maker is needed to make this recipe, just whipping cream and sweetened condensed milk!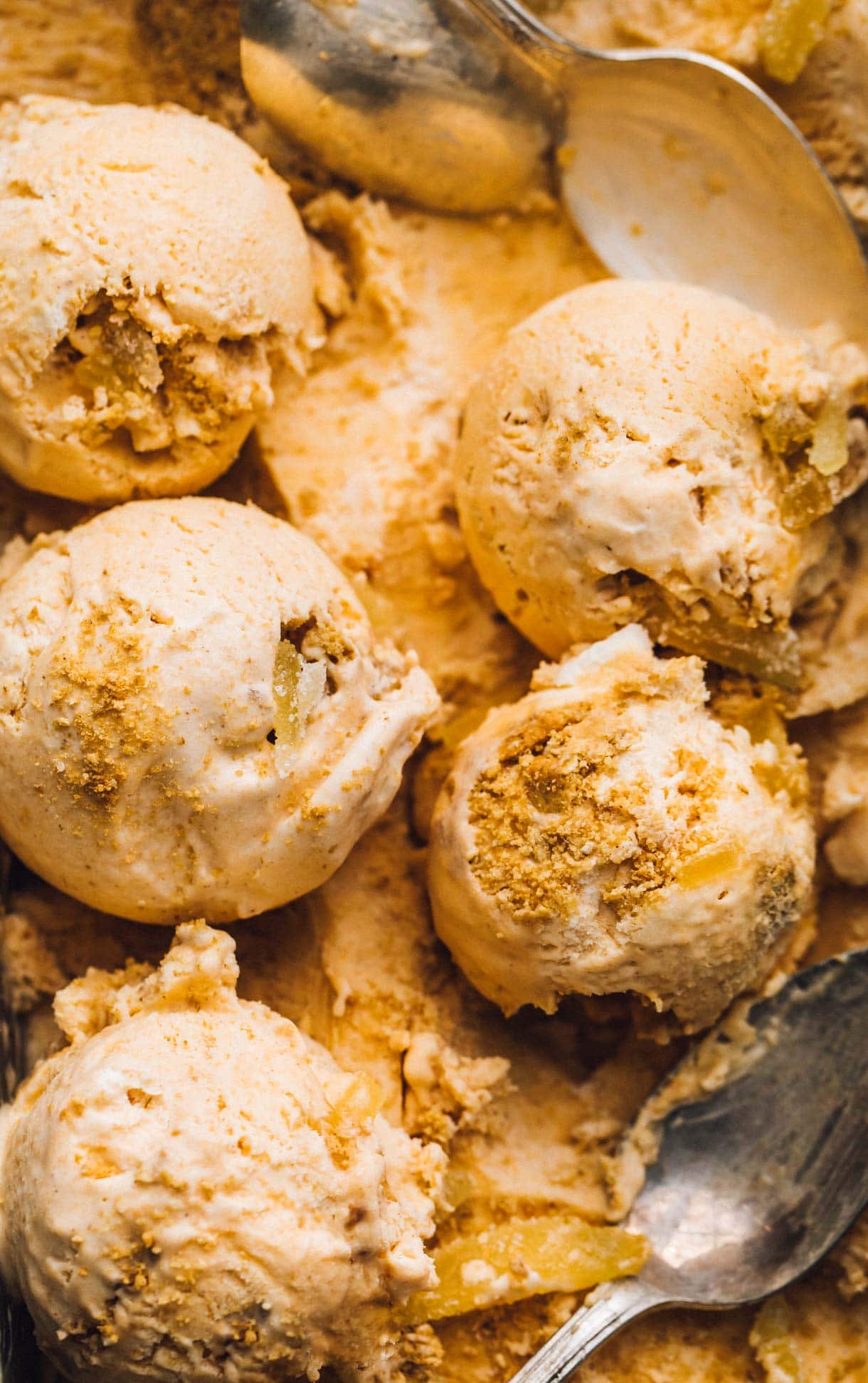 Out of all the pies one could possible make or eat, pumpkin is my favorite.
But if I'm being honest, I'm 100% there for the filling – a creamy, not too rich custard that's warmly spiced and often accompanied by a dollop of lightly sweetened whipped cream. And if there has to be a crust, I prefer a simple graham cracker press in version.
So if you're following my lead, that's exactly how this no-churn pumpkin pie ice cream came to be. It's very easy to make, with a short ingredient list. And you don't need even an ice cream maker!
How to Make No-Churn Pumpkin Pie Ice Cream:
First, you're going to whisk together sweetened condensed milk, pumpkin puree (canned or roasted), and your spices.
Then you'll whip heavy cream (using a stand mixer or hand mixer) just until stiff peaks form.
Half of the whipped cream will get whisked into the pumpkin mixture until all combined.
Then you'll gently fold in the other half of the whipped cream, using a spatula to fold from the bottom of the bowl over the top.
Your ice cream base is complete! Put 1/2 of it into a loaf pan, then sprinkle a layer of candied ginger and crushed graham crackers. Repeat with remaining ice cream base and a light sprinkling of crushed graham crackers.
Freeze for 6 hours, and enjoy!
What Makes This Pumpkin Pie Ice Cream So Good:
I love this ice cream because it not only tastes like a slice of my favorite pie, but also because it's soooo velvety smooth and creamy from the texture of the pumpkin. Combined with cream and sweetened condensed milk, you'll find it incredibly easy to scoop, compared to other homemade ice cream.
The addition of candied ginger is quite special, too. It pairs so well with pumpkin, and brings a lovely warming flavor to the ice cream, along with a bit of differentiating texture.
Tips for Storing Homemade Ice Cream:
If you store homemade ice cream properly in the freezer, you'll always have tasty ice cream at the ready.
I I like to use air-tight containers to store homemade ice cream, especially this affordable ice cream tub that has a slim look and freezer burn prevention. It's shape makes the perfect "runway" for scooping.
Store your container of ice cream in the back of the freezer rather the door, or front. The back of the freezer stays consistently cold, whereas the front is most likely to experience temperature fluctuation from opening and closing.
More Pumpkin Recipes: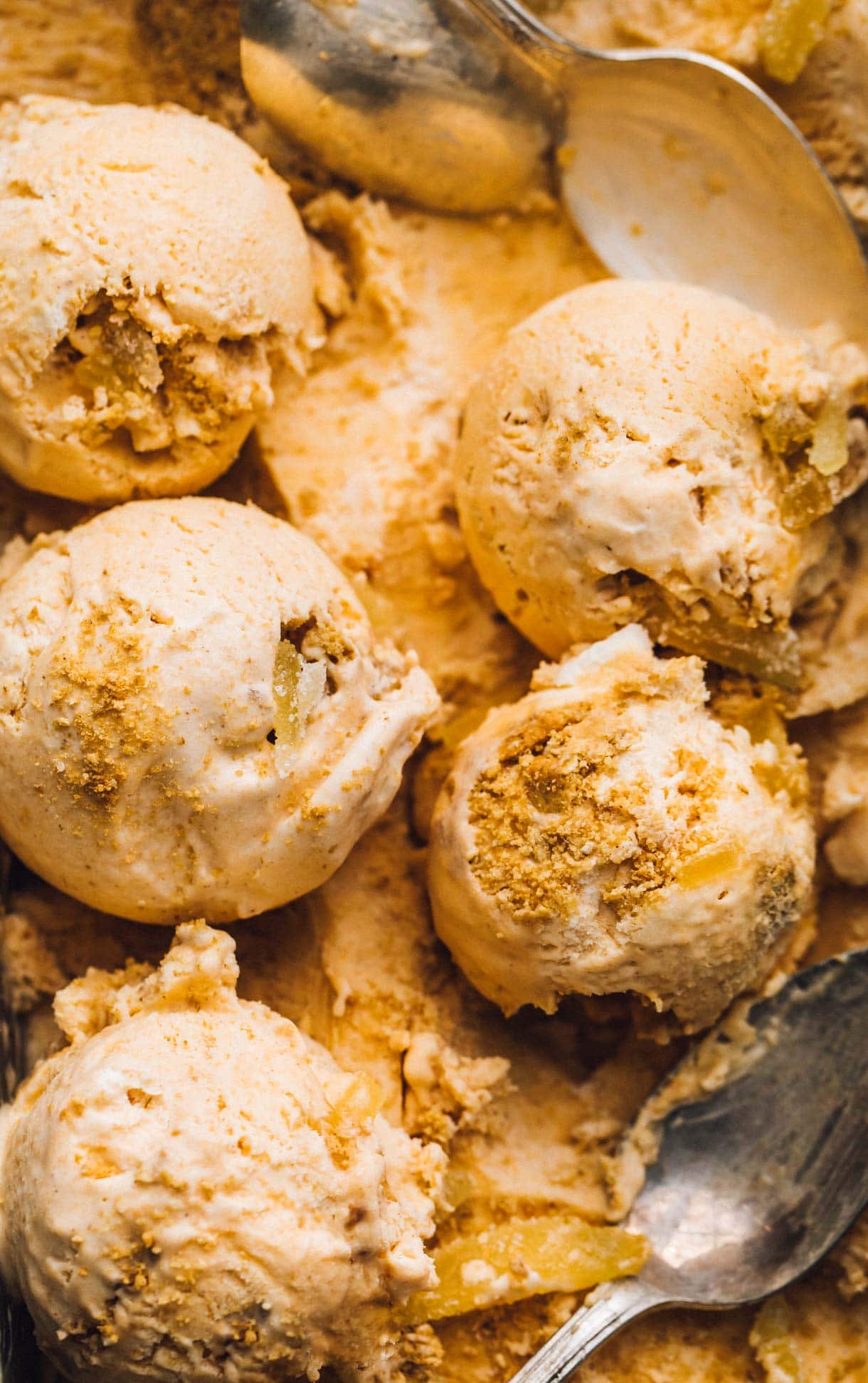 3/4

cup

pumpkin puree,

canned or roasted

1

(14 ounce) can sweetened condensed milk

2

teaspoons

pure vanilla extract

1/4

teaspoon

sea salt

1 1/2

teaspoons

ground cinnamon

1/8

teaspoon

ground nutmeg

1 3/4

cups

cold

heavy cream

1/3

cup

finely crushed graham crackers,

gluten free or regular

1/4

cup

thinly sliced and chopped candied ginger
In a medium bowl, whisk together the sweetened condensed milk, pumpkin, vanilla, spices, and salt until completely combined.

In a large bowl of a standing mixer (or you can use a hand mixer) fitted with a whisk attachment, beat the heavy cream on high until stiff peaks form.

Whisk 1/2 of whipped cream into pumpkin mixture until no streaks remain.

Then, gently fold remaining whipped cream into pumpkin mixture using a spatula, moving your spatula from the bottom of the bowl and folding over the top of the mixture, until all whipped cream is incorporated.

Put half of ice cream into a regular sized loaf pan, and sprinkle with 1/2 of the crushed grahams and 1/2 of the ginger. Put remaining ice cream over the top of that, and finish with another layer of crushed grahams and ginger. Cover pan with aluminum foil (not touching ice cream) and freeze for minimum of 6 hours. Enjoy!