Grilling salmon in foil is so easy, delicious, and foolproof! This recipe features a spicy garlic butter made with sriracha and chili powder, which is spread onto the salmon filets before putting them into the foil. The salmon stays incredibly moist and is very flavorful. Ready from start to finish in 20 minutes!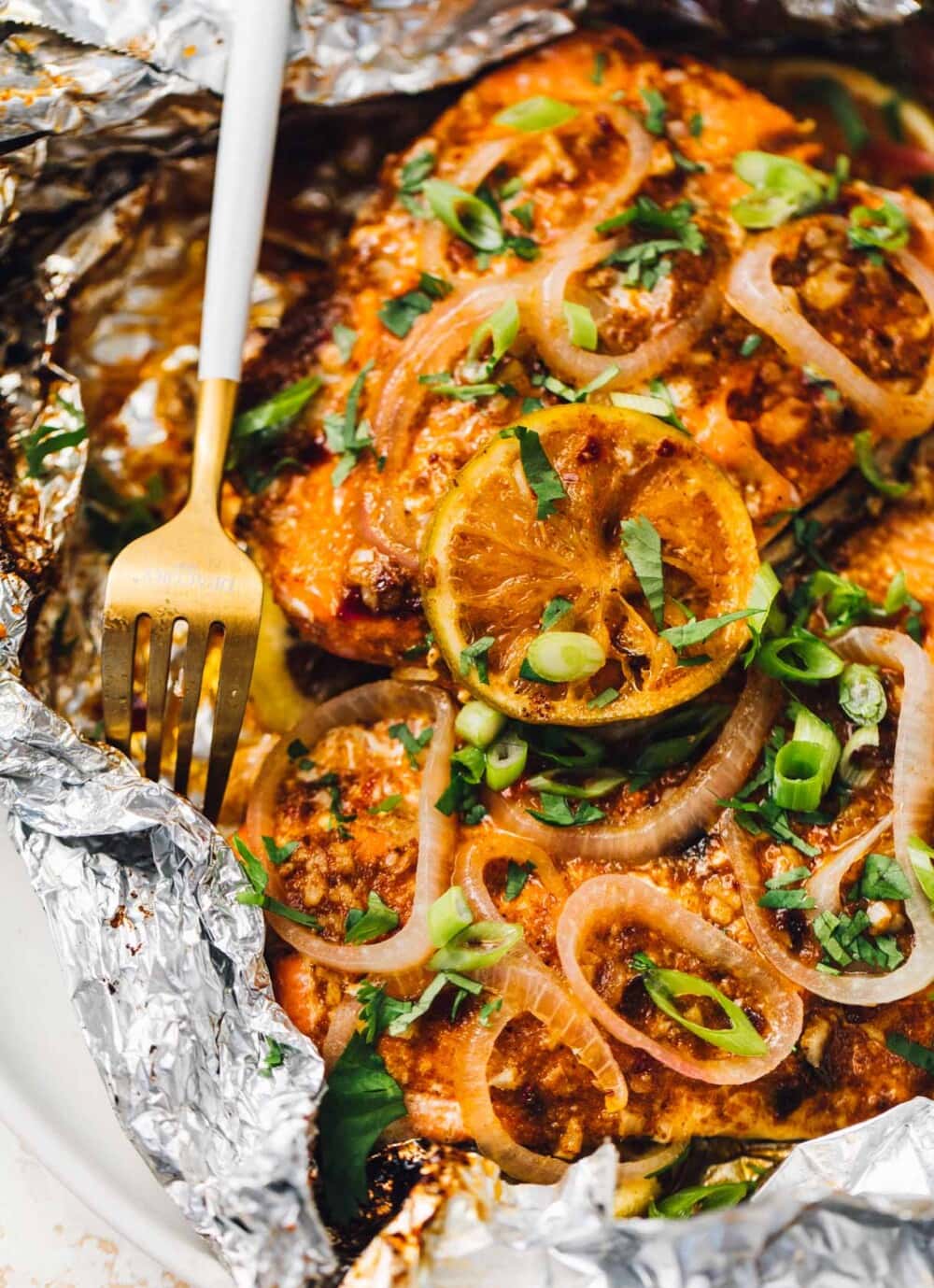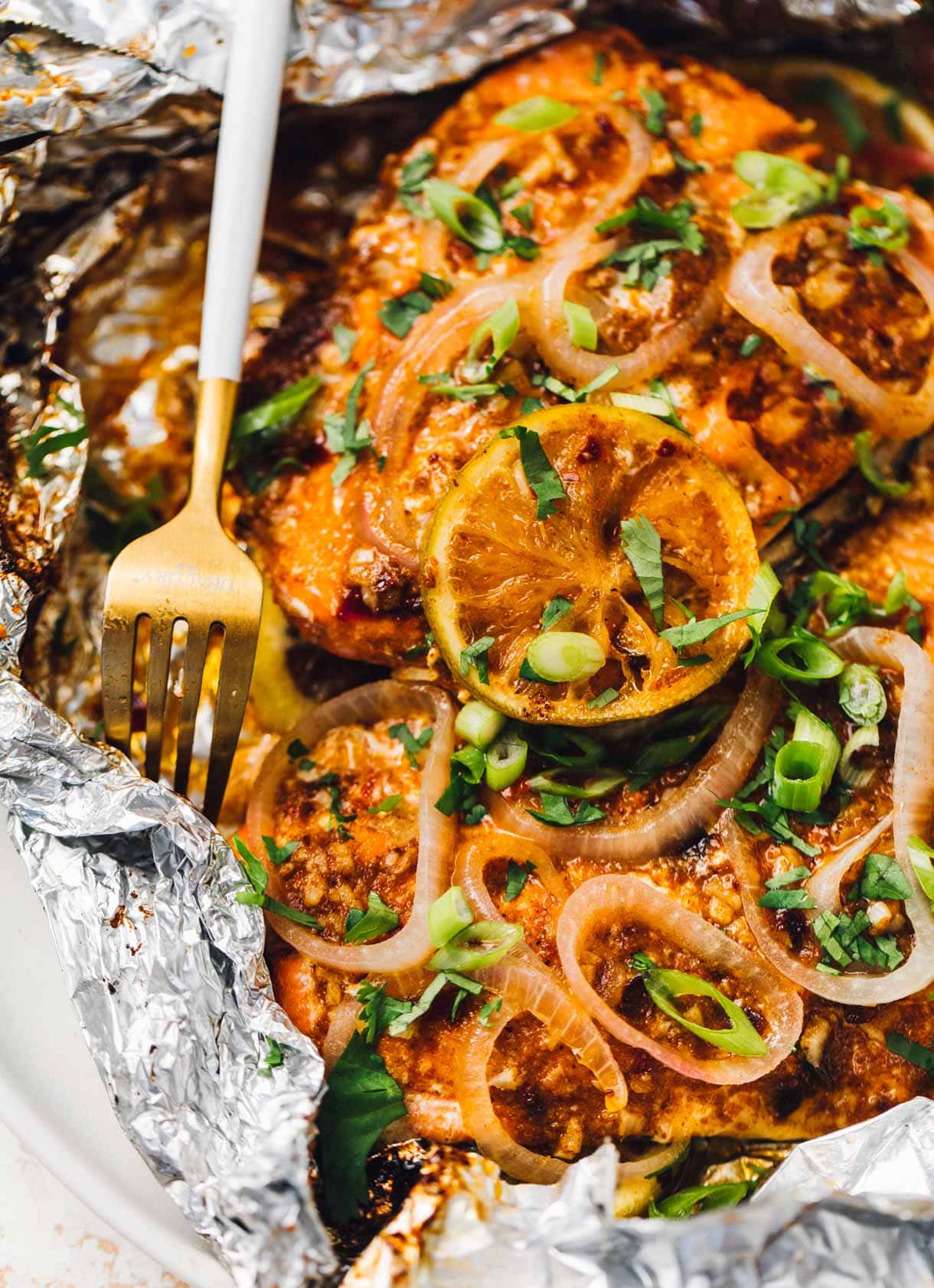 This post is sponsored by Twin Eagles Grills, a year long partner of Heartbeet Kitchen. We have their 36 inch grill top with infrared rotisserie, on a portable base. Their meticulously engineered grills are as beautiful as they are high performance.
We eat wild salmon in our house quite often because it's such a versatile, delicious protein that also provides a good dose of Omega 3's. And it cooks FAST, perfect for a quick weeknight meal that has the looks and taste of what you'd serve for a dinner party. We like to make these instant pot artichokes or corn succotash as a side dish, and a whisky highball as a refreshing cocktail.
This grilled salmon in foil is an incredibly easy recipe, perfect for grilling beginners, or experts!
This grilling method works well because the salmon cooks gently from the steam provided in the foil packet and soaks up the garlicky, spicy butter that's spread onto the filets. The lime juice at the end of cooking brightens the salmon, and provides the acid needed to round out the dish.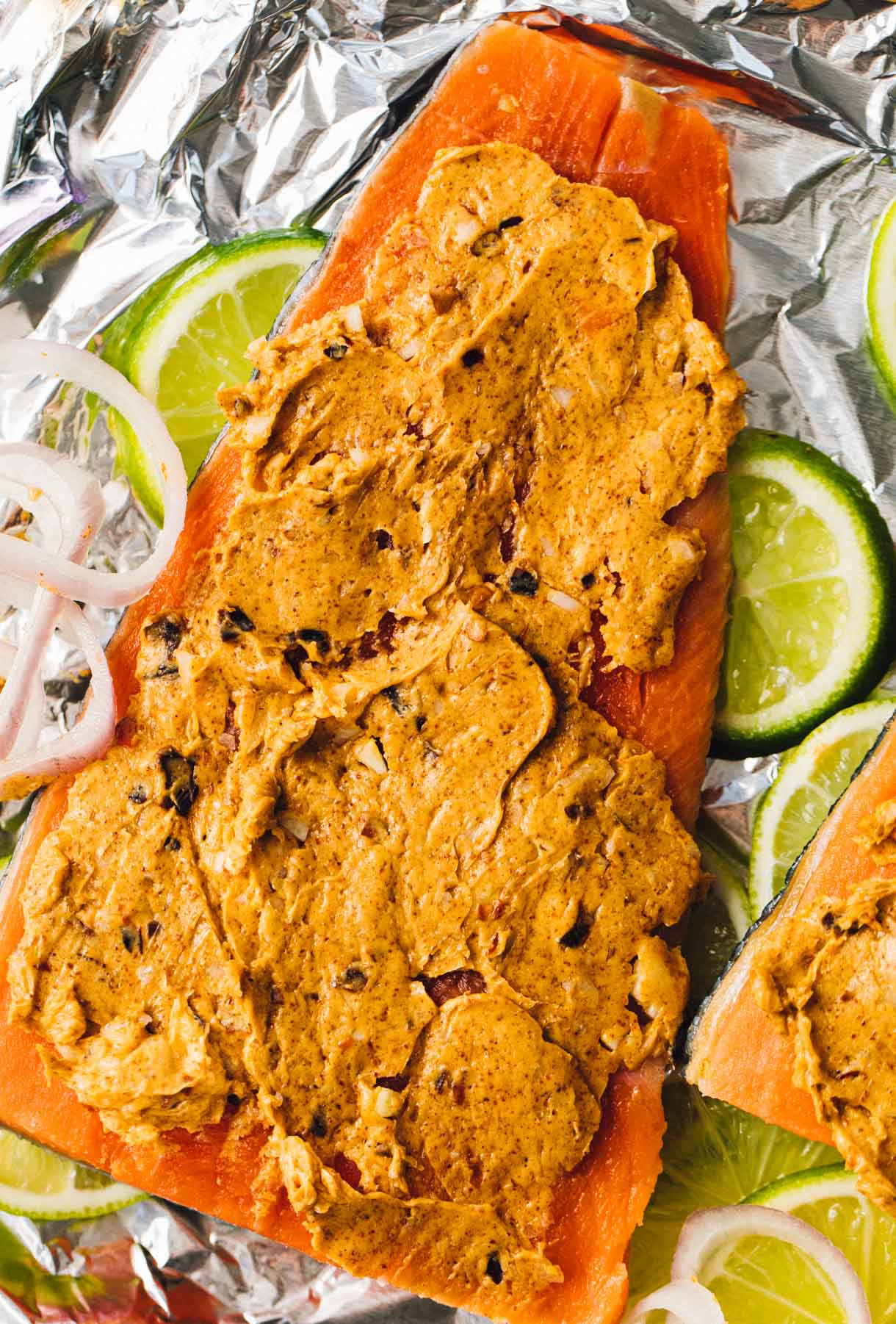 One of the things I love about my 36 inch Twin Eagles gas grill is its versatility. I can count on it to make something as elevated as Rotisserie Prime Rib, or something quick on a weeknight, like this grilled salmon. I'm able to control the heat easily, which is important for cooking the salmon gently. The control panel actually illuminates to provide a precise control knob setting. And best of all, it has interior lights with hood-activated light switch for nighttime grilling, which we've fully embraced.
How to Make Grilled Salmon in Foil:
Preheat your grill to 400 degrees F. (lid should be closed).
Pat salmon filets dry with a paper towel and sprinkle with salt. Mix butter ingredients together, and use a knife to spread the butter onto the filets evenly.
Pull out a piece of foil, about 18-20 inches long. Place lime slices in the middle of the foil, then put the salmon on top of the lime slices. Top with shallot slices.
Fold each side of the foil up and over the salmon, so that the salmon is fully enclosed and the sides are tucked underneath, sealing to create a "package".
Set foil package on grill and cook for 6-7 minutes with lid closed. Open foil and check temperature, removing once salmon reaches 125 degrees F.
What temperature should salmon be cooked to?
Like steak, you can cook salmon to different degrees of doneness and eat safely. I use this digital cooking thermometer for quick readings.
I prefer my salmon cooked to 125-130 degrees F (medium-rare to medium), which is when it becomes flaky and moist. If you want to cook your salmon to 145 degrees F, you will have a very firm, well done piece of fish.
Note that if cooked to 145 degrees F, you're more likely to see albumin, the white substance that appears when a piece of salmon is cooked, and the muscles contract. Albumin typically oozes out of the fish when it has been overcooked. It's safe to eat but it doesn't look appetizing, so you want to avoid overcooking the fish.
What type of salmon is best for grilling?
The first step in making great salmon is buying high quality, wild caught salmon. Living in the Midwest, that means buying wild salmon that is flash frozen immediately after being caught, and is never thawed prior to cooking. I get my wild salmon from Sitka Salmon Shares, but Whole Foods also has a great Wild Sockeye Salmon that is flash frozen and comes in a package of 2 (6 ounce) filets.
I prefer Coho or King salmon varieties, because they have incredible flavor and tend to be a thicker cut.
What is harissa?
Harissa powder is a ground spice blend of the spicy, earthy North African paste with a base of smoked chili peppers.
Harissa recipes vary between countries and regions, but a standard version includes a blend of hot chile peppers (which are often smoked), garlic, olive oil and spices, like cumin, coriander, caraway and mint. Tomatoes and rose petals are also common ingredients.
It can be used as a dry rub on meats or as flavoring tacos, tagines, braised meats, curries, or even grilled tofu.
For this recipe, you'll make the spicy butter using harissa powder and garlic. You can make the butter as spicy or mild as you'd like, and the spice level of each harissa brand is different. I recommend tasting the harissa before mixing it into the butter to help you decide if you'd like to use more or less than the recipe calls for.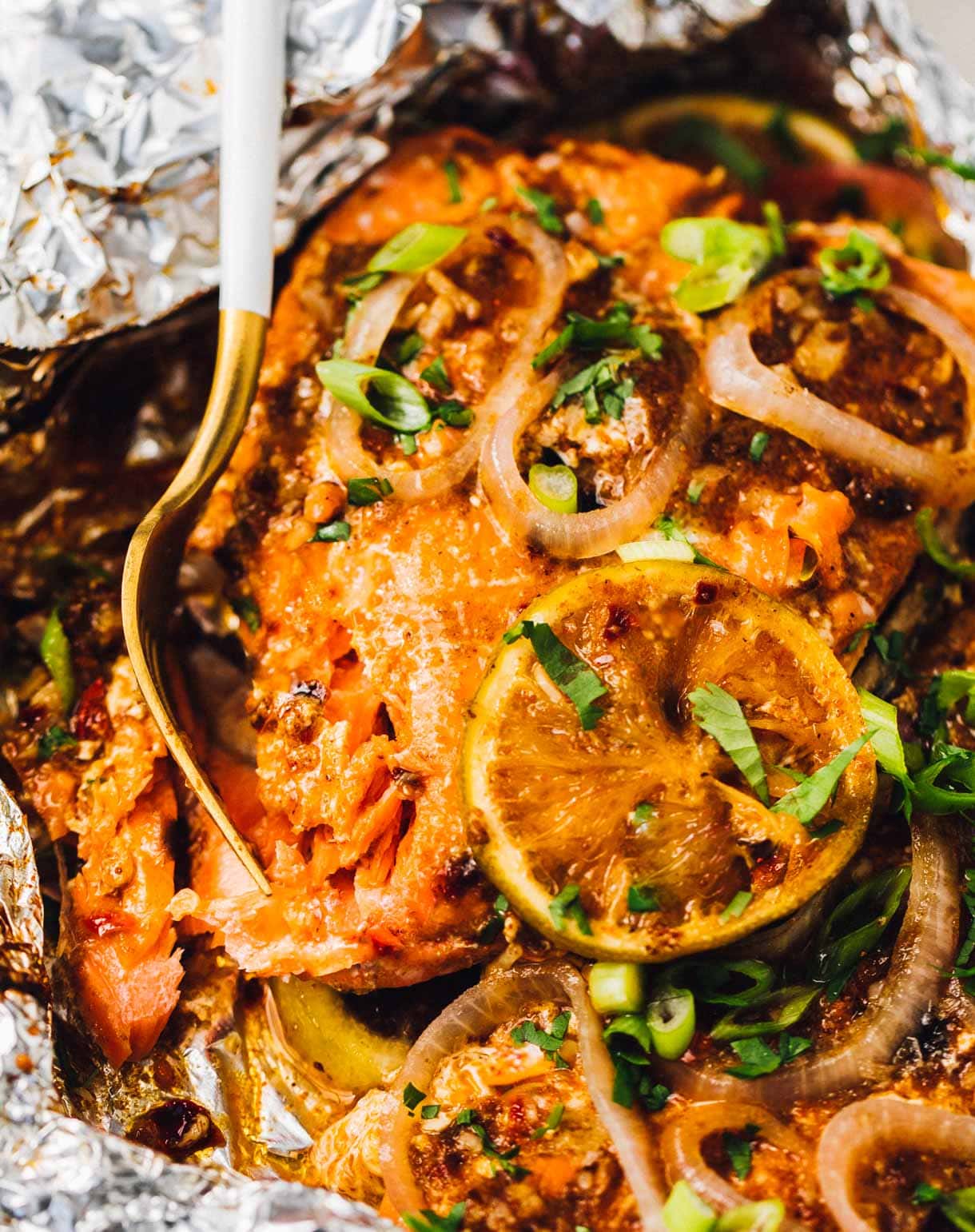 More Salmon Recipes: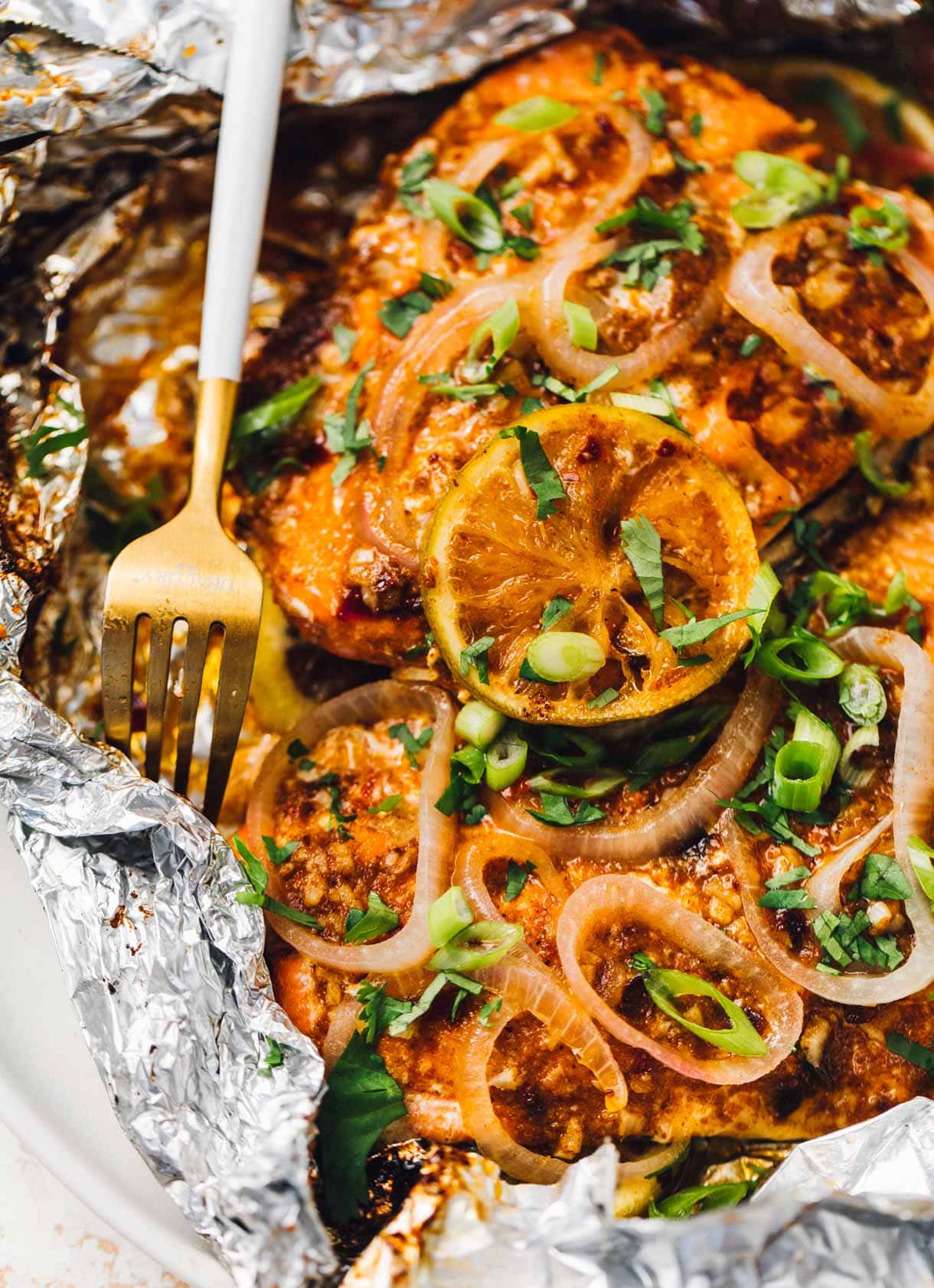 2

(6 ounce)

wild salmon filets with skin on

kosher salt

3

tablespoons

very soft butter

3/4

tablespoon

harissa powder*

1/2

teaspoon

sriracha

2

cloves

garlic, minced (2 large cloves or 3 small)

1

shallot, thinly sliced

1

lime, 1/2 of it thinly sliced, the other half reserved for the juice
Preheat grill (or oven) to 400 degrees F.

Pat salmon filets dry, and sprinkle the flesh with 1/4 teaspoon kosher salt, each. Mix softened butter with harissa powder, sriracha, garlic, and 1/2 teaspoon kosher salt.

Place a large piece of foil on the counter. In the middle of the foil, lay lime slices next to each other in similar shape as salmon.

Liberally spread all of butter onto salmon, splitting the mixture between the two filets. Then lay salmon filets over lime slices, skin side on the limes. Scatter all of the shallot over the salmon. Fold each side of the foil up and over the salmon, sealing tightly, creating a packet for the salmon to cook in.

Place the salmon onto the grill or into oven, and cook for 6-7 minutes (depending on thickness), until thickest part of salmon reaches internal temperature of 125°F to 135°F for medium to medium-rare (which is preferred for salmon, or it will dry out). You can check the salmon by moving it to the cooler part of the grill, opening the foil, and testing with thermometer. Remove from grill.

To plate, remove the salmon and shallots from the bed of lime slices, and squeeze a good amount of fresh lime juice over the top. (Don't leave the shallots on the foil, they add a lot of flavor to the bites of salmon!)
*I recommend tasting the harissa before mixing it into the butter to help you decide if you'd like to use more or less than the recipe calls for.