Delicious grilled tofu is made by coating this plant based protein in a flavorful dry rub rather than a liquid marinade, and finishing with a zesty, herbaceous green sauce. Easy to make and takes less than 15 minutes to cook! The tofu triangles won't fall through the grill grates, and they absorb the herbs and garlic of the sauce that's spooned over the top while warm.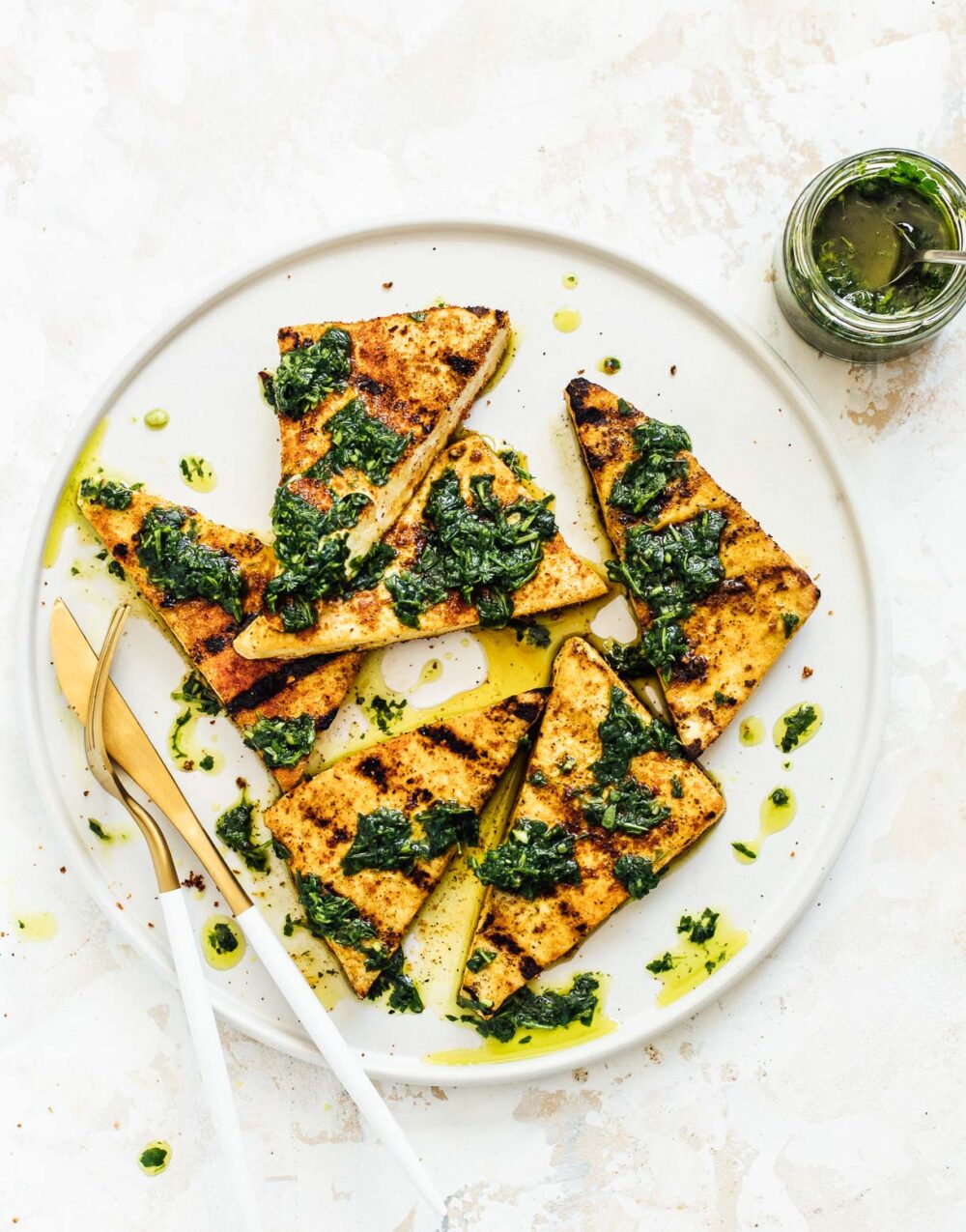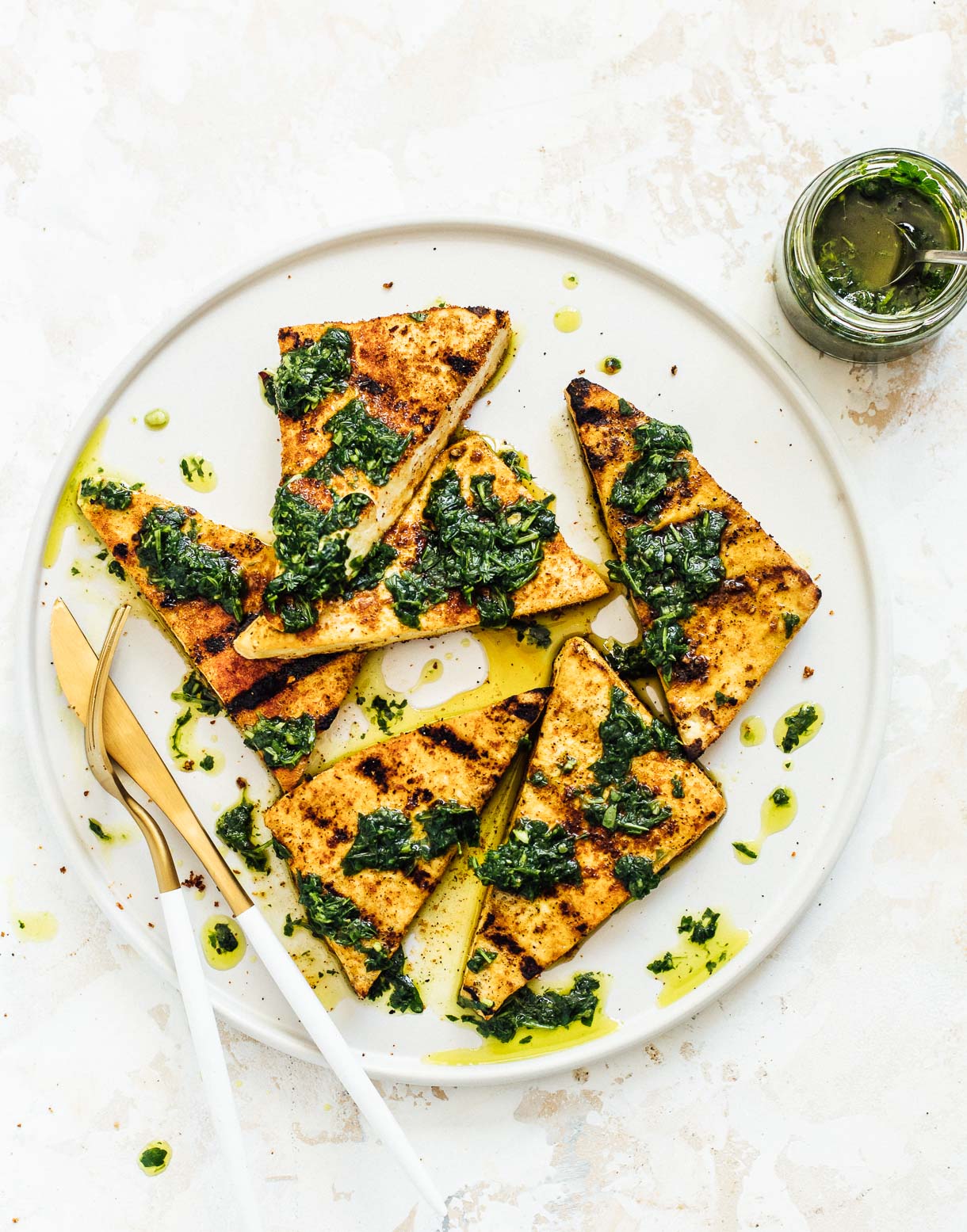 Okay, let's talk tofu. I love this plant-based protein even though I also eat meat.
And I especially love grilled tofu, infused with smokiness and giving it a firm, meaty texture that's completely satisfying. But what really makes it come to life is a zingy, flavorful green sauce, packed with herbs and garlic. Chimichurri is made similar to pesto, the herbs and garlic blended in a food processor with olive oil drizzled in as it blends. It's one of my top fridge condiments, as it tastes great on just about everything.
To make it a full meal, I like to serve a few of my other grilling favorites too, like Grilled Romaine Lettuce and Gluten-Free Rhubarb Crisp!
3 Secrets to Grilling Tofu:
Use extra firm tofu because it has a strong structure and does well with high heat from the grill. Wrap the block of tofu in a kitchen towel and set something heavy on it, like a cast iron pan, or use a tofu press, to remove extra moisture.
Coat the pressed tofu in a dry spice rub rather than a liquid marinade, then grill. This ensures the tofu is super flavorful throughout, and the interior texture still has some lightness and bounce after grilling.
Then top it with a sauce so that it can soak up all flavor while it's still warm, essentially a reverse marinade. My favorite olive oil based condiment is a zesty, herbacious, and EASY chimichurri, that you'll find the recipe for below.
Best Way to Cut Tofu for Grilling:
I found that cutting tofu into triangle slabs rather than planks worked very well for grilling. Triangles won't fall through the grates and perfect thickness for quick cooking.
First you'll cut the block of tofu in half horizontally, essentially a cross section so that you have two rectangular slabs about a 1/2 inch thick.
From there you'll cut each slab in half. You now have 4 slabs.
Then cut each of those 4 slabs diagonally in half to create triangles!
How to Grill Tofu:
Clean grill grates of debris. Then use a brush to grease the grates with sunflower or canola oil. Preheat gas grill to medium-high heat, which usually takes about 10 minutes. You want the grates to be HOT for a good sear.
Place tofu triangles on grill once hot, and turn heat down to medium. Let tofu cook, undisturbed ,for 5-6 minutes. If you try to move it around before it's had time to sear, it will stick.
Once you can nudge the tofu after 5-6 minutes, and it moves without sticking, use your tongs or spatula to flip. Cook for another 4-5 minutes. The tofu is done when the outside has crisped a bit, and the center of the tofu feels bouncy to the touch.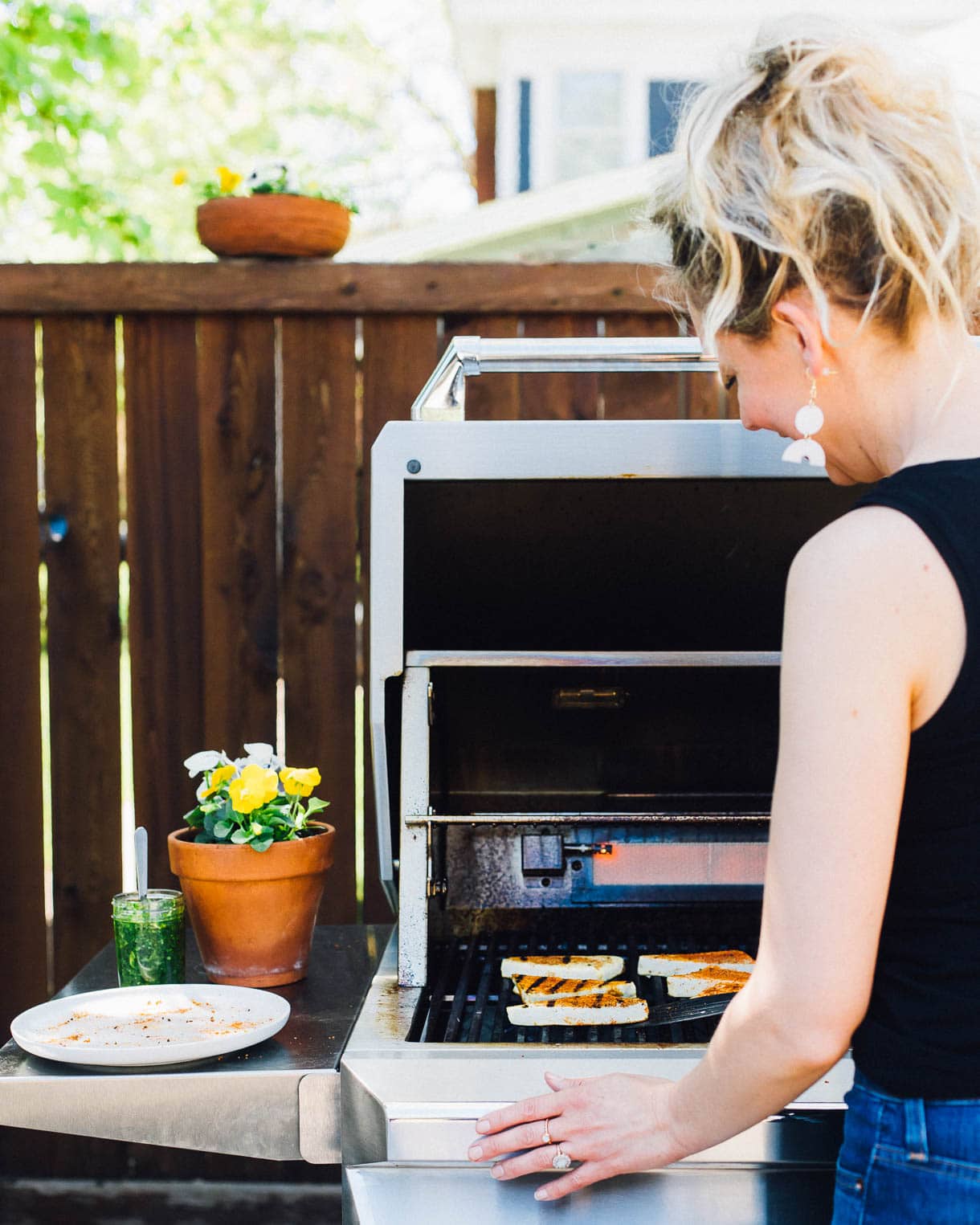 How Long to Grill Tofu:
Tofu grills quickly, needing about 10-12 minutes total to finish cooking. You're more looking for the texture of bouncy and firm, not a certain temperature that would signal doneness as you would when grilling chicken.
You can serve it with some grilled vegetables, a salad, or roasted potatoes and green beens.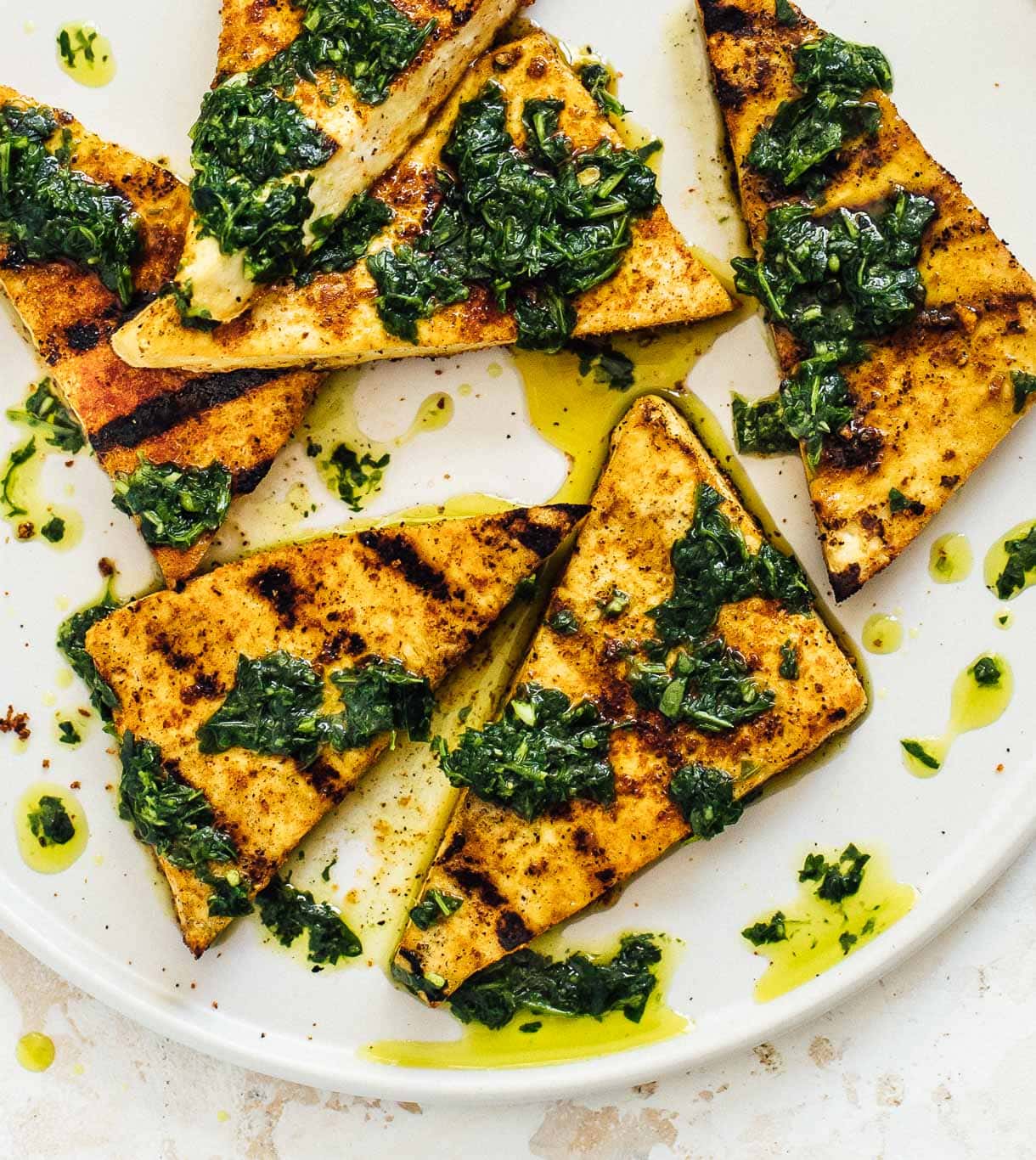 More Tofu Recipes: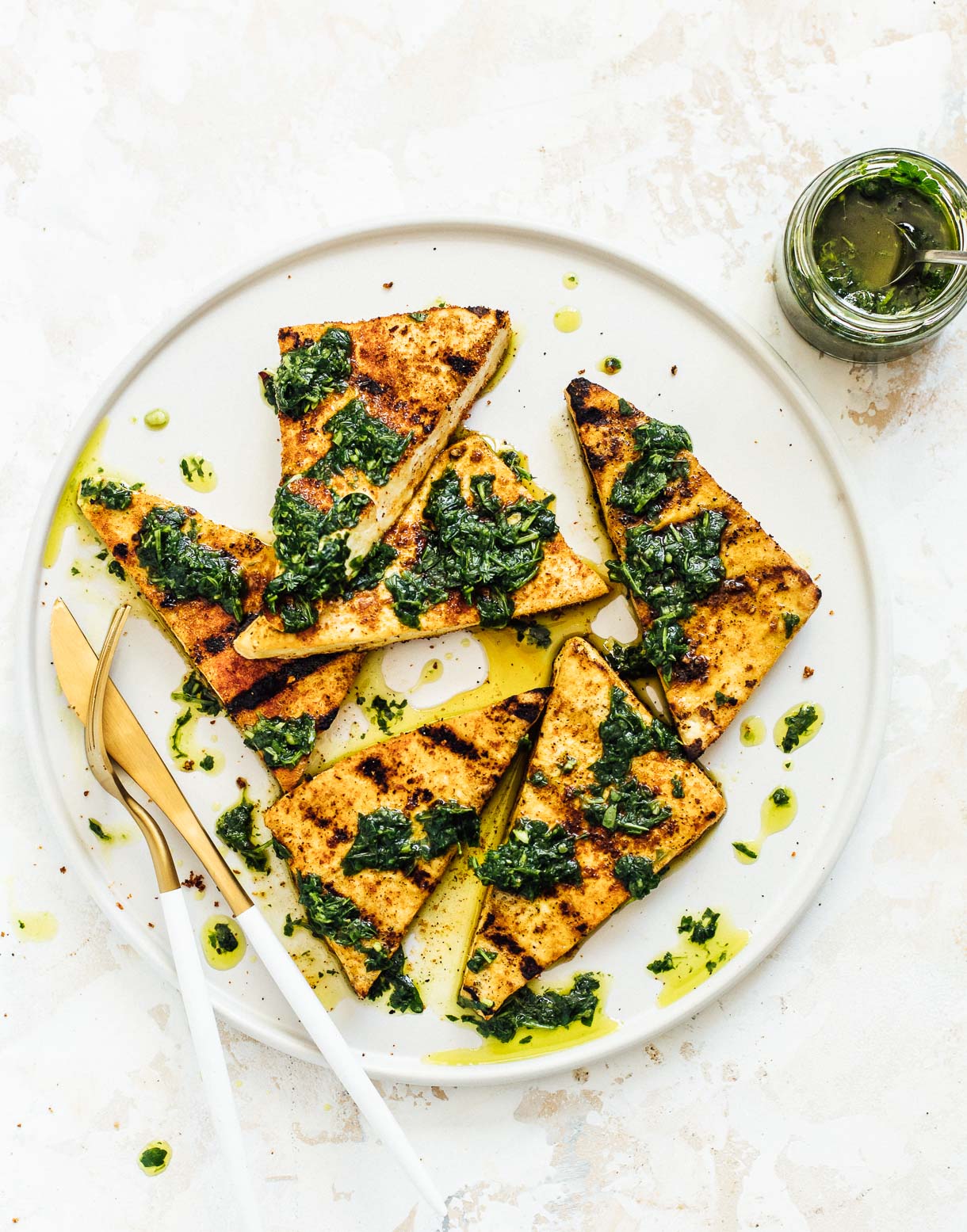 Chimichurri:⠀
1

cup

packed fresh flat-leaf parsley leaves⠀

1

cup

packed fresh cilantro leaves ⠀

3

tablespoons

red wine vinegar⠀

3

garlic cloves ⠀

1/4

teaspoon

crushed red pepper⠀

1/2

teaspoon

kosher salt⠀

1/2

teaspoon

black pepper⠀

6

tablespoons

extra virgin olive oil⠀
Mix dry rub ingredients together, set aside. Place all ingredients for chimichurri in a blender or food processor, except for olive oil. Pulse 10-15 times. Then stream in olive oil, pulsing continuously, until herbs and garlic are finely chopped. Set aside.

Wrap tofu in a kitchen towel and set something heavy on it like a cast iron skillet for 15 minutes, to remove excess water. You could also use a tofu press. First you'll set the tofu on it's long side and cut into thirds horizontally, essentially cross sections so that you have three rectangular slabs. From there you'll cut each slab in half. You now have 6 pieces. Then cut each of those pieces diagonally in half to create triangles!

Brush triangles liberally with 1-2 tablespoons of olive oil, and coat both sides with dry rub.

Clean grill grates of debris. Then use a brush to grease the grates with sunflower or canola oil.

Preheat gas grill to medium-high heat, which usually takes about 10 minutes. You want the grates to be HOT for a good sear. Place tofu triangles on grill once hot, and turn heat down to medium. Let tofu cook, undisturbed ,for 5-6 minutes. If you try to move it around before it's had time to sear, it will stick. Once you can nudge the tofu after 5-6 minutes, and it moves without sticking, use your tongs or spatula to flip. Cook for another 4-5 minutes. The tofu is done when the outside has crisped a bit, and the center of the tofu feels bouncy to the touch.

Remove from grill, and spoon a liberal amount of chimichurri over the top of each triangle. The olive oil will help the flavors infuse the tofu. Serve warm or at room temperature.⠀