How to make the best crispy baked salt and pepper tofu. Crunchy and peppery on the outside, and tender inside! This healthy recipe is easy to make and gluten-free. Serve it with sautéed vegetables and rice noodles for a complete meal. Or just snack on it!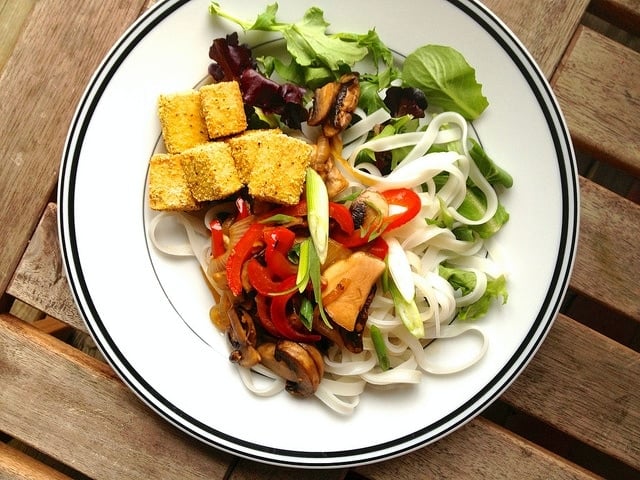 Tofu is one of those ingre­di­ents that I find people to be skeptical of if you didn't grow up eat­ing it. But it's absolutely delicious when made well. With a few sim­ple prepa­ra­tion steps, you can cre­ate savory tofu recipes that even a non-vegetarian will enjoy.
Tofu is a won­der­ful source of pro­tein and soaks up the fla­vor of what­ever mari­nade or coat­ing you use.
The tex­ture is deter­mined by the type of tofu you buy, as well as how it's pre­pared (baked, fried, scram­bled, grilled, etc).
For this recipe I used extra firm tofu dusted with a gluten free crust of cornmeal, cornstarch, and spices. I also love to grill tofu!
Up until my mid 20's, I had never had tofu. That was until a friend took me to a fan­tas­tic veg­e­tar­ian Chi­nese restau­rant and said, "I know I'm going to change your mind about tofu once you try this salt and pep­per ver­sion".
I took one bite of the hot, crispy, per­fectly sea­soned tofu and I was sold. Who would have ever thought that lit­tle nuggets of soy could be as addict­ing as salt and vine­gar fries? From that point on I became a tofu lover.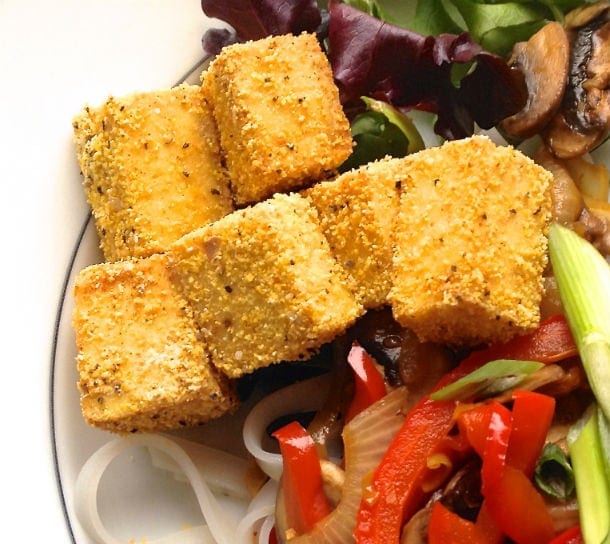 This recipe for Salt & Pep­per Tofu is healthy and very ver­sa­tile.
Instead of frying the salt and pepper tofu, you're going to bake it. The secret to getting it just as crispy as if it were fried is a cornstarch + cornmeal coating!
You can make this tofu for rice bowls, salads, an appetizer, or even just a snack. I like adding it to rice noodles and sautéed red pep­pers, and mush­rooms like I've done here. Dressed with a light, lime vinai­grette, it's a refresh­ing sum­mer meal.
Fol­low these easy steps for pressing tofu:
1. Drain tofu from the pack­age and pat com­pletely dry. Wrap in two lay­ers of paper towels.
2. In a bak­ing pan with rimmed sides, put wrapped tofu inside of it with a cut­ting board on top of the tofu. Set some­thing very heavy like a cast iron skil­let on top of the cut­ting board. This will squeeze out all the excess water.
3. Let sit 15 min­utes, empty dish if water has drained into it and flip tofu. Replace cut­ting board and skil­let, let drain another 10 minutes.
4. Remove tow­els, and cut into 1 in square cubes. Now you're ready to go!
More Tofu Recipes: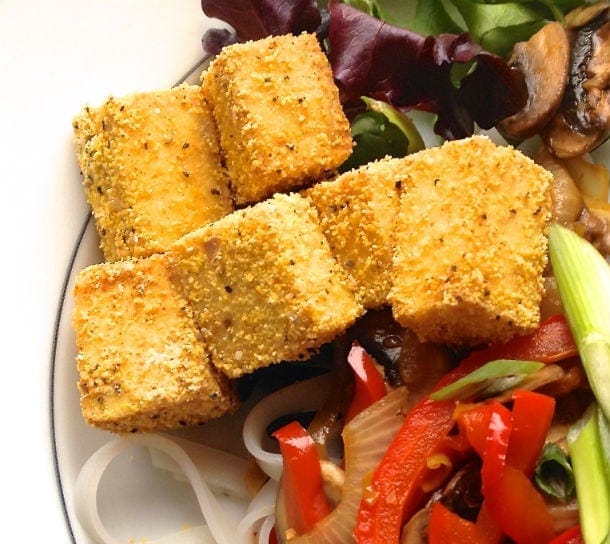 1

14 ounce block extra firm tofu, pressed according to notes above in post

2

tablespoons

olive oil

1/4

cup

cornmeal

medium grind

2

tablespoons

cornstarch

½

teaspoon

fine salt

½

teaspoon

pepper

1

red bell pep­per,

thinly sliced

8

ounce

pack­age of sliced mushrooms

2

green onions,

thinly sliced (white and green parts)

1 1/2

tablespoons

olive oil

½

pack­age of flat rice noodles cooked per package directions
Lime Vinai­grette
2

Tablespoons

olive oil

2

Tablespoons

lime juice

1

clove

gar­lic

minced

2

tablespoons

minced cilantro

¼

teaspoon

fine salt

¼

teaspoon

sriracha
While tofu is being pressed, pre­heat oven to 350 degrees F. Spray cookie sheet with non­stick spray. In a Ziploc bag, com­bine corn­meal, corn­starch, salt & pep­per.

Cut tofu into 1/2 inch cubes and put in bowl. Pour olive oil over tofu and toss to coat. Add tofu to Ziploc bag in 2 separate batches, and lightly shake to coat evenly. Place tofu on cookie sheet, (not touch­ing each other) and bake for 15 min­utes, then flip and bake for another 10 min­utes (or until crispy). Remove from oven.

While tofu is bak­ing, heat olive oil in sauté pan over medium-high heat. Add onions and sauté for 2 min­utes, then add in pep­pers and mush­rooms with 1/4 teaspoon salt. Sauté for 8–10 min­utes, until veg­eta­bles are soft­ened, set aside

Whisk all dress­ing ingre­di­ents together and toss with noodles.

Serve noodles with vegetables and crispy tofu.