Let's be honest. Thanksgiving is like the Super Bowl for food people. The meal list, magazine flipping and idea jotting starts once Halloween is over. The keys to a perfect turkey, stuffing of every kind, and pumpkin pies begin to take over Pinterest. And then there's the contemplating of whether to try something new or bring the tried and true.
In addition to the other dishes I've got my eye, I'm bringing plant power to the table in the form of this Warm Brussels Sprout and Kale Salad topped with Maple Glazed Tofu. Tossed with dried cranberries and fresh rosemary, you're looking at vibrant, real food. It's the kind of dish that's healthy yet satisfying in the best of ways.
By just looking at the name of this salad, some might tell you they don't normally like at least one of the 3 main components. After all, brussels sprouts, kale and tofu were once considered hippie food.
But thank goodness for the person who decided to shred kale and brussels sprouts, turning them into sweet, softened strands. And instead of raw or steamed, sauteing these nutrient dense powerhouses gives them a soft texture without being soggy.
I also bow down to the person who figured out that marinating and broiling tofu does wonders for both taste and texture. The edges are browned and crisp and the inside is soft and chewy.
The maple glaze does double duty in this seasonal salad, acting as the marinade for the tofu, but also coating the vegetables as they're warmed on the stovetop. Besides shredding them into thin, papery strands, heat is another way to soften these members of the normally tough and sturdy brassica family. The result is like a silky coleslaw, with a little crunch still let in them.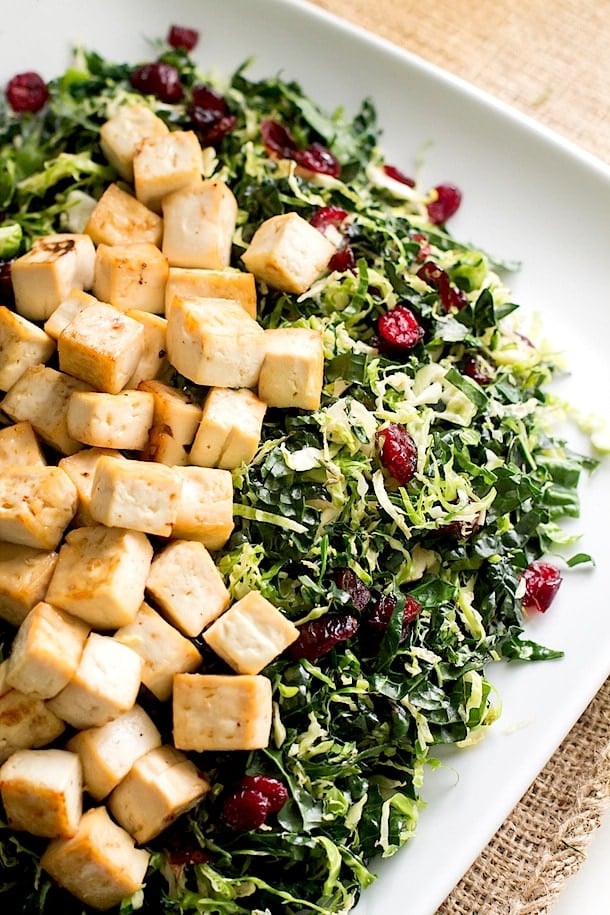 As someone who eats vegetarian 90% of the time (which I talk about here), I know how important it is for me to get protein from other sources, like tofu. And even if you you're mostly a meat eater, it can be very beneficial to vary the proteins you eat not just for health reasons, but also because our bodies crave different tastes and textures.
So the countdown to "Superbowl Thursday" is on. Chances are you'll be gathering with someone who is vegan or vegetarian, which this recipe fits the bill for. (And because food allergies are quite commonplace too, I thought it would be nice for you to have a gluten-free, dairy-free and nut-free idea.)
Even for those who normally head straight for the turkey, I think they'll be#SoyInspired by the glistening maple tofu and vibrant colors of my new favorite holiday salad. Have a great week my friends, and let me know in the comments below if there's another Thanksgiving recipe I should be pinning!
Warm Brussels Sprout and Kale Salad with Maple Glazed Tofu
serves 6
Glaze/Marinade:
1/4 cup olive oil
3 tablespoons maple syrup
1 1/2 tablespoons apple cider vinegar
2 tablespoons water
1/2 teaspoon salt
1/2 teaspoon pepper
1 (16 ounce) package extra firm tofu, drained and pressing using these directions
1 pound brussels sprouts
1 large bunch of dinosaur kale
3/4 cups dried cranberries
1 1/2 tablespoons minced rosemary
salt and pepper to taste
Preheat the oven to 400 degrees. Add glaze ingredients to a mason jar and shake vigorously (with cover on) to combine. Cut pressed tofu into 3/4 inch cubes and add to a ziploc bag. Pour marinade over all ingredients, seal bag and lightly shake to coat. Let marinate for 20-30 minutes.
Meanwhile trim and thinly shave the brussels sprouts using a sharp knife or mandoline. Then thinly slice the kale leaves into ribbons. When the tofu has finished marinating, drain the glaze into a bowl and place the tofu on a parchment lined baking sheet so that the cubes are not touching each other.
Add the remaining glaze to a large saute pan and add sprouts, kale, cranberries and rosemary. Cook over low heat, stirring as you go, for about 5-6 minutes, until both are brighter green and have soft/ shrunken slightly. Taste and adjust for salt and pepper.
Bake tofu for 8 minutes, then stir to turn over tofu cubes and turn oven to broil. Broil for about 4 minutes, until tofu has a golden brown exterior and looks caramelized. Remove from oven. Taste and adjust salt if needed, then plate on top of greens and serve warm.