Nothing says Thanksgiving like the smell of cozy herbs like rosemary and thyme dancing down your hallways. As I tested this recipe a few times during the week, our house was blanketed in that scent, happily ushering in the start of the holiday season.
With chunky cubes of whole grain bread as a base and pockets of sautéed brussels sprouts and mushrooms throughout, this gluten-free vegetarian stuffing is a charmer. Dried cranberries add pops of color and a little sweetness, the perfect balance to the savory depths of the dish. Plain and simple, it's a combination I can't get enough of.
I won't deny that StoveTop Stuffing was one of the first things I learned to "make" when I was young. Sadly I would eat that, but not the rich, sausage & onion laced dressing that Aunt Shirley would bring to Thanksgiving every year.
Since you eat with your eyes more than ever at that age, the mushy pile of pale and stale bread didn't appeal to me, even though everyone else swore by it. I'm kicking myself now knowing some foods have a "don't judge a book by its cover" quality.
I'm thrilled to be sharing my version of stuffing as part of a virtual Friendsgiving, hosted by the lovely Renee of Will Frolic for Food and J.Q Dickinson Salt Company. As much of the holidays are played out in tradition, this 7th generation salt-making family represents that word like few companies can.
Located in West Virginia, they hand harvest the salt from the ancient Iapetus Ocean trapped underneath Appalachian mountains. They use solar-powered evaporation houses, where the salt crystals take about three weeks to separate from the salty brine. It's clearly a passion, and there's clearly a difference in taste.
What might surprise some people is that salt is a lot like wine, where terroir and other characteristics define each one. Think about what you use is. Is it thin, delicate flakes or chunkier crystals? Are the crystals small like grains of sand or big and square? Is the flavor of the salt subtle or bold? Is there a brininess or earthiness? Yes, this might be a little nerdy, but it's fun to taste and learn.
When I received the salt, (with beautiful labeling, snug in a burlap bag – clearly a great gift) I wanted to taste it with something simple. I toasted a piece of bread, spread it with avocado and sprinkled it with a bit of the salt. Heaven. Just a few crystals elevated the buttery, sweet characteristics of the avocado. The slight crunch against the smooth texture was absolutely perfect.
And although I was happy with this bountiful stuffing when I made it for my latest segment on Twin Cities Live (a Gluten-Free Thanksgiving!), the avocado toast experience pushed me to make it again.
Just a few bites in, I could tell the difference. It brought out even more umami from the brussels sprouts and mushrooms. The nuttiness of the millet and chia bread shined through. It added depth to the savory herbs, matching their scents that floated out of the oven. And a few crystals sprinkled on top were the perfect finishing touch.
Whether you decide to call it stuffing or dressing and whomever you may be gathering with, I hope you have a wonderful Thanksgiving. I'm thankful for you as readers, the friends I've met through this beautiful world wide web, and for the farmers who grow us the food that nourishes our body and soul. Amen, xo.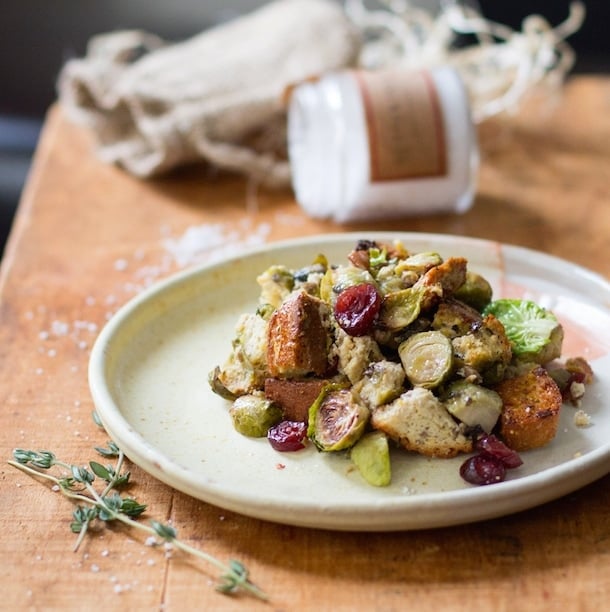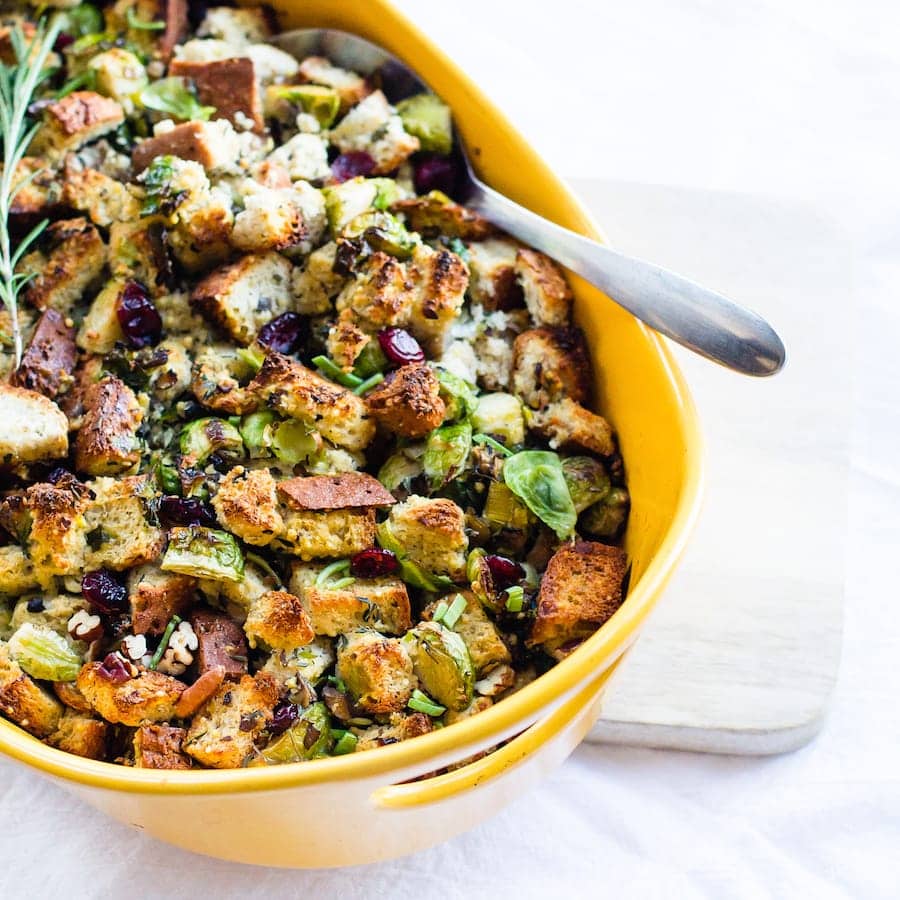 1 1/2

tablespoons

olive oil

1/2

cup

chopped leeks

10

ounces

mushrooms

cleaned and diced

3/4

pound

brussels sprouts

trimmed and quartered

1/2

teaspoon

kosher salt + more for finishing

8

cups

cubed Udi's gluten free bread

2 1/2

cups

low sodium vegetable broth

2

tablespoons

apple cider vinegar

2

large eggs

lightly whisked

1 1/2

tablespoons

minced fresh rosemary

1 1/2

tablespoons

minced

fresh thyme

3/4

cup

dried cranberries
Leave the cubed bread sit out uncovered as you are preparing the rest of the ingredients. To begin, preheat oven to 375 degrees. In a large sauté pan, heat olive oil over medium high heat. Add leeks and cook for 3-4 minutes, until they start to soften.

Stir in mushrooms and a pinch of salt, then cook for 4 minutes, until mushrooms start to sweat.

Stir In brussels sprouts, salt and pepper and cook for another 4 minutes. Add 1/2 cup broth and the apple cider vinegar, bring to boil. Cook until just a little liquid remains.

Dump into a large bowl, followed by the bread. Drizzle remaining broth over the mixture, followed by the eggs, herbs, and cranberries.

Stir well to coat and allow the bread to absorb the liquid. Bake for 30-35 minutes, or until bread has turned golden brown. Serve warm.