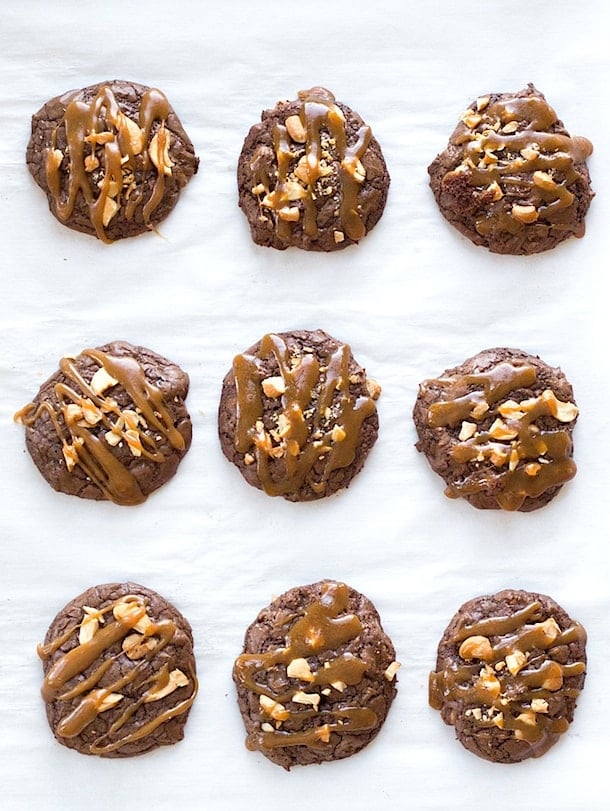 Salty, sweet, chewy, fudgy Caramel Cashew Chocolate Cookies – simply put, a mouthful of decadence. There was no way I could include all of those descriptors in the name of these decadent bites, but truly – they're the kind of cookie you pray you get double of at the annual Christmas cookie exchange. And because they only contain 1/3 cup of flour, they can easily be made with gluten-free or gluten-ful without any extra work.
Most of you know that I'm a huge supporter of makers who put their heart and soul into their product or craft, whether that be the vegetables on my table, the ring I wear, and yes – the candy my sweet tooth desires. Meet Annie B's Caramels, owned by Justin and Amanda Henke of St. Paul, which were just selected as one of Oprah's Favorite Things, her annual gift guide that many wait all year for, including myself.
Can you even image the thrill of that phone call?! Amazing, and so exciting. And exactly the reason I've partnered with them to share the news along with this recipe that I created, their caramels sealing the deal on the dreamy cookie you're staring at.
Justin and Amanda's story is surely a unique one. For quite awhile they were trying to create the perfect caramel in their tiny St. Paul kitchen so they could open their own business. As Amanda recalls:
"After countless pounds of butter and a few friendly squabbles, Justin happened upon Annie B's, a family-owned company of 35 years. He brought caramels home and a very pregnant Amanda ate 12 of them in one sitting (yep, she did). Together they concluded that these caramels were the epitome of buttery perfection, and completely unsurpassable. Ironically, Tom and Carol Bouquet – founders of Annie B's – were ready to retire and Justin and Amanda agreed to purchase Annie B's on the same day she gave birth to their first child, a son named August. They officially took over the company in January of 2013, and have been making phenomenal caramels, as well as gourmet popcorn ever since."
Trust me, once you taste their Sea Salt flavor you'll know exactly why Oprah wants these caramels to land in everyone's stocking. Rich with a subtle chew that doesn't stick to your teeth, vanilla and butterscotch notes, and just a slight crunch from the salt. Every batch is patiently made by hand in copper pots by their small team, using real ingredients, are gluten-free, and have no high fructose corn syrup.
Now about these cookies……! Finally made perfect after 3 trial runs, they're full of my favorite things. They set up fudgy and chewy, their tops crackle and shine, thanks to a technique I learned from Alanna. It's a result of beating the eggs and sugar until they triple in a volume, creating a fluffy mixture that you fold the melted chocolate into.
And is there any better combination than salty cashews and sweet, gooey caramel? Yum. I coarsely chopped the nuts because I like the texture it adds, and also sprinkled a few on top of the batter so they were visible – not that the caramel drizzle isn't tempting enough.
For all your holiday baking, Annie B's has their old fashioned caramels in one pound baking slabs, which is what I used here. No unwrapping = major time saver. Or if you happen to get some of the individual caramels, you'll need just 1/3 pound to make this recipe.
I hope you all had a wonderful Thanksgiving yesterday. Mine was delightful, spent with family and a smattering of wonderful food. And without skipping a beat, I'm ushering in Christmas cookie making season with these delicious sweet treats. Enjoy!
Disclosure: Thank you so much to Annie B's for sponsoring this post and collaborating to share the good news. I was compensated for my work, but opinions are my own – how could you not love these caramels!
Caramel Cashew Chocolate Cookies (Gluten-Free)
Author:
4 3/4 ounces of 60-70% chocolate, coarsely chopped
5 tablespoons unsalted butter
1 1/2 teaspoons espresso powder (optional, but greatly enhances the chocolate flavor)
1/3 cup sweet rice flour, 1 3/4 ounces (or regular all purpose flour if you do not need to avoid gluten)
1/2 teaspoon baking powder
2 large eggs, room temperature
1/2 teaspoon salt
2/3 cup sugar
2/3 cup coarsely chopped cashews (4 ounces) + 1/4 cup chopped for sprinkling
1/3 pound store bought caramels, can be found in baking aisle
3/4 tablespoon water
Preheat oven to 350 degrees F. Using microwave-safe container, place chocolate and butter in microwave oven at medium power (50 percent) for 1 minute. Remove and stir. Remove and stir, then return to microwave and repeat heating step for 30 seconds until chocolate is barely melted, smooth and glossy in appearance. Stir in the espresso powder, then let stand to cool a little.
In a separate bowl, mix together rice flour and baking powder, set aside.
With a stand or hand mixer, beat the eggs, salt and sugar together for 2 to 2 1/2 minutes on medium speed, until tripled in size, light and fluffy in appearance. Slowly add in the chocolate mixture and mix on low until incorporated. Add flour mixture and mix on low to incorporate. Stir in 2/3 cup of cashews and let batter sit for 15 minutes at room temperature. Batter will look and feel like brownie batter.
When ready to bake, spoon batter by heaping tablespoons onto a parchment lined baking sheet, 9 cookies to a pan to a give them room to spread a little. I make sure mine are perfect circles by smoothing the top with the back of a spoon. Sprinkle each cookie with remaining 1/4 cup chopped cashews, then bake for 11-12 minutes, until tops are shiny and little cracked. Remove from oven and let sit on pan for 4 minutes, then move onto a cooling rack.
While cookies are baking, slowly melt the caramel with the water in a nonstick pan (or kettle) on the lowest setting of your stovetop. Do not bring it to a bowl, just warm enough to incorporate the water so it will allow you to drizzle it (will still seem thick, but works best this way.)
When you have moved cookies to the rack, drizzle each with the caramel and allow to cool and set. Will keep stored in a covered container (can stack the cookies if their is a layer of parchment in between) for 4 days.