Let's just call this liquid gold my friends.
Canning a batch of salsa verde, made from beautiful tomatillos (you'll see at the farmers market with a husk coving them, and green skin underneath, resembling a green tomato), charred peppers, cilantro, and cumin, will be one of the best things you did all summer! And you'll be able to make any of these 17 delicious recipes that use salsa verde throughout the year.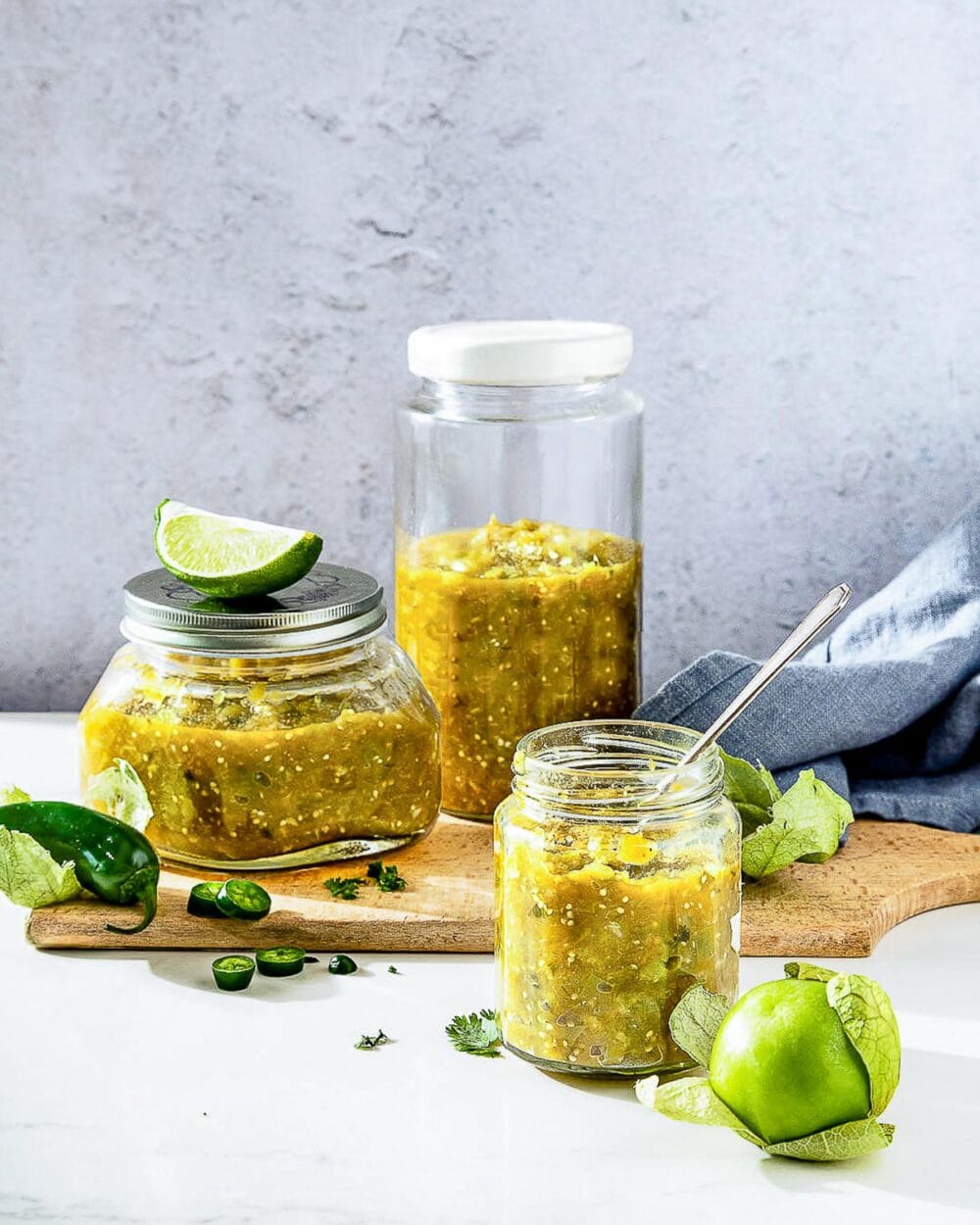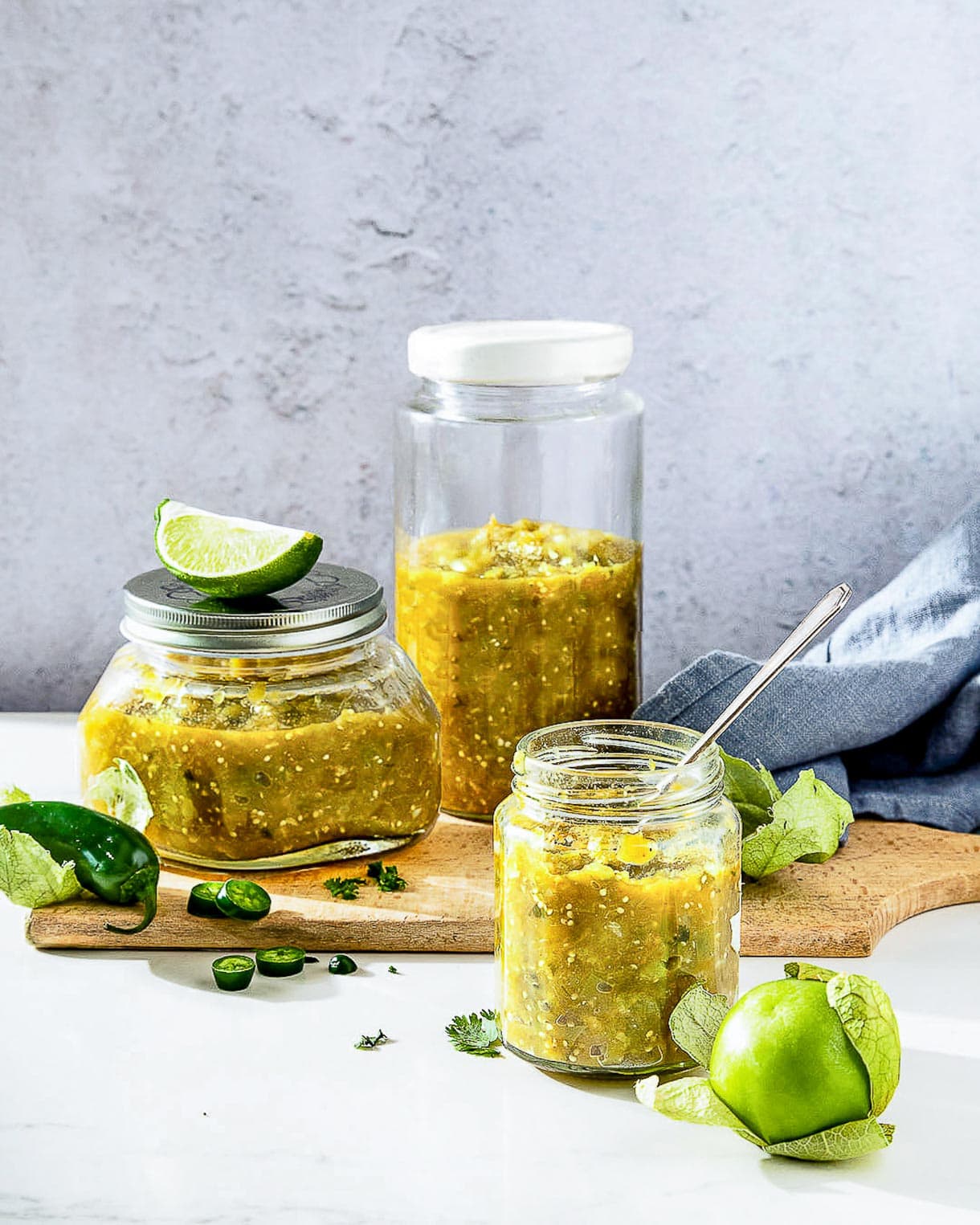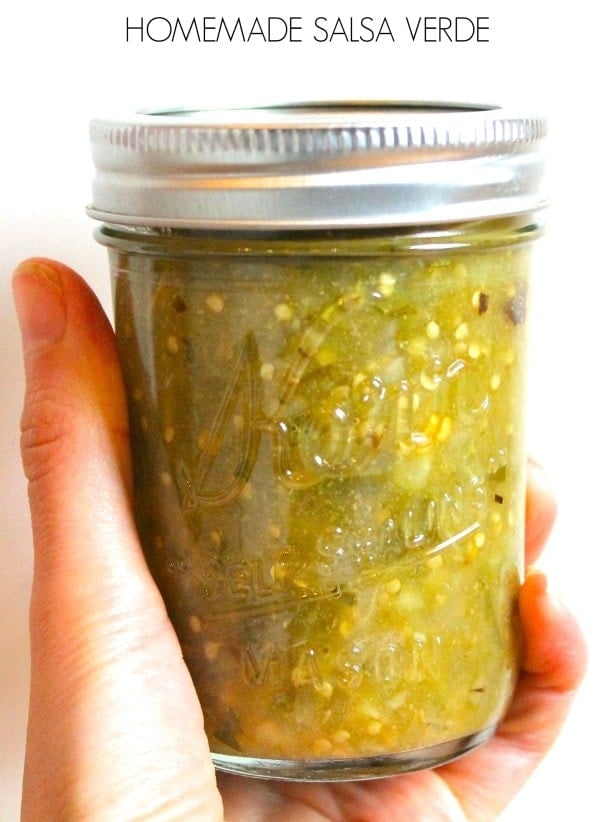 What does Salsa Verde Taste Like?
The main ingredient in this green salsa are tomatillos, which have a papery husk that is removed before using. I grow them each summer in my garden. To note, tomatillos are not the same as green tomatoes.
Salsa Verde is commonly used in Mexican and Central American cuisine, where it is used as a key ingredient in dishes like enchiladas, tacos, and stews. The inclusion of fresh herbs, such as cilantro and/or parsley, gives salsa verde a fresh and herbaceous taste. The freshness is key! And the combination of ingredients like garlic and onion adds depth, balancing the tanginess and spiciness of the peppers.
After having some amazing chicken and white bean enchiladas with a spicy salsa verde while on vacation in Playa Del Carmen, I've wanted to recreate it.
Using a recipe I slightly adapted from the Ball Blue Book Guide to Preserving, this Tomatillo Salsa Verde is a keeper. The only adaptations I made to the recipe were the spices and types of peppers.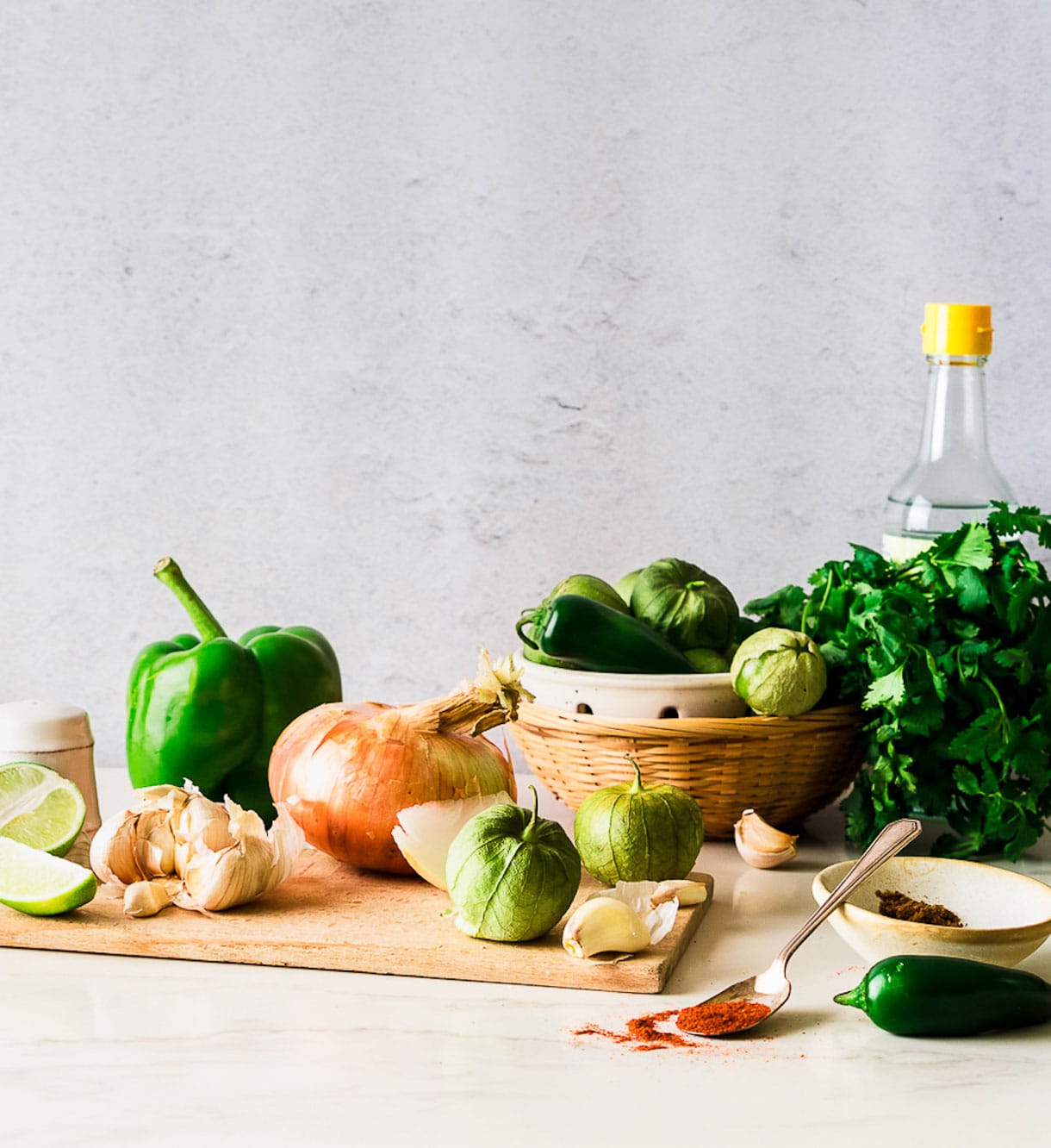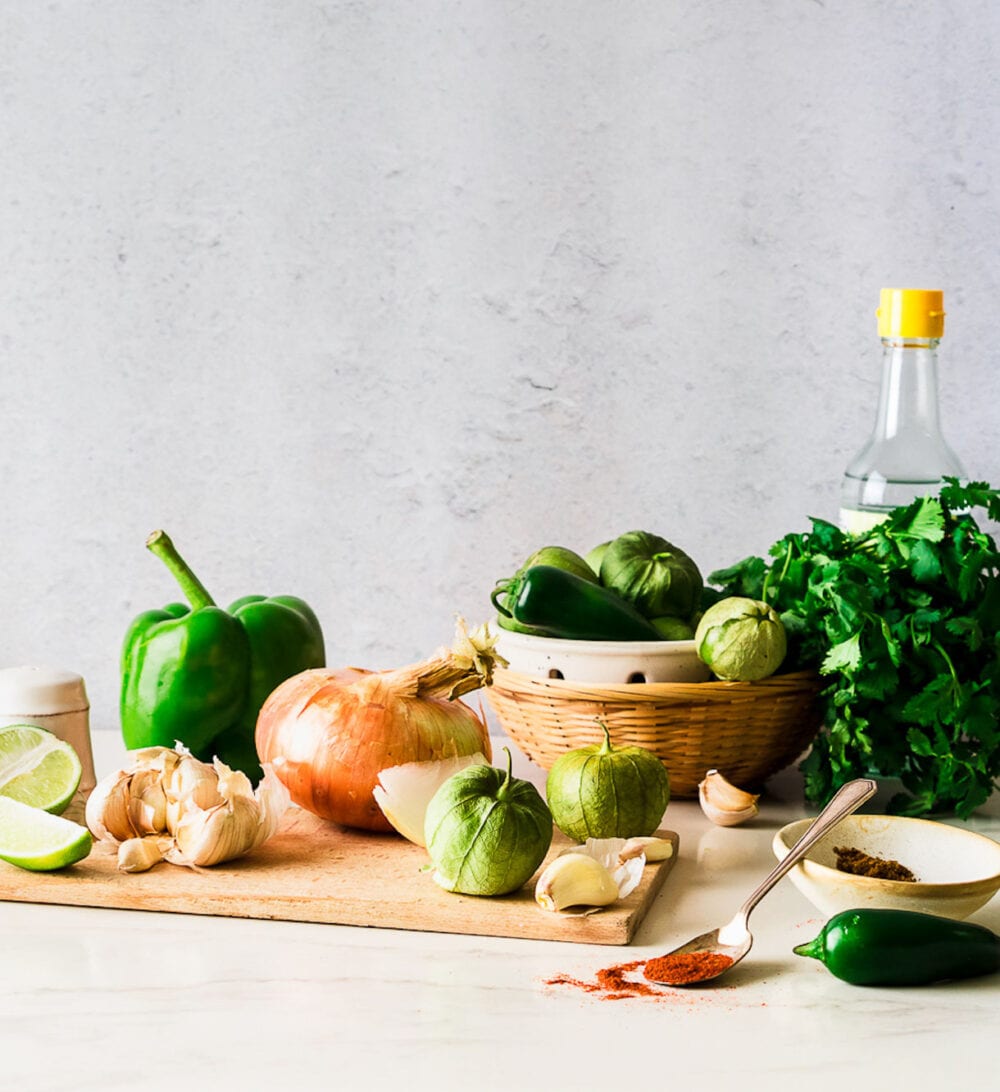 To achieve a deep, slightly smoky flavor while canning salsa verde, I did two things:
1. Roasted 3/4 of the tomatillos in a hot 500 deg. F oven until the juices were sizzling out of them and they were slightly charred. I kept the other 1/4 raw to make sure the end product still had a nice green color.
2. Added quite a bit more cumin and then what really sealed the deal – smoked paprika. Its great flavor comes from being naturally smoked over oak fires.
Note: I checked with the University of Missouri Extension services to make sure these changes were safe which was a very useful discussion to learn about canning safety!It is extremely important when canning things like salsa or other vegetables that you use a tested recipe from either the National Center for Home Food Preservation, a state extension, or Ball Canning. These groups laboratory test their recipes for numerous requirements to ensure proper canning techniques and processing times that are utilized based on food acidity.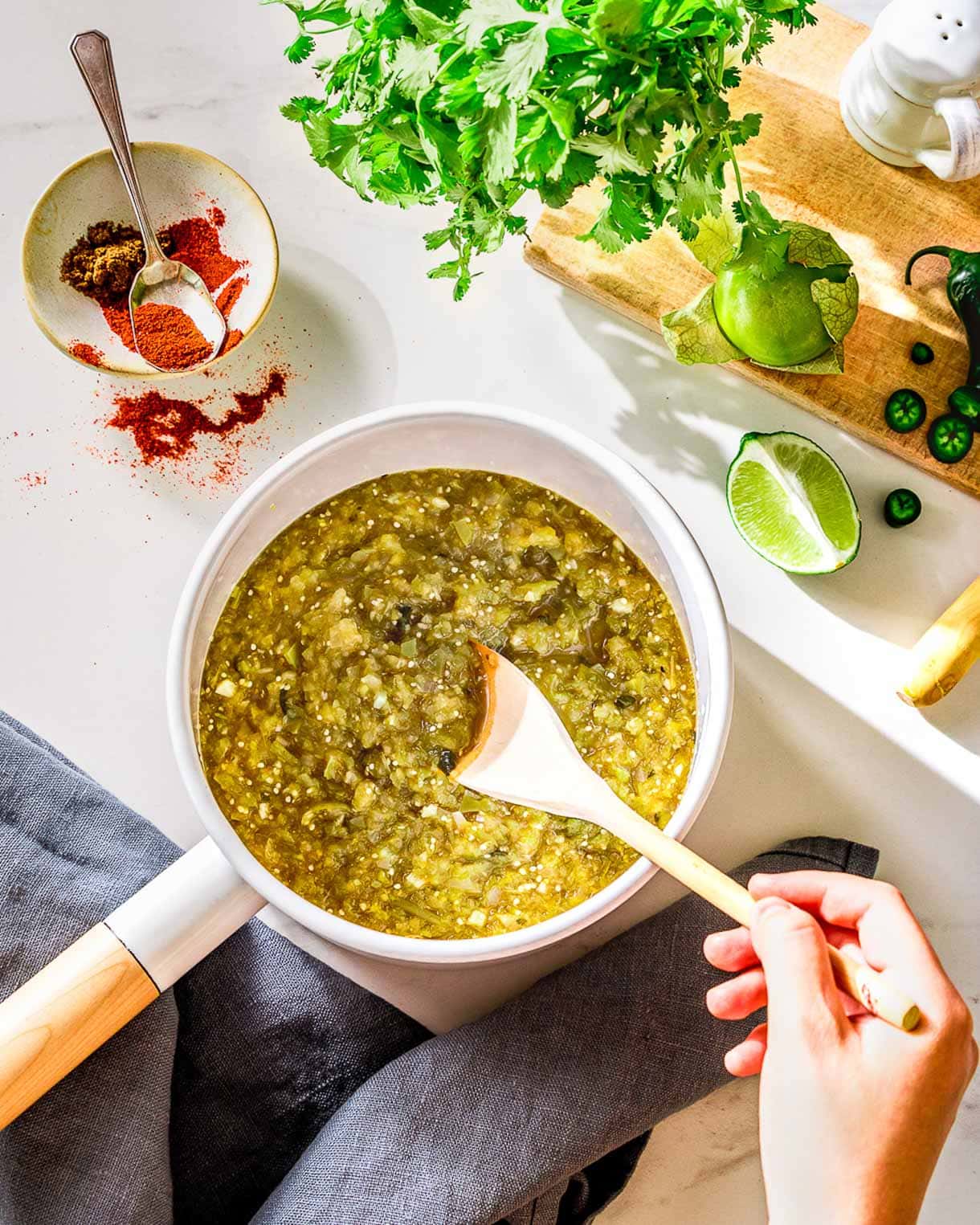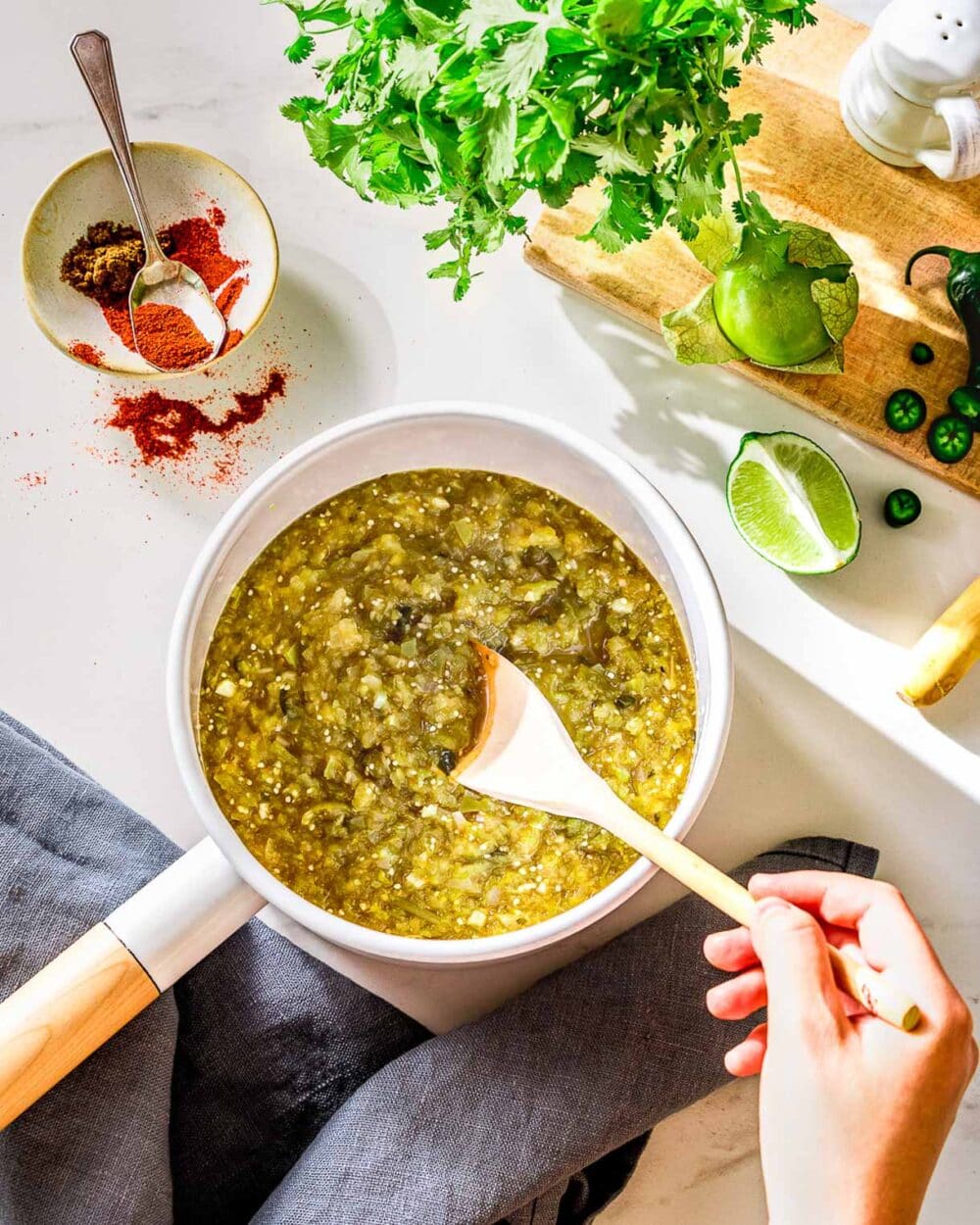 The spice (heat) level can be adjusted by using hot or mild peppers, or adjusting the mix of peppers. You should not, however, increase the number of pounds or cups of peppers in the recipe; as well as onions. Increasing or decreasing the amount of peppers or onions can impact the acidity of the product, potentially making it unsafe.
Enjoy salsa verde as a simple appetizer with tortilla chips, added to green chile chicken soup, on tacos, or enchiladas. It will definitely add deep flavor to whatever ryou choose!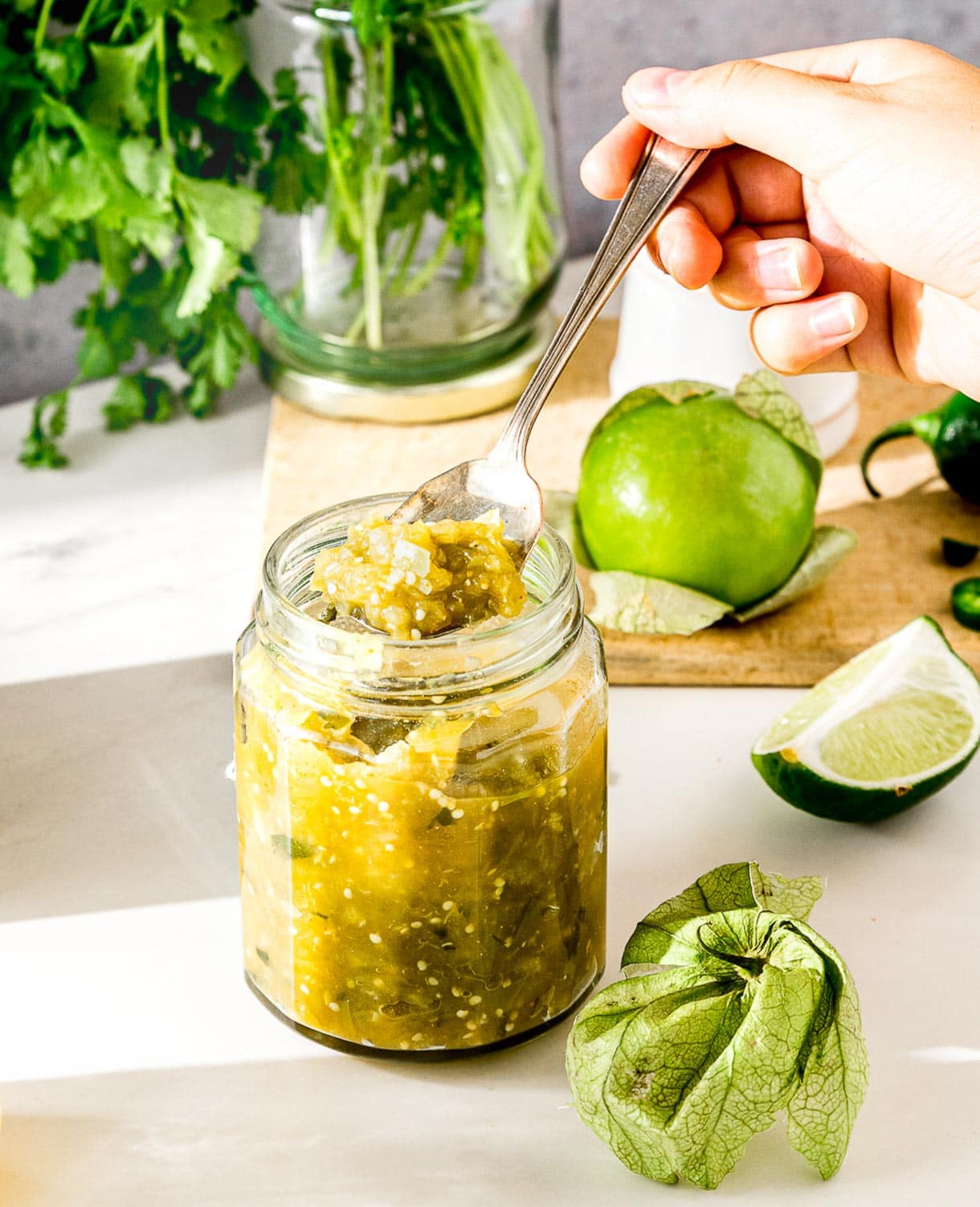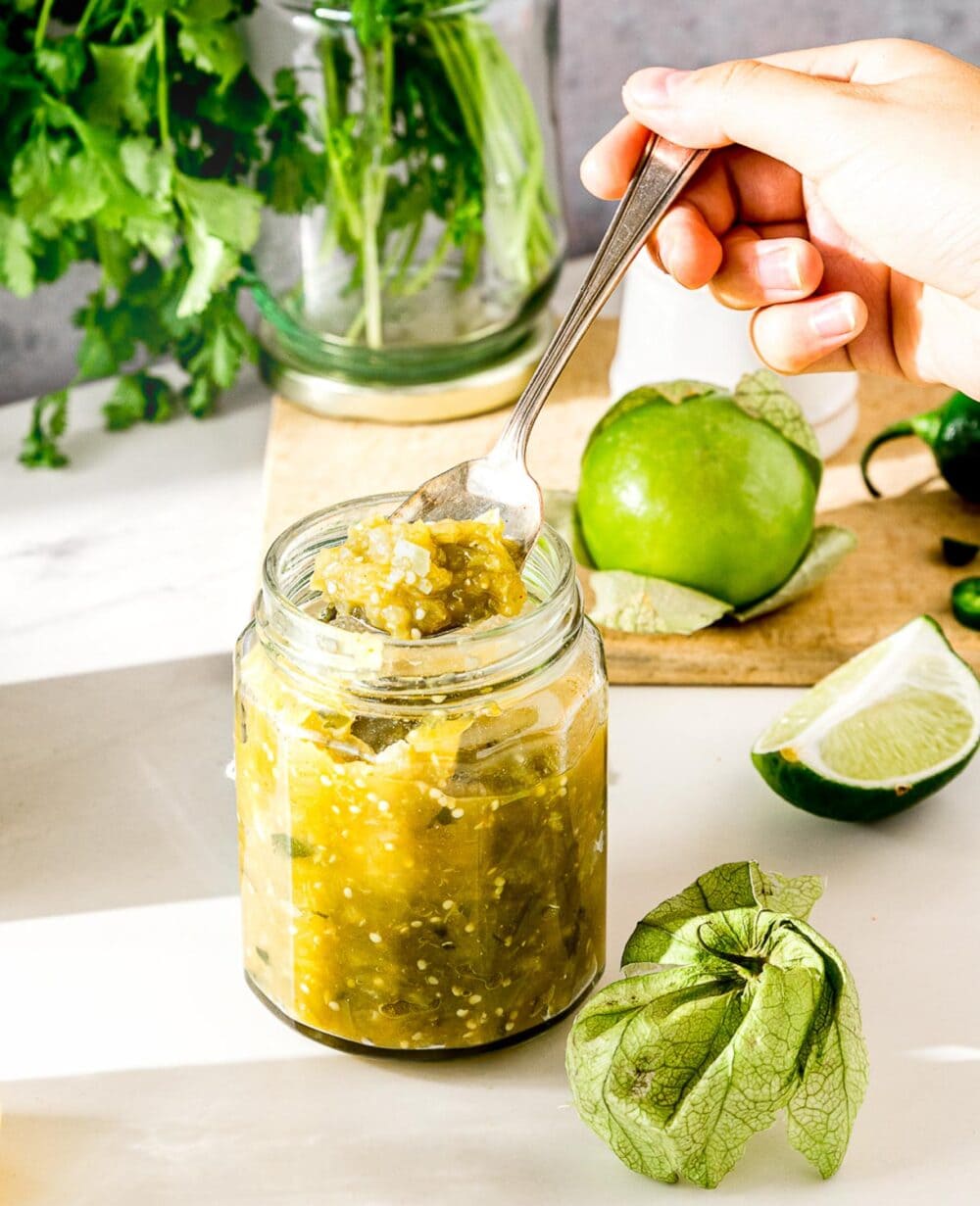 More Salsa Canning Recipes:
3

pounds

tomatillos, husks removed and halved or quartered

1

cup

coarsely chopped onions

1

cup

coarsely chopped peppers

(I use a mix of green bell, jalapenos, and thai chilies to add heat)

6

cloves

garlic,

chopped

1/3

cup

minced cilantro

2 1/2

teaspoons

cumin

3/4

teaspoon

smoked paprika

1 1/2

teaspoons

kosher salt

1/2

cup

bottled lime juice
Before you start, here's a video tutorial that shows the process of making this recipe.

Have jars ready for canning, sterilized and hot.

Preheat oven to 500 degrees F. Place 3/4 of the chopped tomatillos on a baking sheet, reserve remaining 1/4. Roast in the oven for about 20 minutes or until they are slightly charred and their juices are seeping out.

While they are roasting, put the onions, peppers, and garlic into a food processor, pulsing until finely chopped. Empty this mixture into the sauce pot you will be using to cook the salsa.

Then remove tomatillos from oven, let cool a few minutes, and add to food processor. Put in the raw tomatillos you reserved. Pulse until finely chopped. Add all tomatillos and juices to the sauce pot that has the onions/peppers/garlic, along with the cumin, paprika, salt, and lime juice. Bring to a boil and then turn down heat to a simmer for 15 minutes. During the last minute of cooking add the minced cilantro. * (see note.)

Ladle hot salsa into hot sterilized jars, and leave 1/2 inch head space. Place sterilized rings and lids on top, then return to boiling water bath for 15 minutes. Remove and let completely cool on a flat towel; listen for the pop so you know that it is properly sealed! See notes below about tasting the salsa.*Now that you've made the salsa, here are 17 delicious recipes that use salsa verde!
*RESIST tasting the salsa before it is processed in the hot water bath and for at least 2 days after you have canned it. The hot water bath and settling time will balance the acidity. Also, if you have never eaten tomatillos before, know that they are tart, bright, and citrusy so that will be reflected in the salsa. If you do taste it early, don't freak out if you can taste some lime juice, that will subside as the flavors settle in the jar and balance.
*This recipe was updated in 2023, after doing more testing with only lime juice instead of a lime juice and vinegar combination. So if you see comments with reference to vinegar that is why. I had feedback that the vinegar was a bit too sharp, that's why the recipe now reflects it using only lime juice for the acidity component.
*If you made this in past years and loved it (I do!), the recipe is exactly the same except it used to call for 1/2 cup white vinegar and 2 tablespoons lime juice rather than the 1/2 cup lime juice you see now.
*Store jars in a cool, dark space. Eat within 18 months of canning date.
** Photos by Sharon Nge