A stovetop green chili chicken soup made from pantry ingredients like white beans and salsa verde! This easy soup bursts with bright, bold, satisfying flavors and is healthy to boot. And it comes together in less than an hour, perfect for a weeknight dinner.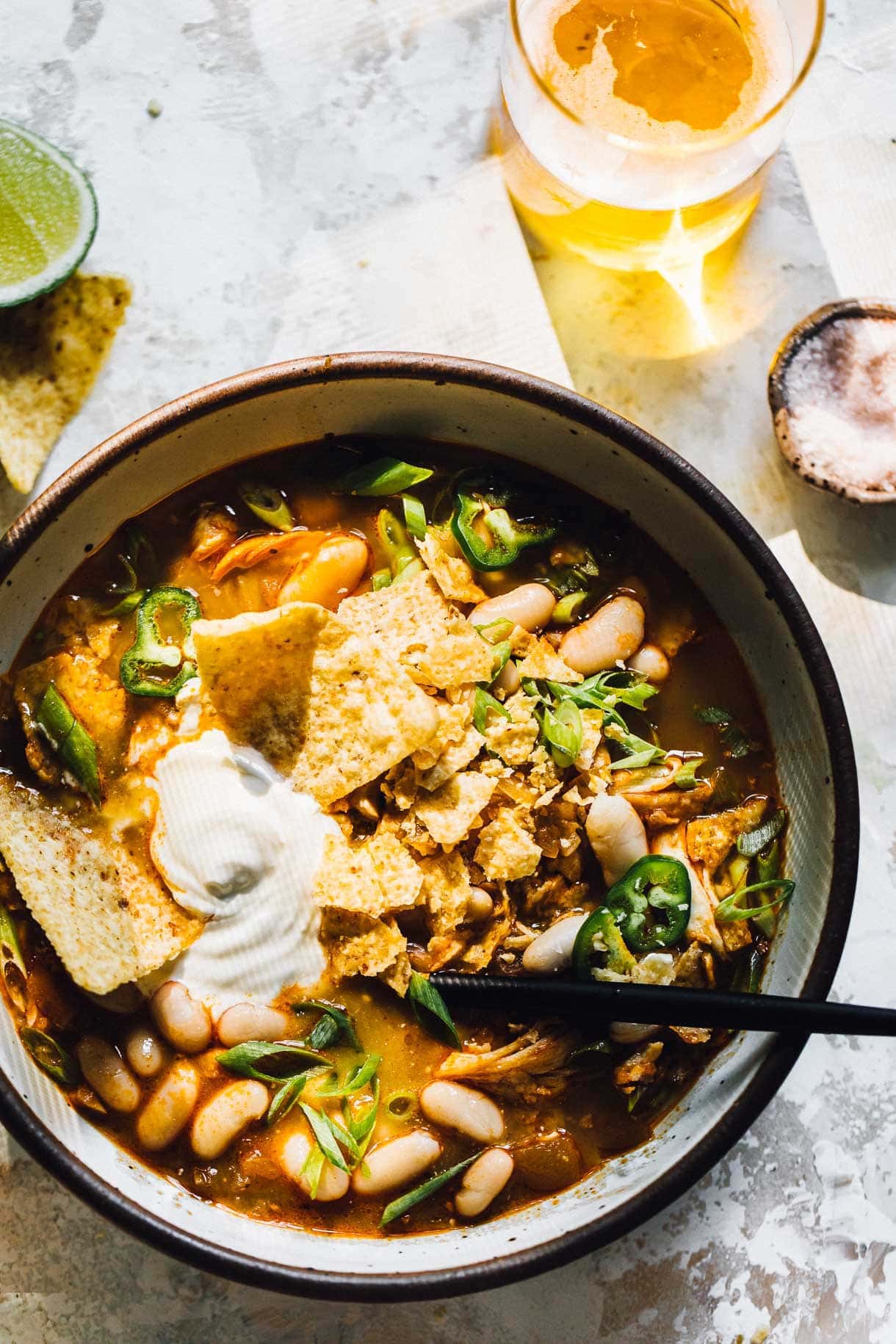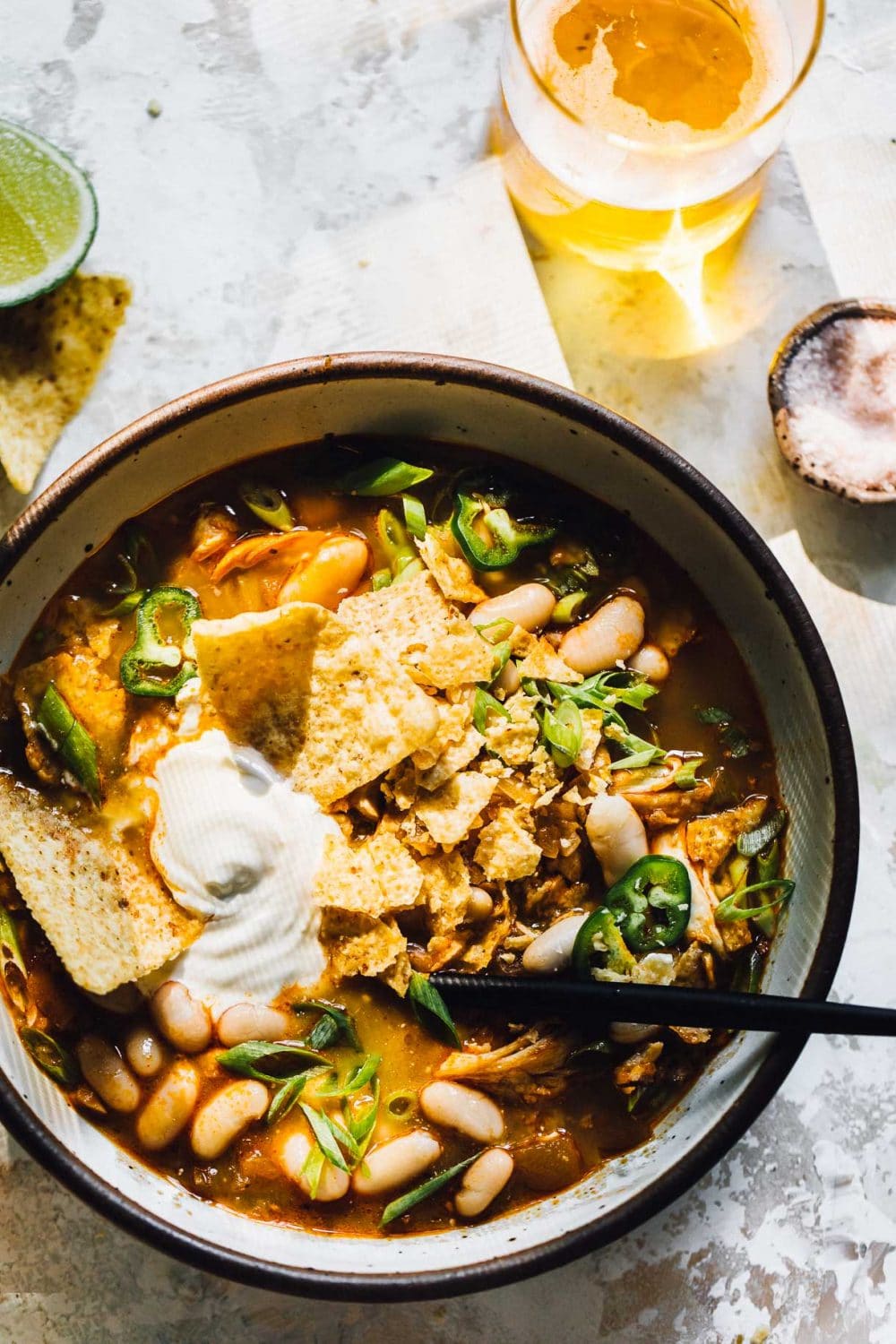 This recipe is sponsored by Watkins, a valued partner of Heartbeet Kitchen.
If you're looking for a soul-warming, super cozy chicken chili soup, this one's for you!
Skip the ground beef and cans of tomatoes – and grab a jar of store-bought salsa verde (green salsa made from ingredients like tomatillos and hatch chiles), chicken, a can of green chiles, a can of white beans, and a myriad of Watkins organic spices instead.
Deeply flavorful. Brothy, yet hearty. Comes together quickly, from pantry staples. And has absolutely no rules for toppings – just be sure to load them on!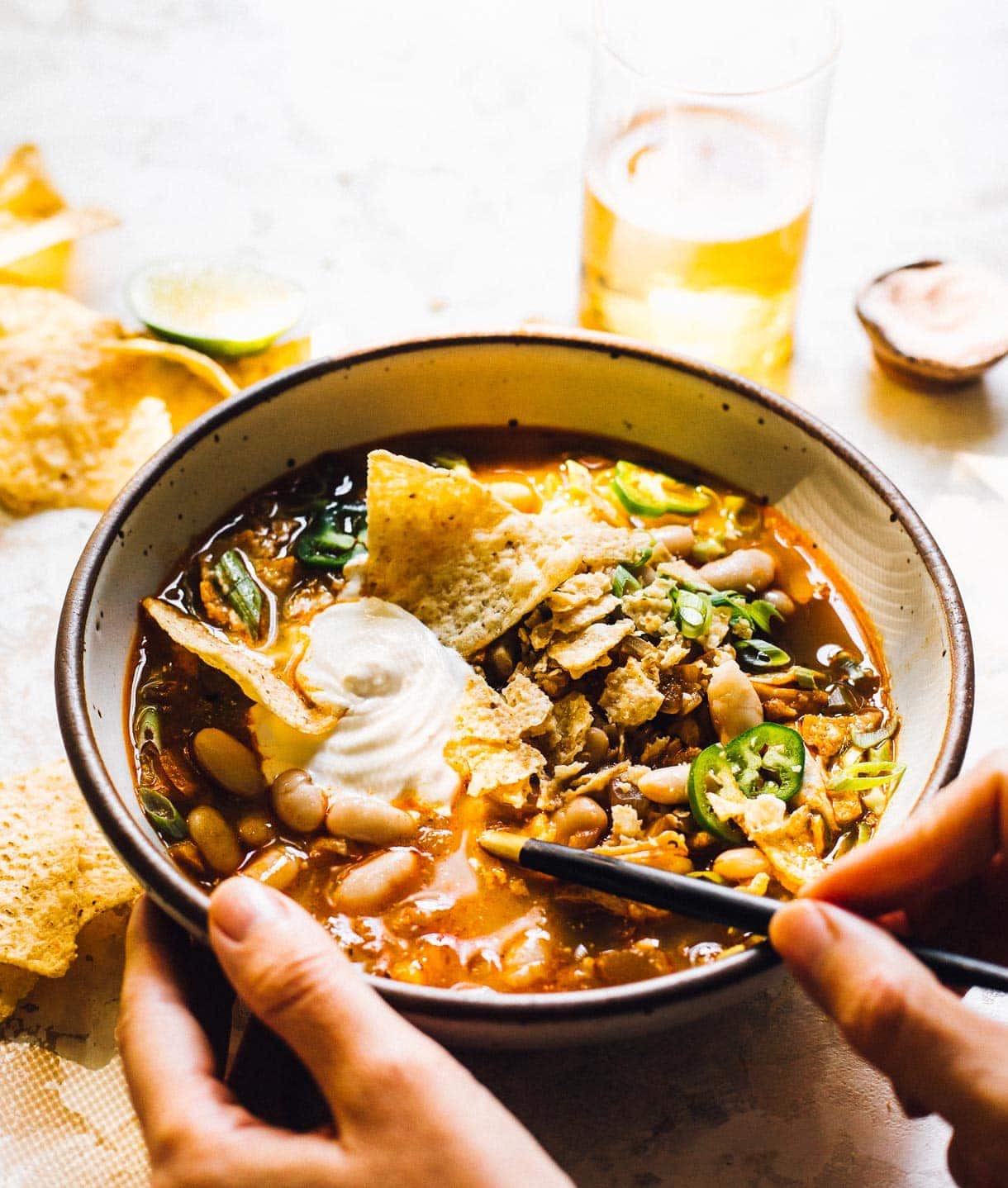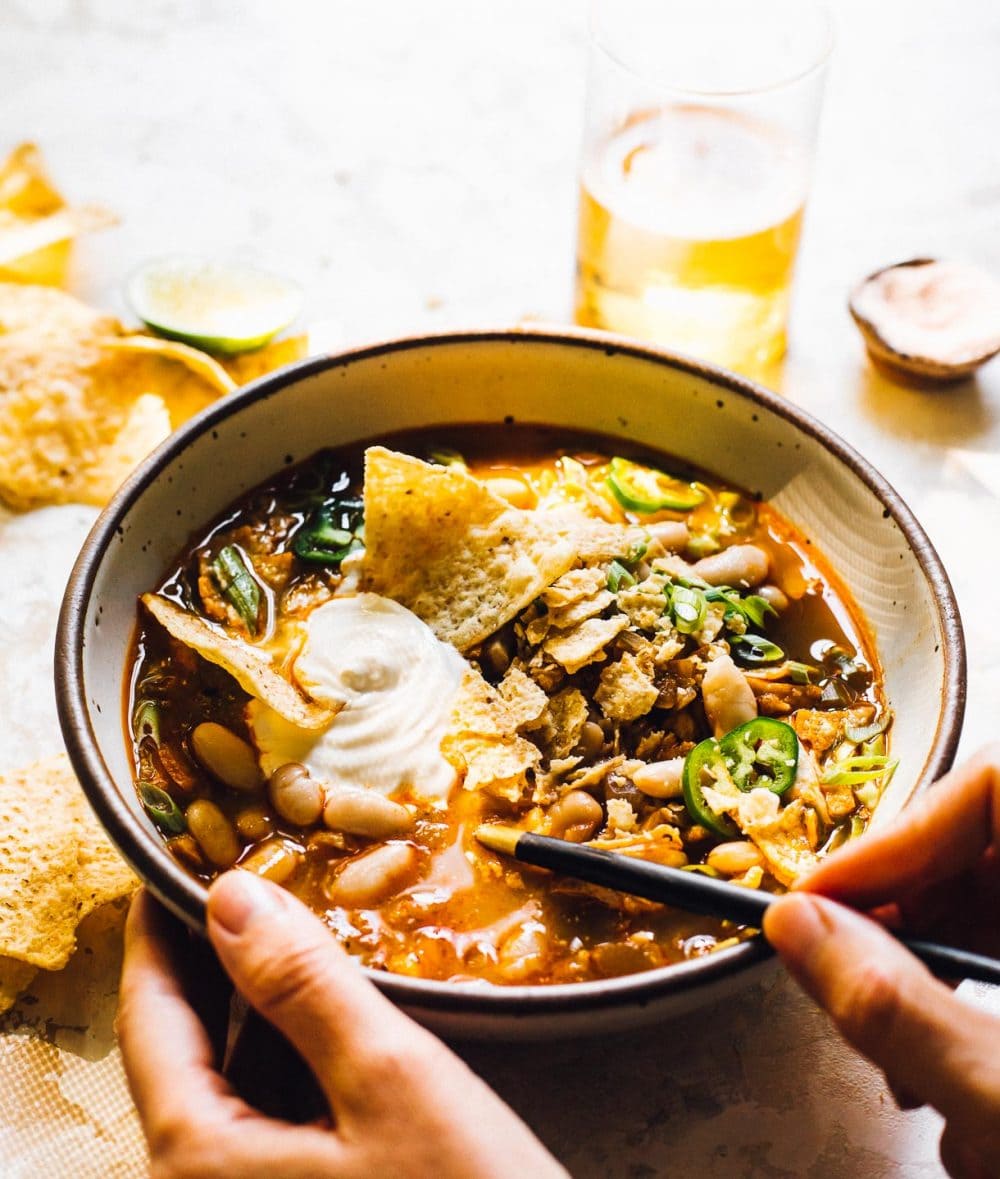 When I polled ya'll on Instagram about the method you wanted for this Green Chili Chicken Soup I'd been dreaming about, your resounding votes said STOVETOP! Not slow cooker, or instant pot, but a classic stovetop soup.
And I love you for that, because there's a certain type of comfort that comes from stirring a richly flavored soup, standing at the stove and letting your thoughts about the rest of life flow free.
Thanks to mostly pantry ingredients, this Green Chili Chicken Soup comes together in less than an hour yet tastes like it simmered all day long.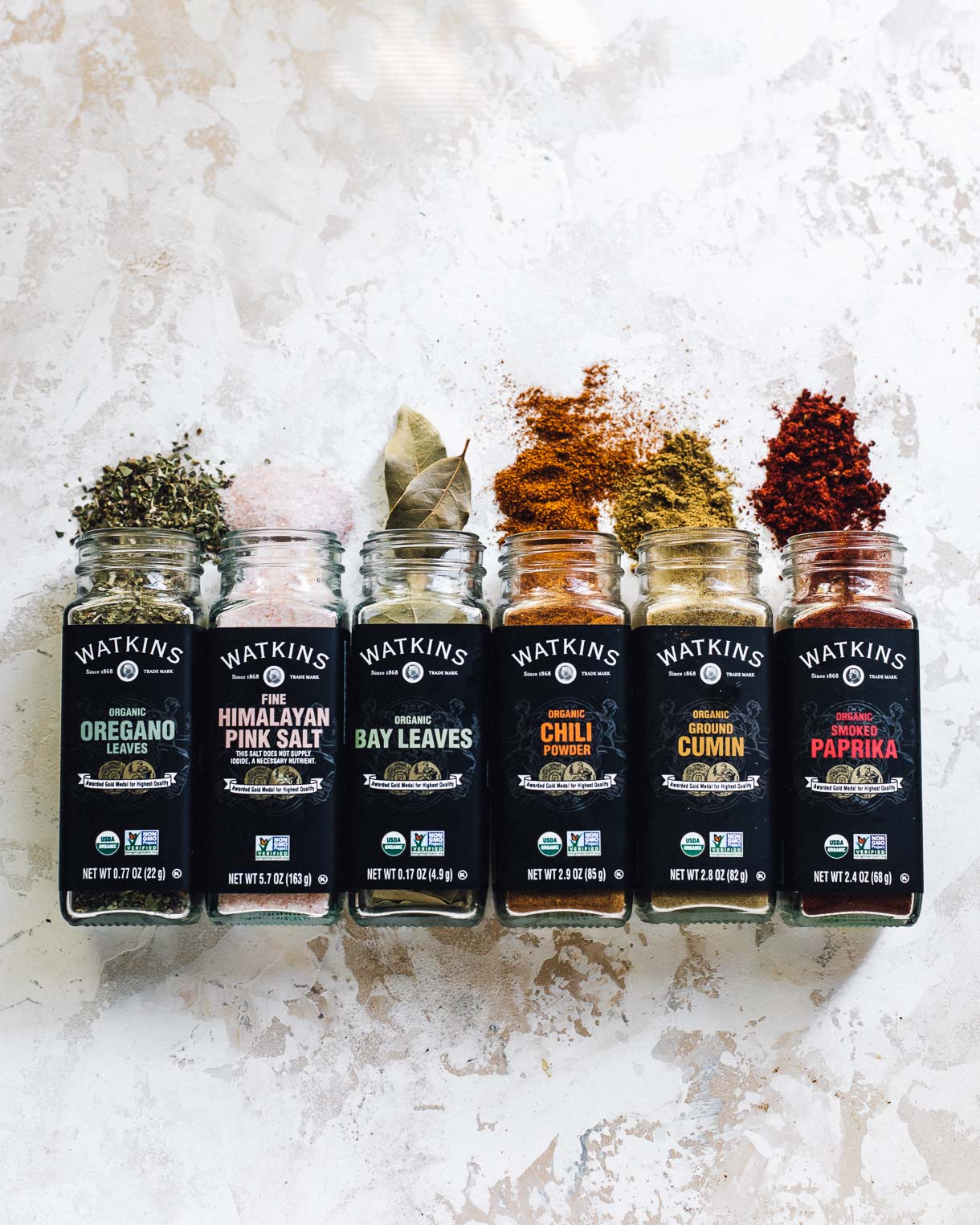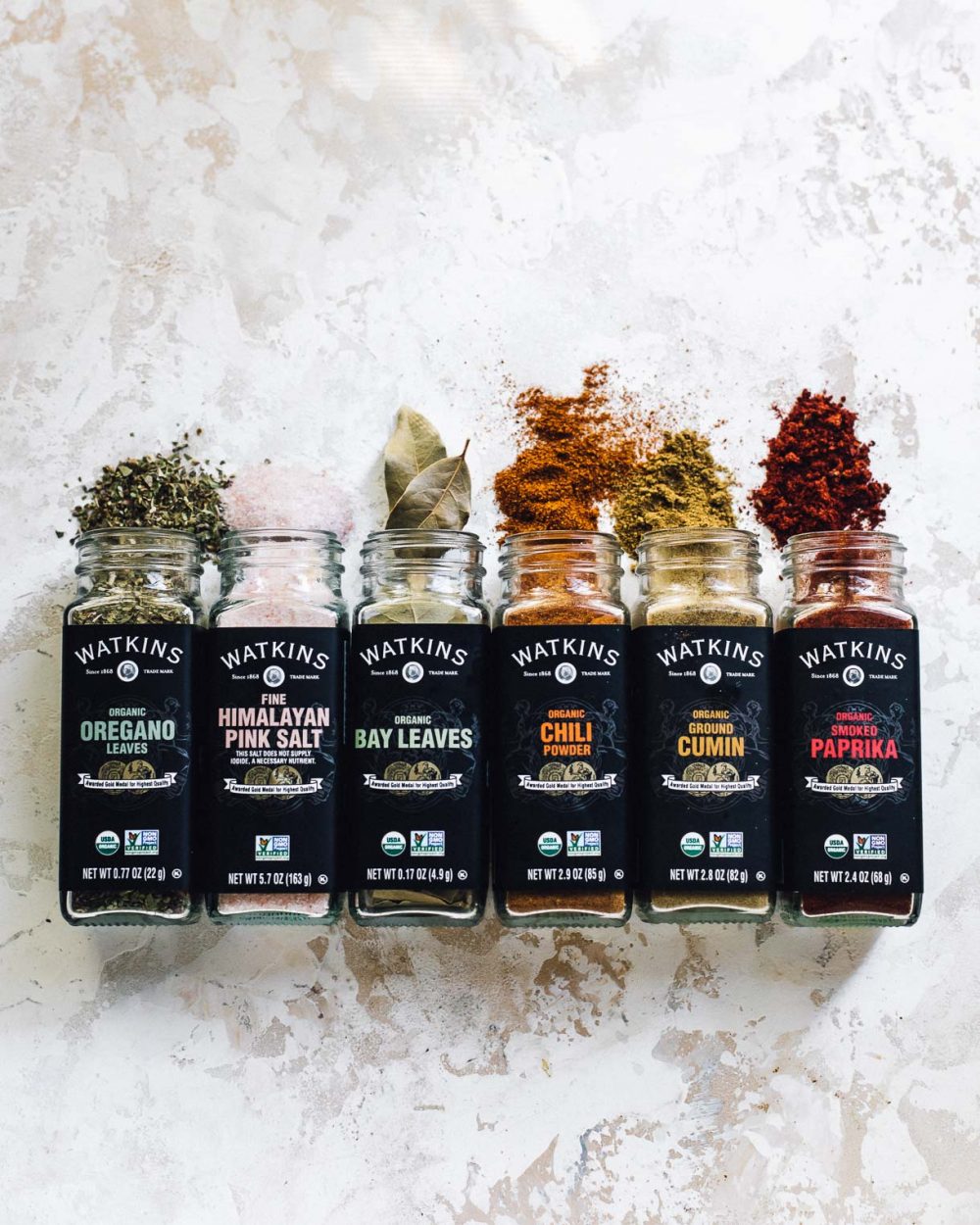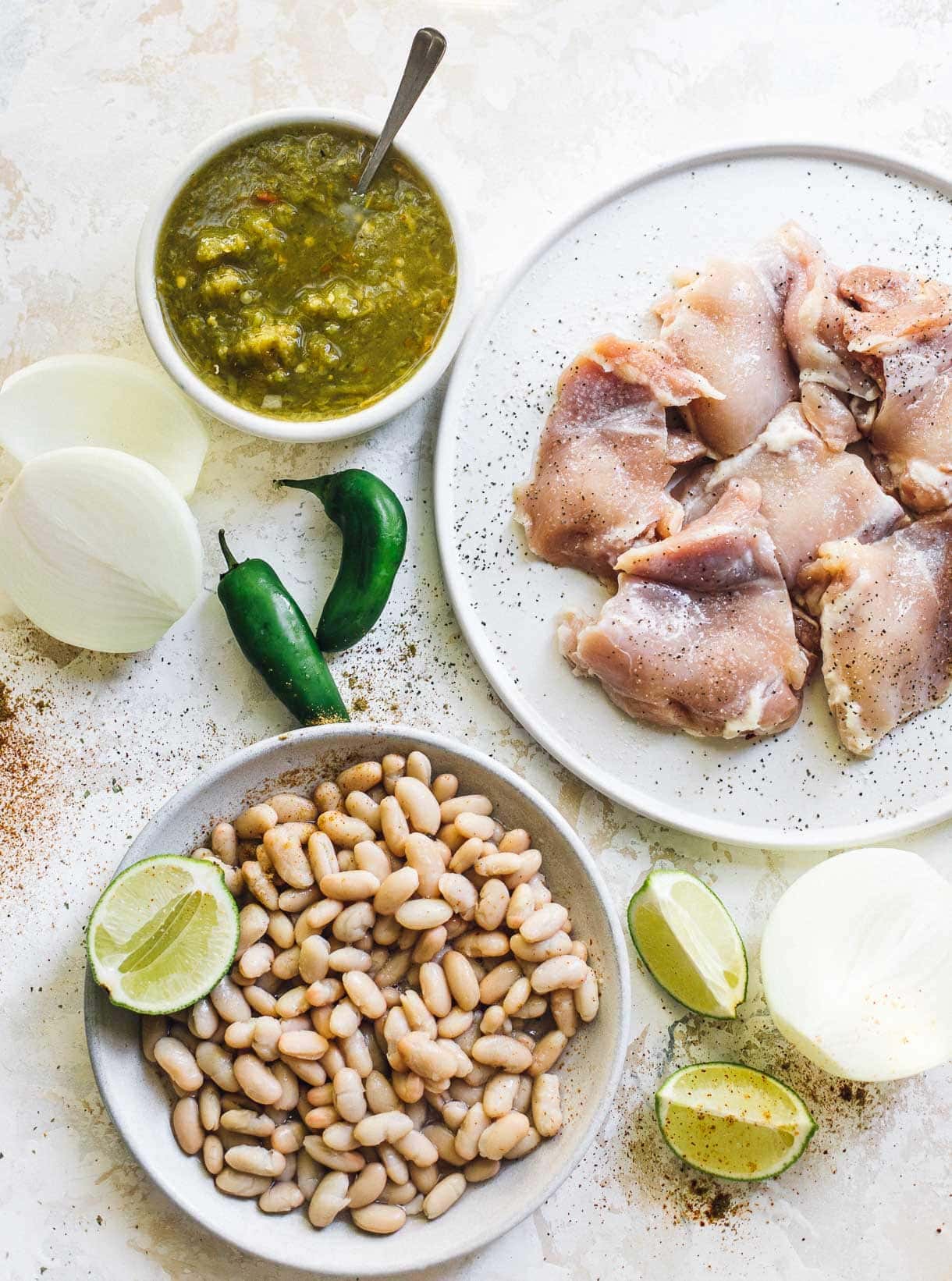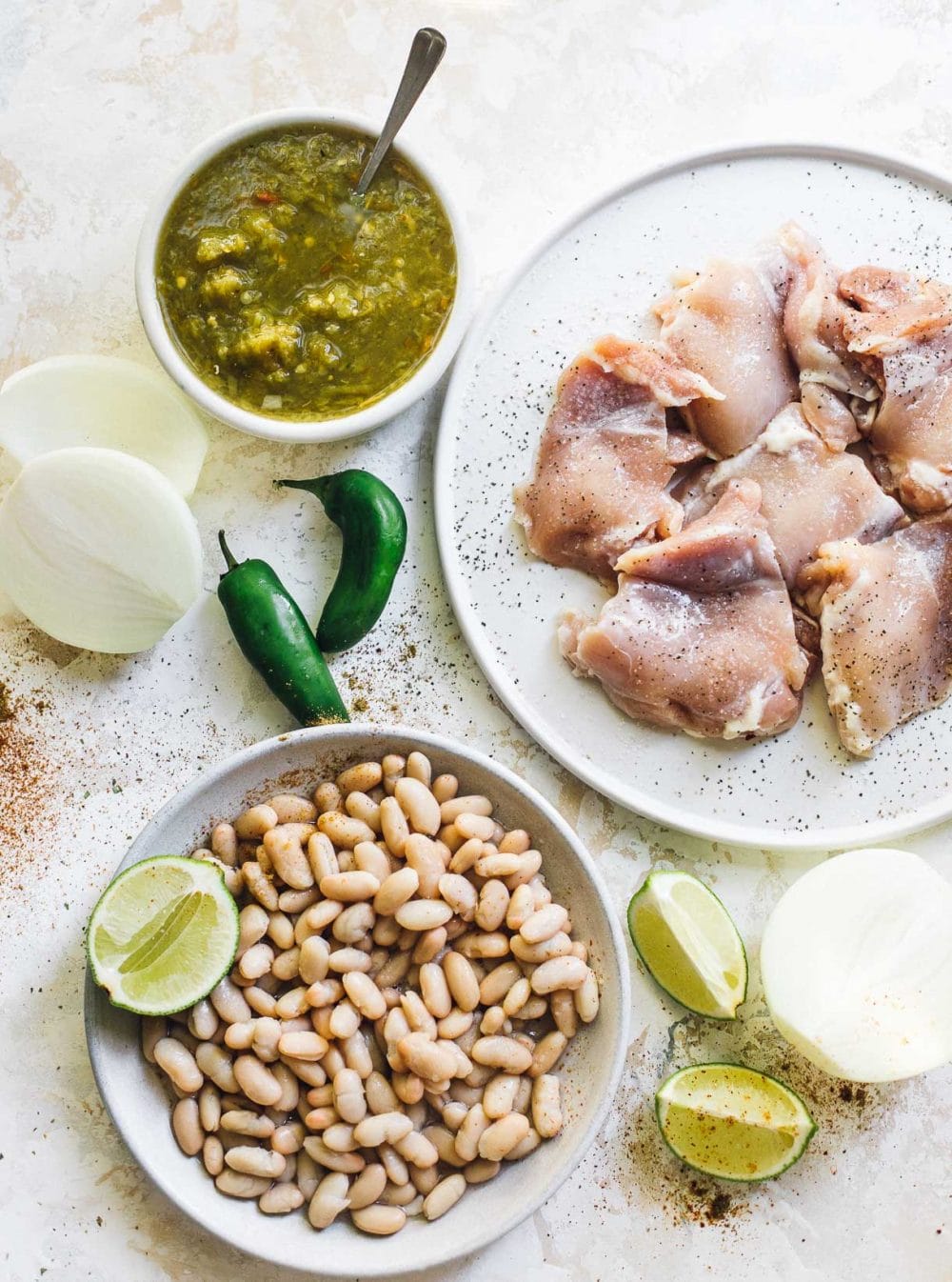 Tips for Making Flavorful Green Chili Chicken Soup:
The beauty of this soup is it's on the table in less than an hour, but tastes like you put a whole day of prep into it. There are three key elements to the richness you'll taste.
When making soup, spices bloom and intensify when sautéed in olive oil, which you'll do at the beginning of this recipe, along with the onion – here's how to dice an onion! You'll smell the fragrances of the high quality Watkins organic spices emerge, a sign that the extra flavor is being released!

My spice drawer is filled with Watkins organic spices, herbs and spice blends, a Midwest brand I grew up with that continues to bring the highest quality ingredients to my kitchen – and yours! They've been around for more than 150 years. Being able to trust Watkins for their transparent sourcing practices and organic labels means a lot to me.
All Watkins products are free from dyes, high-fructose corn syrup, added MSG and other artificial ingredients. They're available from their online store, Amazon, and primary Watkins retailers like Walmart, Sprouts Farmer's Market, Hy-Vee, SuperValu, HEB and Jewel.


Rather than using chicken breast, you'll use chicken thighs, which are ideal for making a hearty soup. A mix of white and dark meat has stronger flavor and a little more fat, which also improves the mouthfeel of the soup.
Browning the chicken is an added step, but the golden crust achieved on the chicken is where much of the flavor is at. Don't skip it!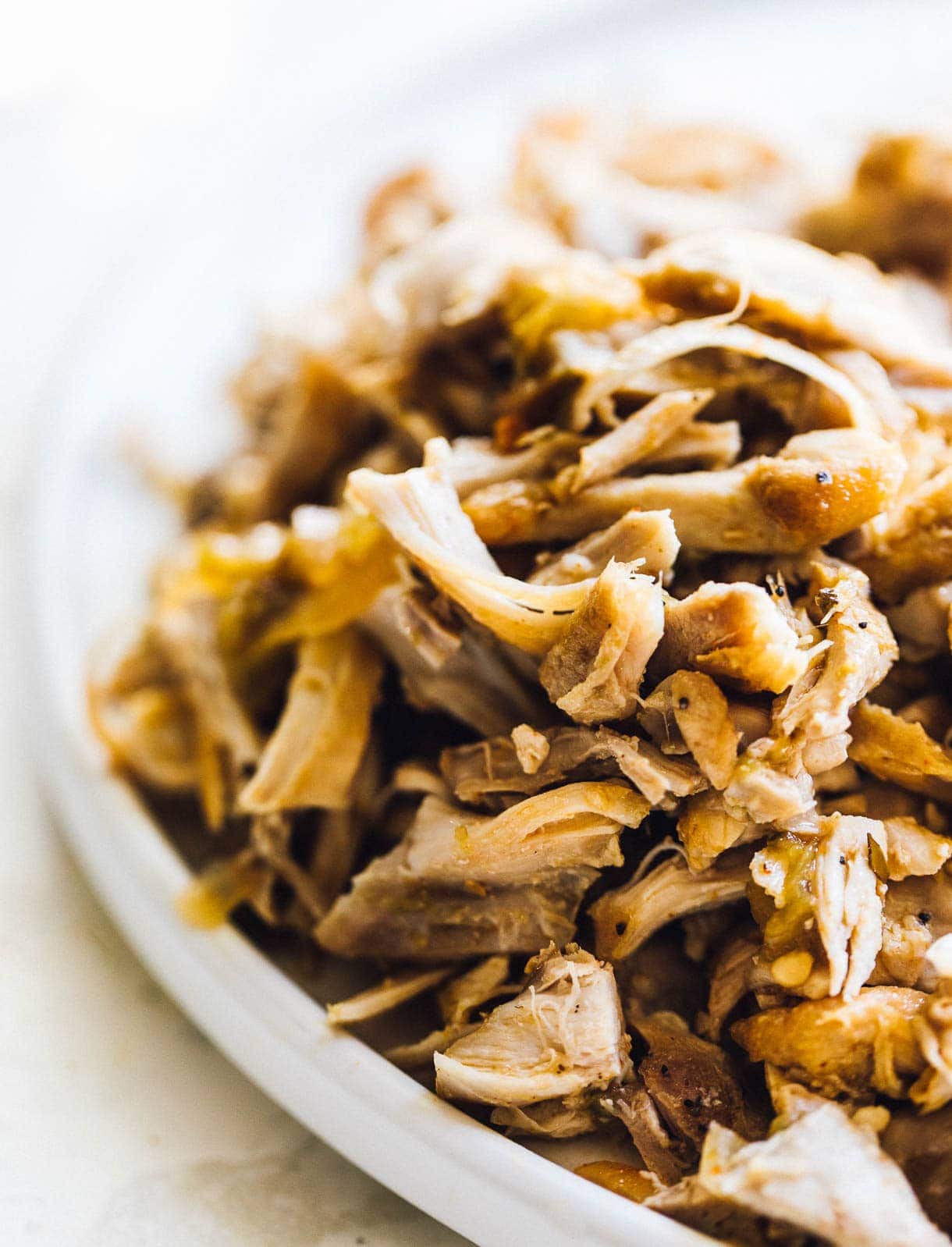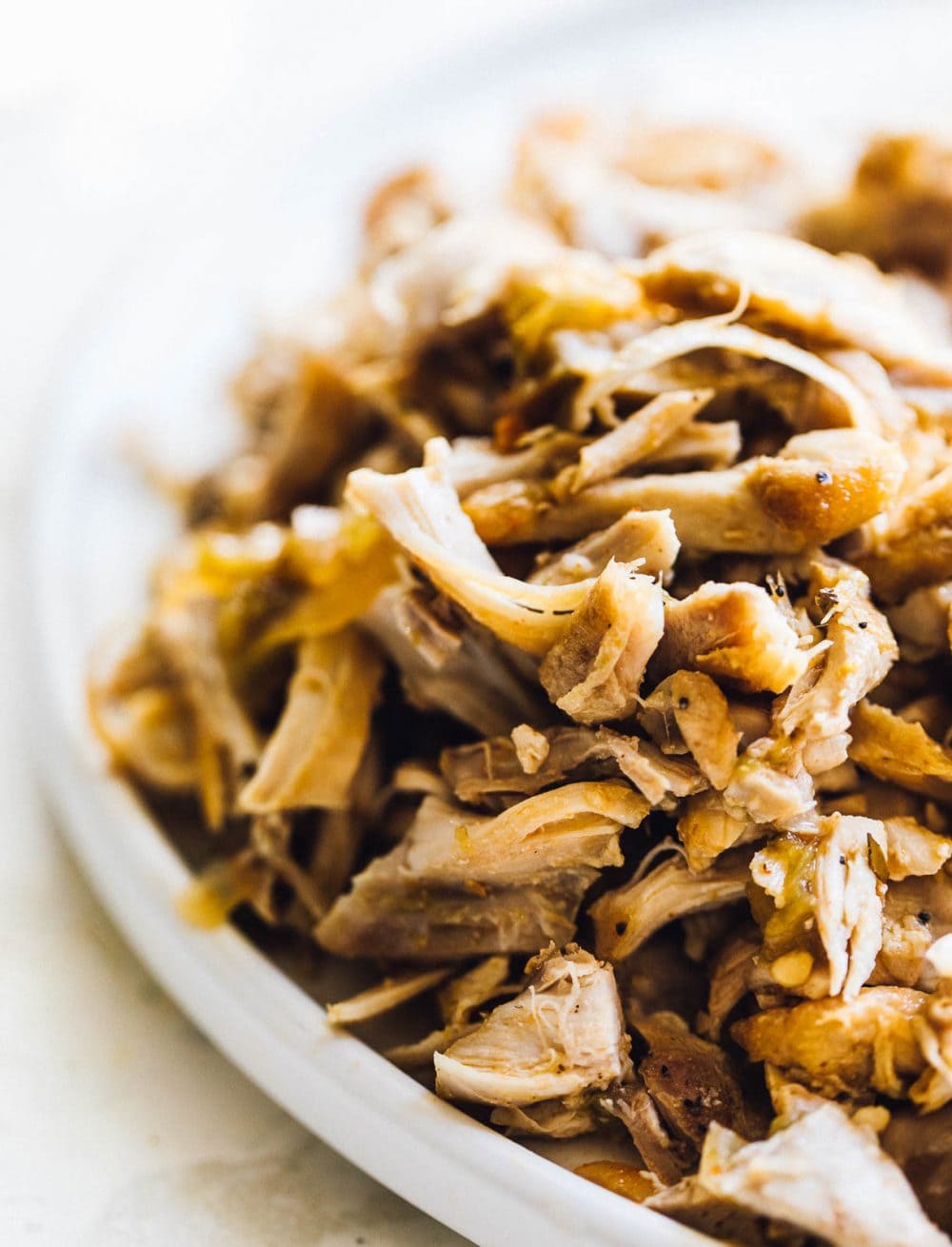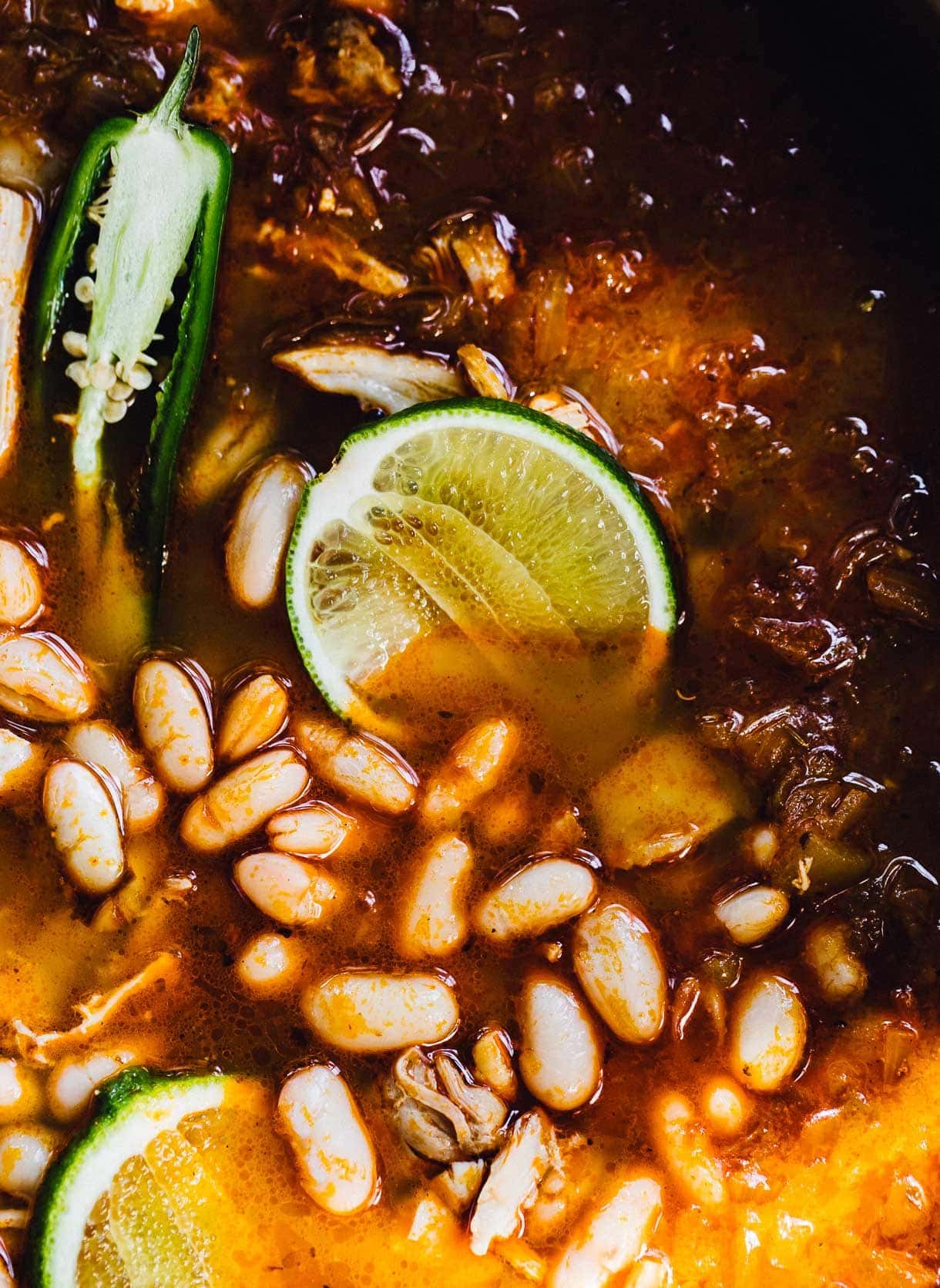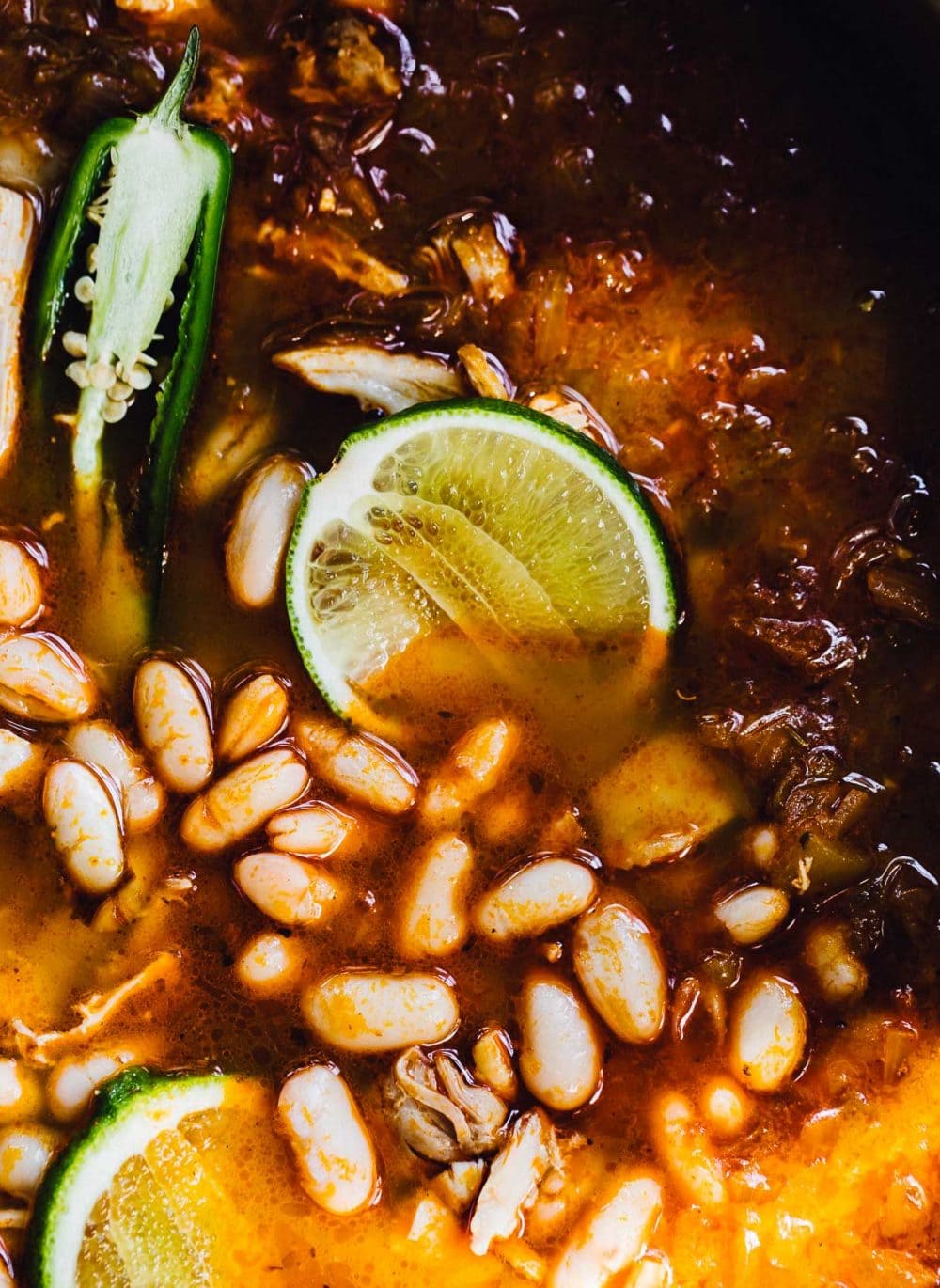 Where did Green Chile Stew Originate?
Green chile stew is a widely popular dish in New Mexico that you'll find in every home and every restaurant. It is a spicy, slow-cooked concoction of pork, hatch green chiles, and potatoes that warms you from the inside out.
My Green Chili Soup is not trying to replace or be the traditional stew – I leave that to those who grew up in the area, and have heirloom family stew recipes that continue to be passed on to the next generation, like Olivia, and her grandmother's Hatch Green Chili Stew.
Why is this soup called "Green Chili" but has a red hue?
You may be wondering why this soup appears more red than green when the main ingredients of this soup include salsa verde and diced green chiles. Well, both those ingredients are a rather muddy green color and don't stand up to the smoked paprika and chili powder used.
These two spices shine through the chicken brothand create a beautiful rust colored soup.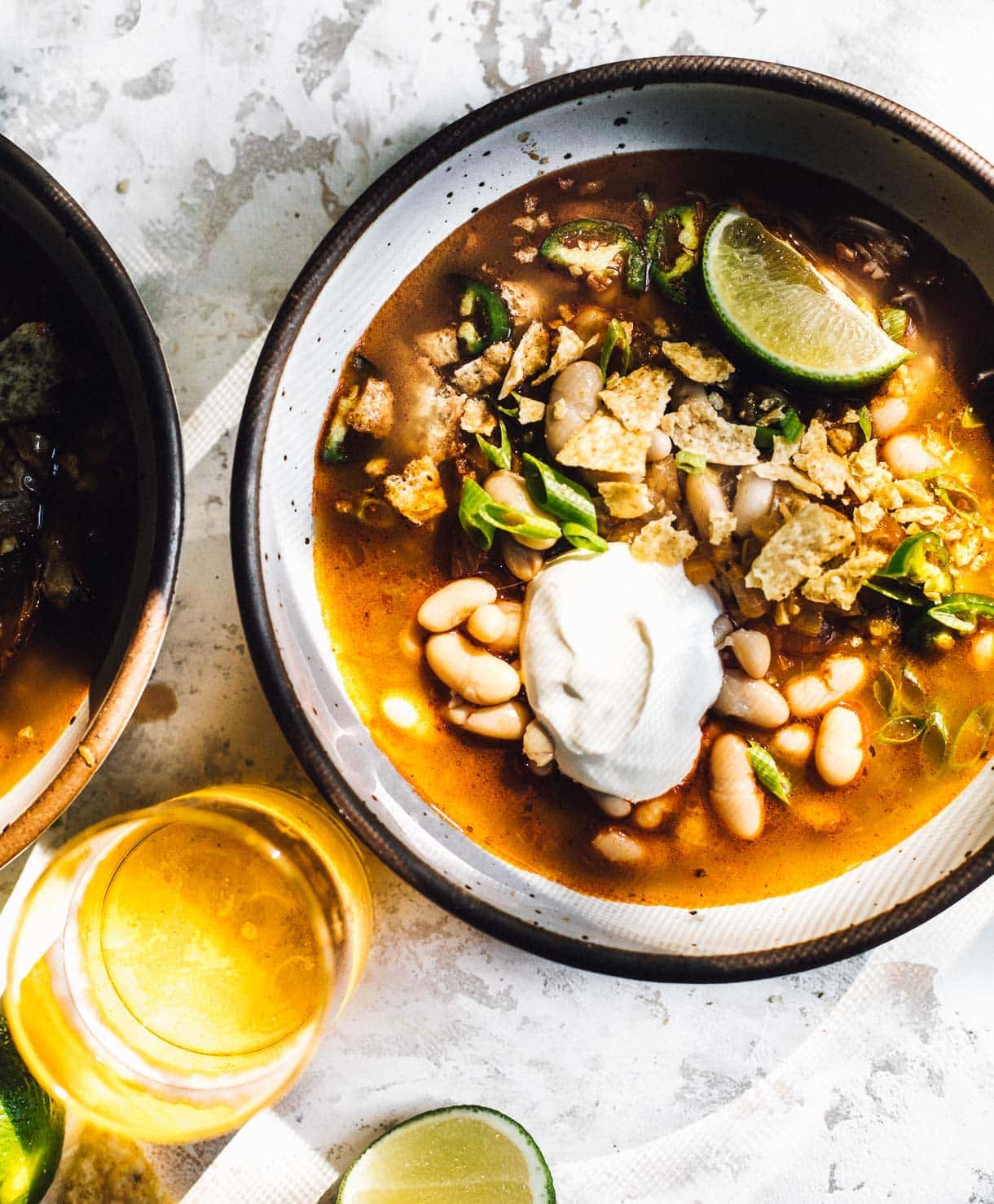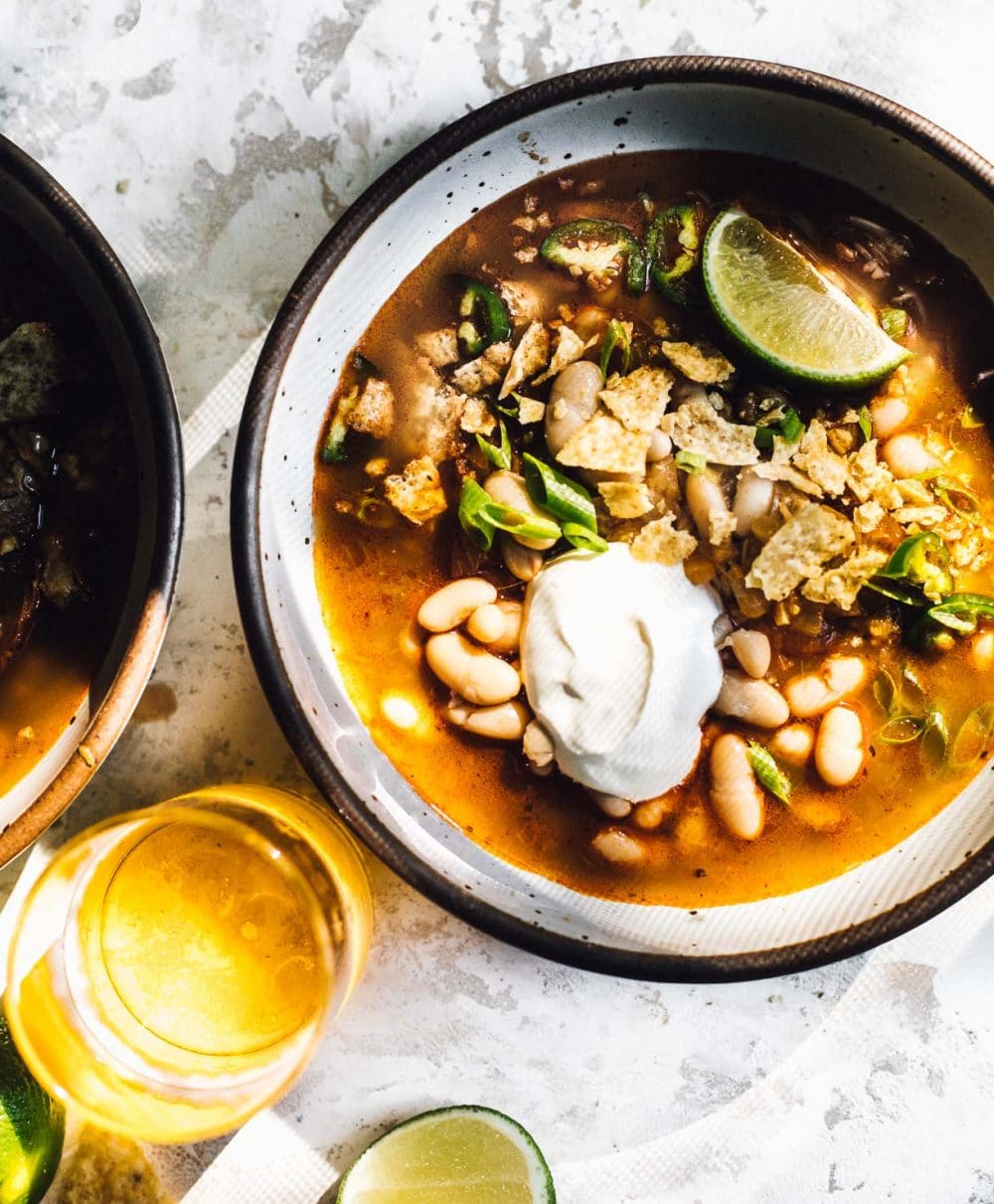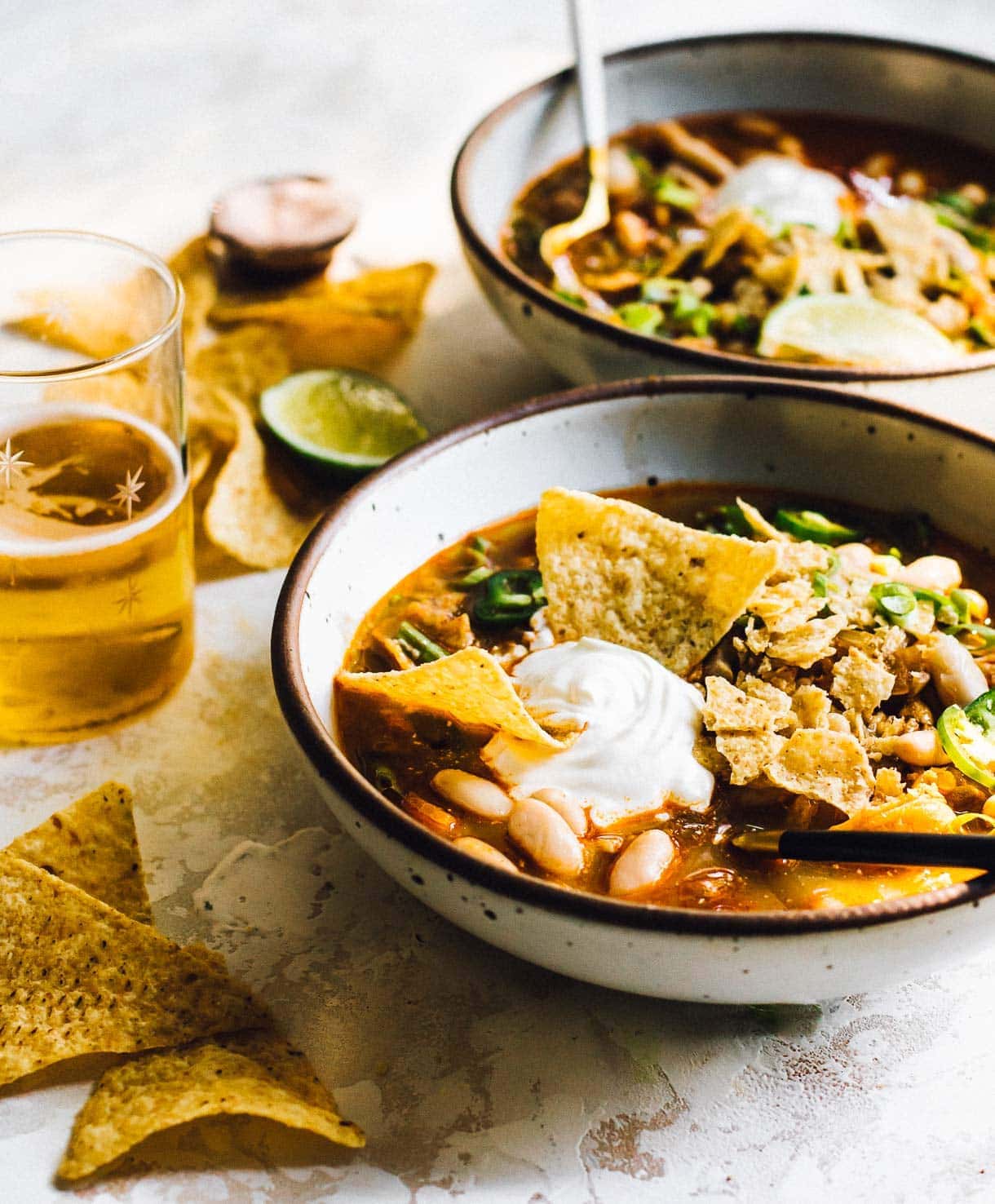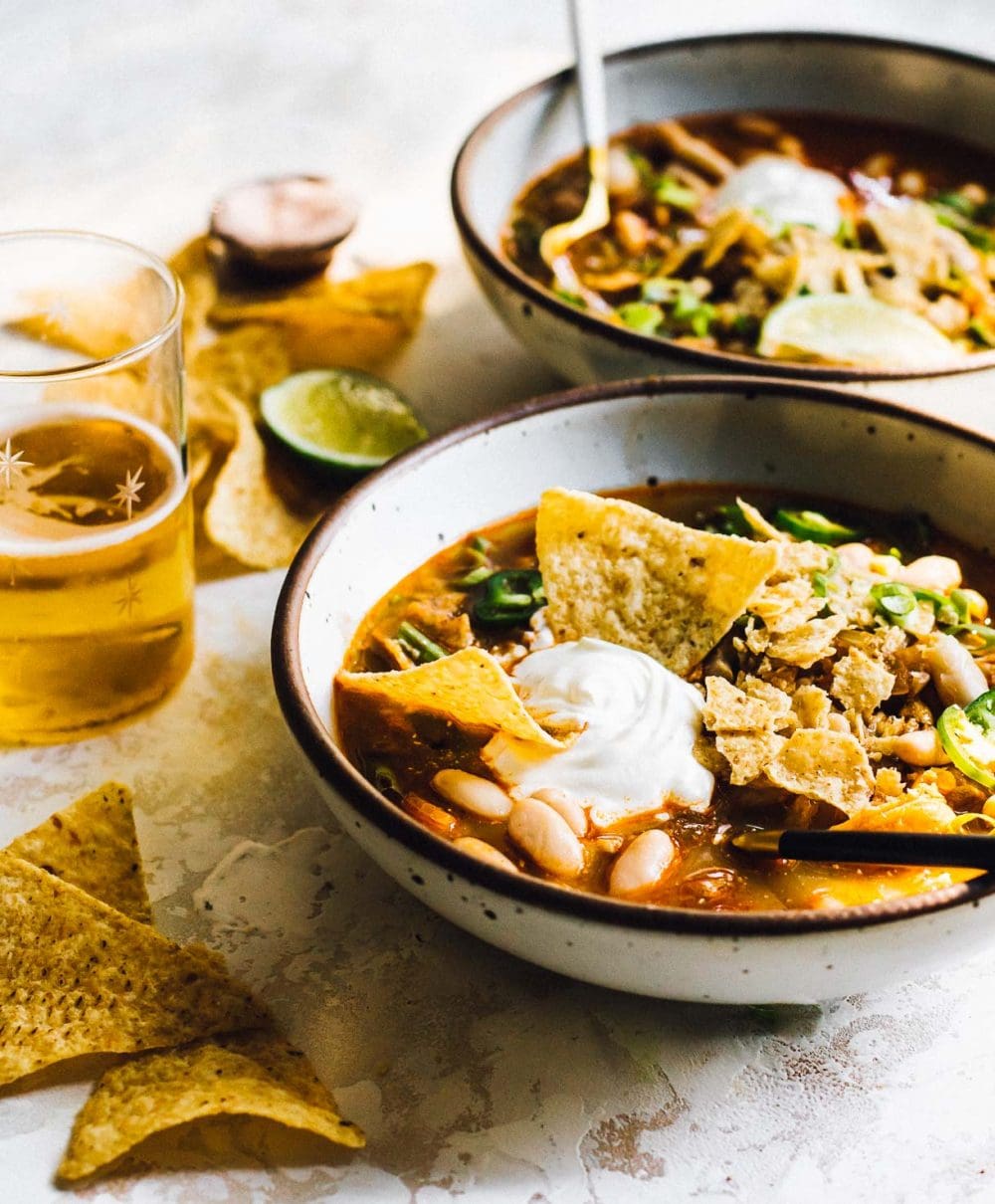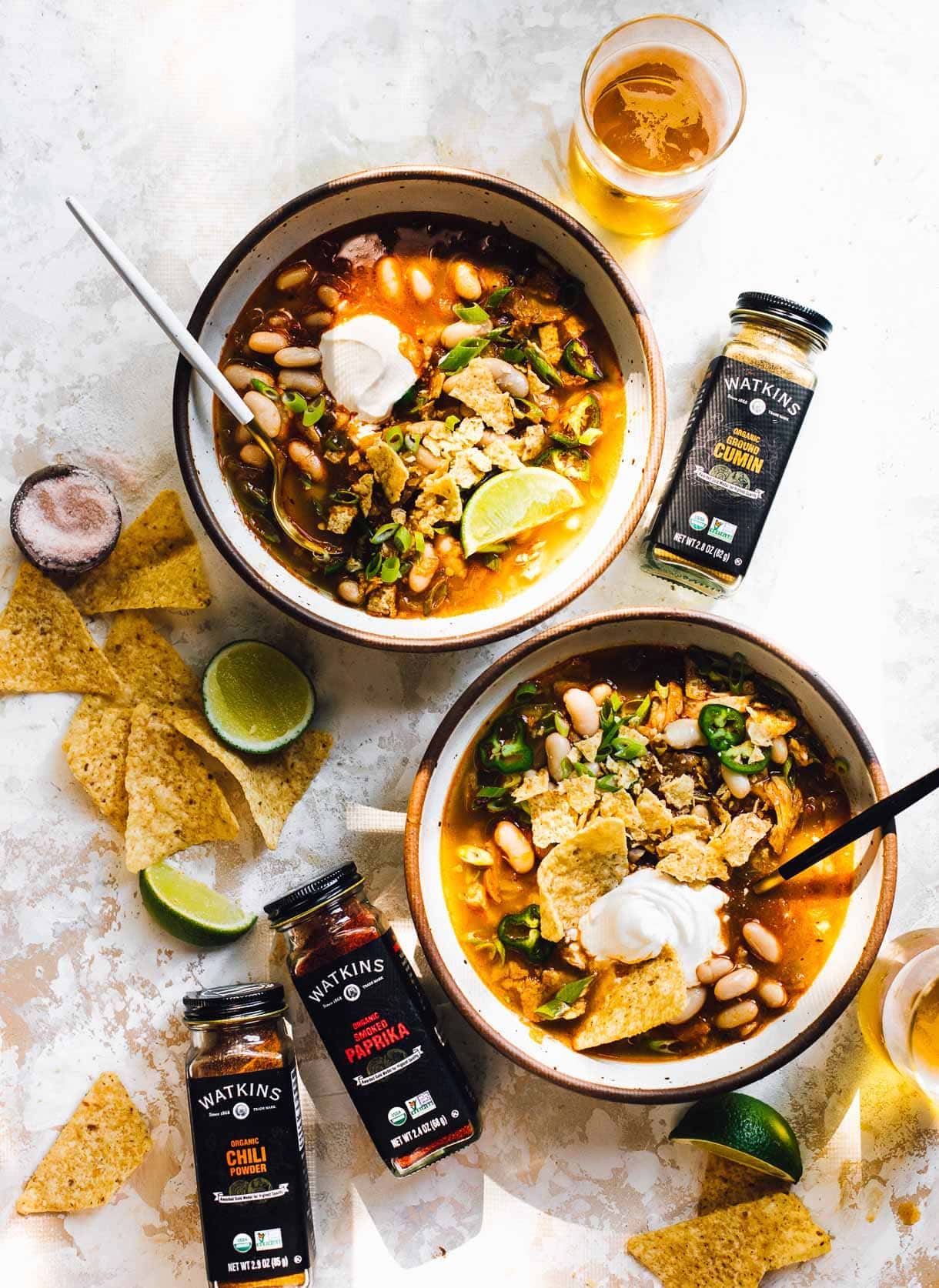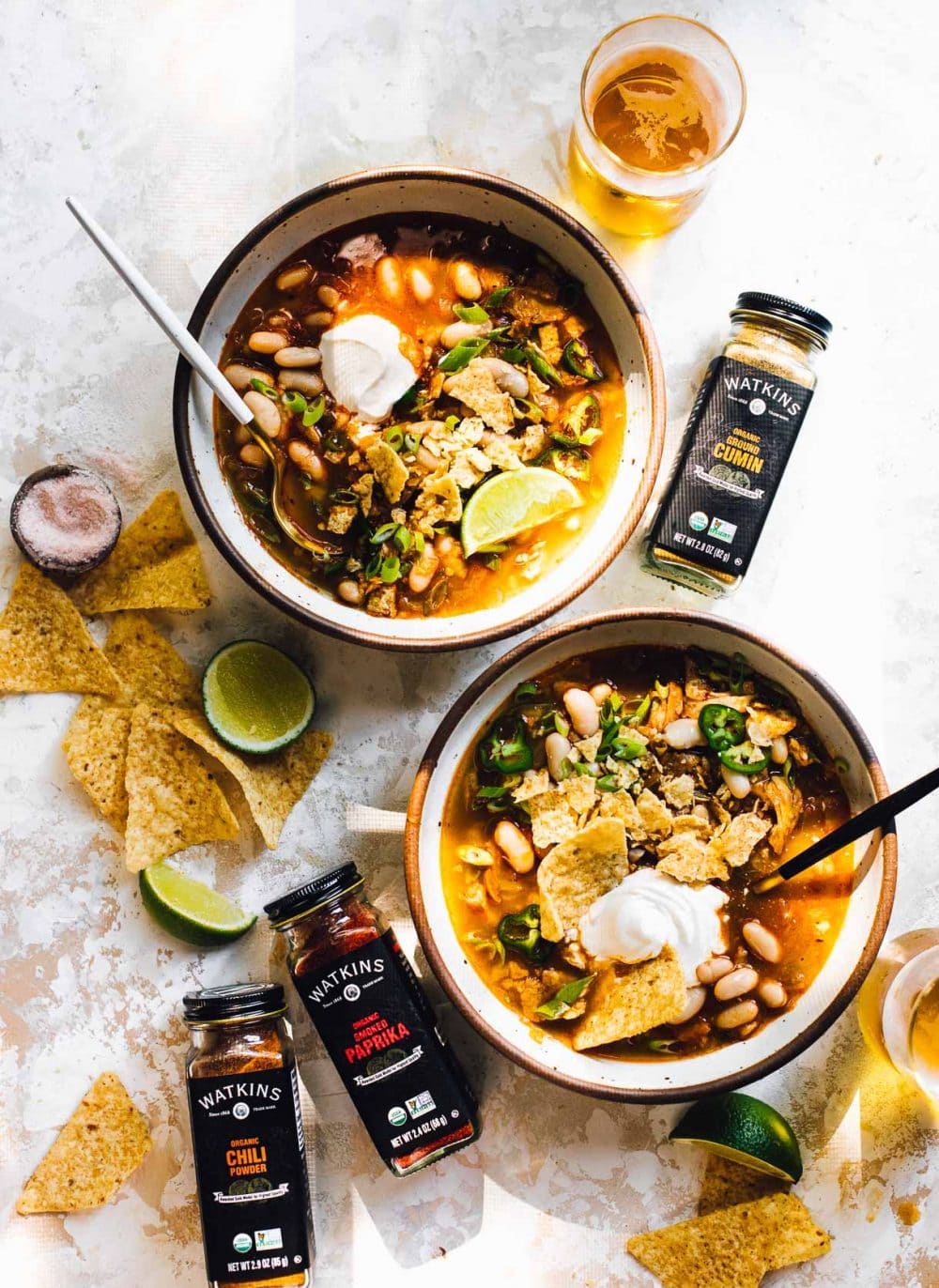 More Heartbeet Kitchen soup recipes for you to make:
If you make this Stovetop Green Chicken Chili, be sure to tag me on Instagram with hashtag #heartbeetkitchen or @heartbeetkitchen!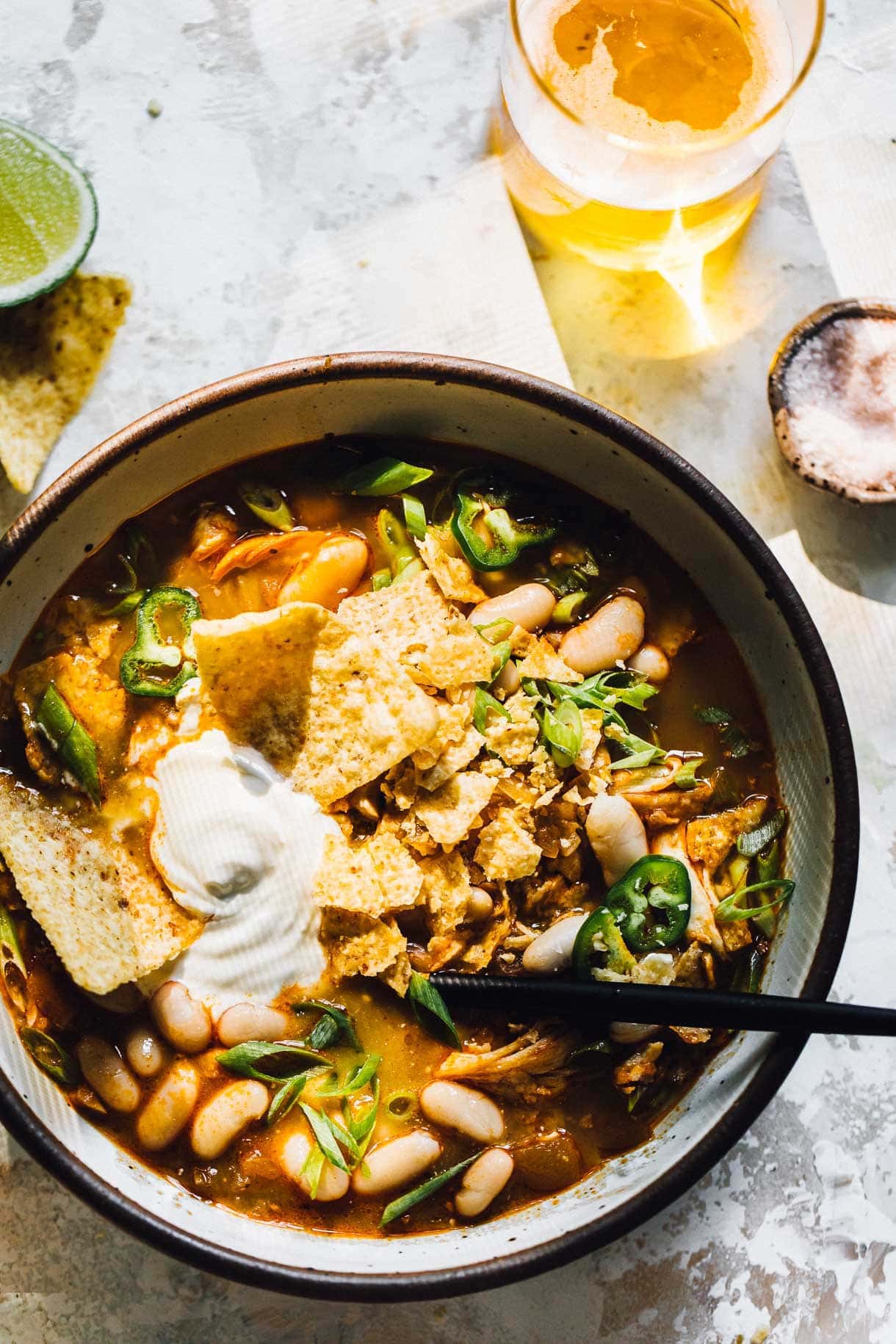 2

tablespoons

olive oil

divided

1

pound

chicken thighs

3/4

teaspoon

Watkins Fine Himalayan Pink Salt

1

white onion

diced

1

teaspoon

Watkins Organic Smoked Paprika

2

teaspoons

Watkins Organic Chili Powder

2

teaspoons

Watkins Organic Cumin

1

teaspoon

Watkins Organic Dried Oregano

4

cloves

garlic

minced

[1

12 -14 ounce jar salsa verde]

[1

4 ounce can mild green chiles]

3

cups

low sodium chicken broth

3

Watkins organic dried bay leaves

1

14.5 ounce can white beans, drained and rinsed

juice of one lime

garnishes: shredded cheese

tortilla chips, sour cream, green onions
Sprinkle salt over chicken thighs. Heat 1 tablespoon olive over medium high heat in a heavy stock pot, and add chicken thighs in individual layer. Sear on both sides 4-5 minutes to get a golden brown crust. Remove chicken thighs and set aside.

Turn heat down to medium and add diced onion + pinch of salt to chicken drippings in pot, and saute until translucent, about 7 minutes. Add smoked paprika, chili powder, cumin, and oregano leaves. Stir and coat onion, and you will start to smell the spices become fragrant, cooking for 1-2 minutes. Add a tablespoon more olive oil, and stir in garlic, cooking for 1-2 minutes.

Add chicken back to pot, along with salsa verde, diced green chiles, chicken broth, and bay leaves. Stir, and bring to a boil. Turn heat down to a light simmer, and cover. Cook for 20 minutes.

Remove chicken thighs and shred using forks. Add back to pot, along with white beans, cook for 10 more minutes. Stir in fresh lime juice.

Remove bay leaves, and serve with shredded cheese, crushed tortilla chips, sour cream, and minced green onions.
This soup freezes well for up to 2 months.