This homemade split pea soup is cozy, comforting & easy to make! Simmered with fresh herbs & ham which brings a wonderful smoky flavor. No need to soak the split peas, they break down as the soup cooks on the stovetop! Naturally gluten-free and dairy-free soup.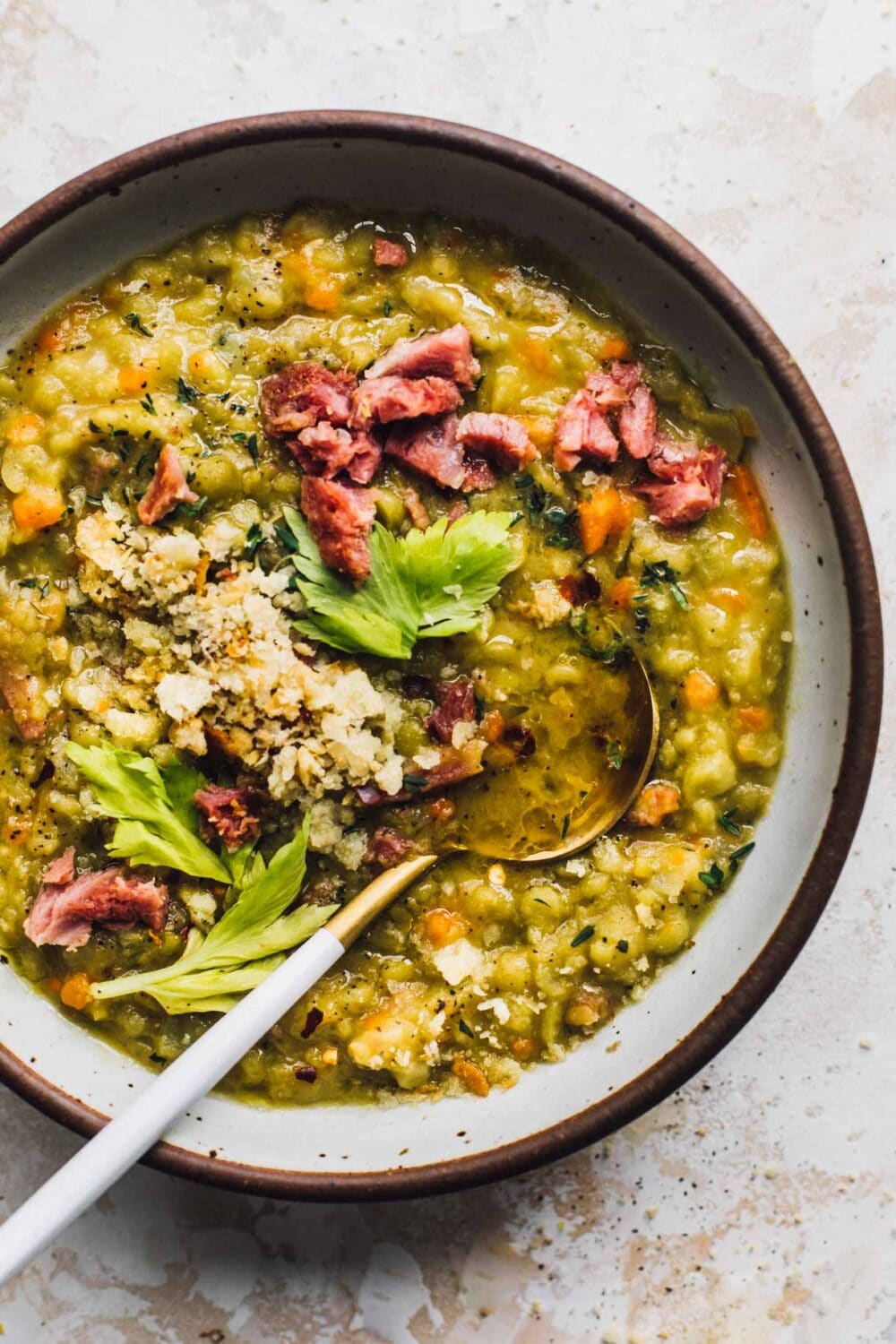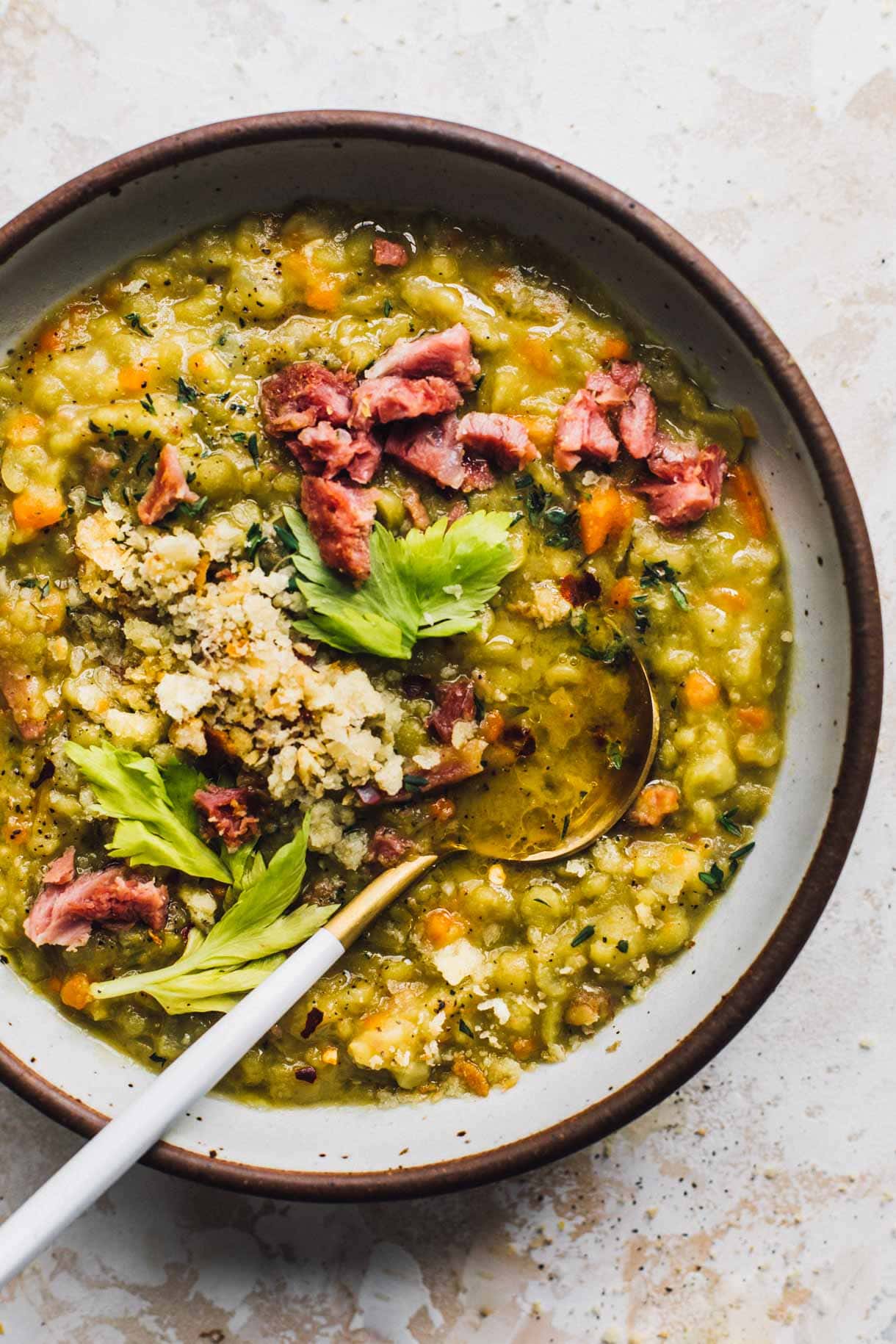 Split pea soup is not the sexiest if you go on looks alone. But the creamy, hearty, richness of this classic soup is one that I crave. It's absolutely the soup I want in winter.
I've found many split pea soup recipes to enjoy over the years, but this one is my favorite because the flavor is dynamite. You'll notice the tiny bit of white wine vinegar and worcestershire sauce added at the end to really make it pop.
How to Make Homemade Split Pea Soup
Split pea soup starts like many others, with a mirepoix of carrots, onions, and celery that are sautéed in olive oil, leading to a flavorful base.
Next, add chicken broth, water, and green split peas, along with fresh thyme, black pepper and other seasonings. The split peas will break down as they cook, turning creamier.
Finally, you'll add a ham hock that's simmered with all of the ingredients, adding incredible warmth and smokiness to the soup. The vegetables are the stars, while the meat comes in for the final boost of umami.
Once the soup has simmered for about 45 minutes, and the split peas have broken down and starting to turn creamy, you'll remove the ham hock (or leftover ham bone!) and shred the meat from it.
Add the ham back to the pot and let cook for a few more minutes, stirring as you go. Serve with fresh sourdough bread!
While this soup sputters away on your stove, the split peas will begin to break down, softening to a creamy texture that adds to the coziness.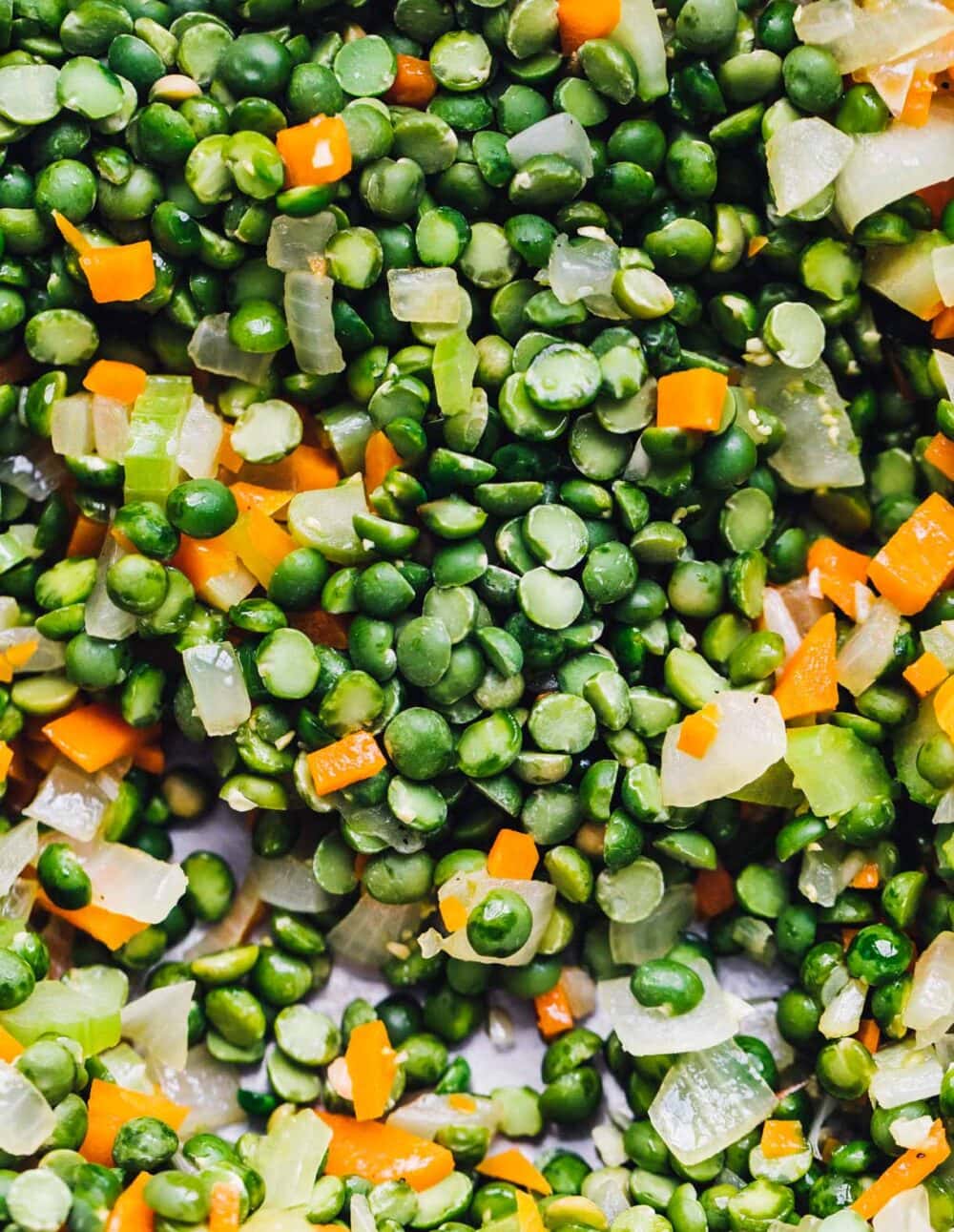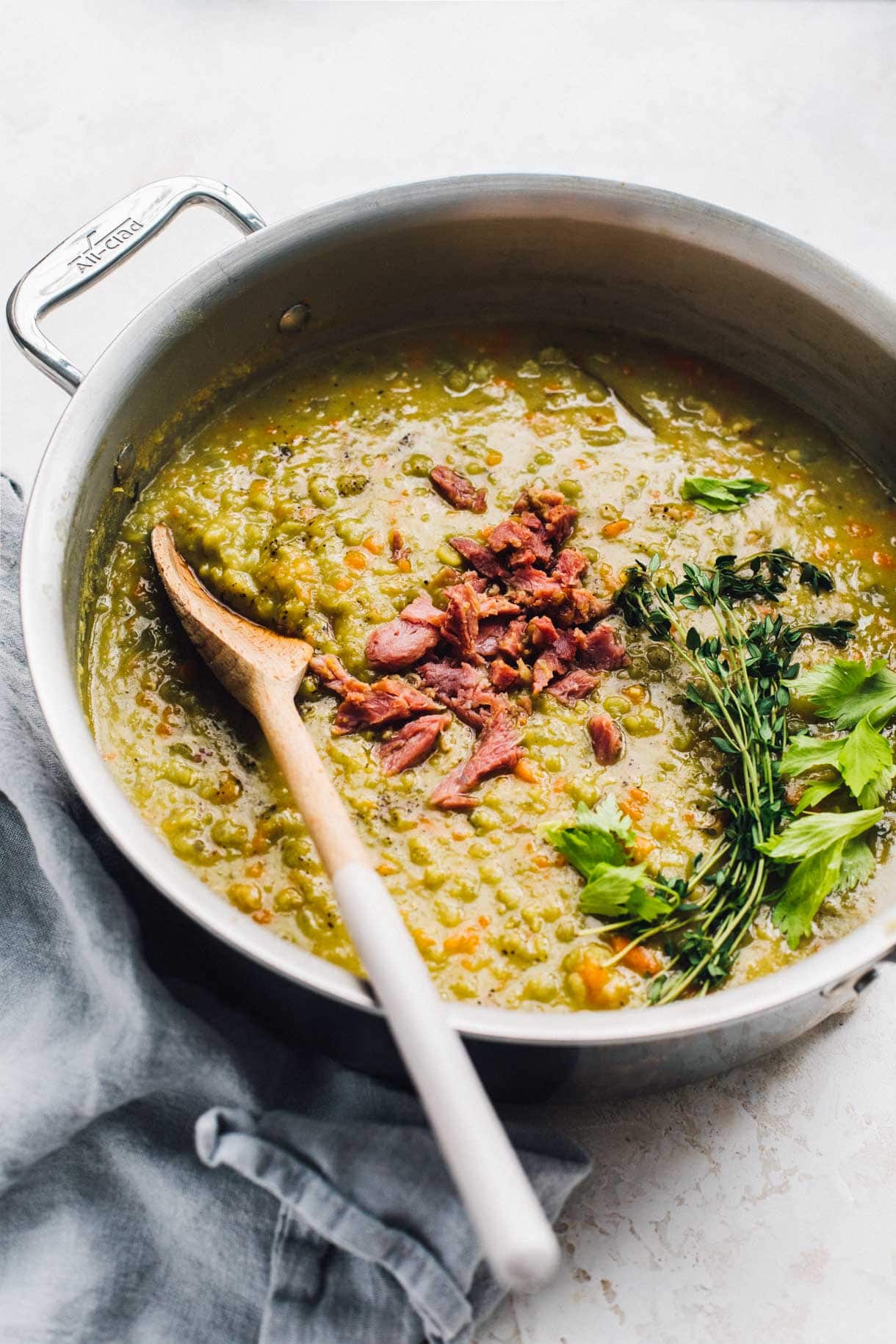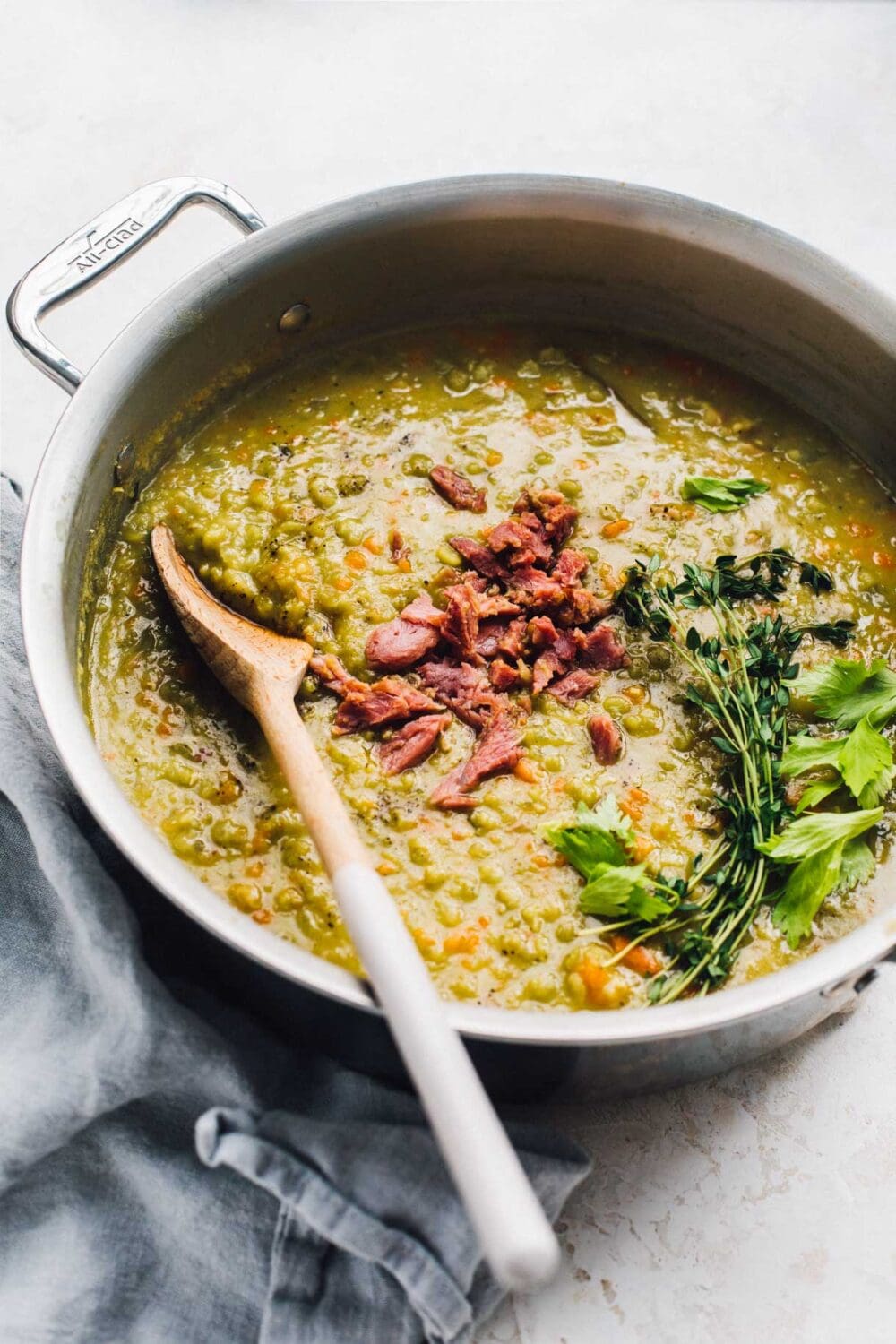 Health Benefits of Split Peas!
A great source of plant based protein! A 1/2 cup of split peas has about 8 grams of protein.
High in soluble fiber; they can lower cholesterol.
Split peas are low in fat and a good source of folate, iron, and potassium.
The high fiber content of split peas can also help regulate blood-sugar levels.
Do Split Peas Need to Be Soaked Before Cooking?
Nope, no soaking needed! Unlike beans, split peas break down easily when they are cooked in a broth. They absorb lots of moisture as they cook, so check the soup halfway through cooking and add liquid as needed.
Storing Split Pea Soup
The leftovers are wonderful. And like any good soup, the flavors continue to deepen each day it's stored in the fridge. You can also freeze this split pea soup, in jars (leaving about 2 inches of space on top for expansion) or in storage containers.
When wanting to reheat leftovers, add a few tablespoons of water to loosen in it, as it thickens quite a bit in storage.
More Delicious Soup Recipes: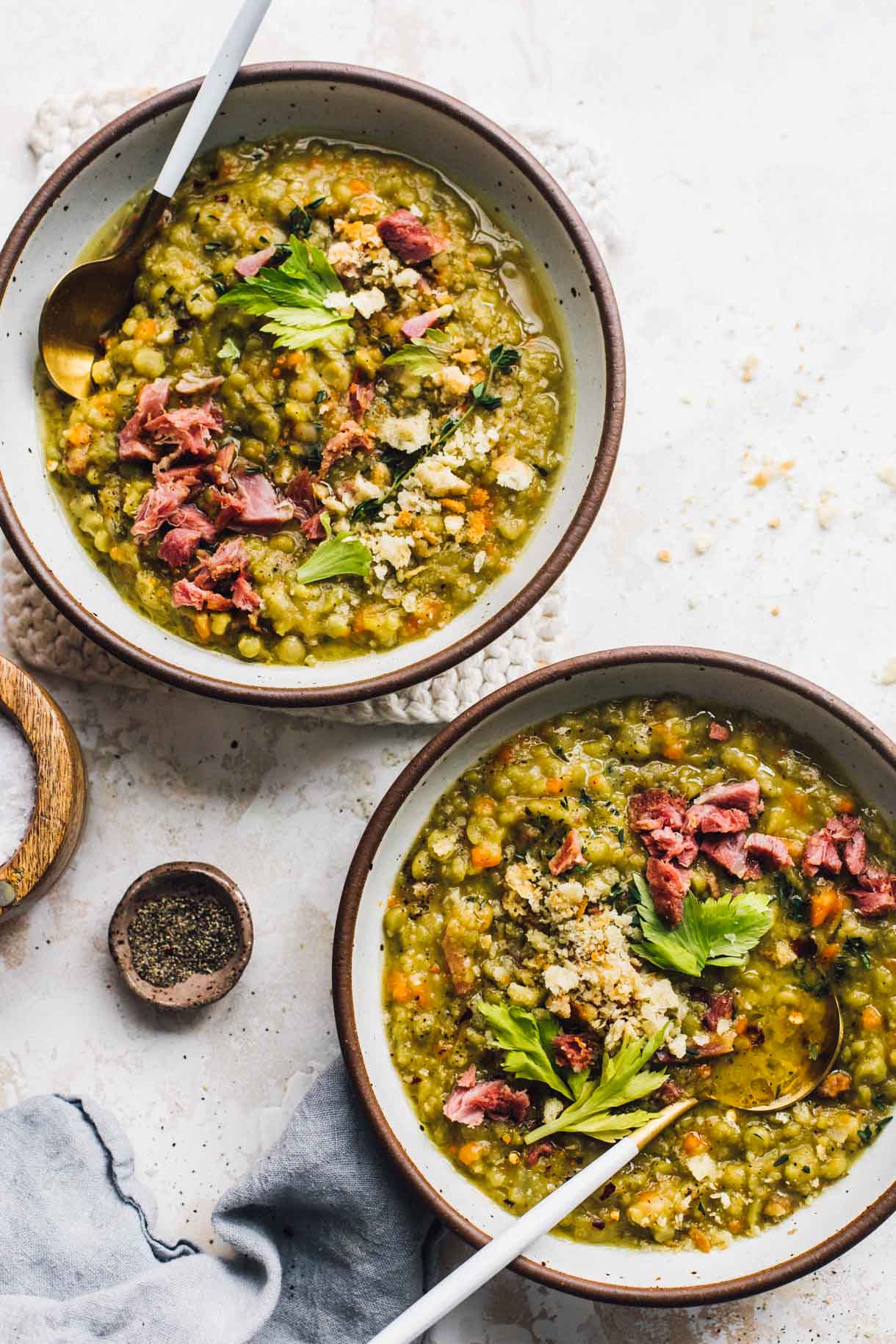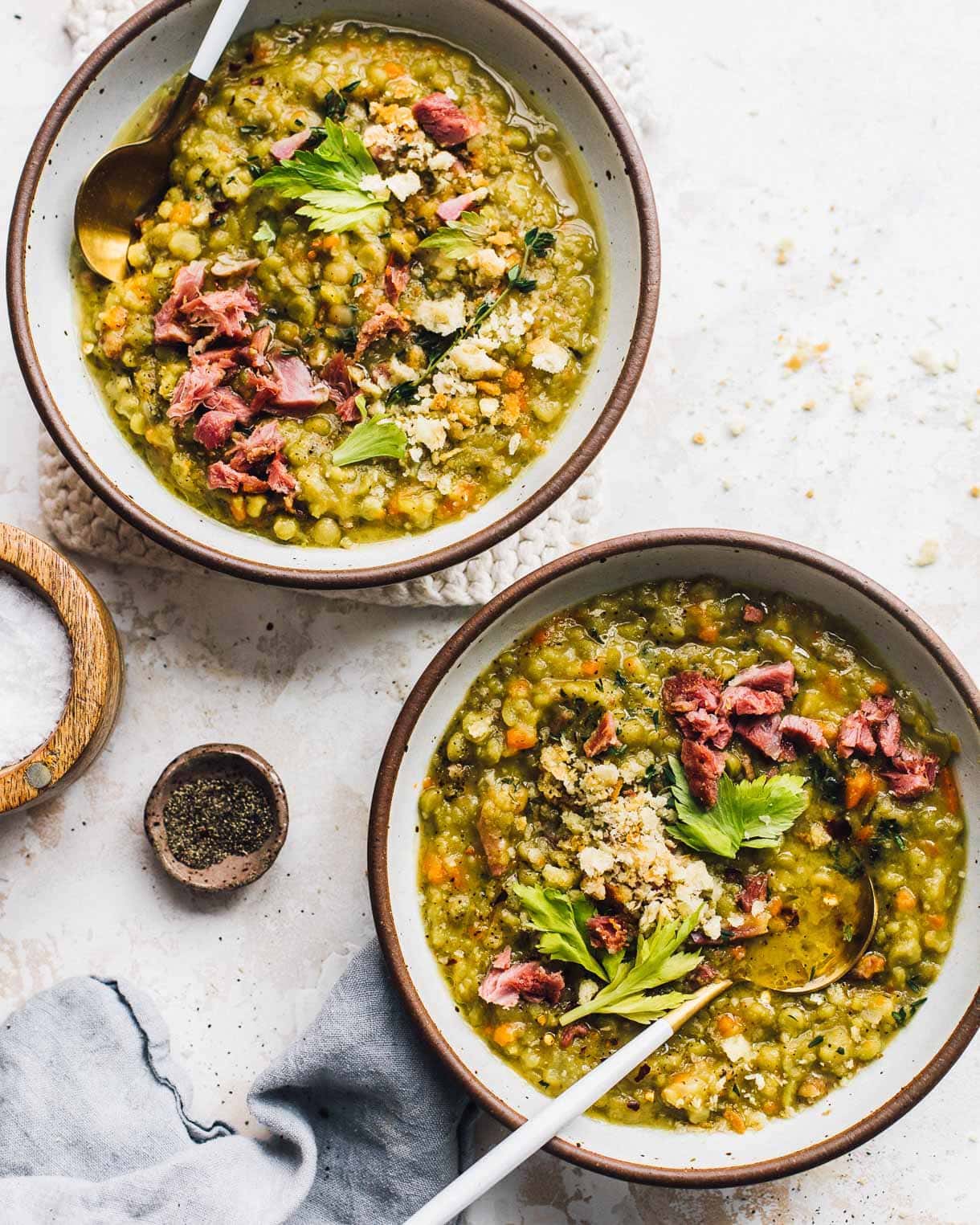 2

tablespoons

olive oil

4

ounces

diced onion (about 1 large)

1/2

cup

(2 ounces) diced celery

2

ounces

(about 1/2 cup) diced carrot

4

cloves

garlic

minced (about 1 1/2 tablespoons)

3/4

pound

(12 ounces) dry green split peas

1

(32 ounce) box chicken stock

2

dried bay leaves

3

sprigs fresh thyme

1/2

teaspoon

ground black pepper

1

small ham shank preferred,

or 1 cup diced/shredded ham

1/2

cup

to 1 cup water

1

teaspoon

white wine vinegar

1

teaspoon

Worcestershire sauce

salt to taste
In a stock pot, heat olive oil to medium heat. Add onion, carrot, and celery to pot with 1/4 teaspoon salt. Cook for 8-10 minutes until vegetables are softened and onions are translucent. Add garlic and split peas, and cook for 1 more minute.

Add chicken stock, bay leaves, thyme, and black pepper to the pot. Add ham shank. Bring soup to a boil, stir thoroughly then turn heat down to a simmer and cover.

Simmer, stirring occasionally. After 45 minutes of cooking, remove ham shank so that you can let lightly cool, then shred meat off the bone. Add meat to pot and 1/2 cup water (if you are using diced ham, add it now), then simmer soup for another 10-15 minutes, until split peas have started to break apart, are very soft (but not total mush – taste to see if they are softened to your liking), and desired thickness of your soup has been reached. You can add up to another 1/2 cup water if you'd like. When desired thickness is achieved, discard thyme sprigs and bay leaves. Stir in vinegar and Worcestershire sauce. Taste and adjust salt by 1/4 teaspoon increments if needed.

Serve with crusty bread or croutons!

Leftovers keep well in covered container in refrigerator for 4 days. When reheating, add water to loosen.