Yesterday I got to spend a little time with the crew at Twin Cities Live talking about 3 easy ways to use Leftover Ham that move beyond the usual suspects of tossing it into a hash or adding it to a grilled cheese sandwich. Not that those aren't completely delicious, but it's always fun to expand our recipe boxes right?
I think when it comes to leftovers, most people are either cheerleaders or they stick their noses up at them. Maybe because they feel like it's not that different than the original way it was served? But I'd say this sweet potato, ham and kale soup is a welcomed twist.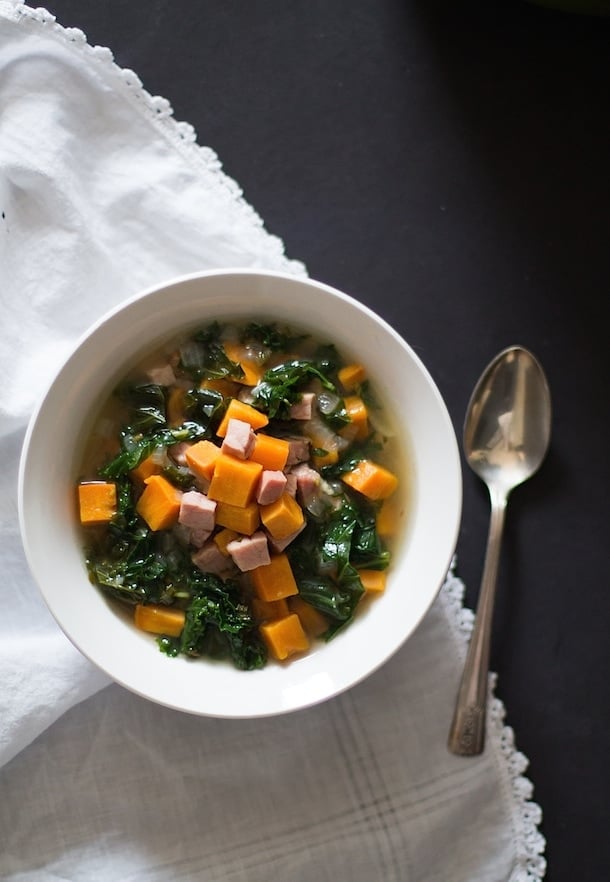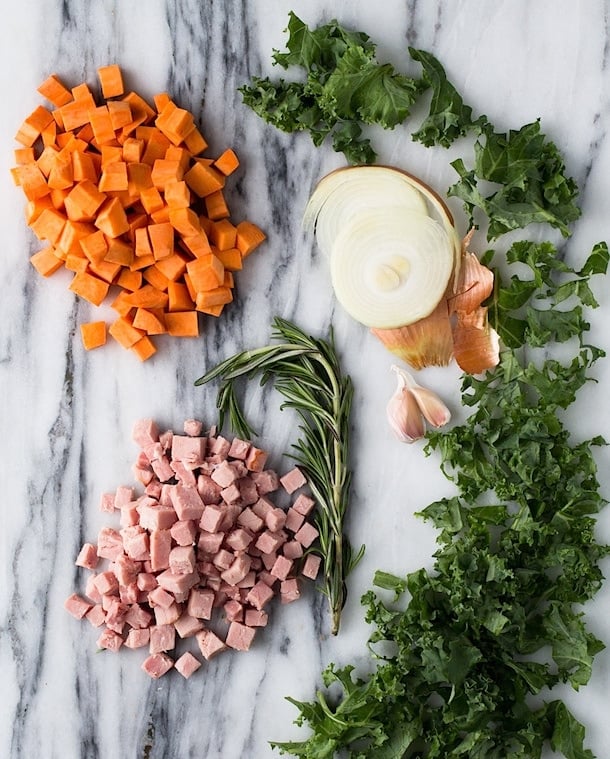 3 Tips for Making Amazing Homemade Soup
As I've watched and helped others cook, I've noticed that most are quite shy with salt and end up thinking the recipe wasn't a very good one – or they add it at the very end of cooking so it did not have a chance to infuse the other ingredients.
Adding salt while the onions are sautéing with the rosemary (also key in bringing out the aromatics of this hearty herb) AND again once you add the sweet potatoes is key. Chemically it will make the onions sweat and bring out the natural juices and the sweet potatoes need it to bring out their flavor.
Homemade broth or stock: I confess, I wasn't a homemade broth/stock type of person until I started the Autoimmune Protocol. I always thought it was a great idea, but the convenience of store bought was so nice. But after my first sip of hot chicken bone broth, I was sold. It is wonderfully robust, and has a buttery mouthfeel that you just don't get from the cartons.
Of course, if you don't make your own broth, that's okay too, just know that you might need to amp up the rosemary and salt.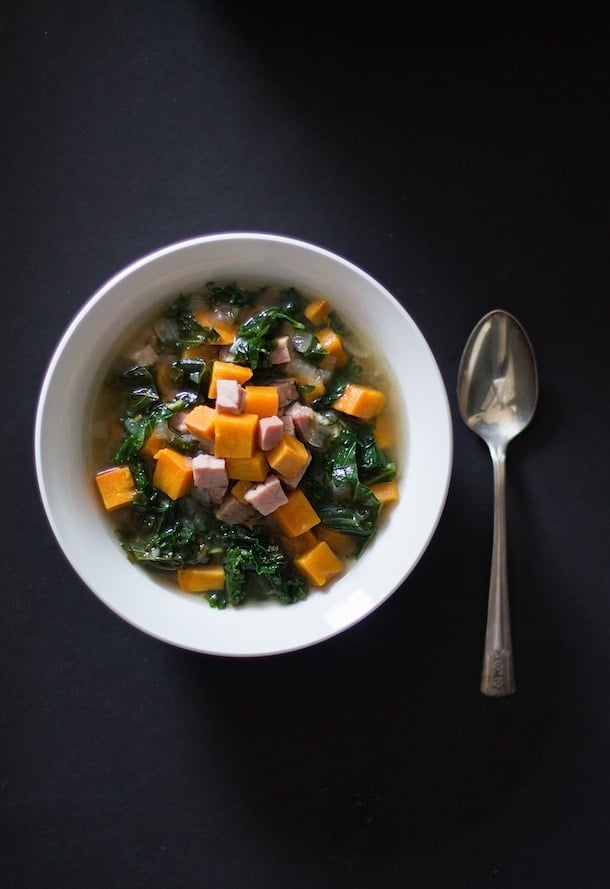 Beyond that, drinking bone broth is such an integral part of healing for any autoimmune condition, giving our bodies the building blocks for the rapidly growing cells of the gut lining and a soothing effect on inflammation in the gut.
It helps to maintain healthy bones, glowing skin, pain-free joints, and supporting the cellular processes that continually happen throughout the day.
With the gray, chilly days that April has brought to Minnesota, I feel like it makes this soup tastes even better. The salty sweet pork plays off the earthy kale, and the sweet potatoes meld with the warmth of the rosemary. I really love the colors too – orange, pink and green normally aren't seen together, but they look lovely in the bowl don't they?
And I must say don't just reserve this bowl of comfort for lunch or dinner. I've discovered that having hot soup for breakfast might just be one of life's hidden treasures. It's soothing, comforting and a nice way to bring yourself together before the day starts.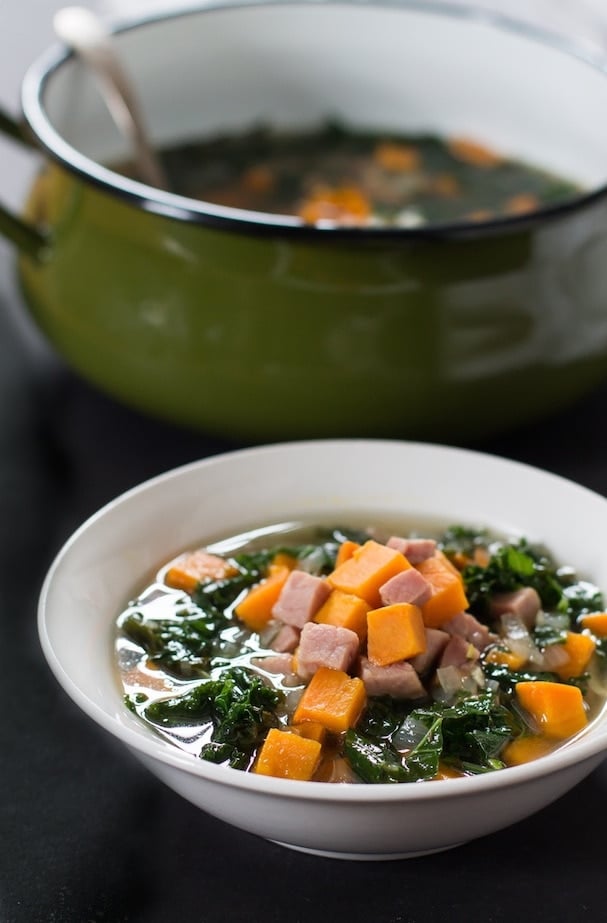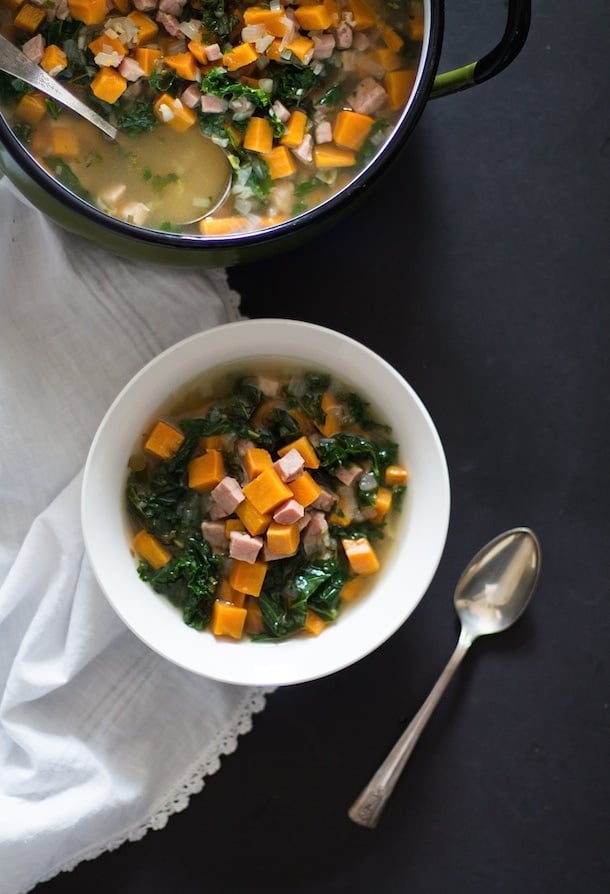 2

tablespoons

olive oil

1

cup

diced onion

3

cloves

garlic,

minced

1

sprig fresh rosemary,

with 1 teaspoon of it removed and chopped (1 teaspoon if using dried)

2

cups

diced sweet potatoes, cut into 1/4 to 1/2 inch cubes

3/4

teaspoon

fine sea salt

divided

1/2

teaspoon

cracked black pepper

(omit if following AIP)

2

cups

leftover diced ham

3 1/2

cups

homemade chicken or vegetable broth,

or packaged low sodium versions

3-4

large leaves of kale,

finely chopped
In a large stockpot, heat olive oil over medium heat. Add onion and 1/4 teaspoon salt. Cook for 5-7 minutes, until onions are translucent. Add garlic and cook for 1 more minute, until fragrant.

Stir in sweet potatoes, remaining salt and black pepper if using, then cook for 2 minutes, stirring.

Add rosemary, ham and broth, bring to a light simmer, and cover. Cook for 20-22 minutes, then add kale and cook for 4 more minutes, until sweet potatoes are tender. Remove full spring of rosemary. Taste and adjust salt as needed. The amount of salt you need may vary depending on the broth you use. Enjoy!
If you use store bought chicken broth, you might need to adjust the salt ratios. Taste throughout cooking and add as needed.