This list of the top 10 AIP Snacks make on-the-go eating and traveling easier! All can be bought at the grocery store and are Autoimmune Protocol and paleo approved. For people with autoimmune diseases the autoimmune protocol diet may identify and eliminate individual foods that trigger symptoms like inflammation.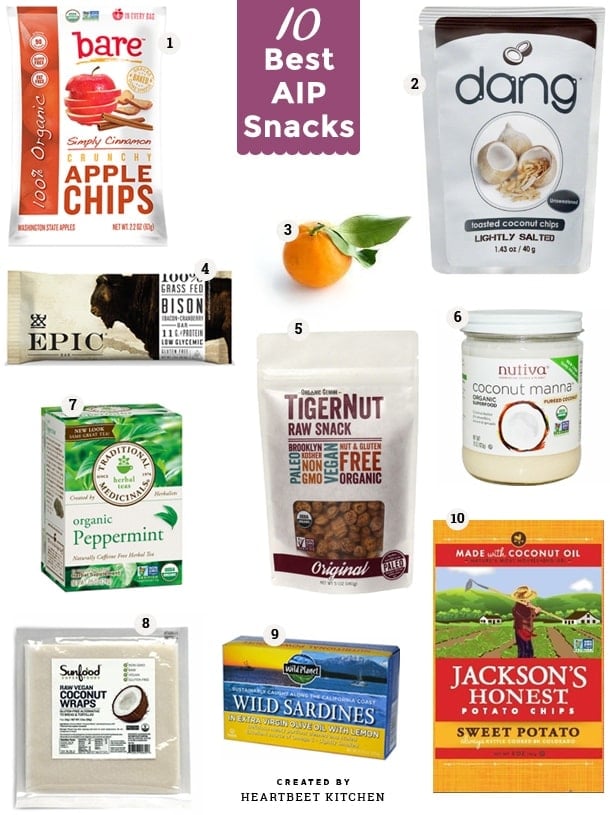 What is the Auto-Immune Protocol?
The Autoimmune Protocol (AIP) is a way of eating that aims to reduce inflammation, pain, and other symptoms caused by autoimmune diseases. The AIP diet resembles the paleo diet but also eliminates nut, seeds, and nightshade vegetables.
It's no secret that any time you change how you're eating, it takes planning and commitment. For me, the biggest adjustment following the Autoimmune Protocol has been adding meat to almost all of my meals and completely removing grains, which both I got used to fairly quick. But having things to eat for on-the-go days or traveling has been a different story. Nuts, gluten-free crackers, protein bars, and overnight oats were always my essentials.
Lots of researching, label reading and taste testing resulted in finding the 10 Best AIP snacks you'll love regardless of how you eat. You're looking at real food, free of preservatives and made with simple ingredients.
What makes these 10 products the best AIP snacks.
You can also check out my collection of AIP approved recipes that you can make at home.
1. Bare Simply Cinnamon Organic Apple Chips: the crunch, the cinnamon, the natural sweetness are to die for. They're baked, not fried and are a good cure for a sweet tooth. I also add them to salads as "croutons".
2. Dang Lightly Salted Toasted Coconut Chips: it's hard for me to resist a savory sweet combo, and I find myself sneaking a handful of these when I'm craving either. They have no added sugar, and are another crunchy snack I love.
3. Citrus! Any and all kinds. They don't need to be refrigerated and their skin protects them from bruising while you're traveling. And maybe it's just me, but their fresh, fruity smell usually brings me a sense of happiness.
4. Epic Cranberry Bacon Bison Bars: It's not easy to find a "jerky" type product that fits within AIP guidelines because many of them aren't grassfed & have preservatives. Or they have nightshade spices for flavoring (black pepper, cumin, chili pepper). But these bacon bison bars fit all criteria and so so tasty. No nitrates, and they aren't dry and tough.
5. Organic Gemini Raw Tigernuts: Almonds, pecans, cashews – they really were my favorite snack and I'm hopeful that I can reintroduce them. But for now, I'm happily enjoying raw tigernuts, which is actually a root vegetable. They're similar in taste to a cashew, slightly sweet and nutty, although they don't have the creamy texture.
6. Nutiva Coconut Manna (a.k.a. Coconut Butter): If you read my post & have made these Coconut Butter Stuffed Dates, you know my love for this creamy, nutrient rich fat source runs deep. Just like a scoop of peanut butter always made any day better, coconut butter does that too. I bring it along in a little mason jar and pack a few dates, and boom – instant AIP dessert.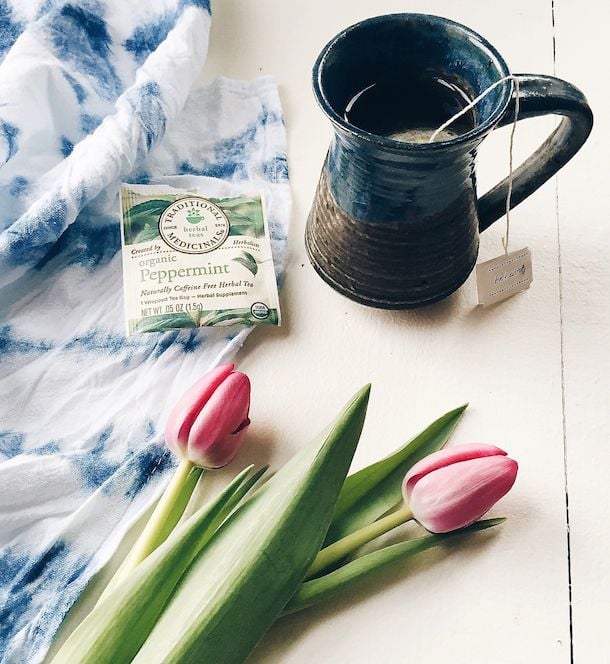 7. Traditional Medicinals Organic Tea: Truth be told, I miss toting around a mug of coffee, but I've really come to appreciate the health benefits of tea. My two favorites are peppermint (acts as a calming, digestion aid) and hibiscus (tart & tangy, an awakener). I am thankful for the sourcing and sustainability of the tea that Traditional Medicinals works so hard to bring us.
8. Sunfood Coconut Wraps: I have longed to have something sandwiched or wrapped, it's a texture craving thing. I was so happy to find these raw & vegan coconut wraps, that bend easily and are a great portable vehicle for whatever filling you like. They don't need to be refrigerated either.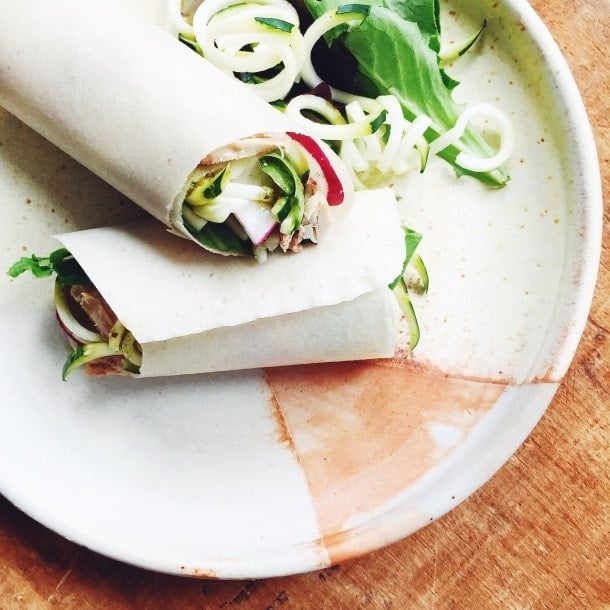 9. Wild Planet Sardines: This one took me a few tries to warm up to, but they are such an amazing source of omega fats and protein. These sardines are wild caught, and marinated in olive oil and lemon, so the flavor is really nice. Eat them plain, toss them on a salad while you're traveling, or put them in one of the coconut wraps.
10. Jackson's Honest Sweet Potato Chips: I saved the best for last people. These chips, made with coconut oil, are a little gift of nature's heaven. No other company makes a preservative free chip using coconut, avocado or olive oil, the only ones that follow the AIP protocol. The orange spuds are perfectly crisp and crunchy, with just the right amount of salt.
Thank you for making Heartbeet Kitchen possible! This blog is supported through the use of affiliate links.