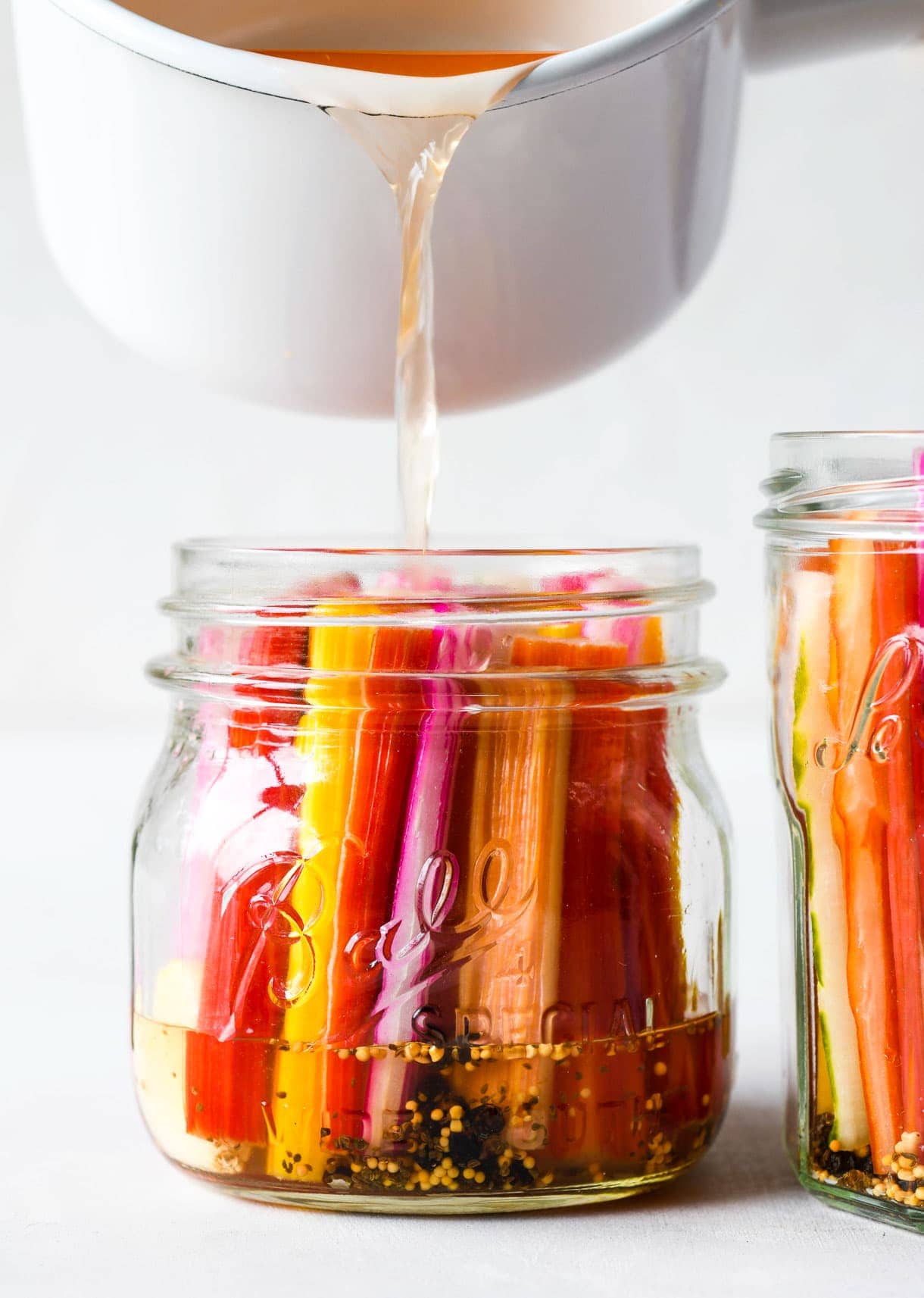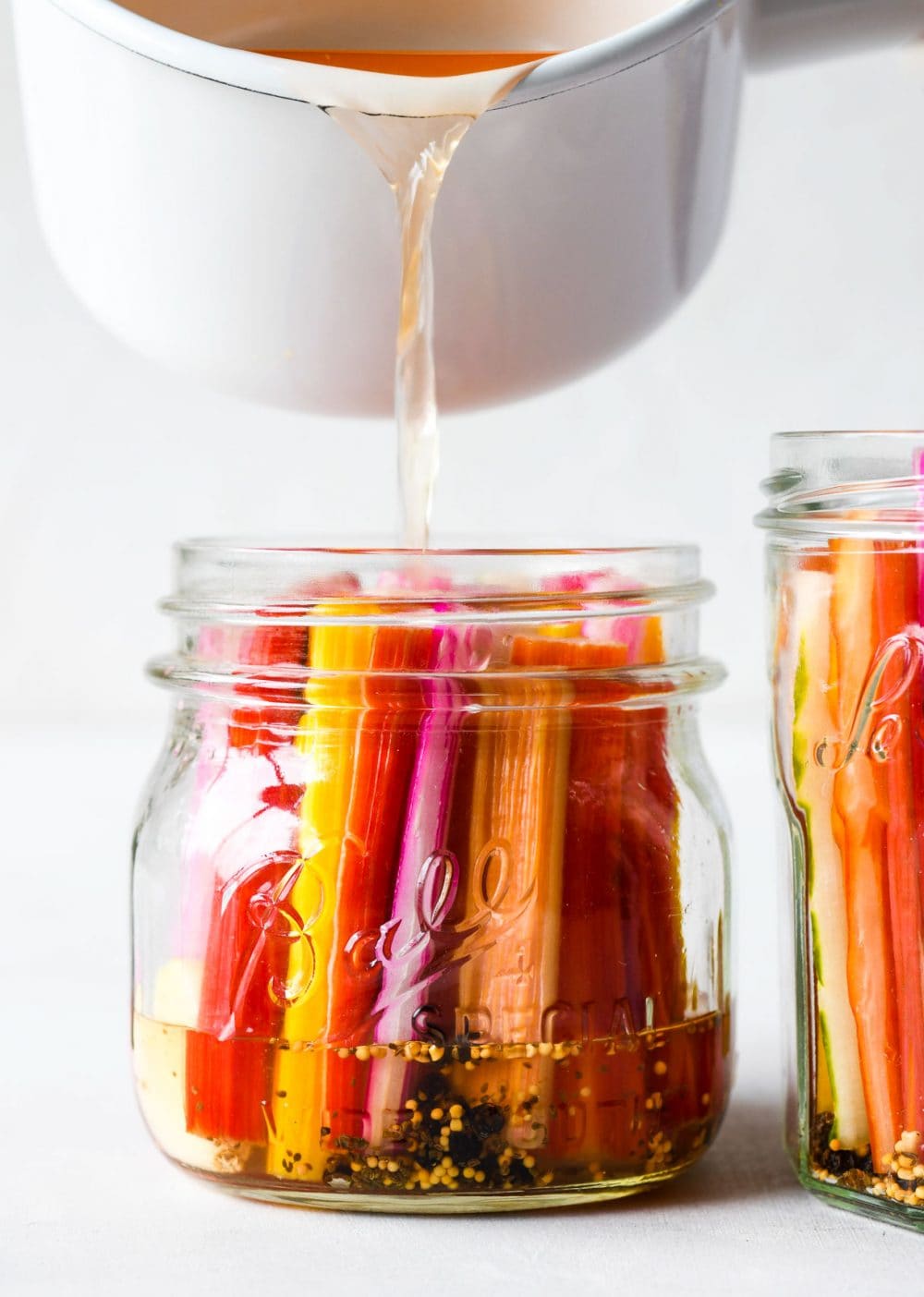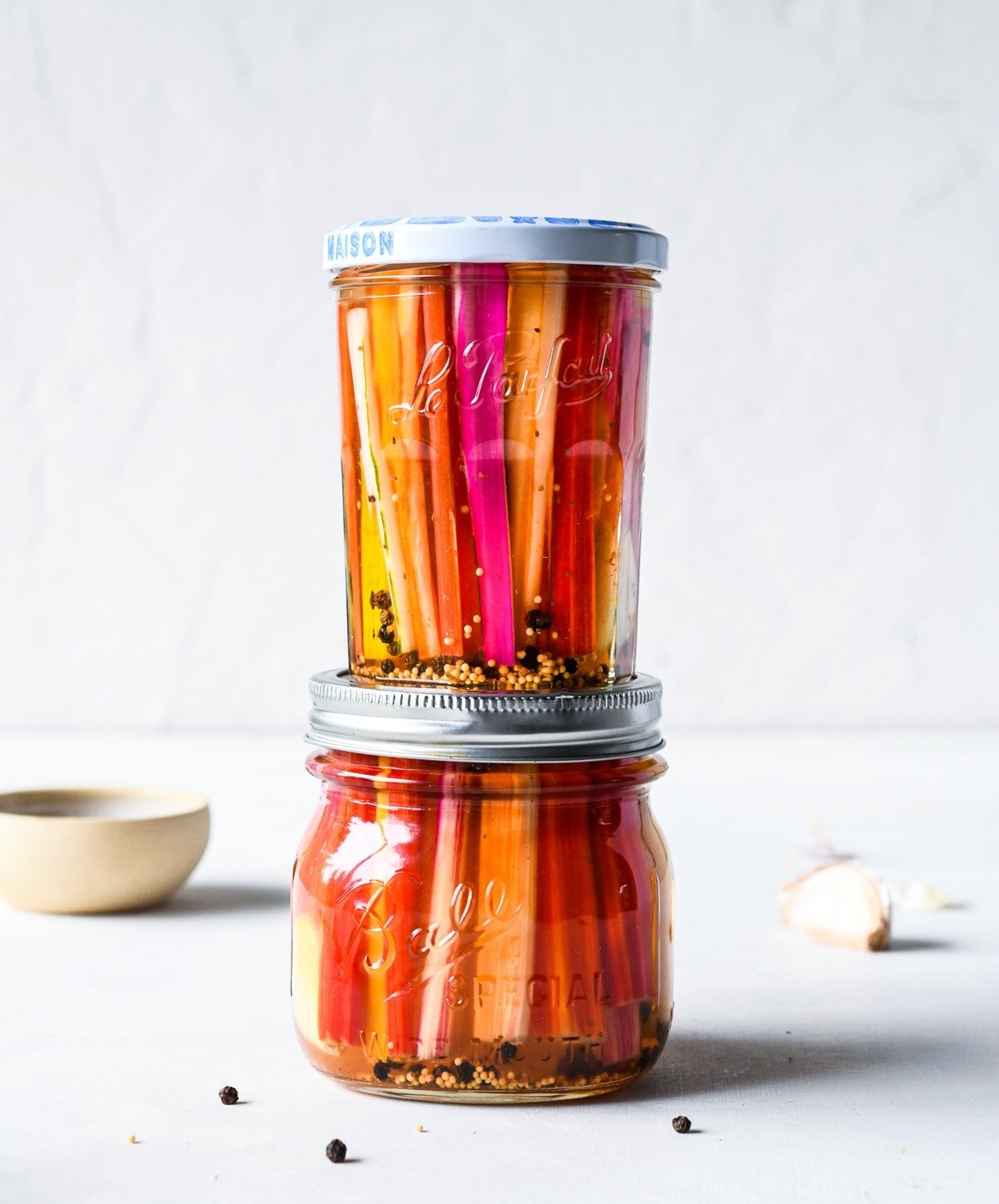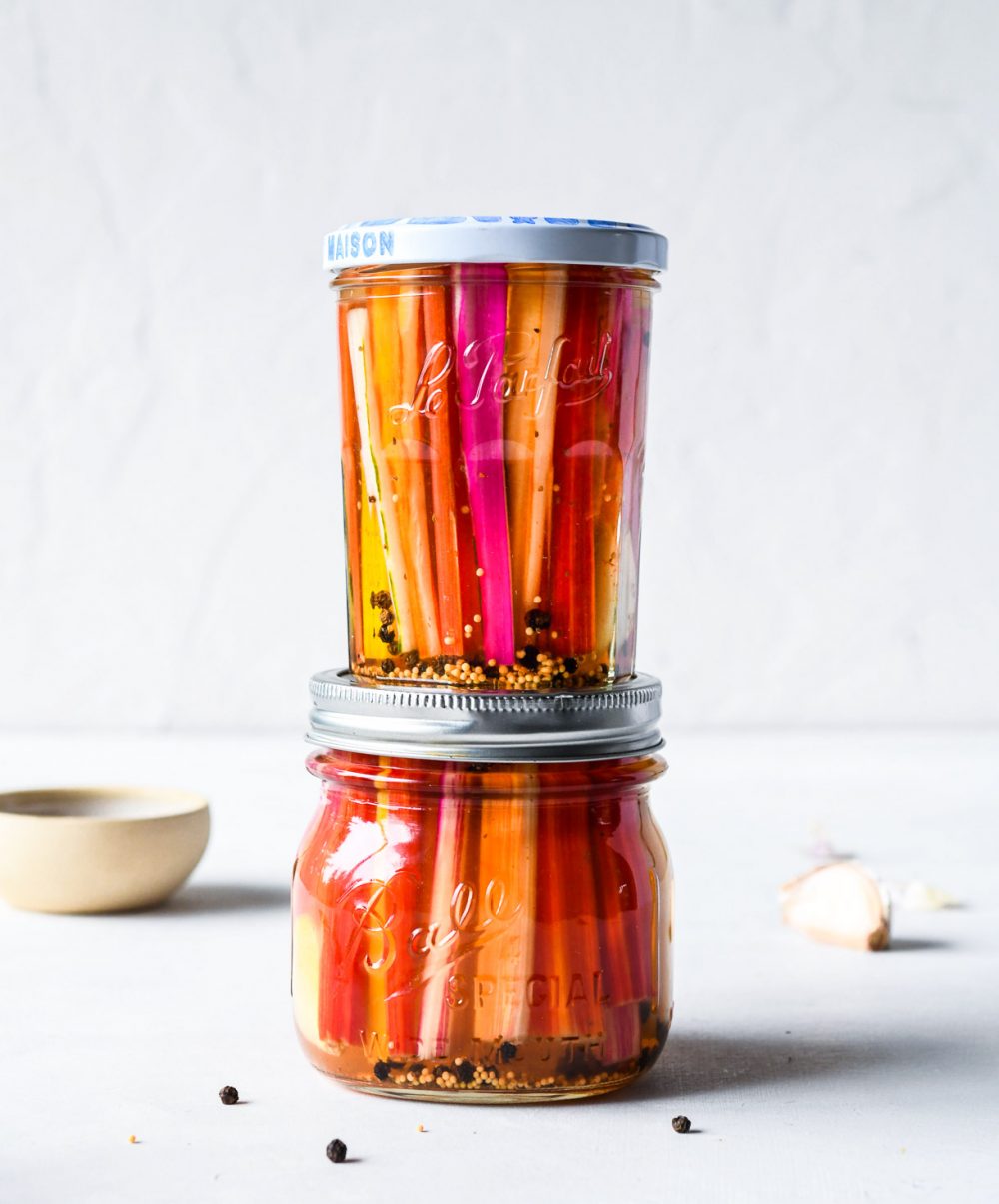 One thing I'm constantly striving to incorporate into my kitchen is less waste, and more use of all parts of vegetables.
Beet greens can be used in salads, carrot tops can be made into pesto, and the stems of broccoli can be roasted. Delicious vegetables saved from the trash.
And you can pickle your colorful swiss chard stems! Of course we love use to chard for the big leafy greens, chock full of vitamins and minerals, but what about those beautifully vivid rainbow stems?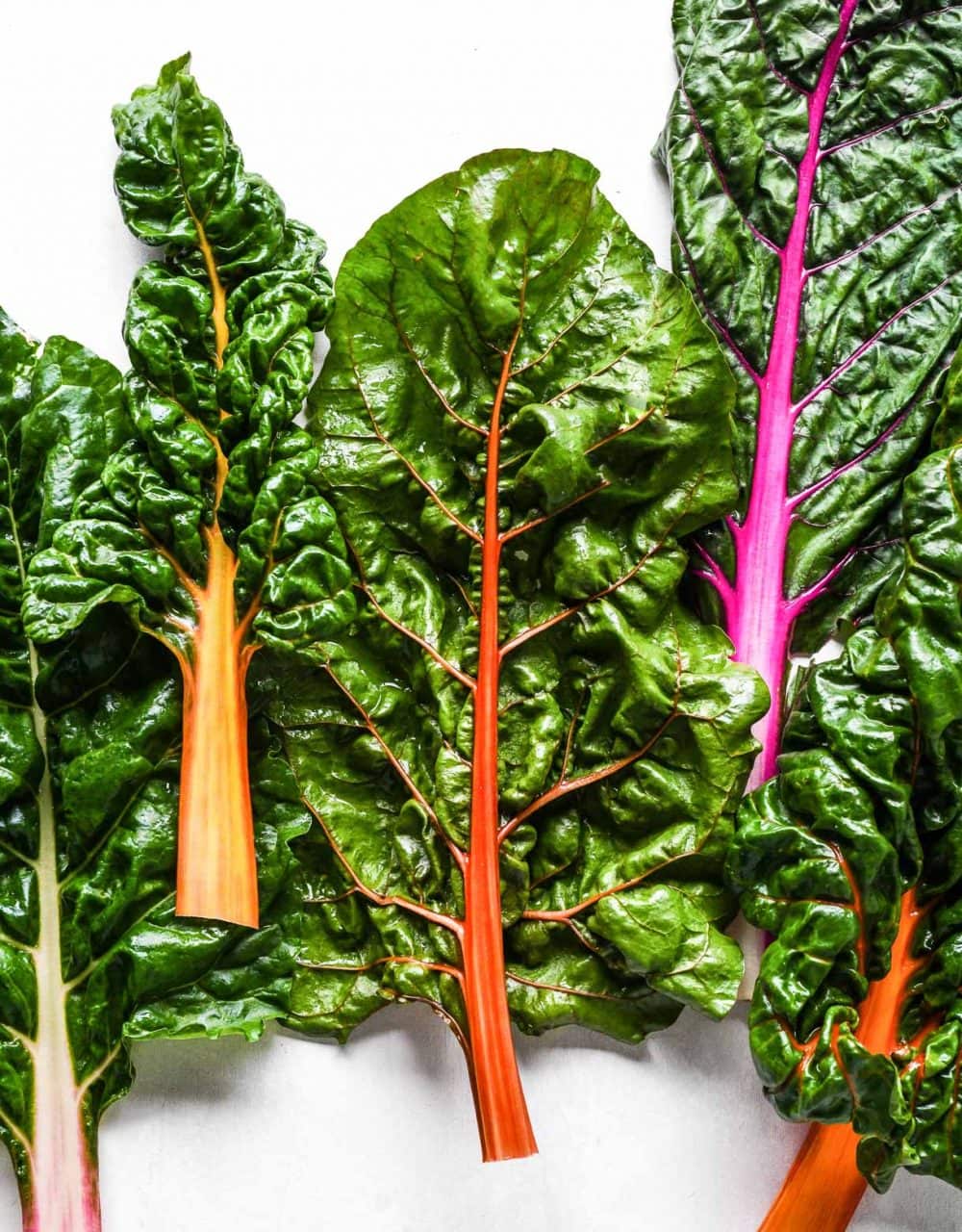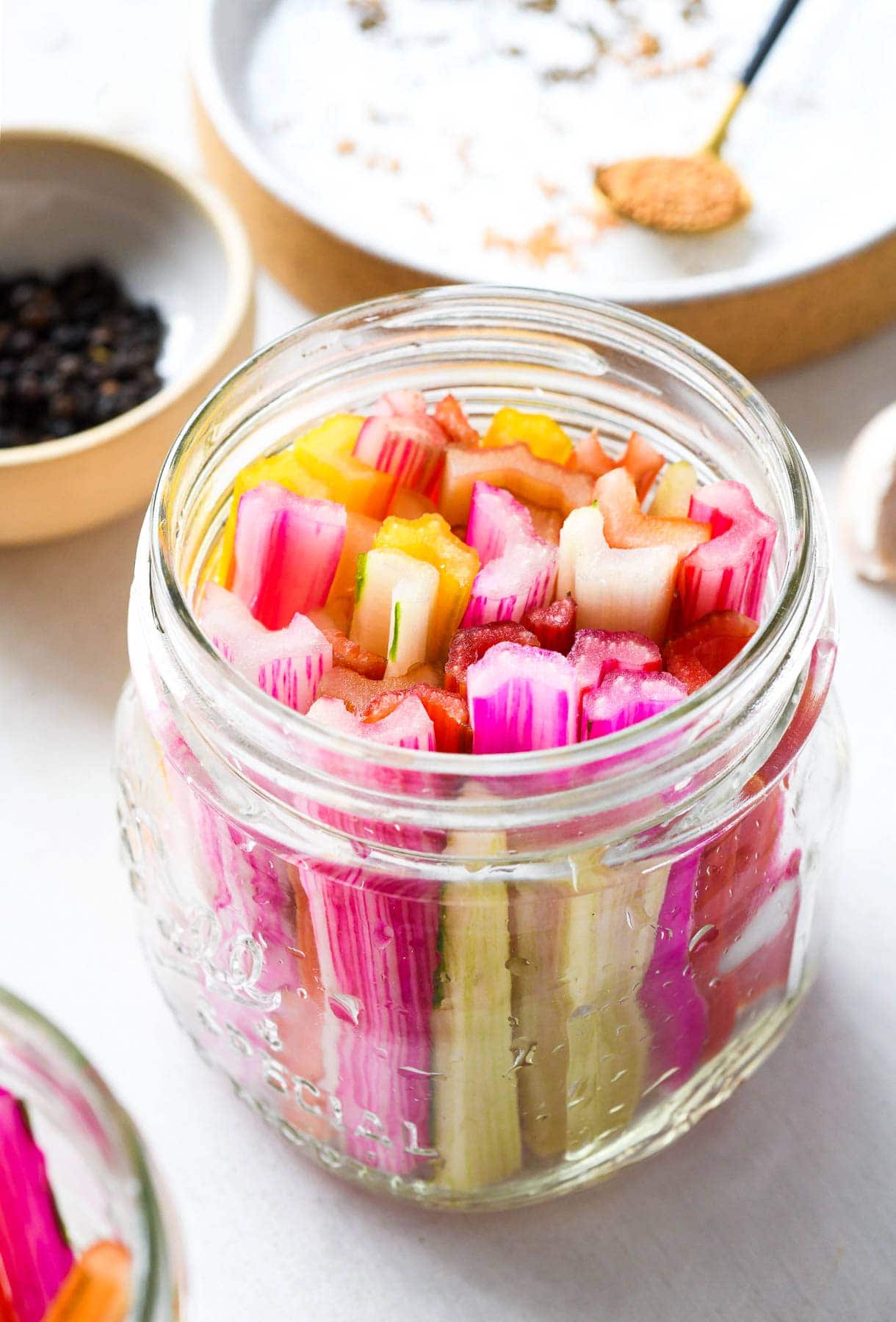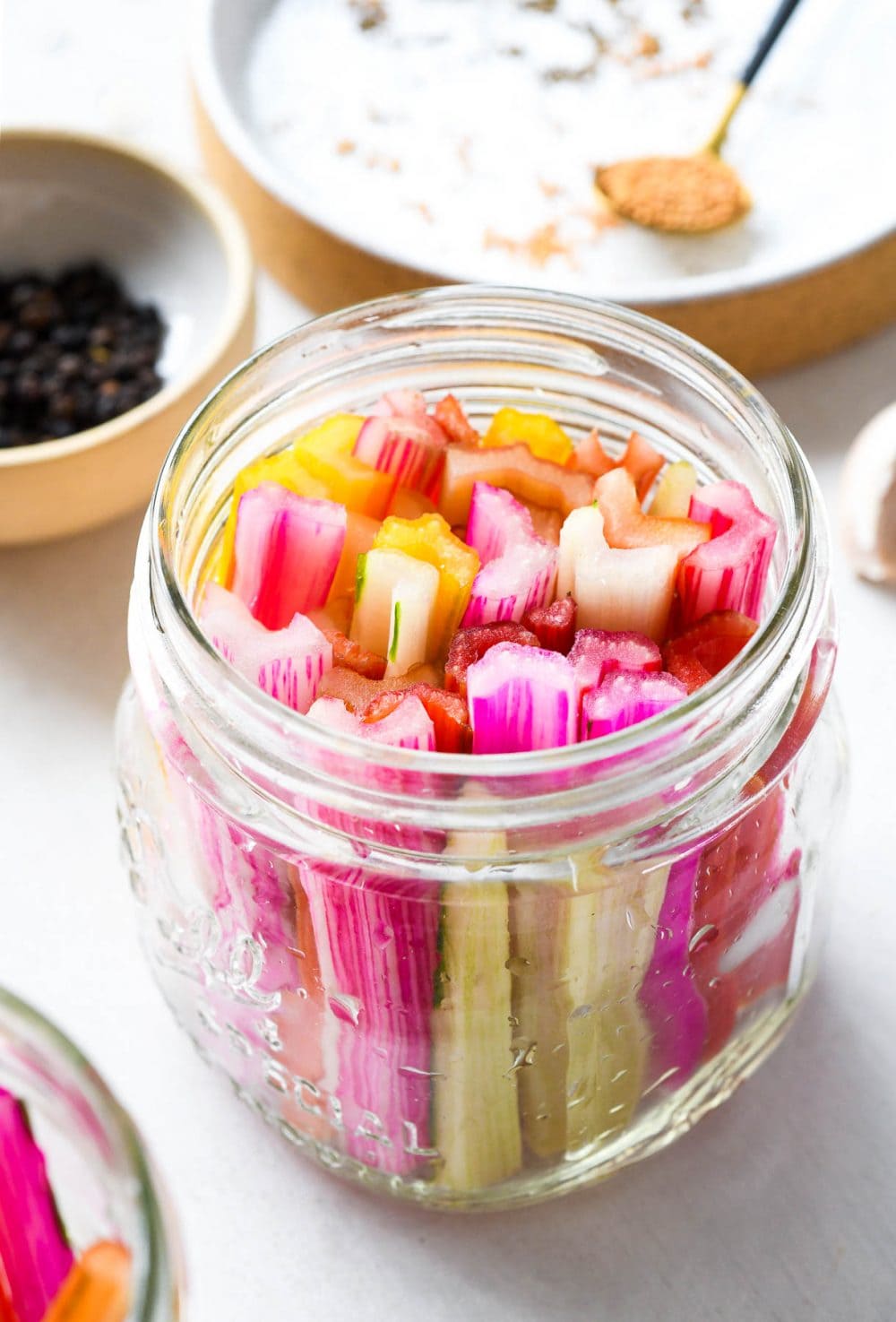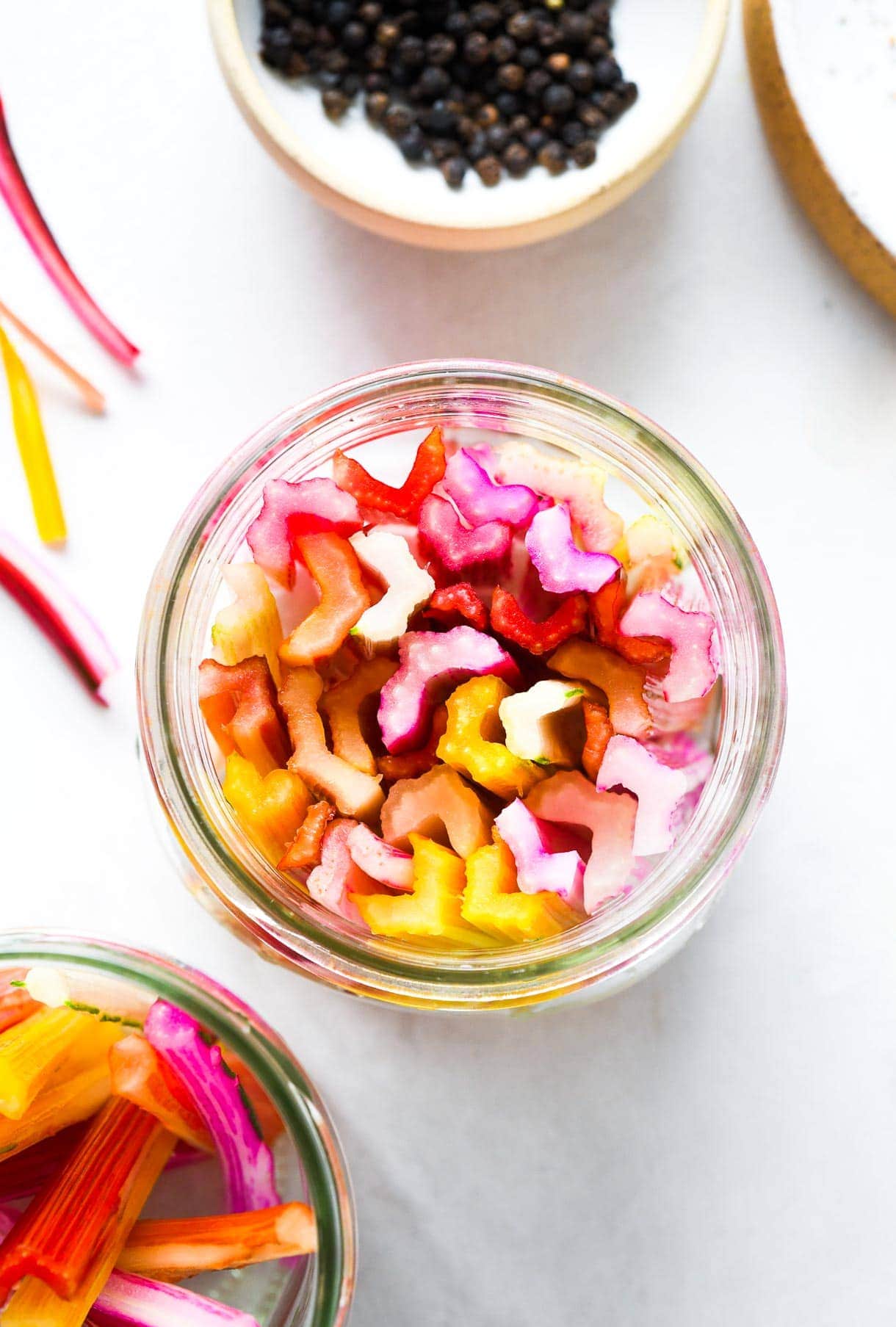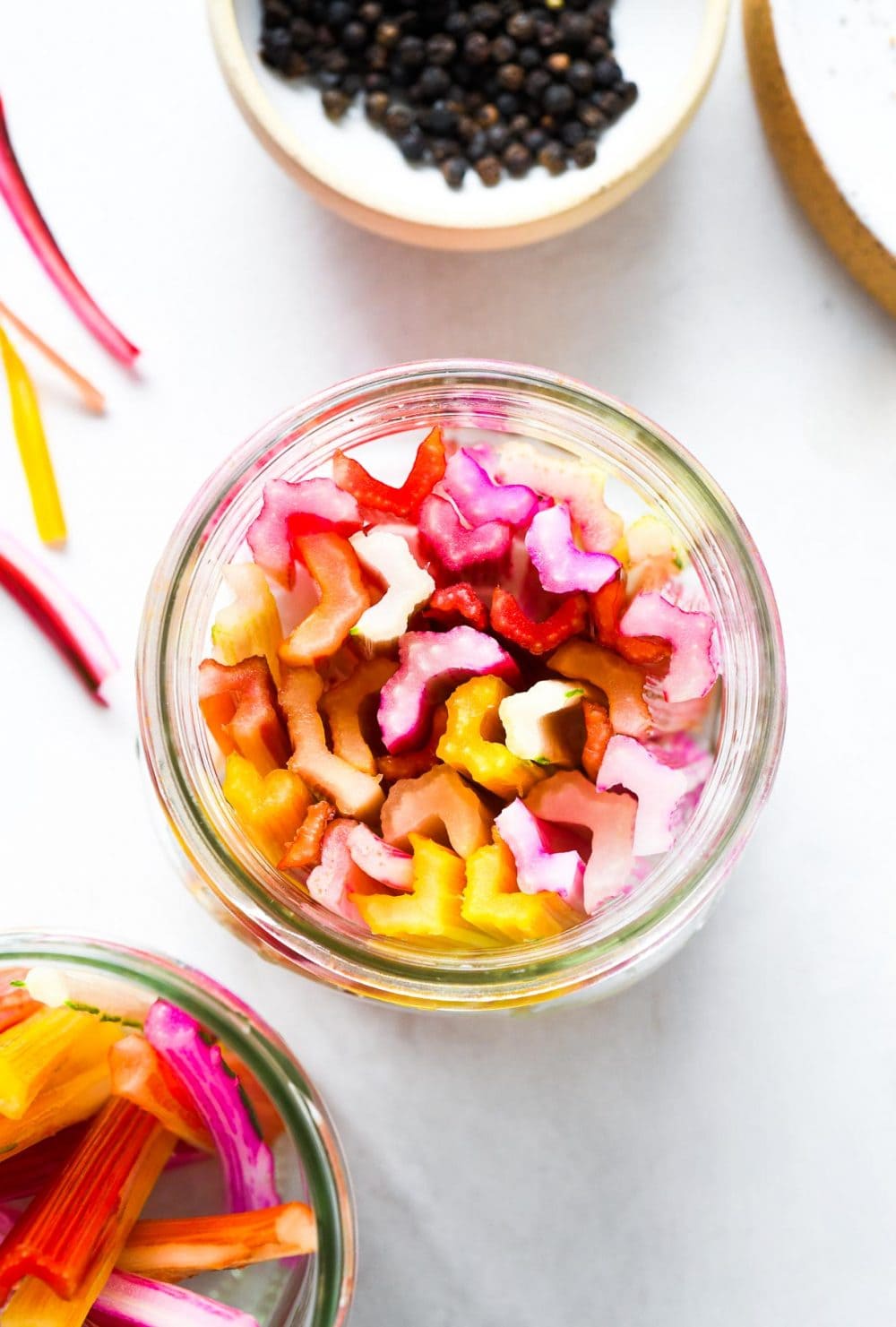 Last week I bought I braising the beautiful leave of Swiss Chard in coconut milk as part of a curry dish, I was determined to save the stems from the garbage and turn them into something tasty. The end result?
These tart and snappy pickled chard stems!
A combination of garlic, peppercorns, mustard seeds and sriracha spice things up to create this zesty quick pickle.
I thought about roasting them, but really wanted to preserve their stunning neon colors.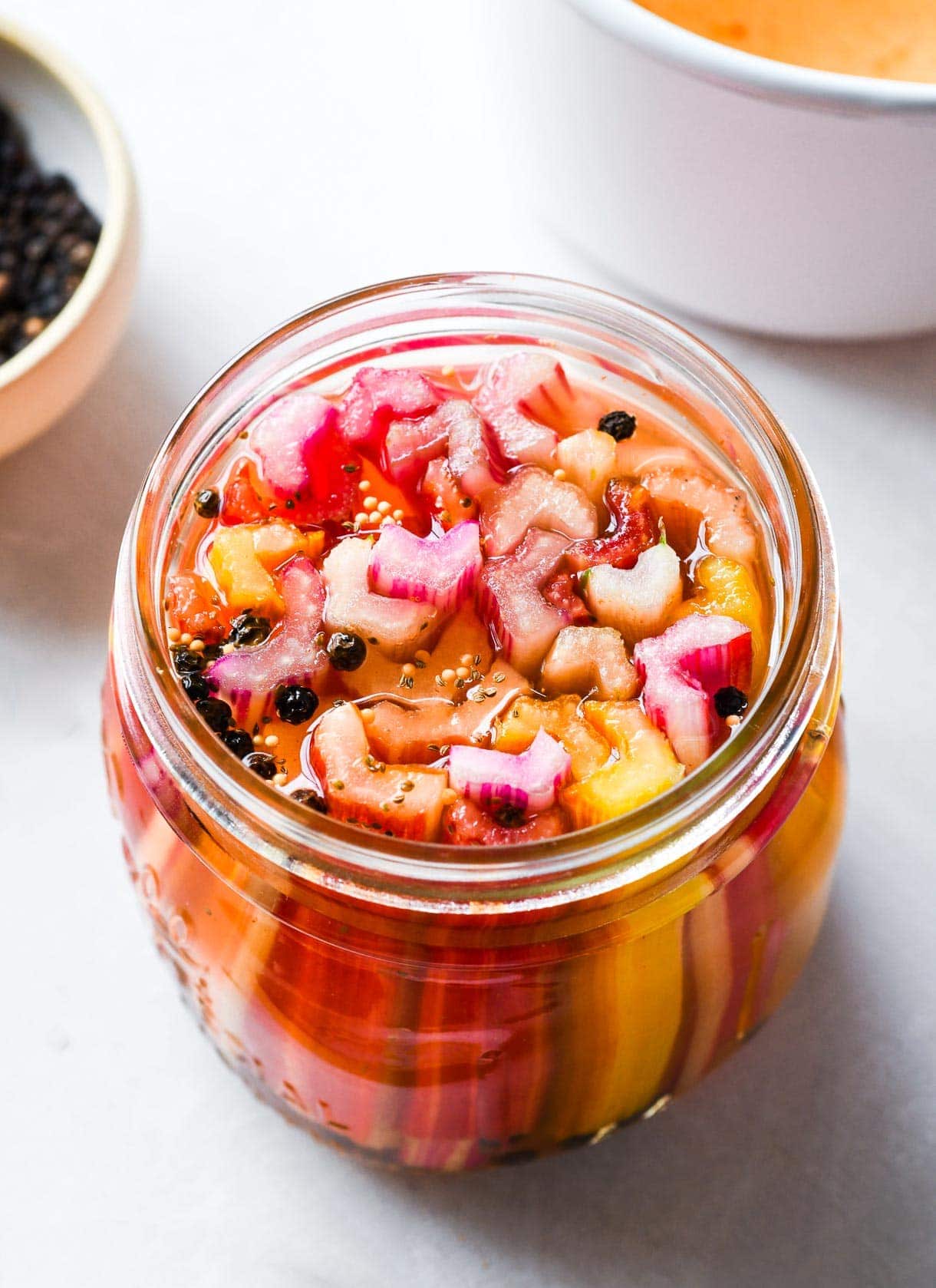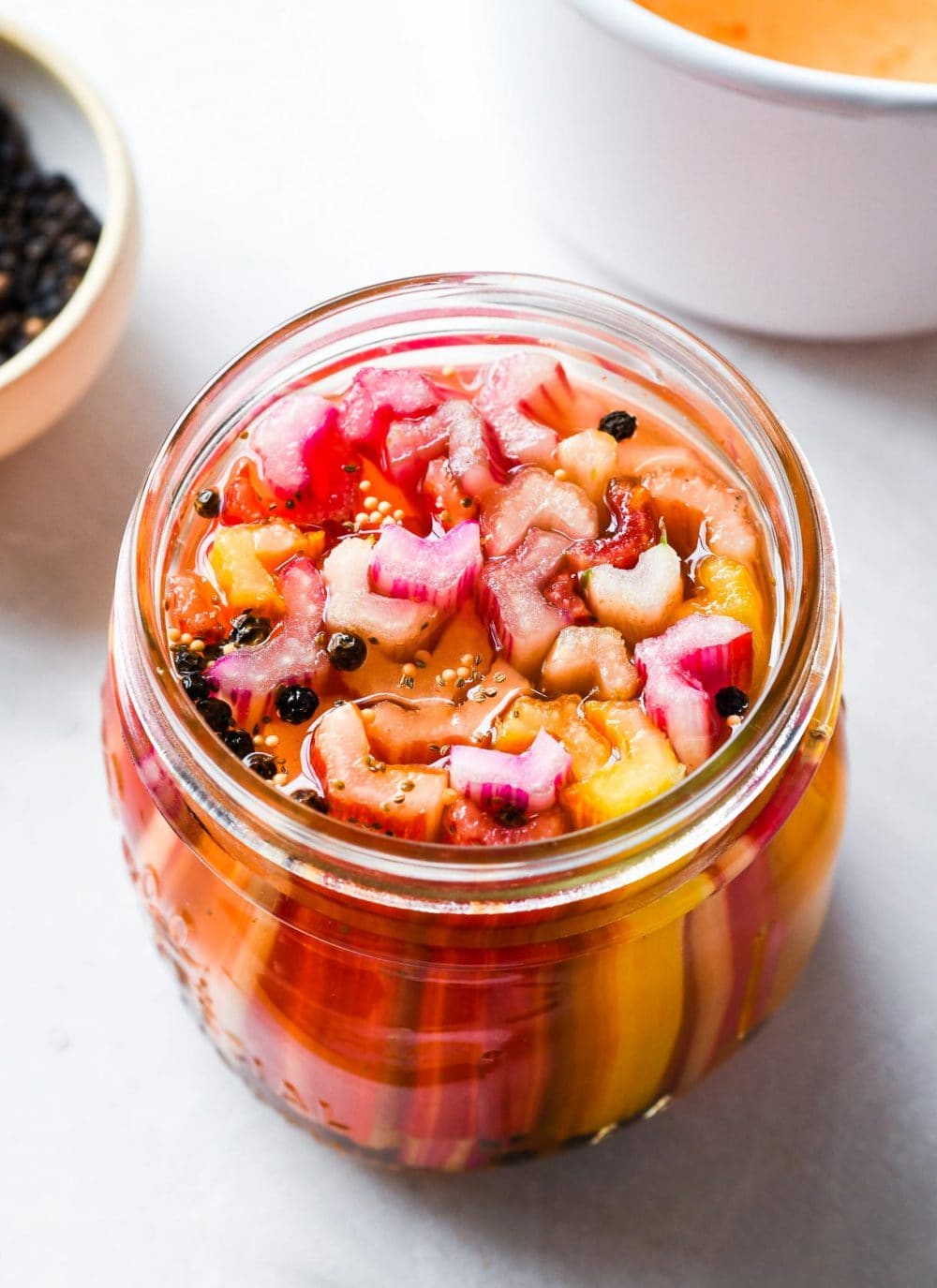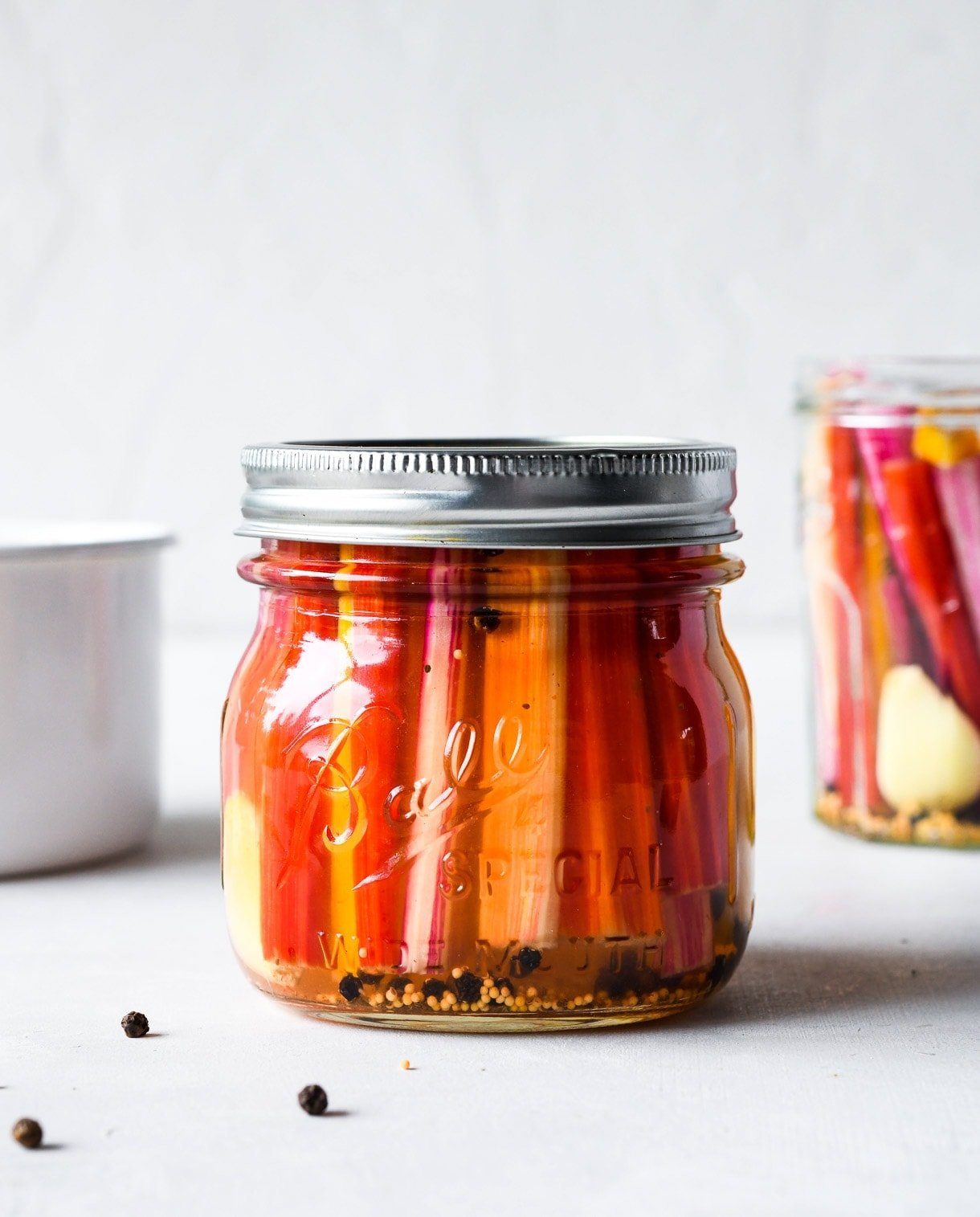 How to Make Pickled Swiss Chard Stems
This recipe is easy and requires only a few ingredients. You're preserving the chard stems, but no water bath canning is involved.
Just pour a hot seasoned brine over swiss chard stems that you've cut into sticks. Then let them sit a few days in the refrigerator for the flavors to develop.
They're a perfect snack on their own, diced on top of pulled pork tacos, or chopped into an omelet.
If you make these Spicy Pickled Swiss Chard Stems, be sure to tag me on Instagram with hashtag #heartbeetkitchen or @heartbeetkitchen!
Spicy Pickled Swiss Chard Stems
Pickled swiss chard stems are a great way to use all of this nutritious vegetable! These have a crunchy, spicy kick.
Ingredients
One large bunch of rainbow chard stems, cleaned and cut to fit into mason jar, about 3/4 inch from the lip
1/2 cup rice wine vinegar
3/4 cup distilled white vinegar
1/4 cup sugar or 3 tablespoons maple syrup
1 1/2 teaspoons salt
1 1/2 tablespoons sriracha
1/4 teaspoon celery seed, divided
1/2 teaspoon black peppercorns, divided
1/2 teaspoon yellow mustard seeds, divided
2 cloves garlic, divided
Instructions
Add each half of the celery seed, peppercorns, mustard seeds, and garlic to each jar. (If just making one jar, this can all go together.)
Pack chard stems tightly into jars.
Bring vinegars, sugar (or maple syrup), salt, and sriracha to a boil, in a small saucepan until sugar and salt is dissolved. Then pour over chard stems.
Let sit until cool, then put lids on and refrigerate. Wait two days before eating for flavors fully develop. Will last 1 month in refrigerator.