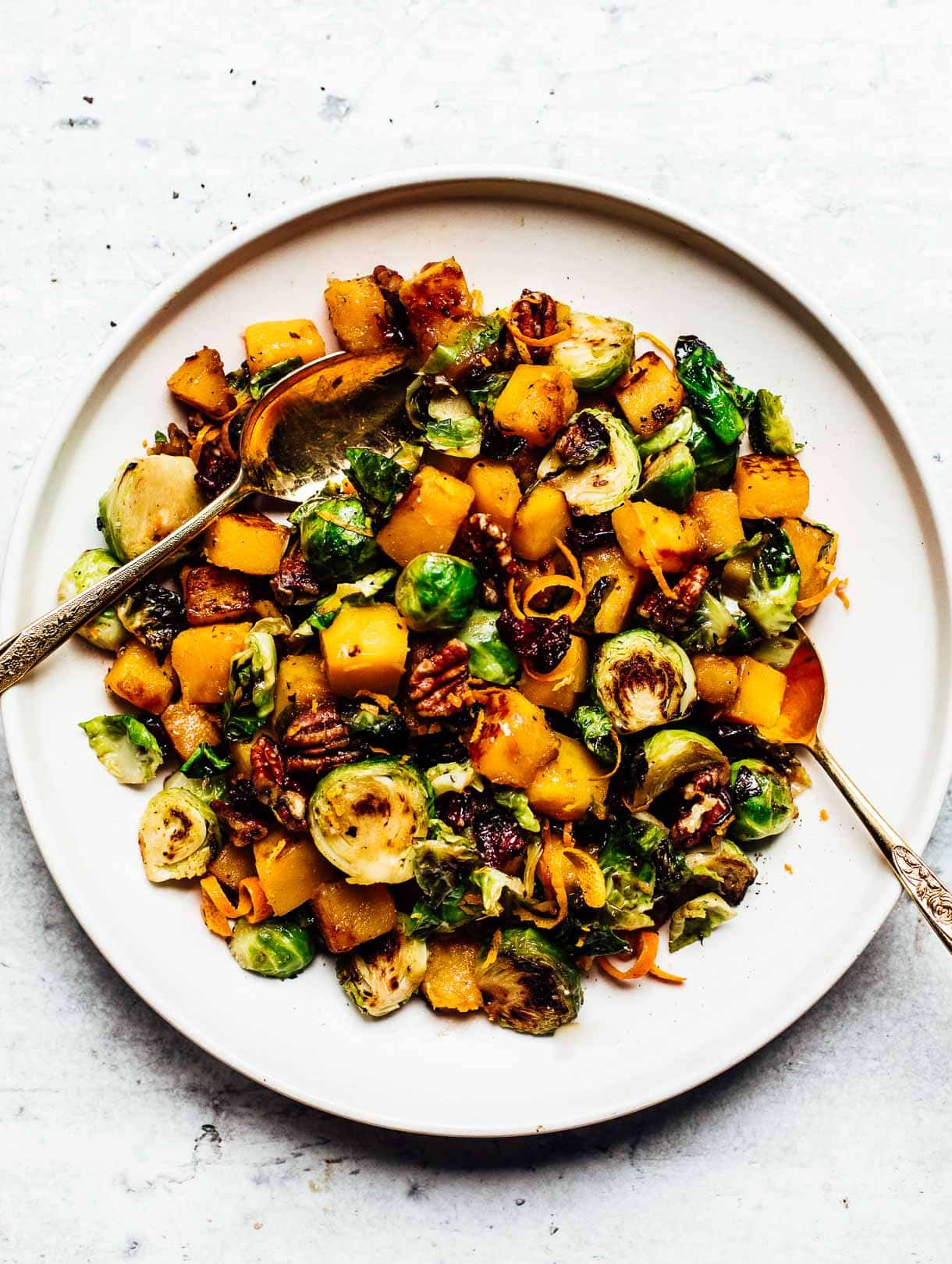 It took me forever to name this recipe. Each bite had me discovering a little something more than the one before. With inspiration that stemmed from an addicting little snack of Valdosta Pecan Mix, I think I've found fall comfort in these Orange Glazed Brussels Sprouts and Butternut Squash.
This flavor pairing is so good! Black pepper dusted pecans, dried cranberries, & a touch of orange zest. A sweet & savory combo gets me every time.
I'd been eyeing the brussels sprouts arriving last week at the market, but I just wasn't ready to give in to fall yet. However, a brisk, chilled air swept into Minnesota this weekend and with that, I've surrendered. Bring on the comfort food and hearty soups, leggings, boots, and seat warmers.
And Friendsgiving celebrations!
I'll be making a delicious, spice rubbed bone-in turkey breast rather than a whole bird, as it serves a smaller crowd, which is perfect.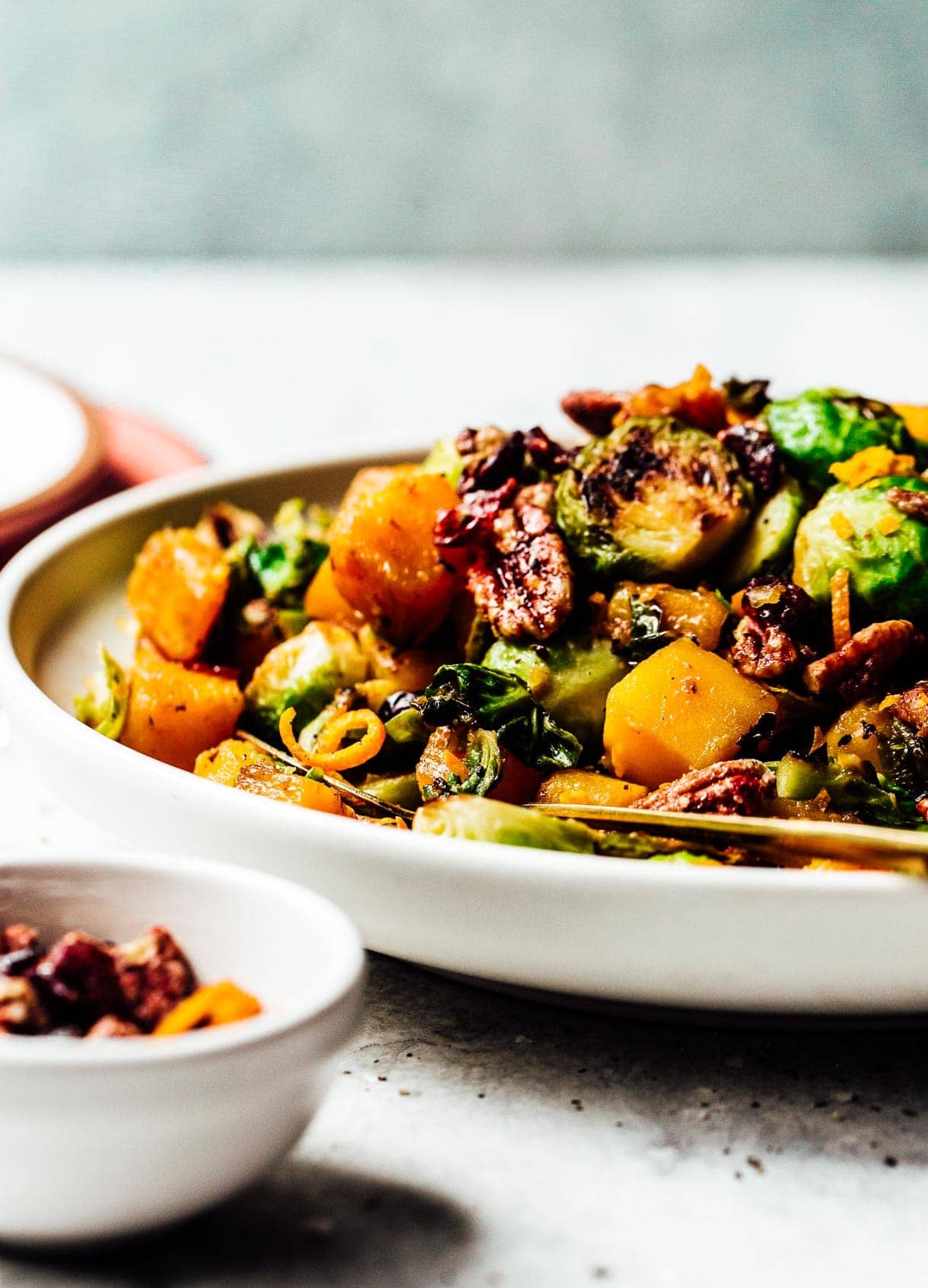 I discovered honeynut squash at the market. Like a mini-me of the butternut, it usually only grows to be 4-5 inches long and weighs about a pound. It's sweeter than a typical butternut squash, and so delicious. While chatting with the "Squash Lady" at the St. Paul Farmer's Market (seriously, this lady knows and grows it all) about the squash cookbook I wrote, she introduced me to this new hybrid butternut squash.
As it grows, its skin color changes from chestnut to a rich burnt orange.
As I snacked on the peppery pecans during my drive home from the farmers market, inspiration hit. Normally not fan of orange infusions, its delicate citrus presence got me thinking it would brighten up a pan of sautéed butternut squash and brussels sprouts, especially with a buttery glaze.
Into the kitchen I went, trimming and dicing the vegetables to be sautéed in a hot pan. I mixed up the glaze of melted butter, local honey, orange zest and some more black pepper. Once the squash was caramelized and the brussels sprouts seared, I stirred in the pecan mix and coated it all in the bright, buttery sauce.
The result: a departure from the classic and my new favorite side dish, along with these Tuscan White Beans. Perfect for your Thanksgiving meal!
More Brussels Sprouts Recipes:
1

pound

brussels sprouts washed

trimmed and halved

1 1/2

pounds

butternut squash

peeled then diced into 1/2 in cubes (about 3 cups)

3

tablespoons

olive oil

divided

2

teaspons coarse kosher salt

Glaze:

2

tablespoons

butter

or ghee, melted

2

teaspoons

honey

3

tablespoons

fresh squeezed orange juice

1

tablespoon

orange zest

1/2

teaspoon

black pepper

2

teaspoons

apple cider vinegar
You have two choices. You can make the vegetables on the stovetop, or roast them! If you'd like to roast: mix squash with 1 1/2 tablespoons olive oil, and brussels with 1 1/2 tablespoons olive oil. Season with 1 teaspoon salt, each. Roast for 25 minutes at 400 degrees F.

If you'd like to make on the stovetop: In a large saute pan, heat 1 1/2 tablespoons olive oil over medium heat. Swirl to coat pan, then add in squash. Stir the squash pieces so they are coated with oil and sprinkle with 1 teaspoon salt. Shake the pan so squash spreads out in an even layer and let cook, without stirring, so that they brown a bit on one side, about 5 minutes.

Stir and spread the pieces out again and let cook without
stirring so more sides brown. Cover, and cook about 6 minutes, until the squash is soft, but holds its shape. (This will depend on the size you cut your squash so try one to test.) Once done, remove from heat and pour into a bowl.

Heat remaining 1 1/2 tablespoons olive oil of oil over medium-high heat using the same pan. When it's very hot, place the brussels sprouts cut side down in the oil, sprinkling with 1 teaspoon salt. Turn the heat to medium, and sear on one side until nicely browned, about five minutes.

Turn the brussels sprouts over and cook on the other side until nicely browned and tender, about five minutes. Some of the leaves can be charred dark brown or black.

Turn heat down to low and add the squash back to the pan, along with the pecan mix. If you've roasted, add pecan mix to the vegetables, removed from the oven. Mix all glaze ingredients together, and stir into vegetables, coating and warming through.