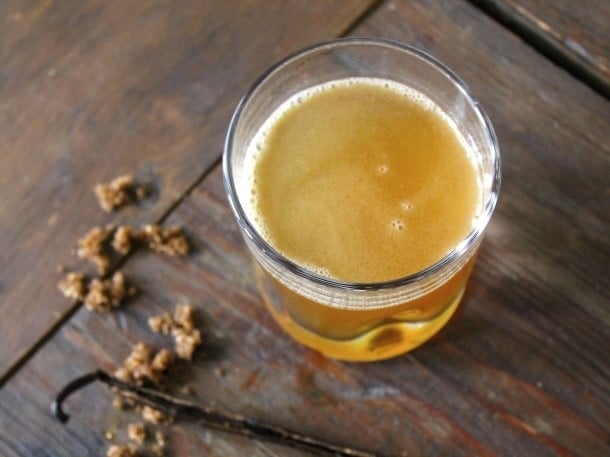 Saturday night was the first time this year it truly felt like fall. Dampness in the air from intermittent rain brought a chill to the bones, scarlet and golden bronze leaves floated to the ground with their last breath.
As I cozied in for the evening after cleaning up the huge mess I'd made constructing a warming, spice laden red kuri stew, I felt something I haven't every really felt before.
Older.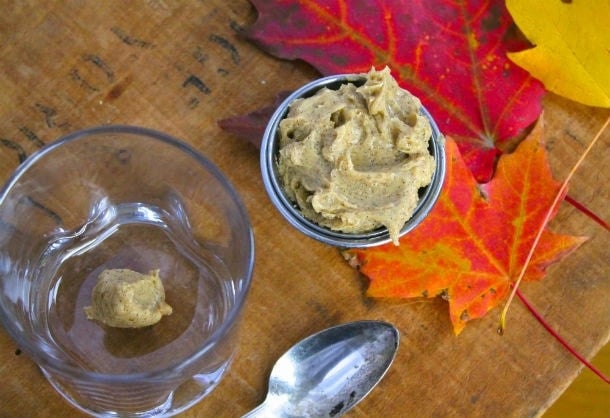 There I was, scraping the fragrant vanilla seeds out of their pods, releasing a bold scent that reminded of an old man's pipe. The house was quiet except for the faint whistling of the tea kettle.
My agenda for the next few hours were set. No fancy outfit or worrying about getting my lipstick just right. No wondering what bottle of wine I should bring to party with unfamiliar faces. No late night out with an early morning alarm clock to follow.
Just a vanilla bean hot buttered rum recipe, new book, and a purring cat on my lap. And there wasn't one part of me that wished for something different.
Now that I'm armed with the just released "Winter Cocktails" book written by Maria Del Mar Sacasa, I plan on having plenty of these Saturday nights over the next few months.
Besides recipes, she's included beautiful step-by-step photos that explain techniques like muddling, prepping garnishes, making ice molds, and opening champagne.
I've never been one to dabble in the cocktail area much, but with inspiration from Maria's inventive, yet easy recipes, that's going to change.
So where did the Hot Buttered Rum originate?
It was in the 1650s when Jamaica began importing molasses to Colonial America. New England started opening distilleries where the colonists then began adding distilled rum to hot beverages such as toddies and nogs, creating hot buttered rum, eggnog and others.
A classic hot buttered rum recipe is always good, but this little number stole my heart with the addition of vanilla bean and hints of maple from dark brown sugar.
With a slight butterscotch flavor and a silky smooth texture, it's perfect for sipping.
And ironically, a pat of damn good butter is one of those things you don't appreciate until you're older either.
Cheers to you my friends.
If you make this hot buttered rum recipe, be sure to tag me on Instagram with hashtag #heartbeetkitchen or @heartbeetkitchen!
For the butter:

4

tablespoons

softened butter

1

vanilla bean pod

seeds scraped out

1 1/2

tablespoons

dark brown sugar

pinch

each of salt & cinnamon

Liquid:

6

ounces

spiced rum

24

ounces

hot water
To make the butter, vigorously mix ingredients together those ingredients in a medium bowl. Set aside until ready to use. (You can make in advance and store in the refrigerator for three days.)

Stir together rum and water.

Place 1 tablespoon butter each into 2 warmed cups, then pour equal parts of the drink over the top. (If you would like it a little sweeter, feel free to add a touch more sugar.)