This lemony rhubarb cake is incredibly moist with a light and airy crumb thanks to sourdough discard! The soft texture has rhubarb in each bite, complemented by honey and lemon zest to bring out its flavor. You won't taste any sourness in this cake, and it's a great way to use up sourdough discard that you have in the refrigerator.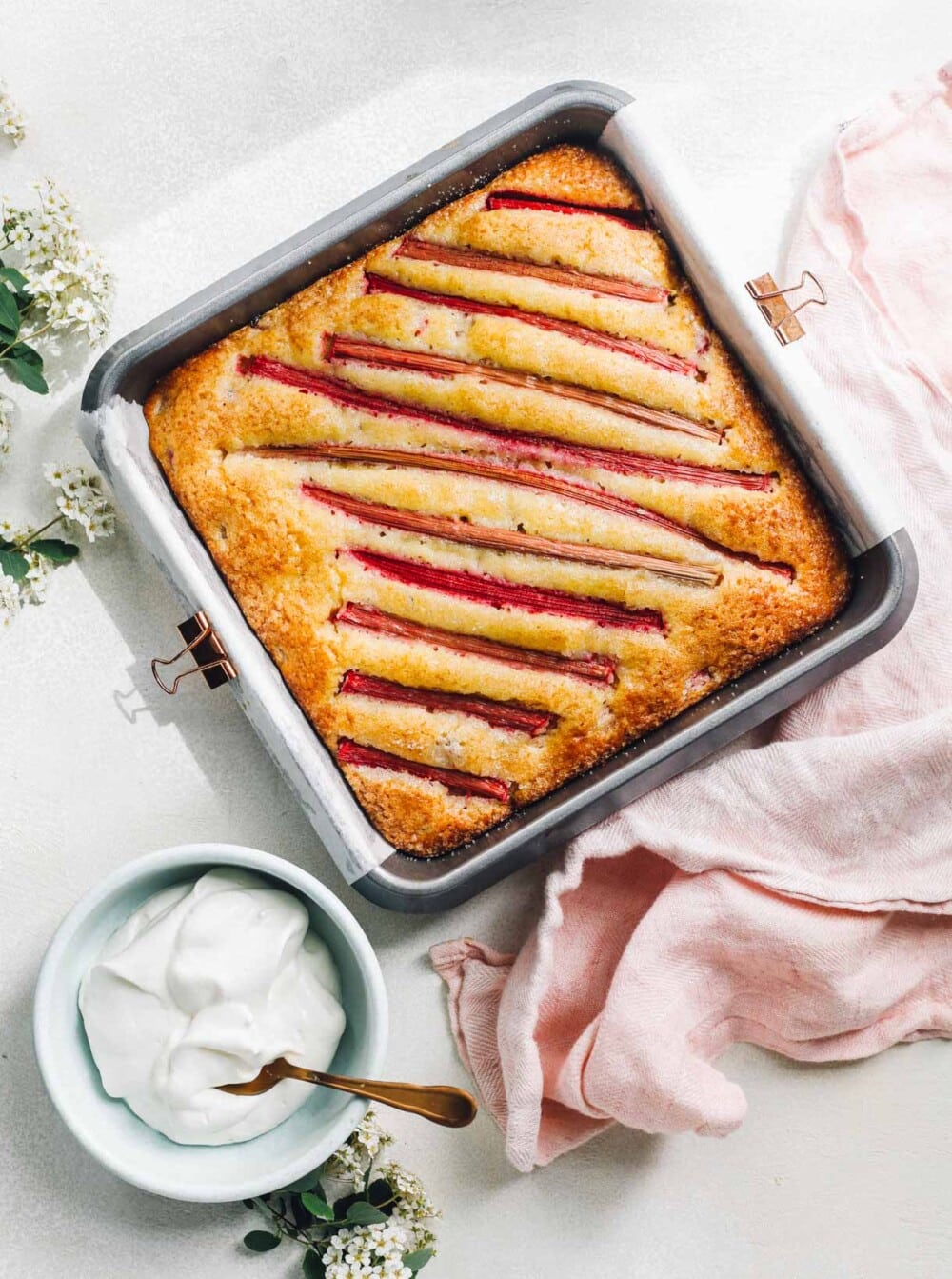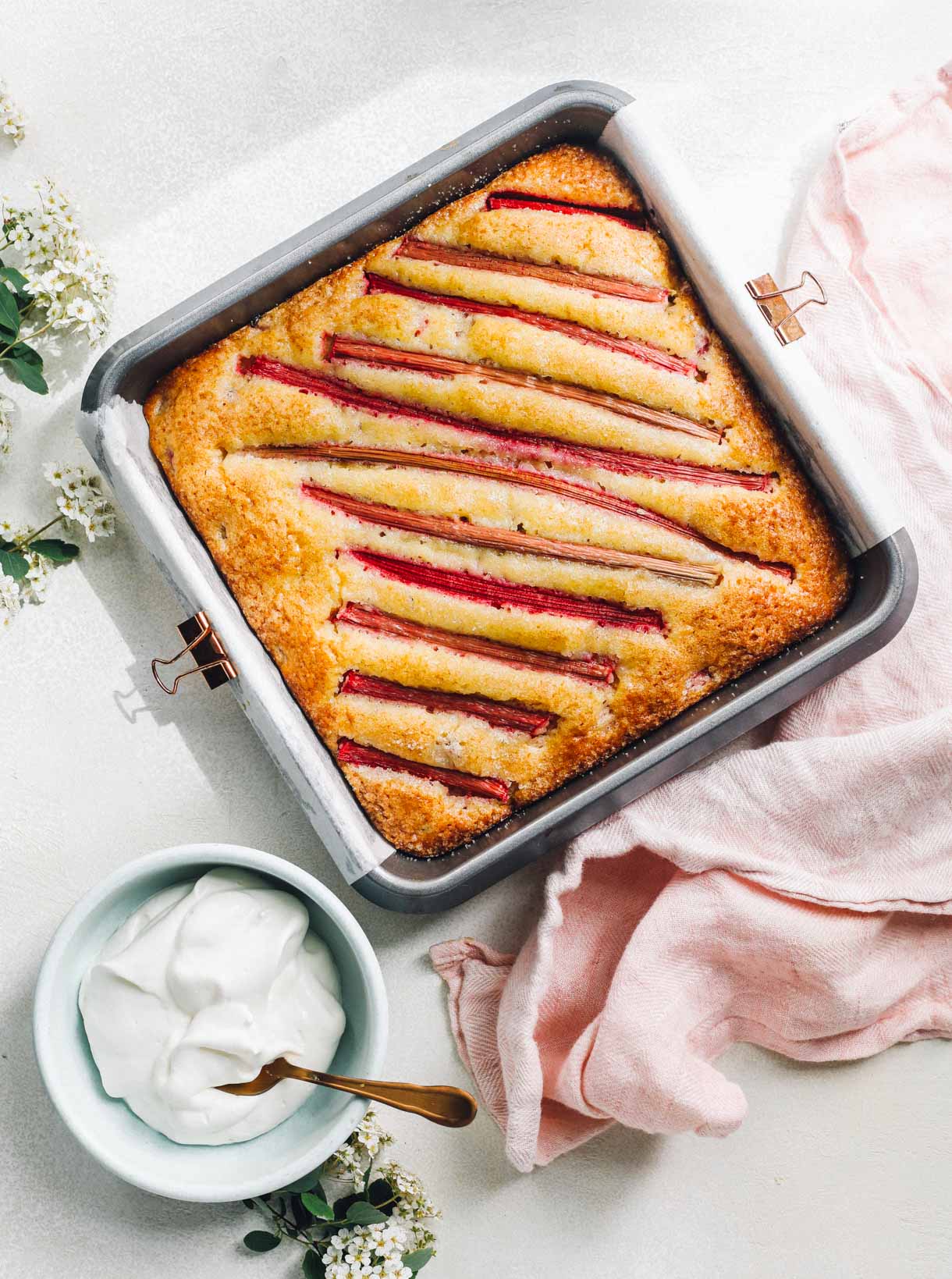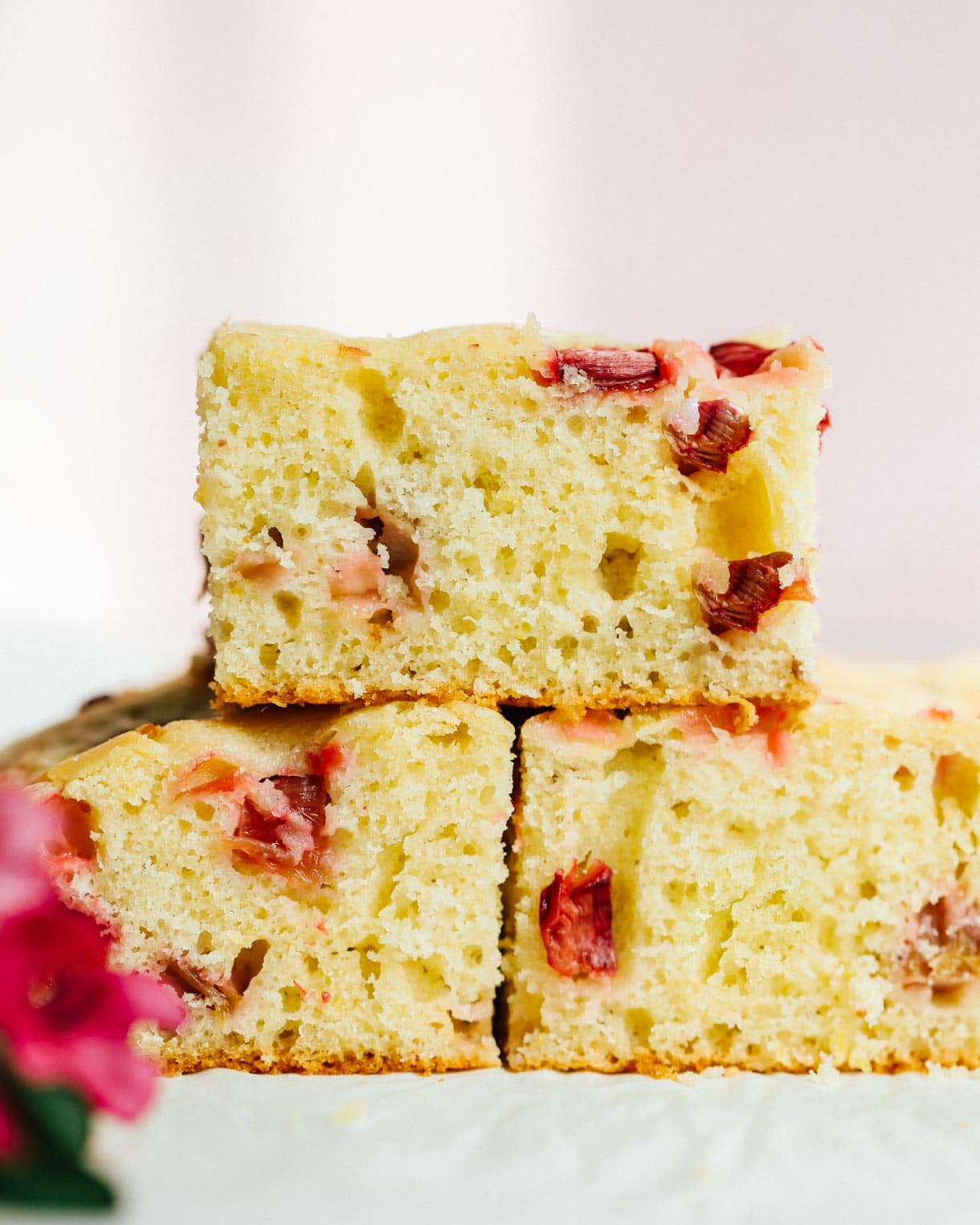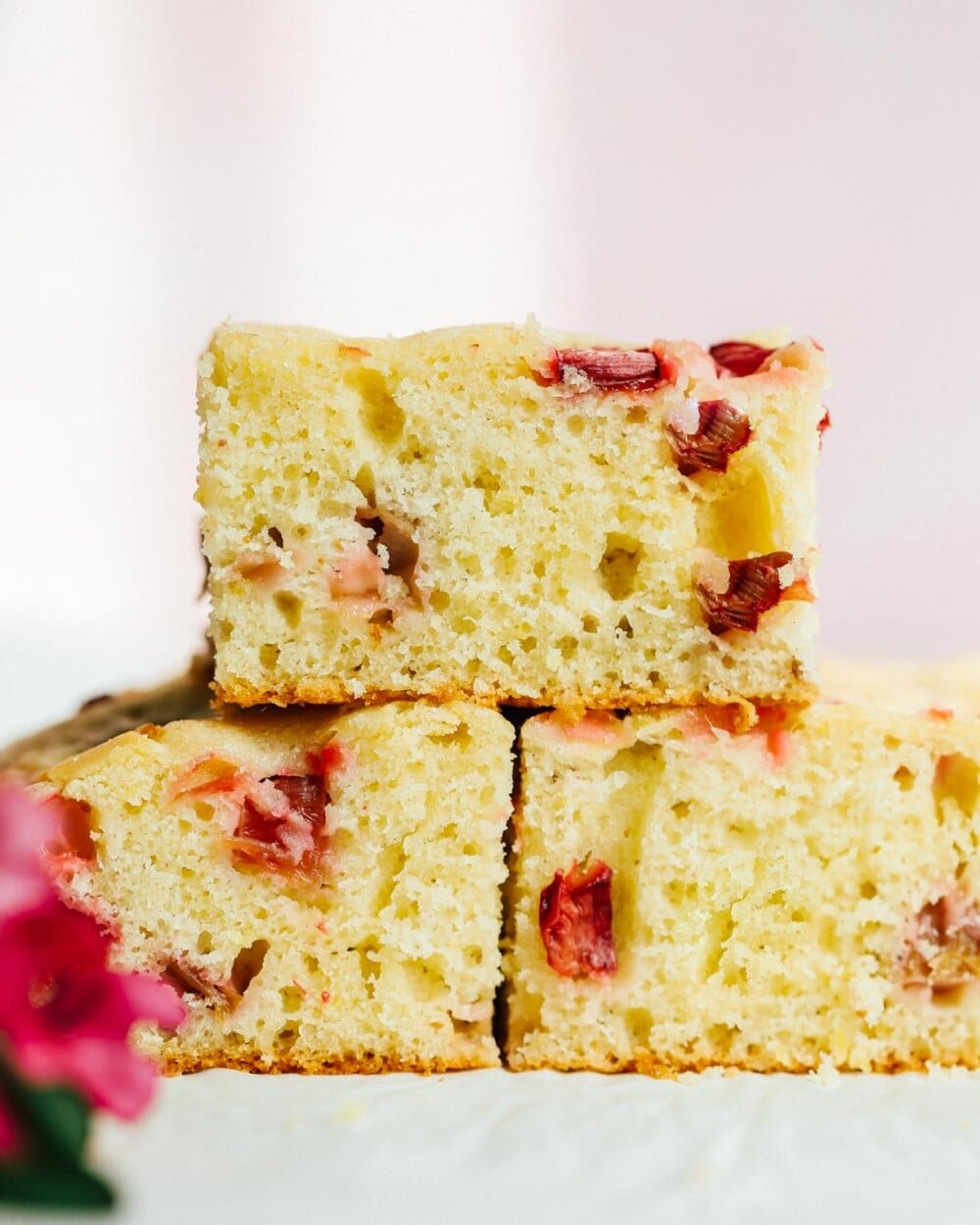 You're probably noticing a theme here: rhubarb recipes galore. I love the long stalks of pinkish-red beauty for making everything from gluten-free rhubarb crisp to muffins, and margaritas. And now cake! Paired with another favorite ingredient: sourdough discard.
This incredibly tender, melt-in-your mouth rhubarb cake has notes of lemon and honey, along with the sweet-tart nubs of rhubarb folded in. I can't even describe how delicious the delicate crumb is, and the airiness of each bite!
It's the kind of cake you can have for dessert with a dollop of whipped cream, snack on straight from the fridge, or eat for breakfast.
You'll be amazed at how flavorful it is, but probably even more amazed at the ideal texture it has. Light and fluffy, but still firm enough so you can pick up a piece and eat it from your hand, no fork needed.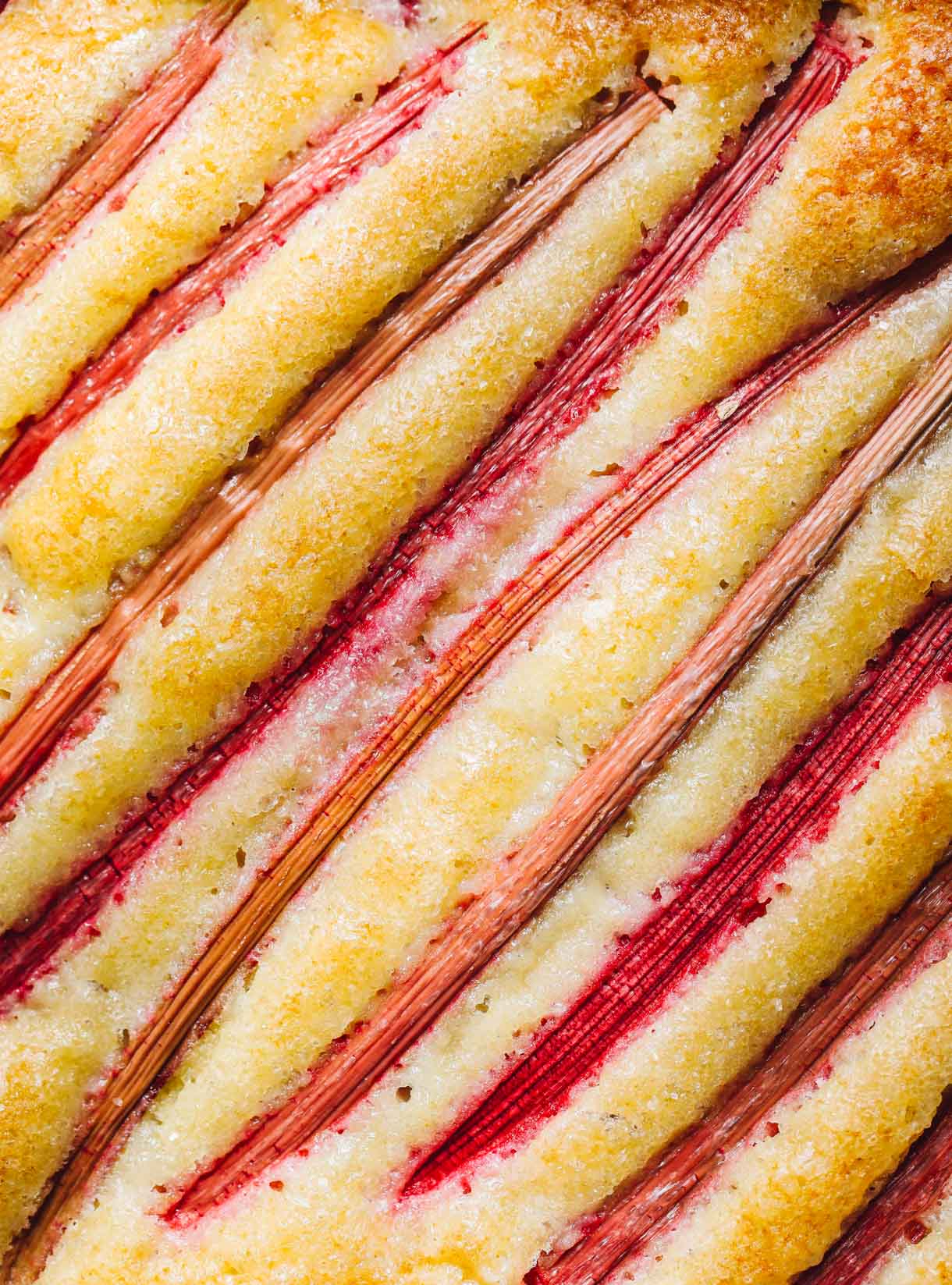 What does sourdough discard do for cakes?
Sourdough discard doesn't make cakes taste sour. Instead, it makes them fluffy and soft because it increases the acidity of the cake batter, which weakens the gluten in flour. And because it has already been fermented, the gluten in the sourdough discard itself has also been weakened. It has the same effect in this fabulous Sourdough Discard Pumpkin Bread.
The other thing discard does in baking is bring out the flavors of other ingredients in the recipe. This is due to the naturally occurring alcohols that develop in sourdough starter, and alcohol is a flavor enhancer. That means the main components of this cake; rhubarb, lemon, and honey – really shine.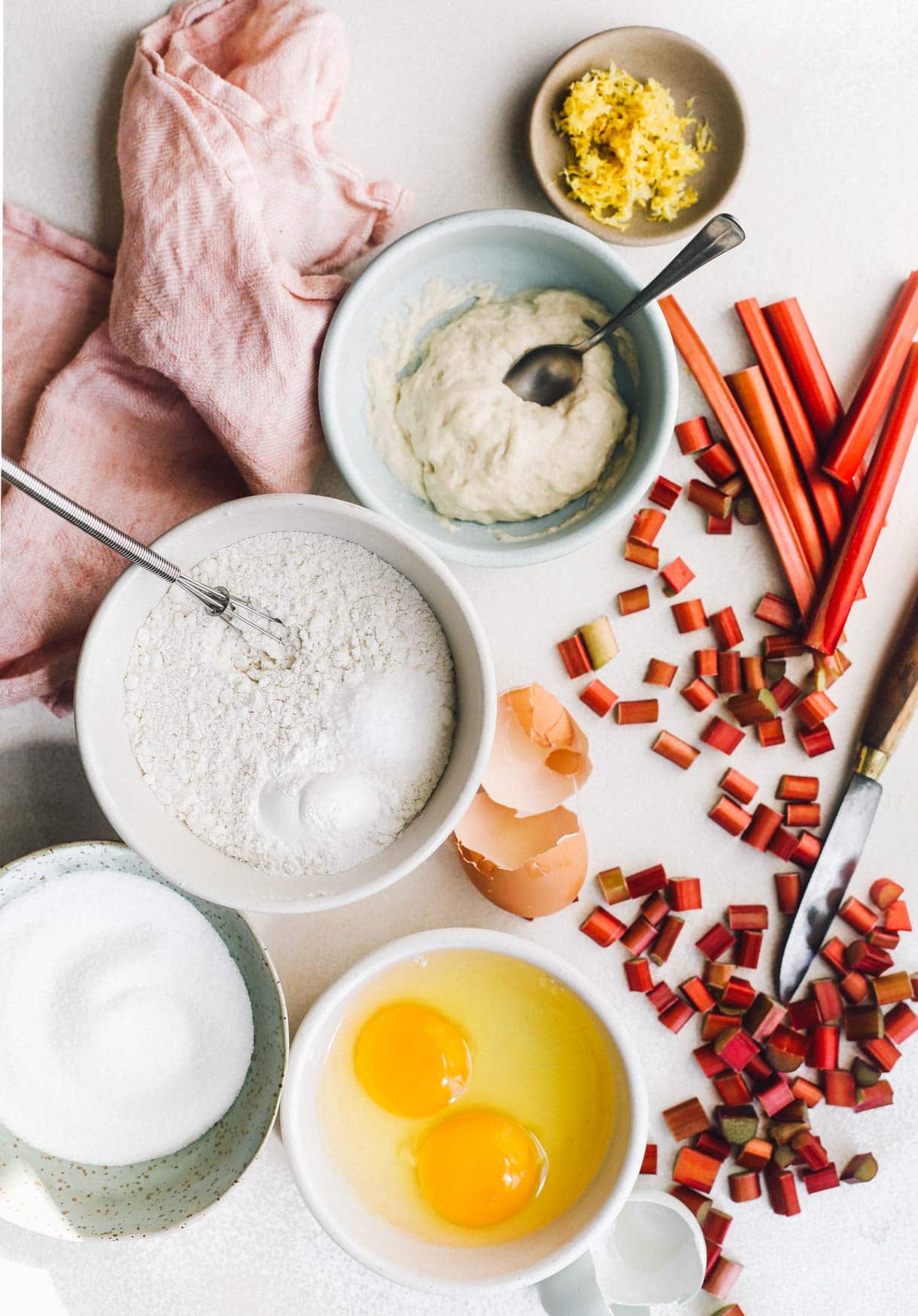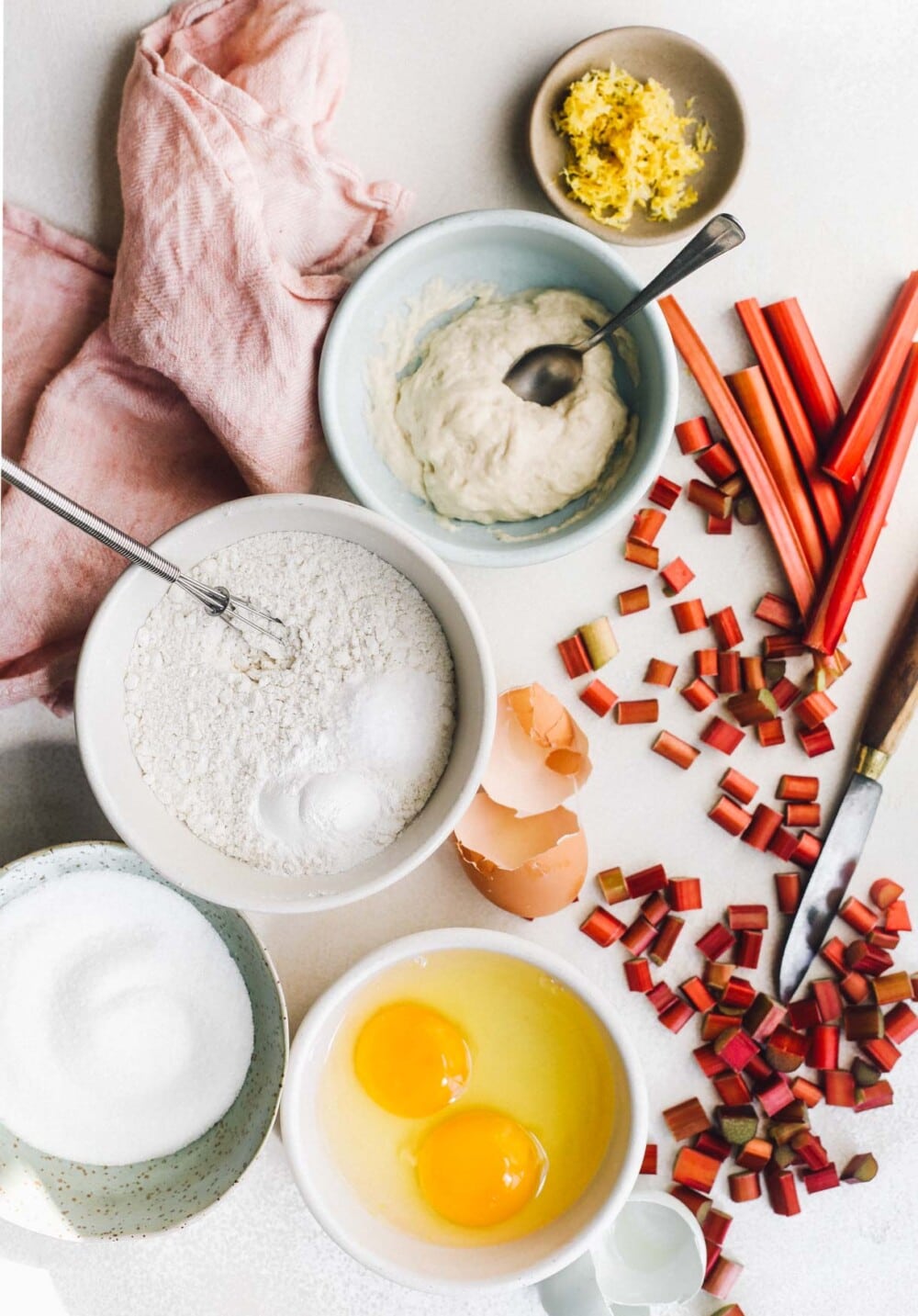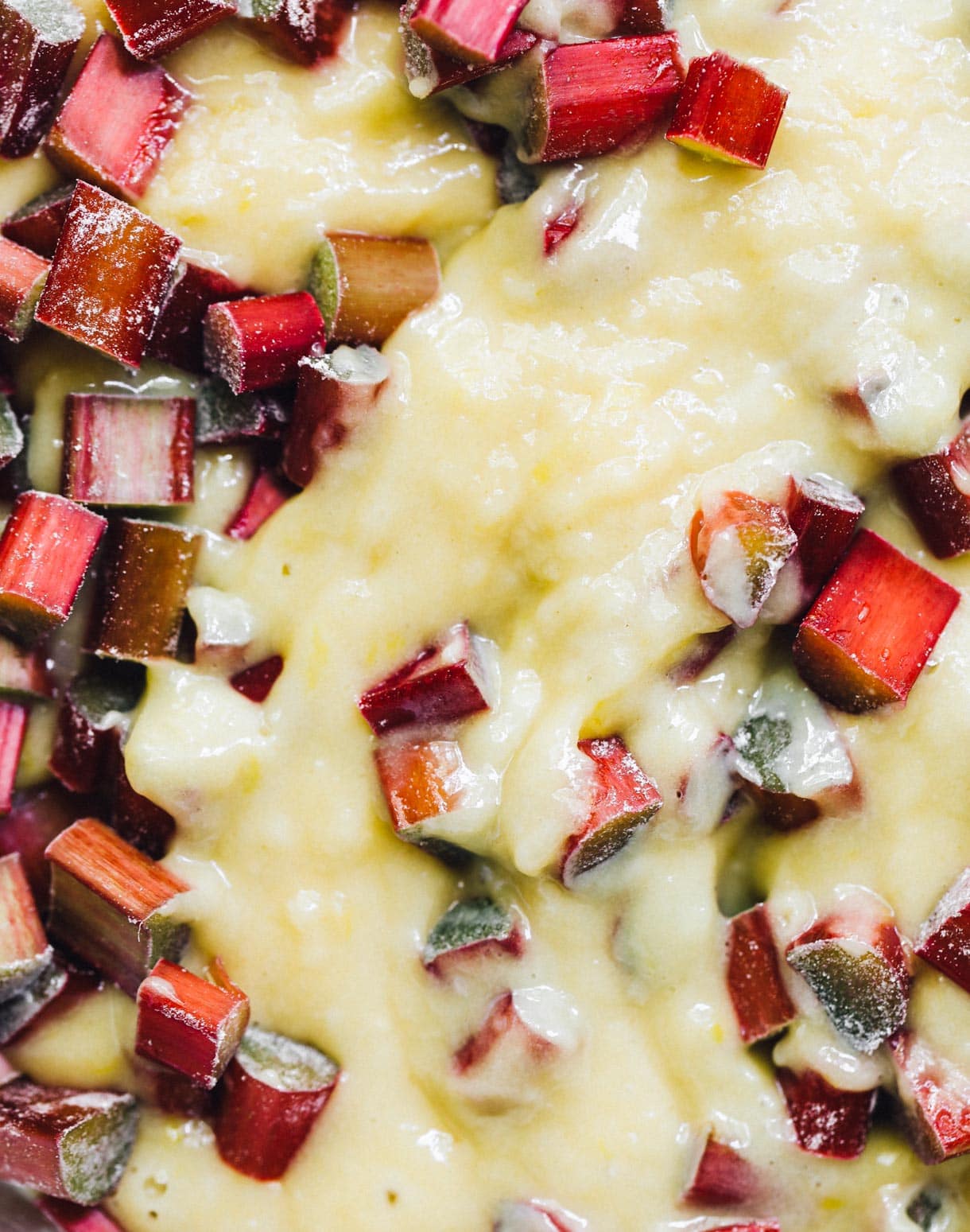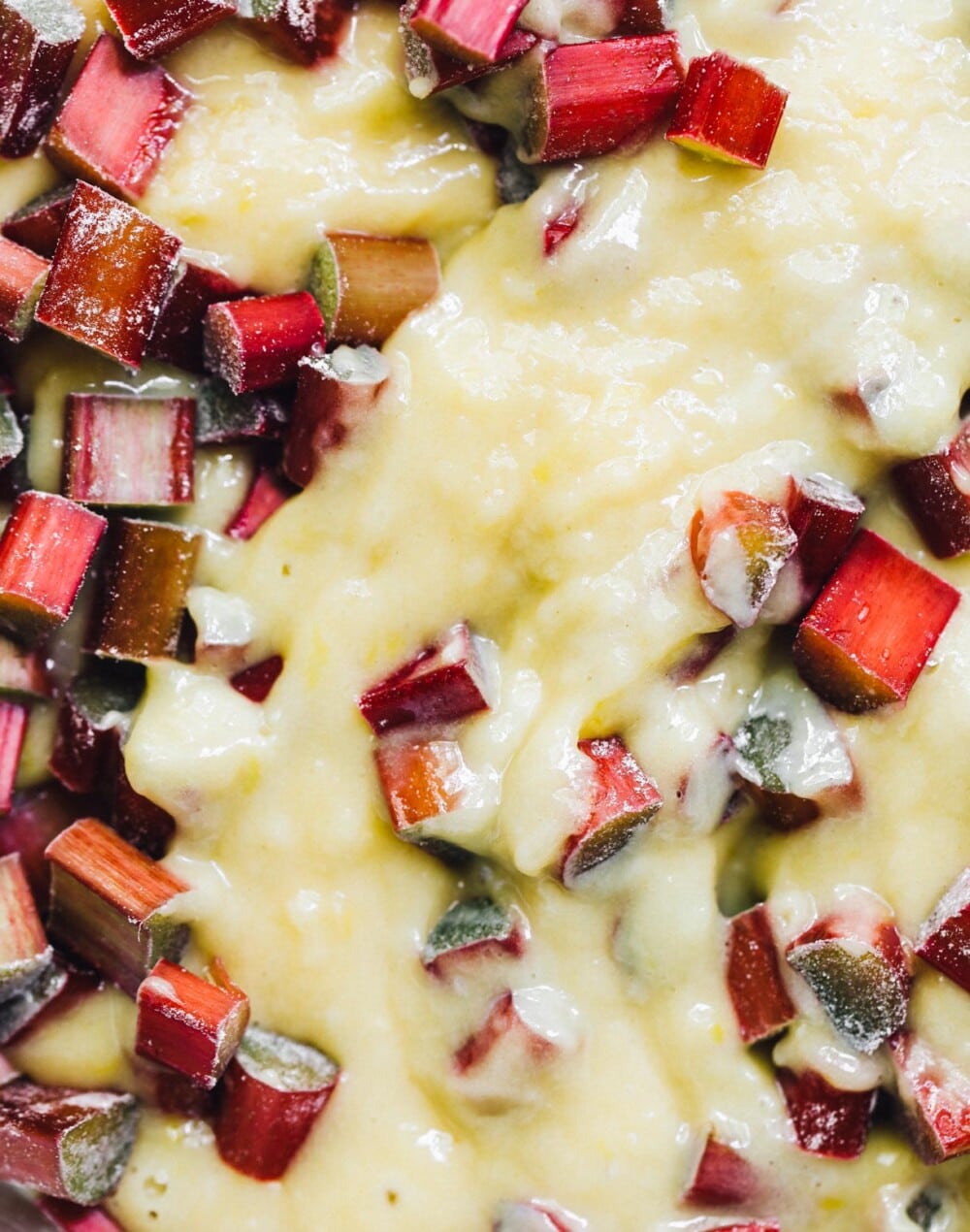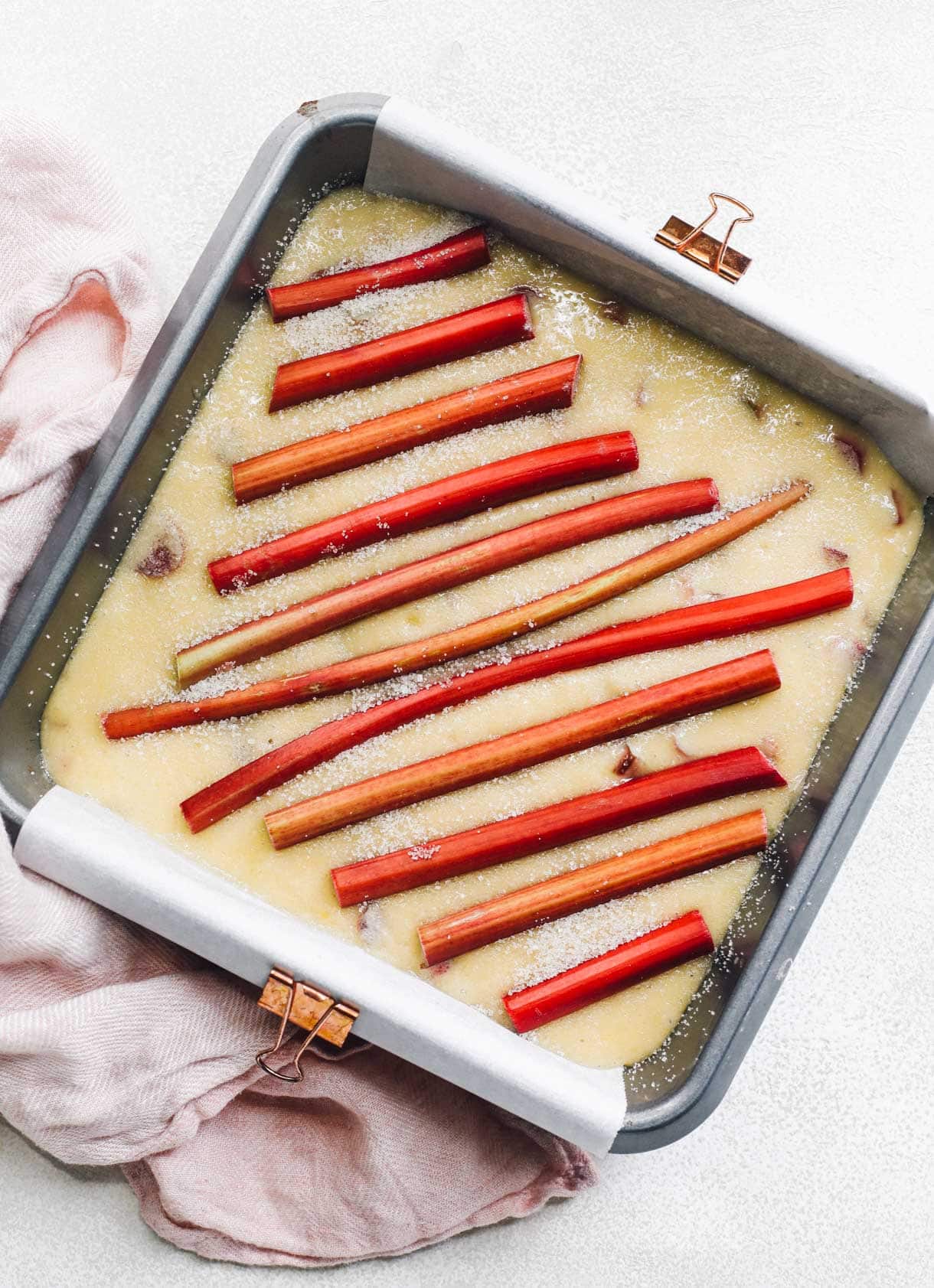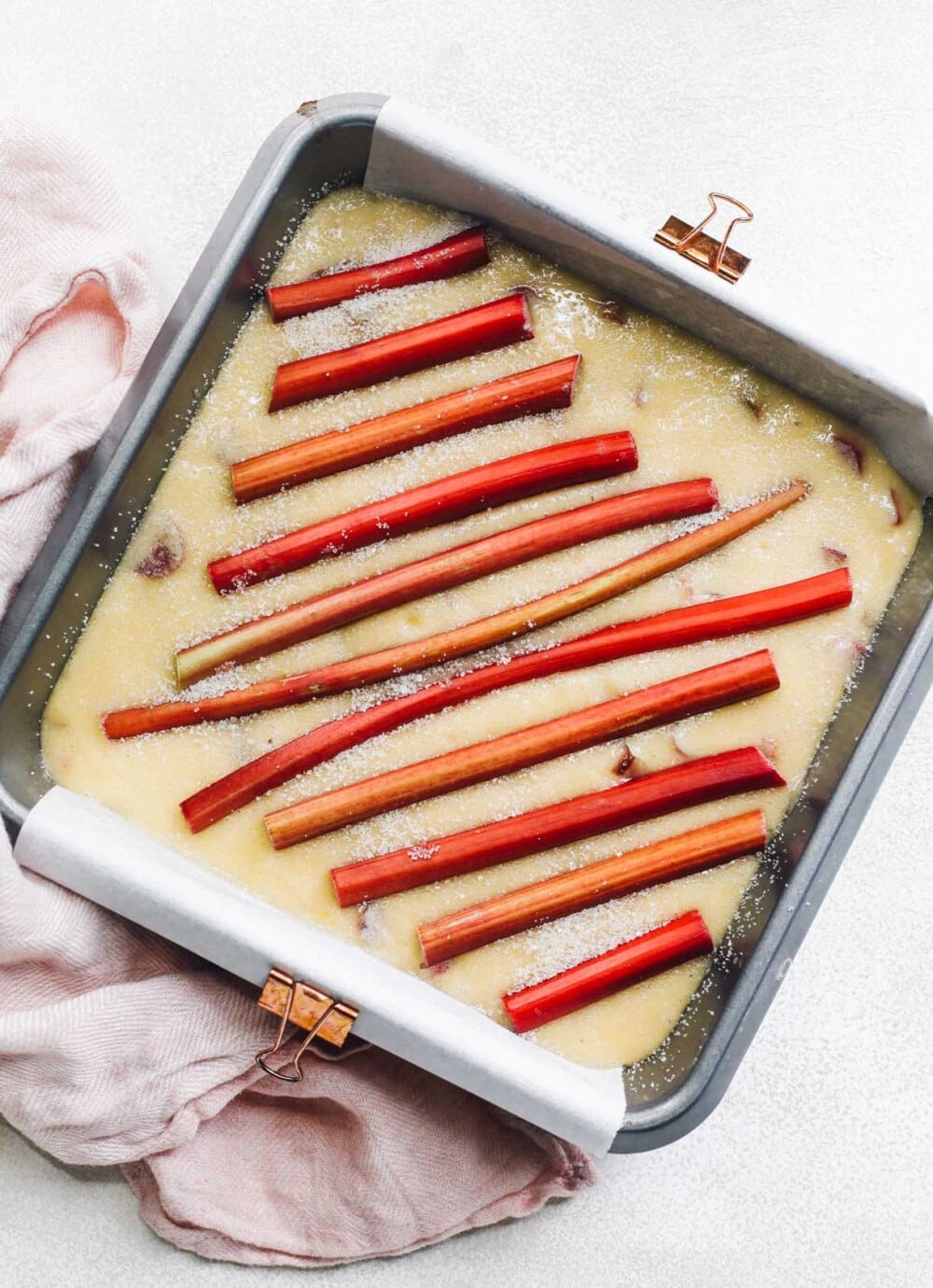 How to make this sourdough discard cake:
Chop and slice your rhubarb.
Whisk dry ingredients together and set aside.
With a stand mixer or hand mixer, you'll beat the oil with sugar and lemon zest. This helps the sugar dissolve, and releases the oils of the lemon zest.
Add eggs and mix until frothy. Then add remaining liquid ingredients. Mix on medium low until combined.
Add dry mixture and mix just until dry flour bits disappear.
Gently fold in rhubarb. Spread batter in pan.
Decorate top of cake with longer rhubarb spears, in whatever pattern you'd like.
Bake at 350 degrees F for 30 minutes, then 330 degrees F for 12-15 minutes more.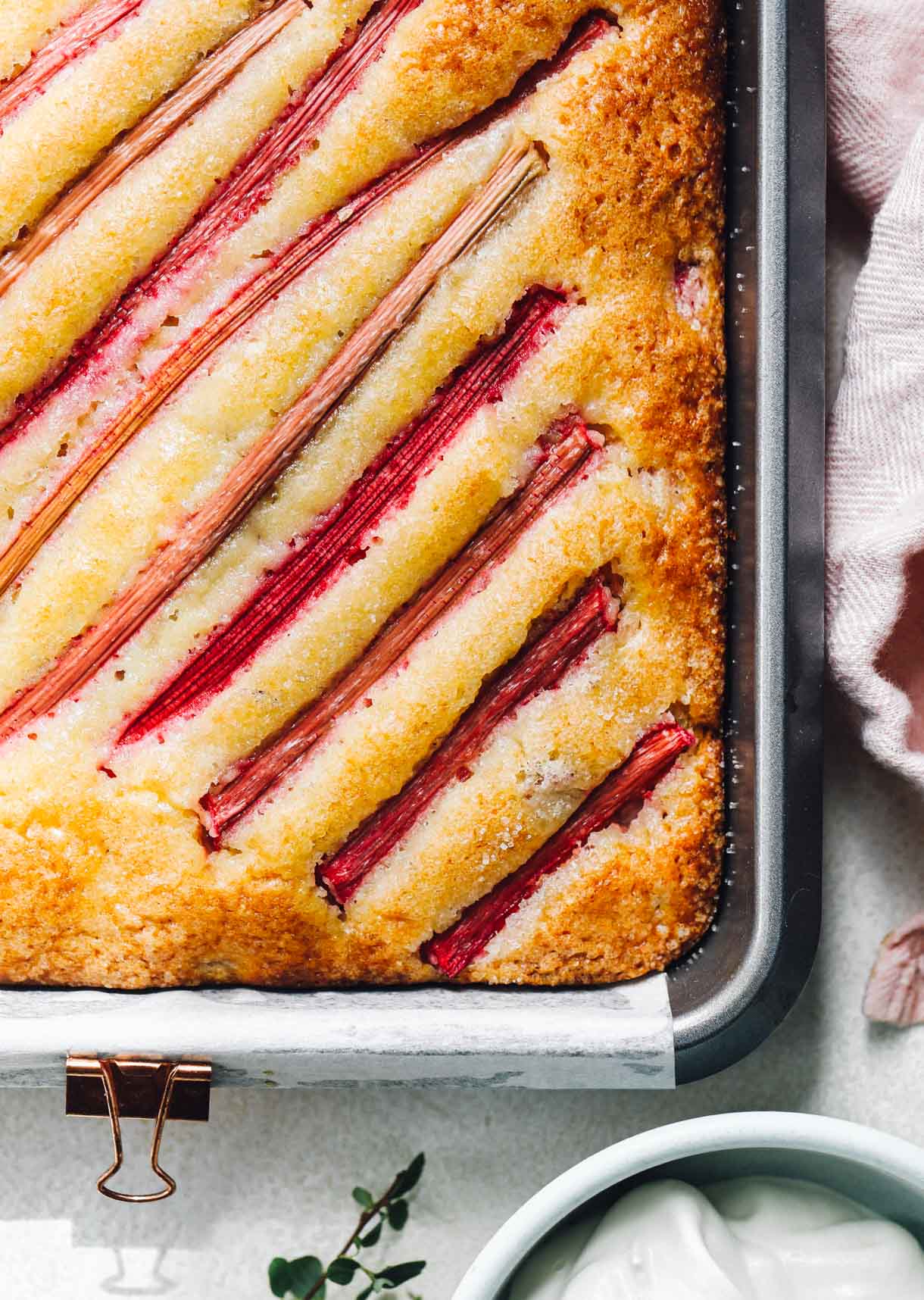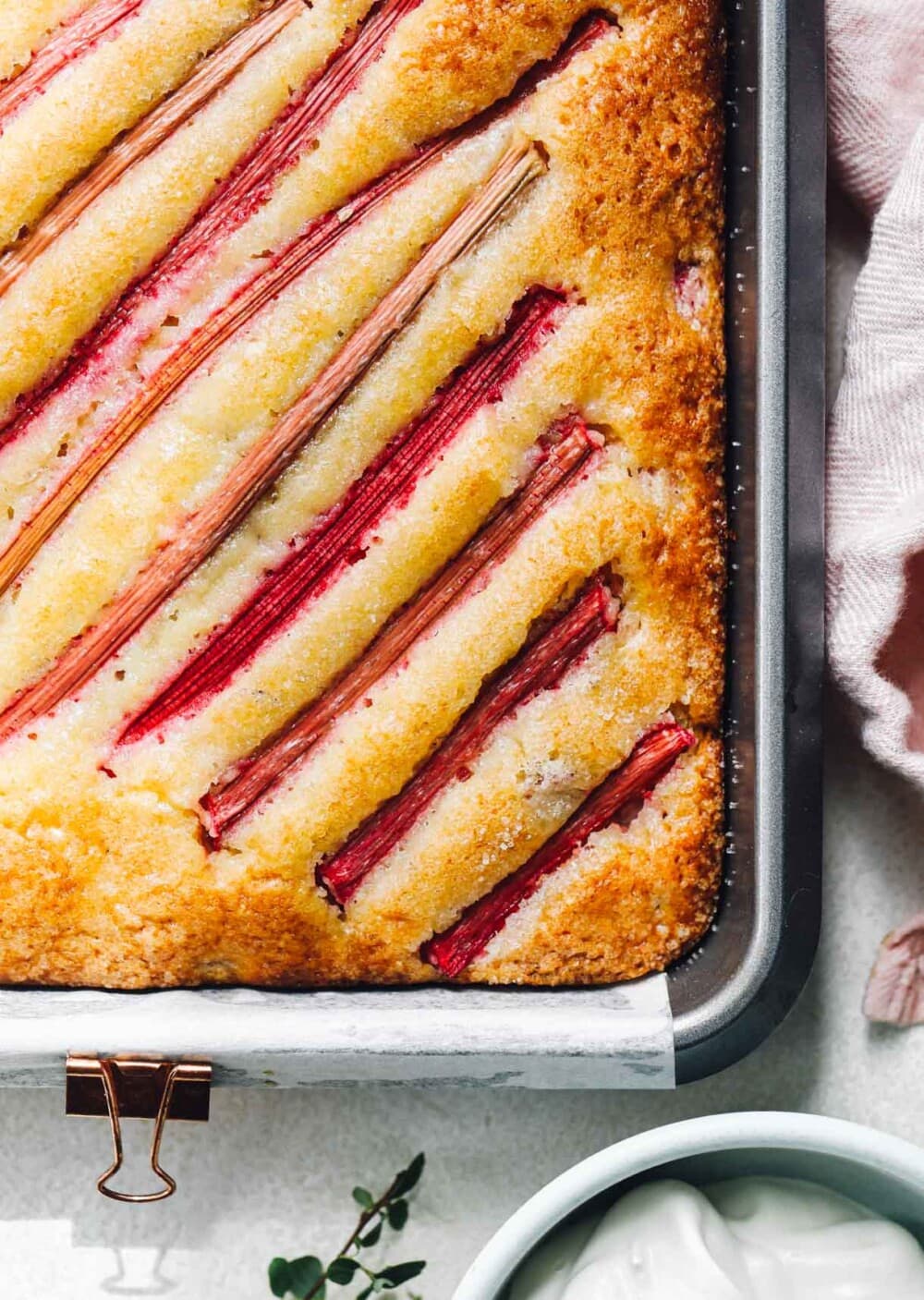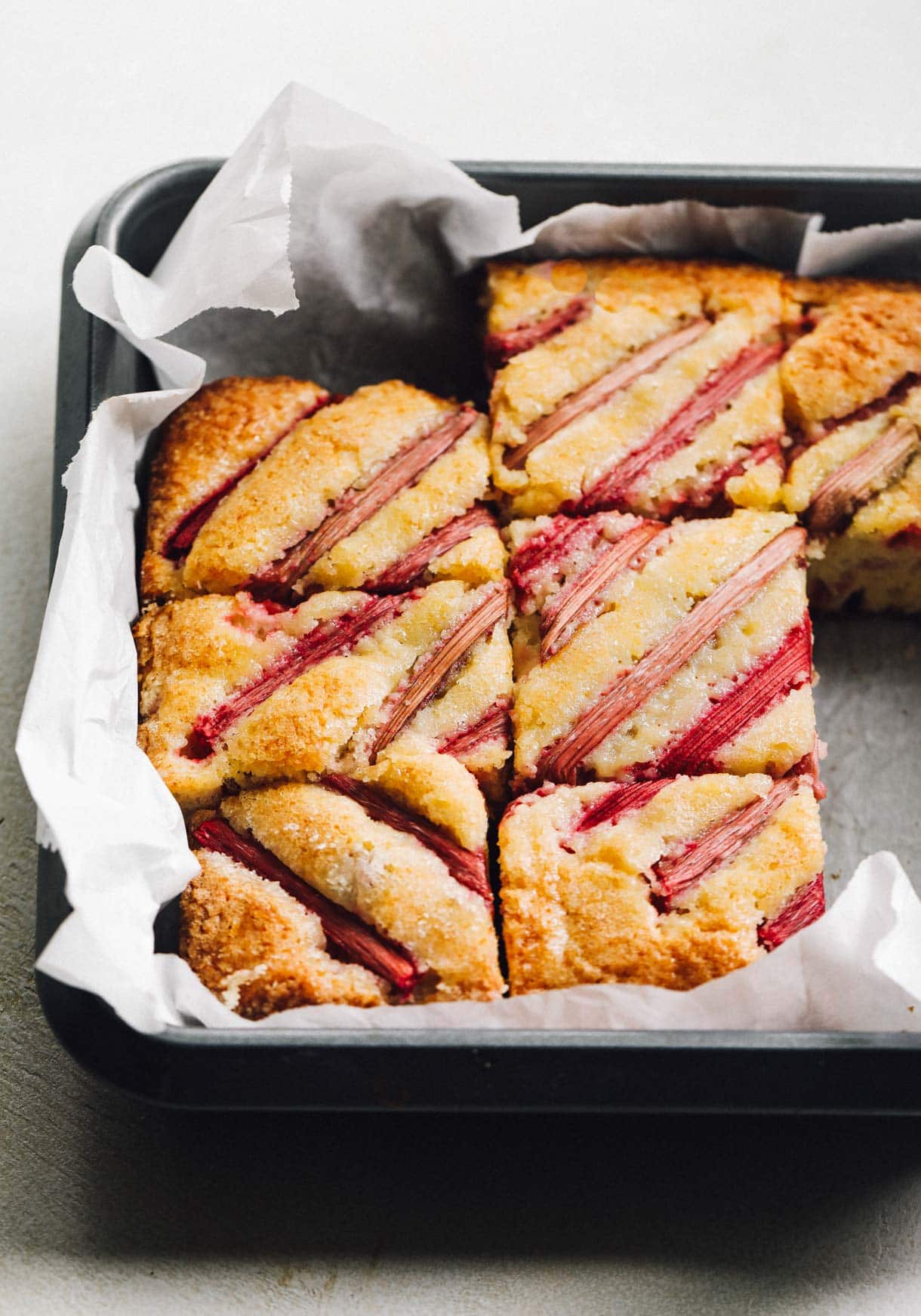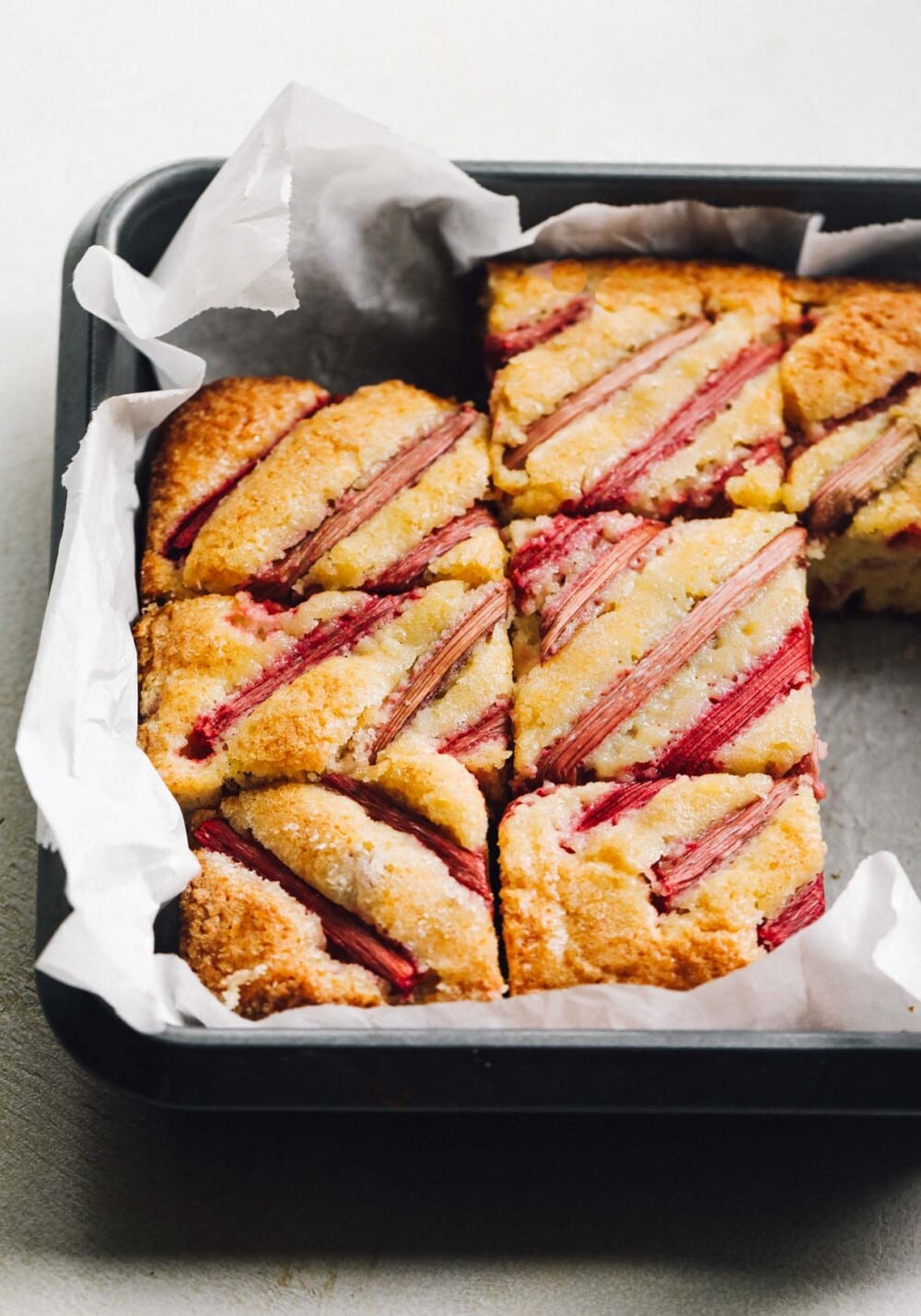 How long is sourdough discard good for?
You can keep sourdough discard in your refrigerator for up to 10 days. The discard will be more sour the longer it stays in the fridge. So for something like this cake or these zucchini muffins, where I don't want the sourness to come through, I use discard that is less than 5 days old.
Your discard might accumulate a little liquid on the top while it's in the fridge, which is called hooch, simply meaning alcohol that is the byproduct of fermentation. You can simple pour the liquid off into garbage, and scrape the very top off, and use the rest as discard.
What to look for when buying or picking rhubarb:
Rhubarb differs slightly in color depending on the variety, the stalks ranging from green, pink, and red. Red stemmed types are not necessarily sweeter, because color and sweetness are not always related. But they do make for prettier desserts, so if you're going for looks, try to find a red or pink variety.
Rhubarb is most tender and flavorful in spring and early summer but can be used throughout the season. Select firm, crisp stalks when they are 8 to 15 inches long. To harvest, twist off the leaf stalk at the soil line rather than taking a knife and cutting near the roots. Finally, cut off the leaf.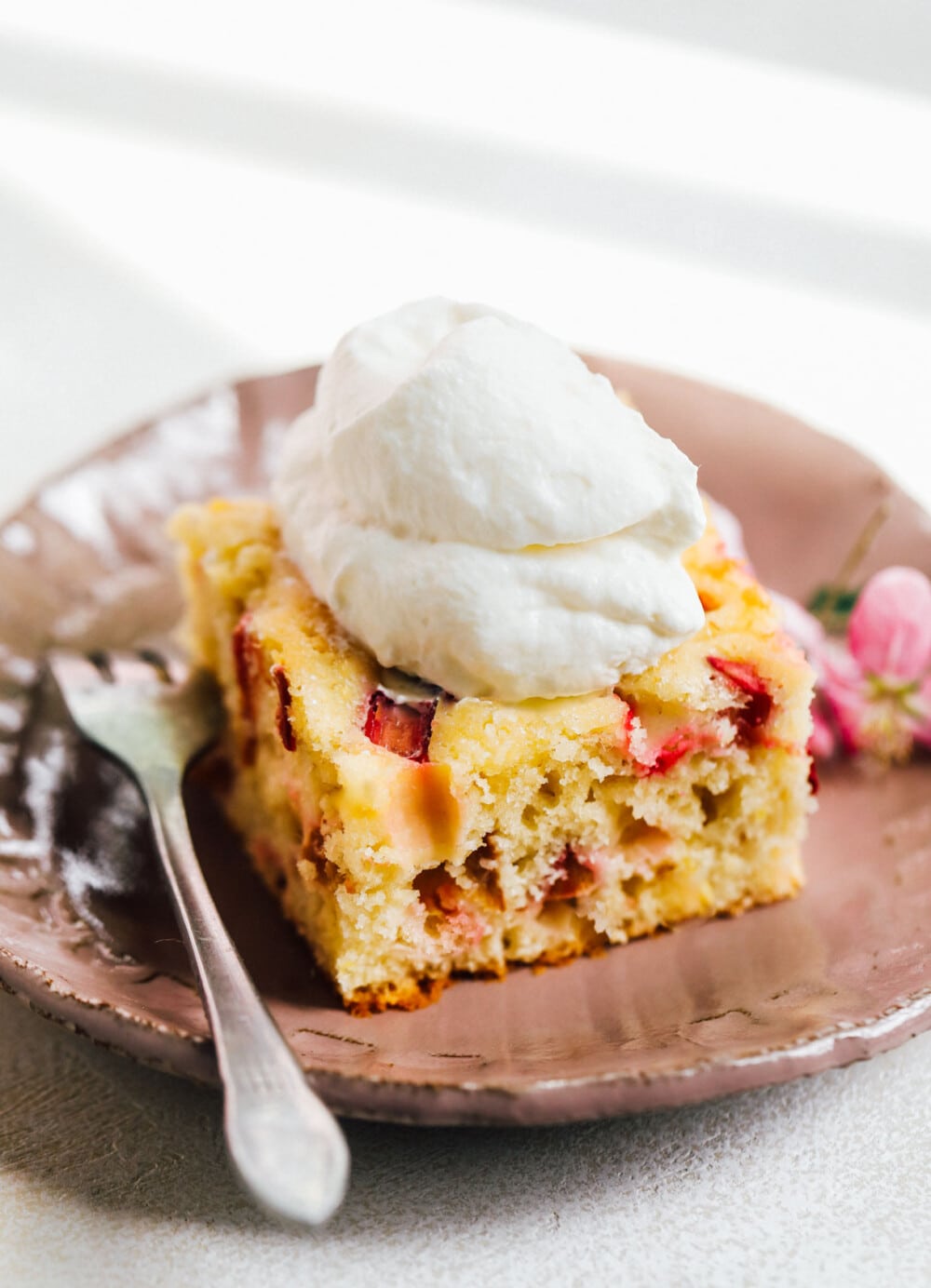 More Sourdough Discard Recipes: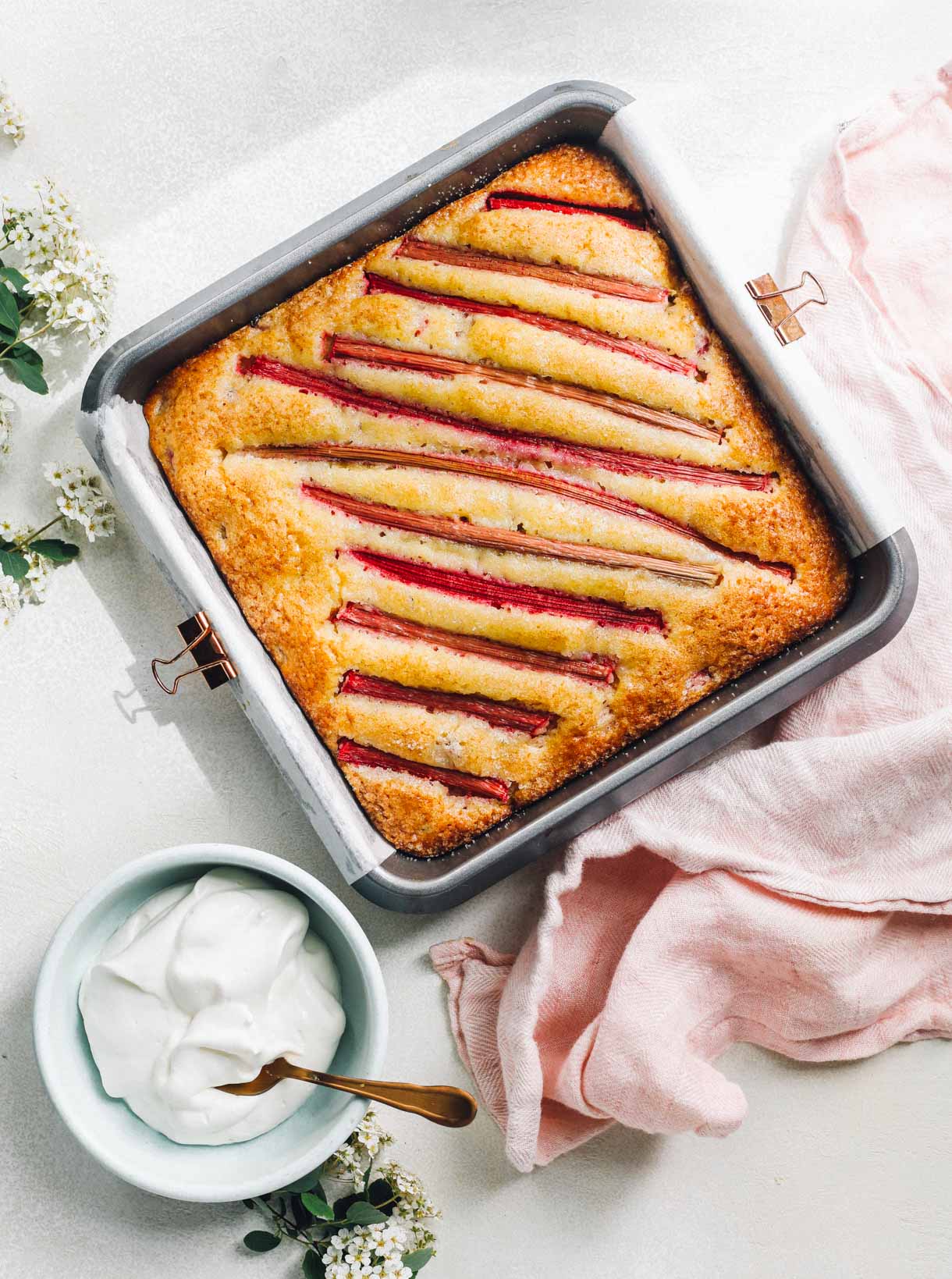 8

ounces

fresh rhubarb,

3/4 of the rhubarb cut into 1/2 inch chunks, and remaining cut into pieces that fit inside the pan diagonally to create a pattern

170

grams

all purpose flour

1

1/2 teaspoons

baking powder

1/2

teaspoon

fine salt

155

grams

cane sugar

1/2

cup

sunflower or grapeseed oil

1

tablespoon

lemon zest

2

eggs,

room temperature

3

tablespoons

runny honey

65

grams

sourdough discard,

preferably room temperature

1 1/2

teaspoons

vanilla extract

1

teaspoon

fresh lemon juice

3

tablespoons

whole milk
Preheat oven to 350 degrees F. Grease and line a square 8-inch cake pan.

Add chopped rhubarb to a medium bowl.

In another medium bowl, whisk together flour, baking powder, and salt. Scoop 2 heaping teaspoons from this mixture and add it to bowl with chopped rhubarb. Toss to combine (this lightly coats the rhubarb so it doesn't sink in the cake). Set aside.

In a stand mixer or with a hand mixer, on medium speed beat 145 grams sugar with the oil and lemon zest for 1 1/2 minutes (this helps to dissolve the sugar). Then add eggs, and beat for 1 minute on medium speed, so that the mixture is frothy.

Add honey, sourdough discard, vanilla extract, lemon juice, and milk, and mix on medium speed until just combined. Then add in dry mixture on low speed, just until no bits of flour remain.

Gently fold in rhubarb (it's okay if you can see a little flour on the rhubarb when its in the batter.) Place batter into greased and line 8-inch cake pan, and smooth top. Add the longer pieces of rhubarb to the top, in any pattern you'd like. Sprinkle top of cake with 2 heaping teaspoons sugar. Bake for 30 minutes at 350 degrees F, then turn oven down to 330 degrees F and bake for 12-15 minutes more, until toothpick comes out with a few moist (but not wet) crumbs. Remove from oven and let cool on cooling rack.

In a sealed container, this cake stores very well in the refrigerator for up to 4 days.