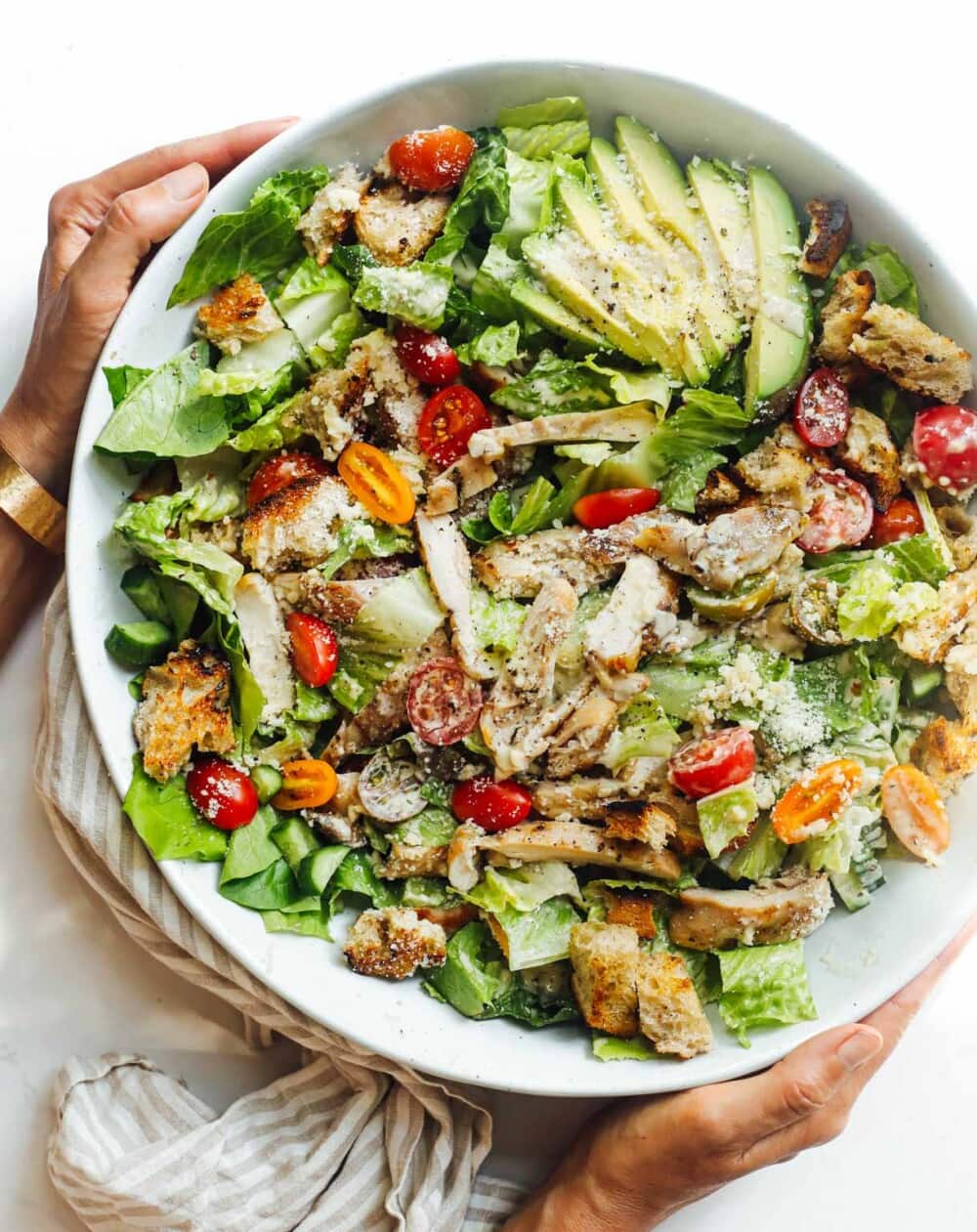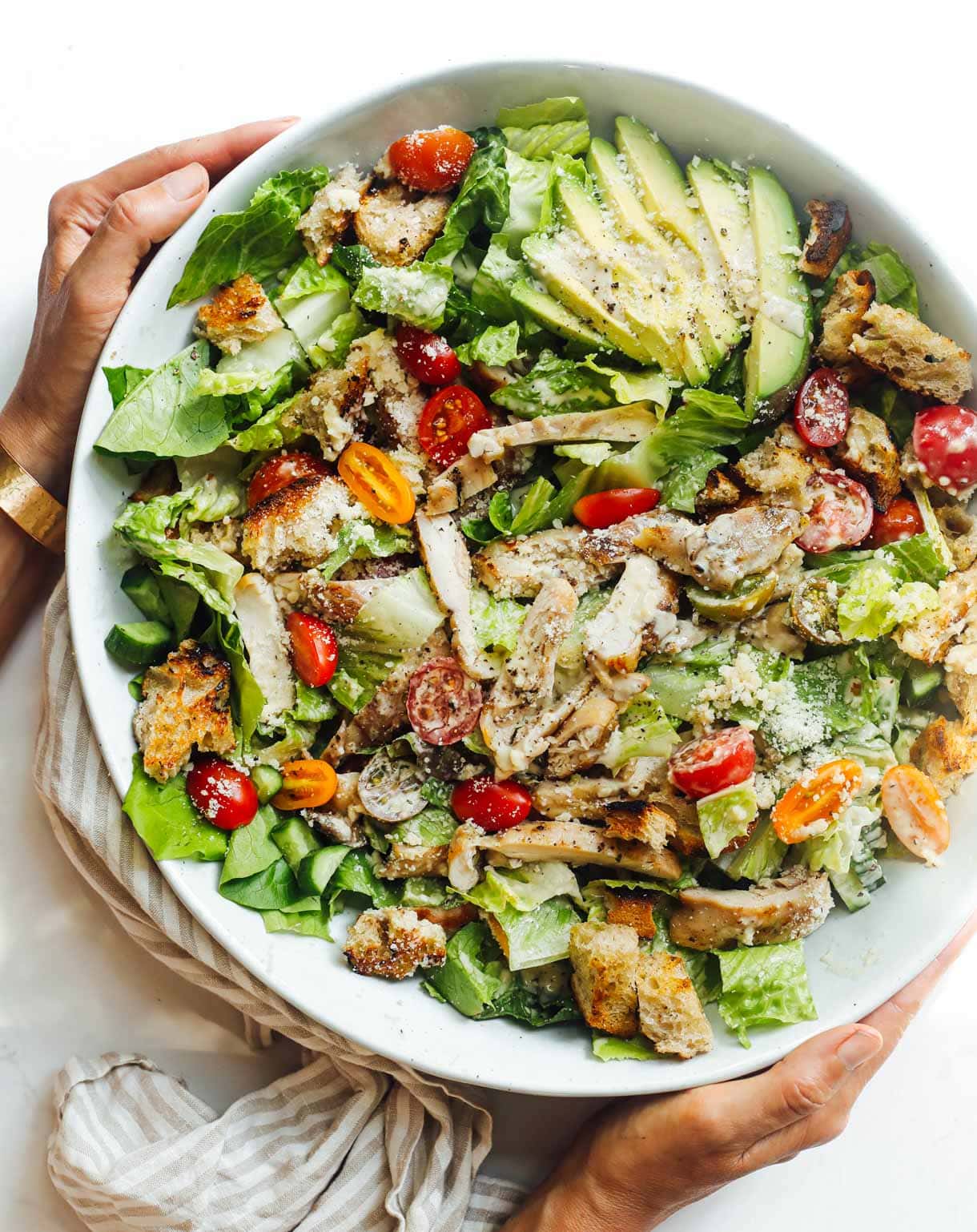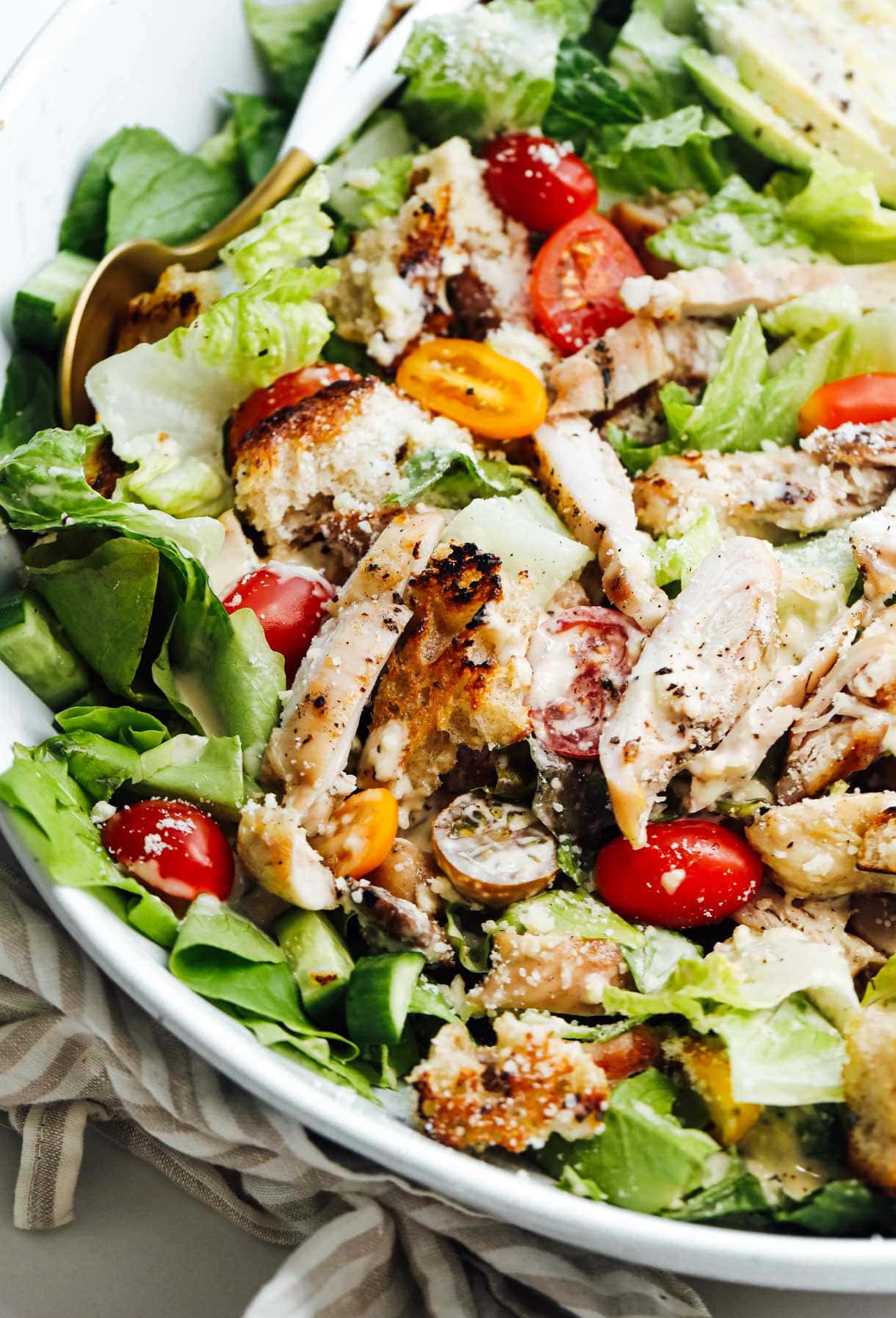 This post is sponsored by Dometic Twin Eagles Grills, a year long partner of Heartbeet Kitchen. We have their 36 inch grill top with infrared rotisserie, on a portable base. Their meticulously engineered grills are as beautiful as they are high performance.
---
This homemade grilled chicken caesar salad is a level above those you might order at a restaurant. Set apart with juicy, grilled chicken thighs AND grilled sourdough bread that's torn into croutons, atop crunchy romaine lettuce, creamy avocado, tomatoes, and cucumber. (You could take it even one step further and grill the lettuce!)
It's refreshing and substantial at the same time, making it a great main dish salad on a warm summer night. I absolutely love all the textures and flavors; creamy, crunchy, juicy, salty, smoky, cheesy, and even a little sweetness from the cherry tomatoes.
And if you haven't tried grilling sourdough bread, you're in for a real treat. The charred edges bring deeper, caramelized flavor into the slices that makes such a difference in this salad.
Grilled chicken thighs cook so much faster than chicken breasts, and have double the flavor.
Most chicken caesar salads are made with chicken breasts, but this one is made with chicken thighs, where the real flavor and juiciness is! They're incredibly versatile and easier to cook because they have a bit more fat than chicken breasts, which means they won't dry out. Another bonus: they cook within 8 minutes on the grill because they're not as thick as chicken breasts.
Ingredients for Homemade Grilled Chicken Caesar Salad:
romaine lettuce
boneless chicken thighs
cherry tomatoes
cucumber
avocado
grated parmesan cheese
caesar salad dressing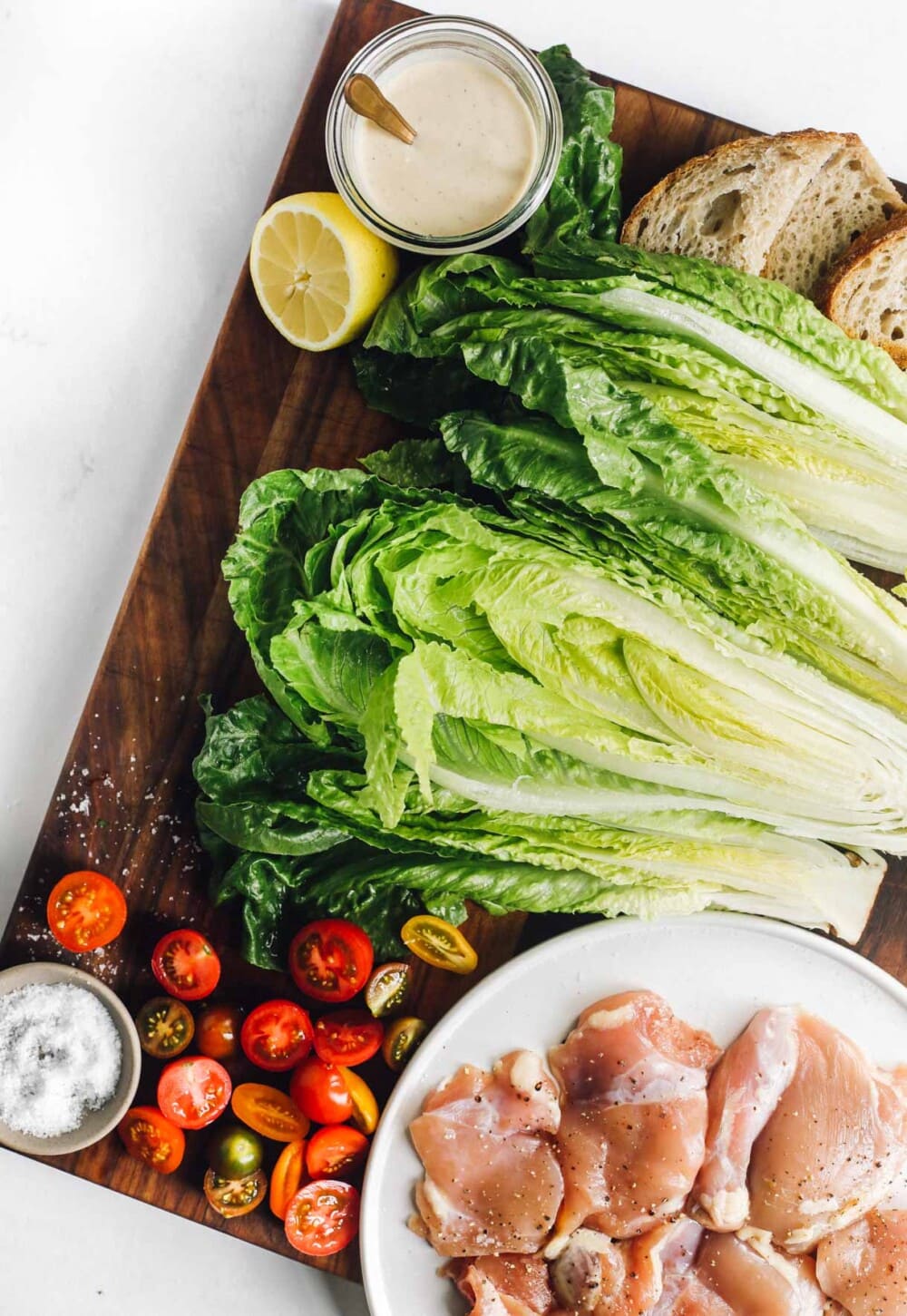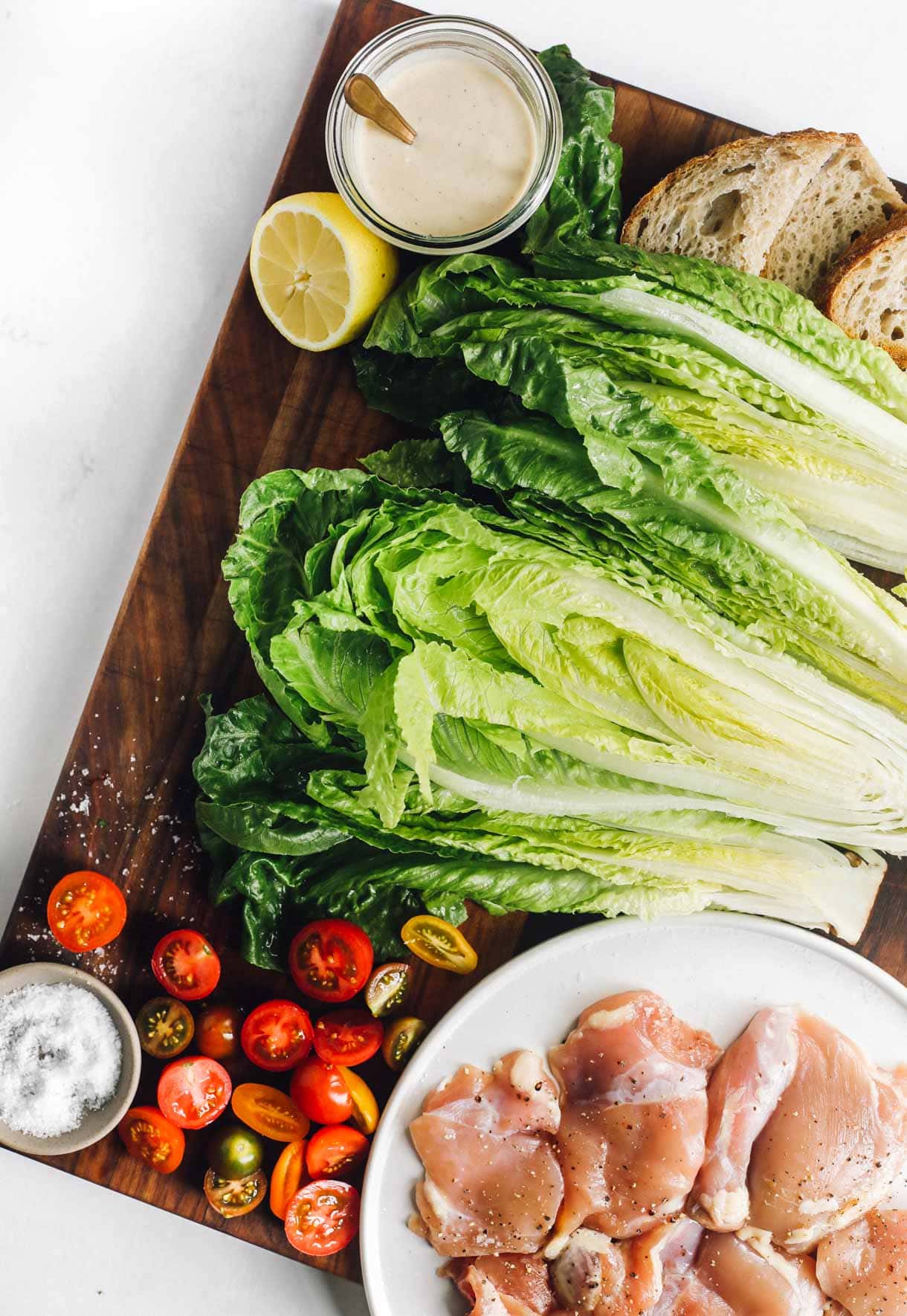 Our Dometic Twin Eagles Outdoor Gas Grill has a free-standing base which means that we're currently building it into our outdoor kitchen. Twin Eagles is the expert in artful grilling design, high performance cooking, and very innovative kitchen solutions.
This grill has 25,000 BTU burners, so it heats up incredibly fast, getting dinner to the table faster, too. A fresh salad like this can be ready in less than 20 minutes! Some of the other great features include:
High-quality ceramic briquettes
Hexagonal grates for maximum food-to-surface contact
Zone dividers to regulate different temperatures
Control panel illuminates to provide a precise control knob setting
Infrared rotisserie to make things like rotisserie chicken on the grill and prime rib
And best of all, it has interior lights with hood-activated light switch for nighttime grilling, which we've fully embraced.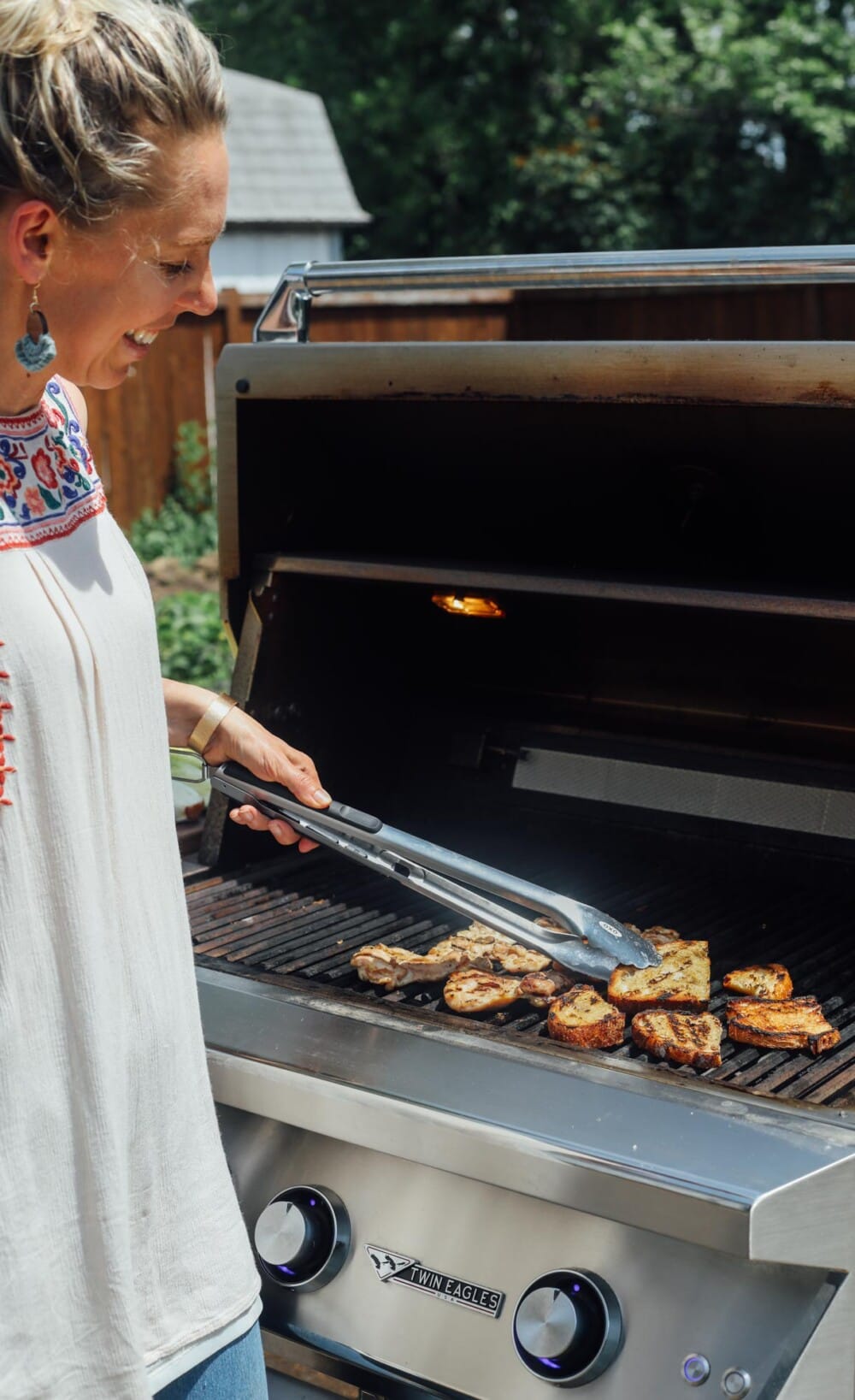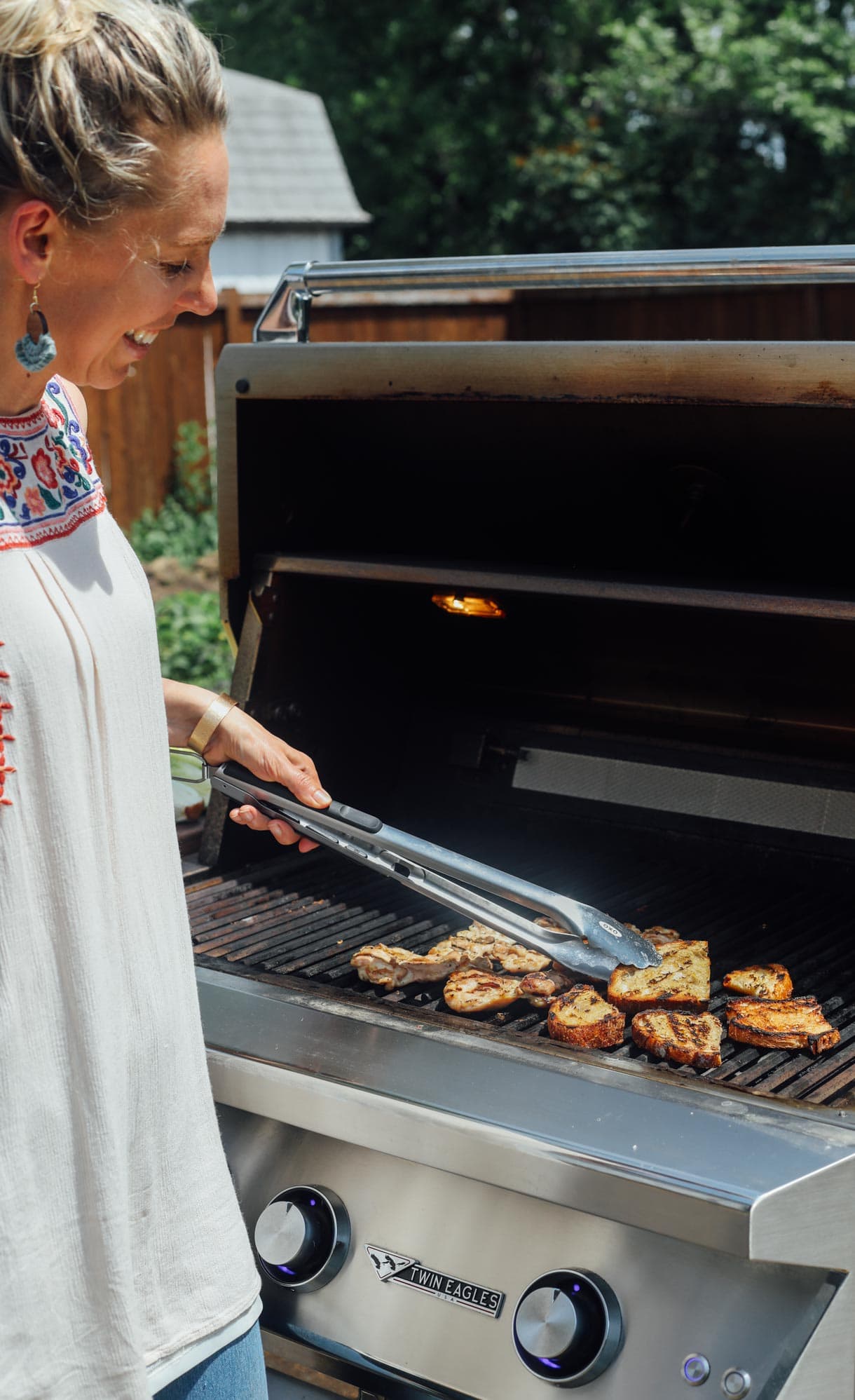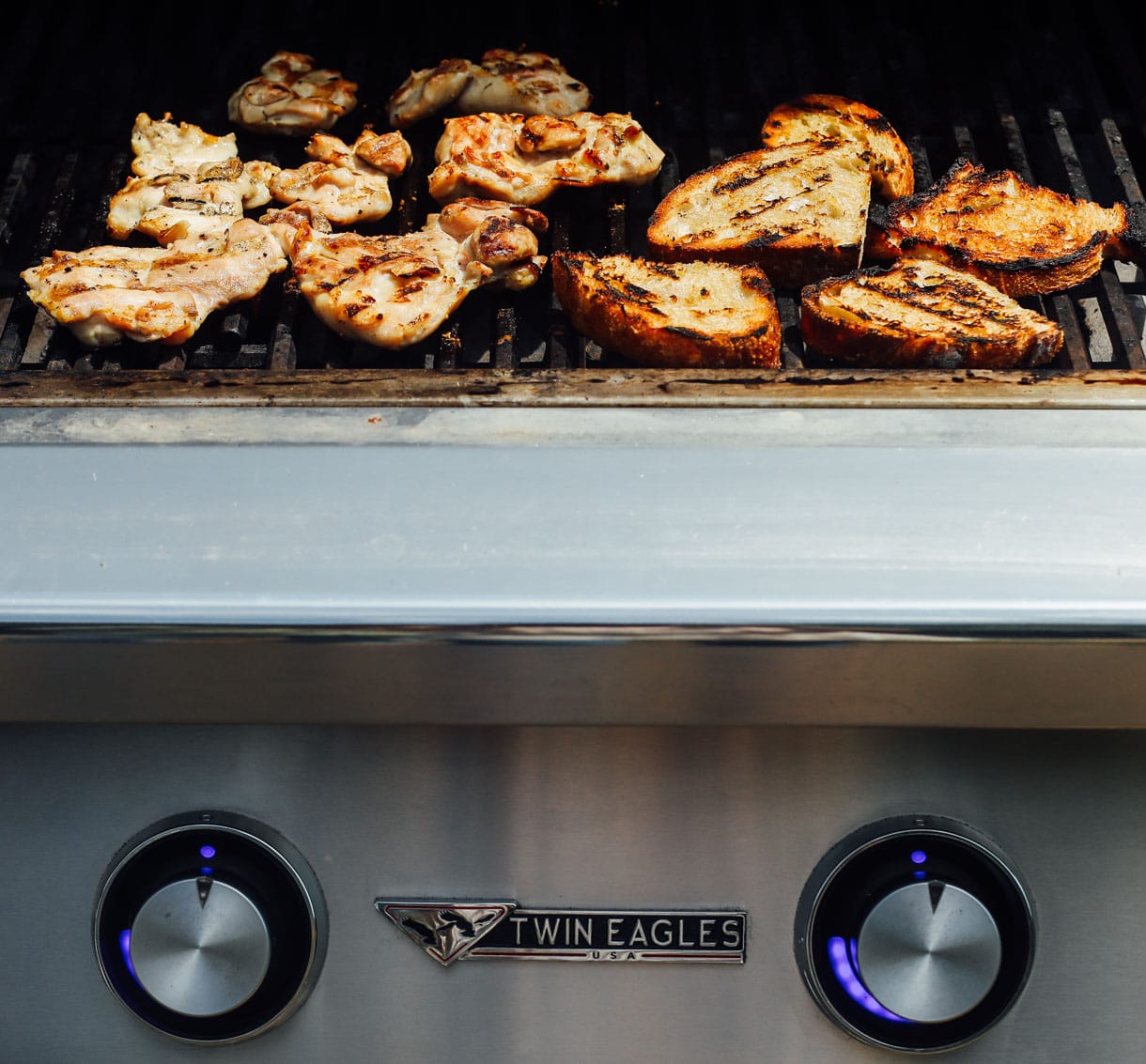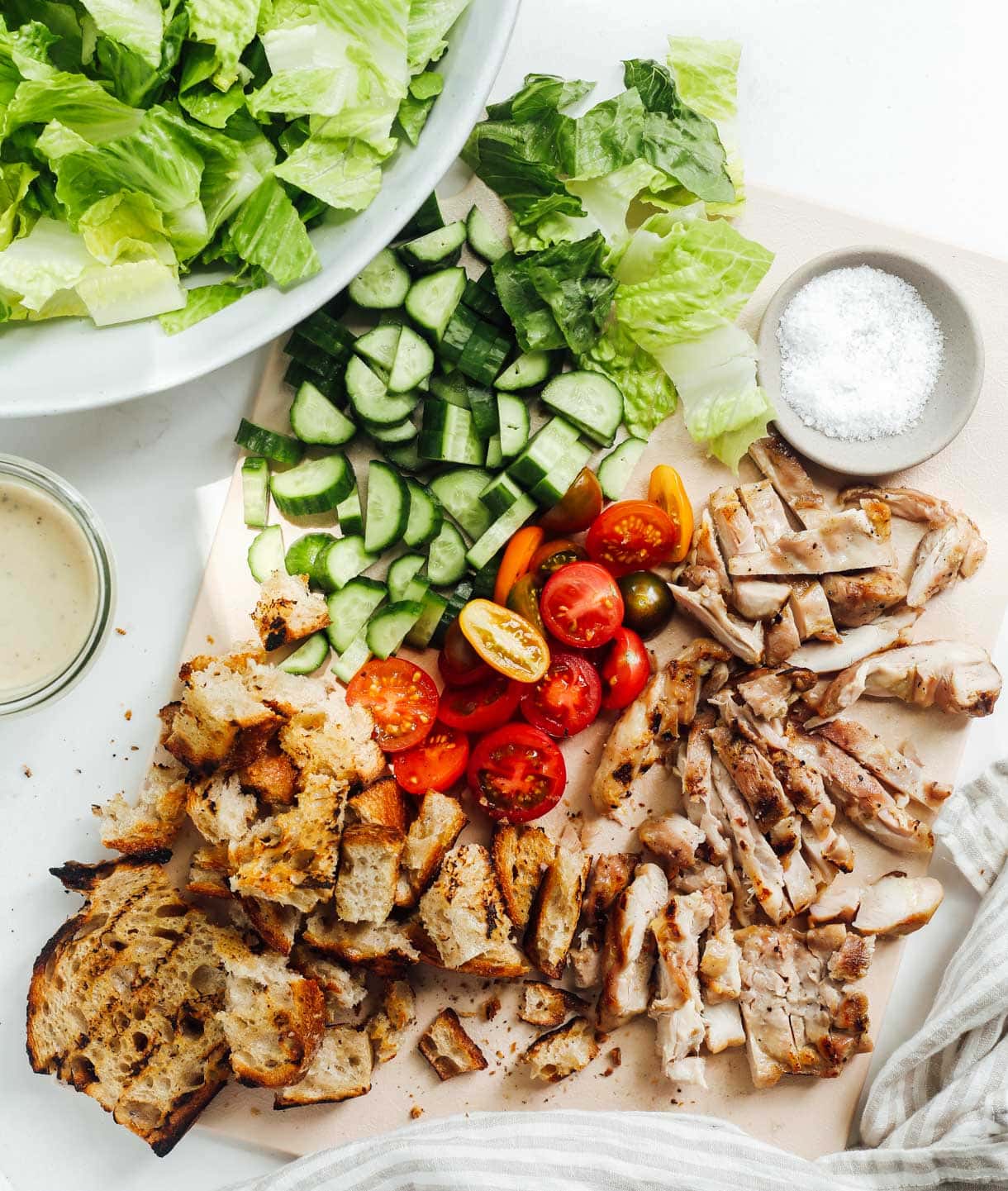 Tips for grilling boneless skinless chicken thighs:
Boneless chicken thighs cook on the grill very quickly! About 4 minutes on each side, and they're done.
Because they are skinless, it's very important to let them cook undisturbed, without trying to flip before they're ready or the meat will stick to the grill.
To avoid the meat sticking, you are going to preheat your grill to medium high heat so that the sear happens quickly. Take your tongs and grab a hold of one of the thighs and if they don't want to let go of the grates, let them cook for another minute and then try again.
Making homemade caesar salad dressing is easier than you think!
Over the years I've played around with several caesar dressing recipes, and I've come to the conclusion that you don't the base to be made from egg yolks for it to be absolutely delicious.
Instead, I use high quality mayonnaise like Sir Kensington's and then straight-forward ingredients that pack a lot of flavor like Worcestershire sauce, garlic, parmesan cheese, and anchovy paste. Everything is simply whisked in a bowl and that's it!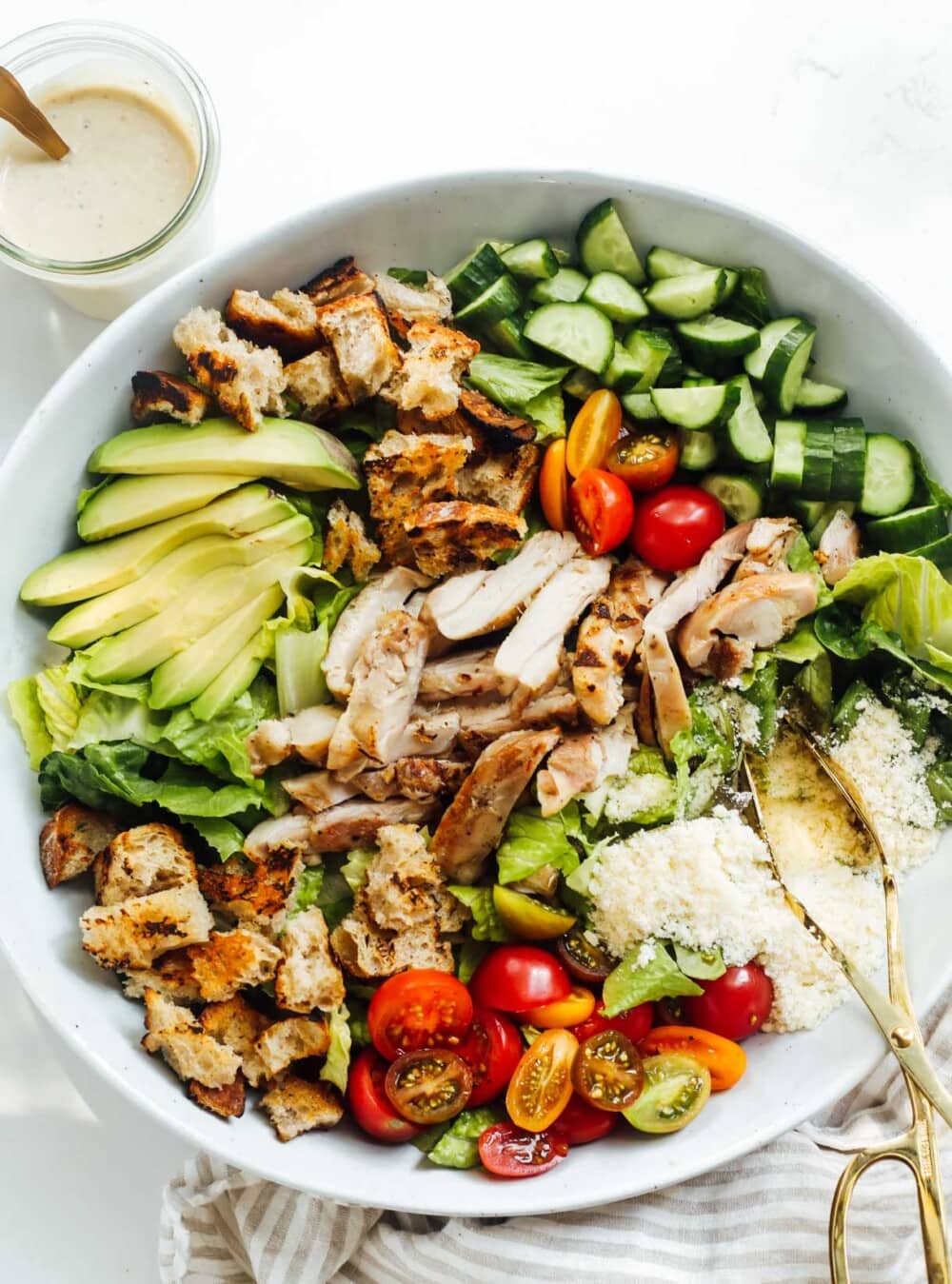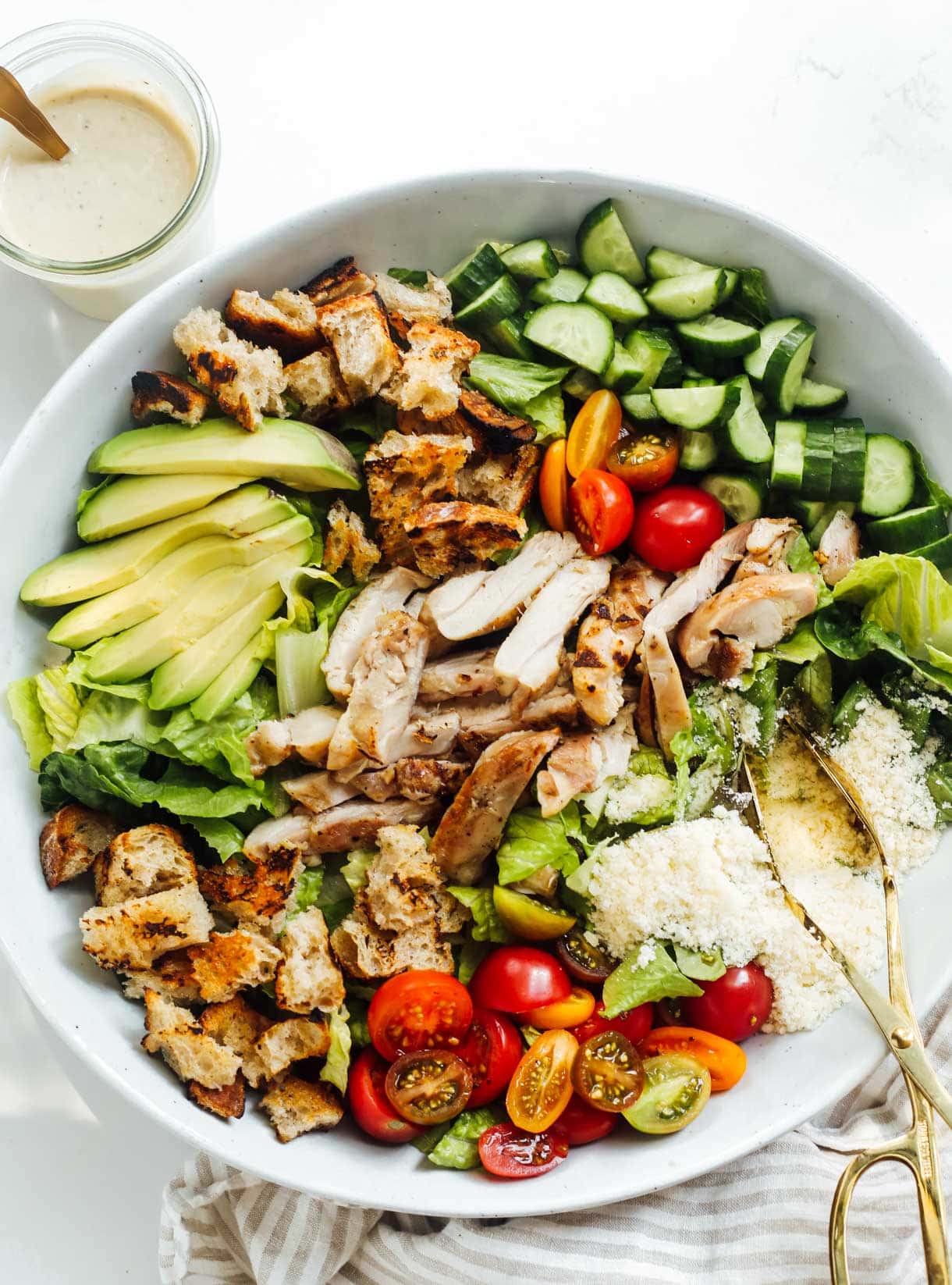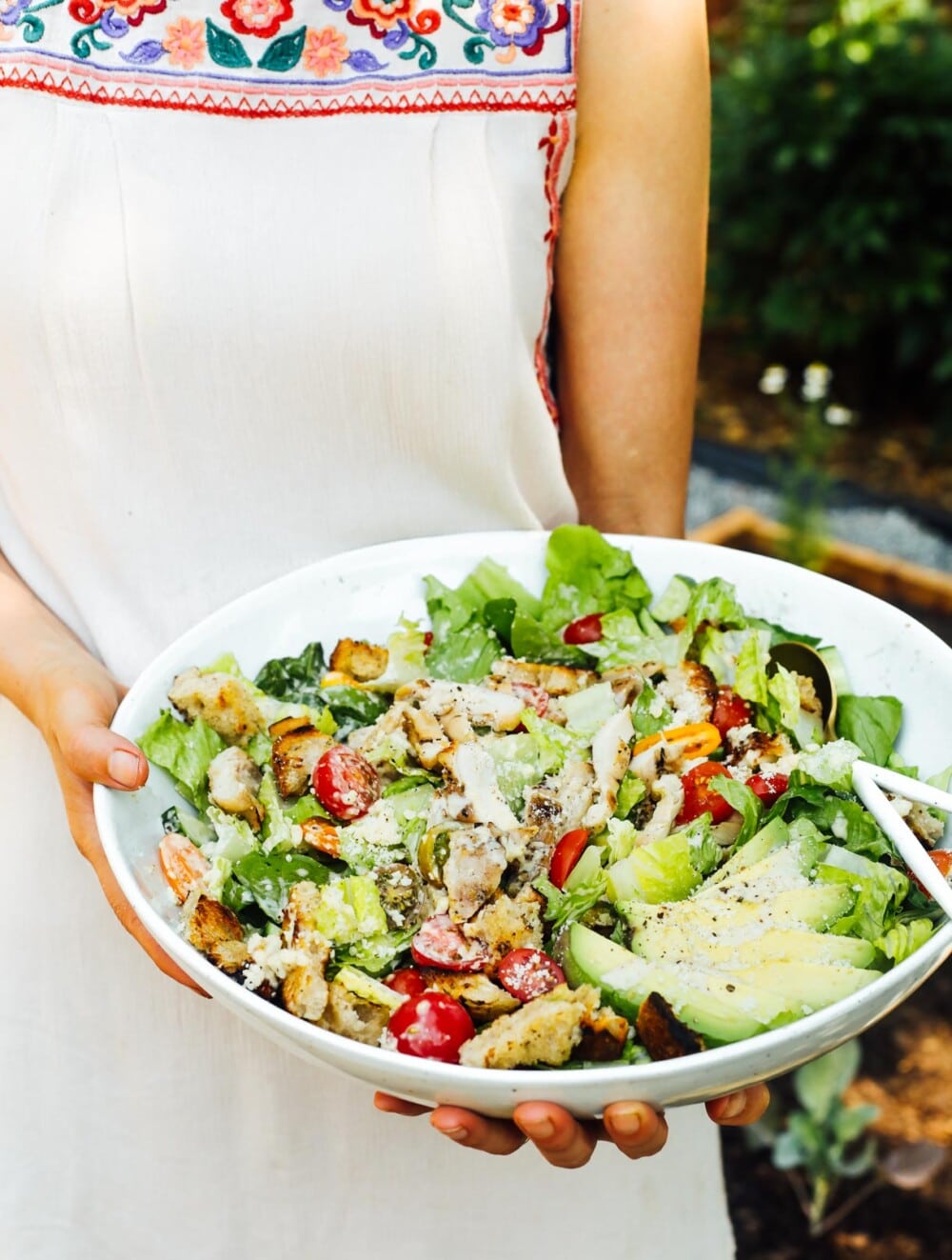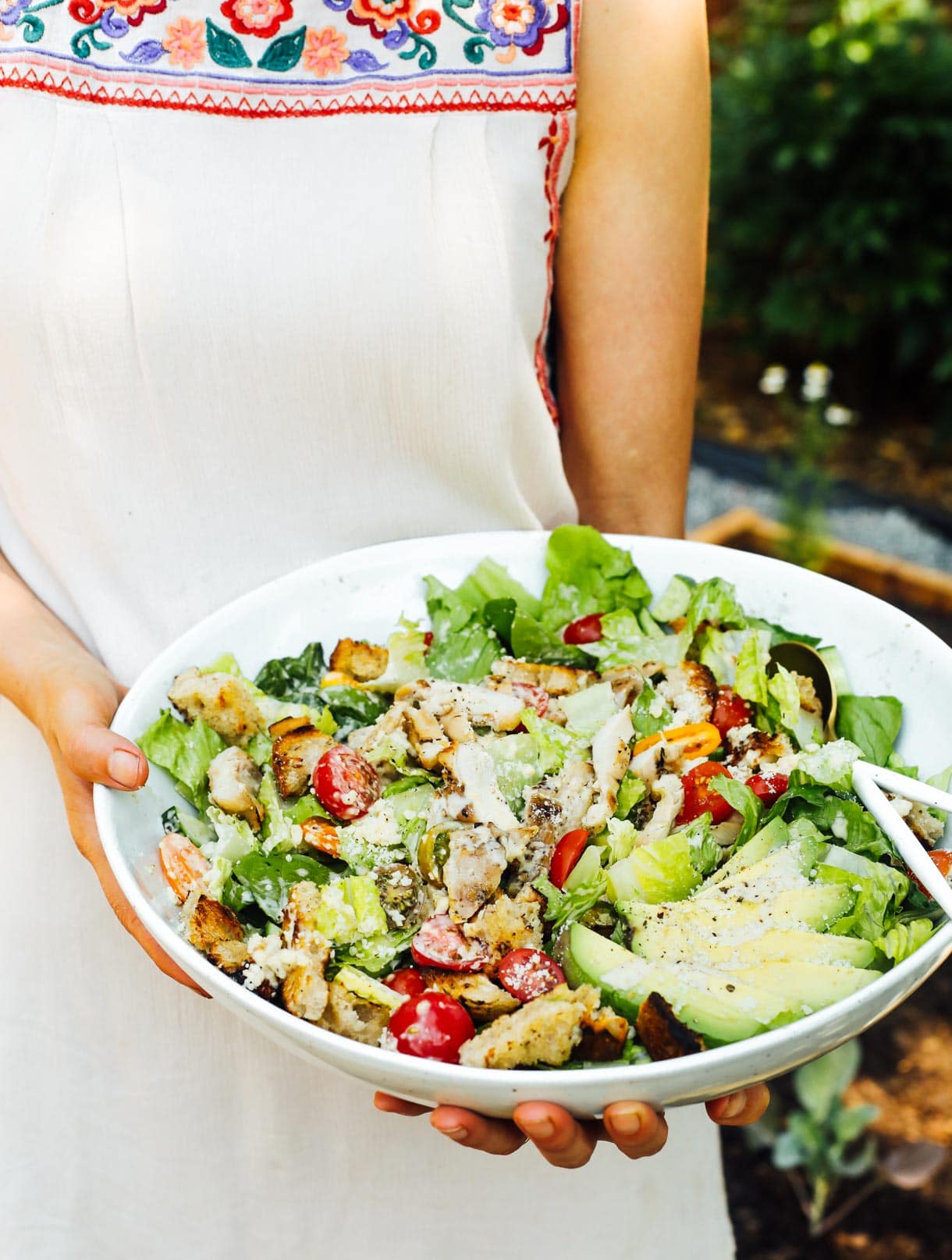 More Salad Recipes: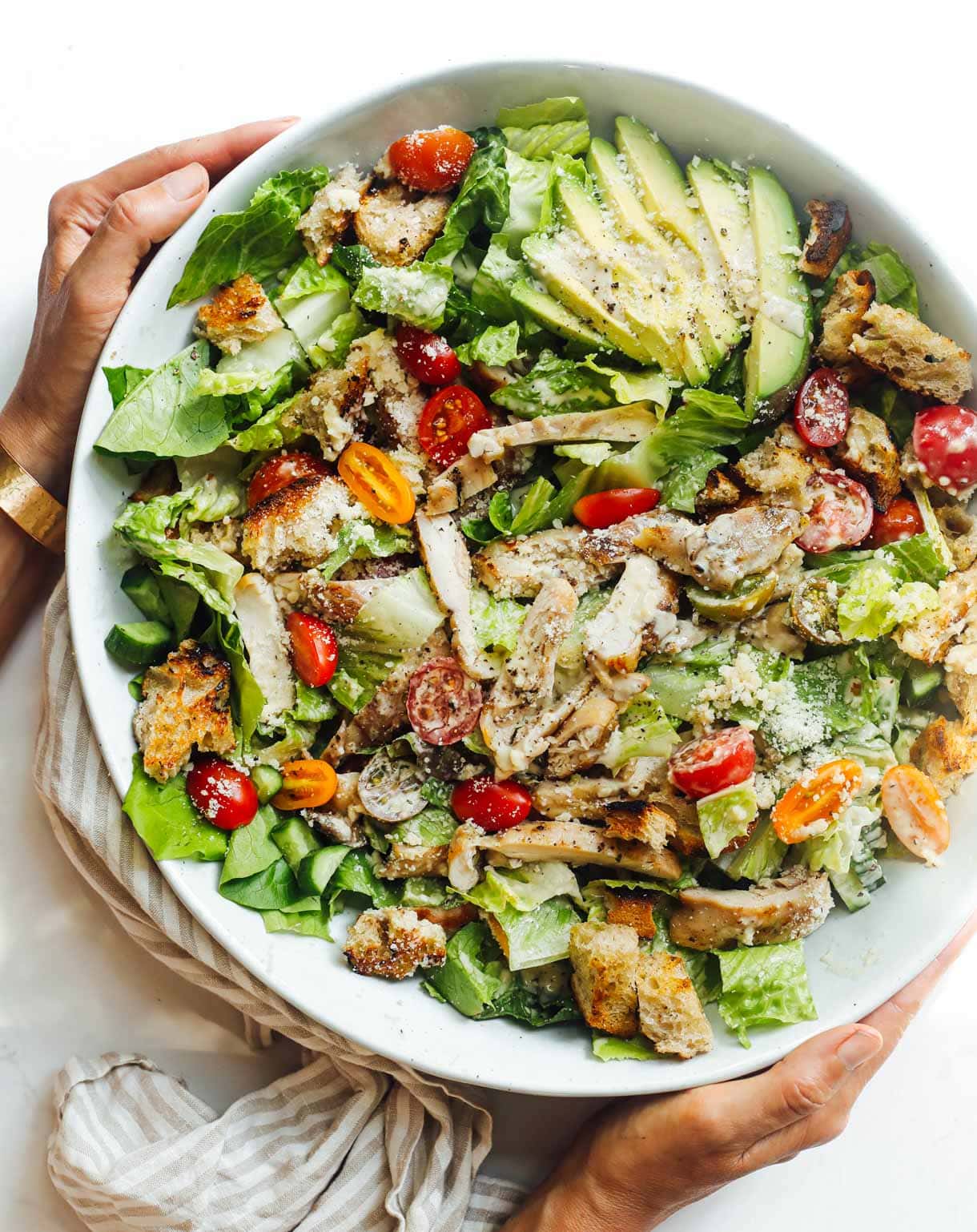 Homemade Grilled Chicken Caesar Salad
A fresh and delicious grilled chicken caesar salad with lots of flavor from cucumbers, avocado, tomatoes, parmesan, and grilled bread for croutons! An easy homemade caesar dressing elevates each bite. Chicken thighs rather than chicken breasts are used in this recipe for maximum juiciness and flavor.
1

pound

boneless skinless chicken thighs

1

teaspoon

kosher salt

1/2

teaspoon

cracked black pepper

5

slices

sourdough bread

2

heads of romaine lettuce, cut in half vertically then

torn into bite size pieces

1

cup

cherry tomatoes,

halved

3

small Persian cucumbers, sliced

into half moons

1

ripe avocado,

sliced into thin strips or cubed

1/4

cup

grated parmesan cheese
Homemade Caesar Salad Dressing
1/4

cup

grated parmesan cheese

1/2

cup

mayonnaise

1 1/2

teaspoons

anchovy paste

1

tablespoon

fresh lemon juice

1/2

teaspoon

freshly cracked black pepper

1

teaspoon

worchester sauce

1

large clove garlic

or 2 small cloves, minced
For dressing: Whisk all ingredients together in a bowl and store in a jar. Can be made 3 days ahead.

For Salad: Preheat 2 burners of your grill to medium-high heat.

Season both sides of chicken thighs with salt and pepper. Brush both sides of sourdough bread with olive oil.

Place chicken and bread onto grill directly over burners. Let chicken and bread cook for 3-4 minutes per side.

Check chicken at 4 minutes with a tong and if there is no resistance, flip the chicken. If there is resistance, let cook for another minute (to avoid meat sticking). Flip bread as well, and when it's golden brown on both sides, move to side of grill that is off.

Let chicken thighs cook for another 3-4 minutes, until chicken reaches internal temp of 160 degrees F.

Move chicken and bread to a platter and let rest for 10 minutes. Then slice chicken into thin strips, and tear grilled bread into small pieces.

Assemble the salad with romaine in the bowl, tomatoes, cucumber, avocado, parmesan, grilled chicken, and grilled bread.

Pour 1/2 of salad dressing over the top and toss to coat, just before serving. Add more dressing to top of salad if you'd like. Serve.