Grilled cabbage makes an excellent salad, especially when paired with marinated chicken and an asian-inspired dressing! There are so many lovely flavors, with fresh mint and cilantro, sesame oil, crushed peanuts, and lime juice. This can be made a day in advance, and the leftover salad is excellent for lunches.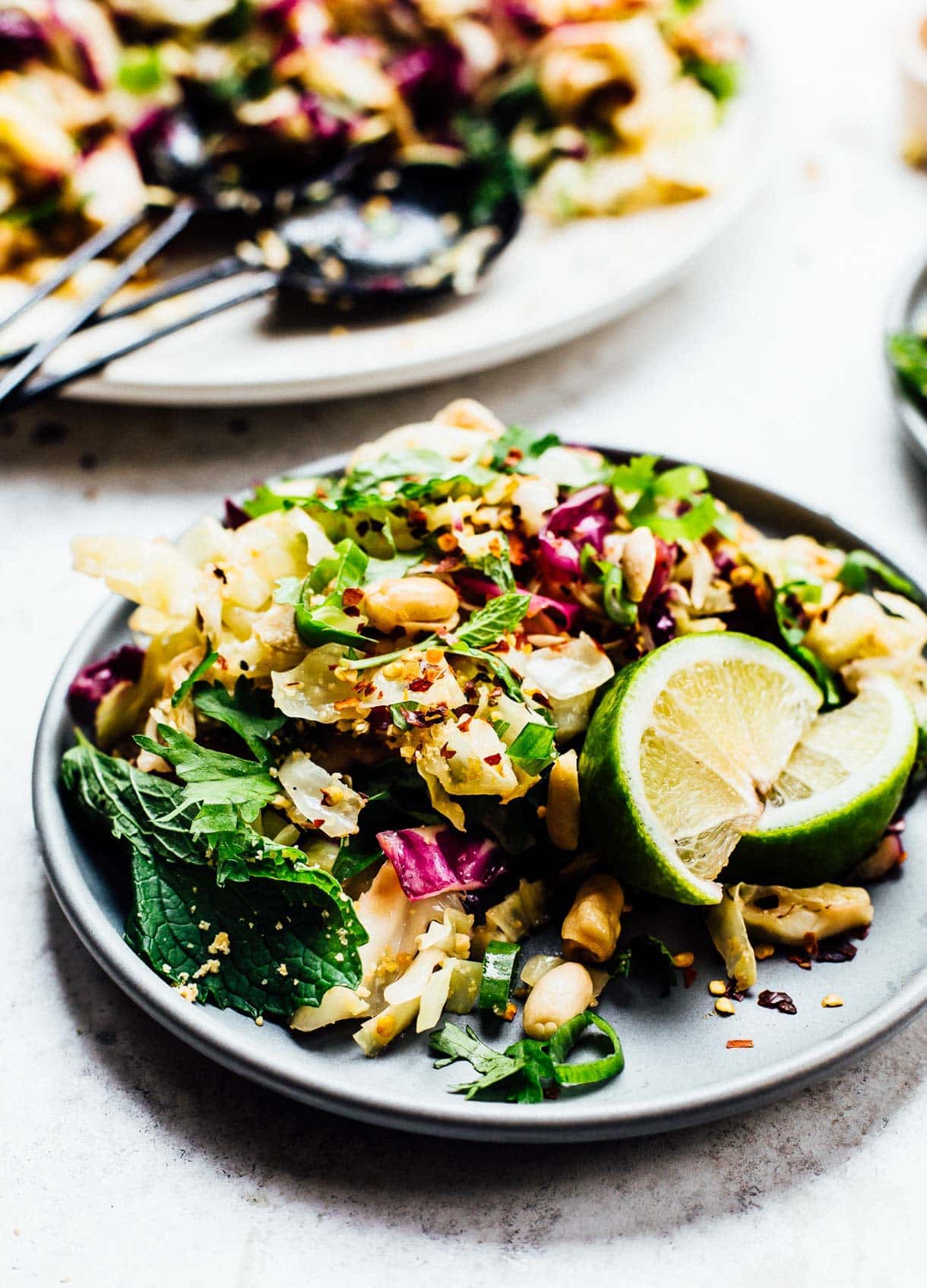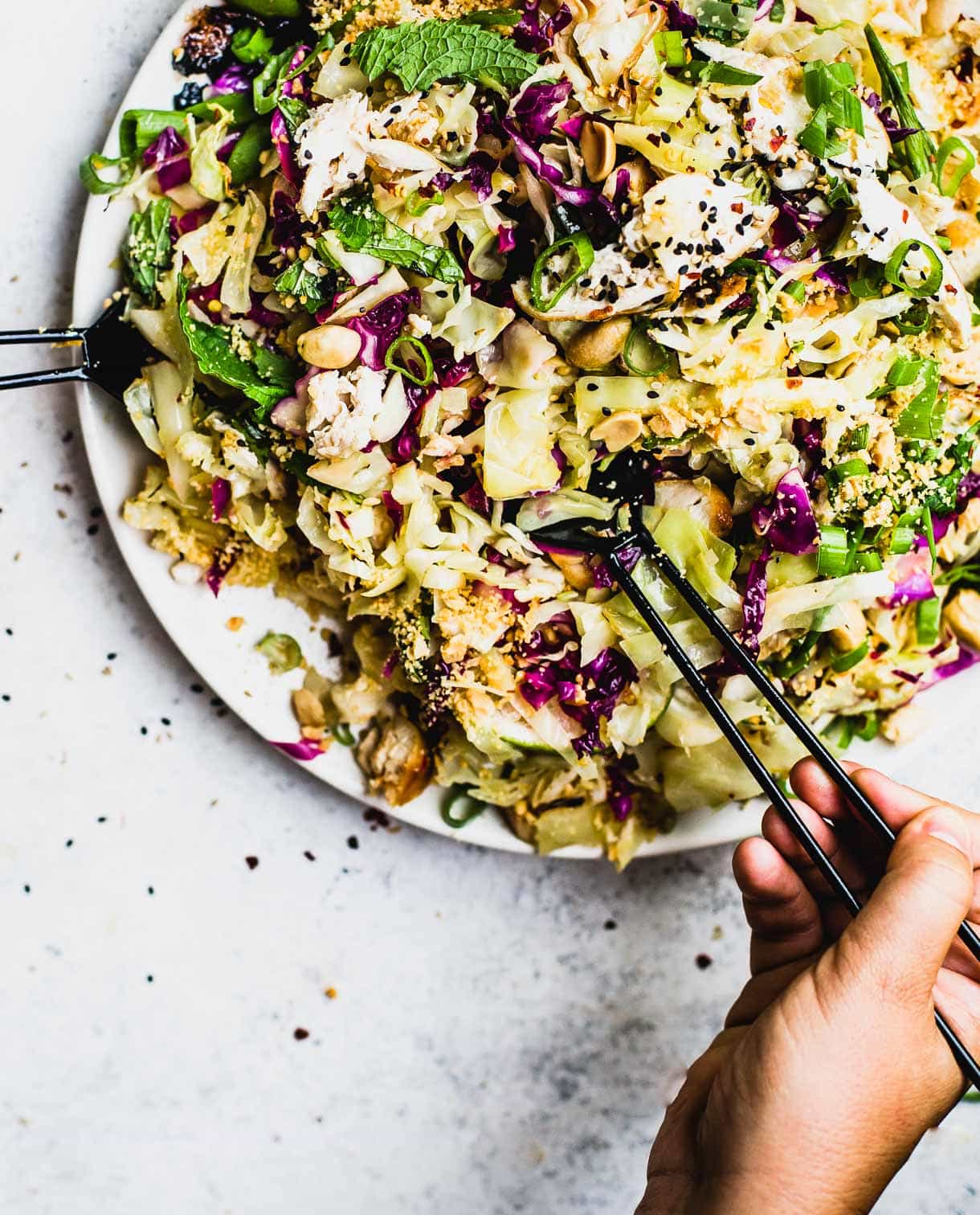 Brian broke in our new grill with juicy grilled brats, like a good Wisconsinite would do.
Meanwhile, I've been working on this Asian Grilled Cabbage Salad to share, that's all kinds of good.
Including:
juicy, tamari marinated chicken,
a zippy sesame vinaigrette,
a boatload of fresh herbs,
and crushed peanuts.
Suffice to say you'll find me grilling cabbage (and lettuce!) all summer long, because YUM. The charred edges and smoky flavor is one I firmly stand behind. It mellows out the funky cabbage smell, and turns this vegetable mellow and sweet, similar to roasted cabbage steaks.
The best way to grill cabbage:
Cut the cabbage in half vertically through the core. Then cut each half again so you have 4 wedges, again cutting vertically through the core so it stays intact and holds the cabbage together. You won't need a grill pan this way. This helps to keep all the leaves stuck together, and gives you plenty of surface area for charring.
The goal here is to char the exterior (make sure to hit those wedges on all three surfaces!) while gently softening the interior, leaving a bit of raw crunch at the very center. The tough outer leaves are great for cushioning the heat.
Simply brush it with olive oil and salt, and let the grill do all the work. Once the cabbage has its initial sear, you'll slide it over to the other side of the grill to cook via indirect heat, and then put the marinated chicken on.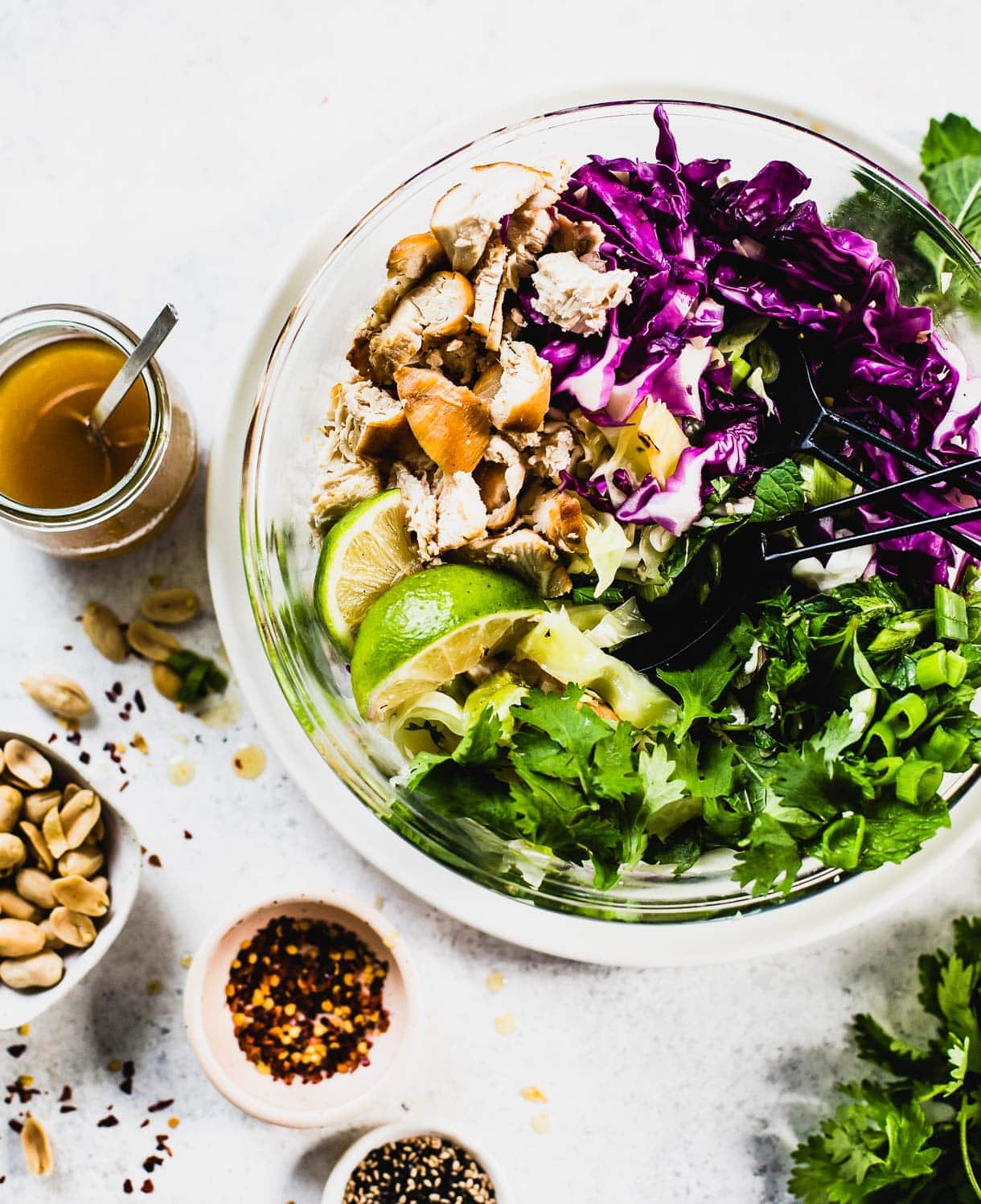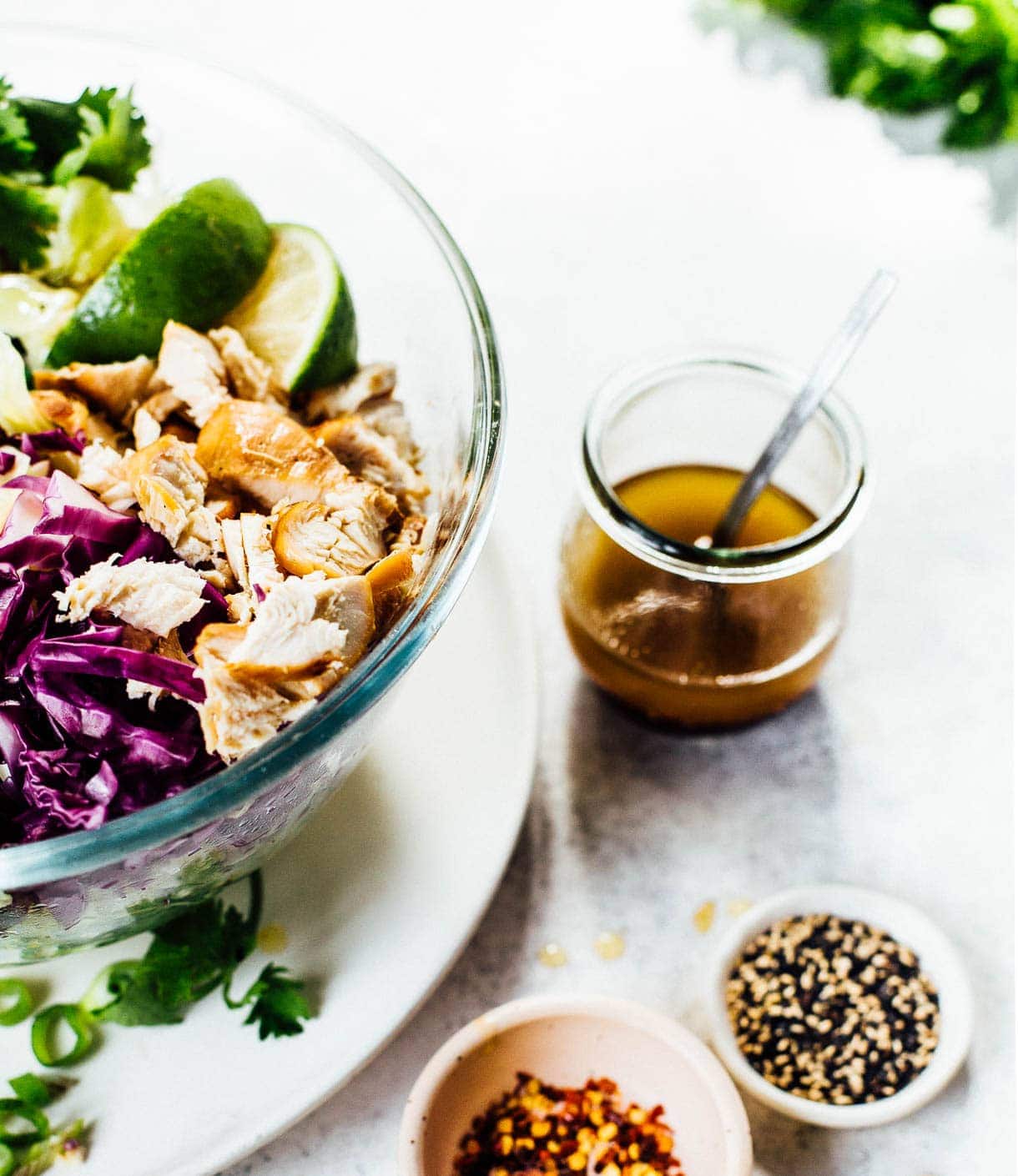 Dressing for Grilled Cabbage Salad
The dressing for this salad comes together in less than five minutes. It's composed of Asian ingredients, like sesame oil, rice wine vinegar, and lime juice. I added a bit of spiciness with red pepper flakes, and a bit of brown sugar for balance.
You could easily double the recipe and store it in your fridge for a couple of weeks!
Mint and cilantro add loads of brightness, but Thai Basil would be another good addition if you have it growing in your garden. And the finely crushed roasted peanuts are EVERYTHING. The savory, crunchy addition that brings it all together.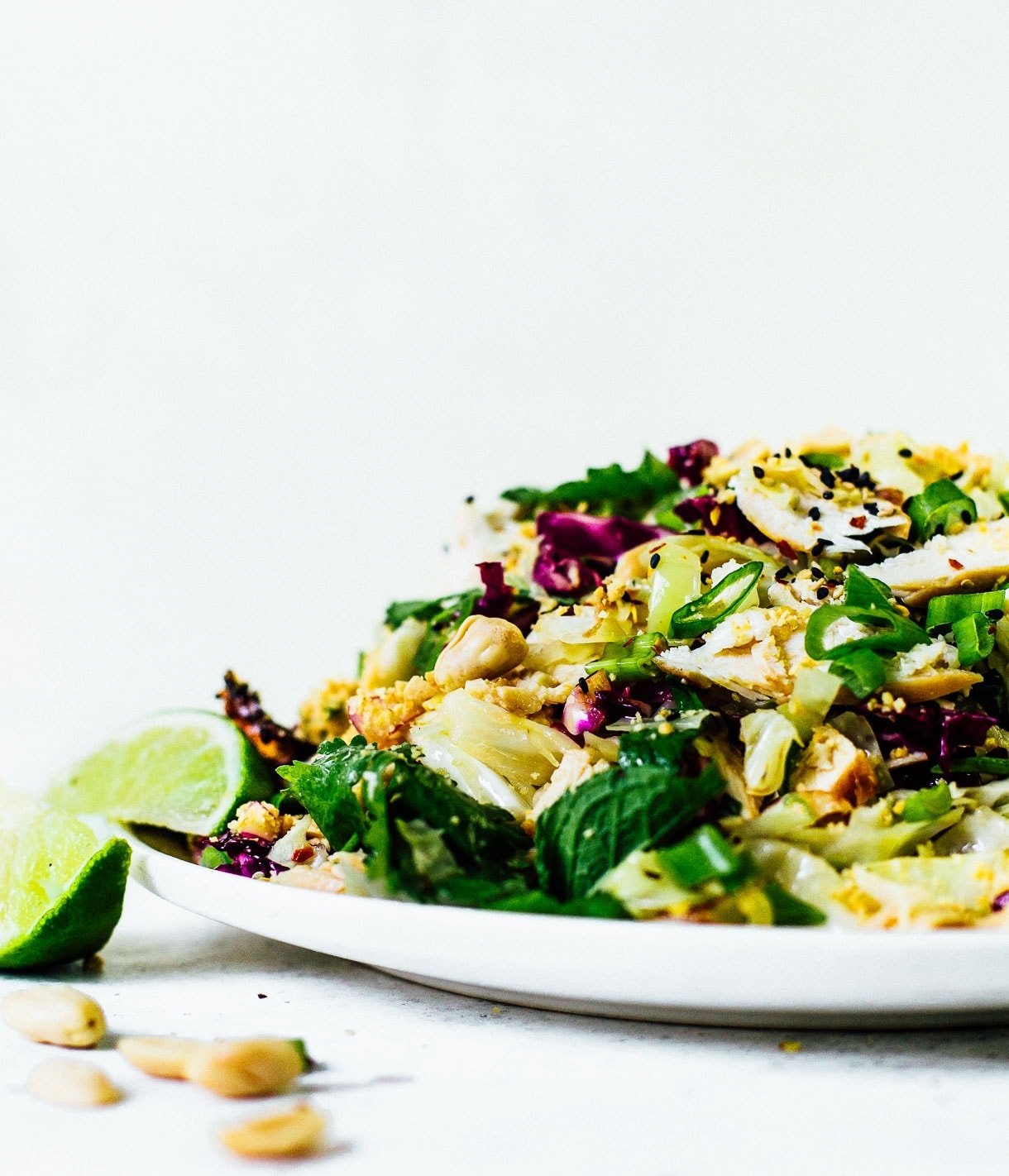 More Grilling Recipes: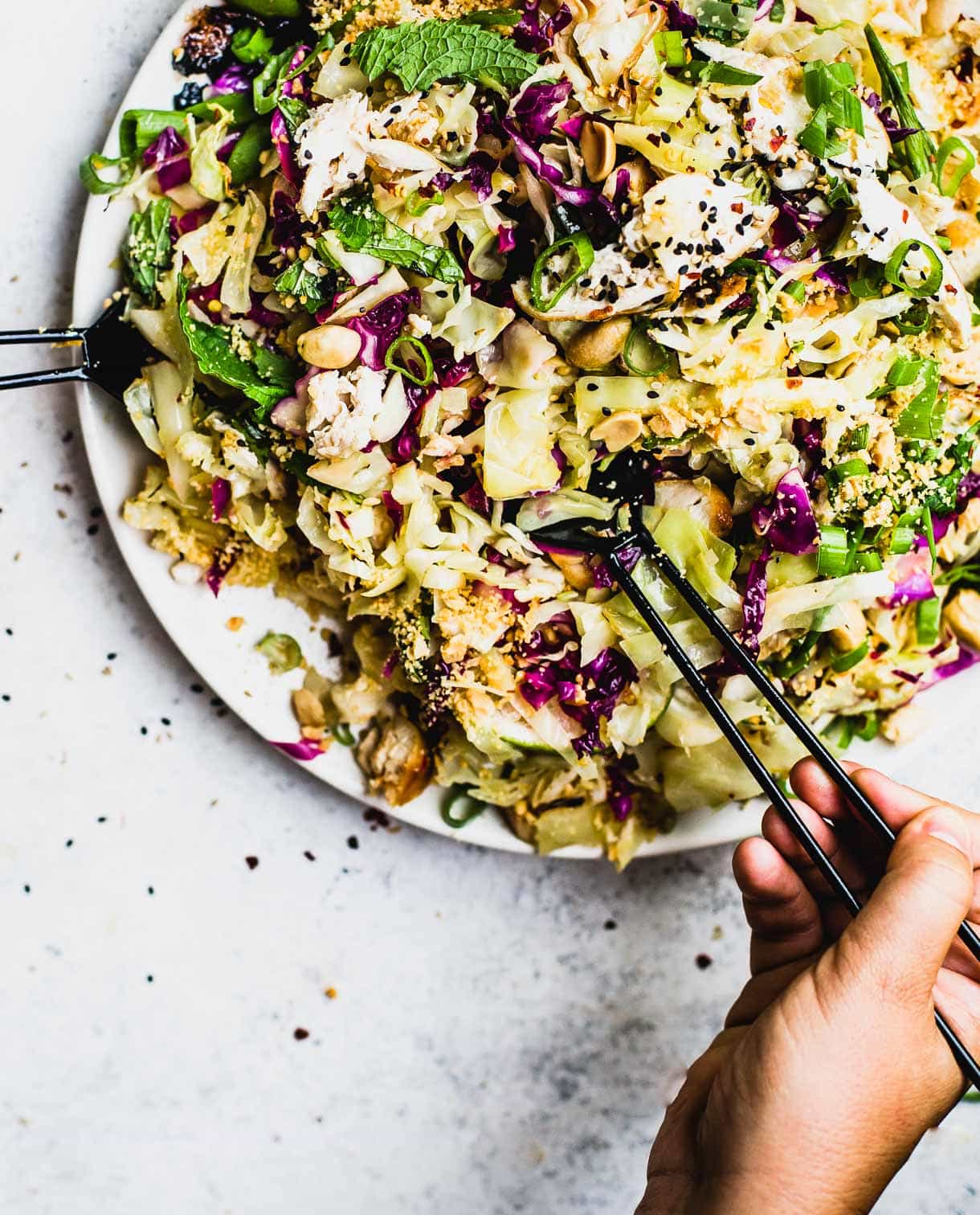 1

large or 2 small boneless skinless chicken breast

1 1/2

tablespoons

tamari

3

tablespoons

olive oil,

divided

1/2

of a medium sized red cabbage,

cut in half vertically into two wedges

1/2

of a medium sized green cabbage,

cut in half vertically into two wedges

1/2

teaspoon

kosher salt

3

green onions,

sliced on the diagonal

1/3

cup

mint leaves,

chopped

1/4

cup

cilantro leaves,

chopped

1/3

cup

finely crushed roasted peanuts

2

tablespoons

sesame seeds
Mix tamari with one tablespoon olive oil and pour over chicken breast, in a glass pan, turning chicken to coat. Let marinate for at least 30 minutes (up to 4 hours), while grill is preheating.

Preheat grill to medium-high heat, until it reaches about 400 degrees internally.

Brush cabbages with olive oil and salt, then grill on all sides, about 3 minutes each side. Set aside on side of grill where no flame has been ignited (this is indirect heat cooking.)

Add chicken to hot side of grill, and let sear, cooking on one side for 4 minutes. Then flip chicken breast, and cook for another 8-10 minutes, depending on thickness of chicken, until internal temperature reaches 160 degrees F.

Remove cabbage and chicken from grill, and let rest for 10 minutes to cool a bit. Cut out core from each cabbage wedge, and thinly slice cabbage leaves.

Using a very sharp knife, thinly slice chicken. Combine all salad ingredients in a large bowl.

In a jar, whisk together all dressing ingredients, until smooth and combined.

Pour over bowl with salad ingredients, and toss to combine. Plate, and finish with juice of a half lime, extra peanuts, red pepper flakes, and sesame seeds.
Leftovers will last 3 days in refrigerator.