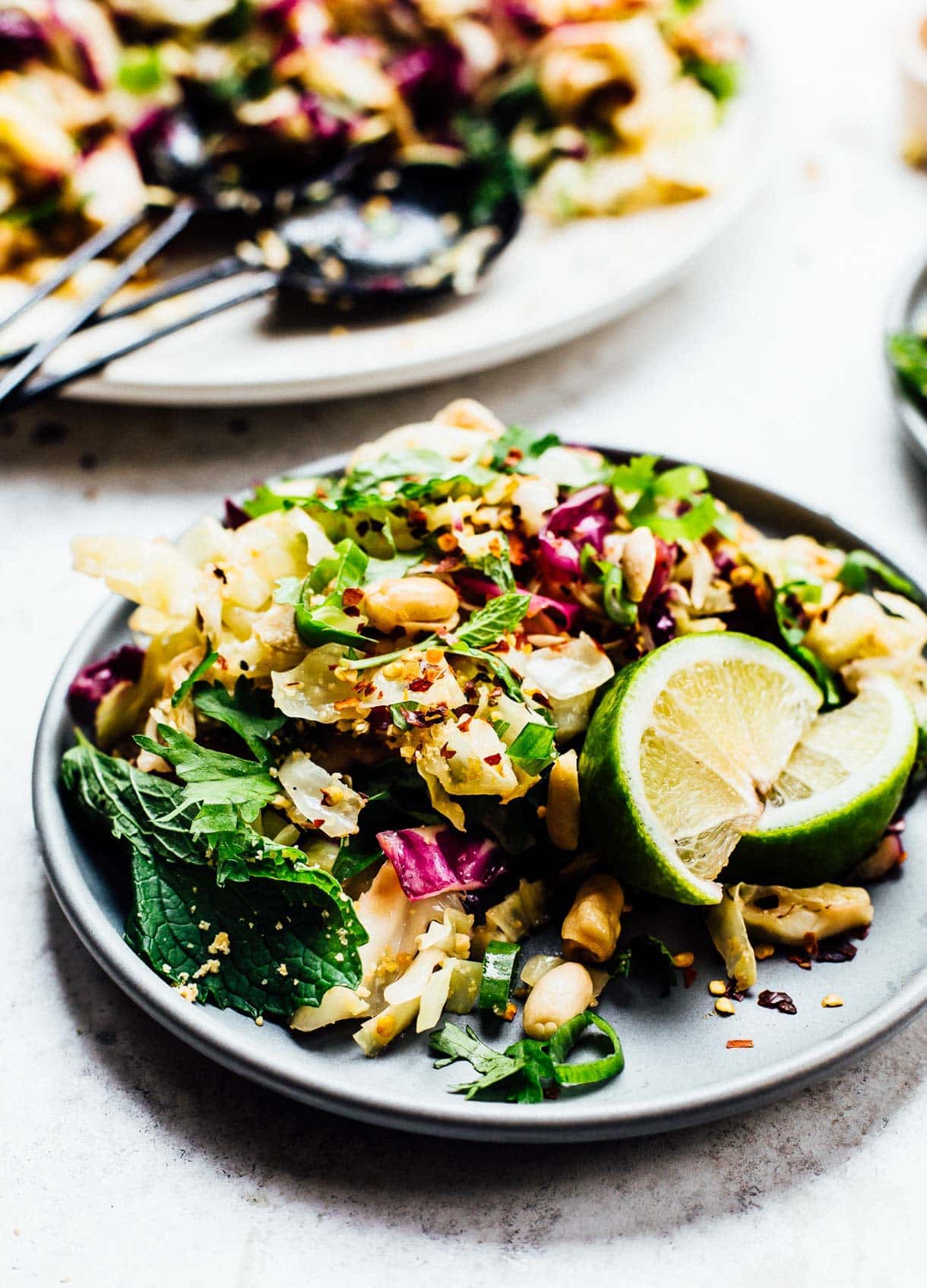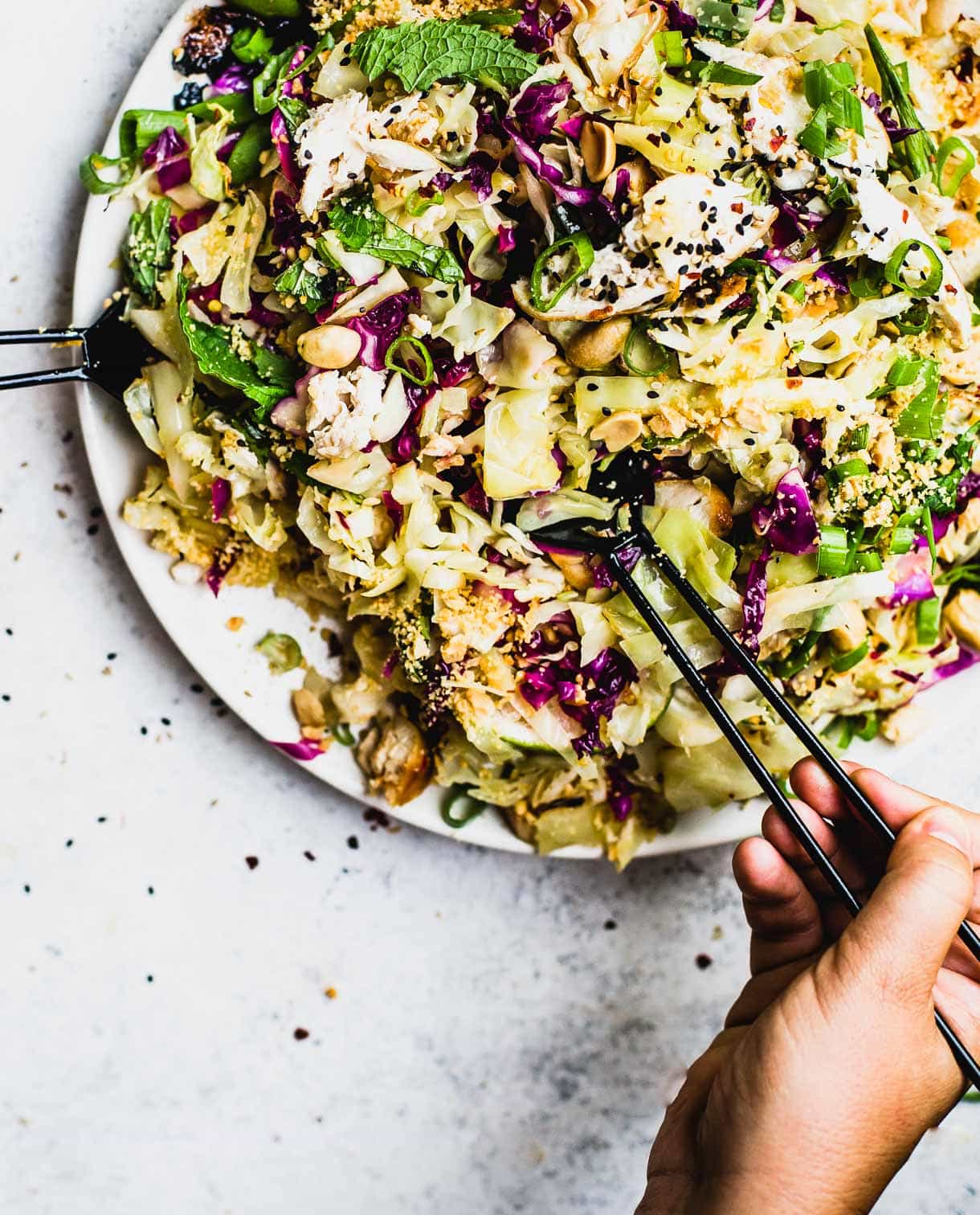 Brian broke in our new Twin Eagles Grill with brats from our local butcher, like a good Wisconsinite would do.
Meanwhile, I've been working on this Asian Grilled Cabbage Salad to share, that's all kinds of good, including:
juicy, tamari marinated chicken,
a zippy sesame vinaigrette,
a boatload of fresh herbs,
and crushed peanuts.
Suffice to say you'll find me grilling cabbage (and lettuce!) all summer long, because YUM. The charred edges and smoky flavor is one I firmly stand behind. It mellows out the funky cabbage smell, and turns this vegetable mellow and sweet.
And I'm a big believer in plants making up the majority of a dish, like they do in this salad, paired with a smaller amount of local, humanely raised chicken.
One of the very first things I thought about after we moved into our house this past winter was what it would be like come summer – to have a yard, with a vegetable garden, flowers, and space to grill.
Urban city living on the top floor for the past 9 years did not include any of the above, which makes maintenance a breeze, but certainly left a void for someone who loves to be outside. Now that we've rolled into June and I'm watering, plucking weeds, gardening, mowing the lawn, etc….. I am so so happy.
And quite possibly, happiest when grilling. 🤗The sizzle, the sear, the versatility, backyard bbqs, and spontaneous dinners with friends. I'm very grateful to be working with Twin Eagle Grills over the course of the year to show you entertaining ideas, delicious grilling recipes, and grilling tips to take the intimidation out of it.
As we make this home our own, we have plans to build an outdoor kitchen once the inside kitchen renovation is complete. Knowing that, Brian and I really wanted to make sure we got a grill that would seamlessly fit into the future design, and is well suited for entertaining.
After doing extensive research, we decided to get a Twin Eagles 36 inch Outdoor Gas Grill, that has a free-standing base. The top is separate, so when the outdoor kitchen is created, we can build it right in. Twin Eagles is the expert in artful grilling design, high performance cooking, and very innovative outdoor kitchen solutions. I really wanted something that heated up quickly, and stayed hot, and I mean super hot. Because that initial sear is so important in grilling! With 25,000 BTU burners, it is incredible how quick it heats up. Some of the other great features include:
High-quality ceramic briquettes
Hexagonal grates for maximum food-to-surface contact
Zone dividers to regulate different temperatures
Control panel illuminates to provide a precise control knob setting
Large capacity smoker box
And best of all, it has interior lights with hood-activated light switch for nighttime grilling, which we've fully embraced.
Now let's chat a little more about this fresh and herbaceous salad.
The best way to grill cabbage:
Cut it into wedges or halves, leaving the core intact, so there's no need for a grill pan. This helps to keep all the leaves stuck together, and gives you plenty of surface area for charring.
The goal here is to char the exterior (make sure to hit those wedges on all three surfaces!) while gently softening the interior, leaving a bit of raw crunch at the very center. The tough outer leaves are great for cushioning the heat.
Simply brush it with olive oil and salt, and let the grill do all the work. Once the cabbage has its initial sear, you'll slide it over to the other side of the grill to cook via indirect heat, and then put the marinated chicken on.
The dressing for this salad comes together in less than five minutes. It's composed of Asian ingredients, like sesame oil, rice wine vinegar, and lime juice. I added a bit of spiciness with red pepper flakes, and a bit of brown sugar for balance.
You could easily double the recipe and store it in your fridge for a couple of weeks!