Grilled brats are a game day must, a tailgating tradition, and perfect for an outdoor bbq! And with my easy method, you don't even have to boil them. Instead, you'll cook fresh brats over medium-low heat on a gas grill, then sear over high heat. They're amazingly juicy and full of flavor. Best of all, you can put together a brat board for serving with all your favorite condiments.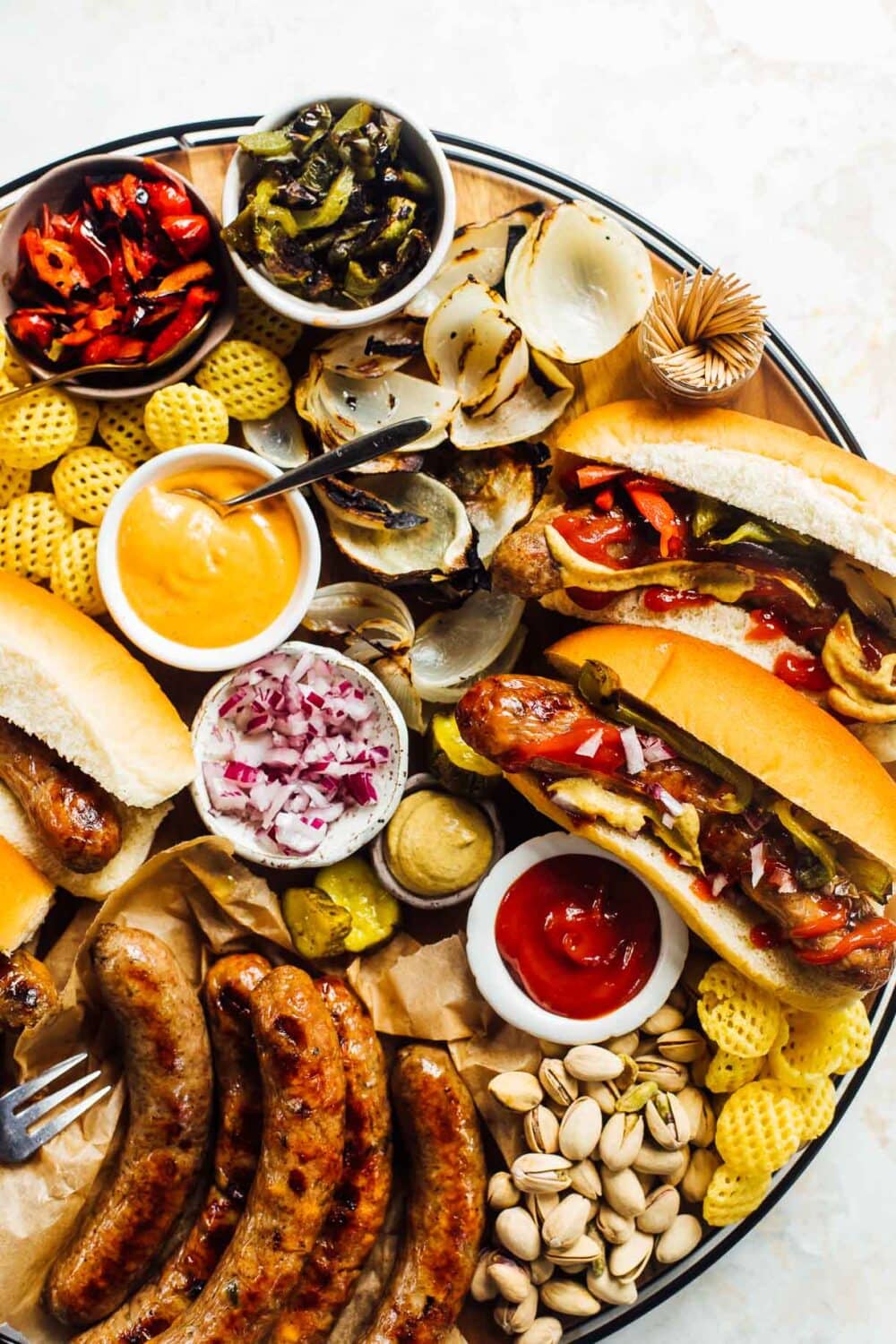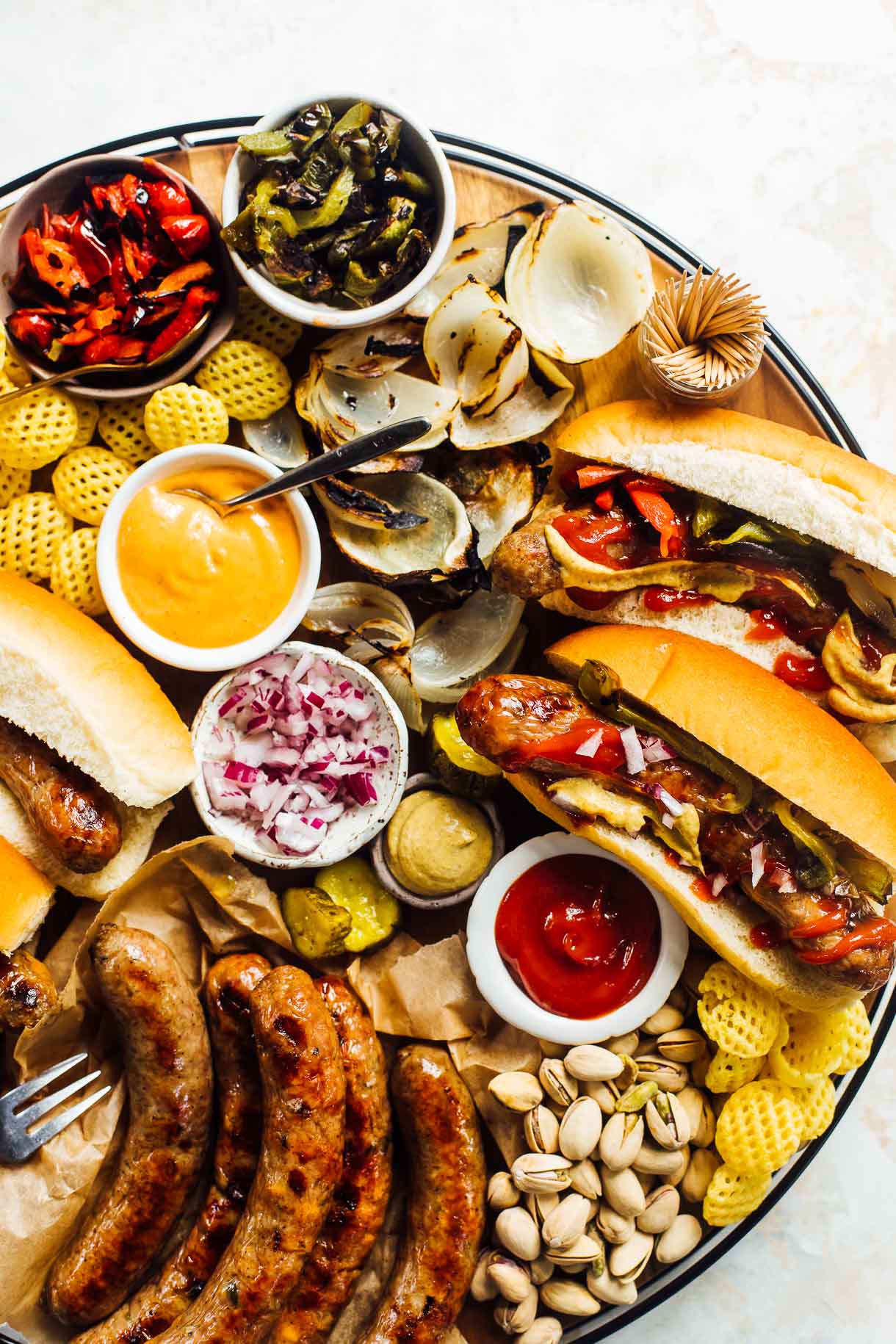 This post is sponsored by Twin Eagles Grills, a year long partner of Heartbeet Kitchen. We have their 36 inch grill top with infrared rotisserie, on a portable base. Their meticulously engineered grills are as beautiful as they are high performance.
---
I live in Wisconsin, the land of beer, grilled brats, and cheese. Bratwurst are the fried chicken of this state! There are even "brat stops" here; road side stands or small restaurants that focus solely on making and serving sausages.
If you're having a football party, backyard bbq, or outdoor family celebration, brats are on the menu. And for good reason!
They're delicious, when made right. Salty, juicy pork with a spiced peppery bite, tucked into a bakery bun with all the fixings – yum.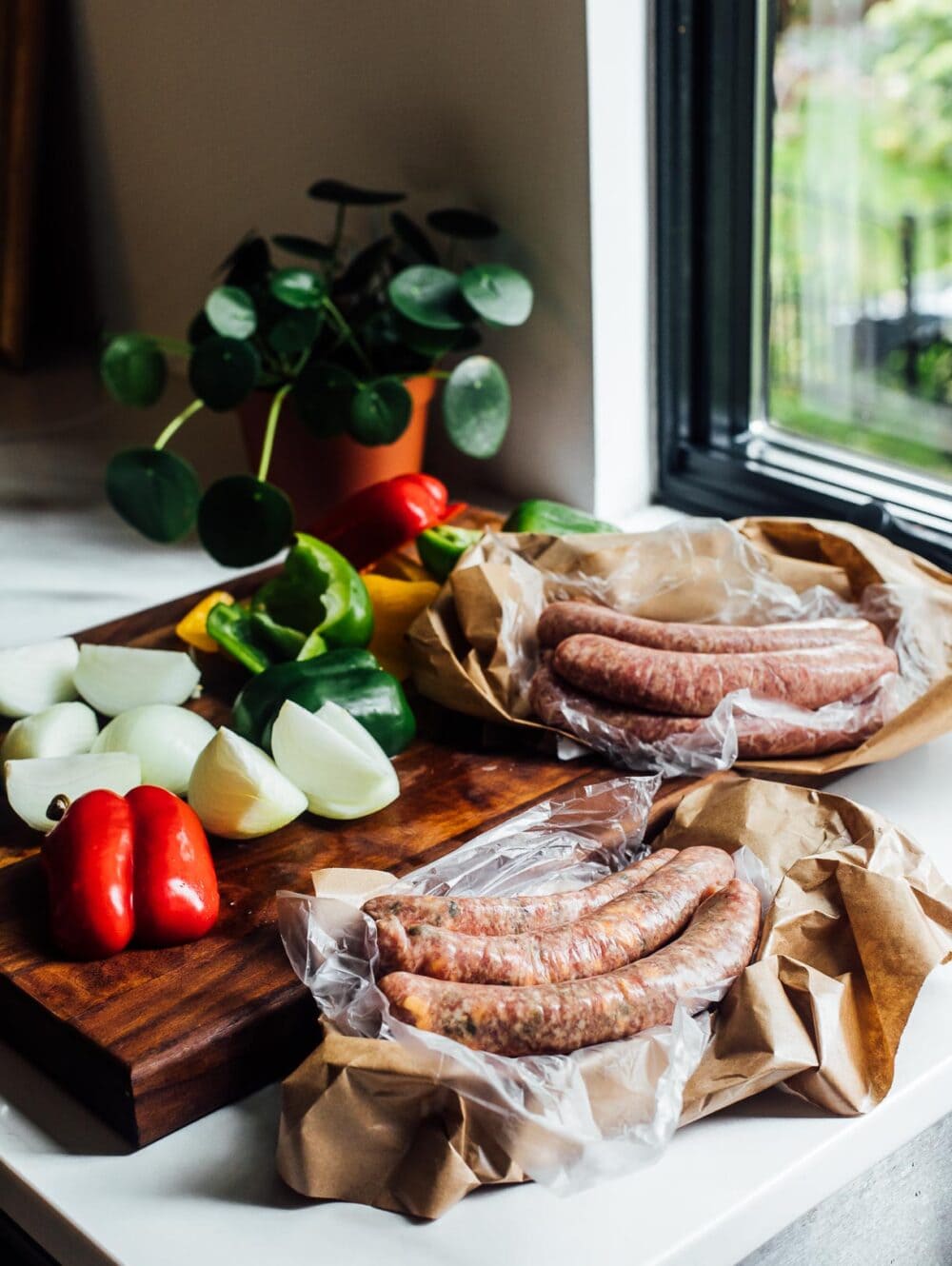 Do you have to boil fresh brats before grilling?
Nope! For years, I spent time par-boiling the fresh brats I'd bought before tossing them on the grill. I'd been under the impression that this speeds grill time and make things easy.
But earlier this summer I decided to go rogue and test NOT par-boiling the fresh brats I had picked up and just starting them on medium-low heat, then searing to finish.
And guess what? They turned out PERFECT, and it took about the same amount of time, 15 total minutes. Also, no big pot from boiling to clean! It's the only way I make them now.
Often when I parboiled the brats, they'd end up bursting over the high heat while searing because they were already mostly cooked through. They cooked too fast, and didn't allow the flavors of the grill to develop, either.
Instead, lower, gentle heat is the best method for grilling brats so that the proteins unfold slower, giving them ample time to properly bind with the fats, seasonings and the casing of brats. Meanwhile, proteins in the casing shrink and dehydrate, leading to a binding that creates the classic snap to each bite of the brat!
How to Grill Perfect Brats Every Time:
One of the things I love about my 36 inch Twin Eagles gas grill is its versatility. I can count on it to make something as elevated as Rotisserie Prime Rib, or something as simple as the perfect brats. I'm able to control the heat easily, as the control panel illuminates to provide a precise control knob setting. And best of all, it has interior lights with hood-activated light switch for nighttime grilling, which we've fully embraced.
Grilling brats is easy! As I mentioned, you can skip the boiling, and head straight to the grill to get started.
Preheat one side or zone of your grill to medium-low heat.
Put the raw, fresh brats over that zone, and cook gently, turning the brats over a few times, until the interior temperature reaches 145 degrees F.
Meanwhile, turn the other side of your grill to high. Twin Eagles makes this is super easy with their zone dividers. When your brats have reached 145 degrees F, you'll transfer them to the high heat side, and sear on both sides. By the time they are seared, they should reach 160 degrees F, and can be removed from the grill.
Serve with all of your favorite fixings!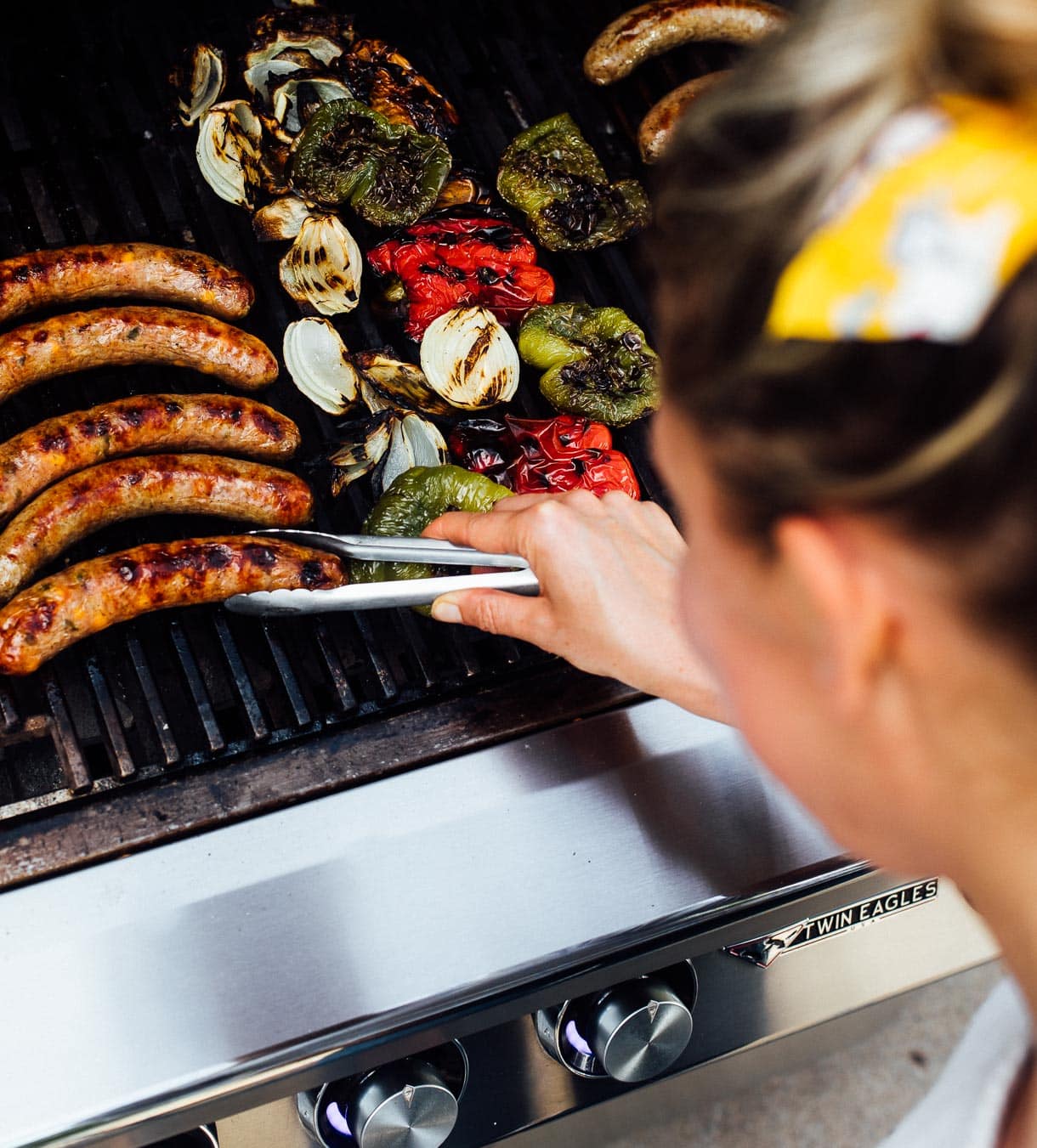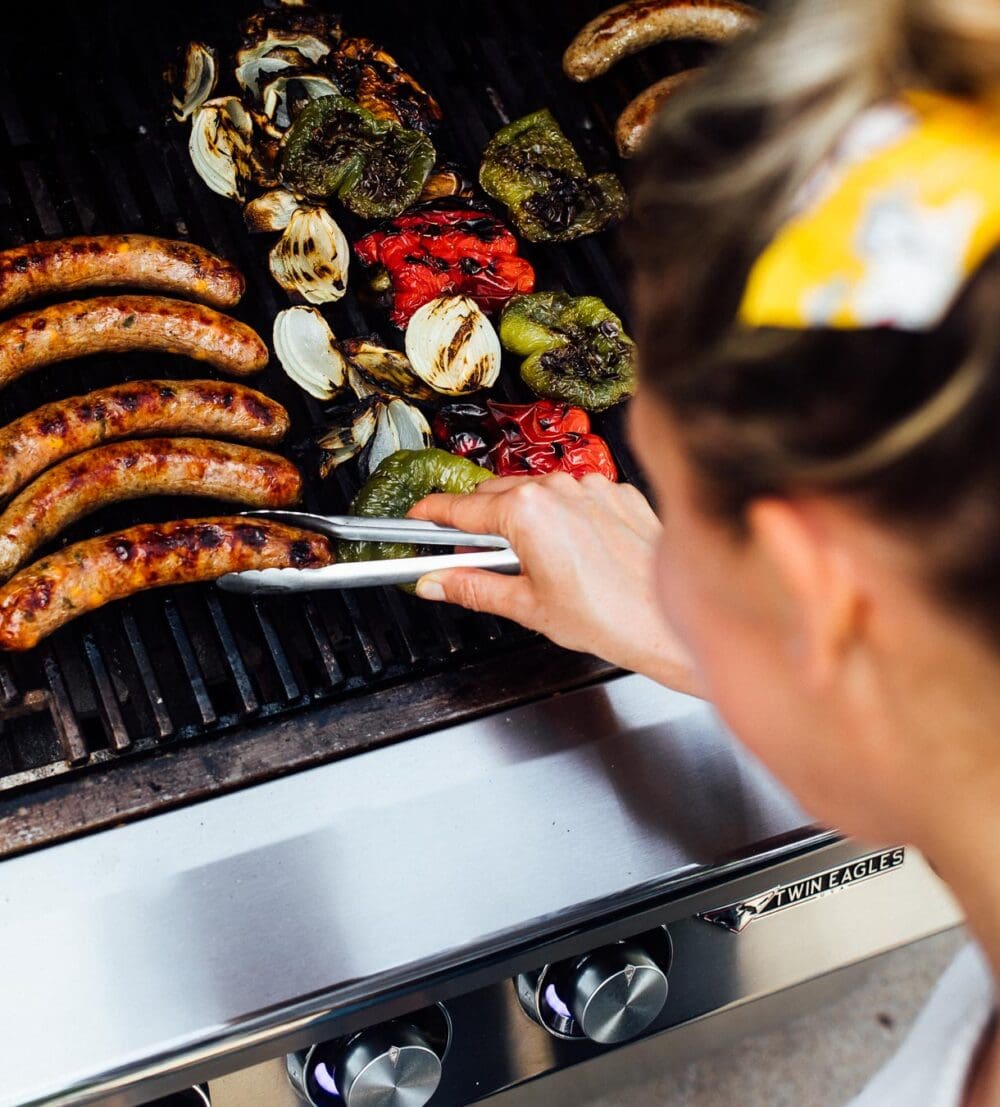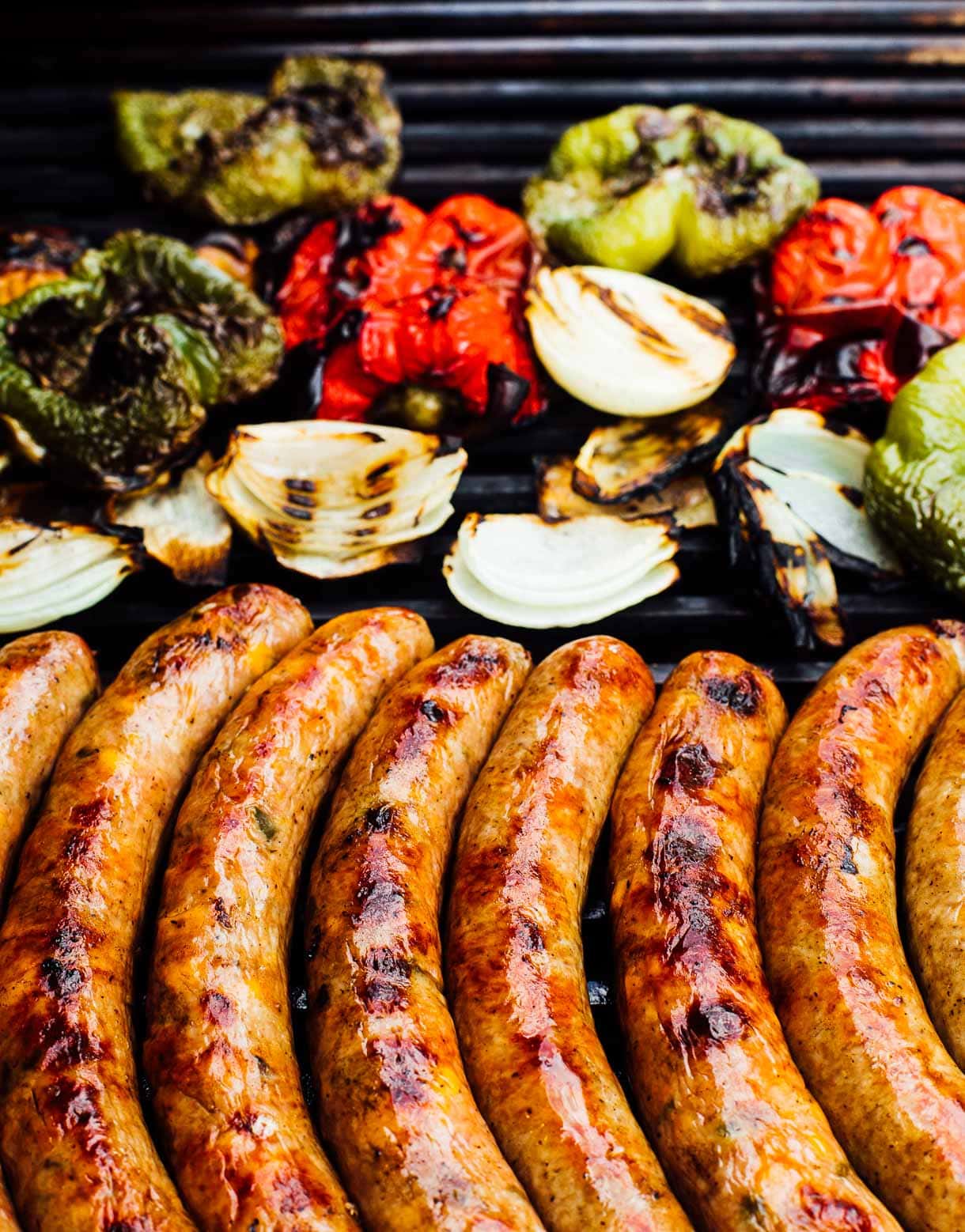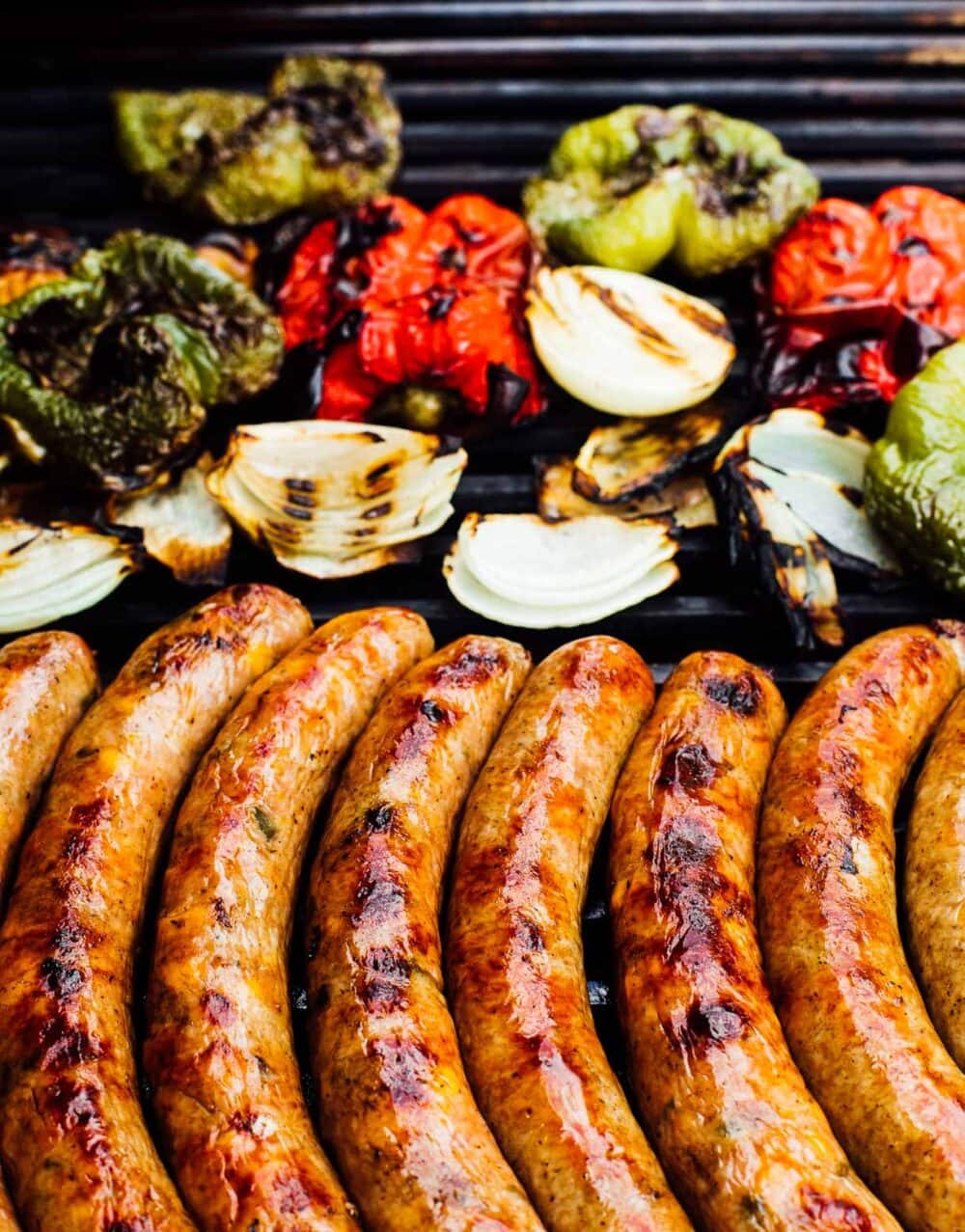 What temperature do brats need to be cooked to?
Use a meat thermometer to check that your brats have reached a safe internal temperature of at least 160 degrees Fahrenheit before removing them from the grill.
Tip: Instead of poking the thermometer into the center of the brat, poke it into the end where the casing is slightly open. This way you won't let out all the juices out!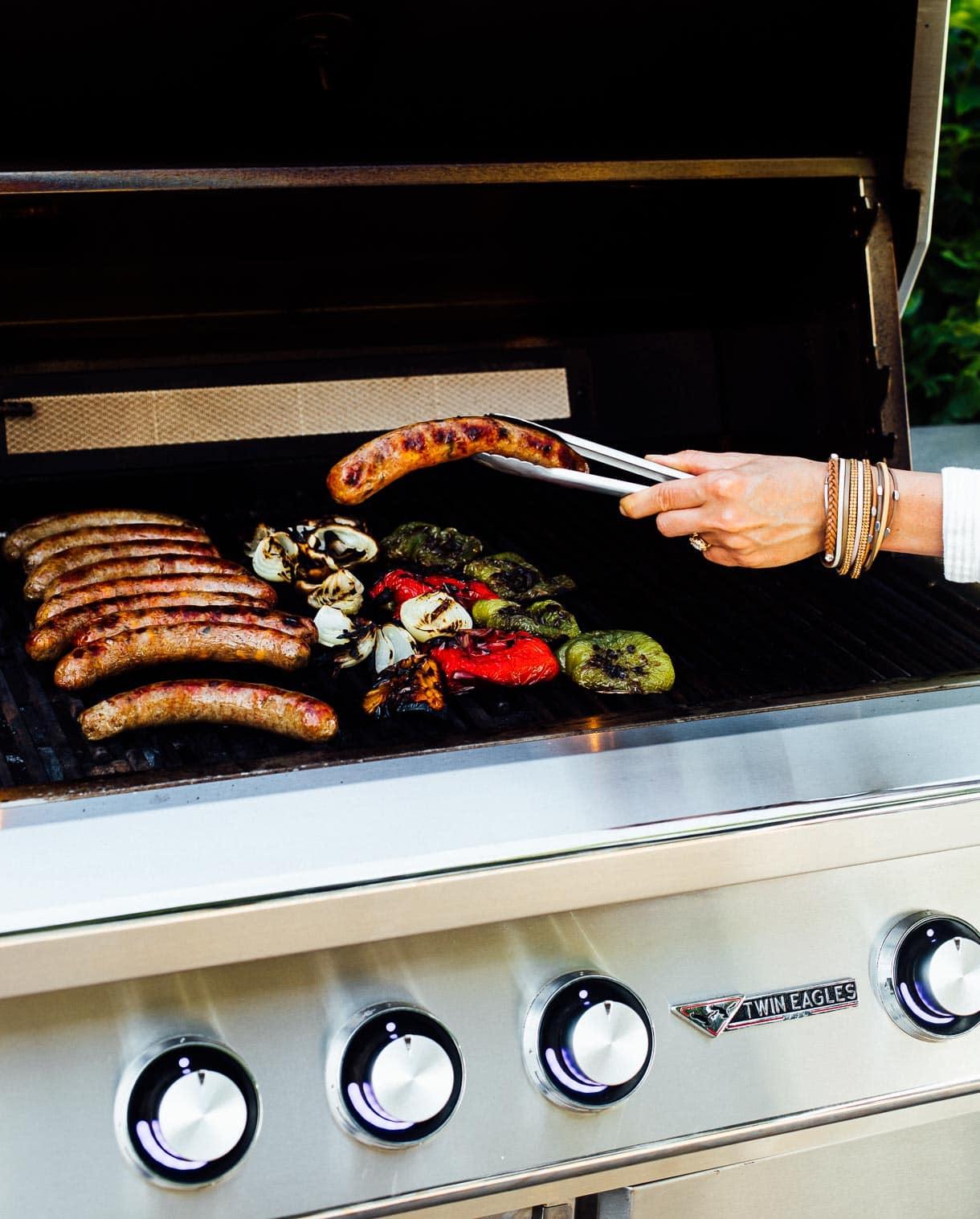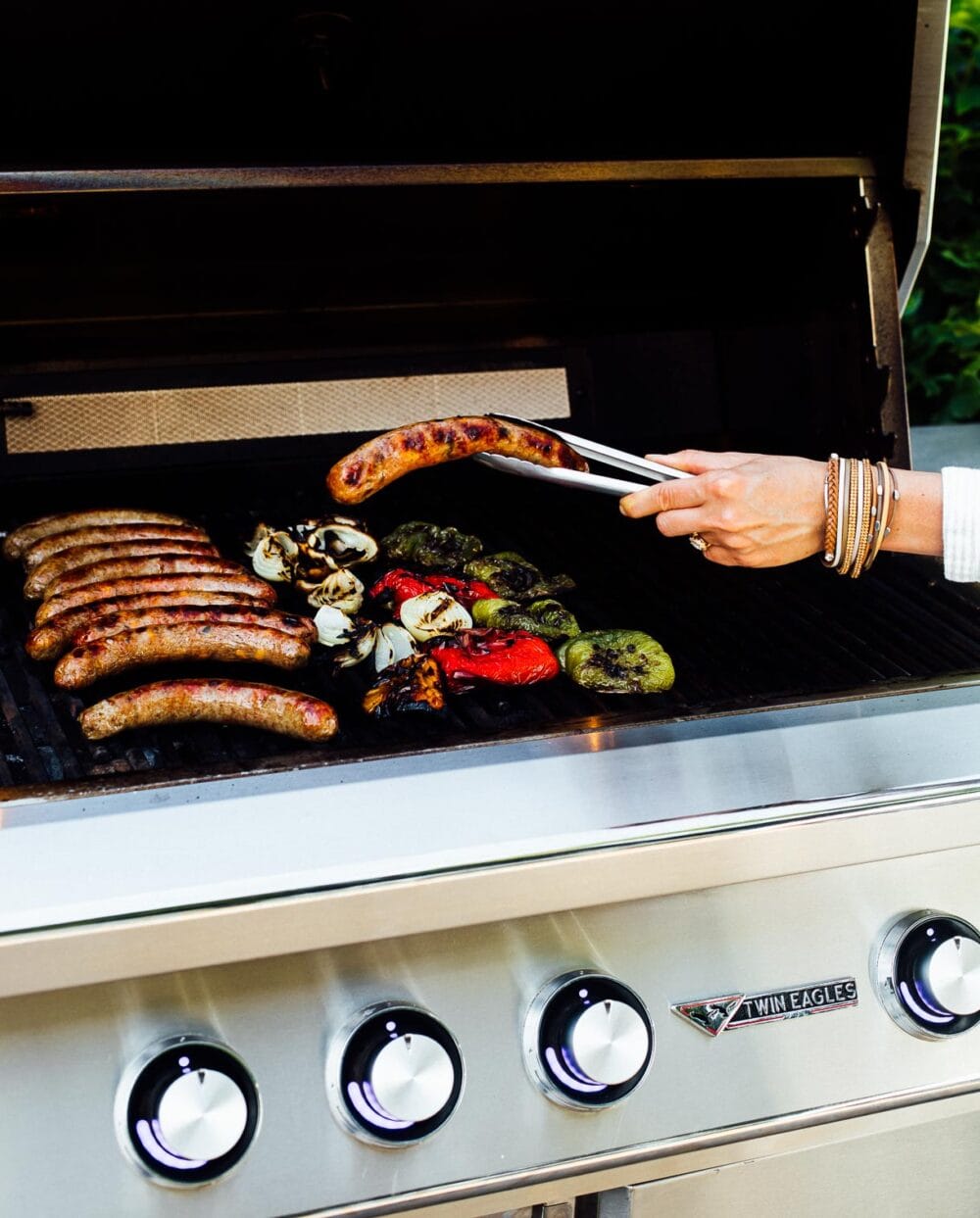 Where to buy good brats
Your best bet for buying great tasting, quality made brats is from your local butcher shop. A bratwurst maker's use of seasonings and quality of meat impact the final product, but did you know the coarseness of the meat grind does, too? Coarser grinds deliver a big flavor hit up front, whereas finer grinds release layers of flavor, which I prefer.
What is a brat made of?
I love a good Wisconsin bratwurst, which is typically meaty and salty with a hint of spices that you'd often find in Thanksgiving stuffing: sage, pepper, coriander and nutmeg. They are comprised mainly of pork, and sometimes a mix of veal and/or beef.
If your local meat shop doesn't carry brats, Johnsonville is a good really good supermarket brand.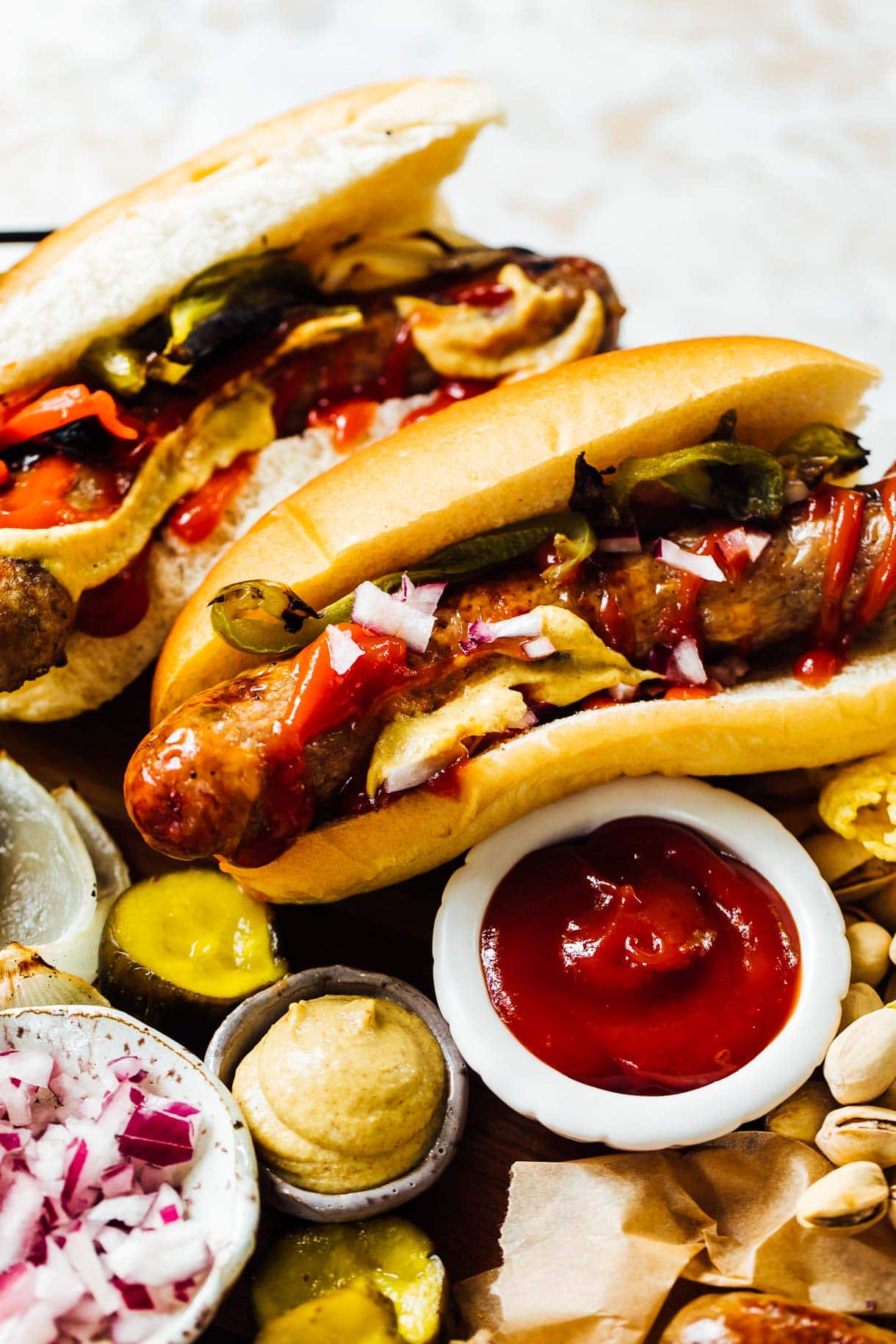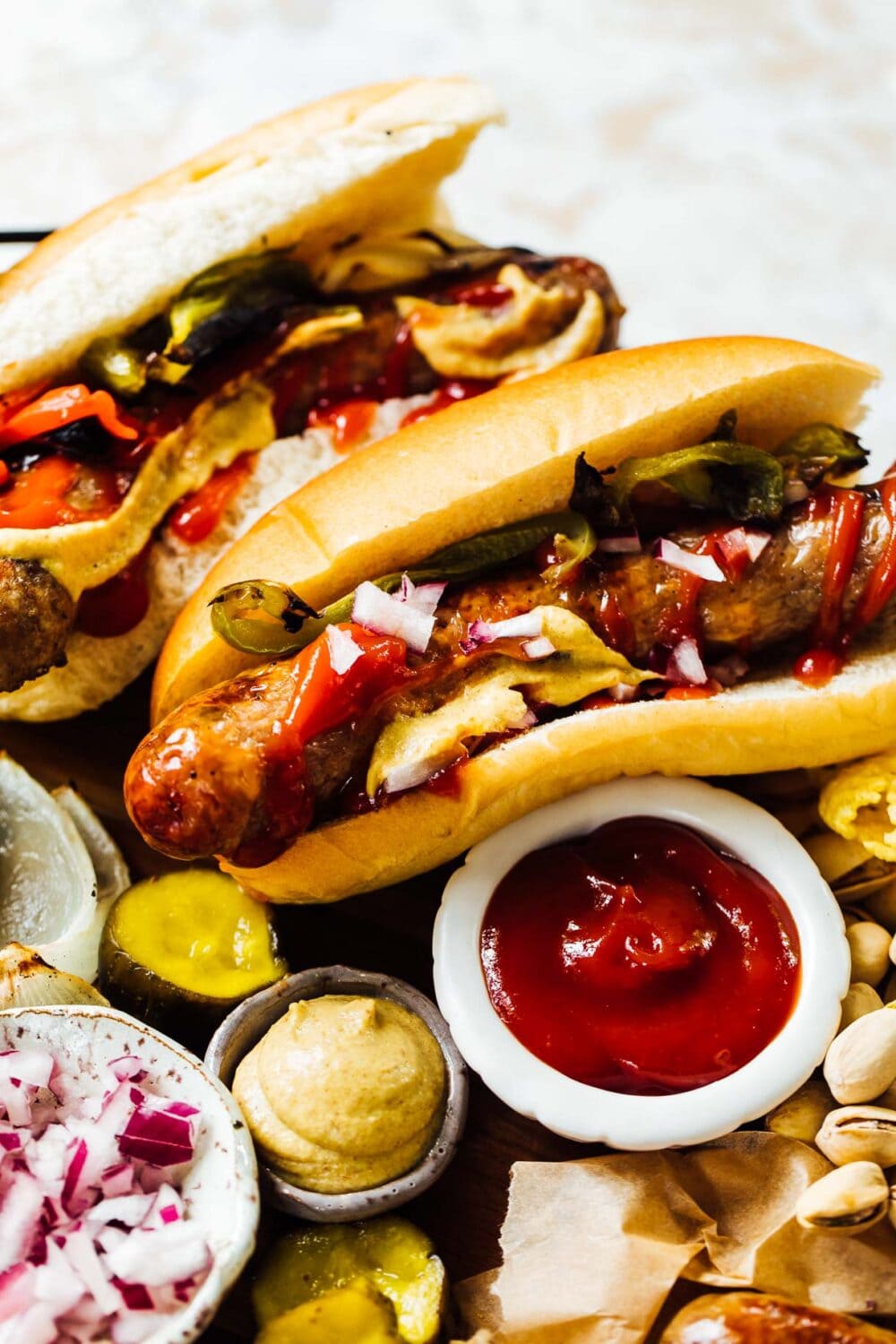 Serving Grilled Brats for a Party
I created this fun brat board to give you some inspiration for hosting game day or a backyard bbq! It's simple to put together, and guests will love it. You grill the brats and vegetables, everything else is store-bought. Or if you're looking to make something homemade, this Italian Potato Salad is a great side.
grilled brats
bakery buns
ketchup, mustard, fry sauce
potato chips (I used Poppables, here, which are airy potato chips)
grilled onions and peppers
raw red onion
pickles
nuts for snacking
This is the big board from Target that I have (it's also a lazy susan), and it's perfect for serving. And affordable!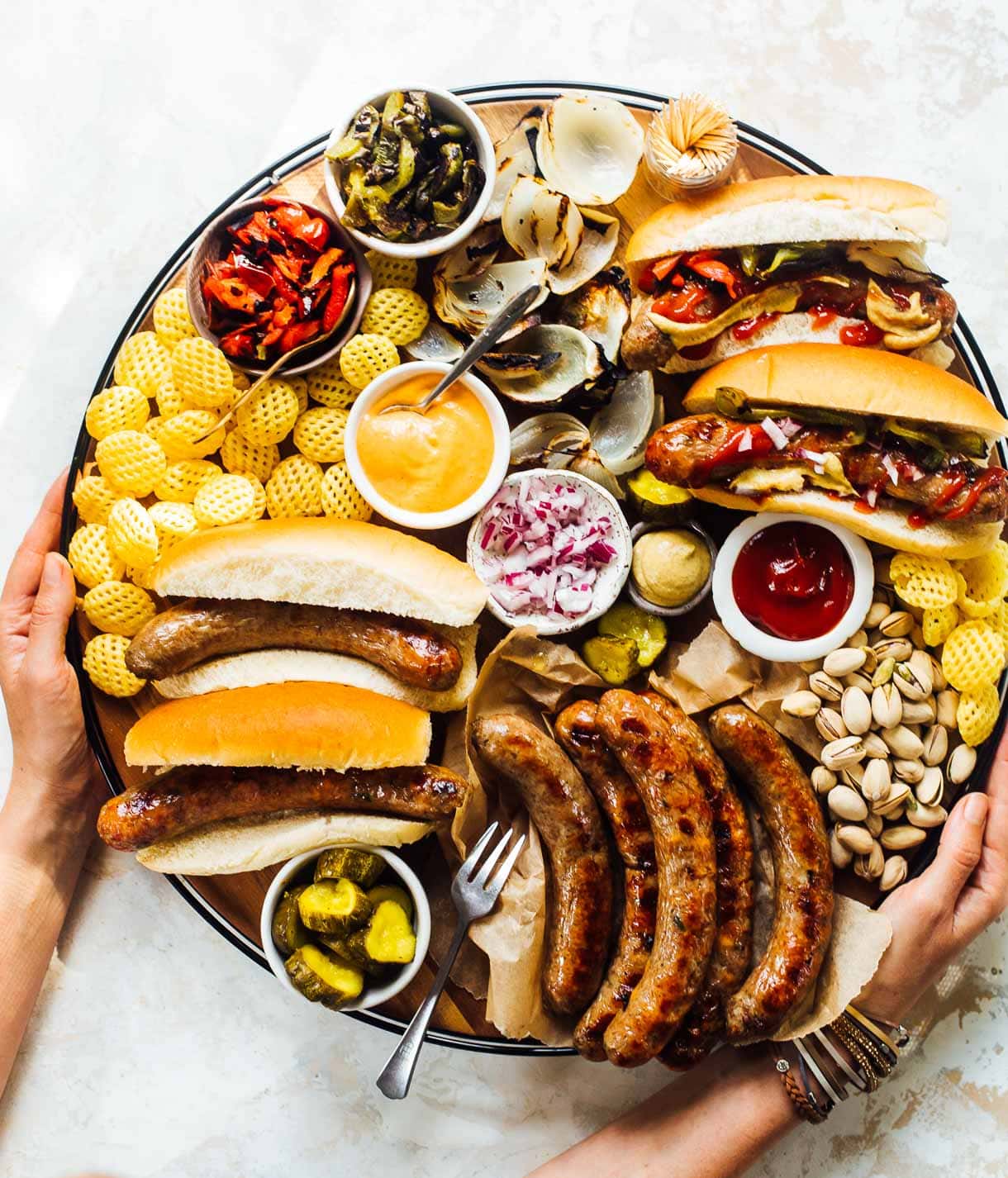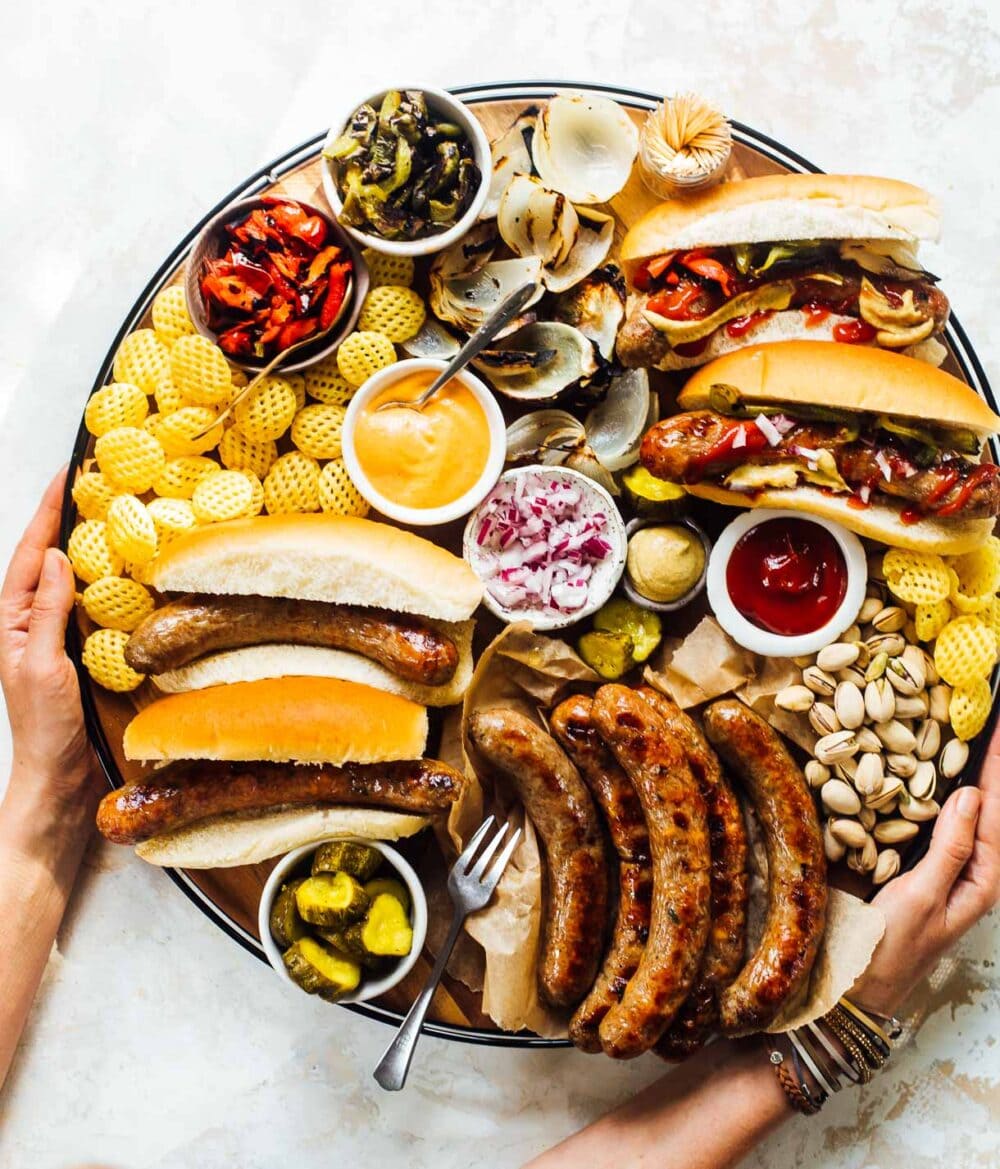 More Grilling Recipes: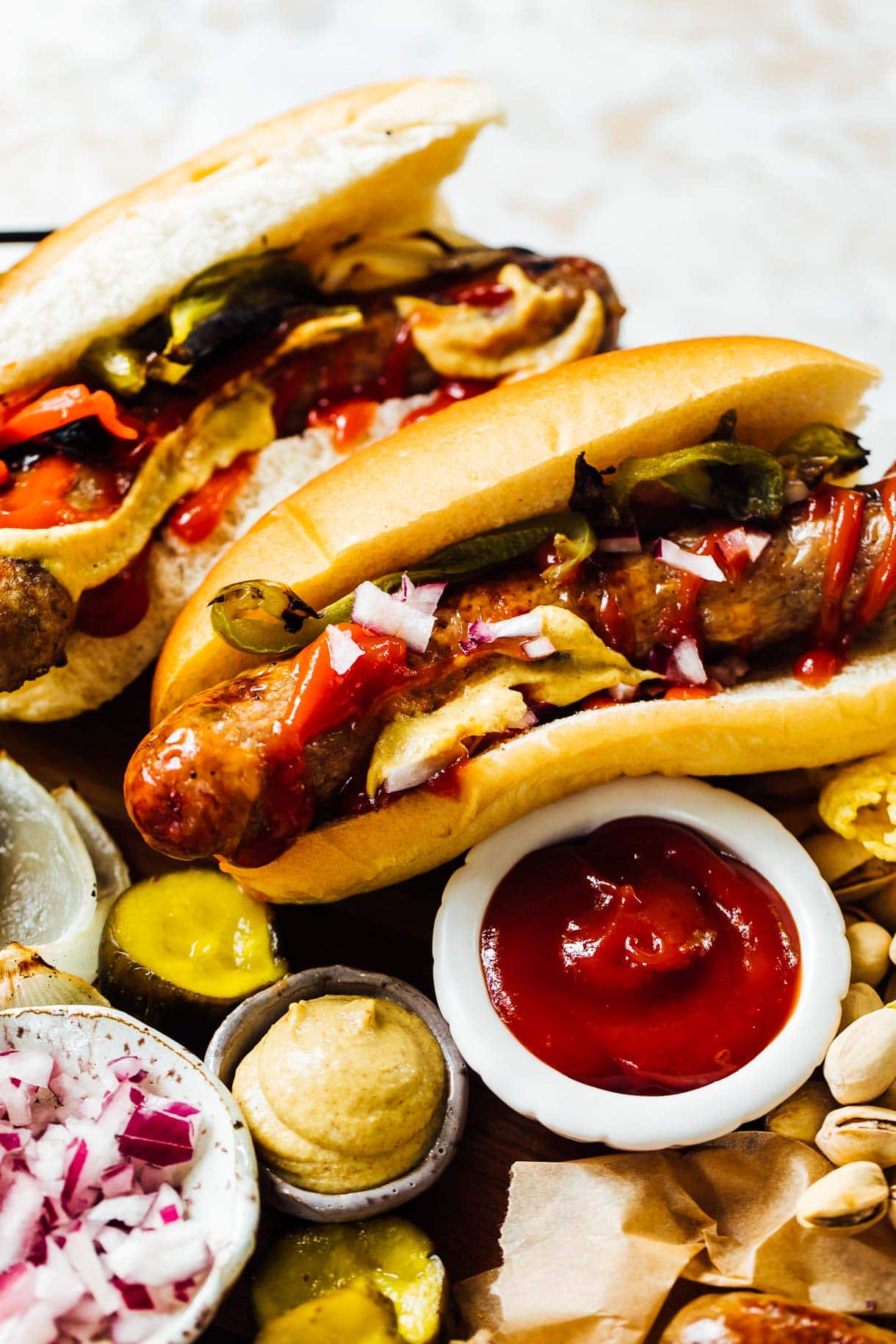 8

fresh brats

peppers and onions

8

brat buns

ketchup and mustard

sauerkraut
Preheat one side (or zone) of your grill to medium-low heat.

Put the raw, fresh brats over that zone and cook gently, rolling the brats over a few times while cooking. You'll cook them over medium-low heat until the interior temperature reaches 145 degrees F. (If you find your brats are starting to sizzle a lot, turn the heat down to make sure they don't burst. But this shouldn't be an issue with them over medium low heat.)

If you want to grill some peppers onions, cut them in half or quarters and rub with olive oil, then set them over the zone of your grill that is on medium-low heat.

Meanwhile, turn the other side of your grill to high. When your brats have reached 145 degrees F, transfer them to the high heat side, and sear on both sides. After they've been seared, check temperature to make sure they are at least 160 degrees F, then remove from grill. You can also sear your peppers and onions over the high heat to finish, too.

Serve with all of your favorite fixings like ketchup, mustard, sauerkraut, and pickles!