If you have an abundance of basil, this fresh and herbaceous basil vinaigrette recipe is for you! Made in a blender or food processor, it's ready in just 5 minutes. This vegan vinaigrette is different from pesto in the best way, with a slight tang from red wine vinegar and umami from garlic, capers, and nutritional yeast. We love to eat it on roasted vegetables, salad greens, grain bowls, toast, fish, chicken, and steak.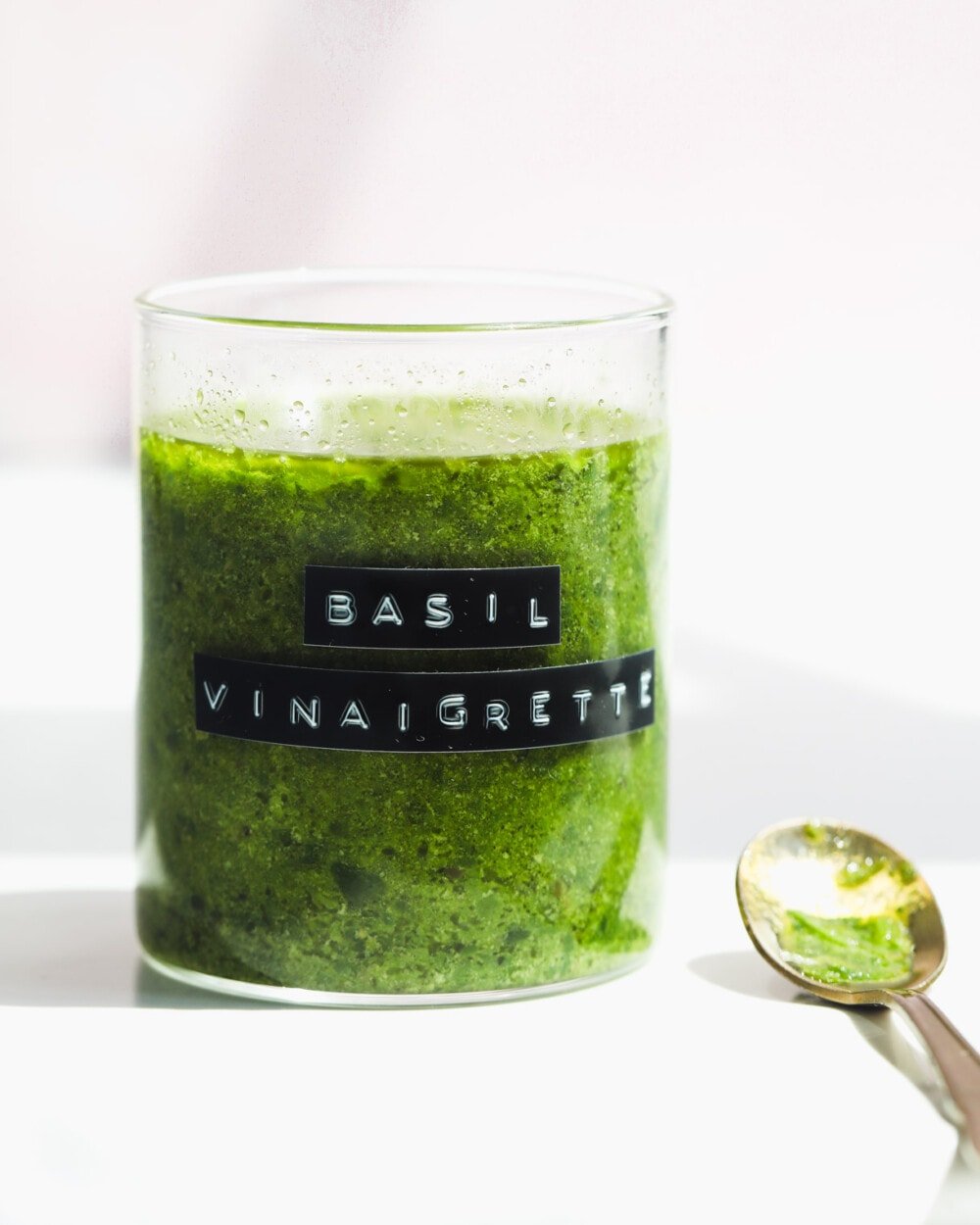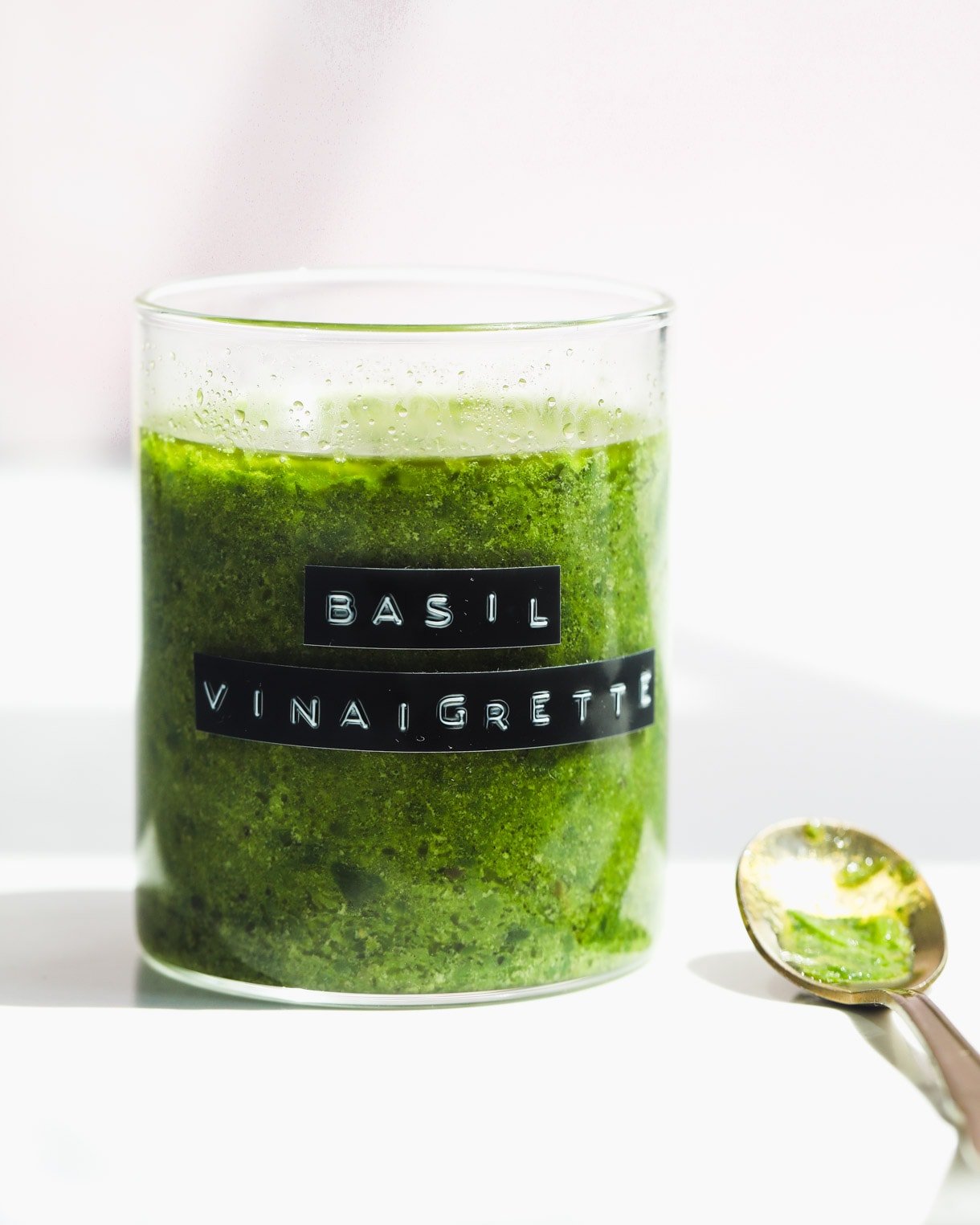 When my basil plant is producing like crazy, my mind always jumps to pesto as a way to use a lot of it. I love pesto, but I was looking to add another option to my summer arsenal. Turns out that basil makes an incredible vinaigrette when combined with friends like garlic, nutritional yeast, capers, and red wine vinegar!
Salad dressings and sourdough bread are not-so-secretly my favorite recipes to develop. My 5-Minute Vegan Dressing is actually the #1 most visited recipe on the blog! Today I'm excited to share this basil vinaigrette with you, which is easy to make but anything but boring to eat.
It has a super fresh and herbaceous flavor, slightly tangy with fragrant aromatics, and stunning green color. It's different from pesto in the best way (there are no nuts or cheese here), and I'm positive you'll be spooning it onto all of your favorite summer meals.
Basil vinaigrette pairs incredibly well with: tomatoes, zucchini and summer squash, corn, cucumbers, watermelon, green beans, and of course, greens!
Delicious ways to eat this vinaigrette:
This is one of the most versatile salad dressings I've ever made. It goes great with vegetables, cheese, grains, poultry, and meat. Its bright and fresh flavor elevates anything you put it on! The umami is out of this world.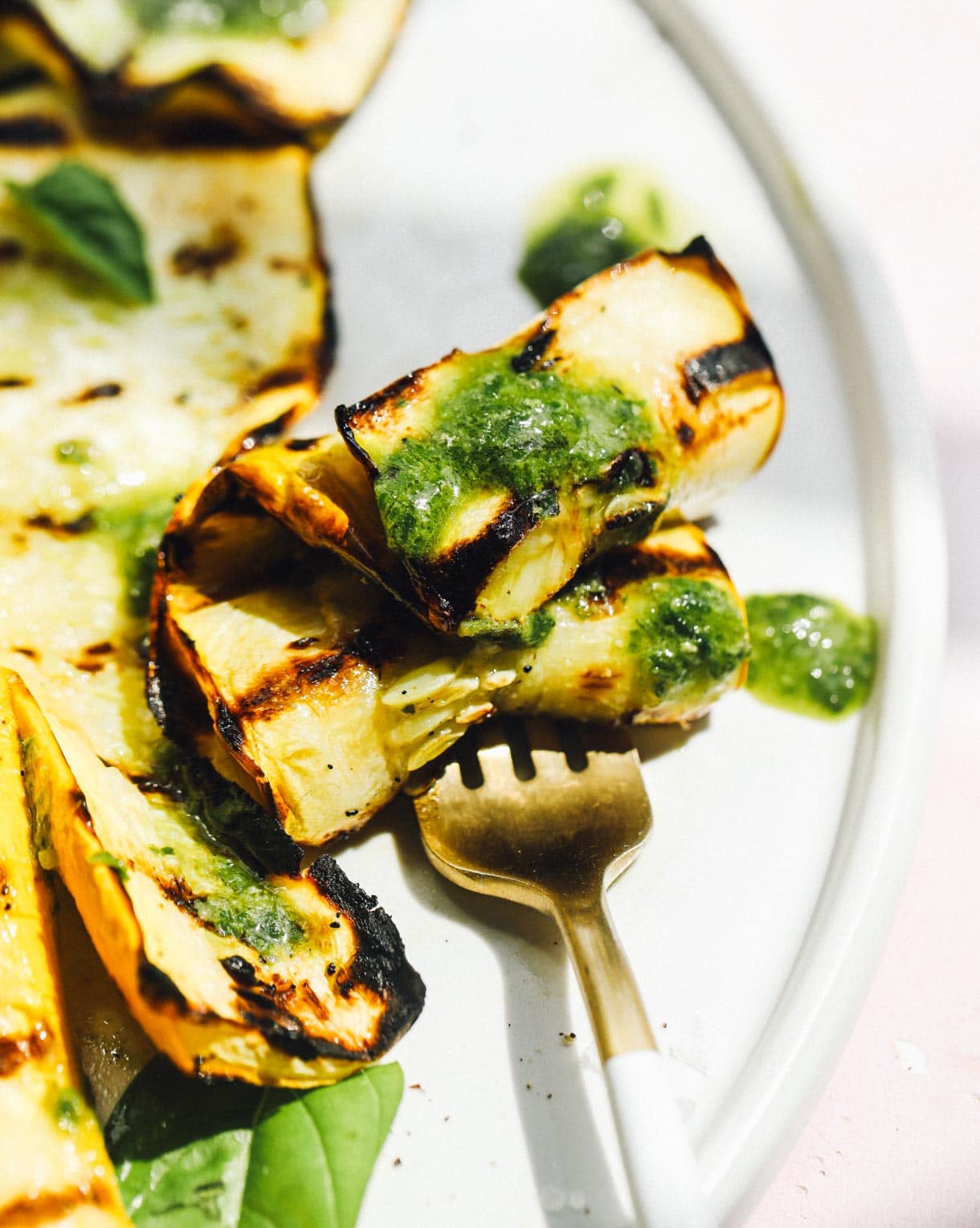 What ingredients are used to make Vegan Basil Vinaigrette?
fresh basil
red wine vinegar
garlic
capers
extra virgin olive oil
How to Make this Vinaigrette in 3 easy steps:
Remove basil leaves from stems.
Add to a blender jar or food processor with all other ingredients except olive oil. Pulse 10 to 12 times to chop briefly.
Then, on continuous low speed, stream in the olive oil through the top hole, until combined and emulsified. Pour into jar and enjoy!
How to Keep Basil Vinaigrette green:
Optional: If you want to increase the time that the vinaigrette stays green, blanch the basil leaves for 20 seconds in boiling water. Immediately put them in an ice bath. When they are fully cooled, pat dry and continue with recipe. I do not usually do this, as I don't mind the color change to a muted green after a few days.
How long does basil salad dressing last in the fridge?
Another reason I love this salad dressing is because it lasts at least 7-9 days in the refrigerator, so you can have fresh, flavorful salads in an instant! Its bright green color may subside, but it will not turn brown and is still absolutely delicious.
I like to store this vinaigrette in a glass jar and stir or shake before using. The dressing gets even better with time as the flavors mingle and deepen.
More Salad Dressing Recipes: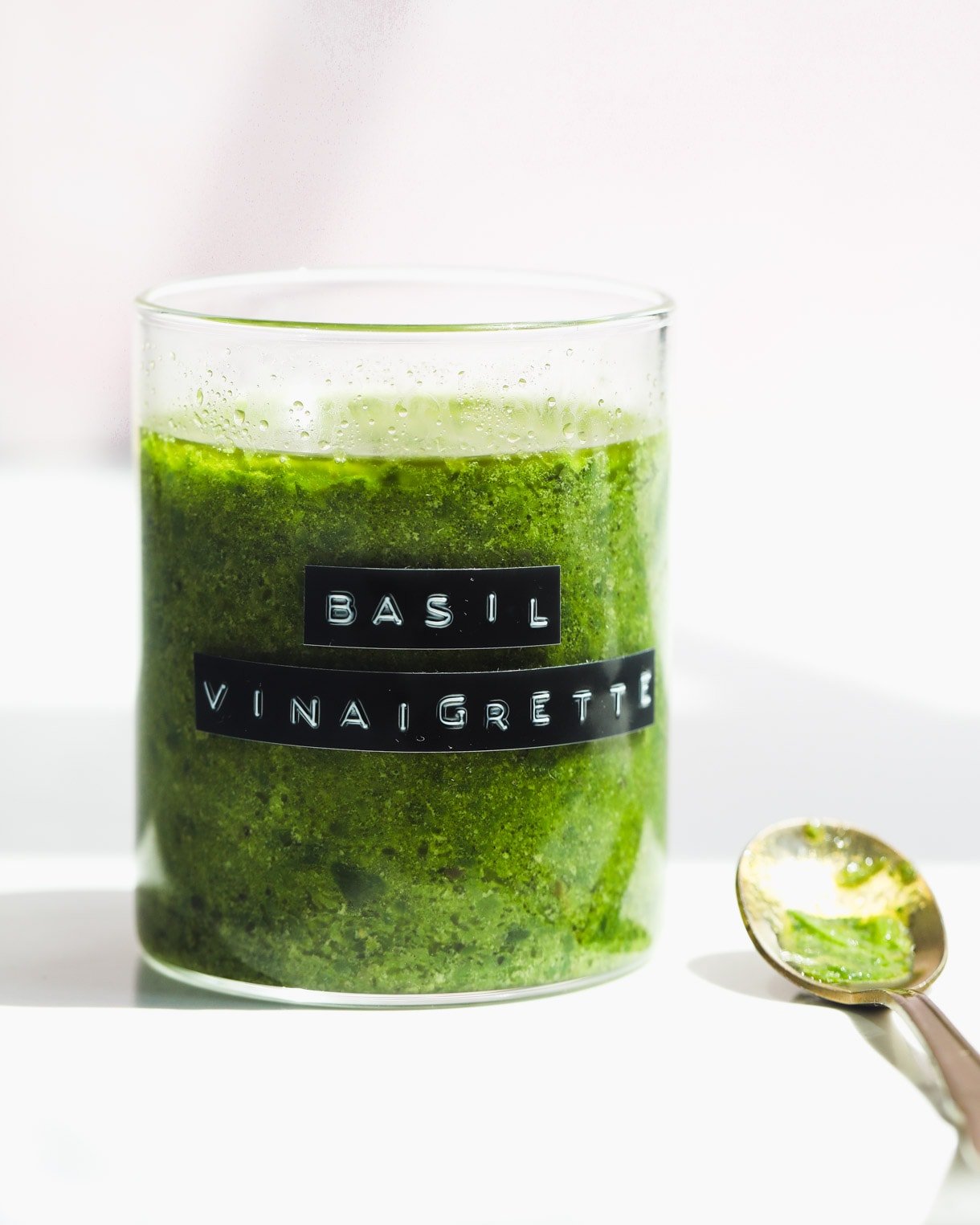 5-Minute Vegan Basil Vinaigrette
This easy basil vinaigrette is a delicious way to use up a lot of basil! It has a bright and fresh flavor, using nutritional yeast for depth and red wine vinegar for zing. This vinaigrette is made without nuts or cheese, which also sets it apart from pesto. Use it on roasted vegetables, greens, grain bowls, tofu, and main dishes.
Add all ingredients except olive oil into a small blender jar or food processor. Pulse about 10 to 15 times to break up the basil.

Then through the small hole on the blender jar or food processor, slowly pour the olive oil (if using a blender jar, have the blender on low speed) with it running, and the dressing will come together and be cohesive. It's delicious! Serve on salads, roasted vegetables, grilled chicken, grilled steak, eggs, or pasta salad.