Grilling summer squash is the best way to give it excellent flavor. And it's easy to do, no peeling or grill basket needed! Simply cut the summer squash into planks and lay them on the grill; which caramelizes the natural sugars and the exterior gets charred and slightly crispy while maintaining a tender bite . A fresh and herbaceous basil vinaigrette is brushed onto the grilled planks while they are still warm, so all the flavor soaks in.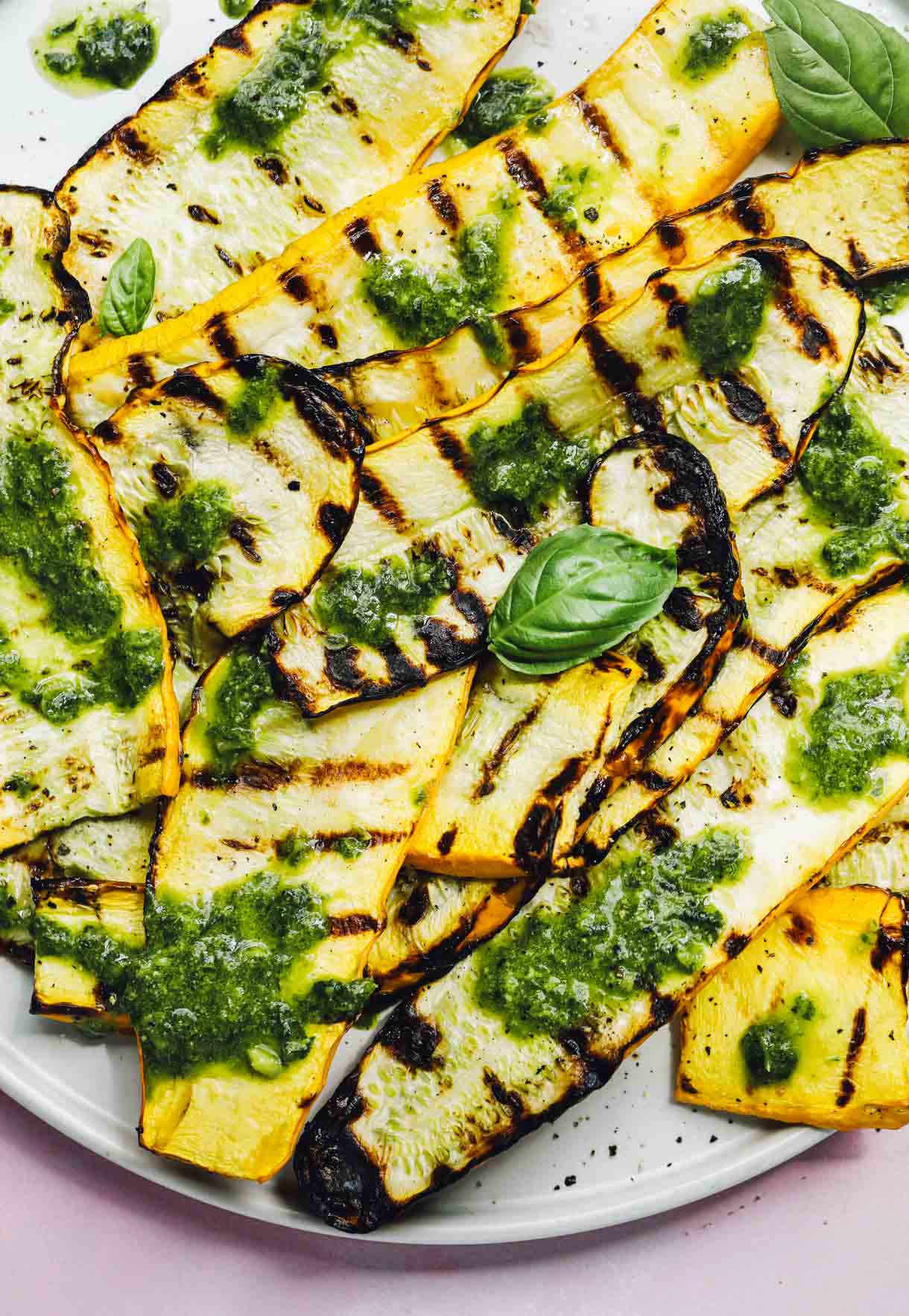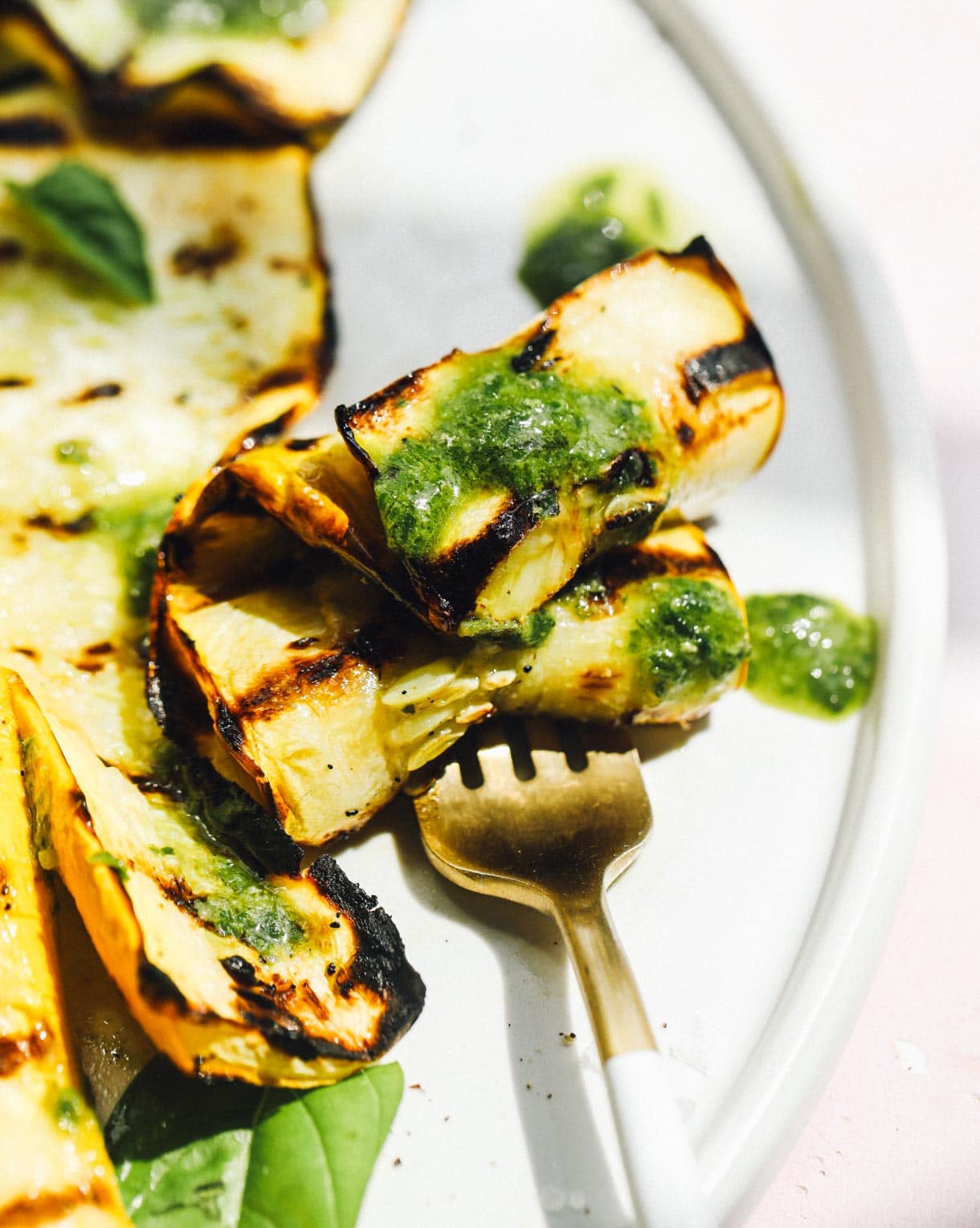 I love to grill vegetables, and this summer I've been hooked on this great recipe for summer squash planks with a herbaceous, bright, and zingy basil vinaigrette.
Besides not having to turn the oven on, I think grilling summer squash gives it the best flavor!
The slight smokiness comes from the interaction of the zucchini with the grill's heat, which imparts a depth of flavor that you wouldn't get from simply sautéing or steaming the vegetable. The grilling process caramelizes the natural sugars in the summer squash, and the exterior gets charred and slightly crispy, providing a contrast in texture to the tender interior.
Brushing the summer squash with zesty, zippy Basil Vinaigrette while it's still warm allows all those wonderful flavors to soak in, making it the perfect summer side dish for rotisserie chicken on the grill or grilled bone-in pork chops.
The vegan vinaigrette is different from pesto in the best way, with a slight tang from red wine vinegar and umami from garlic, capers, and nutritional yeast. Made in a blender or food processor, it's ready in just 5 minutes.
Are summer squash and zucchini the same?
These two summer crops are very much the same, with just two basic differences.
Summer squash tends to be slightly sweeter than zucchini, but both have an overall mild flavor.
Zucchini is green while summer squash is typically yellow, or shades of yellow and light green.
Is the skin of summer squash edible?
Yes, the skin of summer squash is very thin and tender so it can be eaten! This makes it very quick to prep for meals too, as no peeling is required.
How to cut summer squash planks for grilling:
It's much easier to grill squash when you cut it into planks rather than rounds, which can fall through the grates. The long planks mean you're able to get a lot of surface area onto the grill, giving the squash great flavor. You don't need a grill basket either!
When testing, 1/4 inch was the perfect thickness for the summer squash planks. It stays nice and sturdy on the grates, but doesn't take forever to cook through. When cut thicker than that, the texture never got as tender and had more of a vegetal, raw flavor.
Simply cut the stem end of the squash off, then use a chef's knife to cut vertically into 1/4 inch planks. That's it!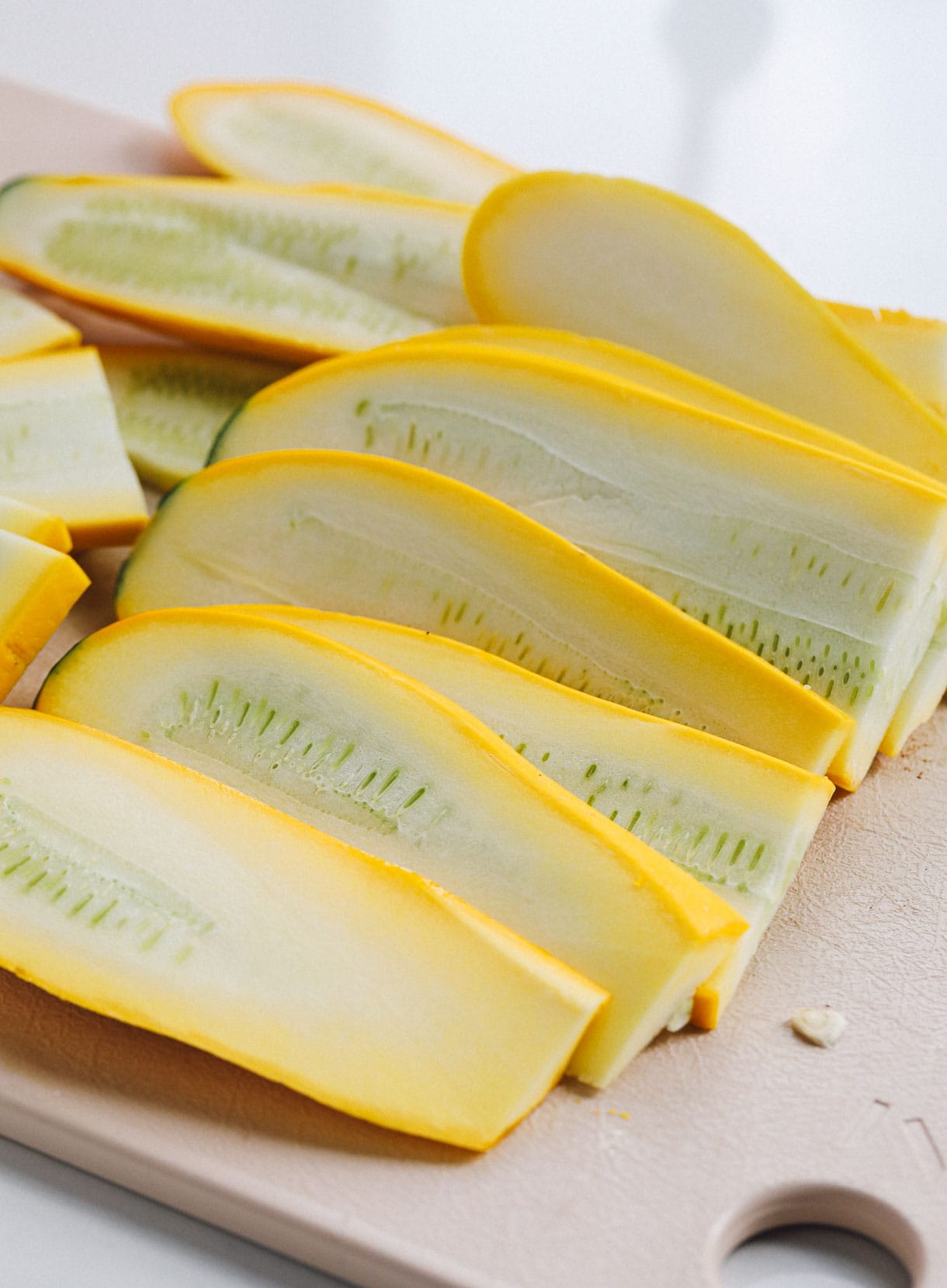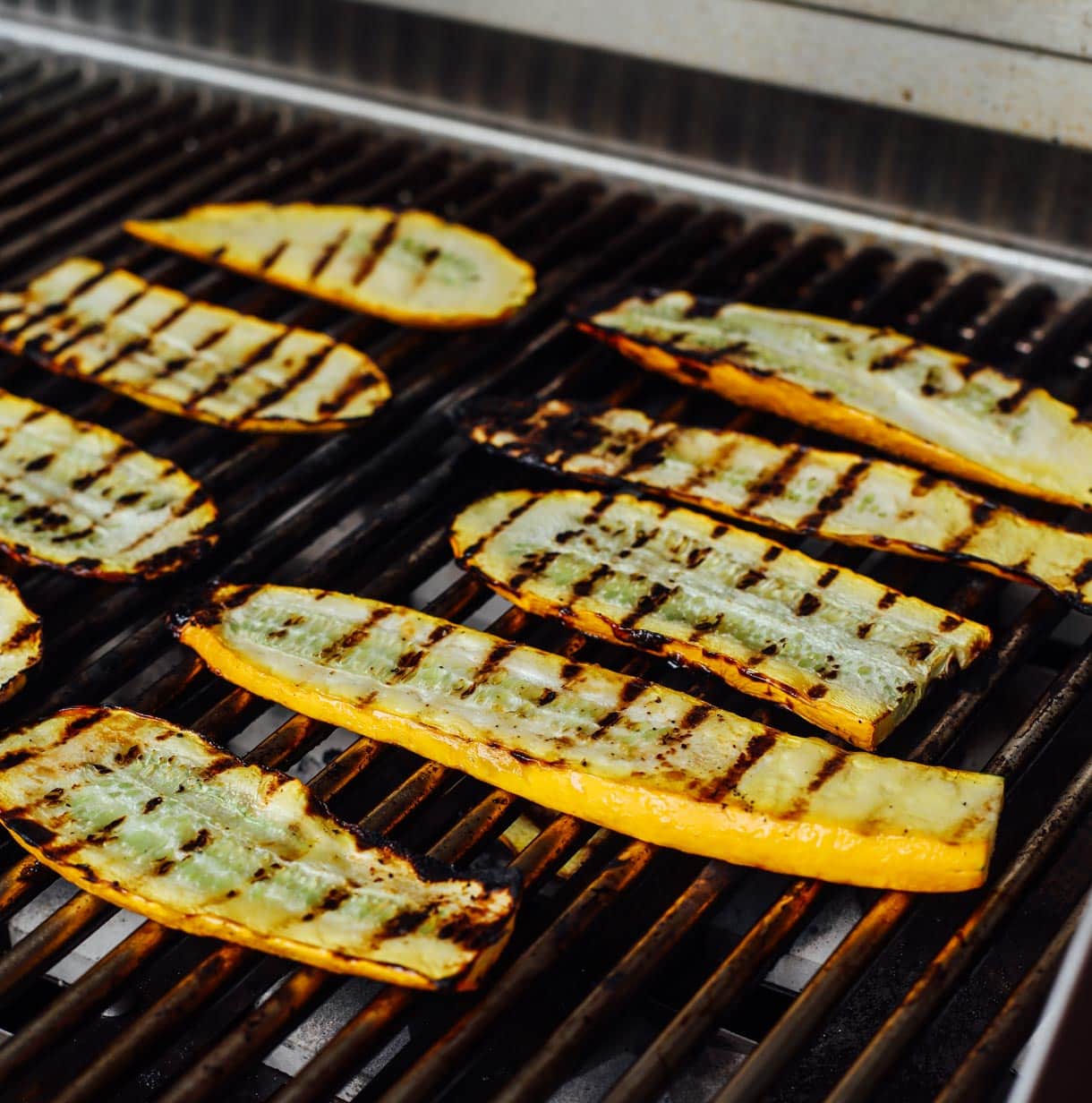 Common Varieties of Summer Squash to Grow in a Garden:
Summer squash thrives in full sun. Choose a location in your garden that receives at least 6-8 hours of direct sunlight per day. This vegetable prefers well-draining, fertile soil. Amend the soil with compost or well-rotted manure before planting to improve its texture and nutrient content.
Yellow Crookneck
Zephyr Squash
Cousa Squash
Yellow Straightneck
Pattypan (or scallop)
More Zucchini & Summer Squash Recipes: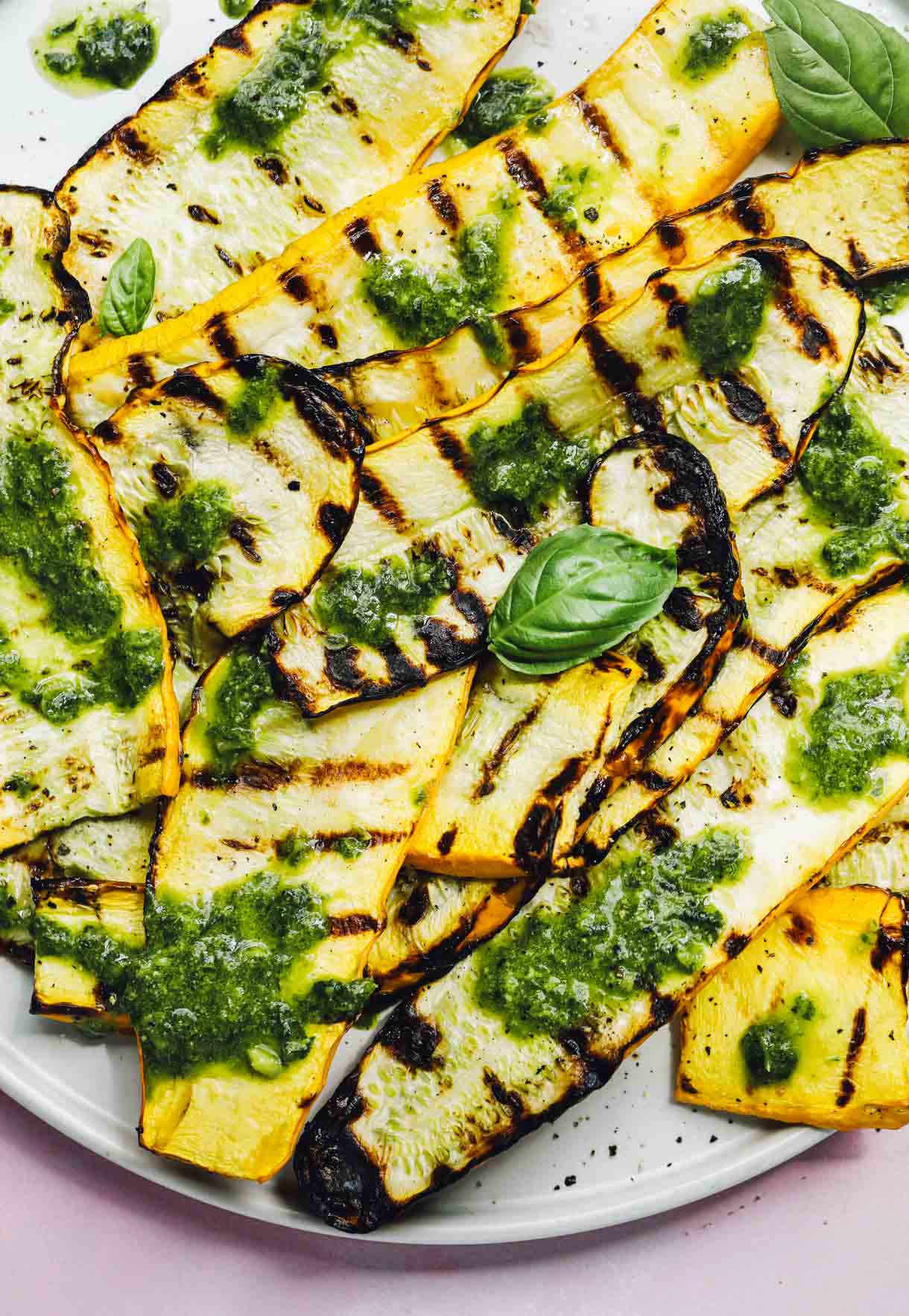 Grilled Summer Squash with Basil Vinaigrette
Grilling summer squash is the most delicious way to eat it, as the heat caramelizes the natural sugars and gives the planks charred, smoky edges and a tender bite. Brushed with a zesty, herbaceous basil vinaigrette while they're still warm allows incredible flavor to soak in.
1/3

cup

Basil Vinaigrette

1

teaspoon

kosher salt

2

medium sized yellow summer squash

(the straighter in shape, the better)

1 1/2

tablespoons

olive oil

5 to 7

cracks of ground black pepper
Make the basil vinaigrette per recipe. Set aside.

Cut the top stem off the summer squash. Then slice vertically into 1/4 inch planks. (That width is important for proper cooking time and sturdiness.) Toss with salt and let sit for 10 minutes. While you are waiting for the squash, preheat the grill to medium high heat. We want the grill to be nice and hot for searing, and you really can't overcook summer squash.

After 10 minutes, pat the summer squash dry with a few paper towels. This will whisk away all the water that the salt has removed from the summer squash to give it great texture and flavor when on the grill. Brush both sides with olive oil and black pepper.

Place squash on the grill horizontally. Let cook, undisturbed, fro 5 to 6 minutes. At this point lift one plank up and see if there are nice grill marks. Flip if so, and cook for another 5 minutes with the cover closed. When summer squash has nice sear marks and is pretty tender, remove from grill.

While summer squash is hot, drizzle the basil vinaigrette over the planks liberally, and brush to coat. Season with flaky salt that you sprinkle over the top and enjoy.