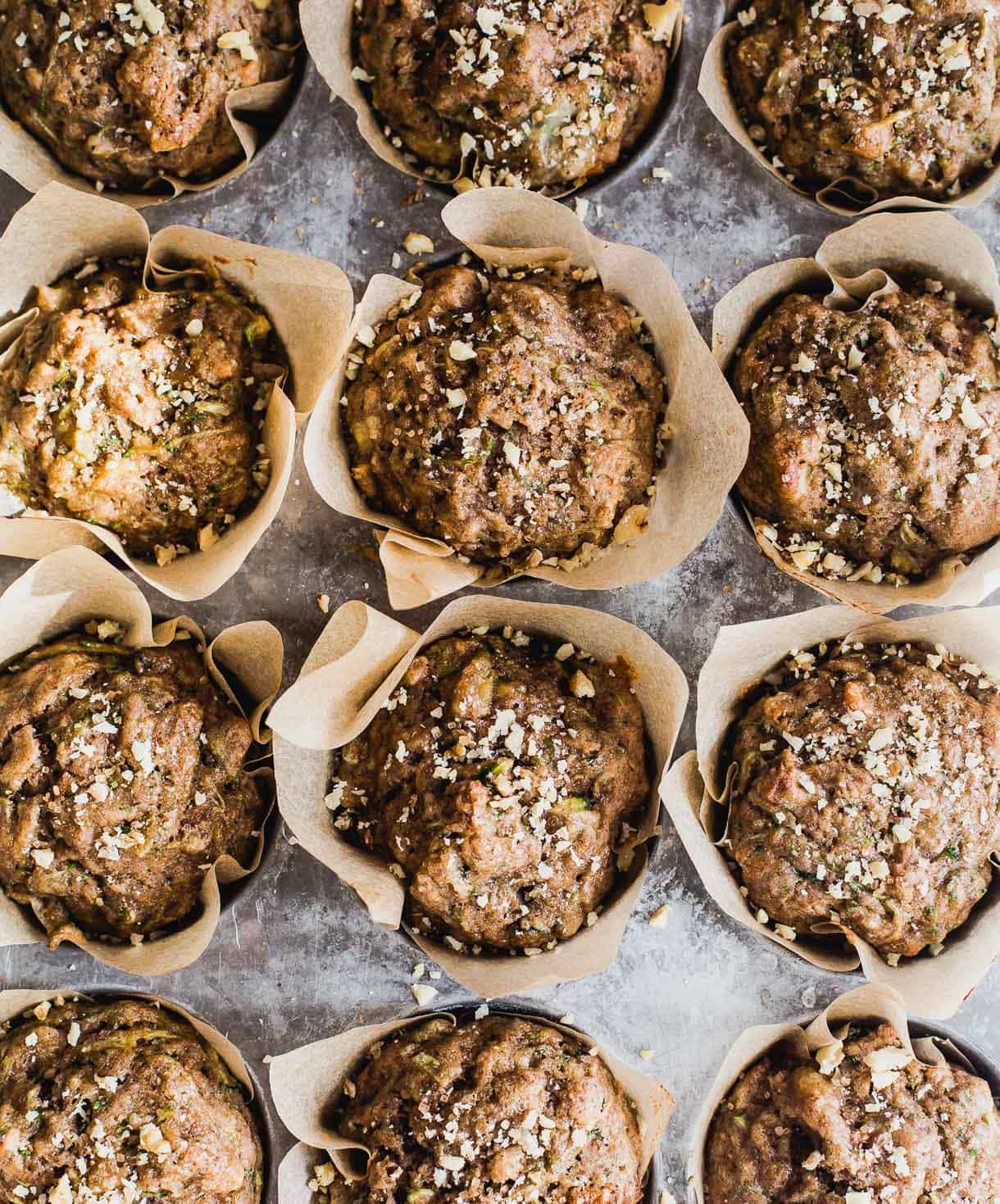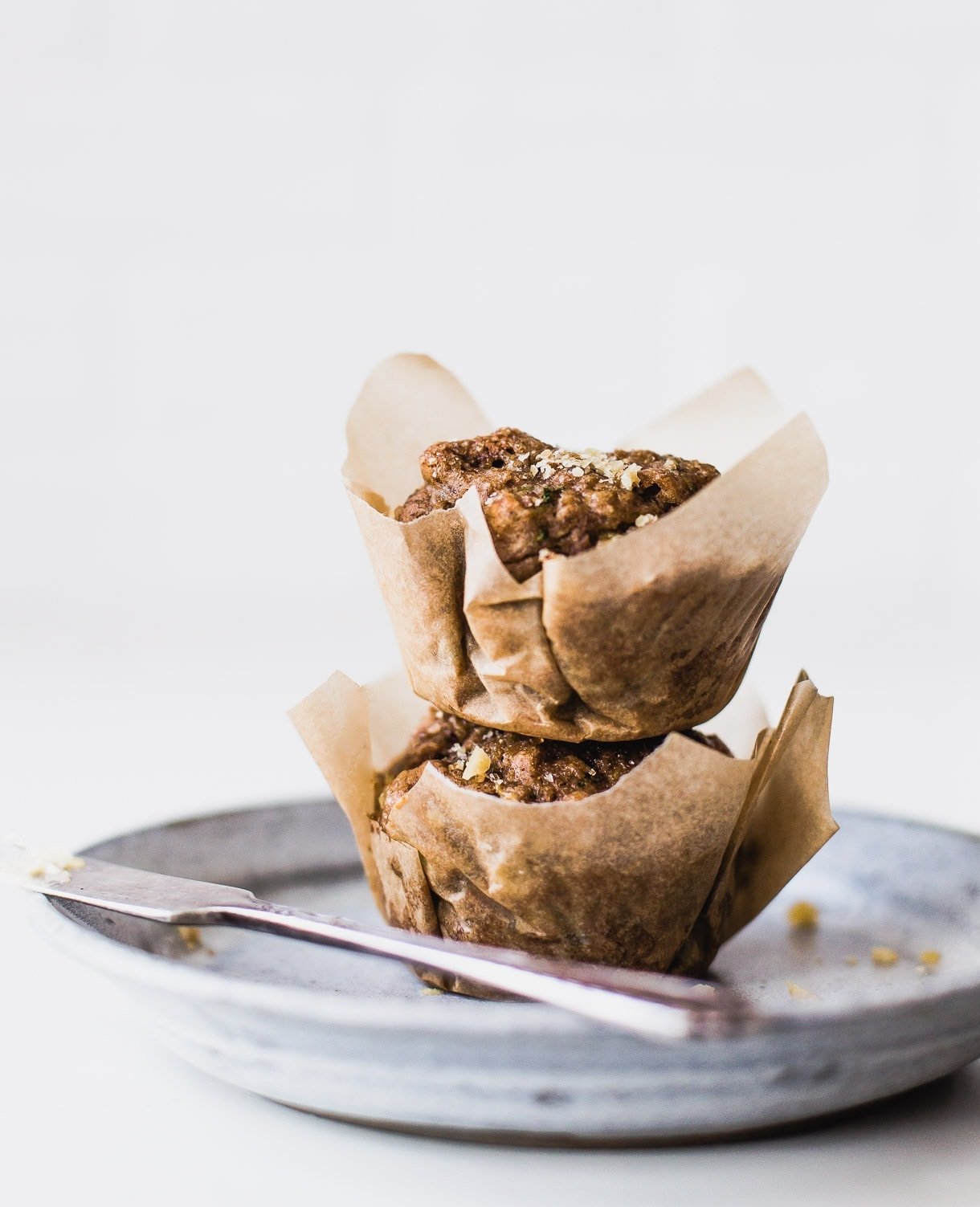 This recipe wears a superman/woman kind of cape that saves ingredients from spoiling…….
Like the speckled bananas sitting on the counter, currently collecting fruit flies.
The zucchini spilling out of your summer garden, day after day.
And the leftover sourdough starter you just really want to find a good use for.
Together, these three make one heck of a soft and fluffy muffin that tastes like it was fully planned.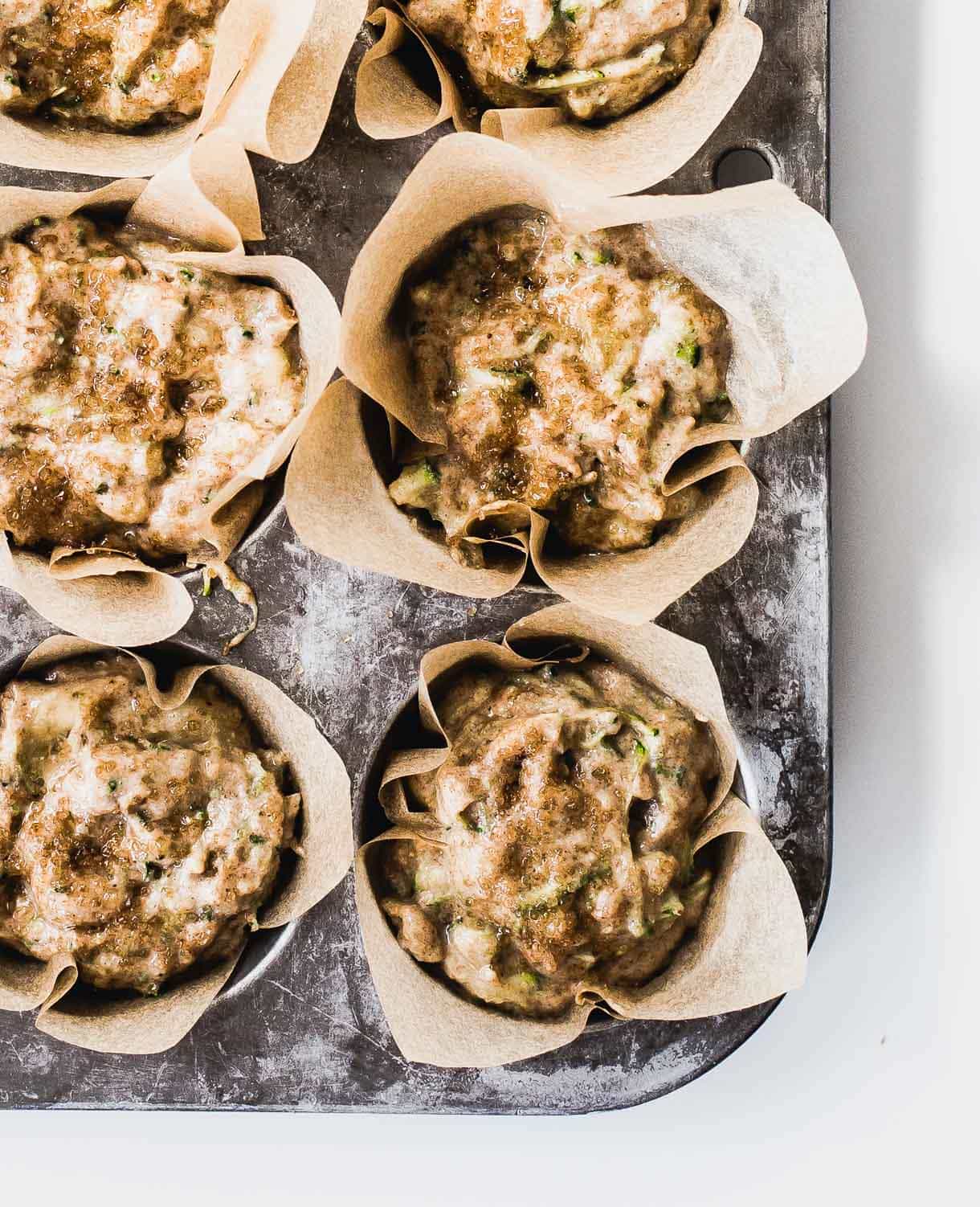 With sourdough baking, discarding some of your starter before you feed it each time can feel wasteful.
But you don't have to throw it out! The great thing about sourdough discard is that it can be used in other recipes even after sitting in your refrigerator for one to two weeks.  I save mine in a separate jar and let it accumulate, then make something delicious from it like muffins or one-ingredient pancakes when the jar is nearly full, as is, straight from the refrigerator.
That also means you don't have to wait until it's all bubbly and active to make these leftover starter muffins.
I've been experimenting with spelt flour, an ancient grain that's especially high in protein, a bit more as well, and I really love its slightly sweet, nutty flavor composition.
I used it as the flour base in this recipe, with just a touch of oat flour and cornstarch to lighten the crumb. For texture and richness, walnuts were the answer. They're also a tried and true flavor match to banana and cinnamon!
This recipe make exactly a dozen muffins, and keep well on the counter for three days. They freeze well too.  Just wait for them to cool, wrap individually in tin foil, then put in a freezer ziploc bag.
For more information on sourdough, I have a few other posts here.
xo!
Amanda

Leftover Sourdough Starter Zucchini Muffins with Walnuts
If you have extra sourdough discard, you make these zucchini muffins with it!
Ingredients
145 grams spelt flour
25 grams oat flour
20 grams corn starch
1/2 teaspoon baking soda
1 teaspoon cinnamon
1/4 teaspoon salt
1/4 cup honey
1/4 cup organic cane sugar
1/3 cup leftover sourdough starter (unfed)
2 medium bananas (240 grams), mashed 
1 medium zucchini (262 grams), grated and excess water squeezed out with towels
1 large egg
2 tablespoons olive oil
1 teaspoon vanilla
3/4 cup walnuts, finely chopped
Instructions
Preheat oven to 350 degrees F.
In a medium bowl, stir together spelt flour, oat flour, cornstarch, baking soda, cinnamon, and salt. In a separate bowl, whisk together honey, sugar, sourdough starter, bananas, zucchini, egg, olive oil, and vanilla.
Pour wet ingredients into dry, then gently stir to combine, until no flour streaks remain. Fold in walnuts.
Fill muffin cups 3/4 full. Sprinkle with demerara (coarse) sugar. Bake for 20 minutes. Let cool for one hour before eating.