Learn how to make the very best sourdough english muffins using active sourdough starter. They have a lofty rise, with puffy golden brown tops! And their interiors are fluffy, with lots of nooks and crannies. 100% naturally leavened.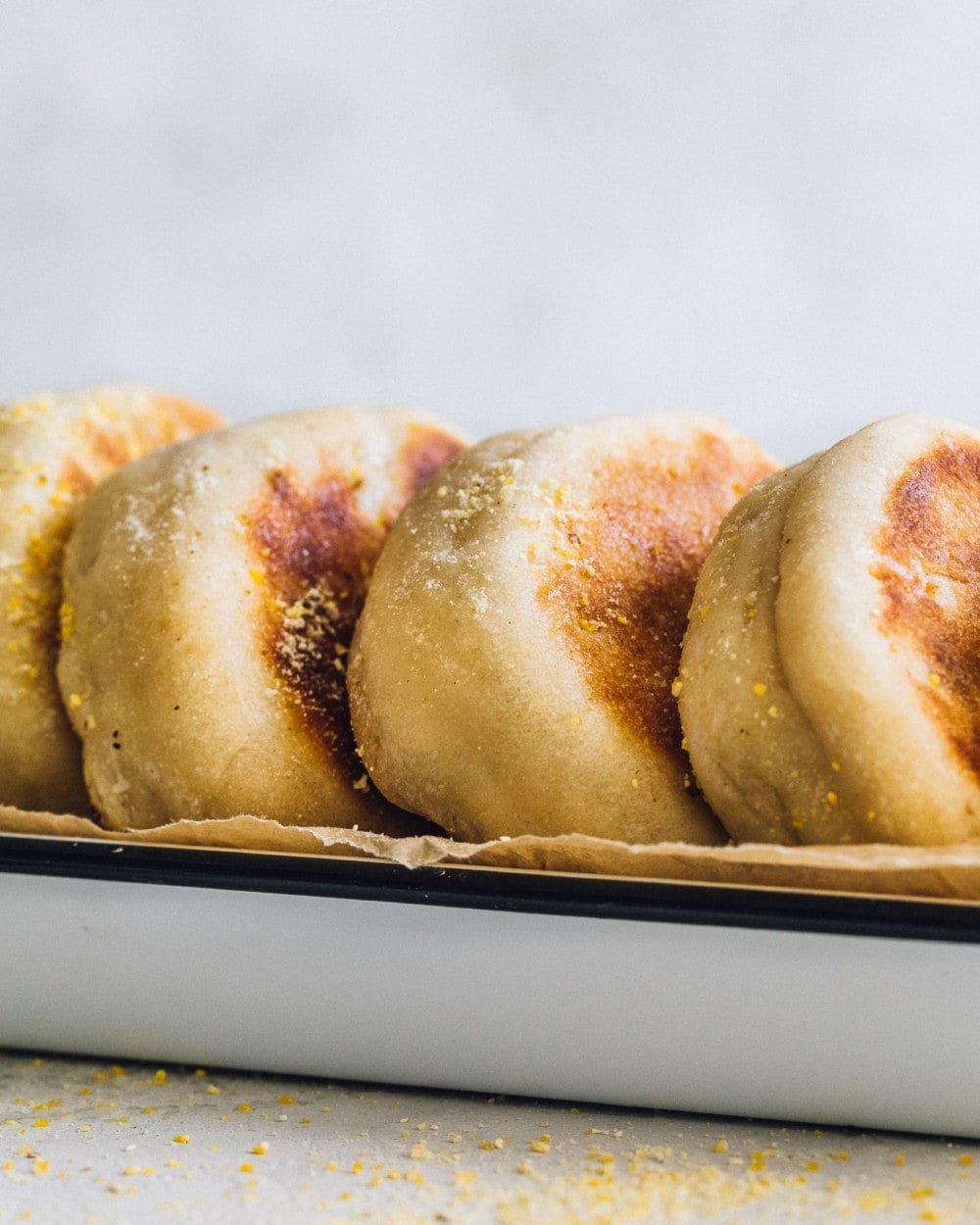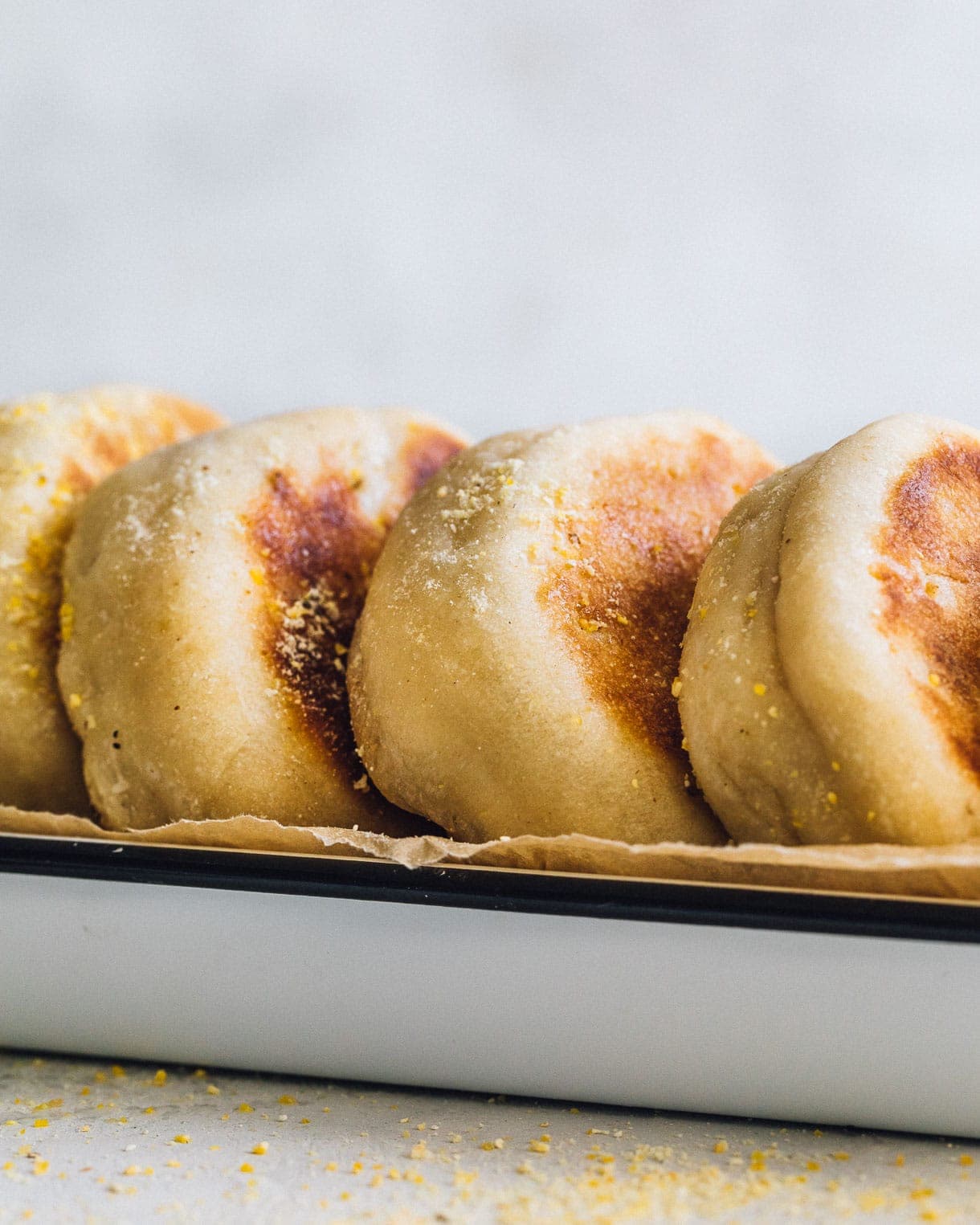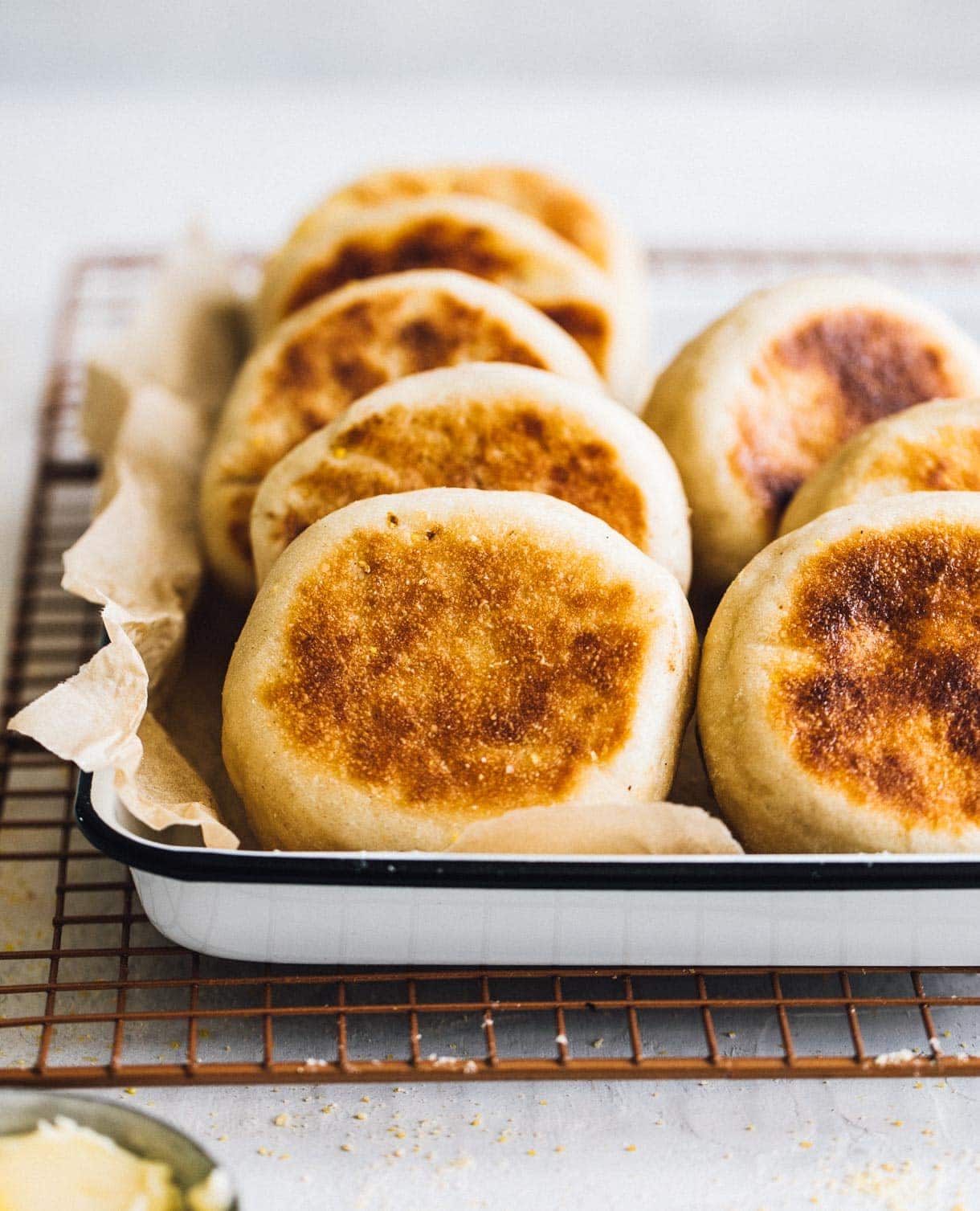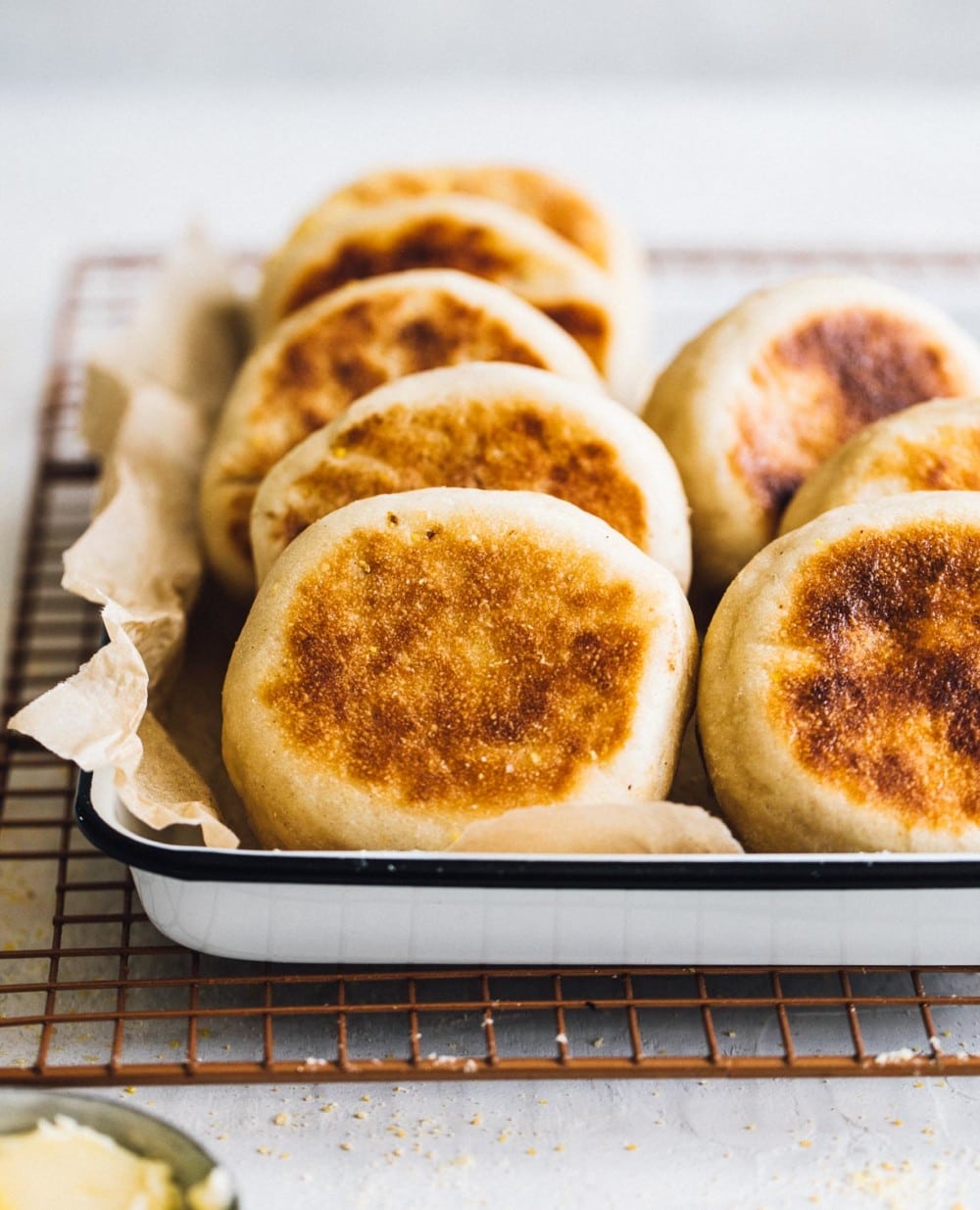 If you're new to sourdough, and are looking for a sourdough starter to begin, I ship my 13+ year old starter to anyone in the U.S! You can order it here.
Why You'll Want to Make These Sourdough English Muffins Immediately
I'm very hesitant to use the word life-changing when it comes to food. But I swear to you, when you eat one of these sourdough english muffins, a store-bought english muffin will never suffice again. Like, ever.
Their pillowy, interior softness cannot be matched.
Their epic puff!
Their pillowy bite.
So perfect as a vehicle for an indulgent amount of butter, strawberry rhubarb jam, or homemade peanut butter to nestle into all the nooks and crannies.
And their golden brown, cornmeal dusted, griddled tops are exactly the definition of lovely textural contrast.
This homemade sourdough english muffin recipe is very forgiving (as is sourdough focaccia bread), and you'll need only a few ingredients. You don't even need an english muffin ring to cut them out. I actually use a small flower vase to cut the circles out.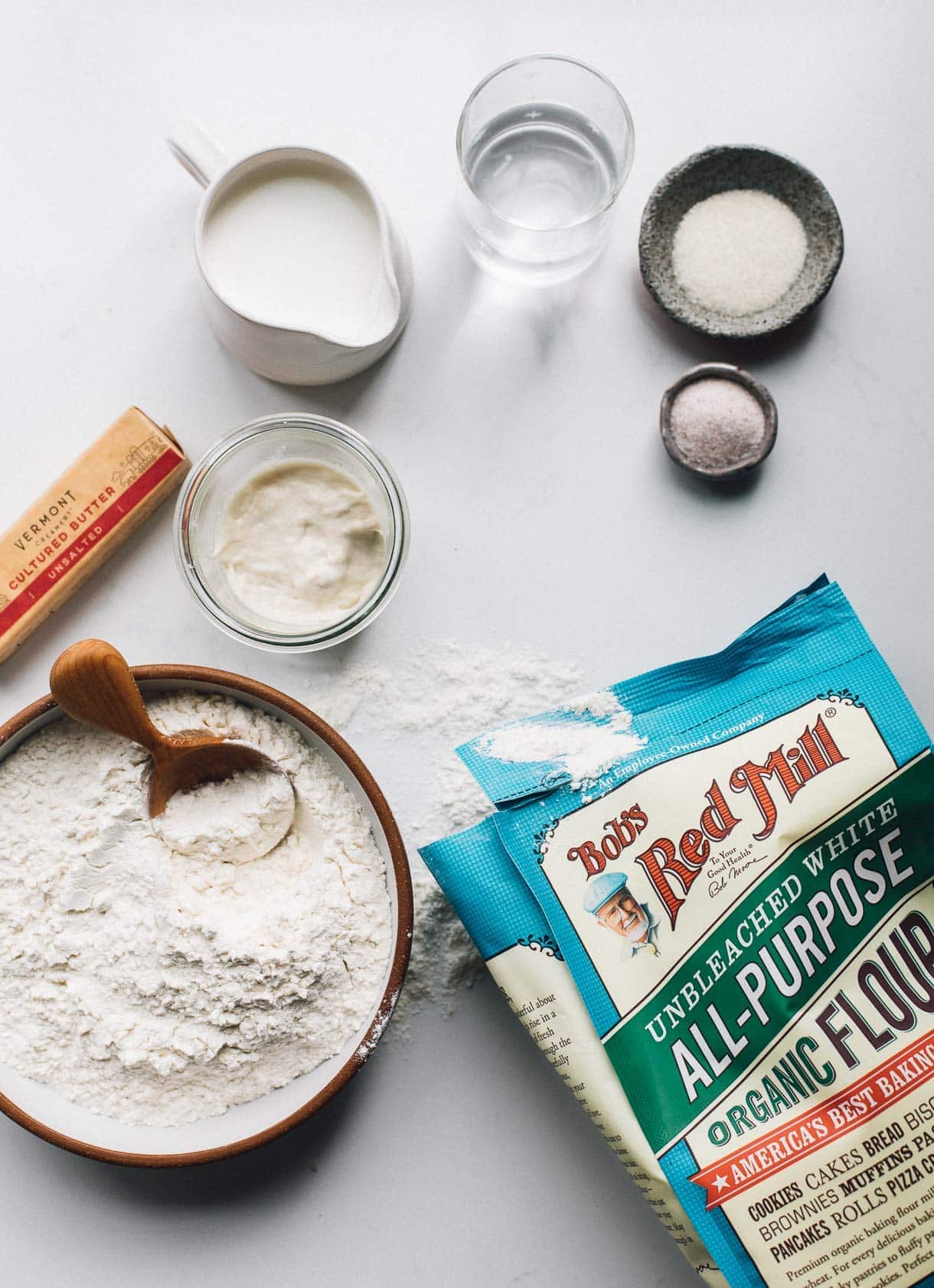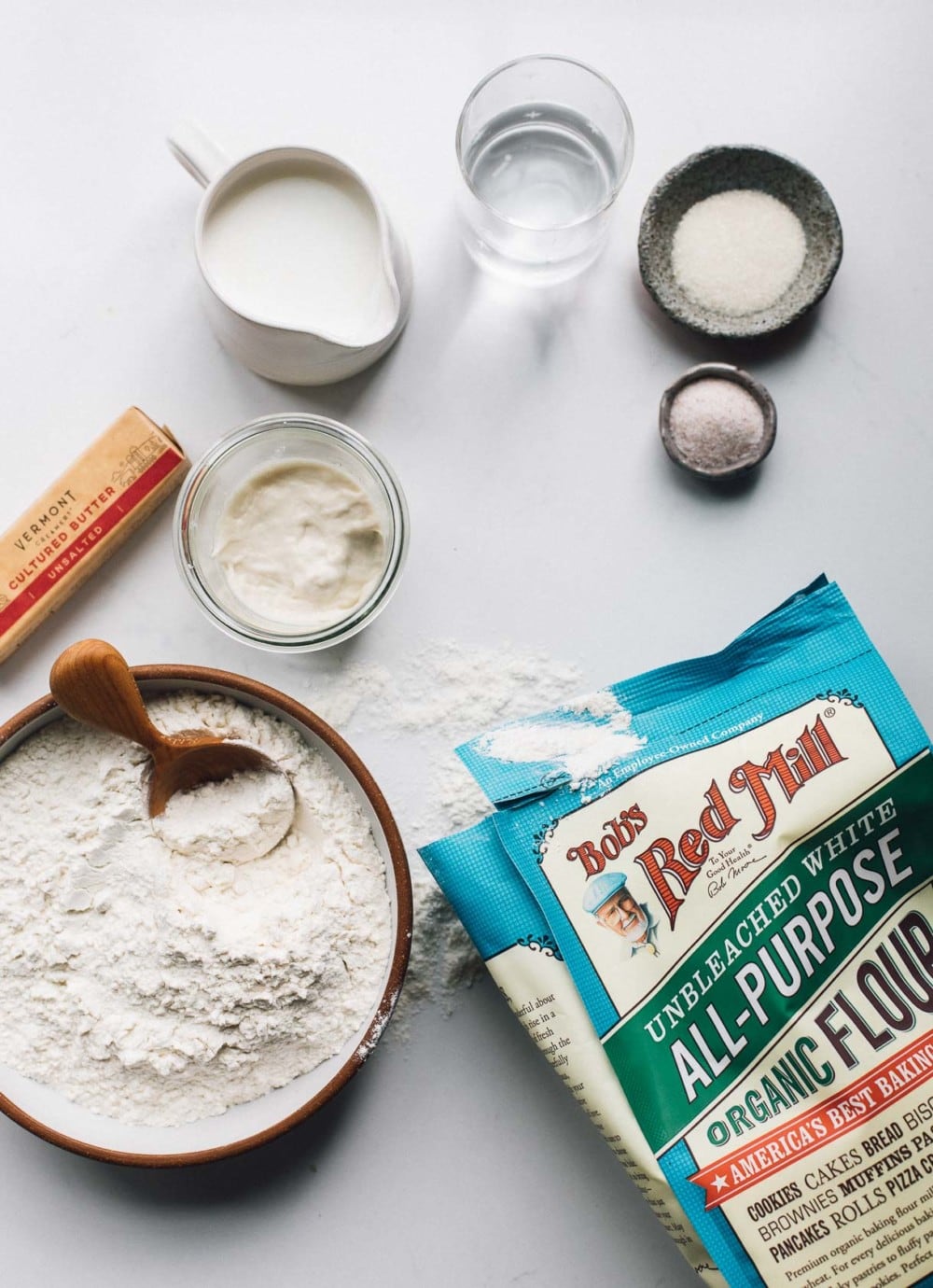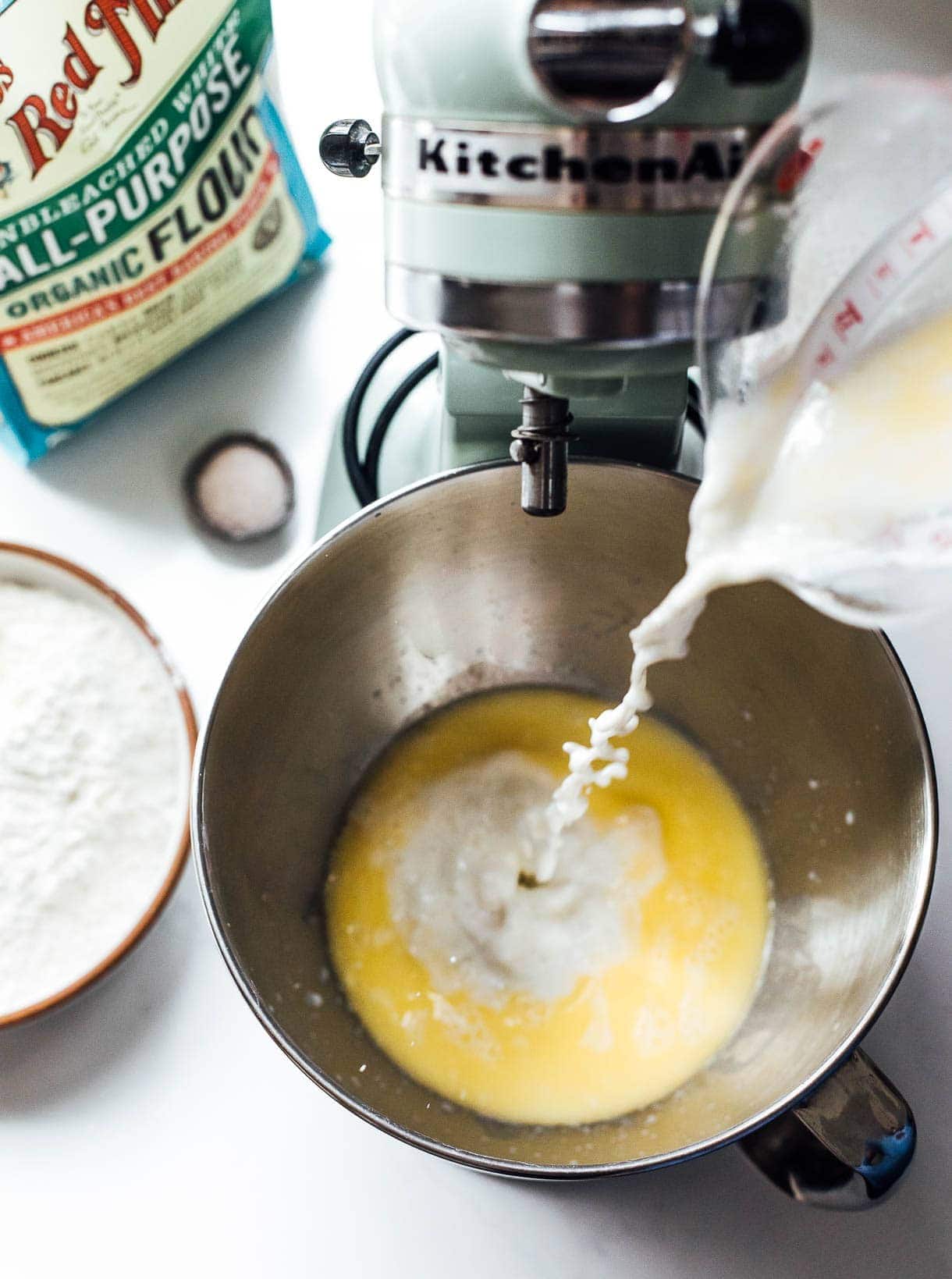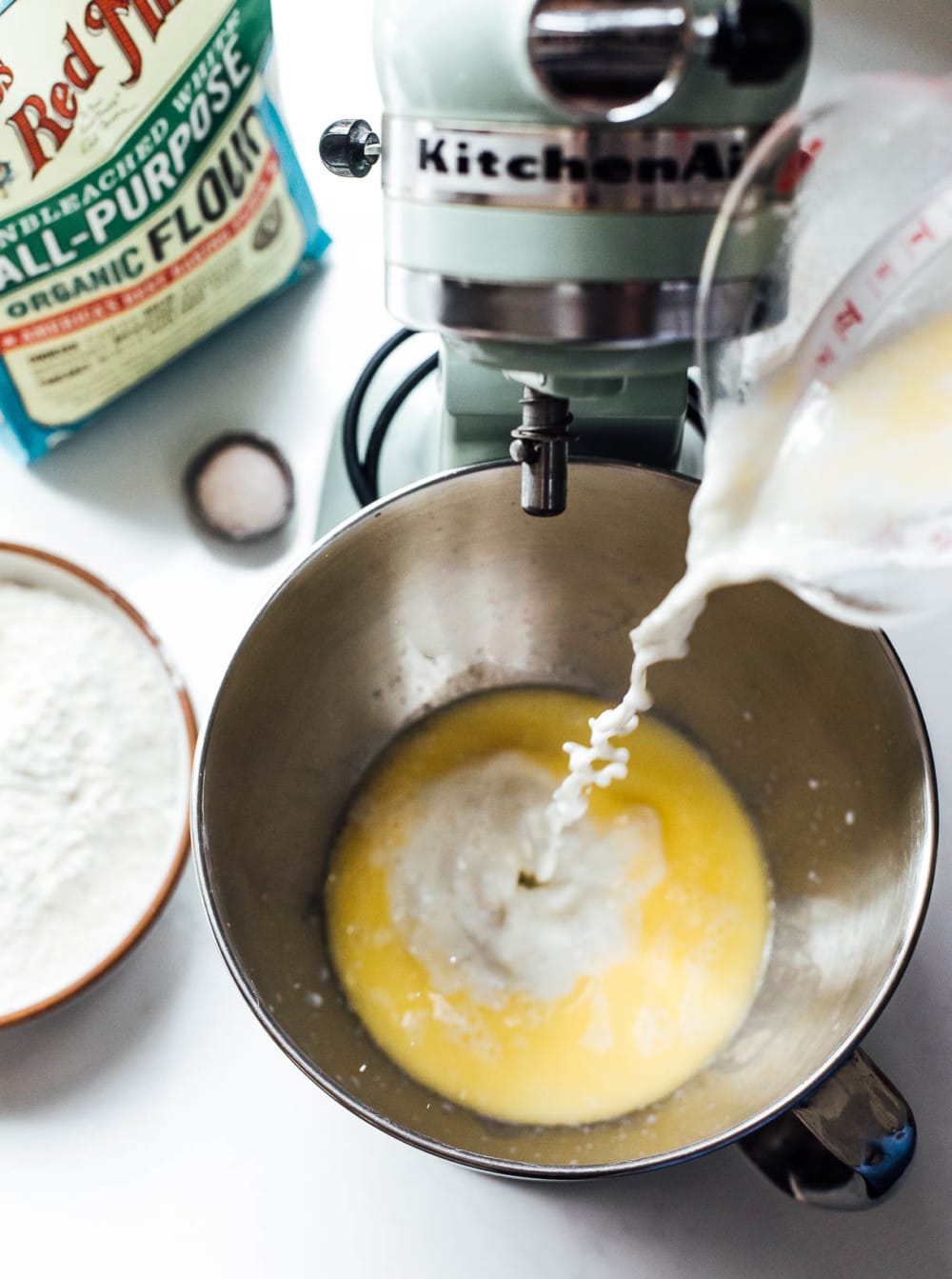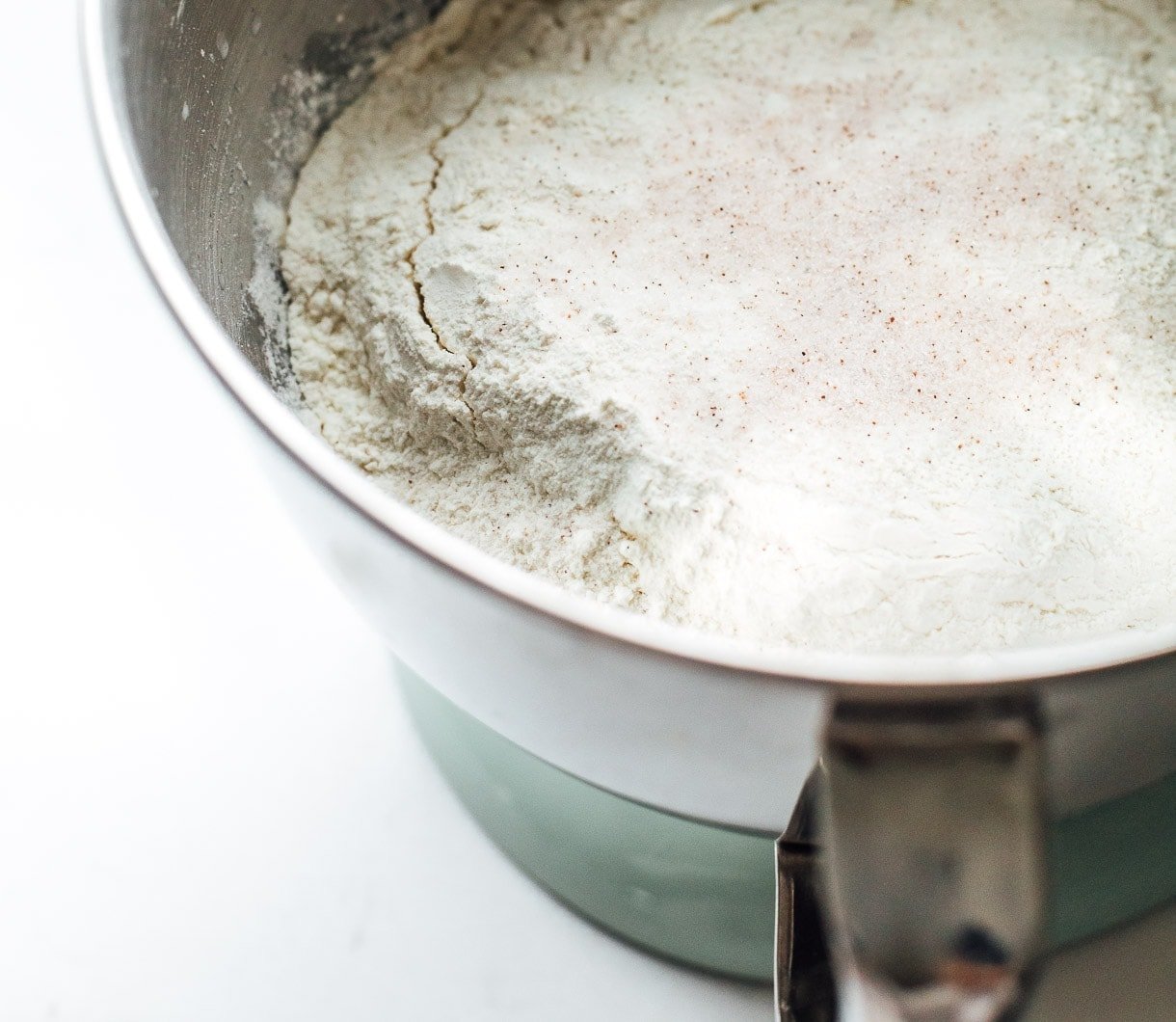 How to Make Sourdough English Muffins:
Activate starter.
You'll need 75 grams of mature sourdough starter at its peak (I keep my starter at 100% hydration). For an easy baking schedule, I feed my sourdough starter at about 4pm so that it peaks around 8 or 9pm so I can mix up my dough and let rise overnight.

Mix dough.
There are just 6 additional ingredients you'll need for this english muffin recipe: all purpose flour, milk, butter, water, salt, sugar.

This sourdough english muffin recipe is mixed using a stand mixer, as the dough is enriched. While recipe testing, I much preferred the stand mixer results and ease, over hand mixing/kneading.

Let bulk ferment.
Because this dough is enriched with butter and milk (like sourdough cinnamon rolls), it takes longer to bulk ferment, which makes it perfect for an overnight rise! I find that at about 65 degrees, which my house is in the evening, equates to about 8 hours of bulk ferment, until the dough has about doubled and is smooth on top and puffed. It will look MUCH different than the end of bulk ferment when you are making sourdough bread, where the dough will look glossy, have bubbles, and is jiggly. It will not do that here.

Bench rest.
In the morning, dust a surface with flour, and scoop from underneath the dough, with the bowl tipped, to get the dough onto the surface. Let rest for 15 minutes.

Cut out english muffin circles.
Pat the dough out into a circle or rectangle shape, aiming for the dough to be about 1 inch tall. Use something that is glass and about 3 1/2 to 4 inches in diameter – I use a flower vase – flour the bottom edges, and press down through the dough until you hit the surface. Gently twist the vase while pushing down to cut through the dough. Then gently remove the cut out muffin and transfer to cornmeal dusted parchment on a baking sheet.

Let rise.
The final rise will take about 1-2 hours, at 70 degrees. The muffins will not per-say rise a lot, it will just get puffy and light.

Cook on griddle or cast iron skillet at 350 degrees F, about 6-7 minutes per side, until internal temperature reaches about 200 degrees F.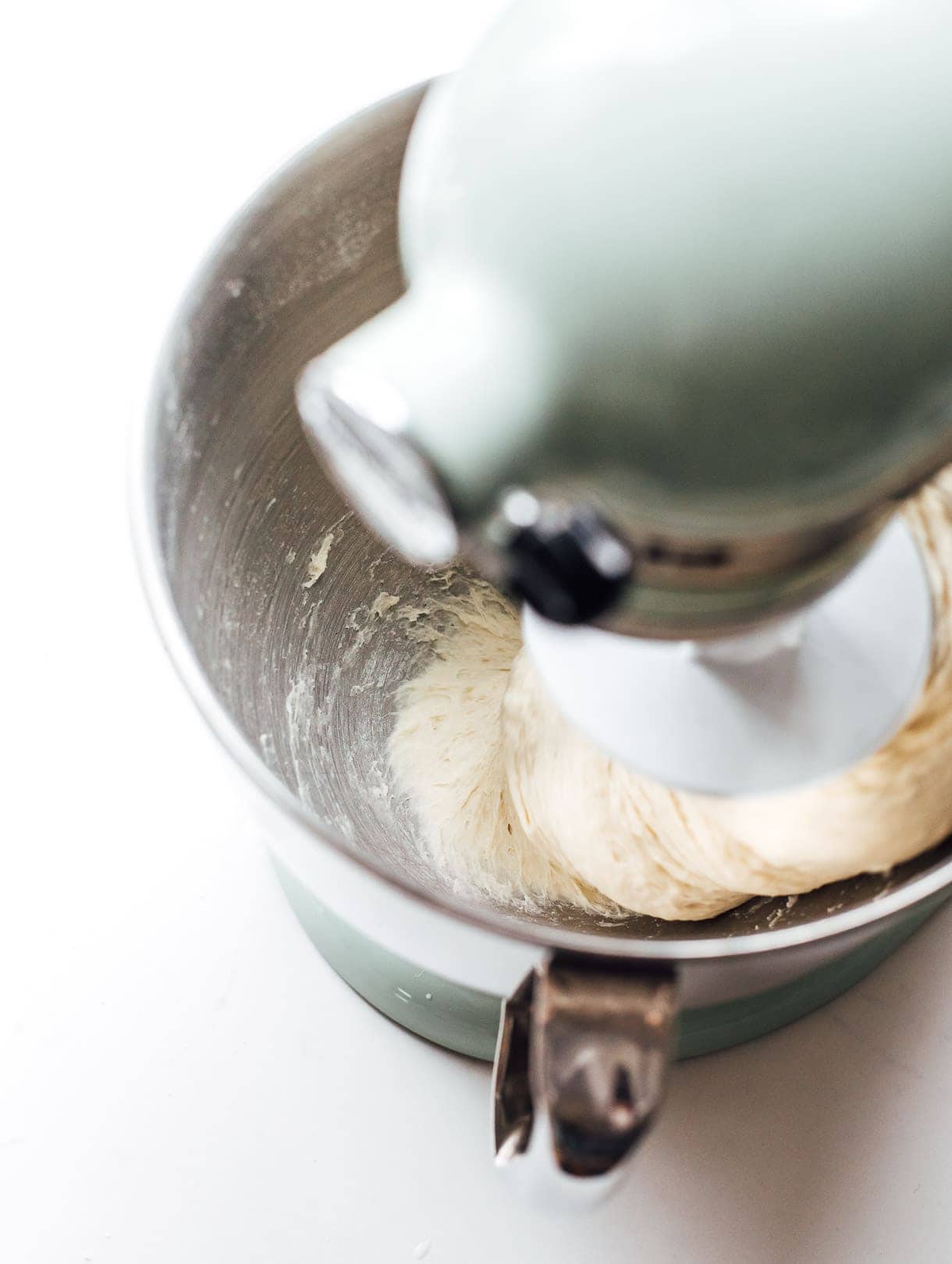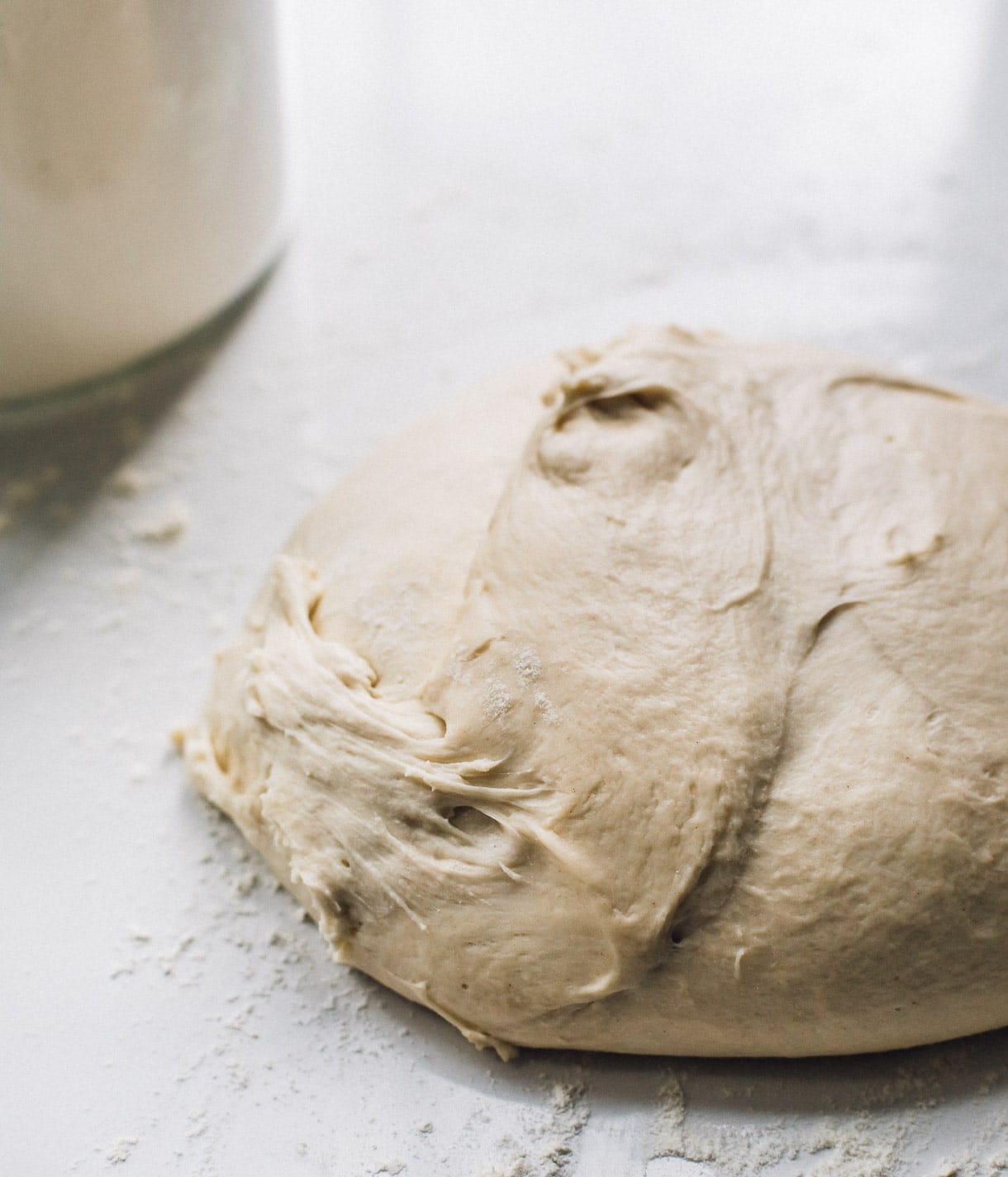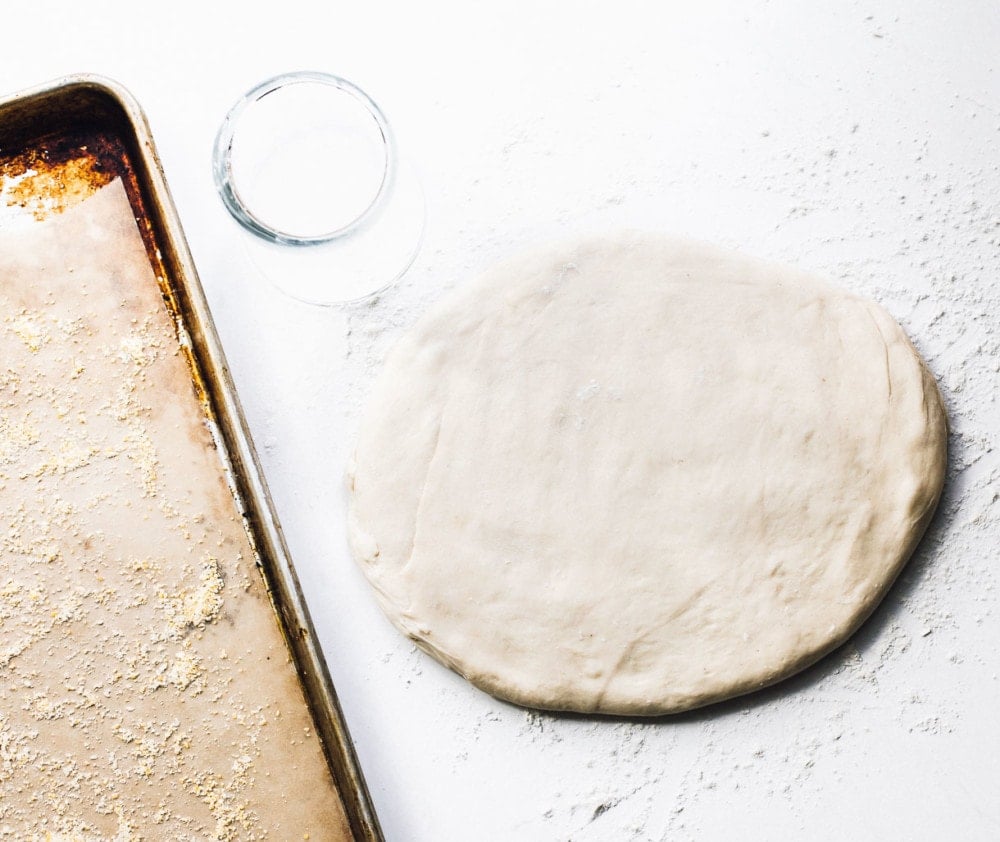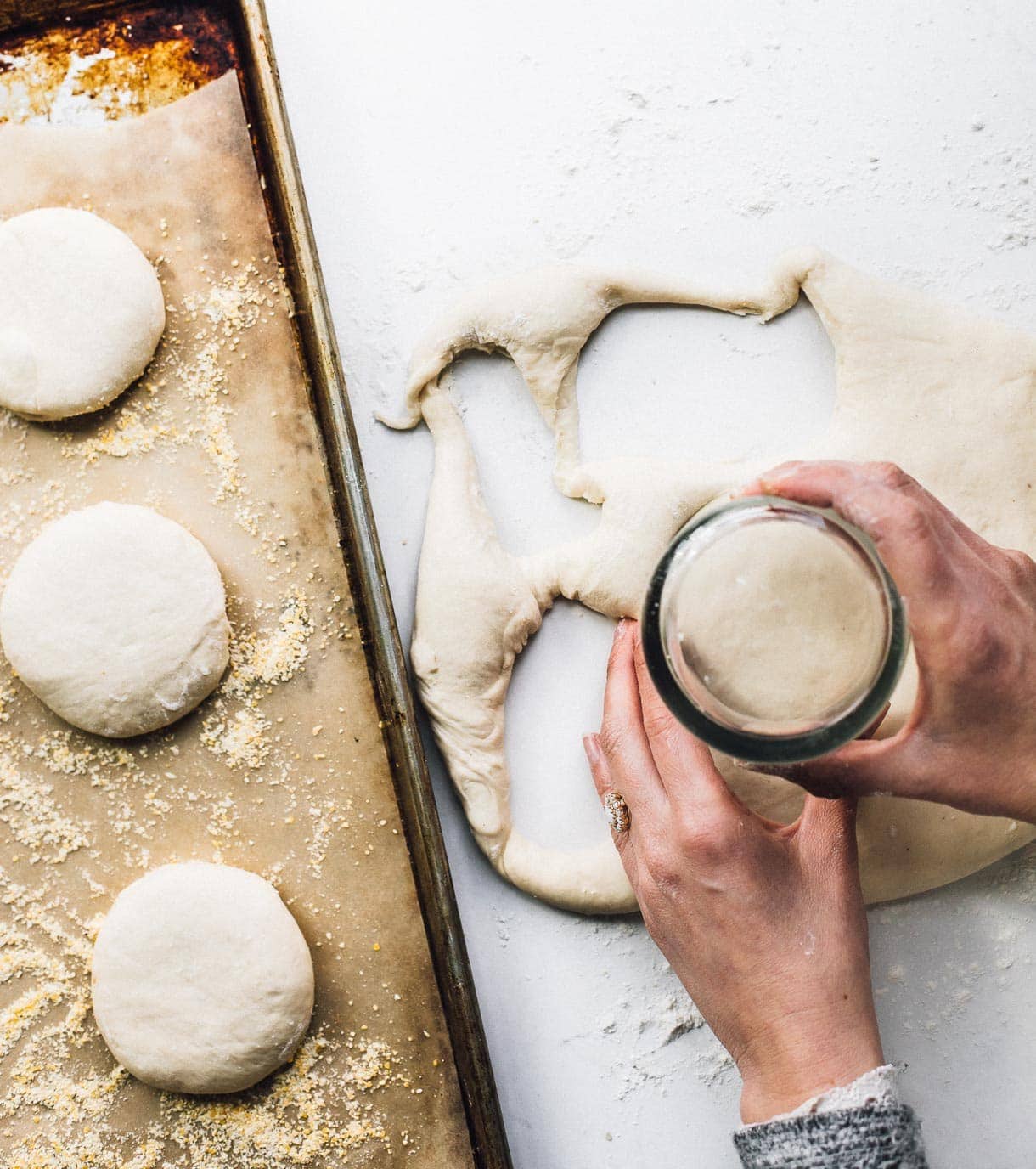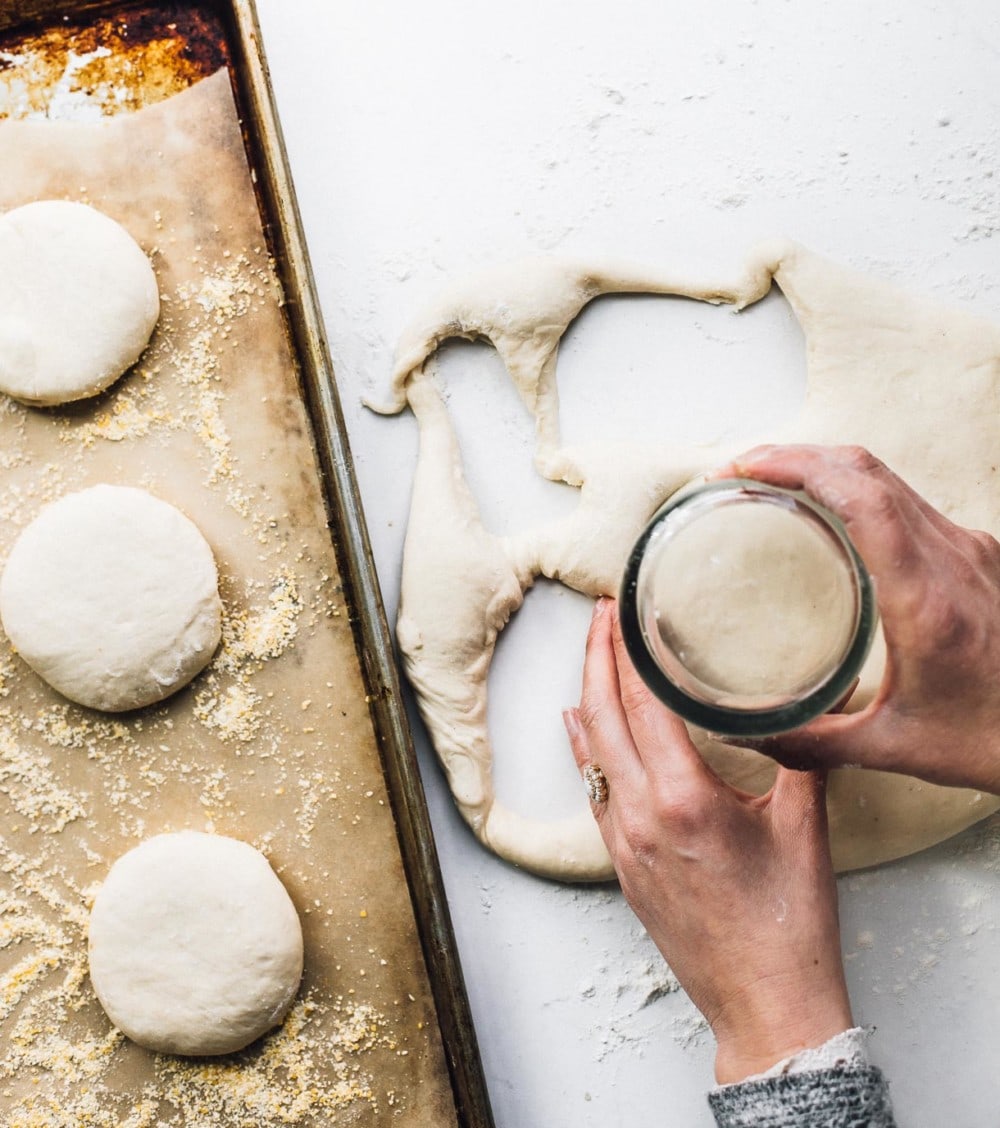 Crusty, scraggy, chewy gems. Breakfast bliss.
Filled with air pockets galore, I swear they rival the Thomas' English Muffins you and I grew up eating.

Do not sleep on the salted butter and honey topping.
Or peanut butter and honey.
Or anything your heart desires.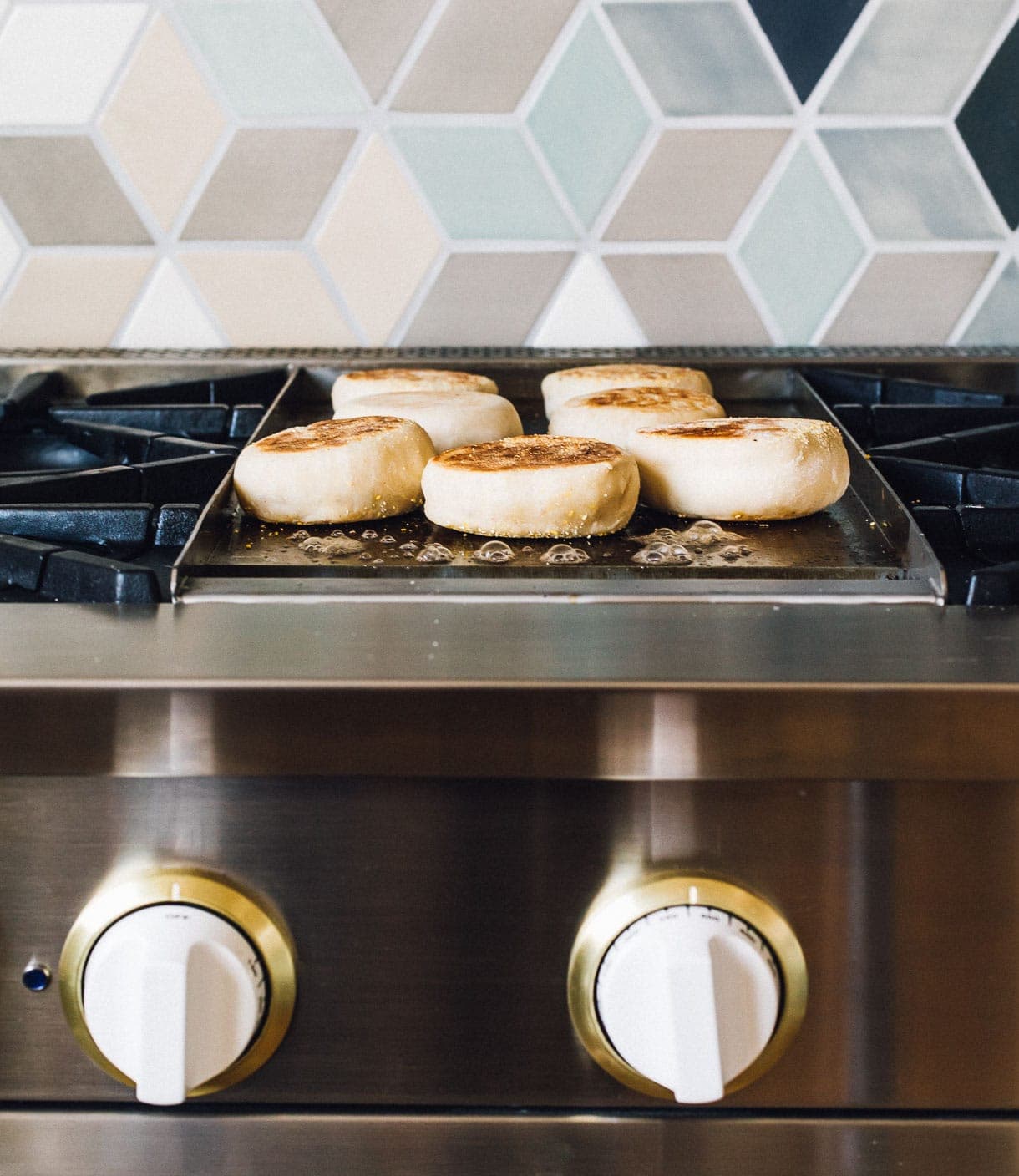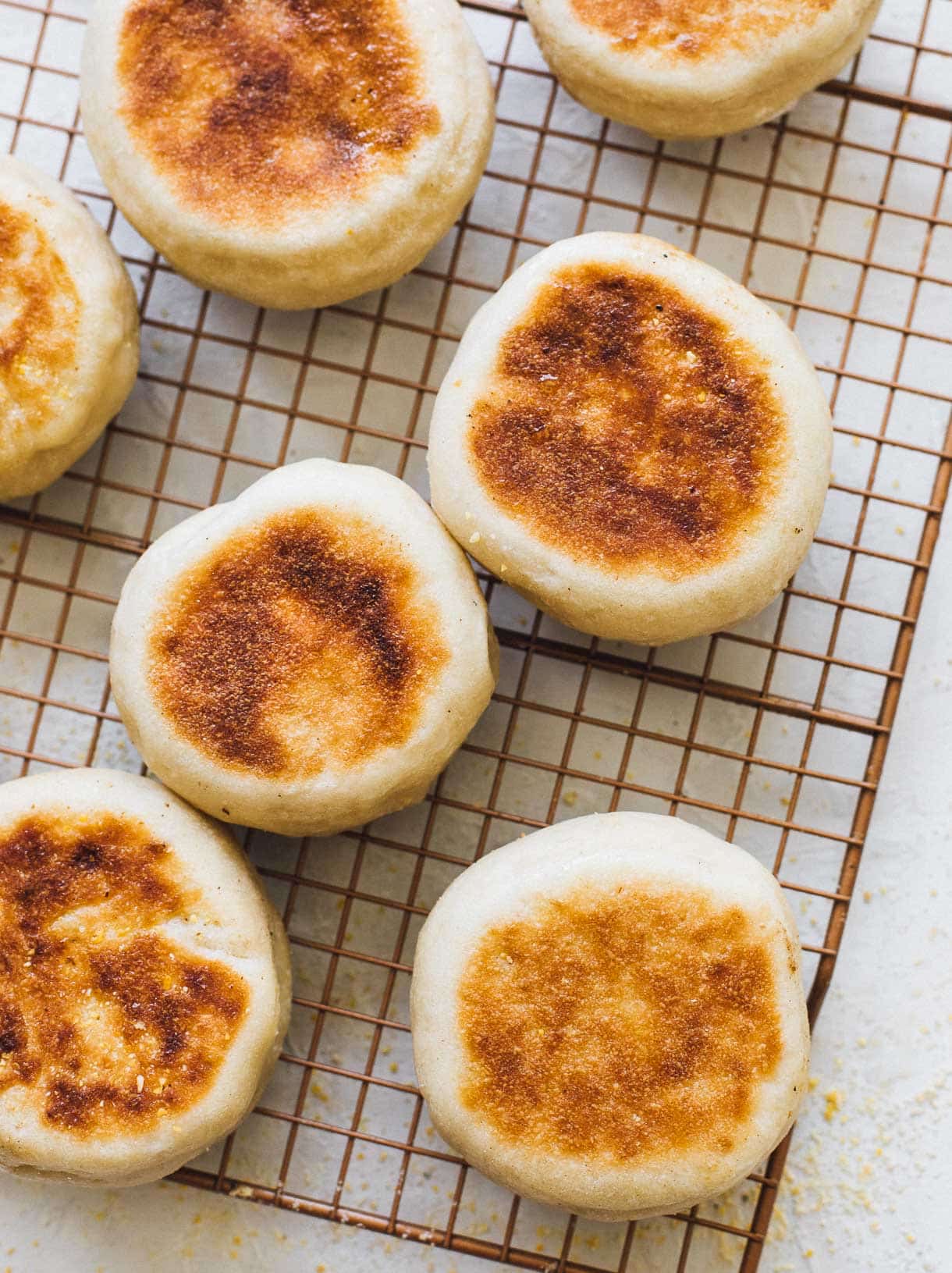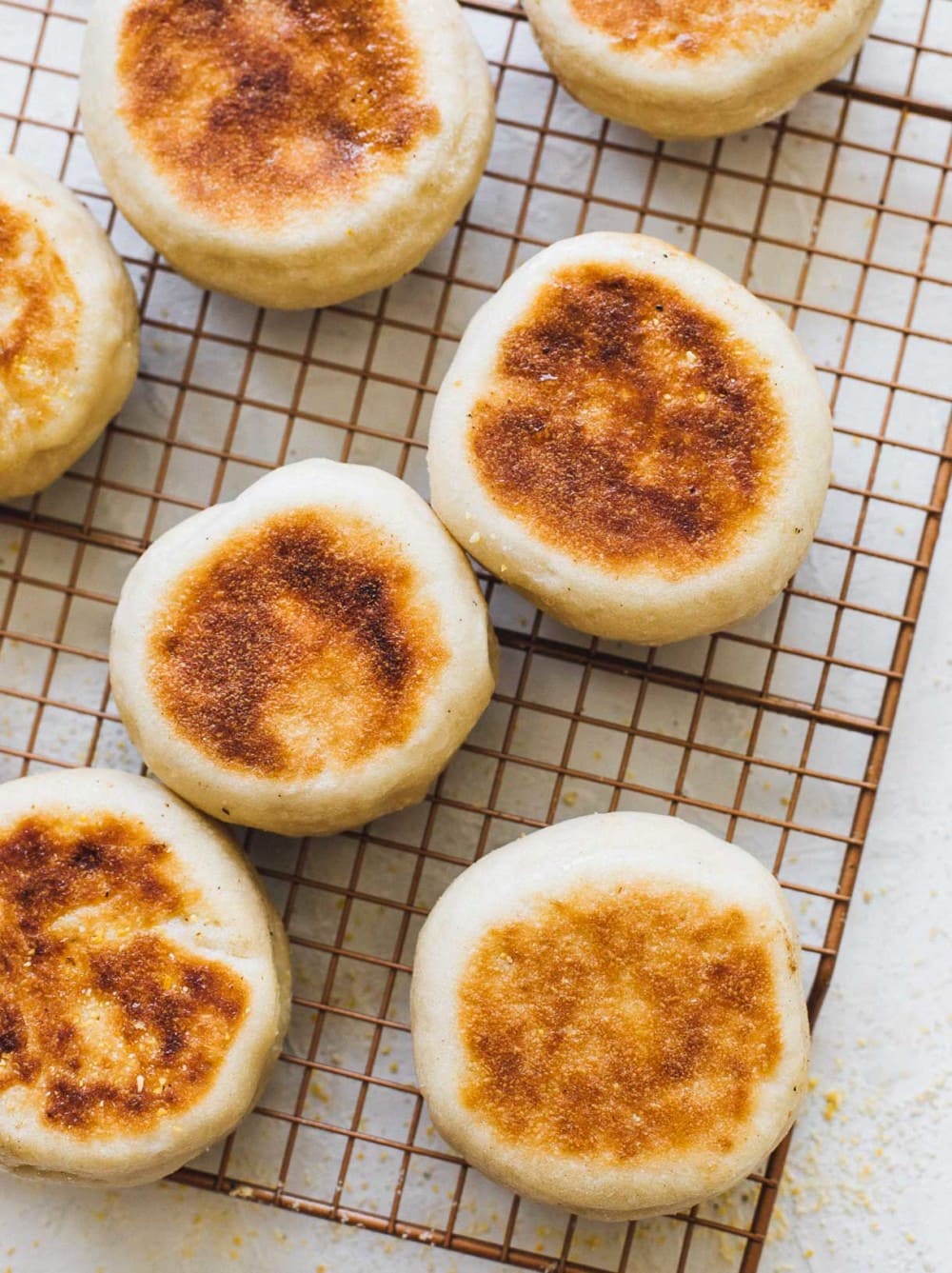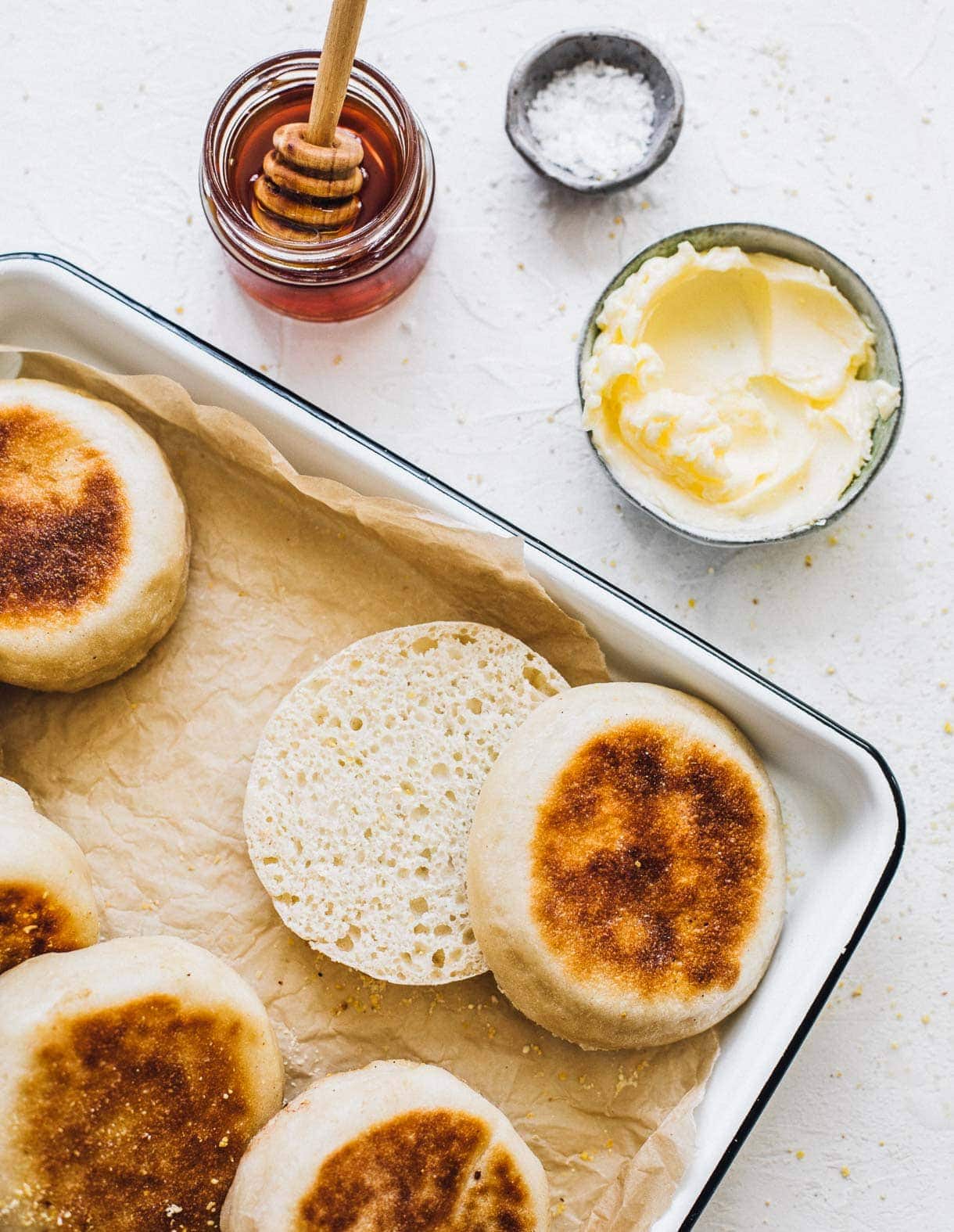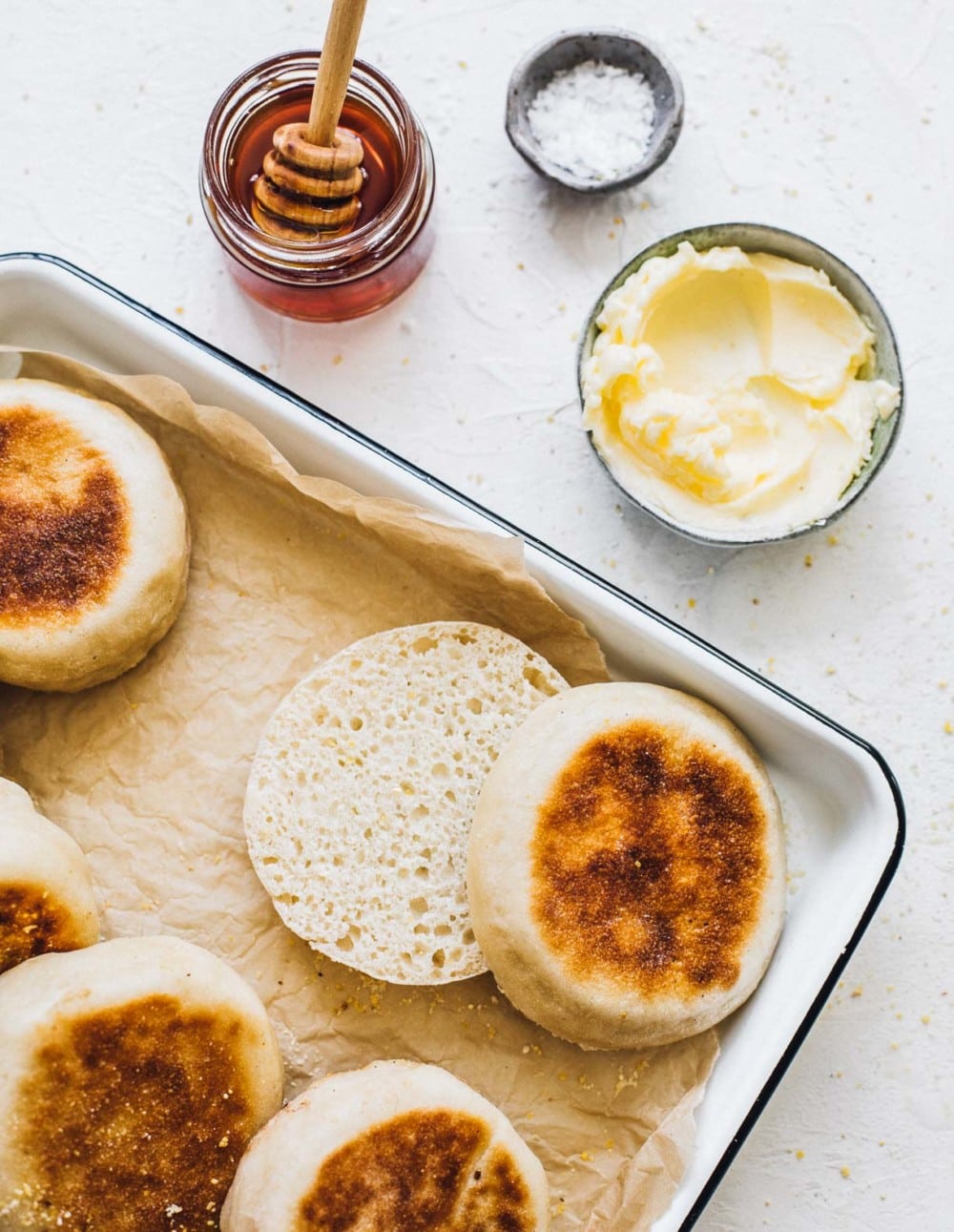 Can I freeze sourdough english muffins?
Yes, these freeze extremely well! I recommend slicing them first, wrap in foil, then a freezer safe bag.
Can sourdough english muffins be made vegan?
I haven't tested this, but my instinct is that using vegan butter and unsweetened soy milk would work well.
What can I use to cut out english muffins? Do I a need english muffin ring?
No english muffin ring needed! I use a flower vase, as I mentioned, or I've used a wide mouth glass jar. But if you don't have either of those, you can also find english muffin rings here, and get many years of use out of them!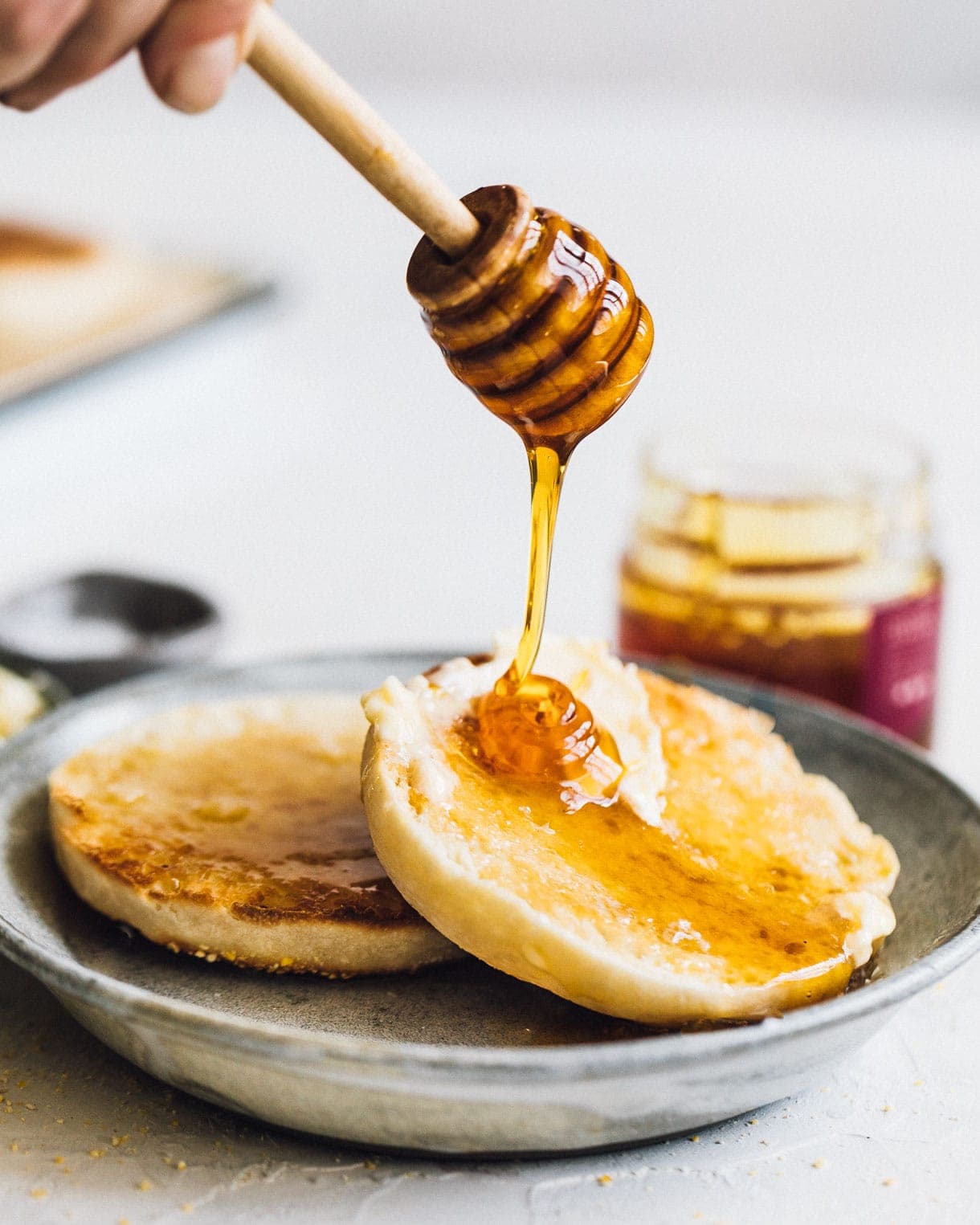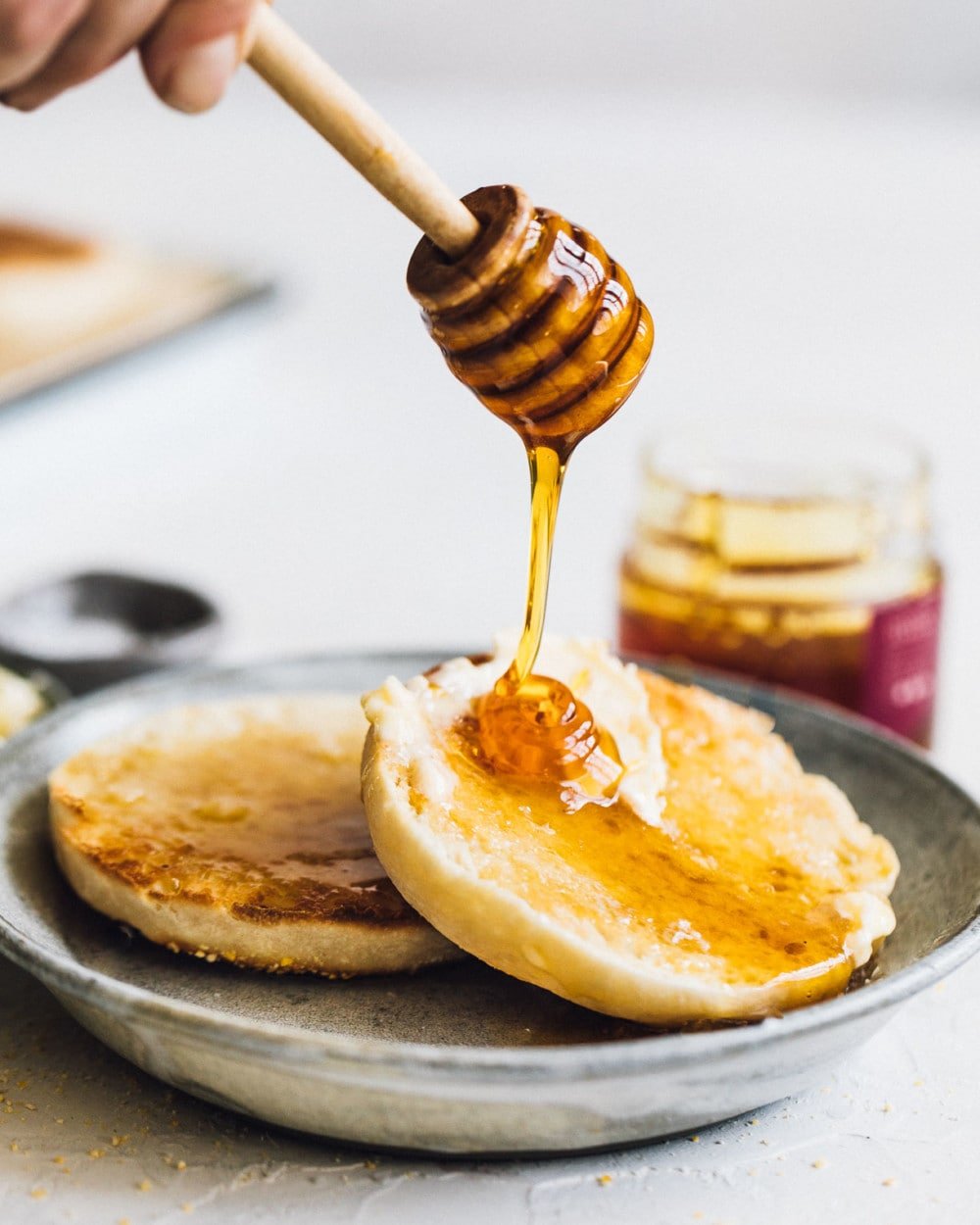 More Sourdough Recipes: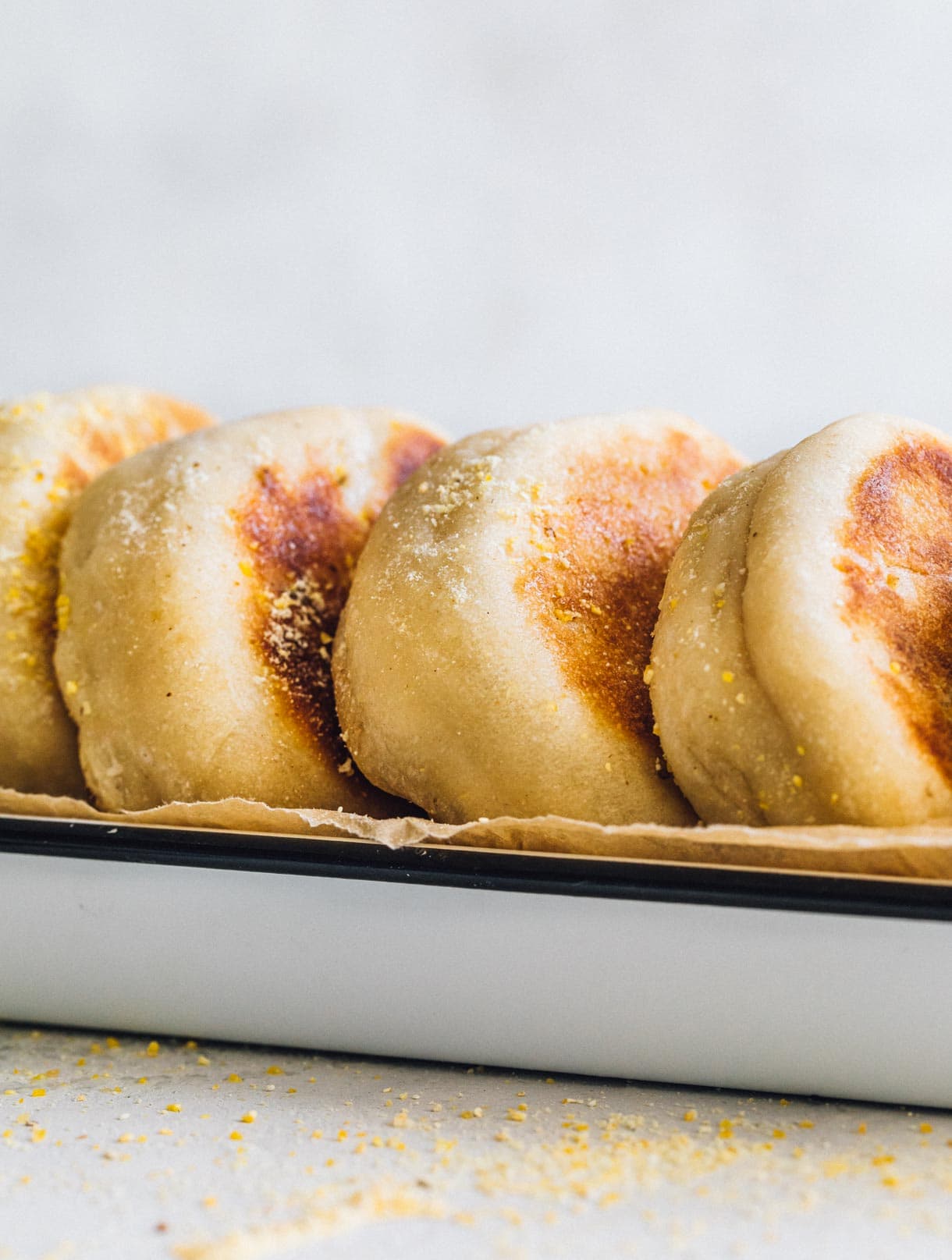 Yield:
10
english muffins
In the bowl of your stand mixer, add starter and sugar.

Add milk, water, and butter to a bowl. Microwave 40ish seconds, until butter is just melted. Let cool for 5 minutes, you don't want it to be too hot.

Add liquid mixture to bowl, and whisk with a fork to combine and disperse the starter.

Add flour and salt. Put dough hook on mixer, and start on low, speed 2 on kitchenaid mixer to incorporate flour, about one minute. Then turn to medium, speed 4 on a Kitchenaid, for 8 minutes. When finished, the dough will very wet. This is normal. Take a spatula and scrape the edges of the dough up onto itself, to round it out.

Let dough bulk ferment. This will take about 8-10 hours if your house is at 70 degrees. (So you could do this overnight while you sleep). Bulk ferment is complete when the dough has at least doubled, and is puffy and domed on the top. It should look pillowy and domed.

Dust your work surface with flour, and grab underneath the dough to take it out of the bowl and onto the surface. Let rest for 15 minutes. Pat into a 3/4 inch inch high circle or rectangle. Dust the top of muffins with flour, and a vase or glass mouth that is about 4 inches wide. Cut out circles, and move them onto a parchment lined baking sheet dusted with cornmeal. They will stick if you do not do this.

Cover pan with a very light towel, and let rise again for about 1 to 1 1/2 hours, until your english muffins are puffy. They will not rise a ton. It's the puffiness you're going for.

Heat griddle or cast iron skillet to about 350 degrees F. Add a knob of butter, and place the english muffins on the surface, with room between each other to allow for their growth. They'll now puff when they cook! Leave undisturbed, cooking english muffins for about 7 minutes on each side, until internal temperature reaches 200 degrees F.