Sourdough bread makes the absolute best bread pudding. This simple recipe is similar to a french toast casserole, with fresh mango and toasted pumpkin seeds baked right into it. For an easy bread pudding sauce, use melted vanilla ice cream!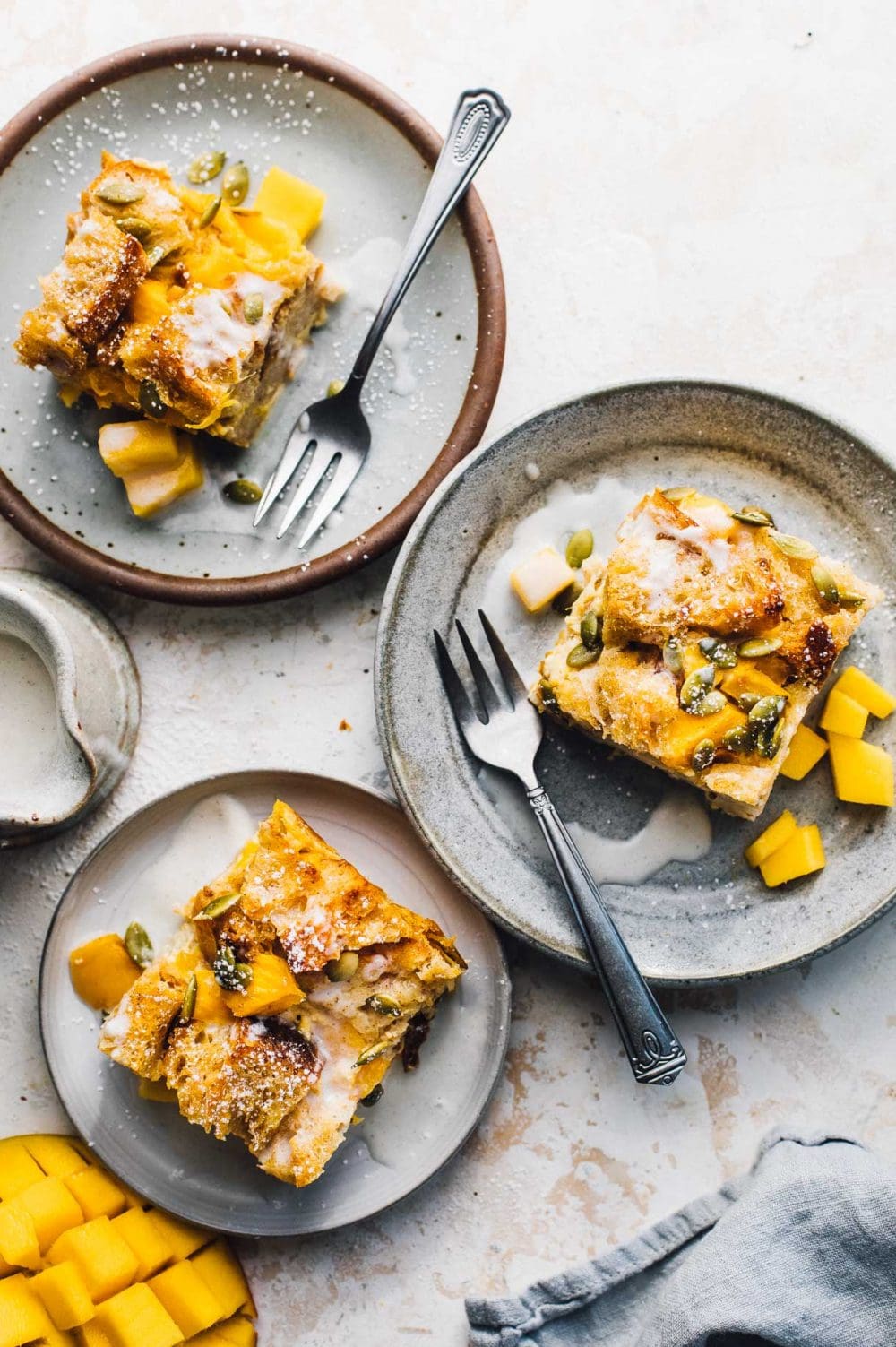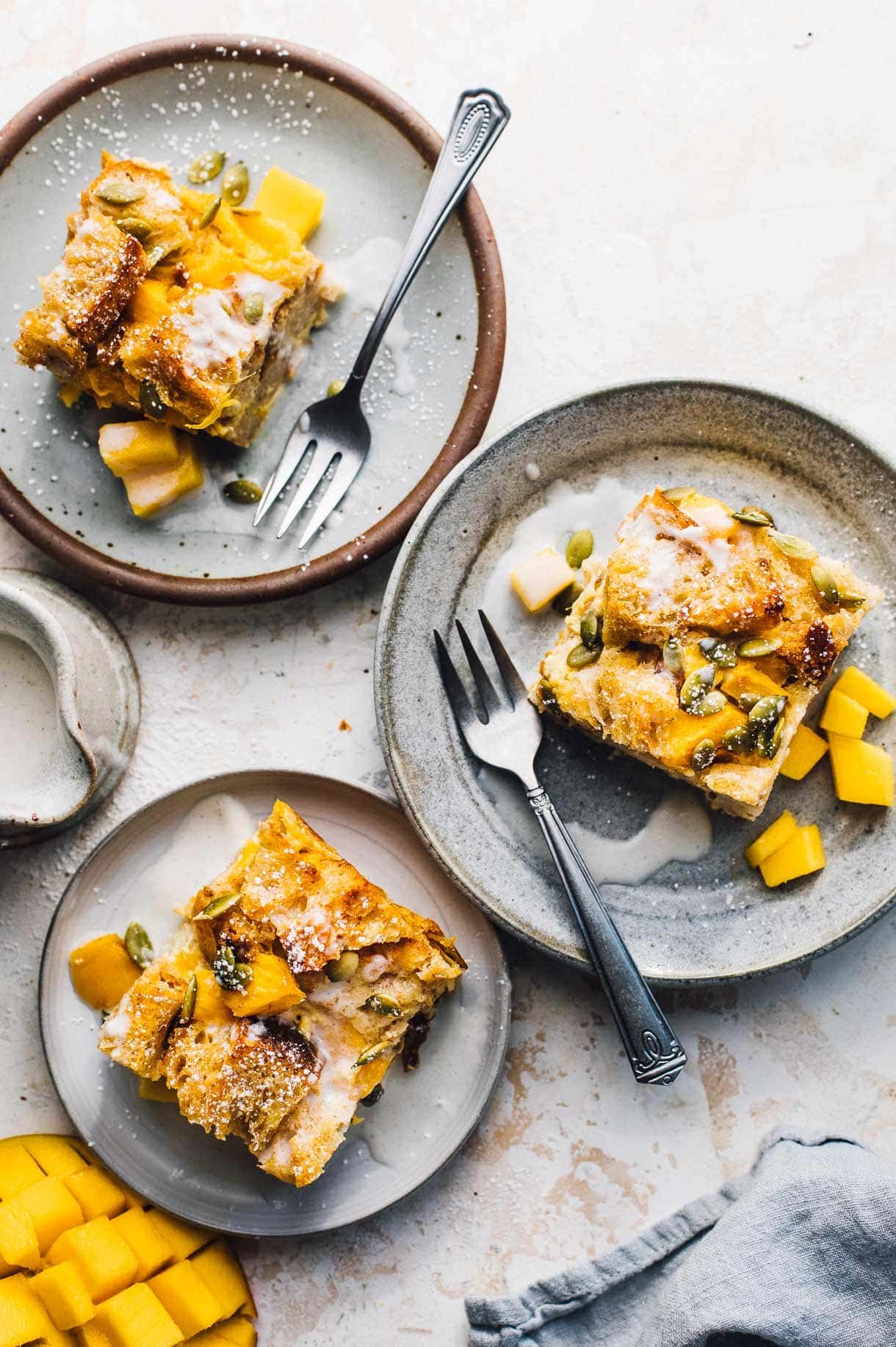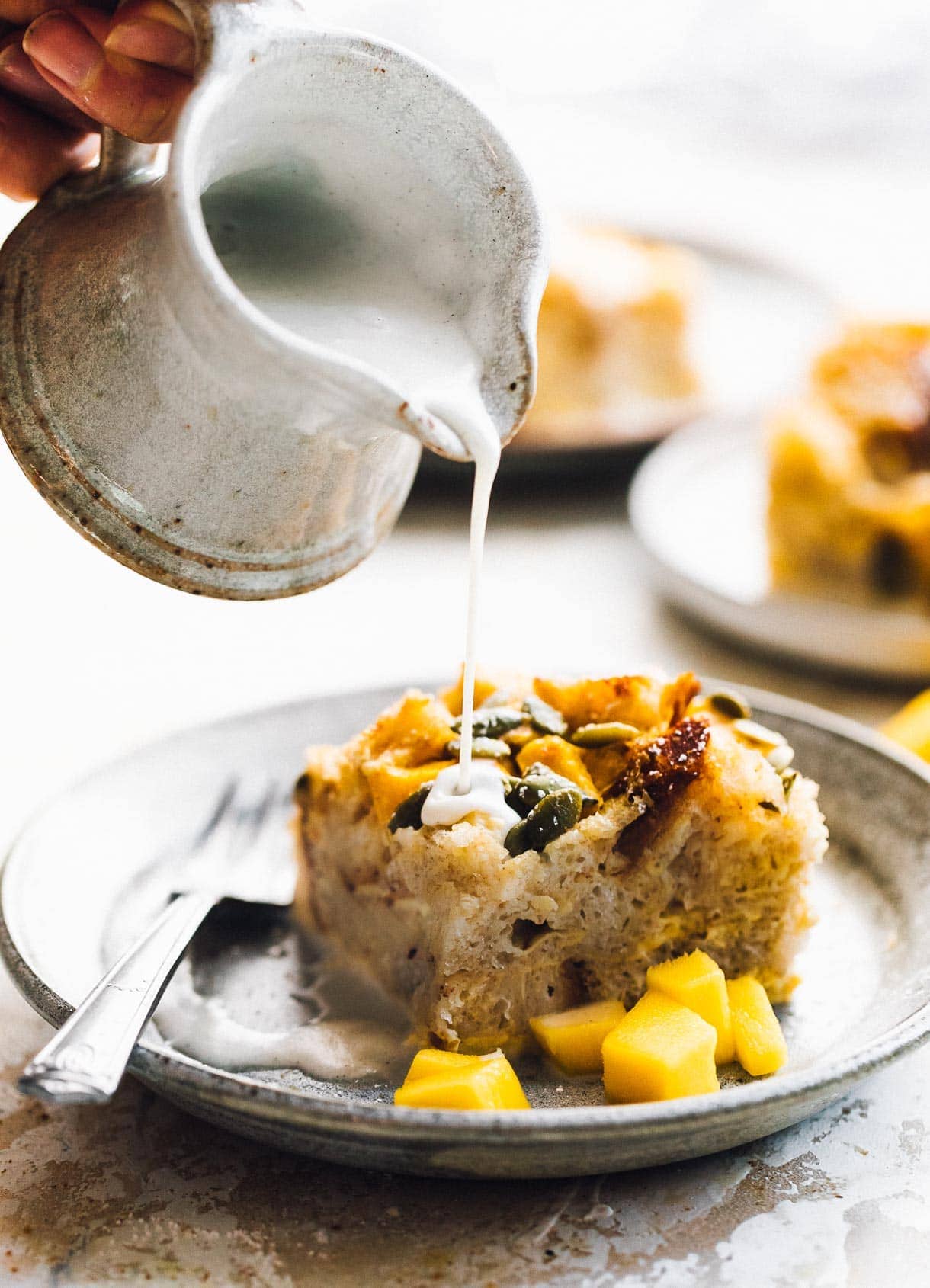 If you've judged by bread pudding by its awkward, unfortunate name – well, so have I.
Bread is for toast and sandwiches, and the word pudding belongs after the word chocolate, right?

I thought so too. Until I worked on this recipe.
What if I told you that bread pudding is actually a delicious, custard baked French Toast, that becomes dessert when you add mangos, toasted pepitas (unshelled pumpkin seeds), and vanilla cream?
Have I peaked your interest? Because I'm so down with THAT description.
Homemade sourdough bread makes the best bread pudding.
Why? Because of its structure. It will soften and absorb the custard without turning soggy. Leaving the crust on the cubes also ensures a contrasting texture to the cushion of the bread. It's the perfect way to use up a loaf that you just didn't finish while it was at peak freshness.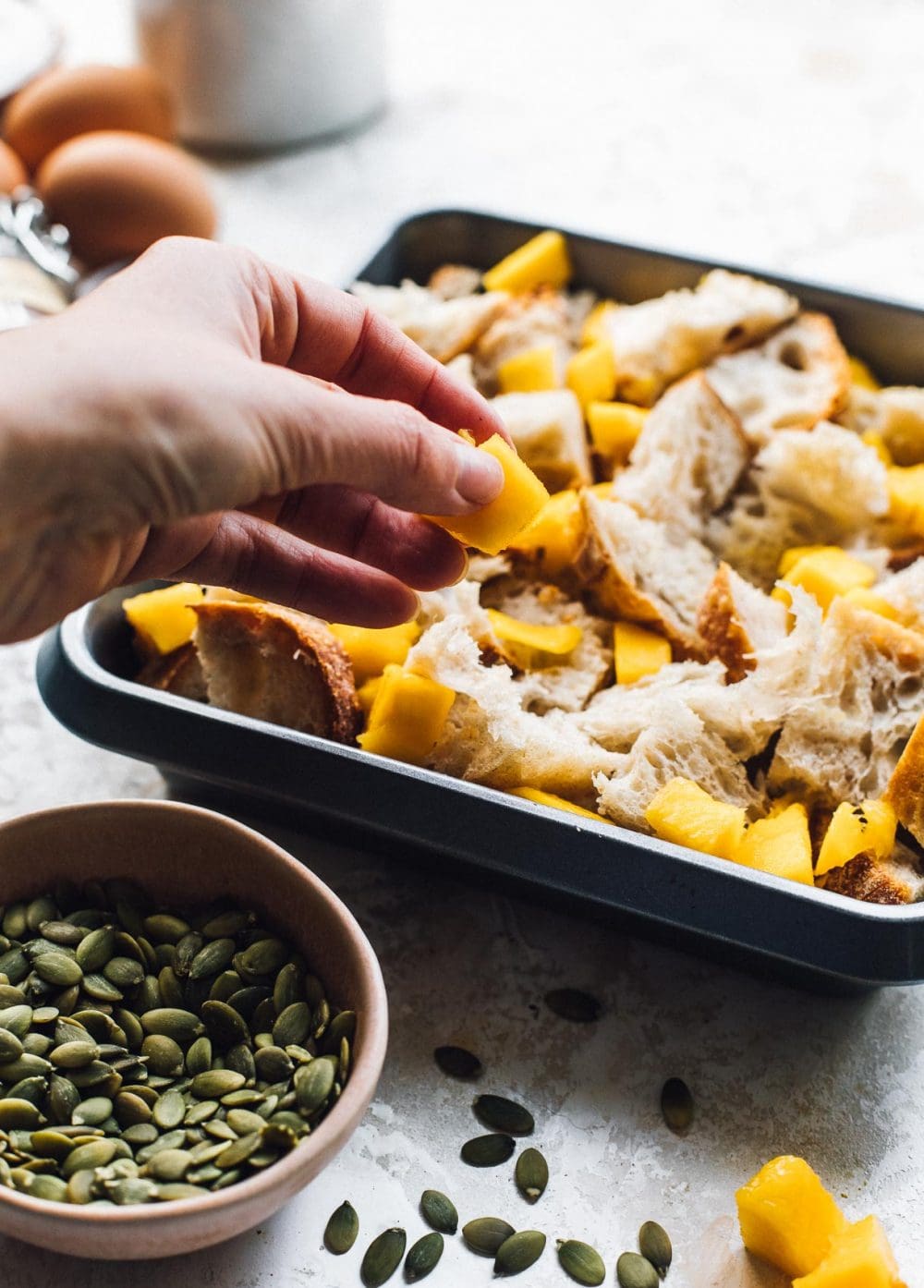 Bread Pudding with Mangos
For this recipe, I used a Tommy Atkins mango, which has a citrusy, tropical aroma. It's tart and sweet, with a firm flesh. A dark red blush often covers much of the fruit with green and orange-yellow accents. But you can use any variety of mango and it would be just as delicious, because thanks to staggered growing seasons, mangos are available fresh year-round!
To ensure your mango is ripe, you can test it by giving it a little squeeze, at which point it should give lightly. It should also give off a slightly sweet smell near the stem. Each mango variety has a slightly different color with spots of green or red, so do not use color as a guide to determine ripeness.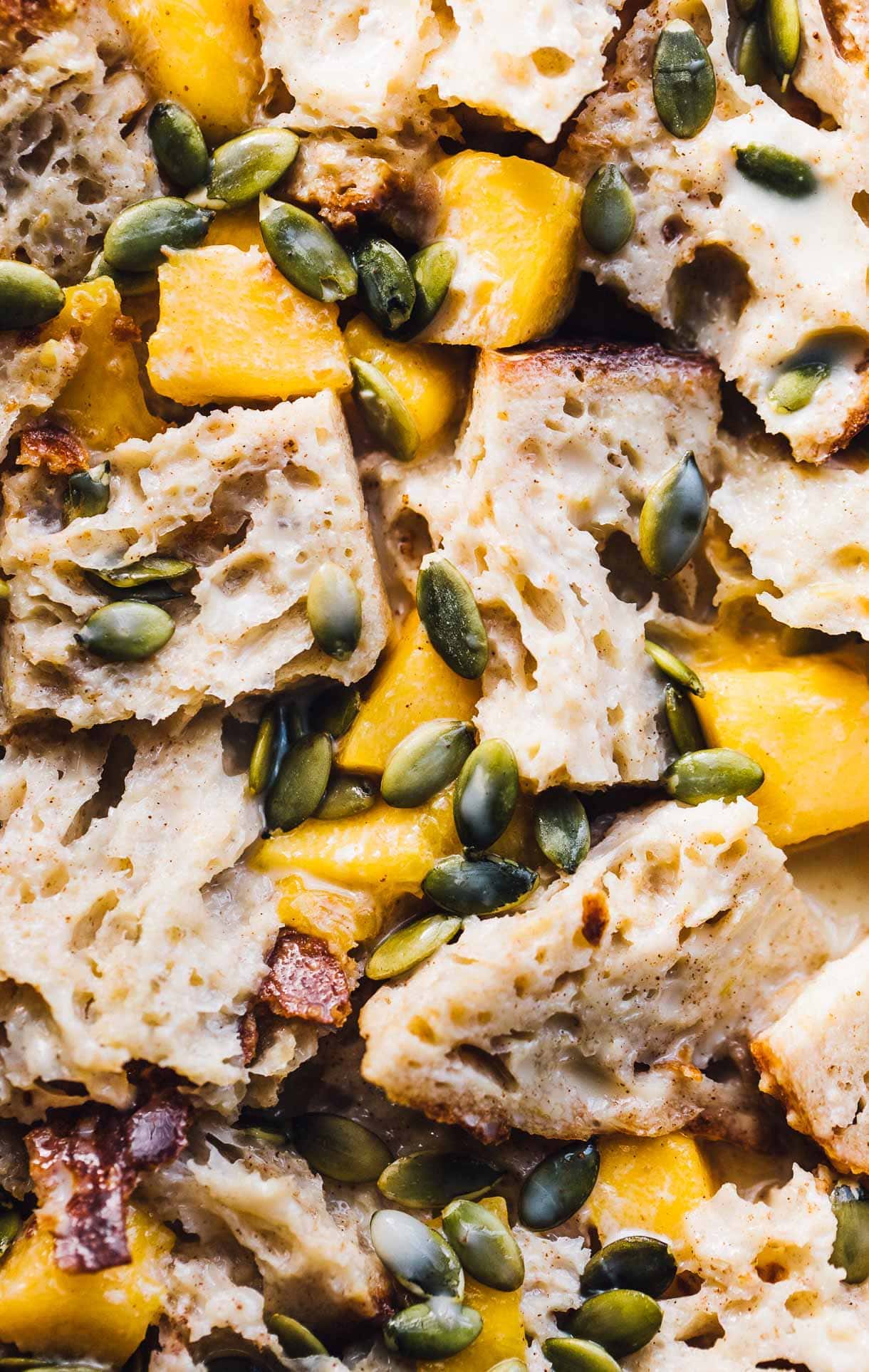 To make sourdough bread pudding:
Start by cutting some sourdough bread into (1/2 to 1-inch) slices. You'll need 11 ounces (300 grams) of bread. Halve two of the slices, and cube the others into roughly 1/2 to 1 inch cubes.
Make the custard – In a saucepan, whisk together milk, sugar, cream, cinnamon, vanilla, and salt. Heat this until it is steaming, but not simmering.
Whisk into your eggs, slowly.
Pour over the bread cubes in the baking pan, and gently press down to submerge all pieces. Let sit for 30 minutes.
Add cubed mango and pepitas to the top of pudding, and bake!
Bread pudding tip: If you want to make this and only have fresh bread, toast the bread first. Warm your oven to 200 degrees F and bake the cubed bread on a sheet pan, until the cubes are dry to the touch but still pale-colored. Proceed with the recipe as usual.
And there are NO raisins in this bread pudding. ☺️ Just juicy, fresh mango and toasted pepitas that are an amazing combination. In each bite, you'll taste creamy vanilla custard, sweet/tart mango, and nutty seeds. What's not to love?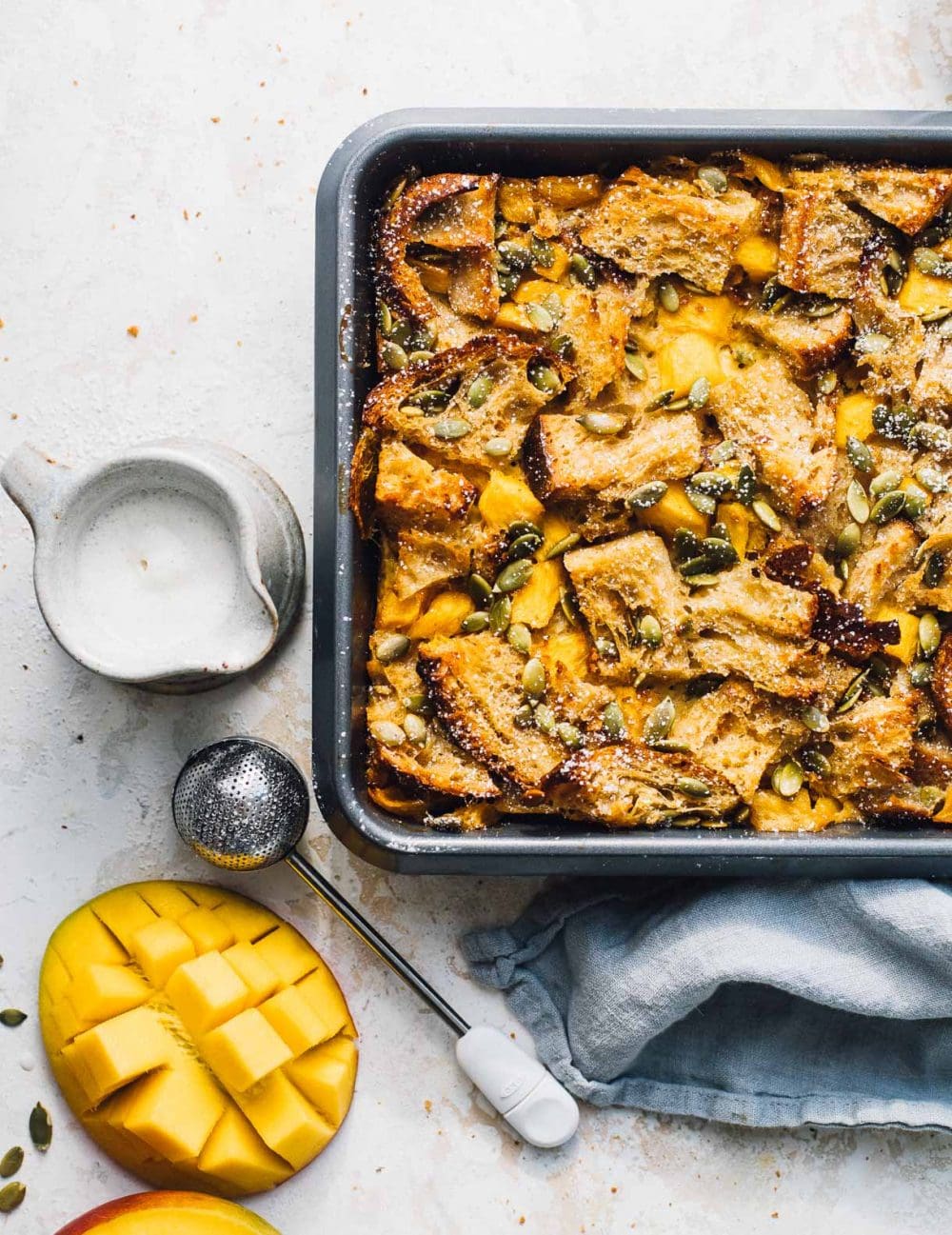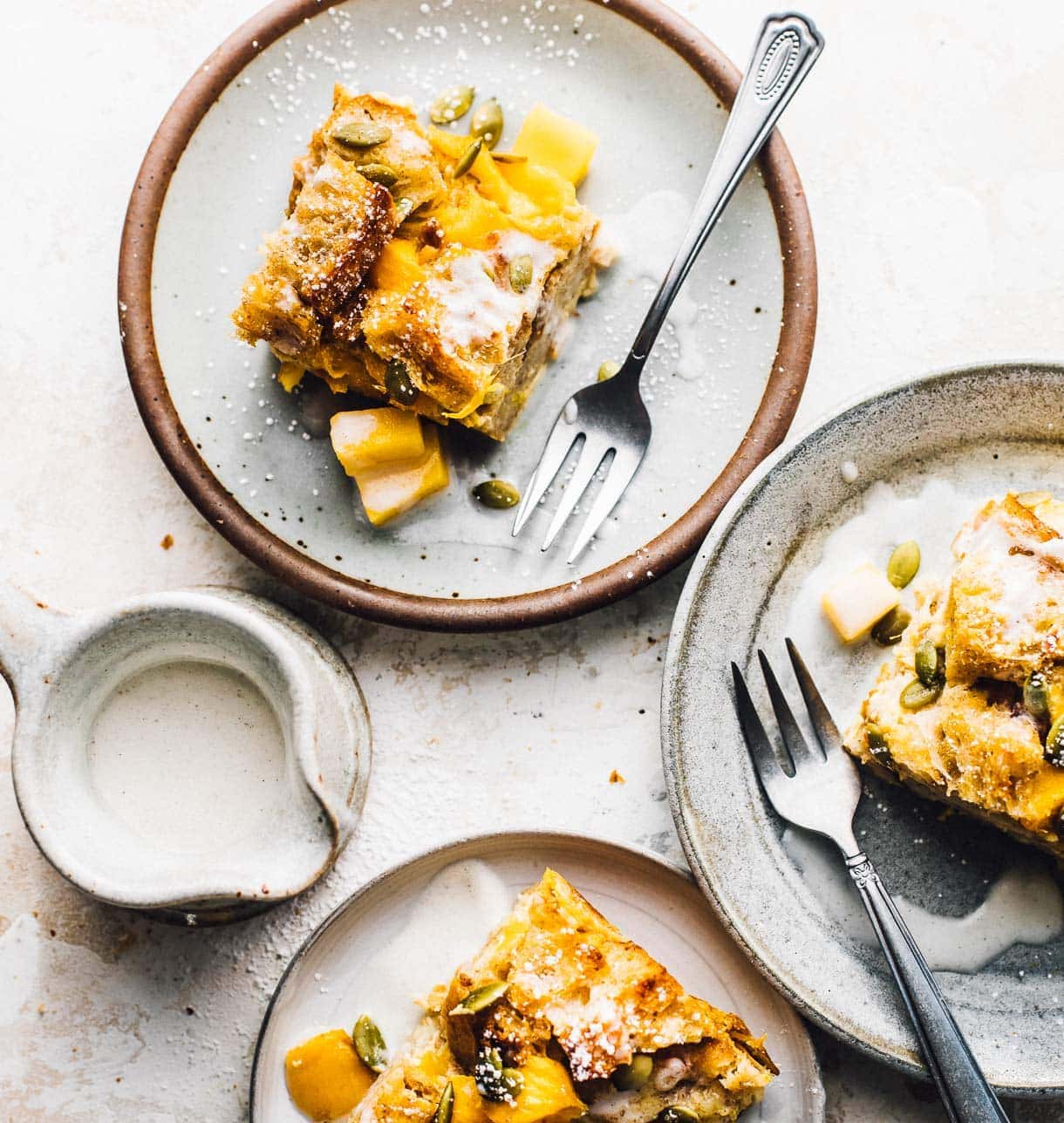 The Easiest Bread Pudding Sauce, EVER
You'll probably seen bread pudding served with crème anglaise, a difficult to make vanilla sauce with milk, cream, and eggs.
Well, Ina Garten found a way to make crème anglaise without lifting a finger. Just melt vanilla ice cream! That's it. Absolutely it.
"Vanilla ice cream is essentially crème anglaise that's been frozen," she writes in one of her cookbooks. "I reverse the process by melting it, and end up with crème anglaise!"
It's absolutely perfect. And drizzling it over this sourdough bread pudding seals the deal.
More Sweet Sourdough Recipes:
11

ounces

(300 grams) sourdough bread, that is a day or two old, cut into 1/2 inch to 1 inch slices*

3

large eggs,

room temperature

2

cups

whole or 2% milk

1/2

cup

heavy cream

1/3

cup

+ 1 tablespoon cane sugar

1/2

teaspoon

ground cinnamon

1/4

teaspoon

ground cardamom

1/2

teaspoon

sea salt

2

teaspoons

pure vanilla extract

1

mango

cut into 1/2 inch cubes

1/4

cup

raw unshelled pumpkin seeds

3/4

cup

vanilla ice cream,

melted
Grease an 8×8 inch baking pan.

Take two slices of bread and cut them in quarters. Make a bottom layer from these pieces, in your pan. Cube the rest of the bread into 1/2 inch to 1 inch pieces and fill the pan evenly.

Whisk eggs in a large bowl. Set aside.

Add milk, cream, sugar, cinnamon, cardamom, and salt to a medium saucepan. Stir over medium heat, until mixture is steaming. When you see tiny bubbles around the very edges of pan, pull it off the heat. You don't want to get it too hot. Add vanilla once off heat.

Whisk this mixture into eggs, in a slow stream, whisking the entire time, until all is added.

Pour over bread and lightly smoosh down to submerge all pieces, getting a nice even consistency. Let sit for 30 minutes. Add mango and pumpkin seeds to top of pudding, nestling mango in slightly.

Bake at 350 degrees F for 40-45 minutes, until top is golden brown and there is no runny egg mixture left. It can still be a bit wiggly in the middle, but shouldn't see runny custard. Remove from oven and let cool for 30 minutes.

Cut into squares. Then melt vanilla ice cream and use it as sauce while serving.
*f you want to make this and only have fresh bread, toast the bread first. Warm your oven to 200 degrees F and bake the cubed bread on a sheet pan, until the cubes are dry to the touch but still pale-colored. Proceed with the recipe as usual
*Bread pudding is best served right away after it's finished baking. However, leftovers can be kept for up to five days refrigerated and can be reheated in the microwave.