Learn how to make incredible sourdough bread with just all-purpose flour and your starter! The rise is that of any loaf made with bread flour, and the crumb is super fluffy, the crust crisp and flaky.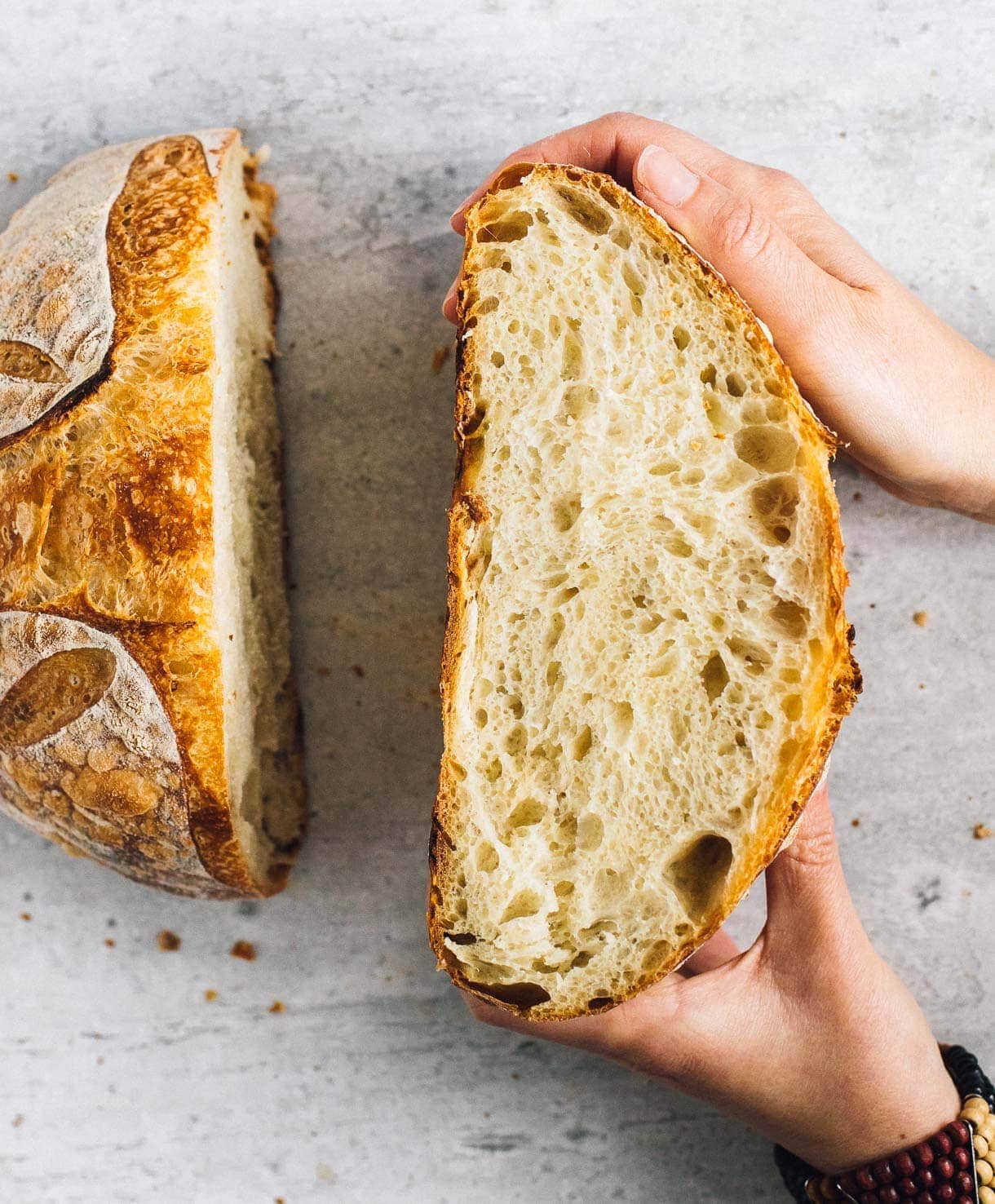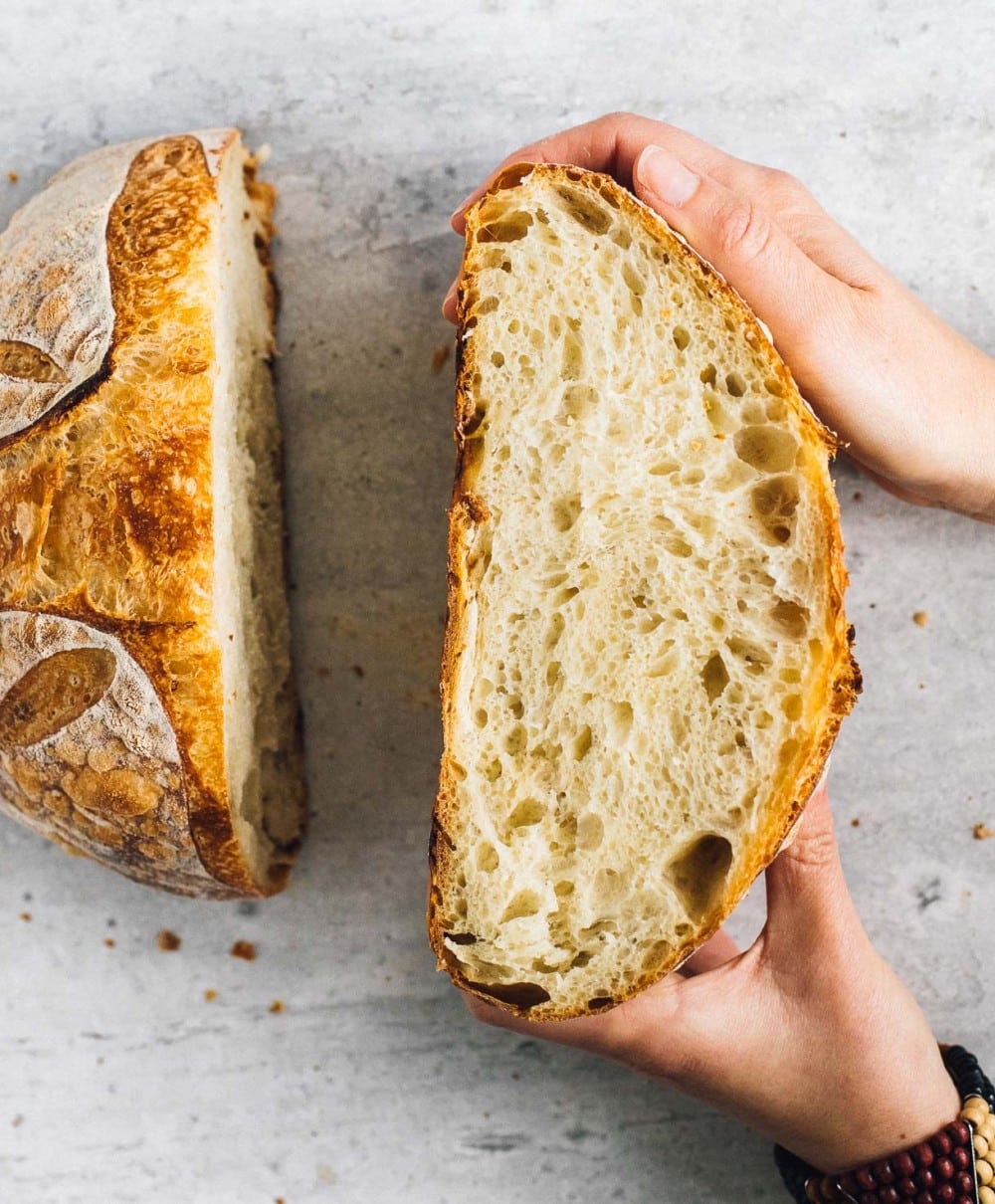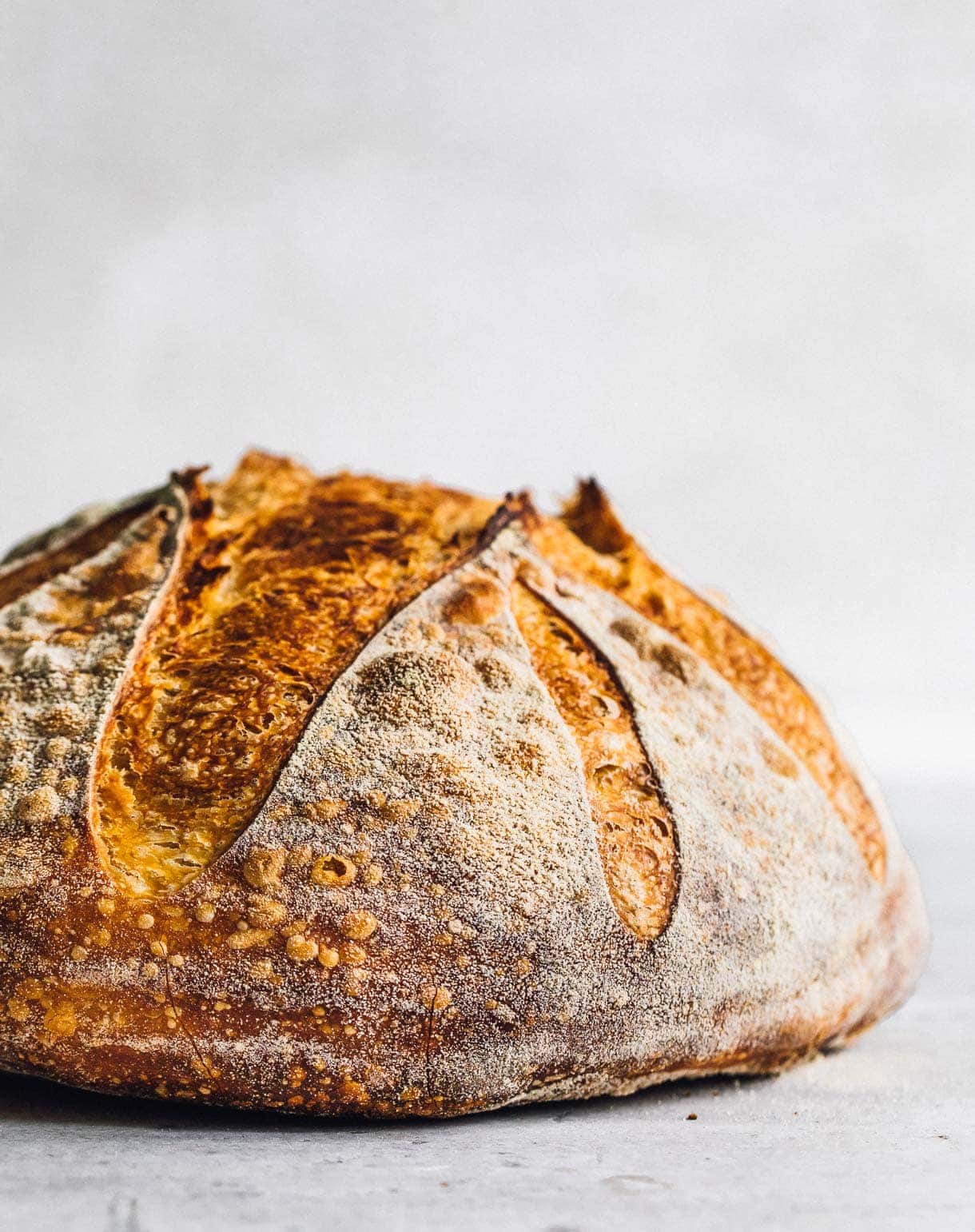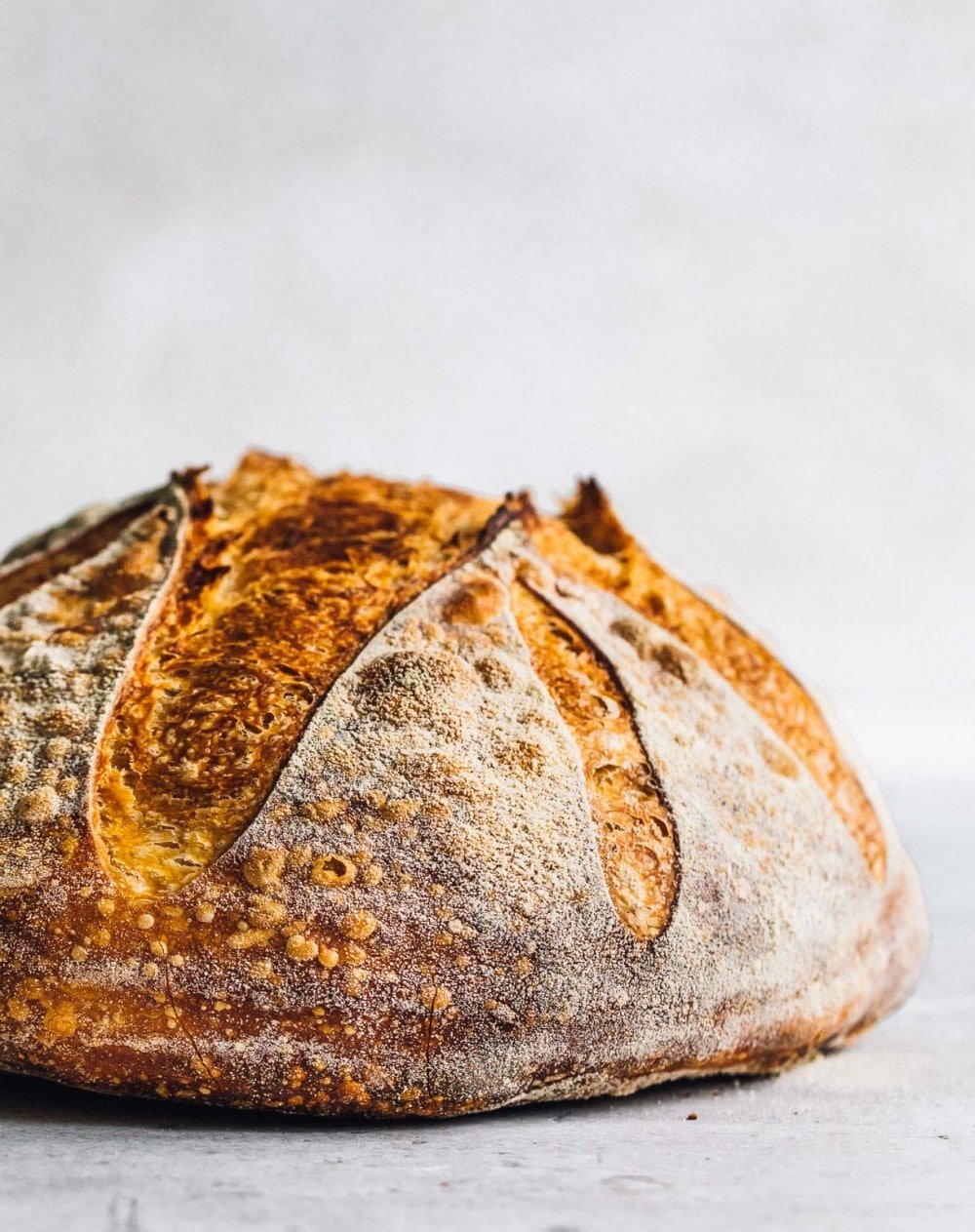 If you want to start your own sourdough journey, you can BUY MY SOURDOUGH STARTER HERE! – and I will ship it you in the mail, with instructions for feeding and maintaining it so you can bake all the amazing bread you dream of. Cost is $12.
---
We're all trying to bake sourdough right now, but finding bread flour right now is almost impossible! Unless you have access to a local mill.
Many of you told me that you've had to use all-purpose flour for sourdough recipes, because that's all you can find, but the results have not been great. Which makes sense, because all-purpose flour and bread flour are not interchangeable.
All-purpose flour has a lower protein percentage than bread flour (AP usually around 11.8% and bread flour around 13.2%), simply meaning it's NOT as strong. So your loaves have fallen flatter than you'd like, and don't have the oven spring you're used to.
This led me to testing different methods, hydration levels, and brands of flours over the last few weeks, to develop a simple sourdough bread recipe for you, that uses 100% all-purpose flour.
And she's here.
The rise of this all-purpose flour sourdough bread is superb.
The crumb is so light and airy. Like pull apart, fluffy.
And the crust is crackly thin.
There's just a bit of tangy flavor at the end, which I appreciate.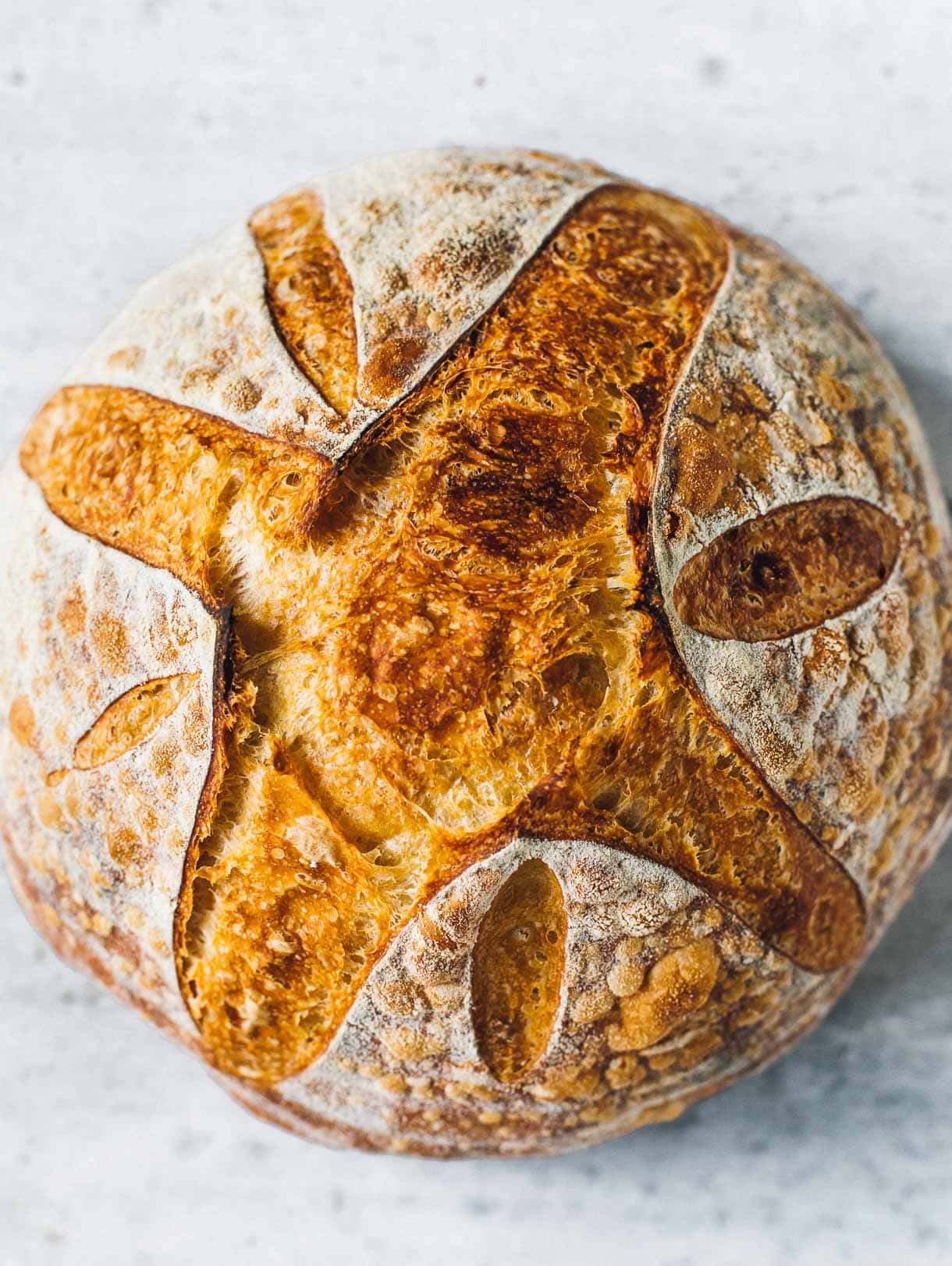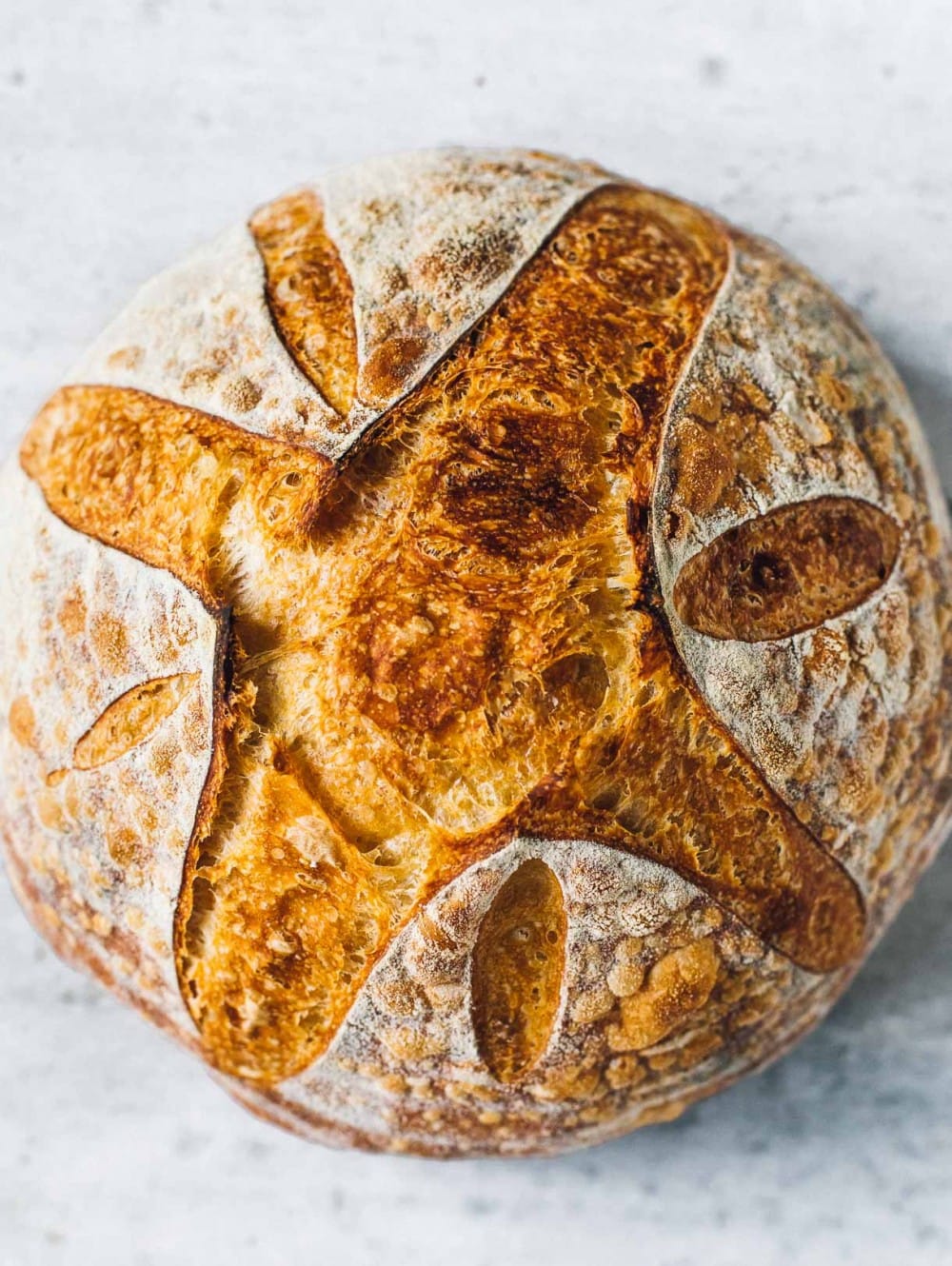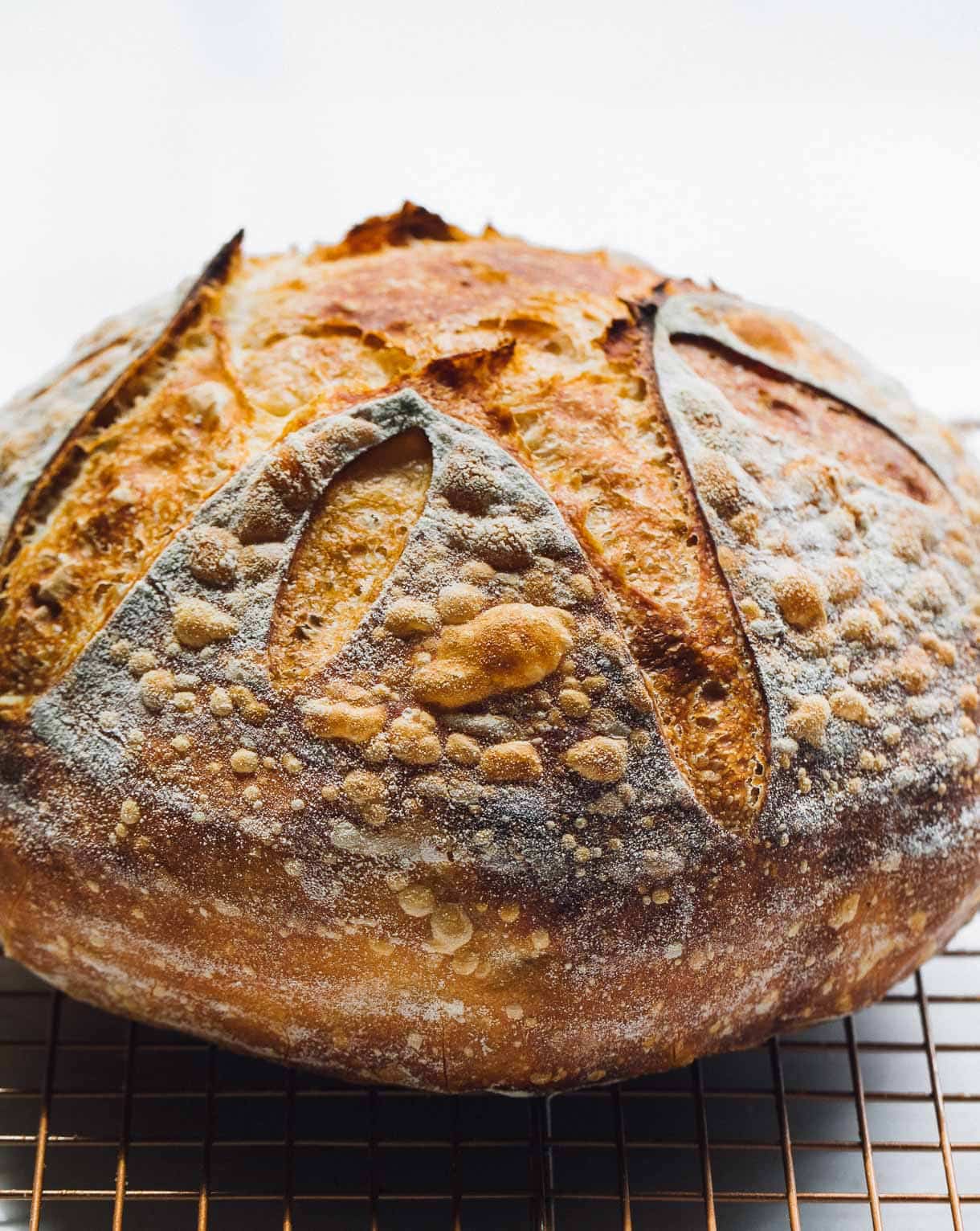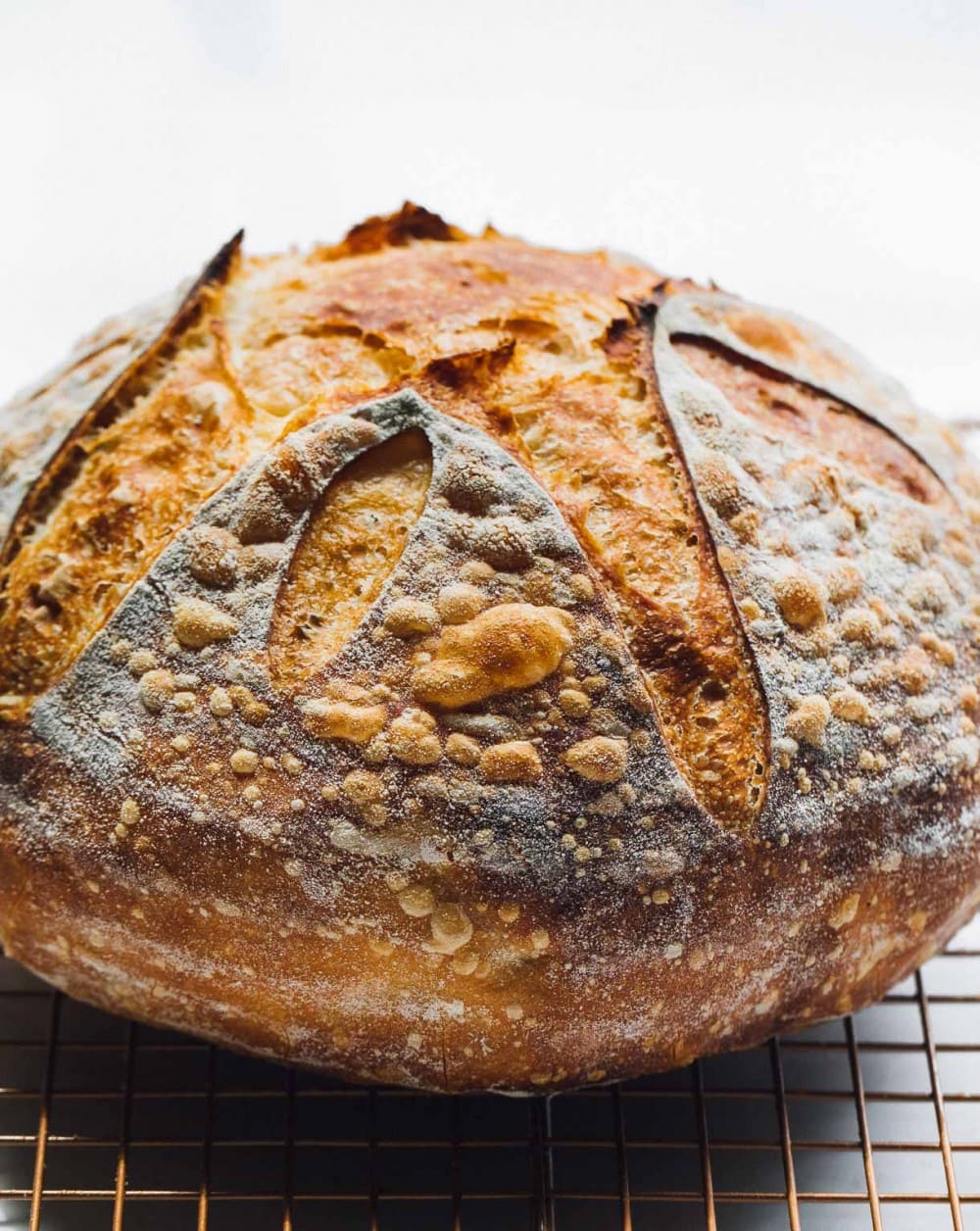 How to Make Sourdough Bread with All-Purpose Flour
First let's look at technique:
The method for this all-purpose flour loaf is slightly different from my Everyday Sourdough Bread recipe.
The autolyse, the rest period right after mixing is 1 hour long, rather than 30 minutes. This allows for the AP flour to be properly hydrated, as it slower to absorb water compared to bread flour.
After the autolyse, you'll knead the bread for about 1 minute 15 seconds, to effectively develop the gluten, leading to a stronger dough. I kind of squish the dough in between my hands, and push it against the bowl. You'll notice it start to relax and be easier to work with around the 1 minute work.
This stands in for your first stretch and fold, which you'll then complete 3 normal rounds of stretch and folds from that point.
The other thing that differs is executing a pre-shape before fully shaping. I like to use my bench knife to pull the dough up over itself a few time, into an imperfect circle. After a 15 minute rest her, you'll proceed with normal shaping.
What about hydration level?

With a lower protein percentage in the flour, using the right amount of water is critical for success. If you use the same amount of water that a recipe for bread flour calls for, the dough will be extremely wet and sticky, because it cannot absorb water the same way.
I played with different amounts of water, and really found the sweet spot to be between 275 and 290 grams water to 400 grams flour, depending on the brand of flour you're using.
Brands of All-Purpose Flour tested:
If you look at the nutrition label of the unbleached all-purpose flour you have on hand, you'll notice that the ingredient list is either:
Hard Wheat Flour (Bob's Red Mill organic all-purpose flour)
or
Hard Wheat Flour PLUS, Malted Barley Flour. And if enriched, will have Niacin (vitamin B3), Reduced Iron, Thiamin Mononitrate (vitamin B1), Riboflavin (vitamin B2), Folic Acid) added. King Arthur unbleached all-purpose flour, Trader Joe's unbleached all-purpose flour, Gold Medal unbleached all-purpose are hard wheat flour + malted barley flour types.
The vitamins/minerals are added to "enrich" the flour with nutrients. They do not affect the bread's outcome. The really important ingredient that just change the outcome is Malted Barley Flour.
Malted barley flour aids in a more golden brown end result, and because of its lower gluten, it causes the dough to be softer, more relaxed and gives a softer crumb texture.