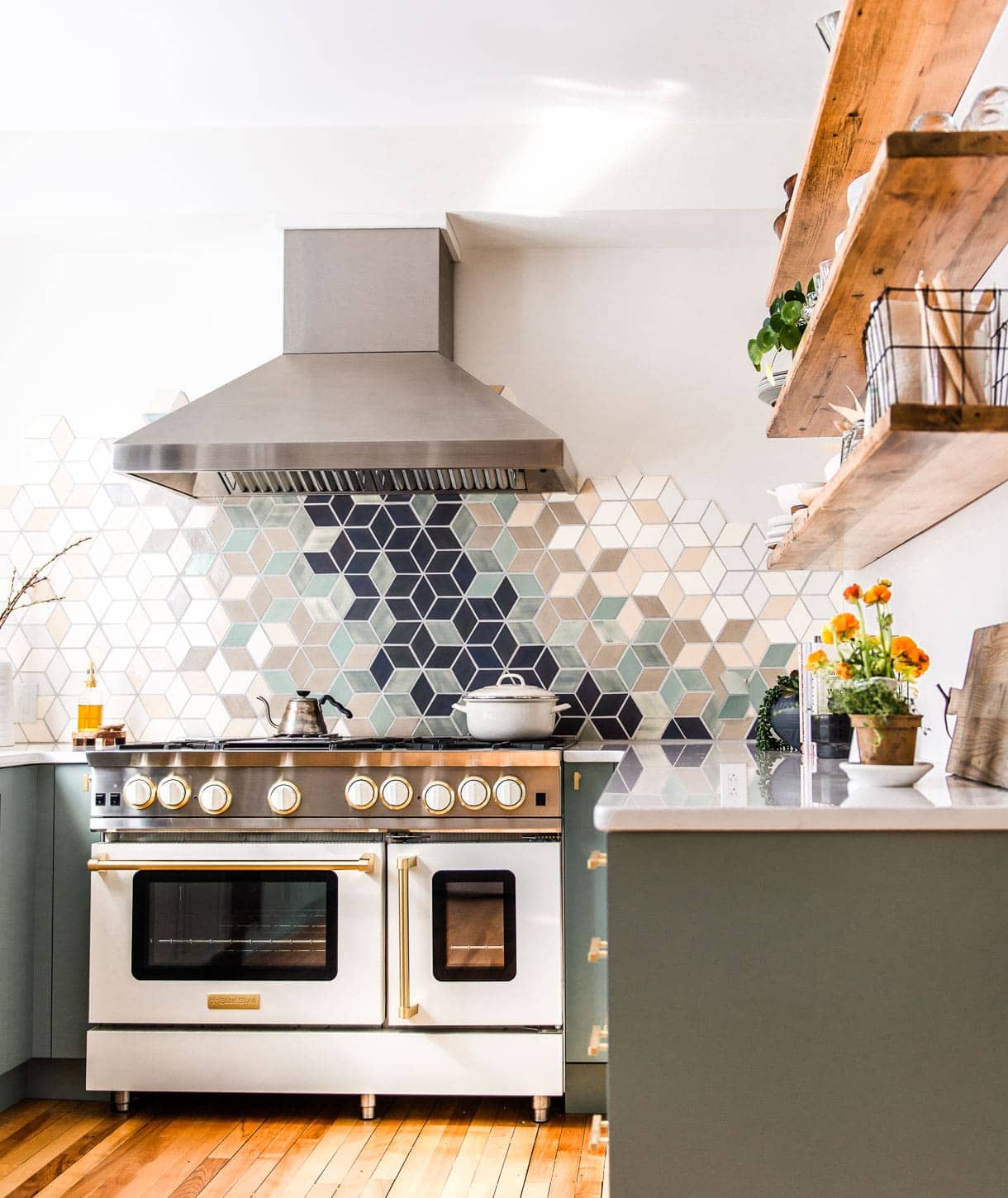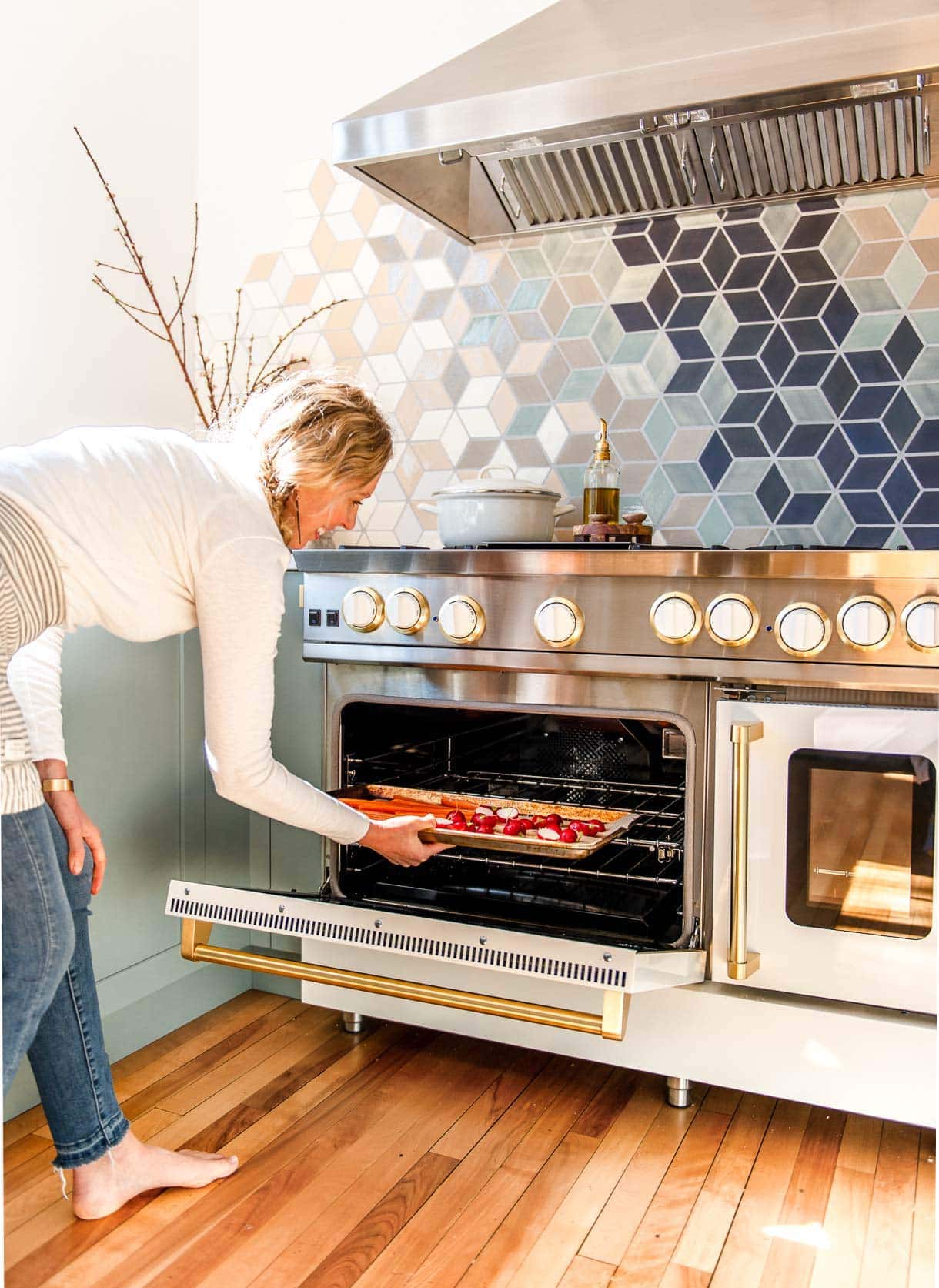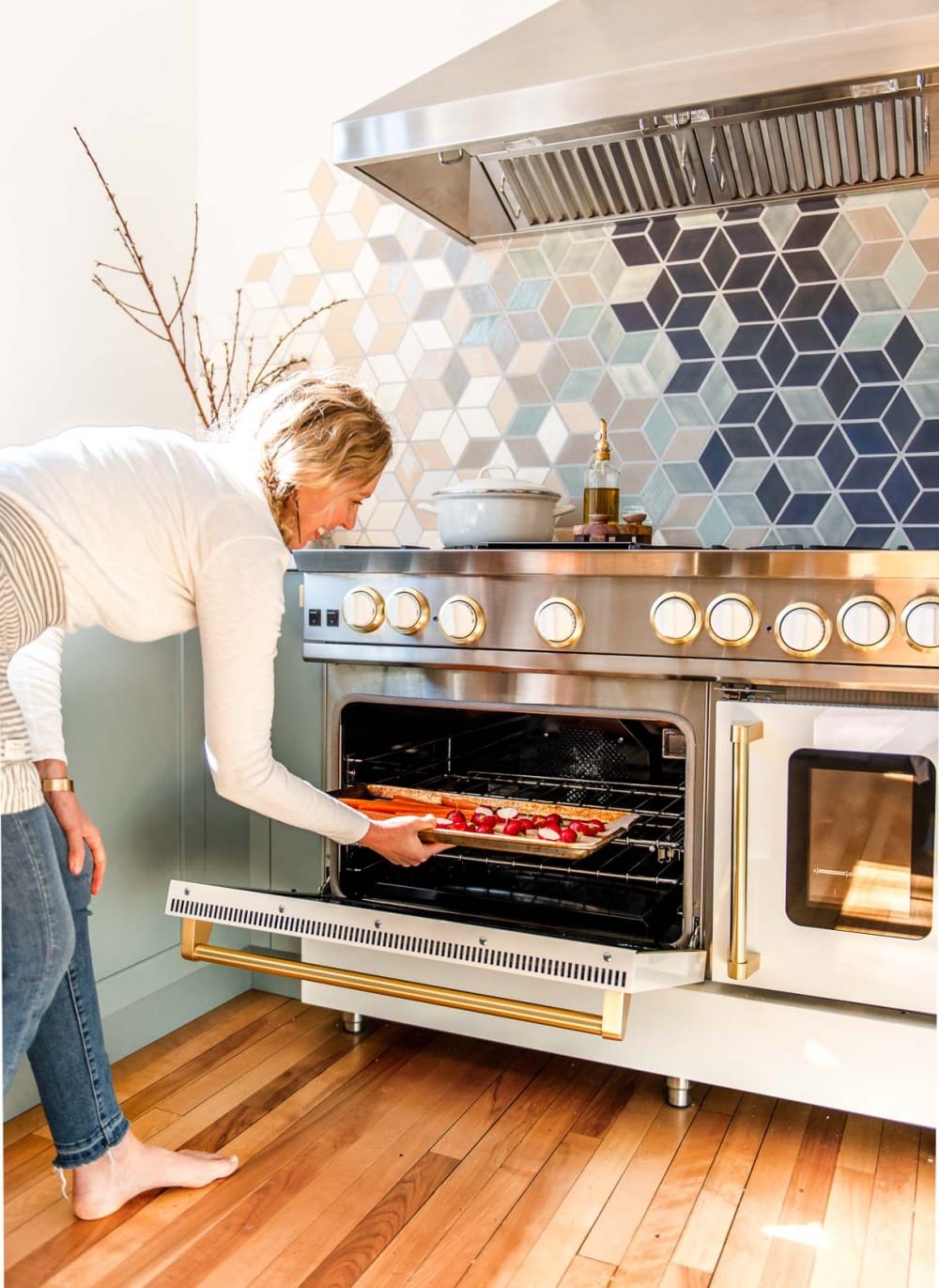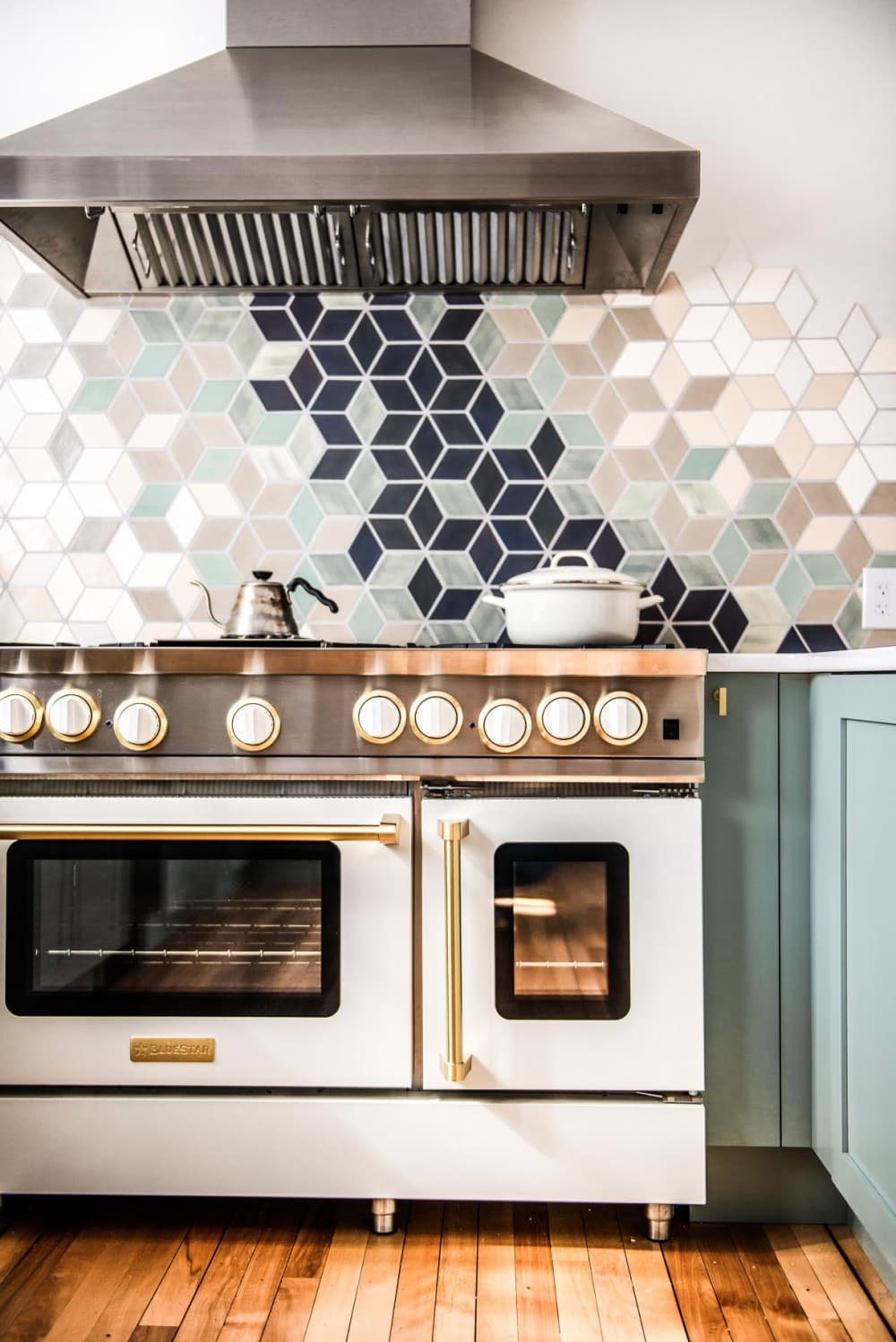 When we began envisioning what our dream kitchen would look like, my biggest desire was to have a beautiful white range as the focal point. One that catches your eye from the minute you walk in. Gold knobs. European inspired. Incredible cooking precision.
It was something I'd thought about for years, an element I was always drawn to when spending way too much time pursing Pinterest for kitchen inspiration.
But I wasn't sure we'd be able to make it happen. Our budget was prioritized for the structural changes first, and then the design element.
I wondered if there was a way my recipe development skills, brand, and passion for creating inspiration food content, could translate into making my range dreams come true. So I pursued a partnership with Blue Star, known for their commercial ranges that can be fully customized (over 750 different colors to chose from!), and I'm incredibly grateful to say that it came to fruition. Over the next two years, I'll be developing content for Heartbeet Kitchen and Blue Star, and I can't wait for you to take a peak behind the scenes of every day cooking in my renovated kitchen.
I'm now cooking on this 48 inch Blue Star RNB Series Gas Range with Griddle, and finished with a 48 inch Blue Star Pyramid Style Hood, handmade in Pennsylvania. And all my dreams have officially come true.
When working on the layout of the kitchen, the 48 inch my mind, was perfect, with 6 burners and two ovens. Convincing Brian to go away from a standard 30 inch, or even 36 inch that Blue Star offers, wasn't the easiest. Design wise, his biggest concern was how it would flow with the rest of our minimalist elements. But, he trusted me on this one, and once it was installed, we immediately knew it was the right choice.
Here's the before and after the wall that the range sits on, taken from the same angle.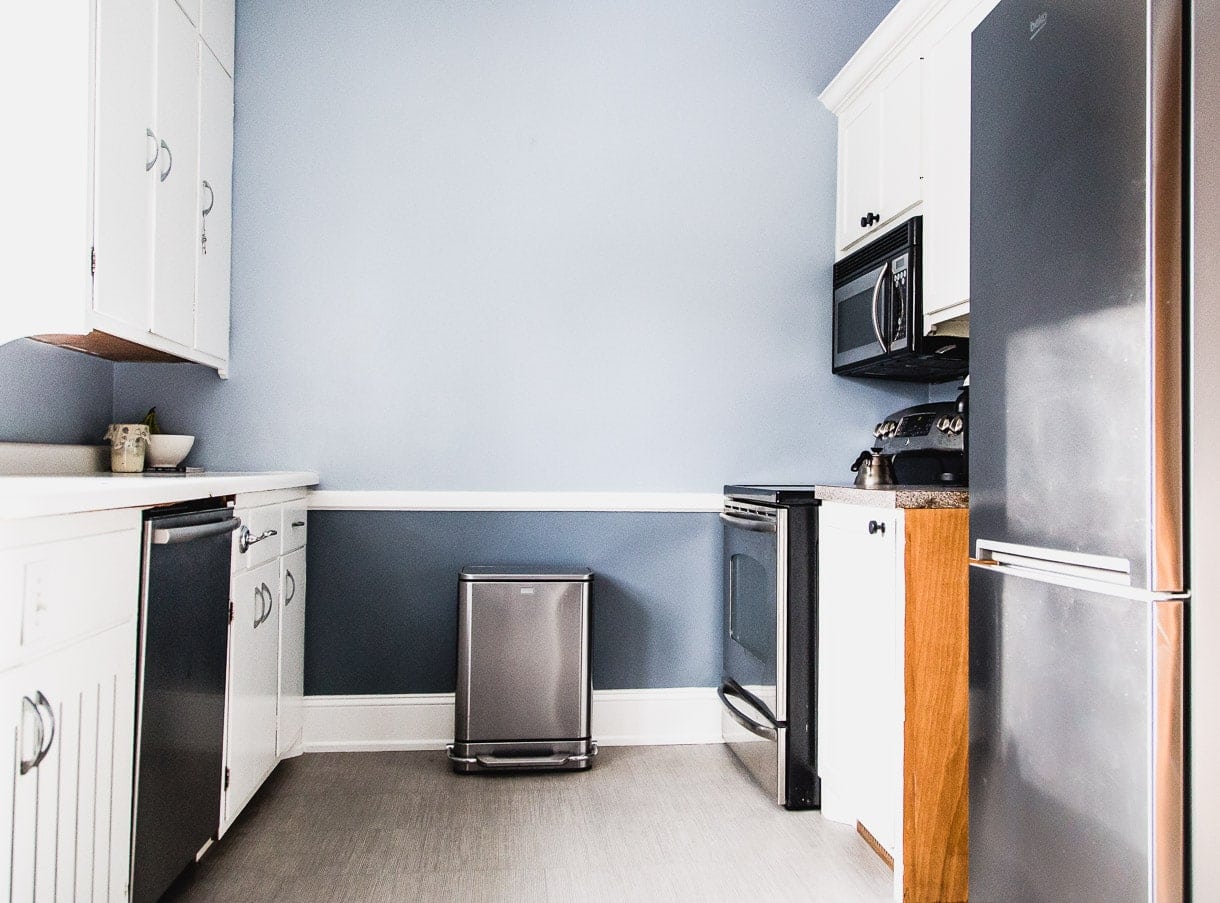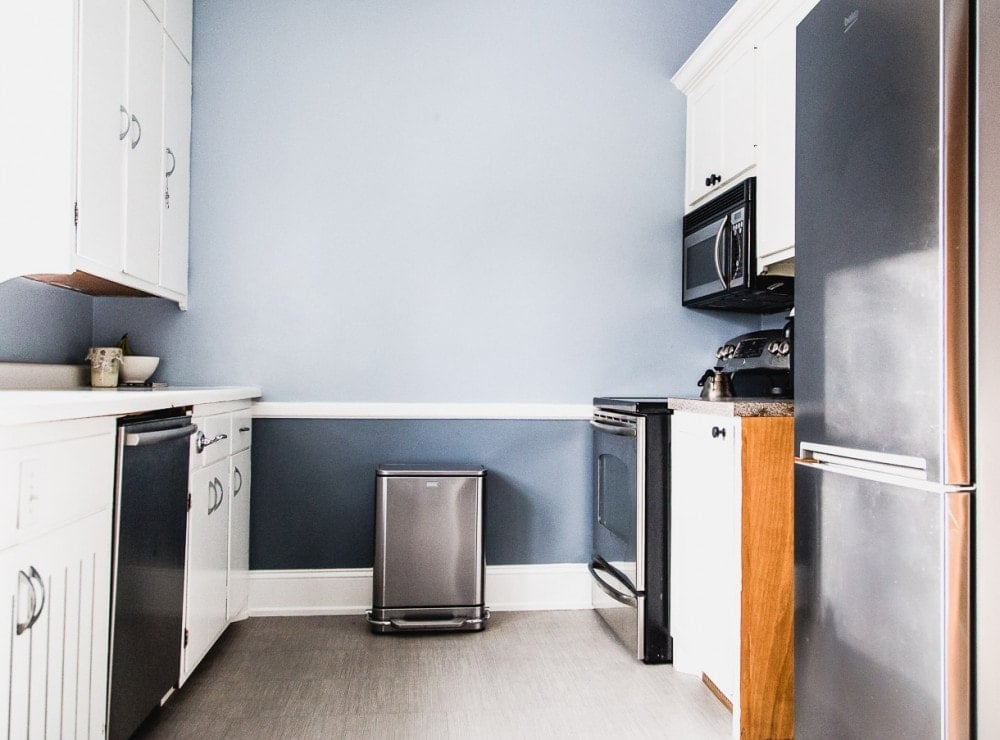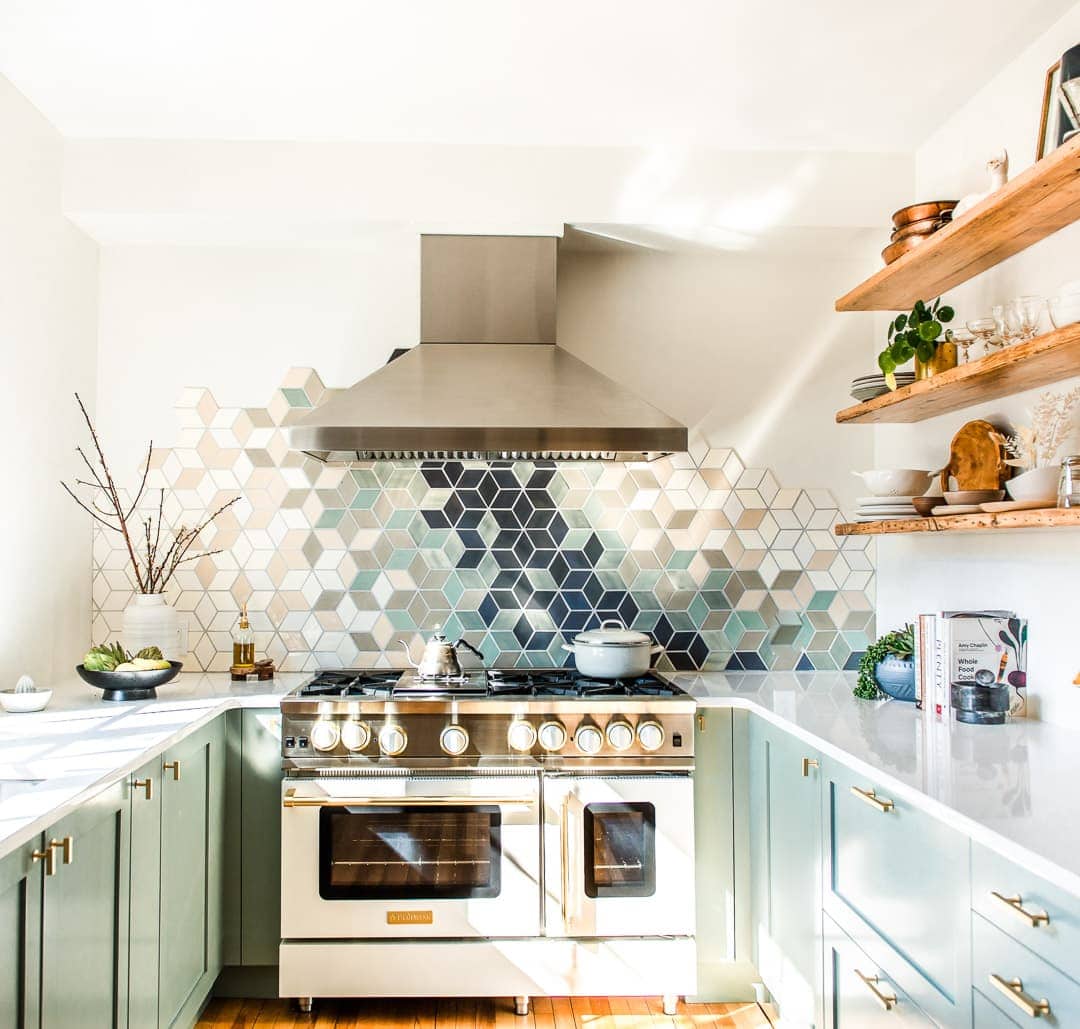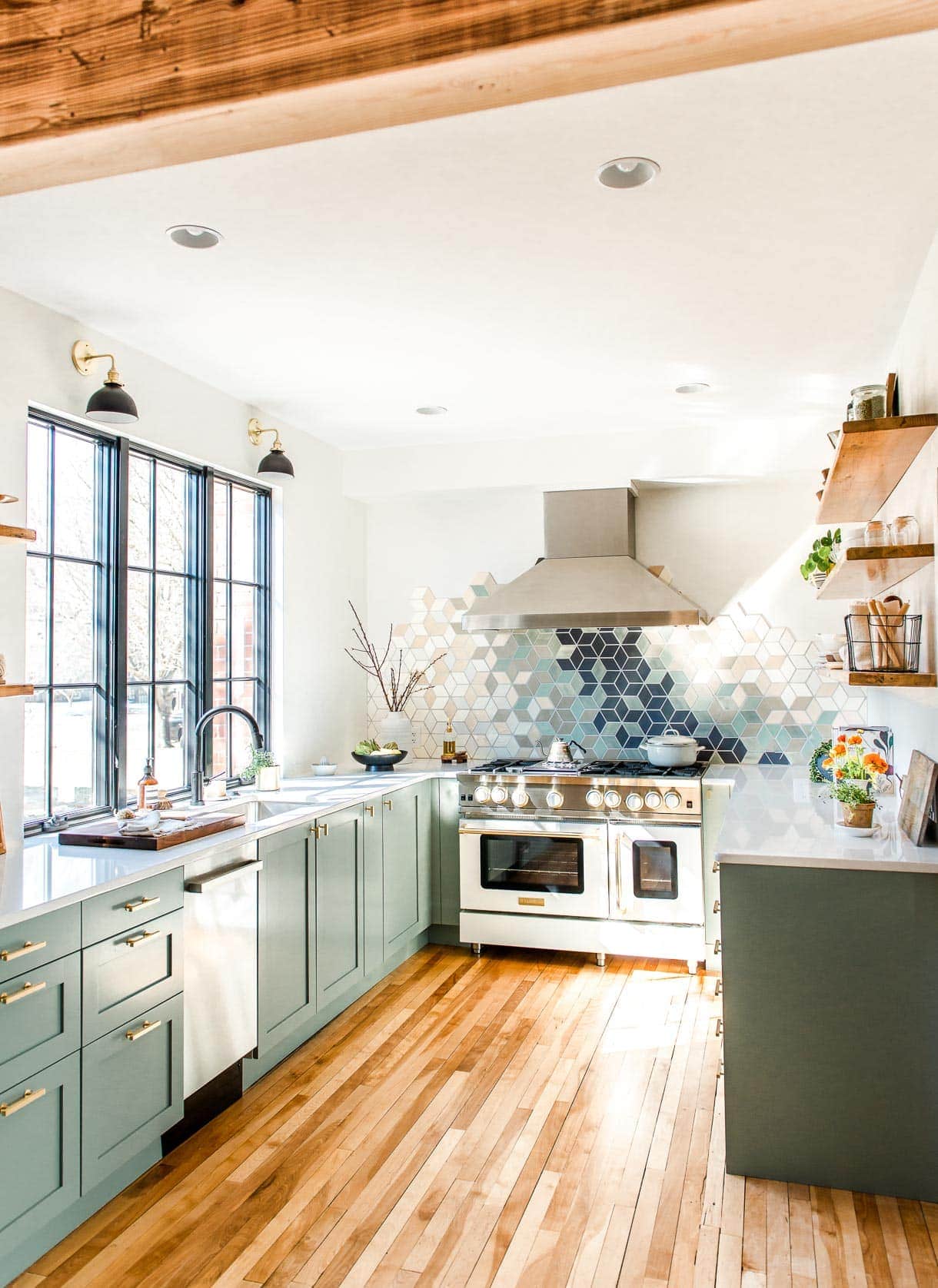 Not only is the range absolutely stunning, but the performance is of professional grade, with 22,000 BTU burners, and an extra-large convection oven (particularly helpful for all the sourdough recipes I bake).
Design Elements of Our Blue Star Range
As I mentioned, Blue Star has customization options that I never even knew existed when it came to ranges. In my mind, companies build a model, and that's what you get. You may get to chose between stainless steel, black, or white, but that was it. And as far as knobs and trim, you get what you get. Not the case! BlueStar lets anyone design with a wide variety of color options and textured finishes, as well as endless configurations for ranges, cooktops and wall ovens. To view all these possibilities, BlueStar offers an interactive website tool, "Build Your Own BlueStar," which allows you to customize everything from the intensity of the burners to the color of the knobs and the range itself.
Color:
There are over 1000 !! colors that Blue Star will build any of their ranges in, specifically for you. Truly a painter's palette. You chose the color, they build accordingly.
We chose Pure White from a selection of seven (!) different whites they offer. I would classify it as a flat paint finish, which we wanted so that it didn't glare with the vast amount of natural light in the space.
Knobs and Trim:
The knobs come in all color options as well, and are easily changeable. So if you want to add a different pop of color in a few years, it's an easy switch. And all of a sudden you've got a whole new look. We chose Pure White knobs.
There are 10 metal trim options including copper, brass and stainless steel. We chose Brushed Brass trim, which added unique richness and warmth to our kitchen. It's not too shiny, and we were able to match other accessories to the finish, such as our scones, and cabinet hardware.
Door Style
Blue Star has a multitude of oven door configurations you can choose from. Standard drop down, swing left, swing right and chef-preferred French Doors – you name it.
When I saw the configuration with large main oven and secondary small oven with swing right French door, I knew that was exactly what I wanted.
Not only do I love how it looks, but it helps with efficiency. The smaller oven is so great for using less energy when I am roasting a small tray of vegetables, or baking this tahini chocolate chip skillet cookie.
Cooktop Configuration
Blue Star ranges can be configured to have integrated cooktop accessories, including built-in griddles, charbroilers, and even the chef-preferred French Tops. Plus, you can design a range with the burners where you want them. The options are limitless, seriously.
We chose the 12 inch flat top griddle and it gets SO much use. I love it for the classics like pancakes, sourdough english muffins, and burgers. But it's also great for reheating food!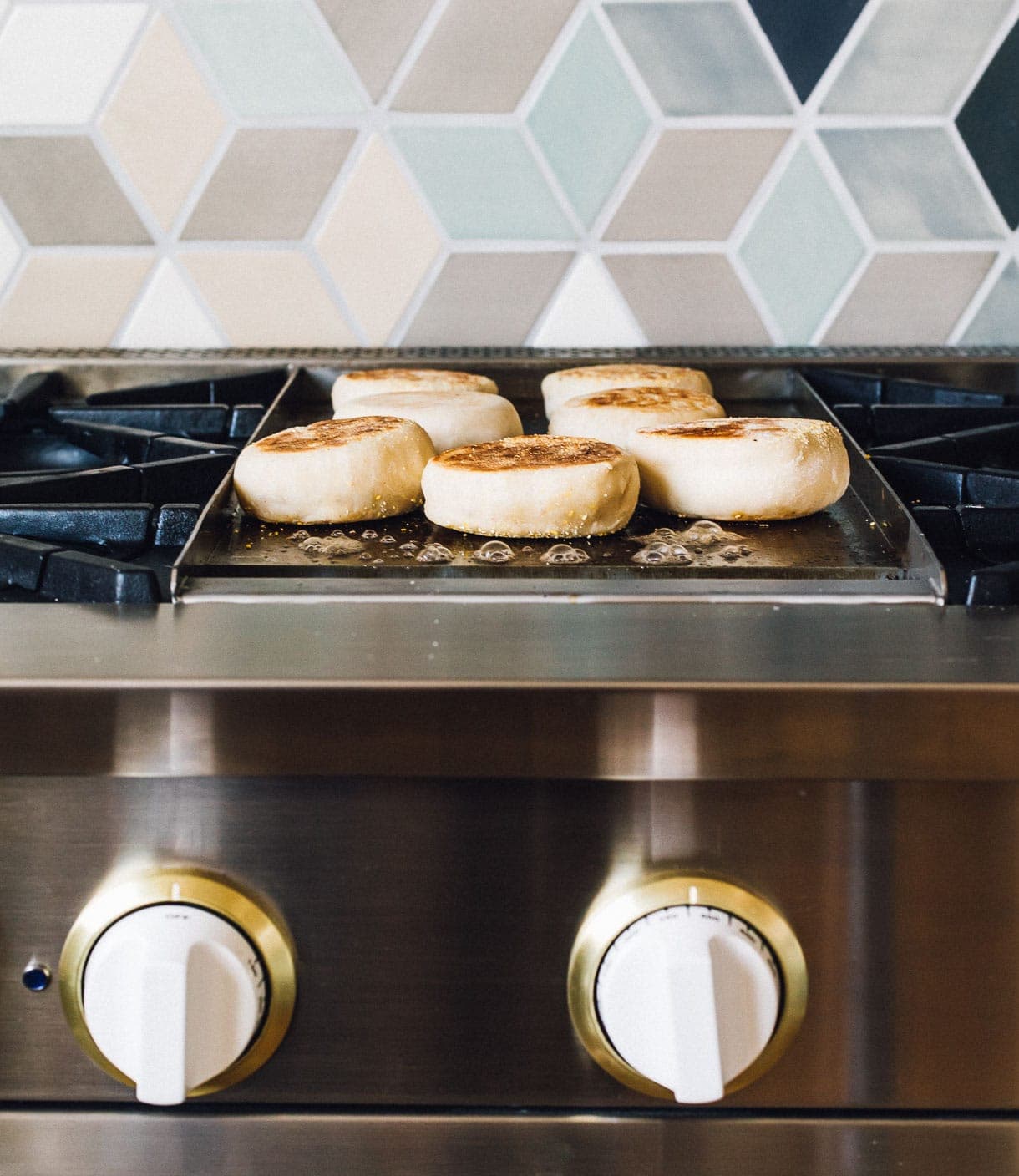 Ventilation
The one thing design wise that I was actually concerned about was working in a large hood. We needed it to match the size of the range, at 48 inches wides, and in my mind, that sounded like it would stand out too much. But it turned out to be just the finishing touch needed. Without the hood, your eyes wouldn't be drawn up the tile work.
And the ventilation is amazing. The fan has three speeds, that work mega fast. It clears the air of smells, grease, and any smoke in pretty much an instant.
The Blue Star Pyramid Style hood comes in over 1,000 !! colors, but we went with stainless steel to accent the other metallics in the space. Seamless design paired with heavy duty construction – a major win.
This amount of customization enabled us to create something that is seamlessly woven into the rest of the kitchen design. And I absolutely love it.
Want to see more of our kitchen renovation and designs?