Sharing design details of our modern white kitchen renovation, including sconce lighting, reclaimed wood shelving, cabinetry, and paint colors, and styling additions. This u-shaped kitchen was centered on a modern kitchen backsplash and matte white range.
Photos by the talented Sage Imagery, styling by the interior godess', Francois Et Moi and Creekwood Hill!
If I'm being honest, I'll say that the current status of "quarantined at home" in our renovated kitchen has been quite lovely. I'm cooking for us a lot more, rather than just the blog, and that has brought me so much joy.
And I'm keeping up with keeping the kitchen a clean – a feat in itself.
Many of you had questions about the more intricate details of the kitchen after I shared the full reveal, and where we sourced things like lighting and shelves. I'm grateful for a lot of local Minnesota/Wisconsin makers and artisans that we worked with, and companies from farther away too, creating some really unique products.
For details on the backsplash, appliances and countertops, take a look at this post.
U-Shaped Kitchen Ideas and Sources
Paint color on the kitchen walls: Alabaster, by Sherwin Williams
Sink + Faucet
Sink: Elkay
Faucet: Delta
In our old house, I learned that white porcelain sinks (farmhouse style) are certainly beautiful, but they are a PAIN to keep clean. I vowed to go stainless steel from then on. Elkay has the best quality stainless steel sinks I've found, and they are continually innovating. Brian installed this It measures 30-1/2″ x 18-1/2″ x 11-1/2″, which means it's extra deep, which makes it much easier to clean sheet pans and larger items.
Single or double basin sink? My vote will always be single. Since most of us have a dishwasher, I don't think it's necessary to have the separation, where one side is typically used for drying. Having a single basin sink gives you uninterrupted space for cleaning and stacking.
We installed this Matte Black Delta Faucet. I'm obsessed with its touch activated on/off water stream. I can bump the faucet with my elbow or back of my hand instead of my dirty hands. It also has a little light on the bottom of it that turns from blue to red as it warms up, so you know when the water is hot.
Cabinets for a U-Shaped Kitchen
Color: Raindance by Benjamin Moore
Bases: IKEA
Fronts: Semihandmade
Hardware: brushed brass knobs and pulls by Forge Hardware
IKEA bases were used to build the cabinets, which we then completed with DIY Shaker Wood Cabinets from Semihandmade, that we had painted. Several custom fronts were also made by a local cabinet maker, like the super thin ones next to the stove, and the two pull out vertical storage fronts.
One of my favorite parts of the kitchen is the pull out vertical spice cabinet, and vertical storage cabinet. The Minnesota husband/wife team of Scott and Linda of Vertical Spice came up with the amazing spice rack units, that you can put into cabinets. They have several sizes and configurations to fit what you need. One of ours is very skinny, the other a bit wider where I'm able to store oils and mason jars with goods.
Storing things vertically was a way to use leftover spaces that a standard cabinet face didn't fit into. Rather than just using a filler piece to cover them up, we were able to transform them into efficient storage, which is very helpful since we do not have upper cabinets.
Open Shelving in a U-Shaped Kitchen
One thing that was very important to us during this renovation was to preserve as much of the original house as possible, being built in 1908. We were able to restore the beautiful red birch floors that were covered with mountains of glue and 4 layers of tile.
And we used the beams from the wall we took down (!) to create all the open shelving. Mark Arneson, who owns Nordic Builders here in Hudson is a phenomenal woodworker, and did an amazing job building the shelves.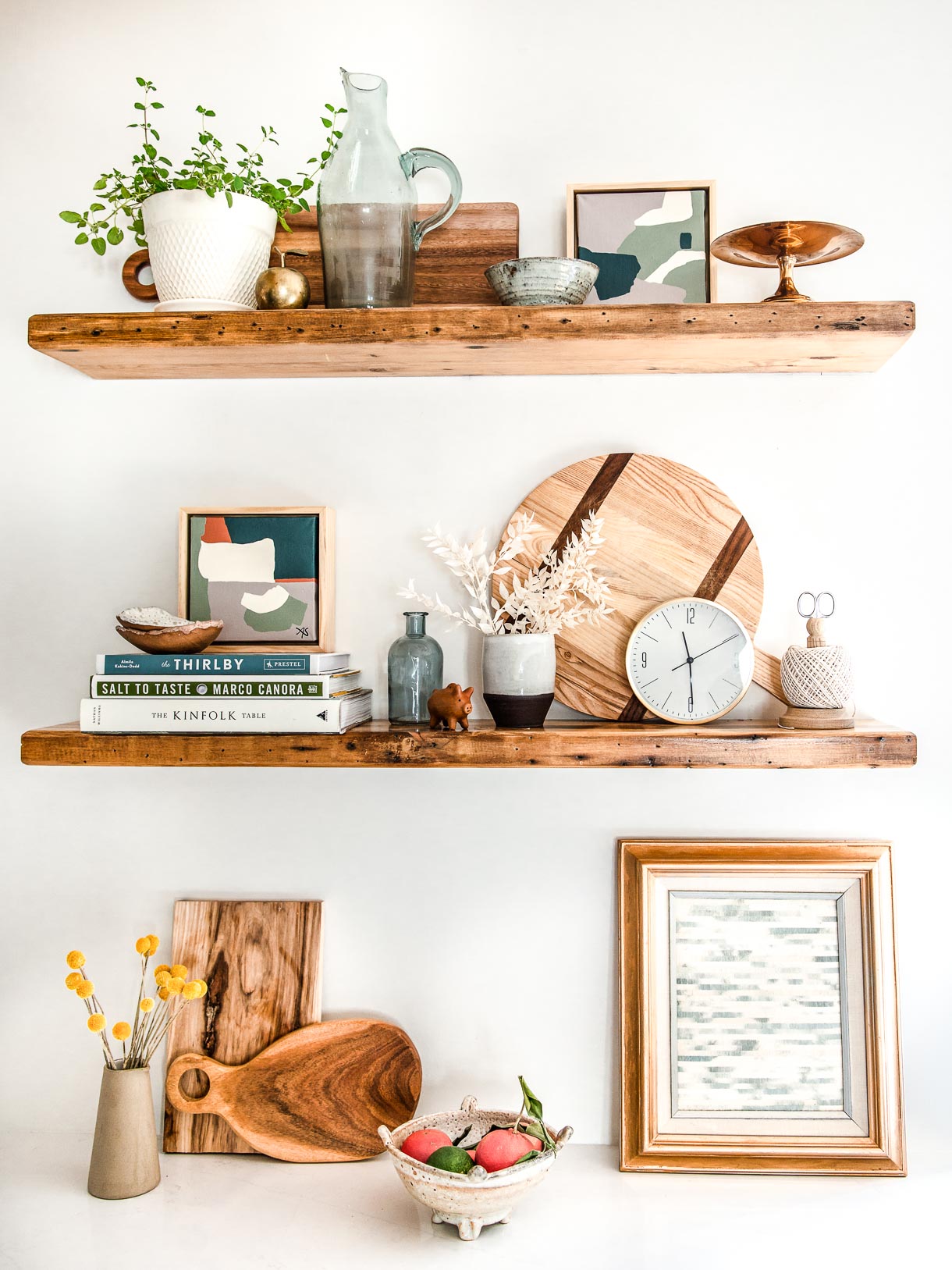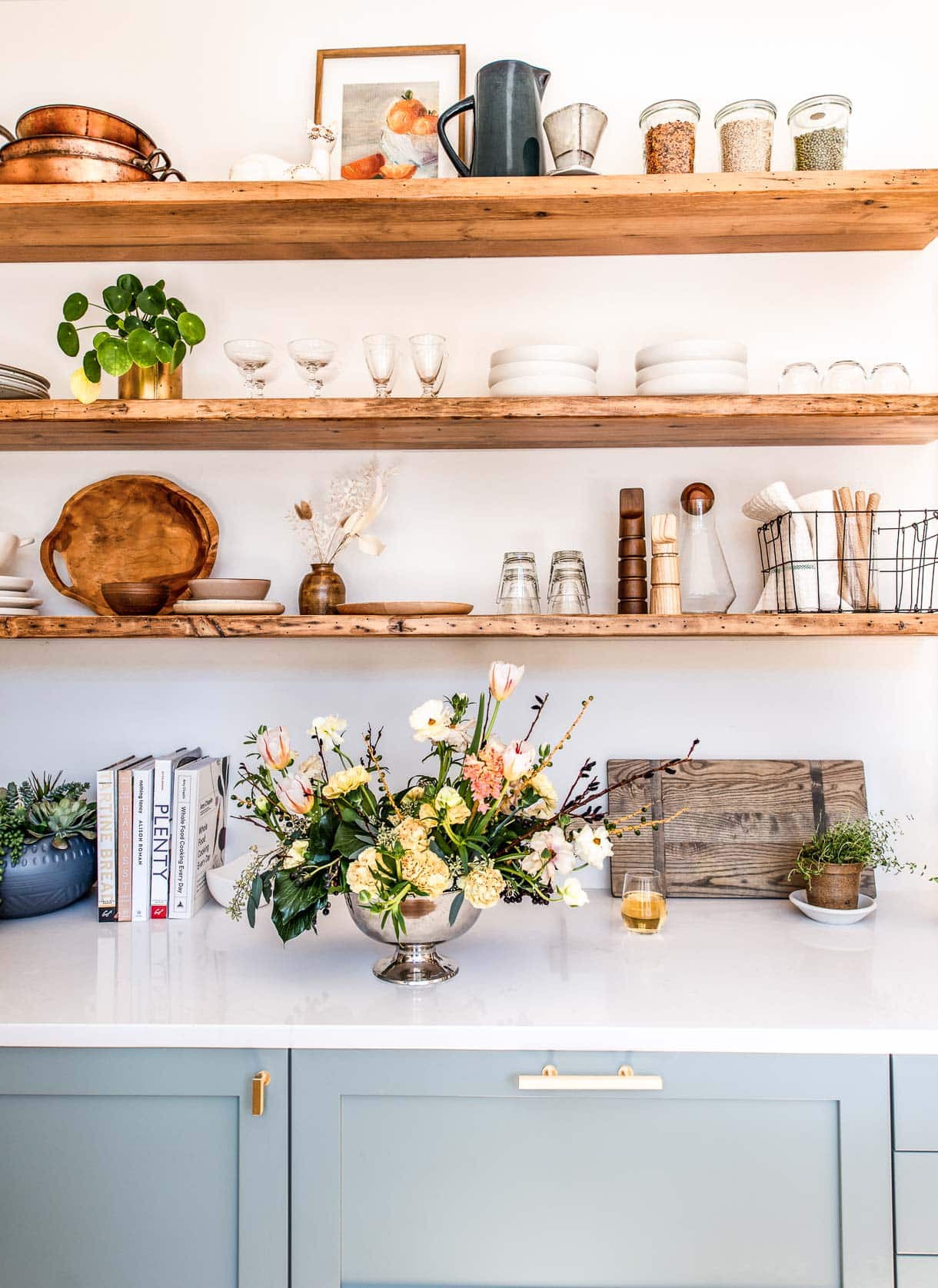 Lighting
Above window: Schoolhouse, gold sconce + black metal bell shade
Hallway: Bellacor, gold mounted drum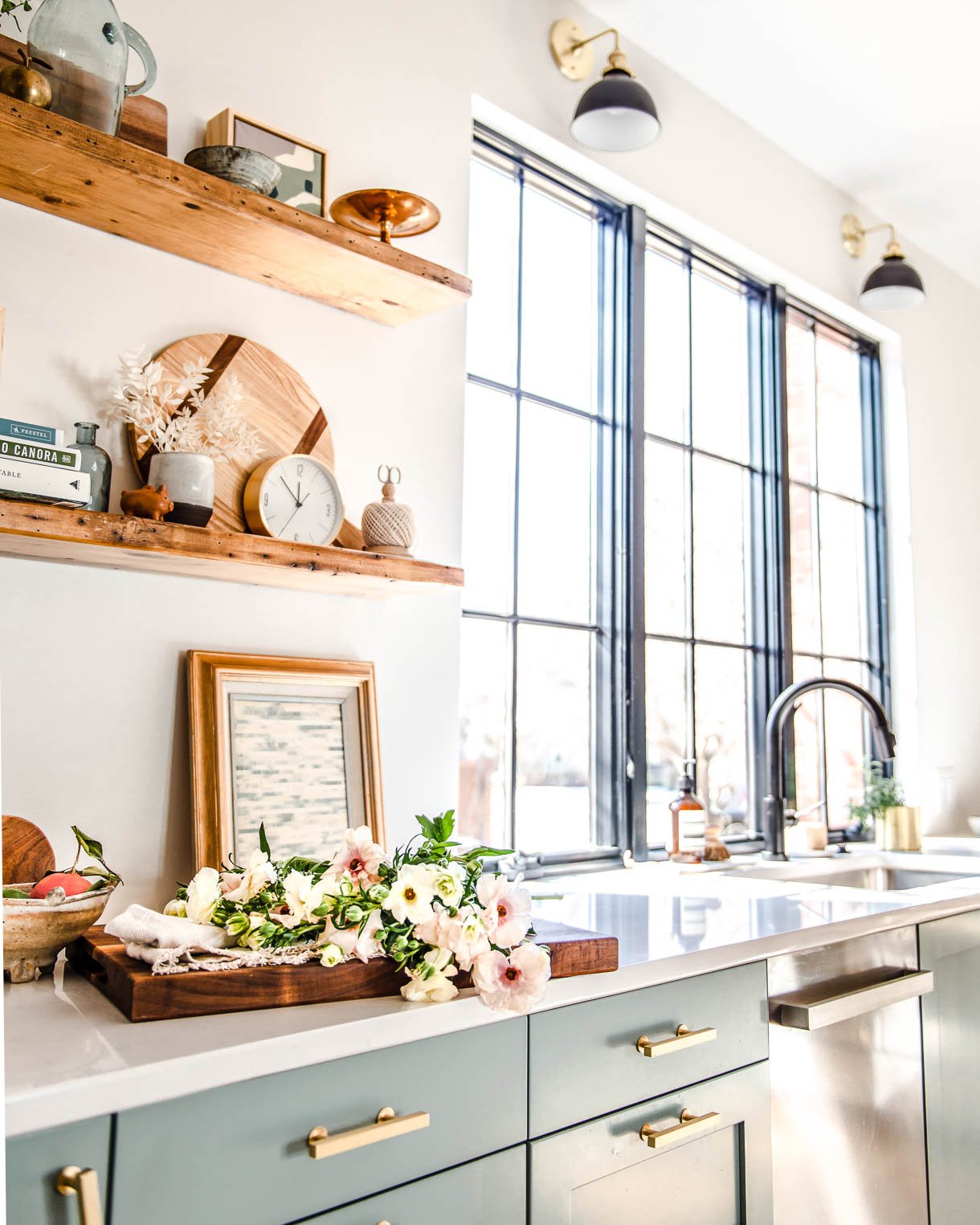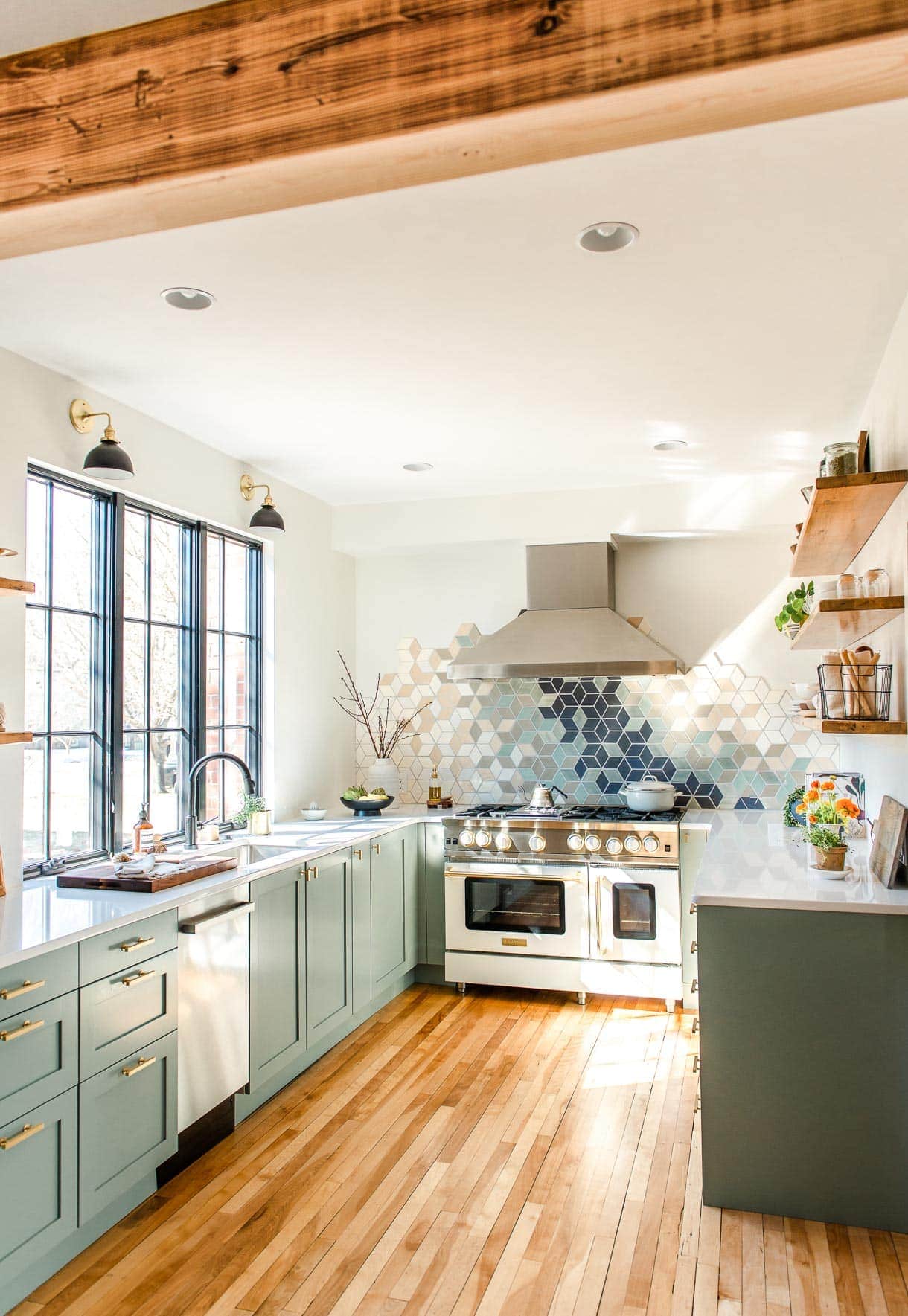 Wall Art and Accessories
Wall Clock: Target
Kraft Paper Roll Display: Rettel
"But First, Coffee" Flower Print: Sister Golden Shop
Wood Framed Abstract Art: Ashtyn Sibinski Art
Let me know if you have any other questions about this renovation!
I'm happy to share everything that Brian and I learned throughout the process.