Making congee in the Instant Pot is simple, and much faster than making it the traditional stovetop way. A comforting rice porridge, this dish uses a pantry staple, white rice, and just a handful of other ingredients. It's also a very inexpensive meal that can be eaten any time of day.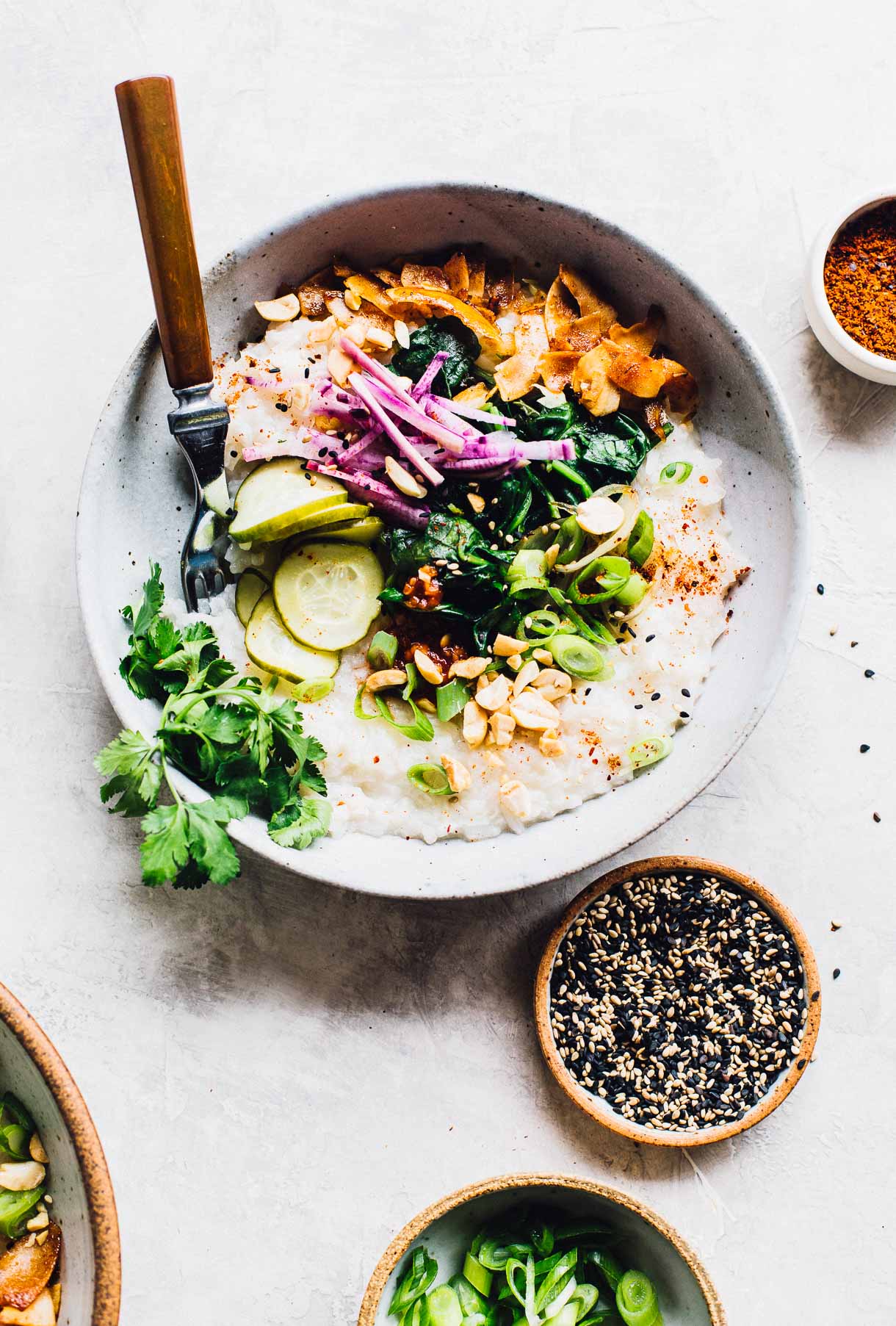 What to say in these times…..
My emotions are a yo-yo. And the uncertainty is difficult, to say the least.
I don't even want to utter the word, but for purposes of what I originally started this blog for, a journal and documentation, I feel as though I need to say that the coronavirus is changing all of our lives. In a way that my brain is still not comprehending.
We're staying at home, urging our loved ones to stay home, and often that's falling on dead ears. It makes me sad and scared, for our health, our medical workers, our communities.
I found this prayer on Instagram, and it encompasses my whole heart and feelings right now.
May we who are merely inconvenienced
Remember those whose lives are at stake.
May we who have no risk factors
Remember those most vulnerable.
May we who have the luxury of working from home
Remember those who must choose between preserving their health and making their rent.
May we who have the flexibility to care for our children when their schools close
Remember those who have no options.
May we who have to cancel our trips
Remember those who have no safe place to go.
May we who are losing our margin money in the tumult of our economic market
Remember those who have no margin at all.
May we who settle in for a quarantine at home
Remember those who have no home.
As fear grips our country,
let us choose Love.
During this time when we cannot physically wrap our arms around each other,
Let us find ways to be the loving embrace of (our higher power) to our neighbors.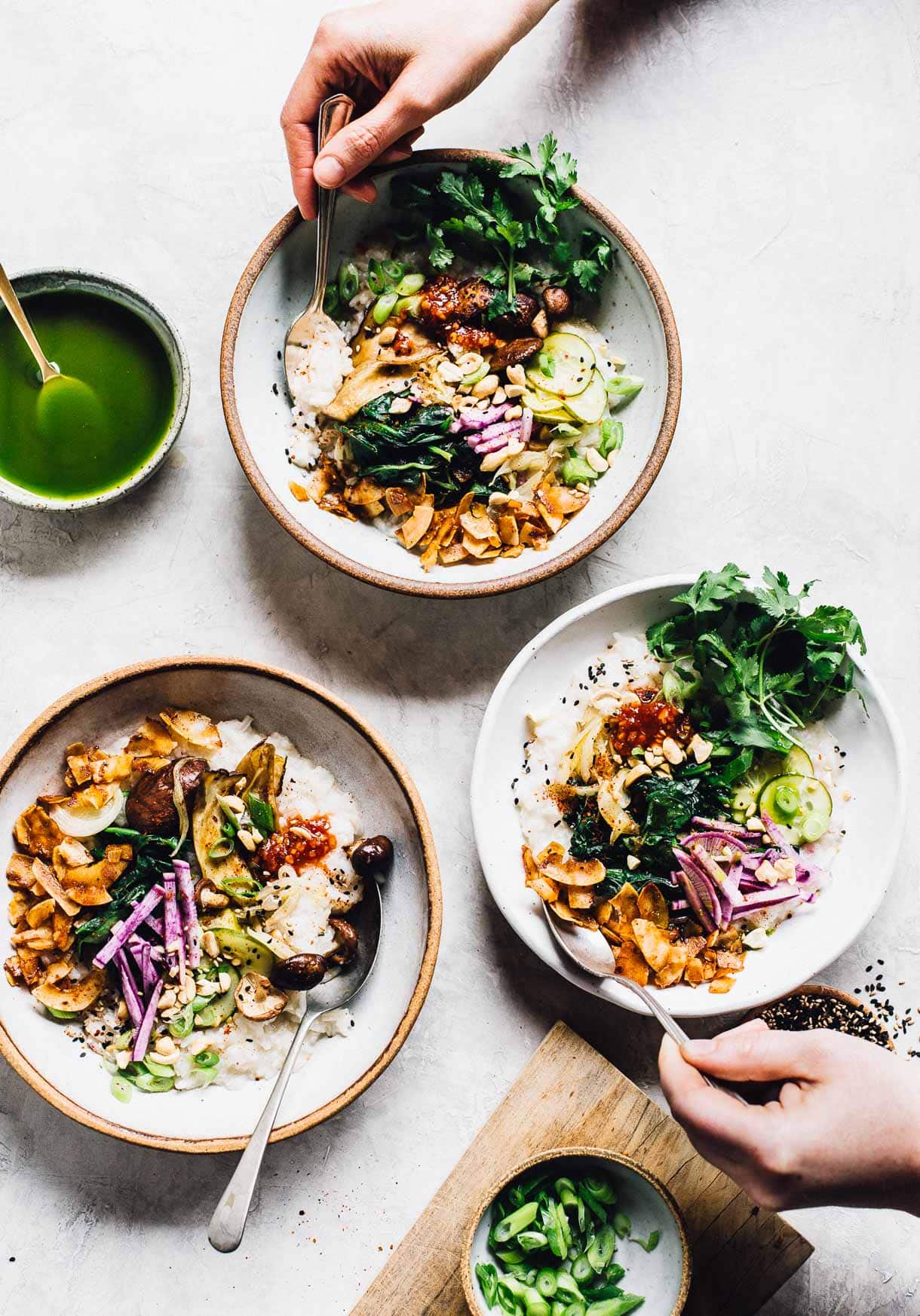 These days, I'm cooking from my pantry, flexing all the muscles it has, and relying on gluten-free dinner recipes. That means lots of rice, beans, and lentils.
I photographed this Instant Pot Congee last year when I was with my girls in California, which is why you see the multiple hands, and fresh produce. Both of which are not in line with current social distancing.
Vegan Congee Ingredients
The beauty of congee, a comforting rice porridge, is that it is incredibly versatile and stretches rice enough further with just a handful of ingredients. Typically made with chicken, this is a vegan congee, that has a very simple formula:
white rice, preferably jasmine if you have it
water
dried mushrooms
ginger
garlic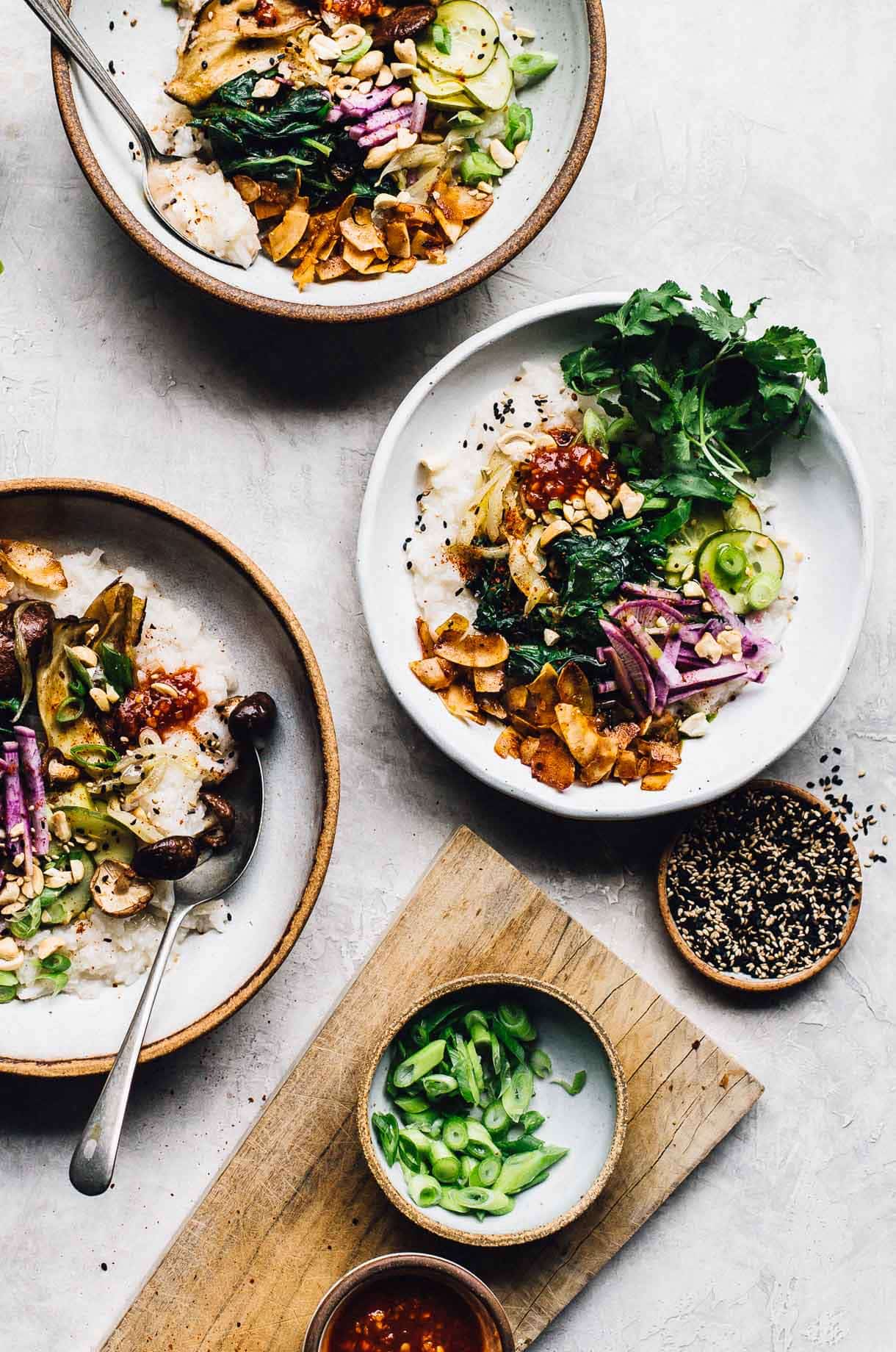 What is congee?
Also known as "jook", congee is an Asian porridge, made with white rice rather than oats. You could also think of it like a rice polenta. Throughout history, it has been served as a healing food for the sick, elderly, and young.
The rice is simmered in a ratio of about 7 cups water to 1 cup rice, and can be adjusted depending on how thick or creamy you prefer it to be.
How to Make Instant Pot Congee
When made on the stovetop, this dish takes a couple hours. Instant pot congee is much faster, and will only take you about 45 minutes, all hand off time. This is the Instant Pot I have.
The results are fabulous – thick, silky, and nourishing. Some cultures reserve it for breakfast, but I think it makes a great meal any time of day.
You'll add all the above ingredients to your instant pot insert, and cook on high pressure for 30 minutes, the let the pot naturally release.
Do I need to rinse the rice?
When making traditional rice, you've probably heard that you need to rinse the rice until the water runs clear, in order to remove the extra starches so that the rice isn't too sticky.
I was interested to see if this was necessary, since congee is typically creamy and made with a high ratio of liquid to grains.
I ended up preferring the congee when I gave it a quick rinse, rather than none at all, as the later was a bit gummy. Using a strainer, I recommend rinsing the dry rinse and swishing your hand through it, for about 20 seconds, to get some of the starch off. The water does not need to become completely clear.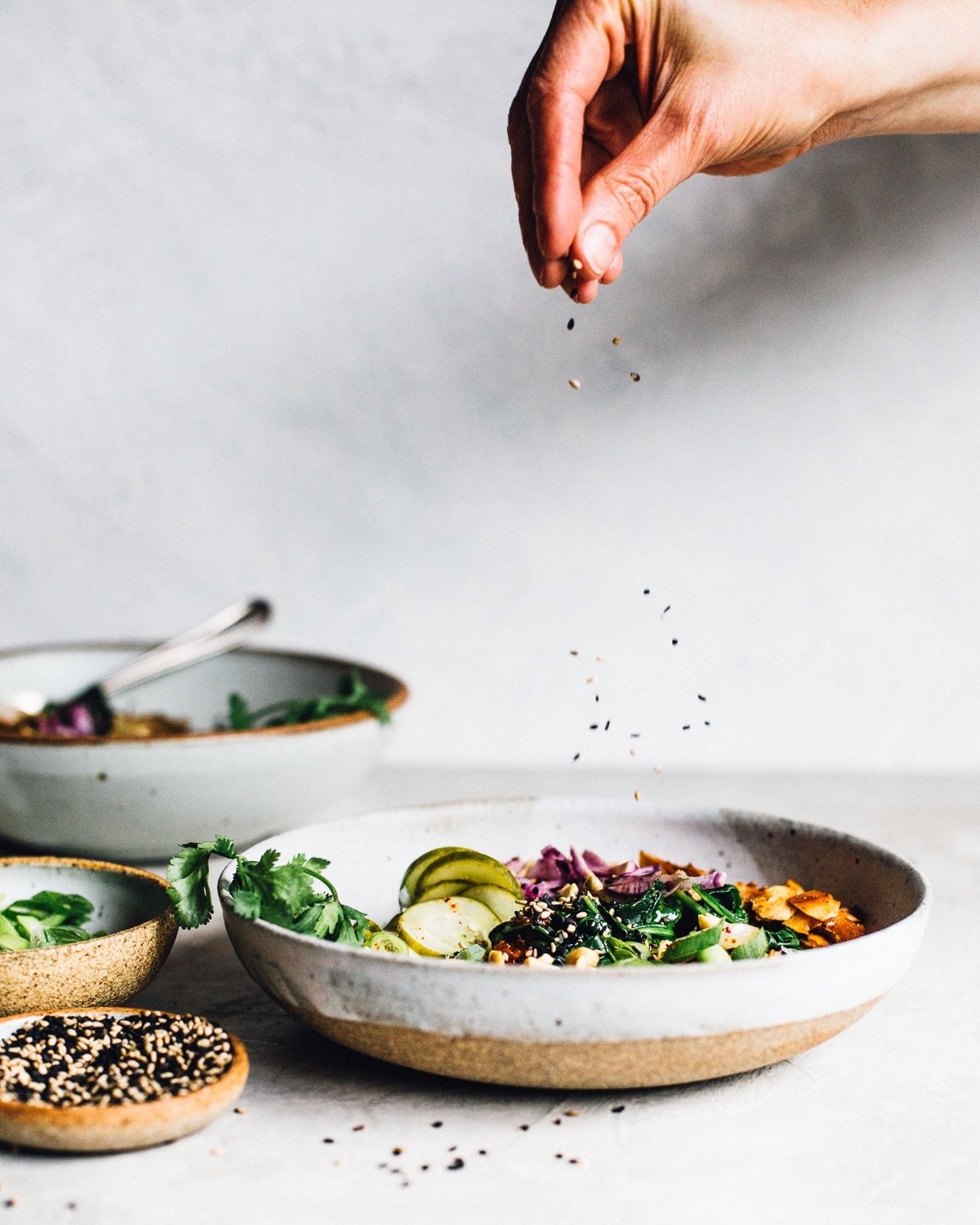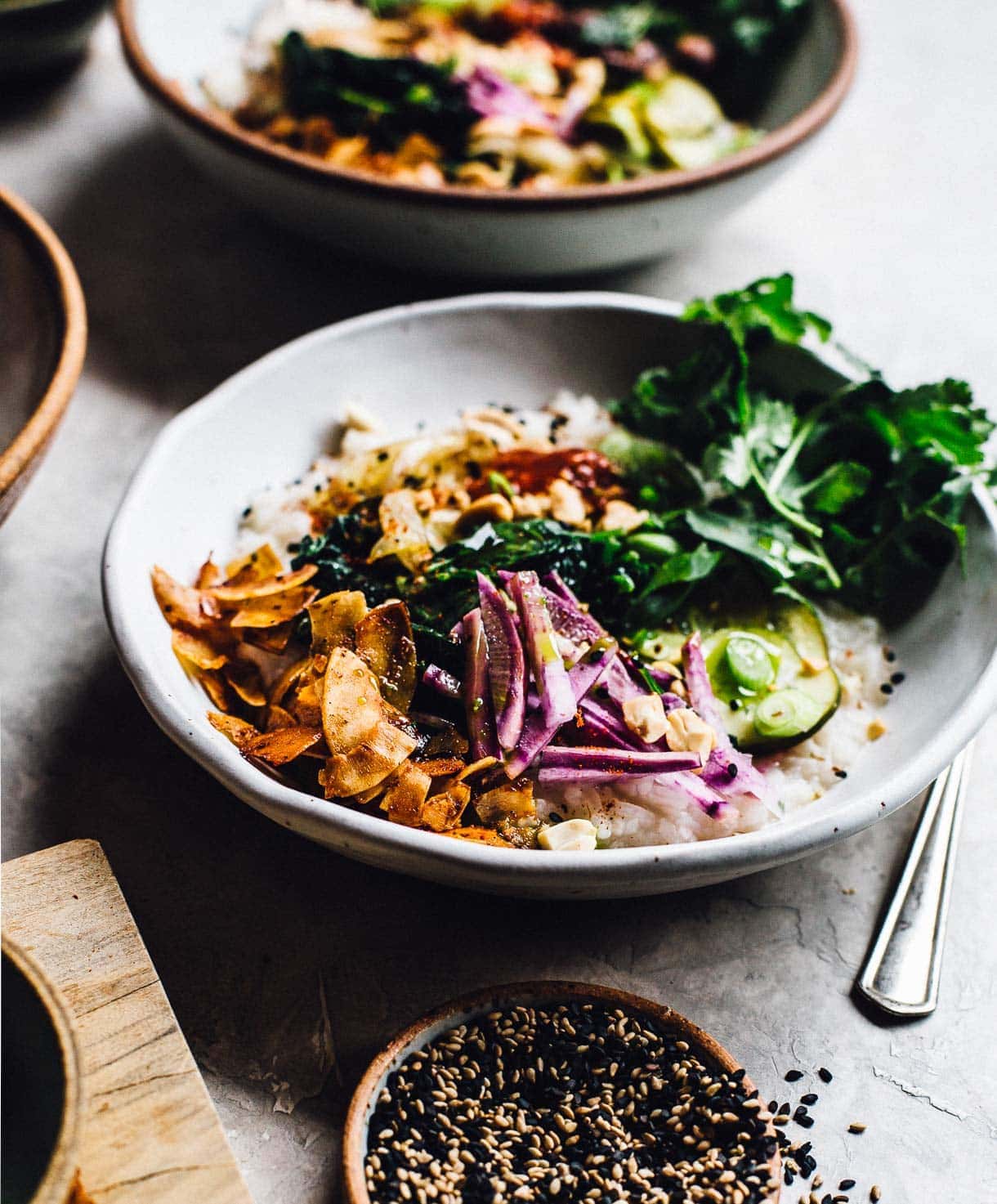 Congee Topping ideas:
sesame seeds
something allium related, like green onions or chives
something crunchy, like Alanna's coconut bacon, radishes, or carrots
something spicy, like sriracha or TJ's Chili Crunch
sesame oil, or as you see in the photos, we made a cilantro oil
sautéed mushrooms
sautéed greens of any kind
any type of pickled vegetable
poached egg
avocado
More Rice Recipes: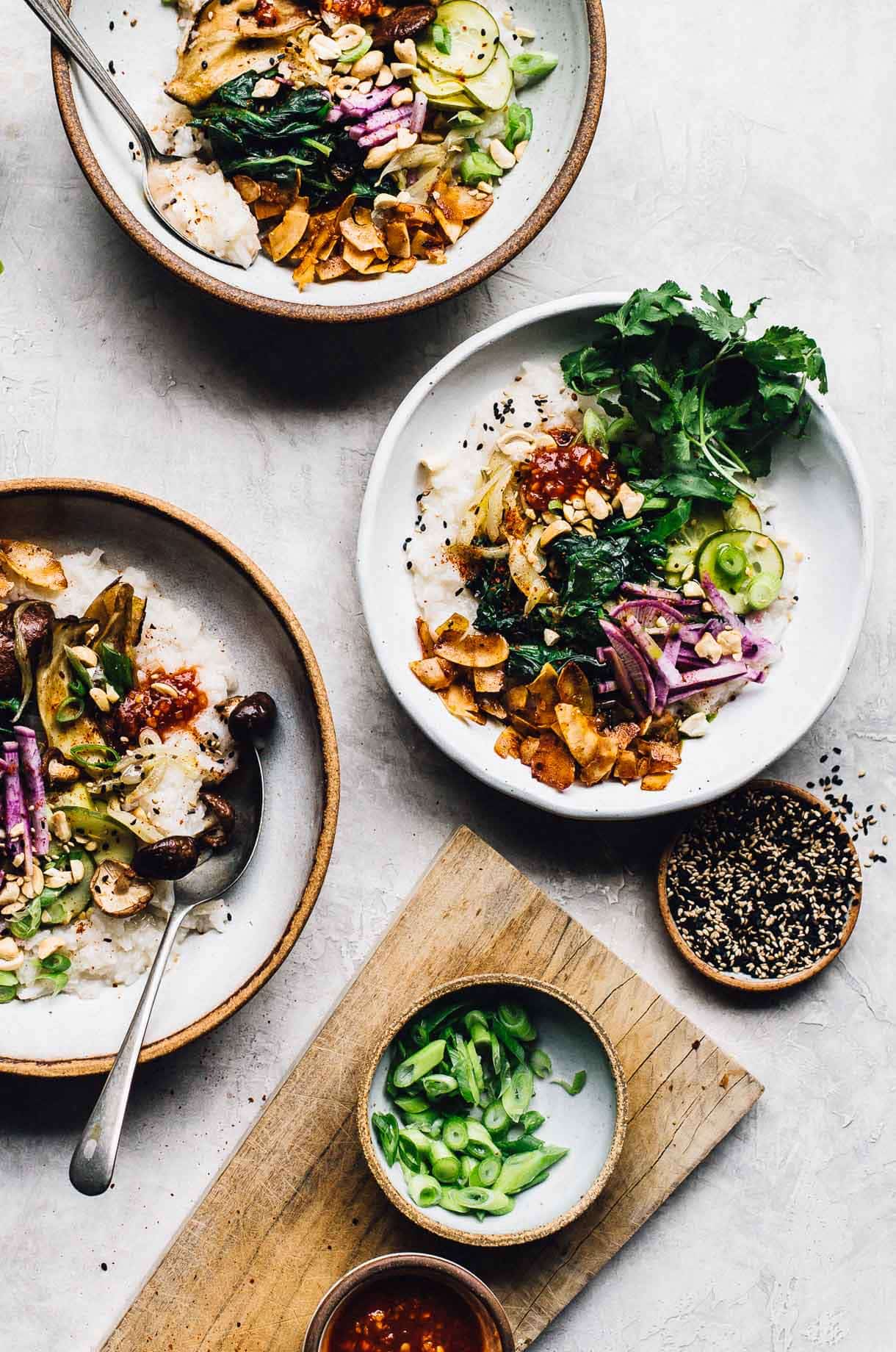 1

cup

dry white rice,

long grain or jasmine

7

cups

water

1

teaspoon

sea salt

3

cloves

garlic,

thinly sliced

1

thumb sized chunk of ginger,

cut into 4 pieces

tamari (gluten-free) or soy sauce

any toppings listed in body of blog post
Add rice to a fine mesh strainer and rinse for 20 seconds, rubbing grain between your fingers to help remove some starch.

Drain, then add to Instant Pot insert, along with water, salt, mushrooms, garlic, ginger.

Place cover on Instant Pot, lock, and set to high pressure for 30 minutes.

Once finished cooking, let the congee fully naturally release.

Open the lid and stir. Remove ginger chunks with a slotted spoon.

Congee will be creamy and oatmeal like. Add more water if you'd like it thinner. The rice will thicken as it cools.

Important, Top with drizzle of soy sauce or tamari (this is the salty component), then all of your toppings!
*Stovetop Instructions: Follow directions above, except add to a stock pot on the stove. Bring to a boil, then turn down to a very small simmer, and let cook for 1 1/2 to 2 hours, stirring occasionally so rice does not stick to bottom.
Leftover congee will last up to 5 days in the refrigerator. To reheat on the stove top, add a bit of water for each serving and stir to get back to regular consistency.