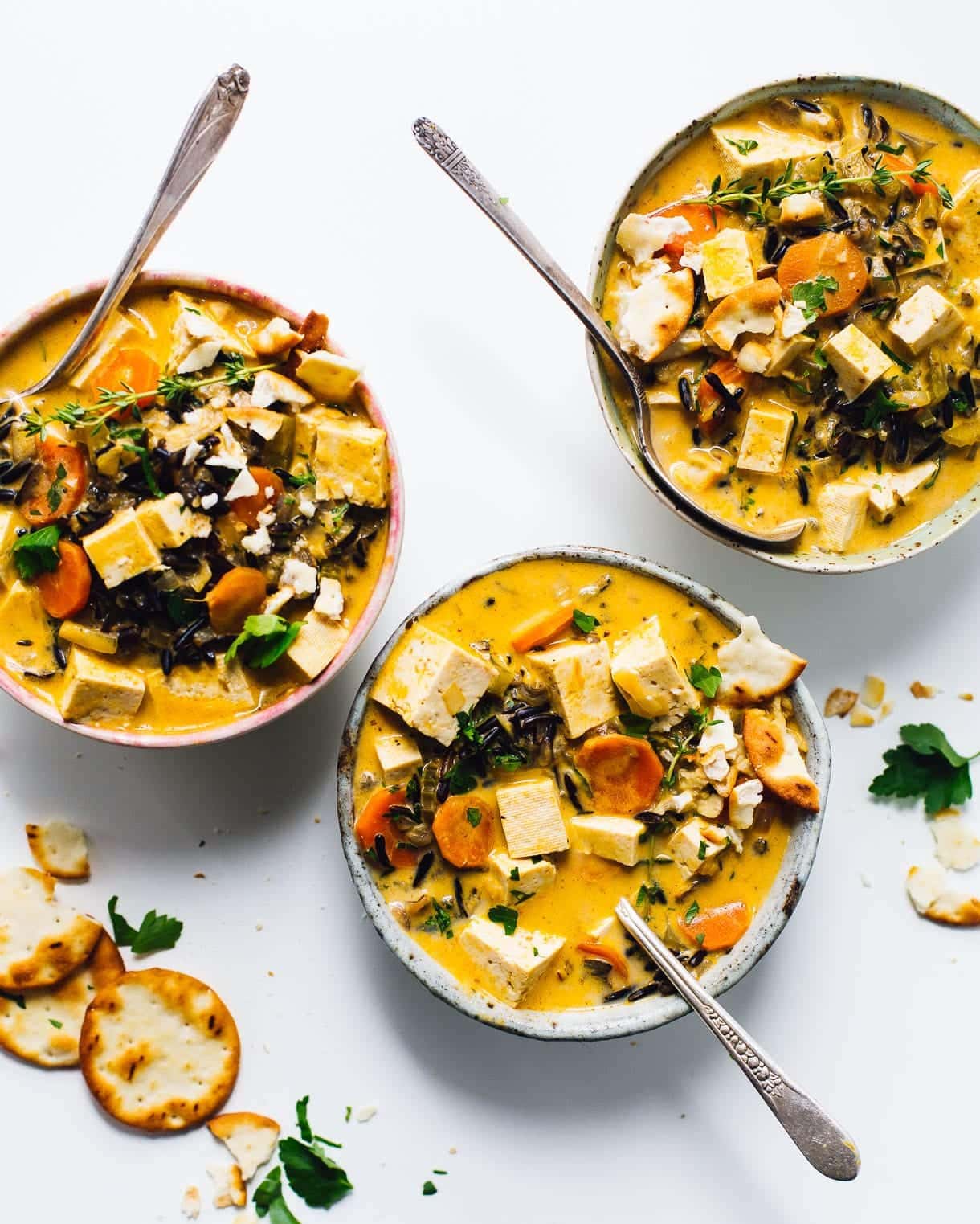 I grew up eating Minnesota Wild Rice Soup, traditionally made with lots of vegetables, curls of earthy wild rice, cream, and chicken (or pheasant, as my mom would do when my dad had a good hunting season). We are lucky, as our state is known for it's wild, hand-harvested crop of this aquatic grass that bears a resemblance to an edible grain.
Whereas most parts of the country only have access to wild rice that is commercially grown and harvested, one of the reasons this variety takes quite a long time to cook (whereas hand-harvested is finished in less than 30 minutes).
This year I'm happy to be working with House Foods to celebrate the versatility and nutrition of tofu, creating recipes for 10 different states that highlight a regionally inspired dish or ingredient. It was natural to pick Wild Rice Soup for my home state, and I have to say – I love the springy cubes of tofu just as much as the traditional meat version.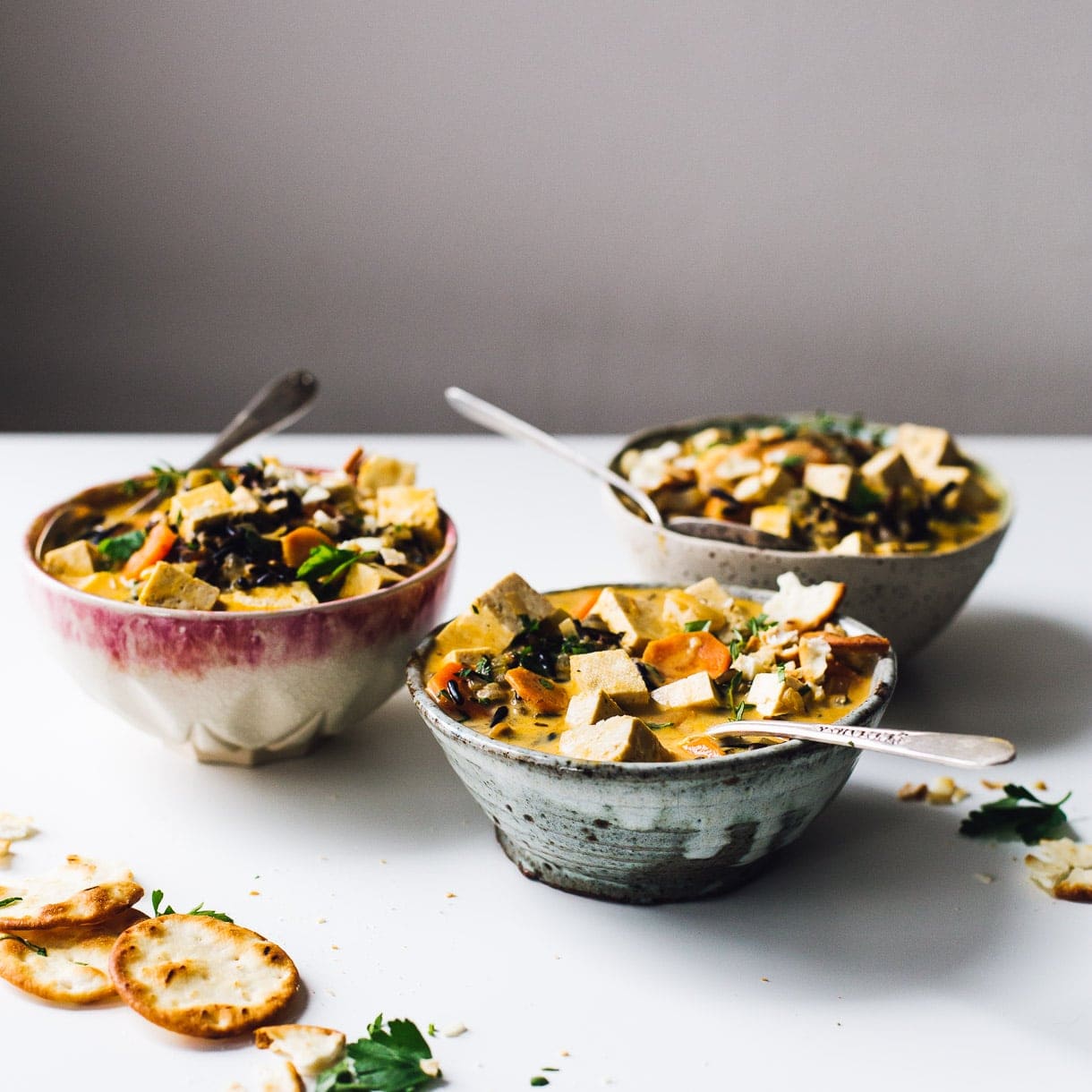 This creamy, tofu wild rice soup is packed with lots of color, and hearty vegetables like onion, celery, carrots, and a few mushrooms. It simmers with sprigs of thyme for warm undertones, then finished with half & half and interestingly enough – dijon mustard.
I found the leftovers stayed well in the refrigerator for four days, and the flavor even got a little better each day. And the tofu didn't crumble or fall apart! Which actually surprised me.
That being said, it's great for packed lunches, and for a dinner party because you could make it from start to finish an entire day ahead of time.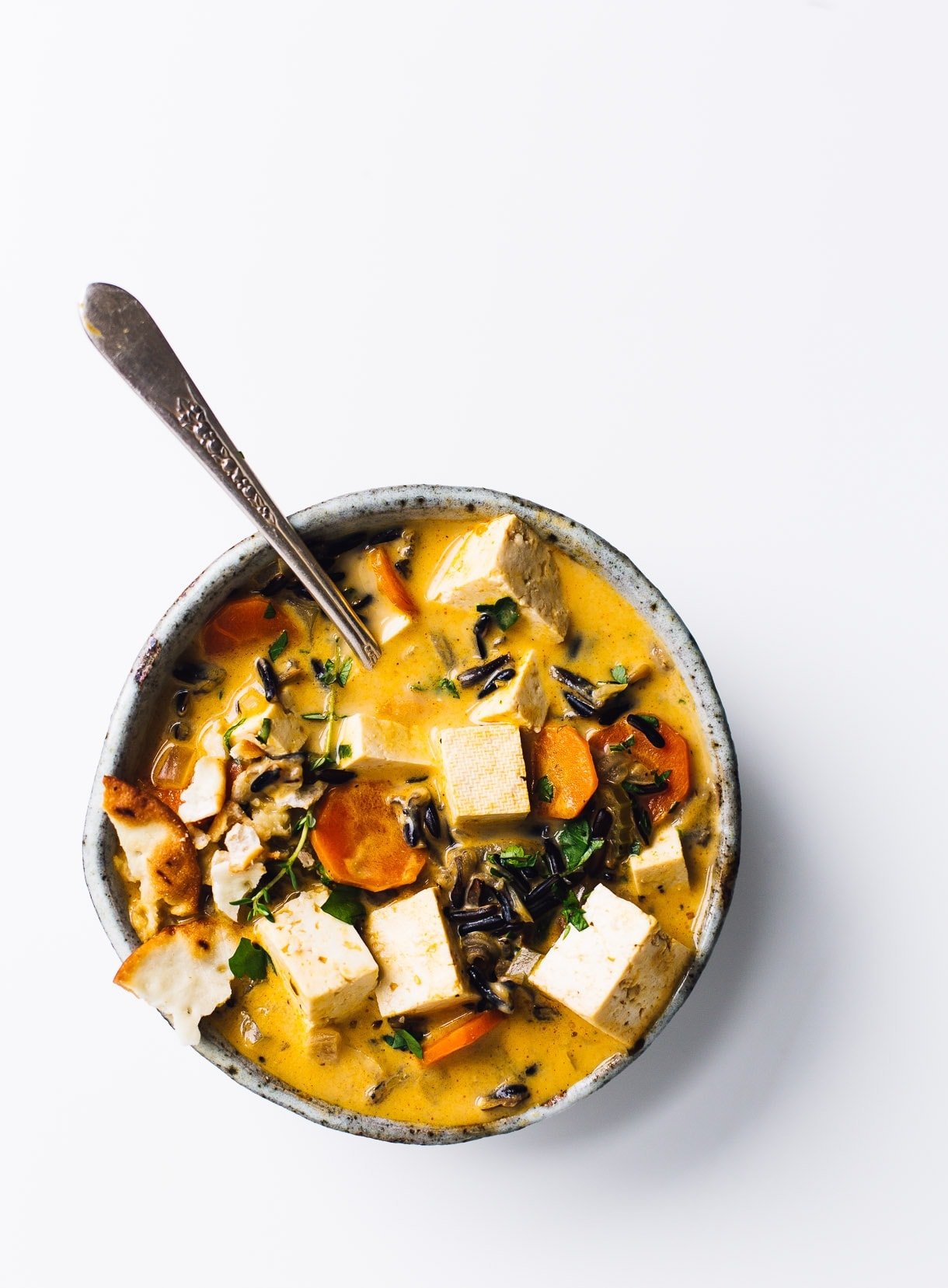 If you make this Tofu Wild Rice Soup, tag me on instagram with hashtag #heartbeetkitchen or @heartbeetkitchen!
Rustic Tofu Wild Rice Soup
Total Time:
1 hour
25 minutes
A vegetarian wild rice soup with tofu and extra vegetables.
Ingredients
2 tablespoons olive oil
1 cup diced onion
3/4 cup sliced celery
1 cup sliced carrots, into thin coins
3/4 cup chopped mushrooms
3/4 teaspoon kosher salt
1 teaspoon dried oregano
1/2 teaspoon ground black pepper
3/4 cup dry wild rice
5 cups low sodium vegetable broth
2 sprigs fresh thyme
1 tablespoon cornstarch
1 cup half and half
2 tablespoons Dijon mustard
1 box House Foods firm organic tofu, water pressed out and cut into 1/2 inch cubes
1/4 cup fresh minced parsley
Instructions
In a large dutch oven, heat olive oil over medium-high heat. Add onion and stir, cooking for two minutes. Then add celery, carrots, mushrooms, and salt. Stir to coat, and cook for 8 minutes to soften all the vegetables. Add oregano, black pepper, and wild rice, stirring to combine.
Then add vegetable broth and thyme. Bring to a boil, then reduce heat to a simmer and cover. Cook for 45-50 minutes, until wild rice is popped and tender to the bite.
In a small bowl, whisk together cornstarch and half and half, so there are no lumps. Then whisk in Dijon mustard. Turn heat down on soup so it is not simmering, and slowly add liquid mixture. Stir to combine, then add tofu and gently stir.
Let cook for 5 minutes so it thickens. Stir in parsley and serve with crackers or bread.