A recipe for delicious grilled veggie kabobs that includes tofu to make it a satisfying meal! These skewers are a great way to eat fresh vegetables with fantastic, smoky flavor from the grill. Both the veggies and the tofu are tossed in olive oil and an easy dry spice blend to give them just the right amount of zing and zest. Serve with your favorite dipping sauce and enjoy!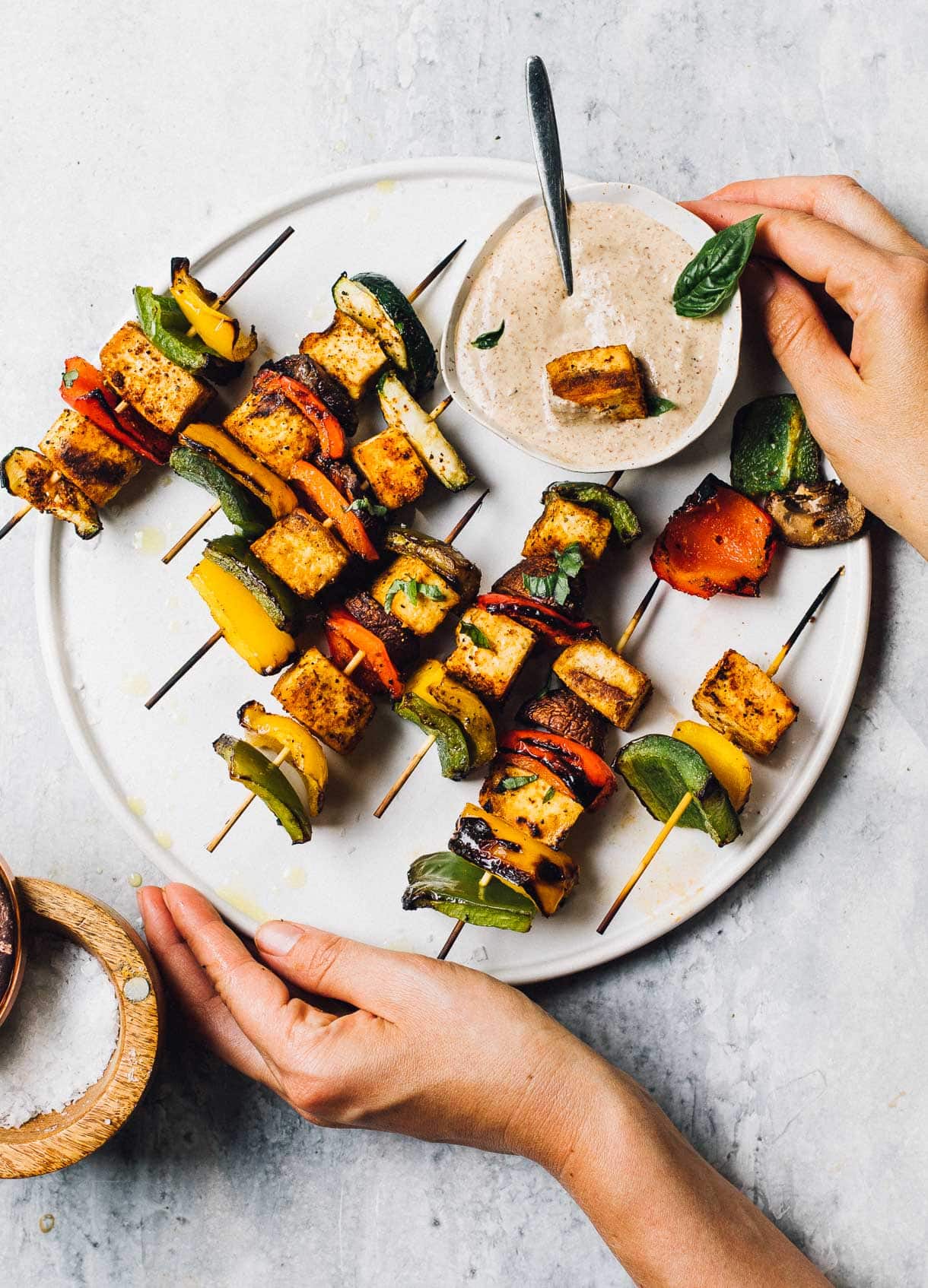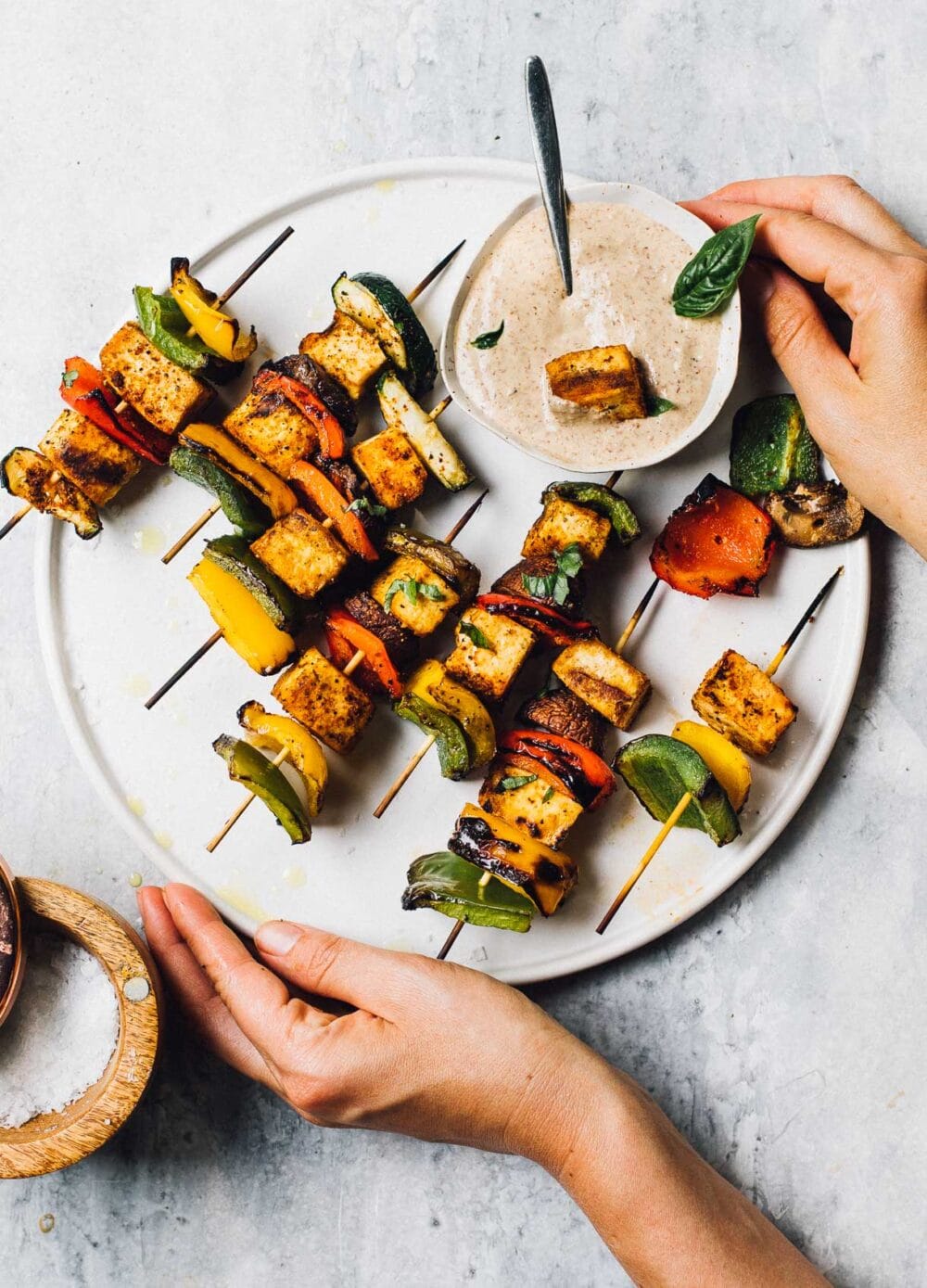 During the summer, I use the grill wayyyy more than I use the oven, except when it comes to my sourdough bread habit, which I can't give up regardless of a hot wave.
The beauty of the grill is the flavor and smokiness it infuses into fresh vegetables, and tofu, which can sometimes feel plain jane on their own. With the heat of the grill, the natural sugars in the veggies caramelize and make them so, so delicious. I particularly love making a batch of these grilled veggie kabobs eaten that night with a tasty dipping sauce (I used Bitchin' Sauce, but this Feta Salad Dressing would be delicious too), then turned into other meals throughout the week!
For meal prep magic, slide the grilled tofu and veggies off the skewers and ADD TO:
So many ways to enjoy them……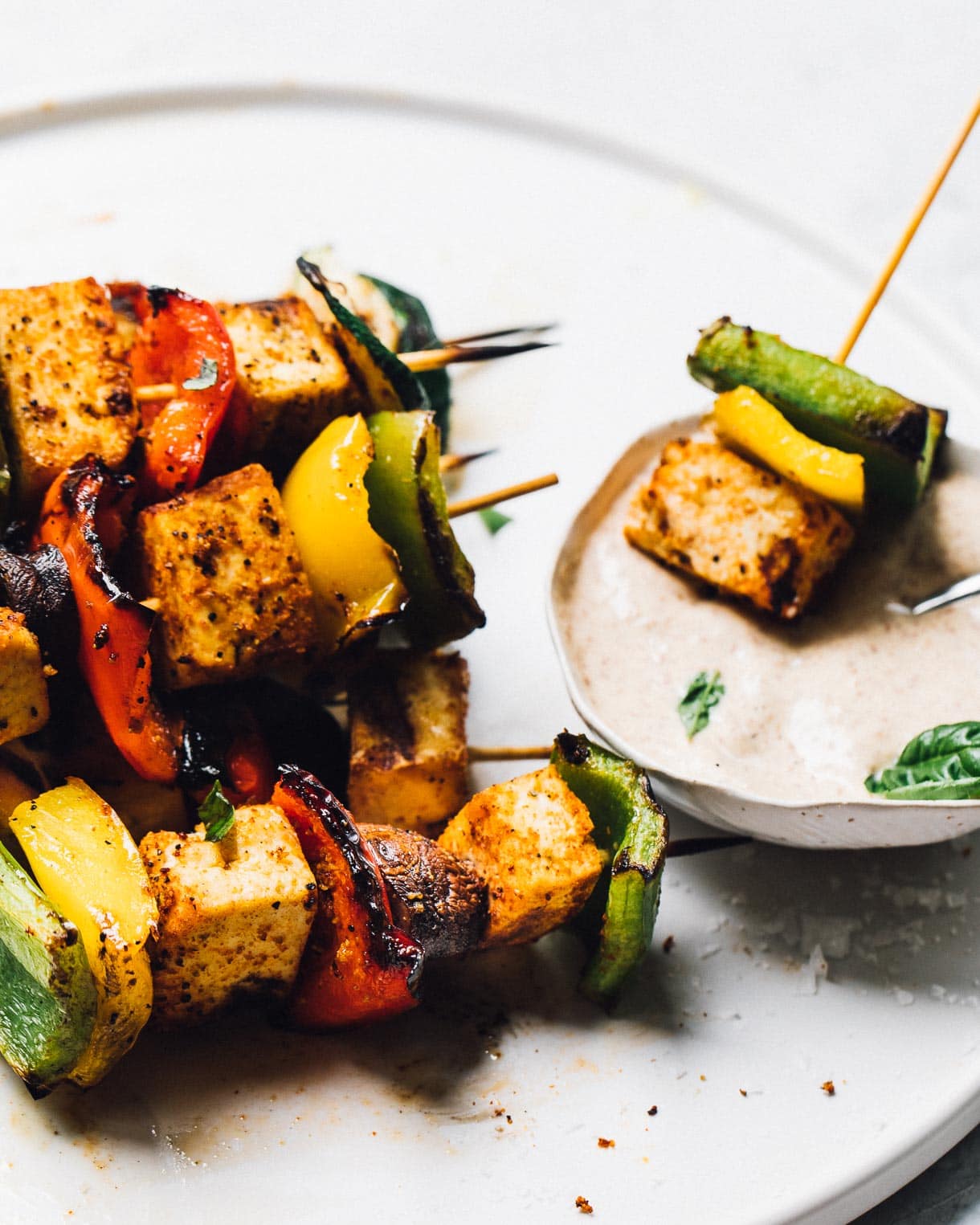 How to Make Grilled Veggie Kabobs:
Soak wooden skewers in water for 10 minutes. Or use stainless steel skewers!
Cut your peppers, onions, and zucchini into about 1/2 inch chunks. The most important thing is that they are in similar in thickness so that they cook evenly.
Press tofu wrapped in a towel by setting a heavy cast iron skillet onto it, so that excess water is released from tofu.
Cut tofu into 1/2 inch cubes.
Toss veggies and tofu in seasoning blend, with olive oil, and let rest for 20 minute to soak up those flavors. Thread onto skewers, packing them rather tight so they stay together nicely when they shrink.
Grill over medium heat for 20-25 minutes, turning occasionally, until veggies are tender and lightly charred!
Vegetables to Use for Kabobs:
When grilling veggie kabobs, you want to make sure you use vegetables that will cook at about the same rate. This depends on density and water content – think brussels sprouts and potatoes as dense therefore taking longer to cook, while peppers and onions tend to have more water and cook faster on the grill. I've found the following combination to be a good start!
colorful bell peppers
button mushrooms
onions
zucchini
summer squash
What to Serve with Veggie Kabobs:
1

14 ounce block of extra firm tofu

2 to 3

bell peppers,

any color, cut into 1/2 inch chunks

1

zucchini or summer squash,

cut into 1/2 inch slices

8

ounces

button mushrooms,

stems removed

1

white onion,

cut into 1/2 inch chunks
Seasoning Blend
1

teaspoon

garlic powder⠀⠀

1

teaspoon

smoked paprika⠀⠀

1

teaspoon

ground cumin⠀⠀

1/2

teaspoon

black pepper⠀⠀

2

teaspoons

kosher salt

olive oil
Wrap tofu in paper towels or a regular towel and set a heavy cast iron skillet onto the block so that it will press out the excess water. Let sit for 15 minutes, and also soak your wooden skewers in water at this time, for 15 minutes.

Meanwhile, stir together all the spices for the seasoning mix.

Cut pressed tofu into 1/2 inch cubes. Put tofu in one bowl, and cut veggies in another. Toss each with 2 tablespoons olive oil. Then add 1/2 of seasoning mix to tofu bowl, and remaining half to the veggies. Toss each to coat thoroughly. Let marinate for 20 minutes before threading onto skewers.

Meanwhile, preheat grill to medium high (about 400 degrees F). Add skewers and close the lid, opening the lid and turning occasionally, grilling for 20ish minutes. When vegetables are softened to your liking and you have some nice sear marks, they're done. Serve with your favorite dipping sauce.