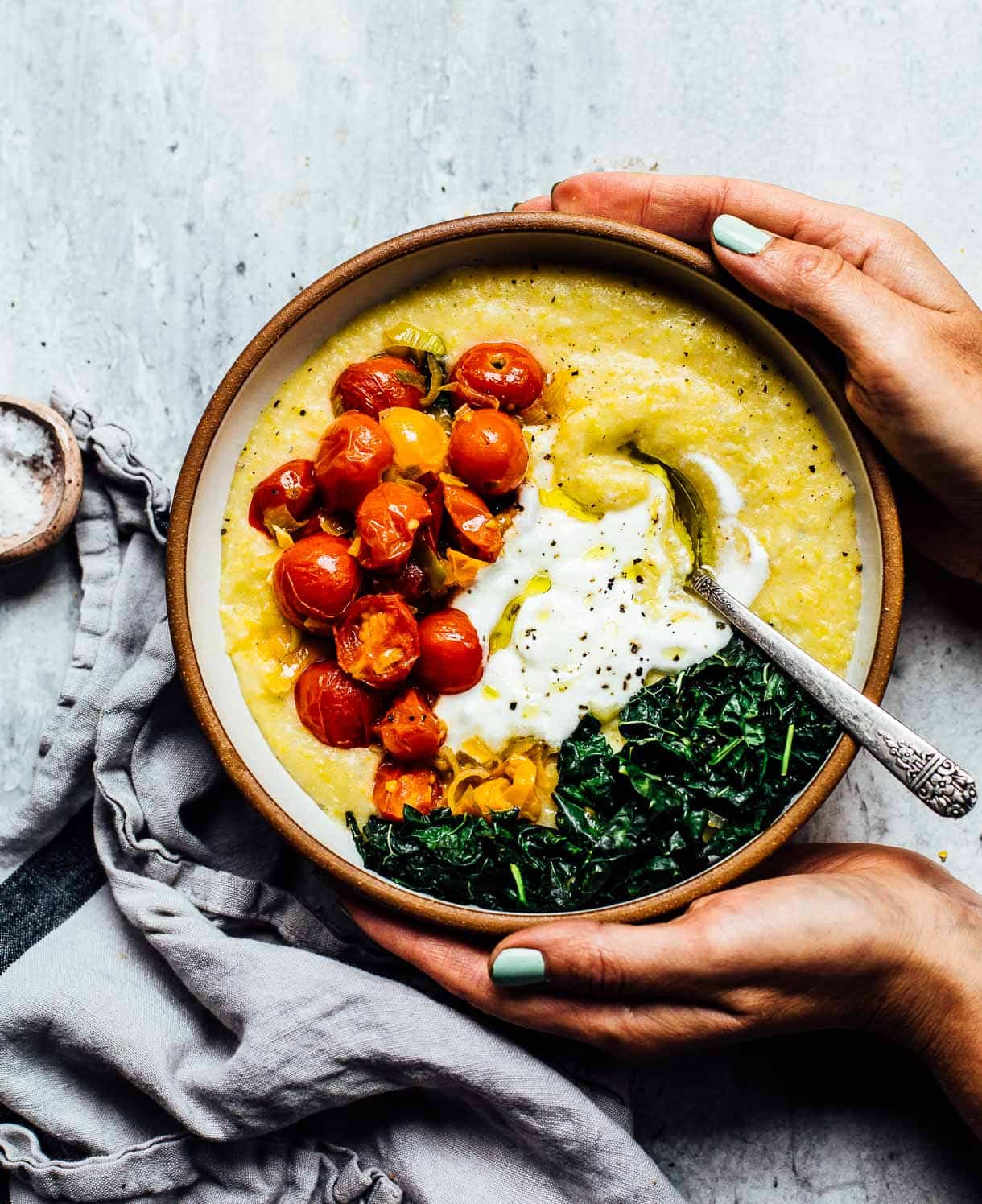 About this summer polenta recipe:
Are you making polenta at home? It's one of my weeknight staples, that I use to build meals throughout the week. Somewhere along the way, polenta picked up a reputation for fussiness. But that's a myth! You can whip up creamy polenta in about 30 minutes, with one pot.
This way of eating corn is incredibly savory and comforting, and functions as a versatile base for in-season vegetables, any time of year.
Okay, but are you ready to make the creamiest polenta of your life? Let's welcome organic whole milk yogurt to the party, whisked in at the very end of cooking. There's really nothing like it. Lusciously creamy, smooth, and delicious thanks to the good fats found in organic whole milk.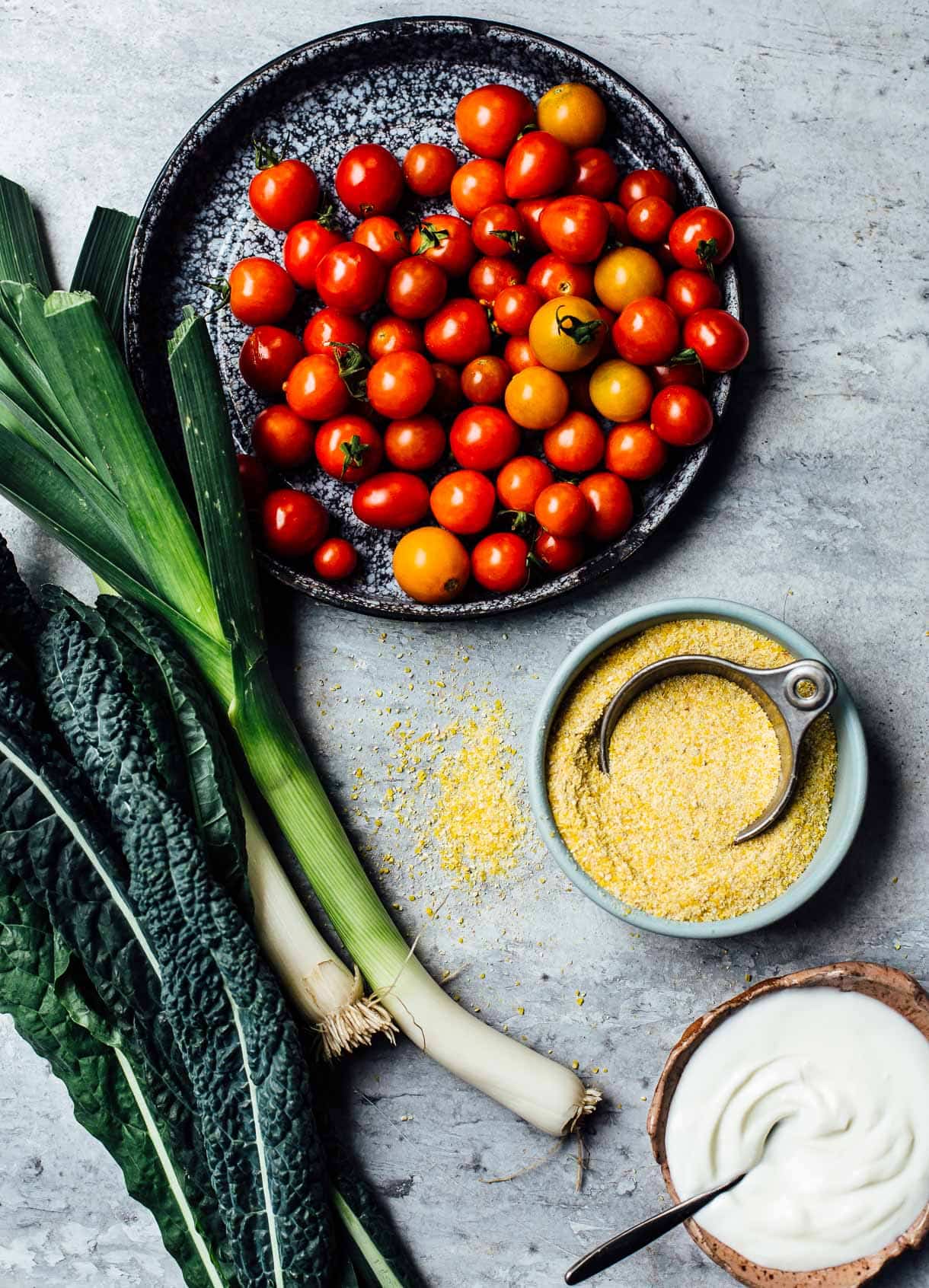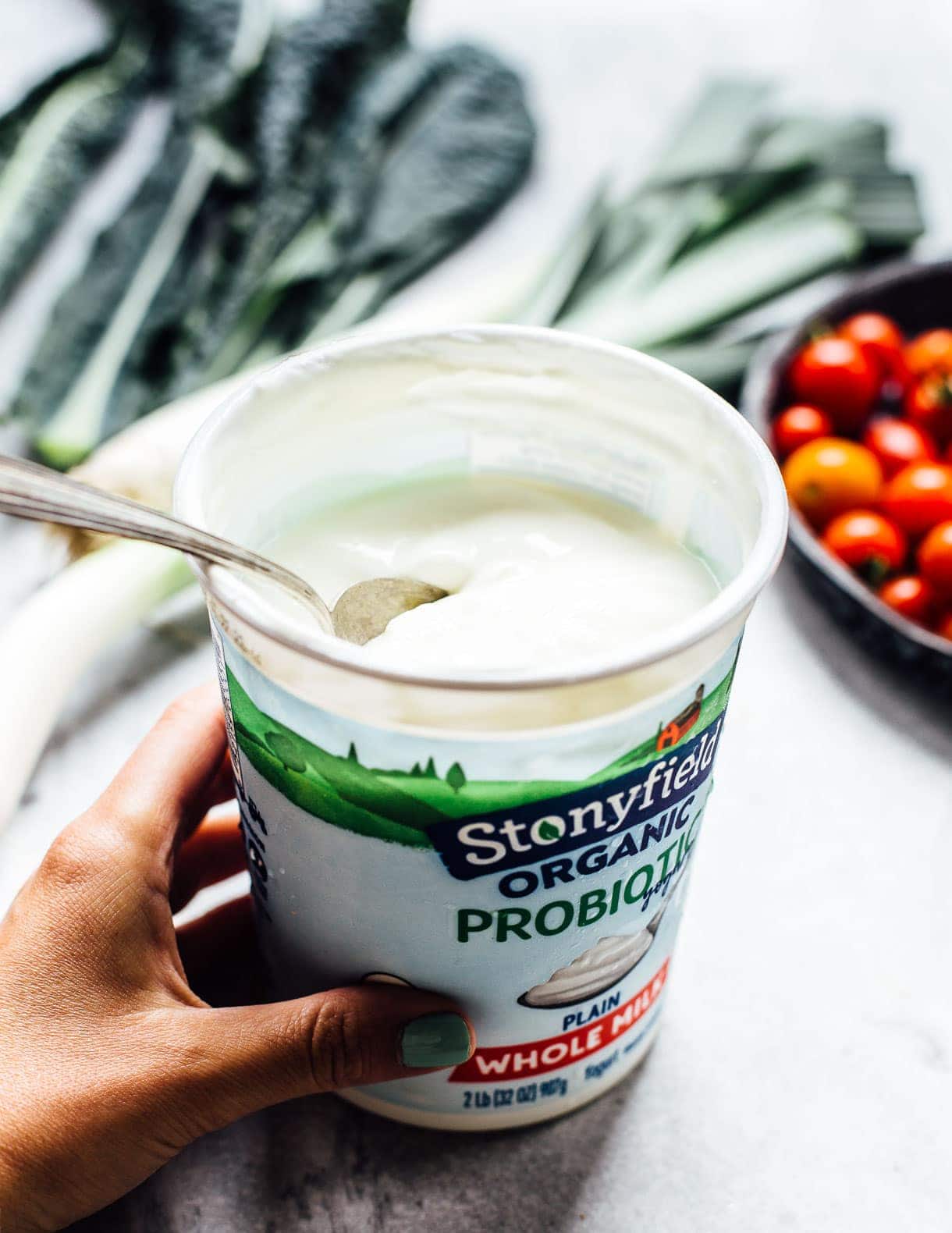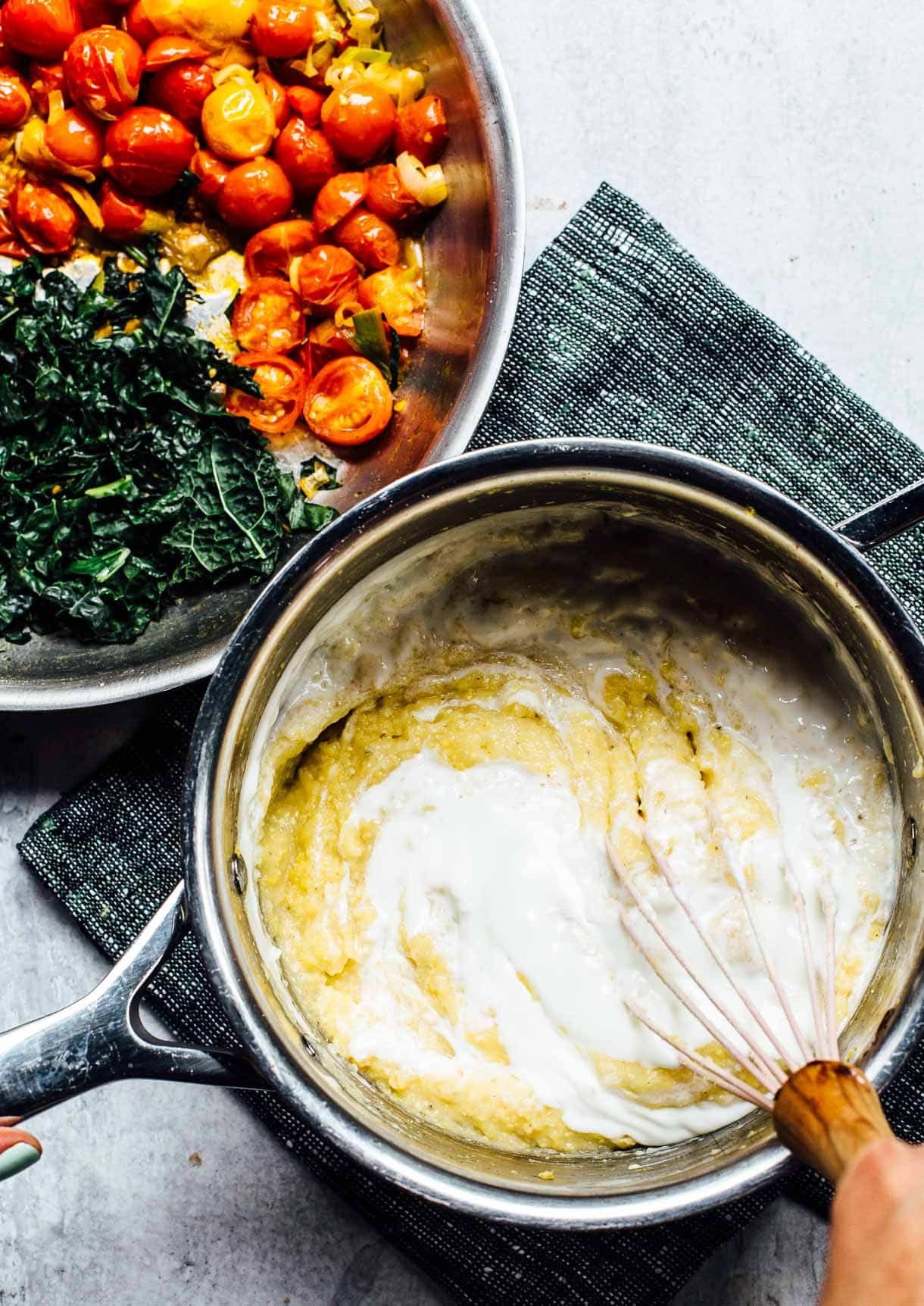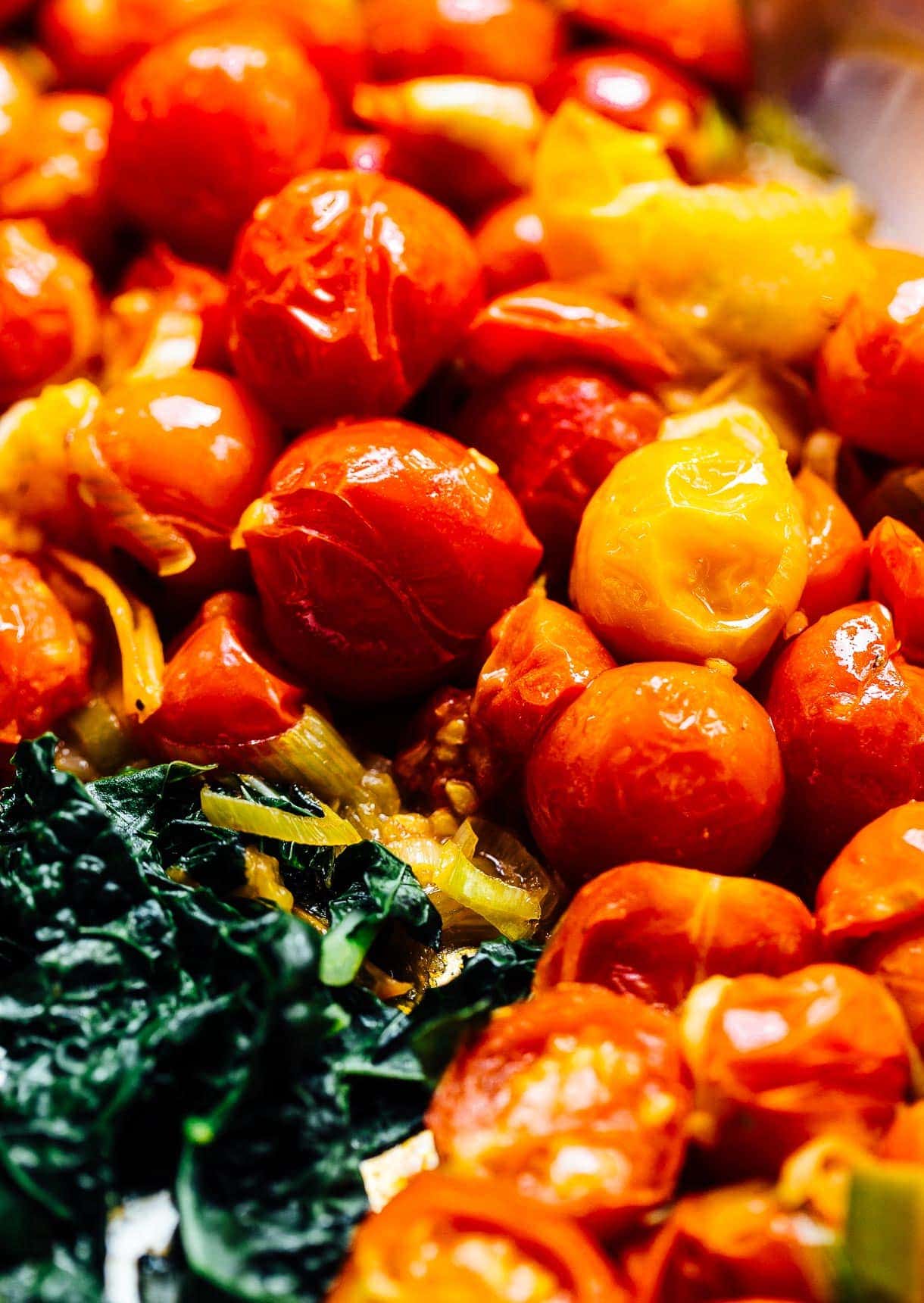 In this recipe, the soft polenta buddies right up to blistered cherry tomatoes, leeks, and kale — a stellar way to celebrate a summer harvest. You'll love how the slight yogurt tang adds just a little extra to the dish.
And even though I'm a big fan of cheese, you don't need any of it here thanks to the richness of the plain yogurt. (p.s. – Did you know that organic milk has 62 percent more omega-3s, compared to milk produced by cows on conventional dairy farms? That's a big reason I chose Stonyfield for their whole milk and grassfed yogurts.)
Is polenta gluten-free?
You bet! I prefer using coarse ground, and a liquid to cornmeal ration of 5:1, for full hydration of the polenta that leaves room for extra creaminess from the yogurt. You can even make it in the Instant Pot, if you prefer a completely hands off approach.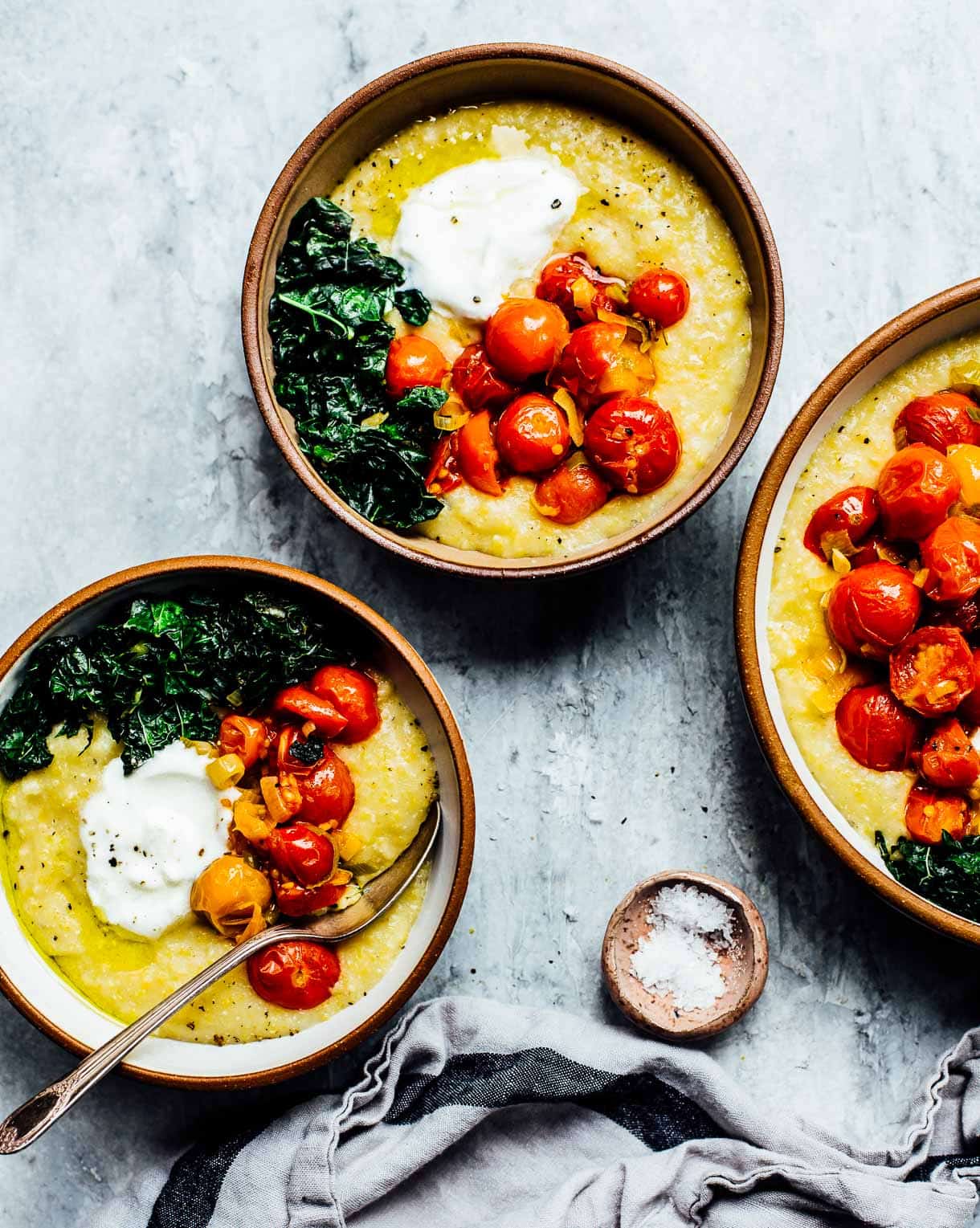 Why Organic Is So Much More Than A Label
If you've been a reader of Heartbeet Kitchen for some time, you know that my passion lies in telling the stories of the farmers, artisans, fishermen, and makers who provide us with much of what is on our table, nourishes, our bodies, and our lives. You also know that I really care about eating real food, but also enjoying food in the moment with those you're sharing it with, whether it be healthy or comfort food, an indulgent dessert, or a delicious beverage. I buy both organic and conventional groceries, according to my budget, beliefs, availability, and what I know about the company's practices.
Even though I always knew it was important to buy organic as able, especially when it came to the Dirty Dozen that is released each year, I mostly associated organic with no pesticides, which we of course know, are detrimental to our health with repeated exposure.
But my recent visit to Vermont, with Stonyfield, has redefined organic for me. It was a life changing, thought changing weekend. That has also instilled a passion for sharing that with you, as I'm certain that organic is so much more than a label – it's the bigger picture, and what it means for our environment, health, and animal welfare.
And honestly, it all starts with the soil, and the farmer.
Julie's farm was the first we visited, and this is one of her jersey cows, living her best life on the pasture on the hills of New England. Julie milks the 30 girls every day, and is one of the most inspiring, fierce women I've ever met. She started dairy farming in the early 80's, while homesteading and tapping the "sugars" 🍁 that line the ridge she lives on. Her cows are born and raised here, grazing on lush pasture all the days they care to, and milking for 12-15 years. The 30ish jersey girls are all named, and all loved dearly. Her respect for them, her pride in them…. You can hear it in her voice, see it in her eyes, feel it in her presence.
That same love was essentially what kept her from going fully organic until 4 years ago – knowing she wouldn't be able to use antibiotics (hormones and antibiotics are prohibited in organic farming) if one of them were to become sick. She couldn't bear to think of not being able to help an animal she cared so deeply about.
But she attributes their mostly pasture (a minimum of 120 days a year) and supplemented organic feed in the winter (that is fermented pasture with a small amount of organic barley, oats, and grains) to healthier animals, whom she has yet to need to treat 4 years later. Her cows have stronger immune systems, and they're thriving.
Greg, a dairy farmer who slowly converted his land to organic, saw the spring on his land, once covered in algae from pesticide runoff, clear up. He watched his cows, who were previously treated with antibiotics to maintain health, no longer need them when fed a diverse, organic, grass fed diet.
Pasture grazing not only improves the quality of their milk, but they fertilize their own fields, churn up and aerate pasture with those healthy hooves, and enjoy a major role in the systems-based approach to farming.
It's hard to be a farmer. But I was moved by how exquisitely hard it is to be a farmer who does the right thing, full circle. For the animals, for the soil, for the land, for us. That is what organic stands for. These farmers give us so much, besides just the highest quality milk or yogurt we buy. They are true stewards of our environment.
There's so much here, right? So much that it's been hard for me to condense into one post, and feel like I'm doing it justice. Because I'm not. But I am passionate. And I really wish I could sit down with every single one of you who are reading this, over coffee, and get your thoughts about organic too.
My hope is this. Even if it's just one thing you can commit to buying organic, whether it's carrots, crackers, dairy, black pepper, anything. Start there. The point is it is so important for this beautiful world we live in, to nourish it and protect it from deteriorating any more than it already has.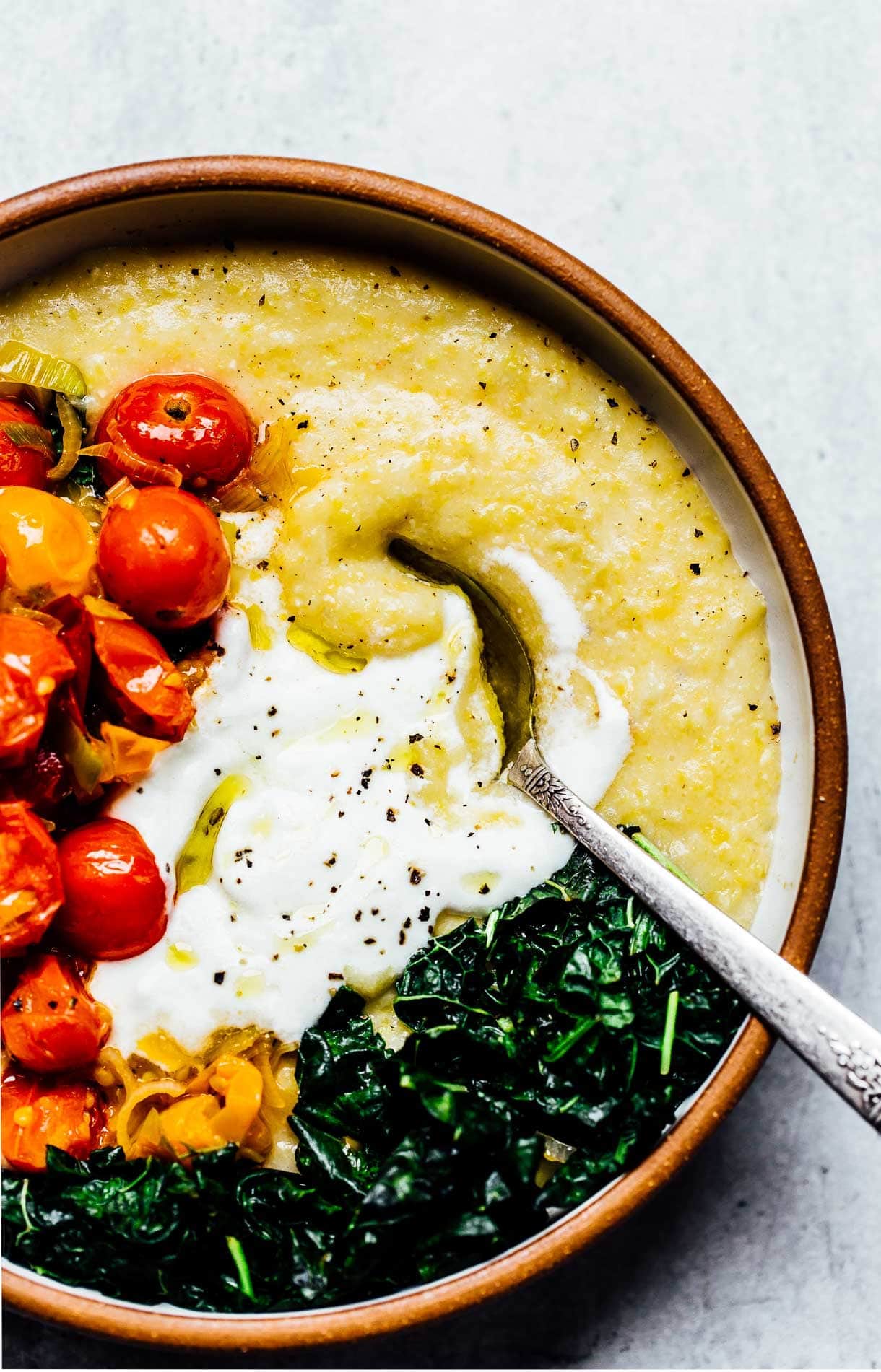 More Polenta Recipes: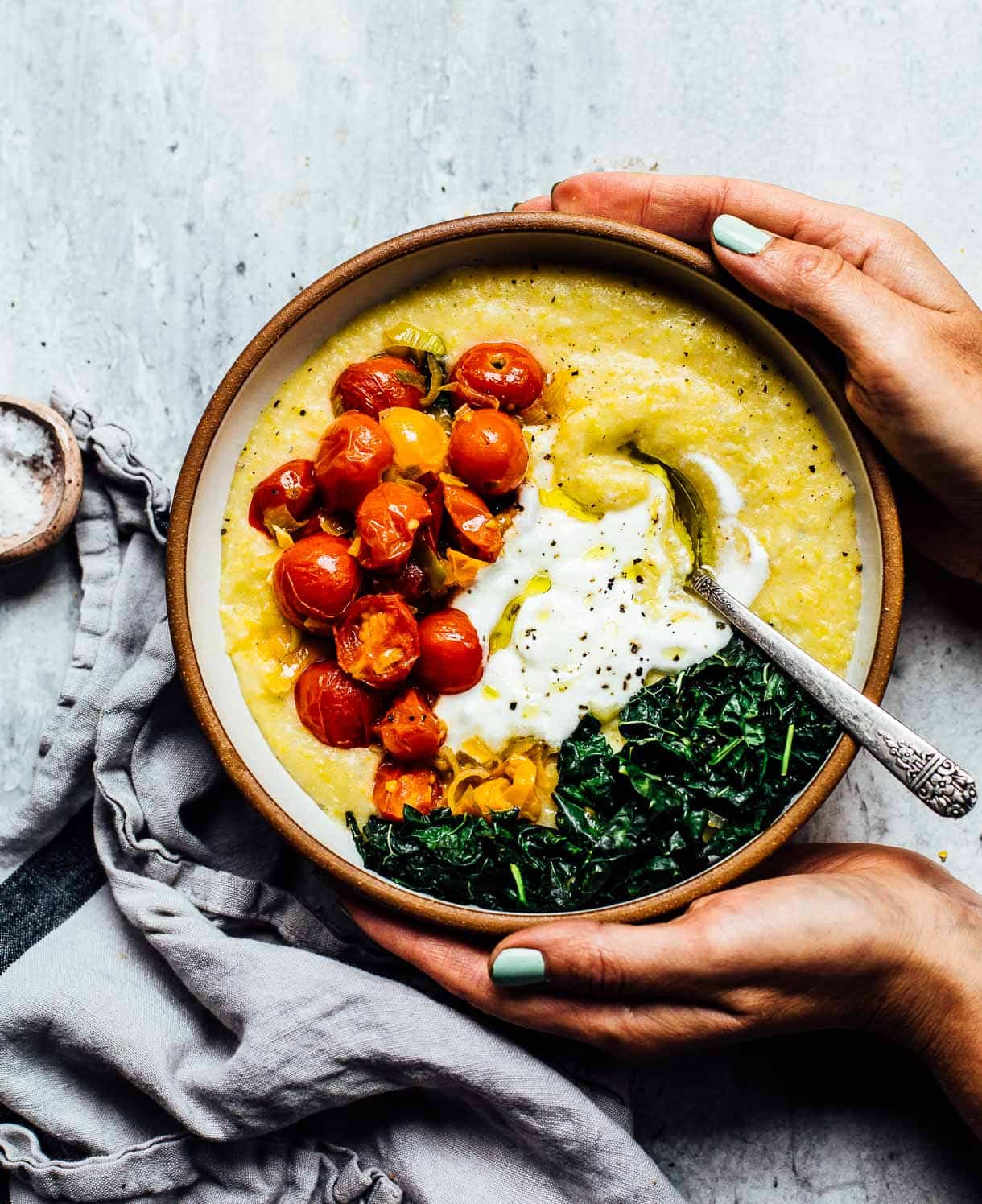 5

cups

water

1

cup

coarse ground polenta

cornmeal

1 1/2

teaspoons

kosher salt

divided

2

tablespoons

olive oil

1

large leek

cleaned, and thinly sliced

1

pint

cherry tomatoes

3

cups

torn dyno kale leaves

3/4

cup

Stonyfield Organic Whole Milk Yogurt

2

tablespoons

butter

crushed black pepper
In a large saucepan, bring water to a boil. Whisk in polenta and 1 teaspoon salt.

Turn heat to low. Polenta should be barely barely simmering. Stir occasionally, so polenta doesn't stick to bottom.

While polenta is cooking, heat olive oil in a medium saucepan to medium high. Add leeks and cook for 4 minutes, until translucent. Add tomatoes, and cook for 10 minutes on medium, until they are bursting. Add kale leaves, stirring to coat with other ingredients.

Cook on low for 5-8 minutes, until kale is wilted. Stir a 1/2 teaspoon salt and black pepper into mixture.

After 35 minutes, polenta should be thick and creamy. Removed from heat, and add yogurt and butter. Whisk until completely smooth.

Spoon polenta into bowls and top with tomatoes and kale mixture, then add extra dollop of yogurt and drizzle of olive oil. Serve.
More Organic Information
When you see the USDA organic label, you can be sure:
there are no artificial flavors or colors in the food
there were no antibiotics or hormones used on the animals
no GMO's
Instead, organic farmers take a systems-based approach to farming. Meaning that instead of fighting nature with toxic persistent pesticides and artificial hormones, they work with nature to allow the soil, crops, pasture, and products to flourish and reach their full potential, organically.
Organic farmers focus on building healthy soil, the root of all potential.
Whether that be a carrot that burrows into the black dirt, or the cows who graze the green grass.
Rich in minerals, permaculture, bacteria, and structure when allowed to exist on its own. Biodiversity thrives. Organic soils sequester 26% more carbon than conventional soil as well. But all of this is destroyed when the soil is treated with pesticides and herbicides, is over-farmed, and under-nourished.
And this all transitions back into our ecosystem, the rain that falls, the air we breathe, the ground we walk on. Organic is an ecosystem. A very fragile one that we can make small changes to support and nurture. And that can start by choosing a few organic products over conventional when you're buying food for your family, or forgoing the weed killer used on your lawn.
Pollinators! Another topic that feeds back to the benefits or organics. When a pasture and surrounding environment is allowed to grow organically, there are more diverse flowering plants that support bees. Conversely, when pesticides and herbicides are used on a field, colonies collapse. Up to 161 pesticides have been identified in some bees' pollen and their honey. So sad.