For years I thought I could sustain myself on salads. Huge salads full of vegetables, but missing any and all protein, fat, or carbohydrates. Sure, I'd be full after eating. A boatload of bulky vegetables will do that to you. But within two hours I was hungry again.
Monotonous and dull. Dismal variety. Empty sustainment.
Despite all that, it felt comfortable. And safe.
I'm thankful to say I left that life behind. Although even after emerging from that time, I couldn't bring myself to eat salads for quite awhile, as it brought back feelings of struggle and sadness. It was similar to the complicated relationship I had with exercise, and then finally finding a healthy balance.
Today my salads are welcoming, vibrant, and nourishing.
They're full of variety, and not just a means to filling my stomach with the fewest amount of calories possible.
They represent appreciation for beautiful crops, and the people who grow them.
They're part of my week, but not my every meal.
Sometimes as a starter, like this Coconut Cashew Kale Salad, other times the main star, like this Raspberry Arugula Polenta Salad. It's a breeze to make, and one of my favorite uses for the odd looking, but really good pre-cooked polenta tubes you'll find at the grocery store. For this recipe, I sliced 1/2 inch rounds, then pan- seared with olive oil and salt, served as a warm bed for the rest of the salad.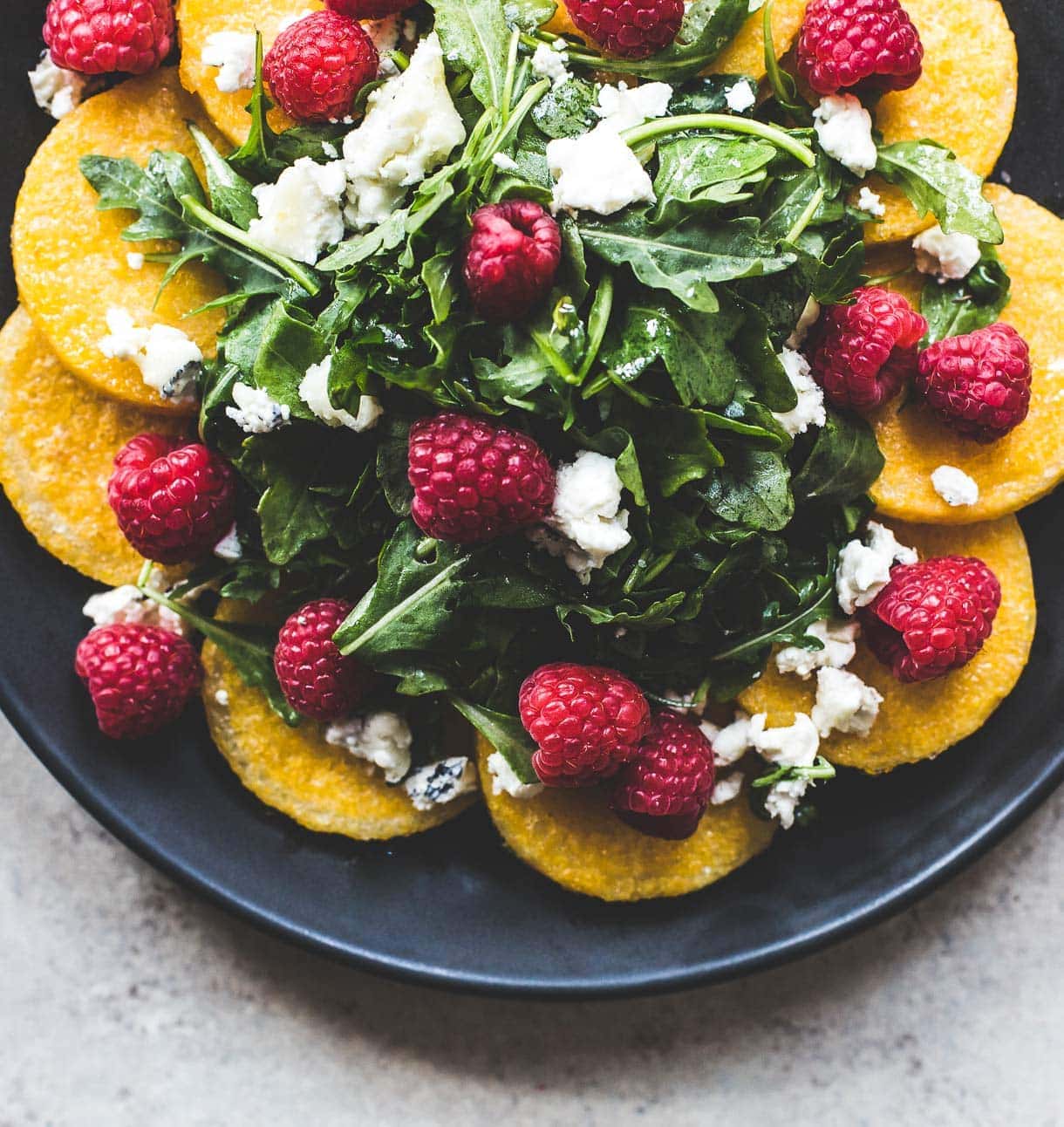 The arugula has a mild, peppery bite, tossed with bright lemon juice and olive oil. And salt! Such an important part for bringing out the true flavors of greens. Plump, Driscoll's raspberries play with the sweetness of the corn in the polenta, and the creaminess of the goat cheese is satisfying in its own right. I can't help to think I need to use berries in more savory applications after eating this.
If you make this Raspberry Polenta Salad, be sure to tag me on instagram with hashtag #heartbeetkitchen or @heartbeetkitchen!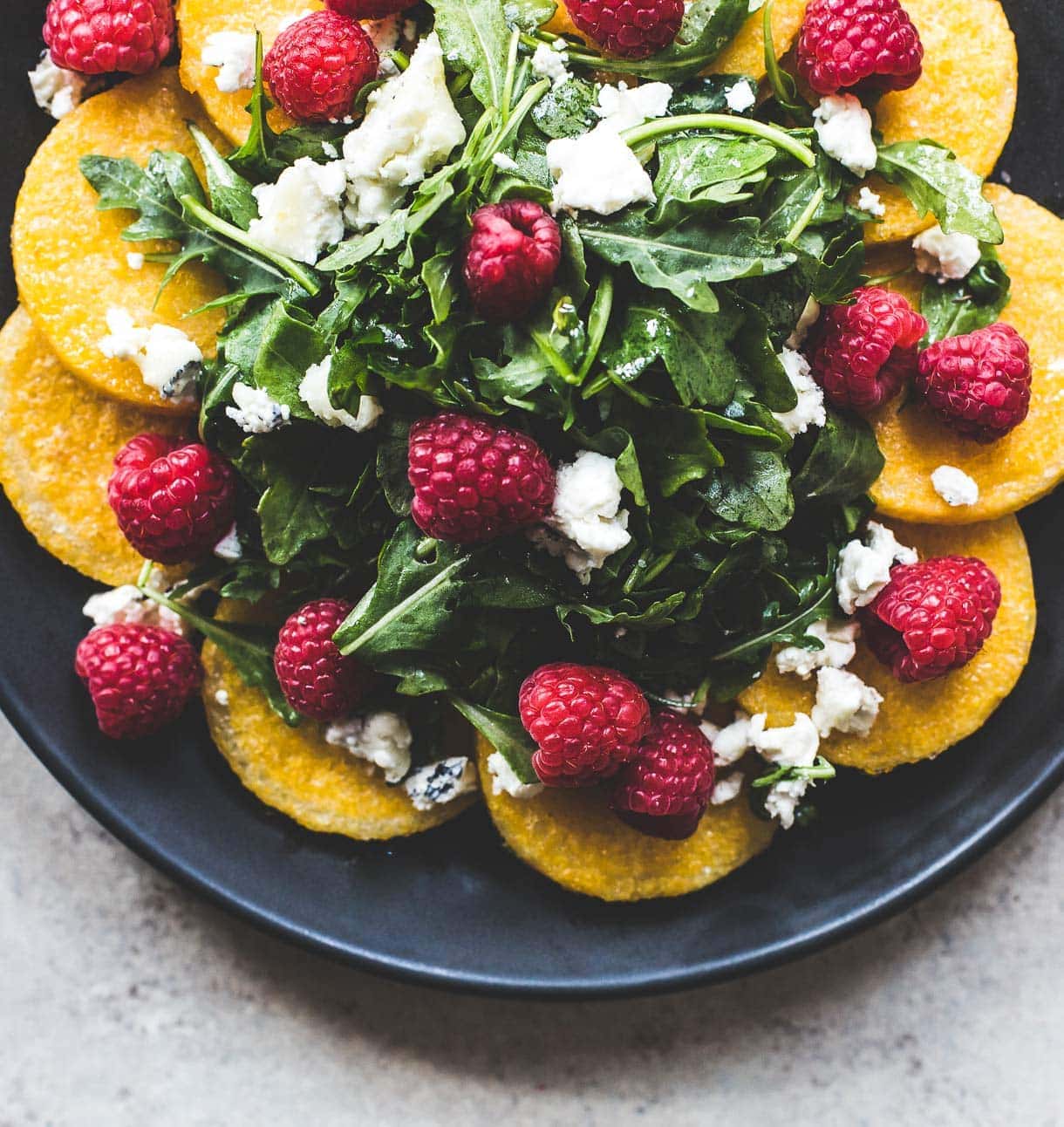 1

tube pre-cooked organic polenta

3

handfuls arugula

not huge handfuls

4

tablespoons

olive oil

divided

2

teaspoons

honey

1 1/2

tablespoons

fresh lemon juice

1/4

cup

crumbled goat cheese

salt

freshly ground black pepper

1

cup

Driscoll's organic raspberries
Slice polenta into 1/2 inch thick rounds. Pour 1 tablespoon olive oil into a skillet and bring to medium high heat. Add 1/2 of polenta rounds, so you don't crowd them. Sprinkle with salt. cook for 3 minutes, then flip and cook other side for 3 minutes. Repeat with remaining rounds.

Toss arugula with remaining 2 tablespoons olive oil, honey, lemon juice, goat cheese, and 1/4 teaspoon salt.

Arrange polenta in an overlapping circle on a plate, and place arugula mix in center. Top with raspberries, and a few good cracks of black pepper. Serve.