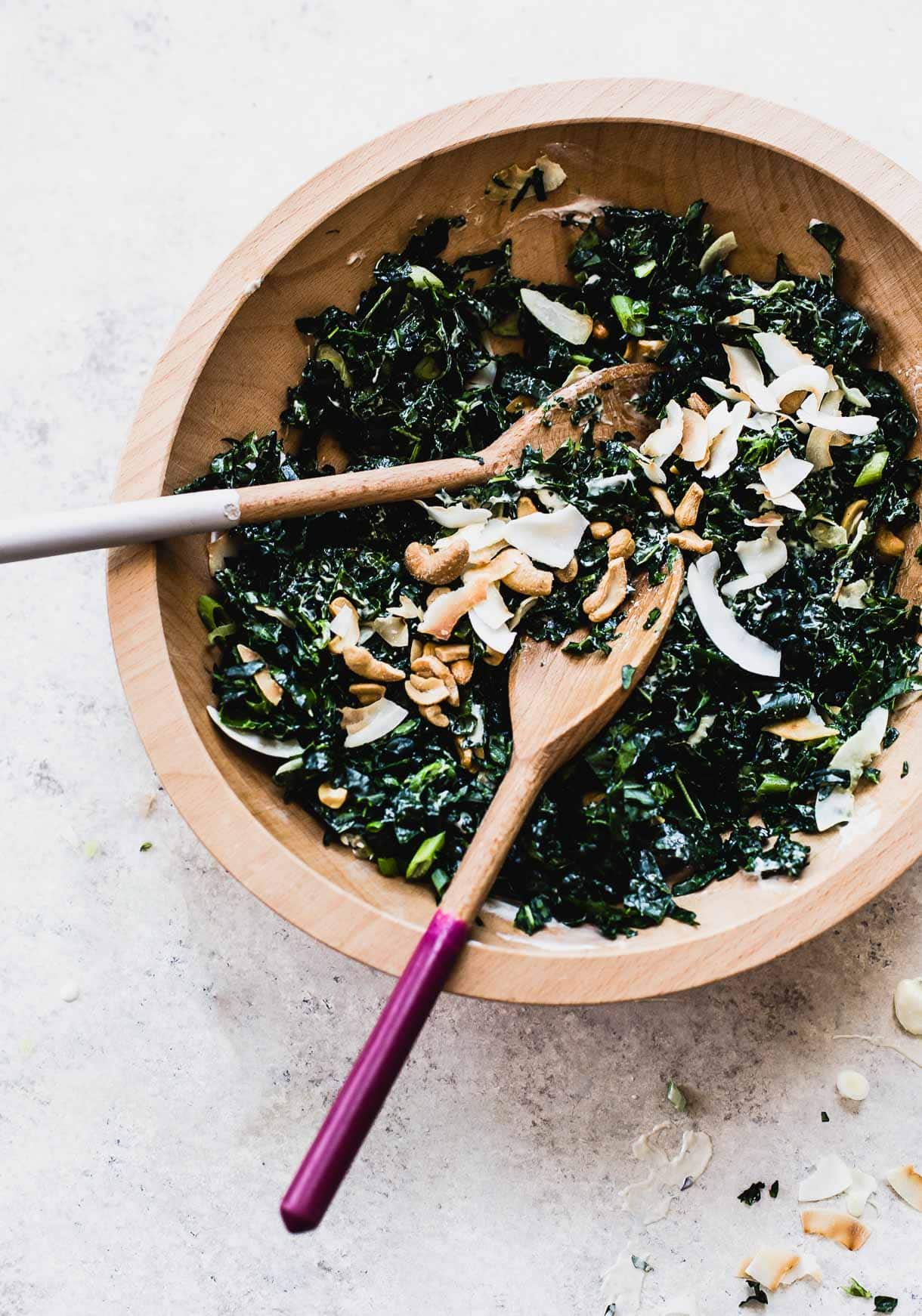 I'd eat more vegan kale salads if they all had toasted coconut flakes and salty cashews.
I've been slow to warm up to the kale salad phenomenon. Sautéed, braised, roasted – I love it. But raw kale, I just haven't found my groove. Mainly because I find it hard to chew, and I enjoy all the different types of lettuce out there, from soft, crunchy, tender, and sweet, earthy, and even spicy.
Best Variety of Kale to Use for Salads
Turns out not all kale is created equal either! And to disregard that fact may have been a key factor in me not enjoying it. Often I would buy curly kale, which is fibrous and "green" tasting, while dyno kale, which I've used here is much more delicate in both texture and flavor. How you slice it also makes all the difference. The key to this Coconut Cashew Kale Salad is finely chopping, basically shredding, the kale, so make sure you're using a sharp knife, and an olive oil massage (hah!). It takes only about a minute or two.
What does massaging kale do?
But it turns raw kale into something else altogether: a tender, sweet green that plays great in salad. Kale leaves have a natural coating that is great for protecting them from rain. Unfortunately, it also protects them from salad dressing. Massaging the leaves with oil removes this coating, so that the leaves can better absorb the dressing.
Wanting to coat the leaves with something slightly creamy, I made an easy, vegan, yogurt-basil dressing with Silk's Dairy-Free Almond Yogurt. It has red wine vinegar for acidity, and a clove of garlic for added flavor. If you're in the mood for a lettuce salad, try this 5-Minute Vegan Salad Dressing instead.
The dressing provides a rich mouthfeel that makes you momentarily forget that you're eating something healthy.
Then I went with two of my favorite toppings – toasted coconut flakes and crunchy cashews. The sweet and salty crunch against the kale that you've made soft! works so well together. And scientifically, these two ingredients have a key component for salad – fat. Without fat, you're left with a lack of satiety.
After a few bowls of this, I think I've found my raw kale groove. Maybe you just need the right dish to make you fall in love too.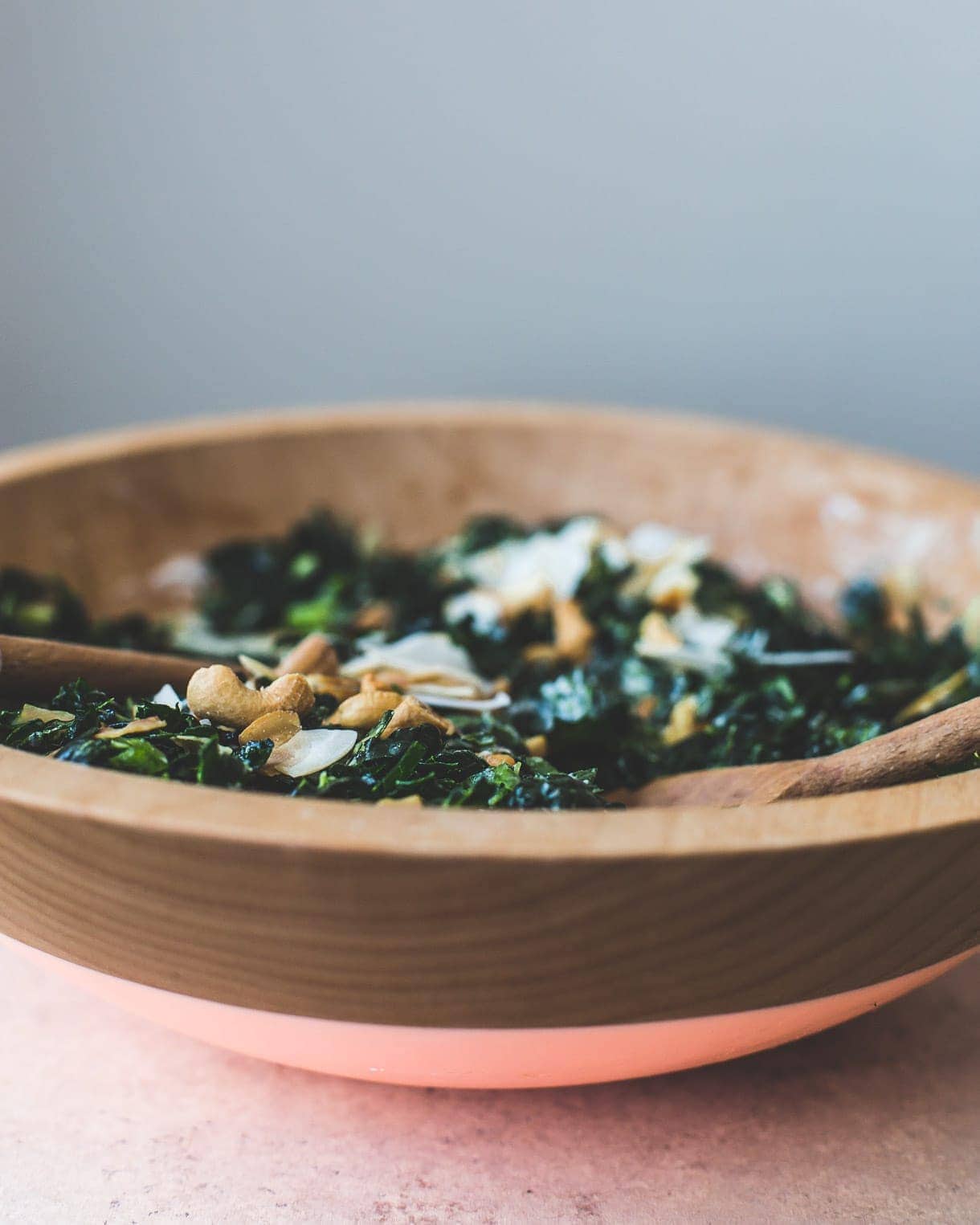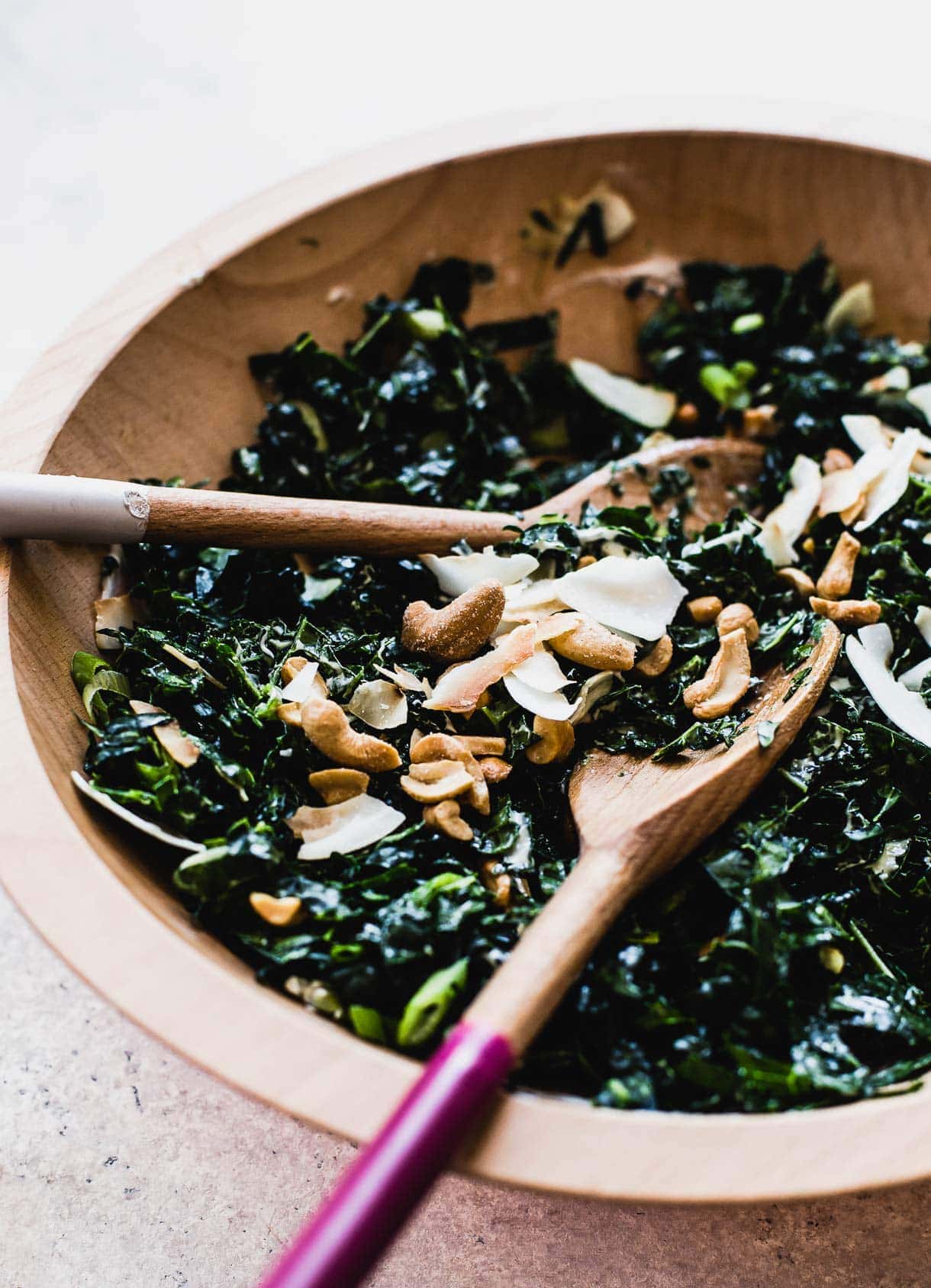 More Salad Recipes: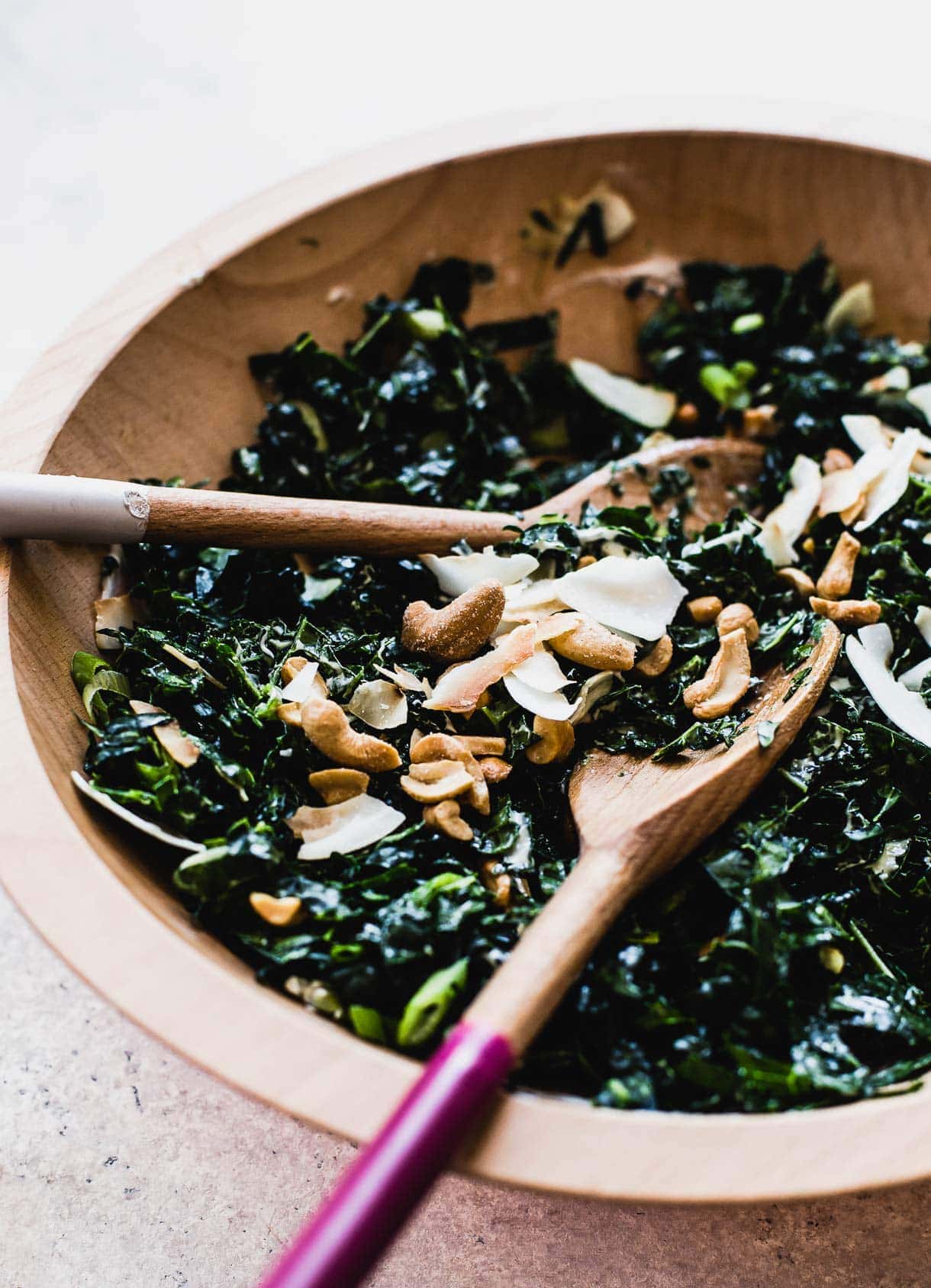 2

bunches of lacinato/dyno kale

2 1/2

tablespoons

olive oil

divided

1/2

cup

Silk Non-Dairy Almond Yogurt

1/4

cup

chopped fresh basil,

divided

1

clove

garlic,

minced

1

tablespoon

lemon juice

1

tablespoon

red wine vinegar

salt and black pepper

to taste

2

green onions,

thinly sliced (both white and green parts)

1/2

cup

roasted

salted cashews

1/2

cup

toasted coconut flakes
Remove kale leaves by stripping from the kale ribs. Very thinly slice the kale leaves, also known as chiffonade. With both hands, massage kale with 1 tablespoon olive oil and 1/4 teaspoon salt.

In a small bowl, whisk together yogurt, 2 tablespoons basil, remaining 1 1/2 tablespoons olive oil, garlic, lemon juice, red wine vinegar, 1/4 teaspoon salt, and few cracks of black pepper.

Add dressing to kale and lightly toss to coat, then add remaining basil, green onions, cashews, and toasted coconut, and toss again. Serve.