I'm in that Summer mode of eating juicy watermelon and crunchy cucumbers daily.
Lifeblood, for when the humidity rocks the upper 60's and sweat beads right off my nose as I trim tomato plants in the garden, preparing the next summer vegetable for its best life.
For now, this Smashed Cucumber Yogurt Salad with fresh dill, vinegar marinated shallots, and toasted walnuts has absolutely been my go to recipe for lunches and backyard bbqs. After several tweaks and tests, it had me coming back to the refrigerator for "just one more bite", and I knew it was ready to share with you.
The Greek yogurt dressing is somewhere in between tangy, vinegar-based and lightly creamy. And it's absolutely delicious.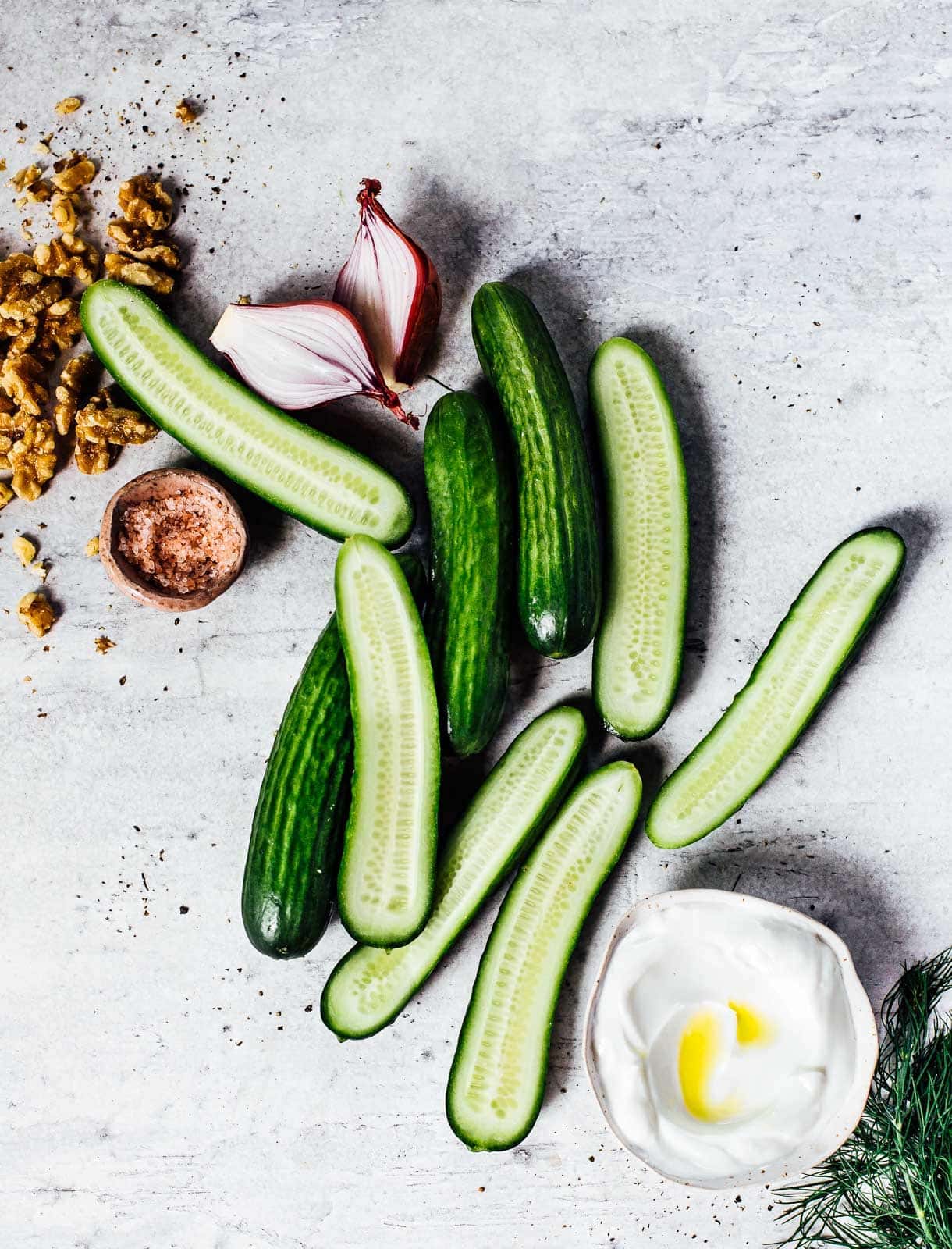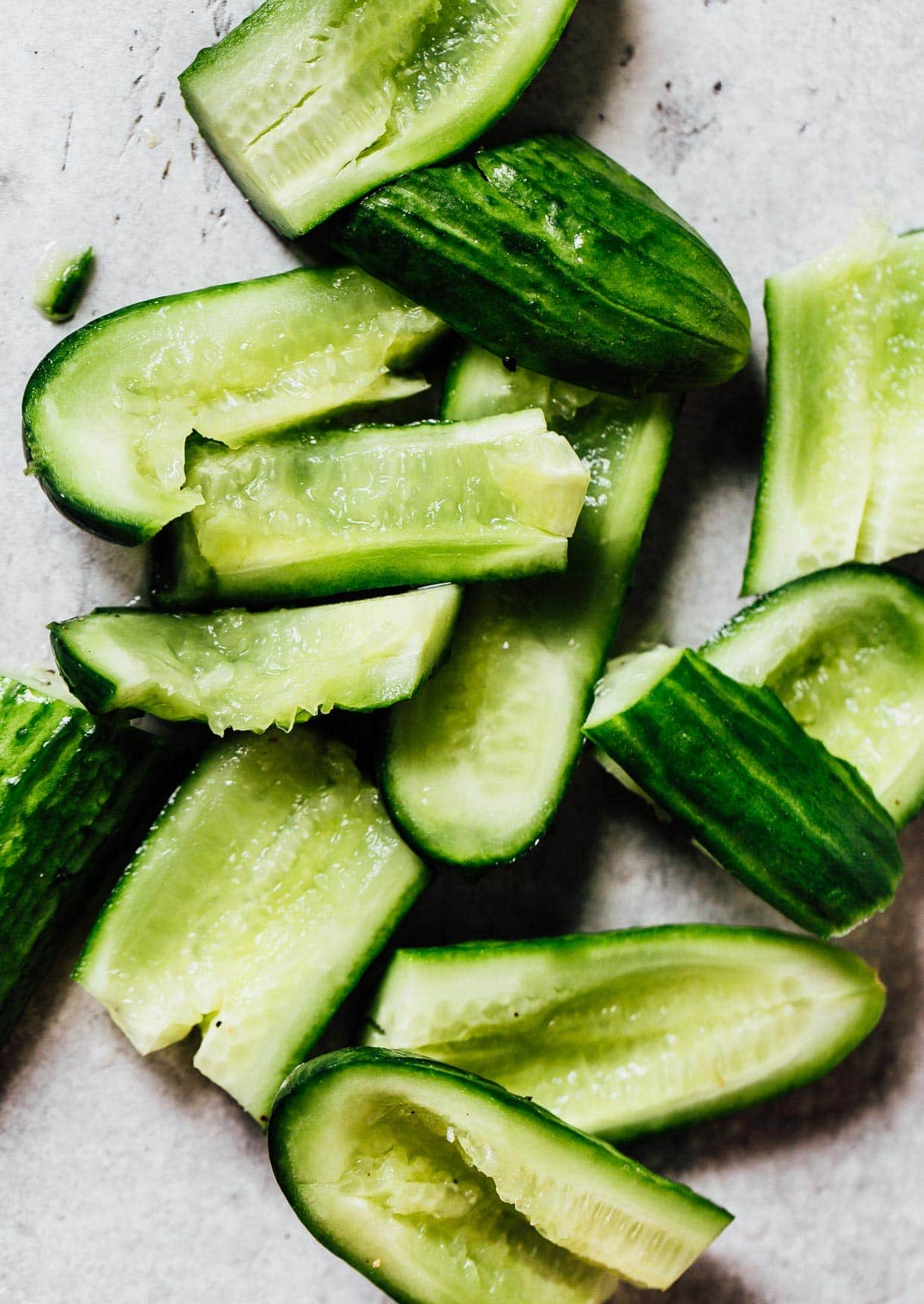 I grew up eating creamy cucumber salad, my grandmother's recipe passed onto my mom, with thinly sliced white onions. A mayo based dressing, with punchy vinegar tang, and a little sweetness. Mom often made it weekly, accompanying whatever she made on the grill.
I enjoyed every fresh and creamy bite, even as a child, going back for seconds, and sometimes thirds, spooning the last drips of dressing into my mouth.
This modern version uses smashed cucumbers, which gives the salad lots of crunch, and the dressing something to cling to. It also removes any bitterness that the cucumbers might have.
And the toasted walnuts add a rich nuttiness that I crave! They're actually the only nut significantly high in omega-3 ALA (2.5g/ounce), which are essential fatty acids critical to various body processes. As a nutrient-dense food, walnuts are an excellent way to improve your daily eats, and are certified by the American Heart Association's Heart-Check mark.*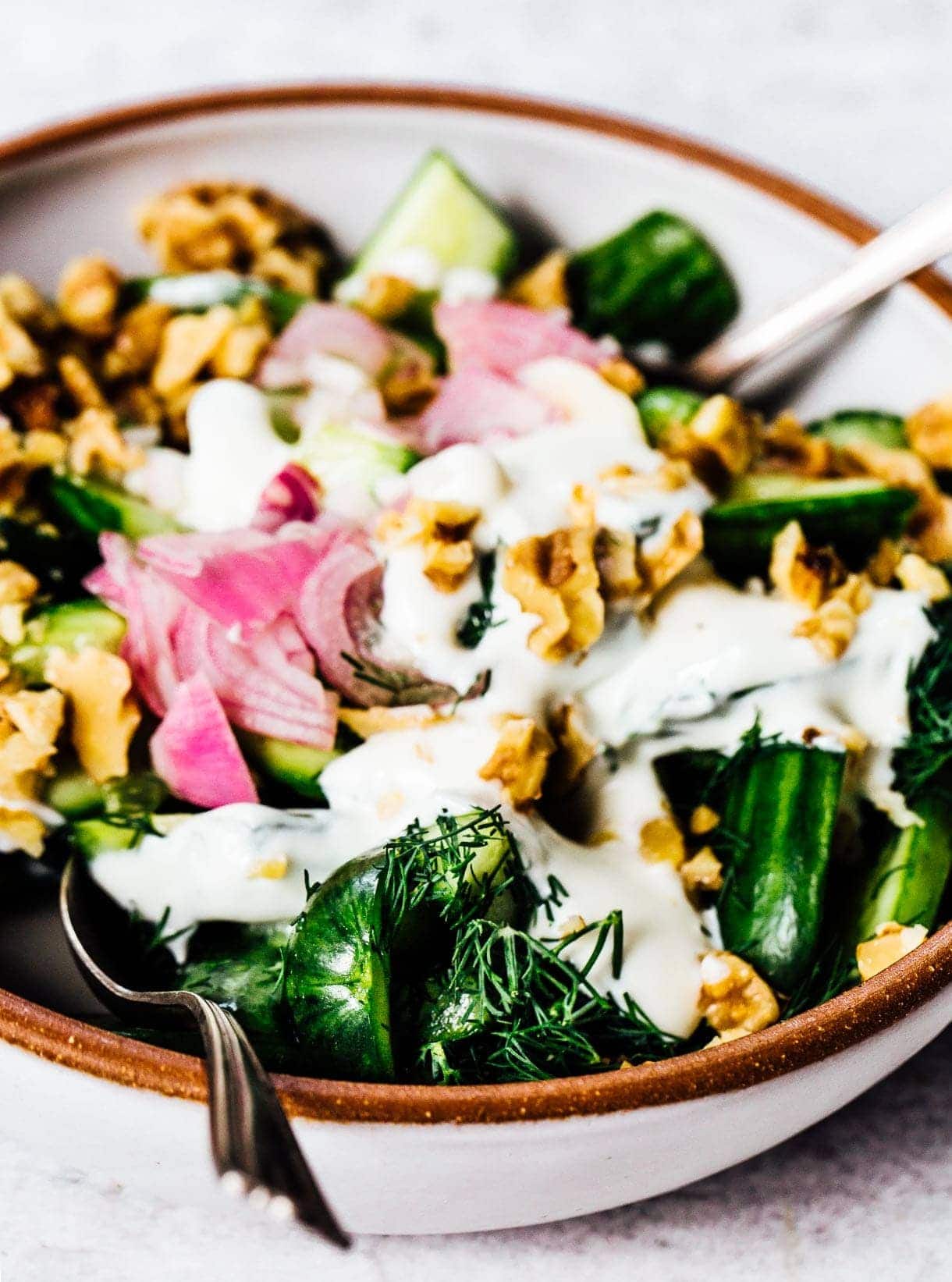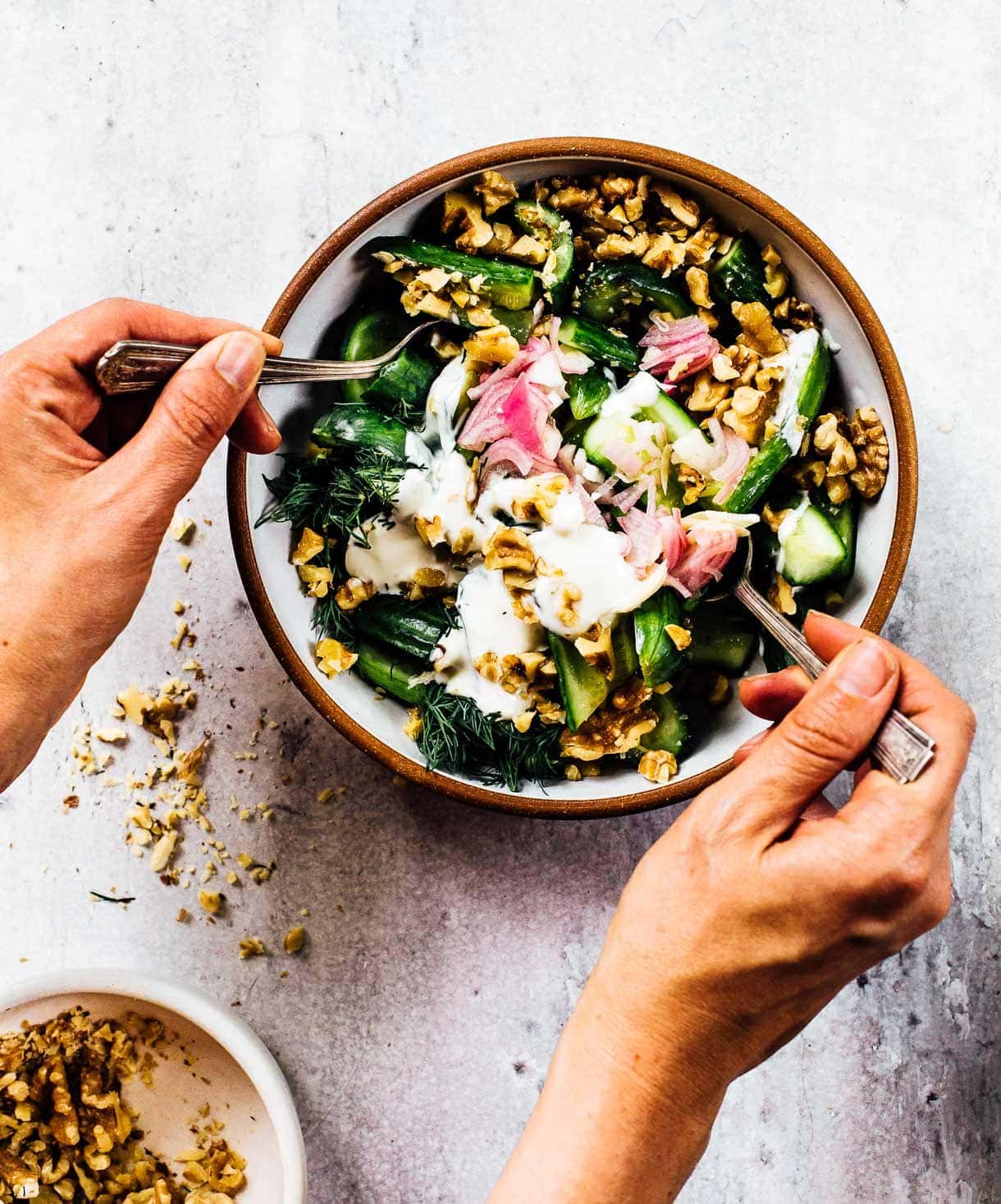 What are Persian cucumbers?
These are the cute litte cukes, packed neatly in a small tray at the supermarket. These short, narrow cucumbers are perfect for slicing into spears for dipping, smashing for salads, or slicing thinly and massaging with salt and vinegar for quick pickles. I certainly love their adorable size, but an even bigger draw is their flavor. They're denser than other varieties, with almost no watery seeds to speak of, and their flavor is fresh and concentrated.
How do you smash cucumbers?
You can smash cucumbers a few different ways. My prefer method is a rolling pin, but a cast iron pan or back of a chefs knife will also work. Just cut the cucumbers in half vertically, place each half cut side down on the cutting board, and firmly press down with your rolling and wiggle, to smash the cucumbers.
How do I avoid a runny cucumber salad?
Slicing and salting your cucumbers, then letting them sit for 30 minutes before making the salad encourages osmosis, which pulls the moisture out of a cucumber. Pat them dry, squeeze a little, and continue with recipe. Your creamy cucumber salad will stay creamy!
* Supportive but not conclusive research shows that eating 1.5 ounces of walnuts per day, as part of a low saturated fat and low cholesterol diet, and not resulting in increased caloric intake may reduce the risk of coronary heart disease. One ounce of walnuts provides 18g of total fat, 2.5g of monounsaturated fat, 13g of polyunsaturated fat, including 2.5g of alpha-linolenic acid, the plant-based omega-3.
12

ounces

persian cucumbers

1

teaspoon

kosher salt

1

teaspoon

cane sugar

1 1/2

tablespoons

white wine vinegar

1/4

cup

thinly sliced shallots

1/2

garlic clove

minced

2

tablespoons

minced fresh dill

1/2

cup

walnuts

toasted
Yogurt Dressing
1/3

cup

2% greek yogurt

1

tablespoon

white wine vinegar

2

teaspoons

olive oil

1/4

teaspoon

cane sugar

1/8

teaspoon

kosher salt

1/8

teaspoon

black pepper
Cut persian cucumbers in half, horizontally, then cut each half again vertically. You'll get 4 spears from each cucumber.

Smash cucumbers with a rolling pin or back of knife.

Add cucumbers to a colander and toss with 1 teaspoon kosher salt and 1 teaspoon cane sugar. Let sit for 30 minutes.

While cucumbers are sitting, mix shallots and garlic with 1 tablespoon white wine vinegar.

When 30 minutes has passed, gently squeeze cucumbers dry with paper towels, and add to a clean bowl.

Add marinated shallots and garlic (don't drain), fresh dill, and walnuts to the bowl with cucumbers.

Whisk together dressing ingredients, and pour over cucumbers.

Mix until all are coated. Serve immediately, or refrigerate and eat throughout the day.