This healthy roasted eggplant dip (also known as baba ganoush) is so creamy and delicious! It has a subtle smoky flavor from deeply roasting the eggplant, plus fresh herbs and tahini for nuttiness. It blends freshly roasted eggplant flesh (we discard the eggplant skins after roasting) with olive oil, tahini, garlic, lime, and fresh mint. It's a terrific dip with crackers and veggies as you would hummus, or as a spread for sandwiches.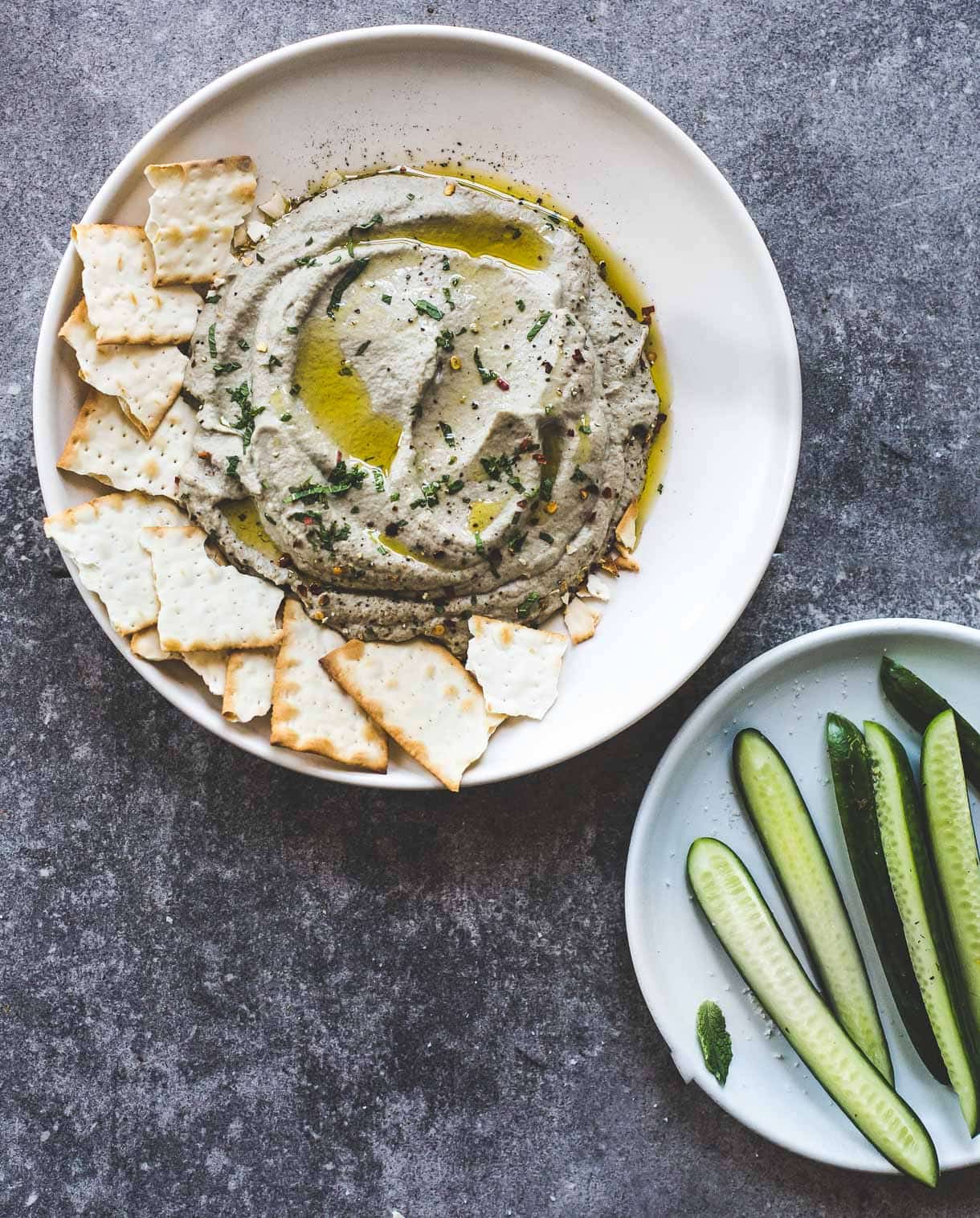 Making Roasted Eggplant Dip At Home
This roasted eggplant dip, also known as Baba Ganoush, is easy to make and absolutely creamy and flavorful. It's one of my favorite gluten-free snack recipes to make.
Blended in a food processor or blender with just a few ingredients, it's similar to hummus but deeply roasted eggplant stands in for chickpeas.
The roasted eggplant is pureed with tahini, lime juice, and a few spices, giving it a Mediterranean feel that goes lovely with pita bread, vegetables, crackers, and even as a sandwich spread.
Easy Technique for Making Baba Ganoush
Recipes for making baba ganoush usually include roasting the eggplant whole over an open flame to char the outside skin. This recipe uses the stove instead, making it accessible for those who may not have a grill, yet the broil function still imparts the charred bits on the skin that give the dip so much flavor.
I love the addition of mint on top to add some brightness, and crushed red pepper flakes for a bit of heat and color.
One thing to note is that your eggplants will always be a little different in size, so you may have to slightly adjust the tahini, salt, and the acidic component (lime or lemon juice) each time you make it. Enjoy!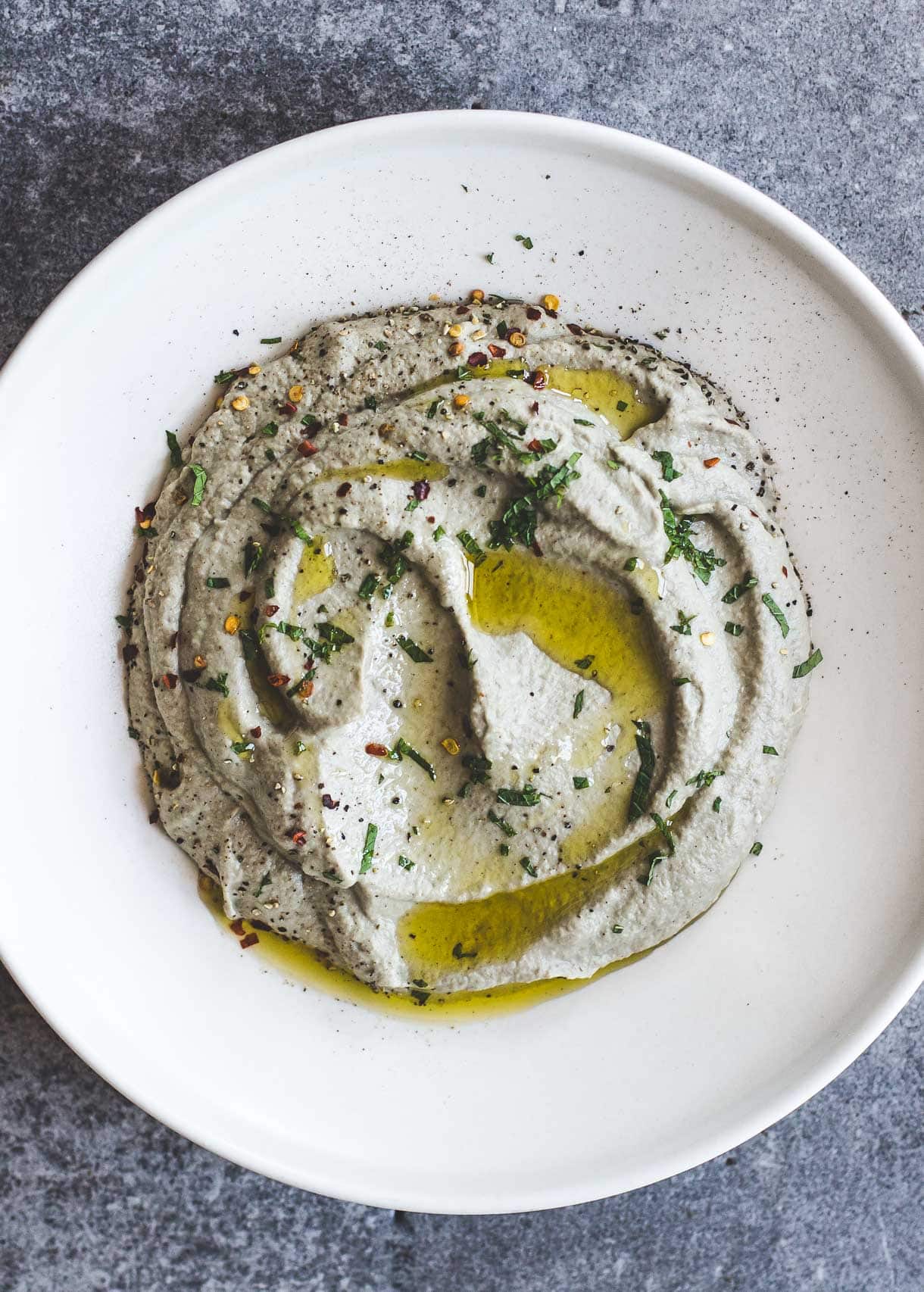 About the Midwest. My roots.
A patchwork of big cities and small towns that in combination, are considered the broadest representation of American culture. The heartland. And the focus of a new cookbook, Vegetarian Heartland, by Shelly Westerhausen, which this recipe for Minted Baba Ghanoush comes from.
This place on the map…. it's where I've been all 33 years of my life, having lived in Iowa, Wisconsin, and my home state of Minnesota. It's where I feel my best at, where my rhythm flows freely. And I never plan on leaving, as so many things about it have captured my heart and soul.
The absolute, unspoiled solitude of the Minnesota northwoods.
The sublime swoops and swirls of the Northern Lights.
The definitive, changing seasons.
The stranger who helps dig you out of a snowdrift.
Big yards for kids to play in.
Short commutes.
Family potlucks in the park, loaded with an assortment of hotdishes and Hamm's beer.
State and county fairs: blue-ribbon winners, midway rides and food on a stick.
Fresh air.
The Great Lakes.
Bald eagles.
Eating corn on the cob that you bought from a roadside stand.
Rhubarb's sweet/tart combination in any form, from pie to crisp to muffin.
Picking apples at the orchard and eating cider donuts.
I could go on about my love for middle America, especially about the food, particularly why I'm absolutely loving the Vegetarian Heartland cookbook. Besides this smoky, creamy, roasted eggplant dip, there are a multitude of recipes that sing the abundance of fruits, vegetables, grains, and dairy that define the bounty of the Midwest. Something we are all so proud of!
More Eggplant Recipes: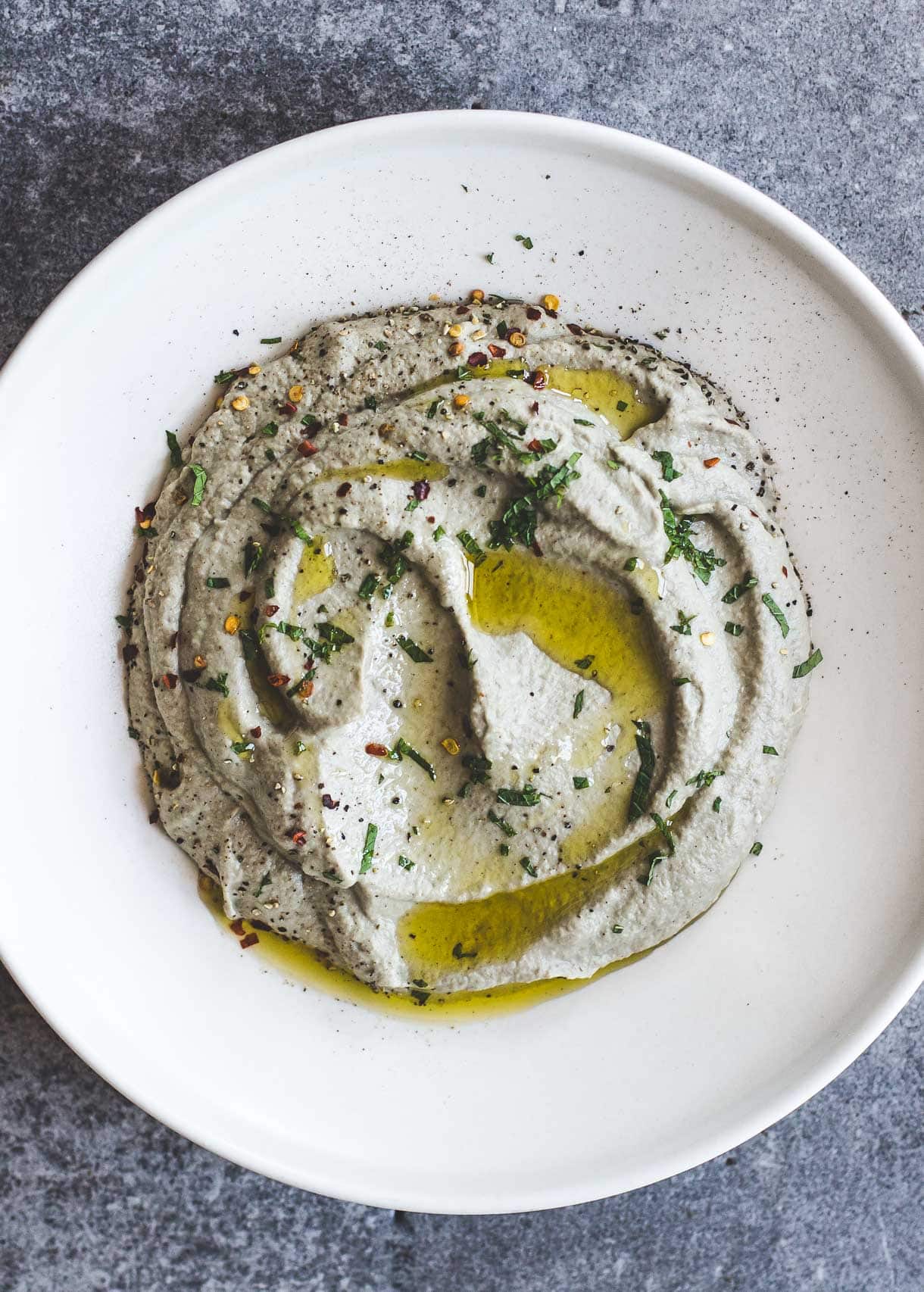 3

small to medium eggplants

1/2

cup

tahini

juice of 1 lime

2

garlic cloves,

minced

1

teaspoon

ground coriander

1

teaspoon

salt

2

tablespoons

chopped mint leaves

1

tablespoon

olive oil (don't skip this)

red pepper flakes for topping
This recipe is lightly adapted from the cookbook, Vegetarian Heartland, by Shelly Westerhausen.