An easy 5-ingredient recipe, these cheesy marinara baked eggplant slices have an incredible pizza flavor without the carbs! Roasted eggplant is layered with muenster cheese and garlic marinara sauce, making for a delicious weeknight vegetarian dinner. Fresh basil adds brightness, and the texture of the eggplant is perfect.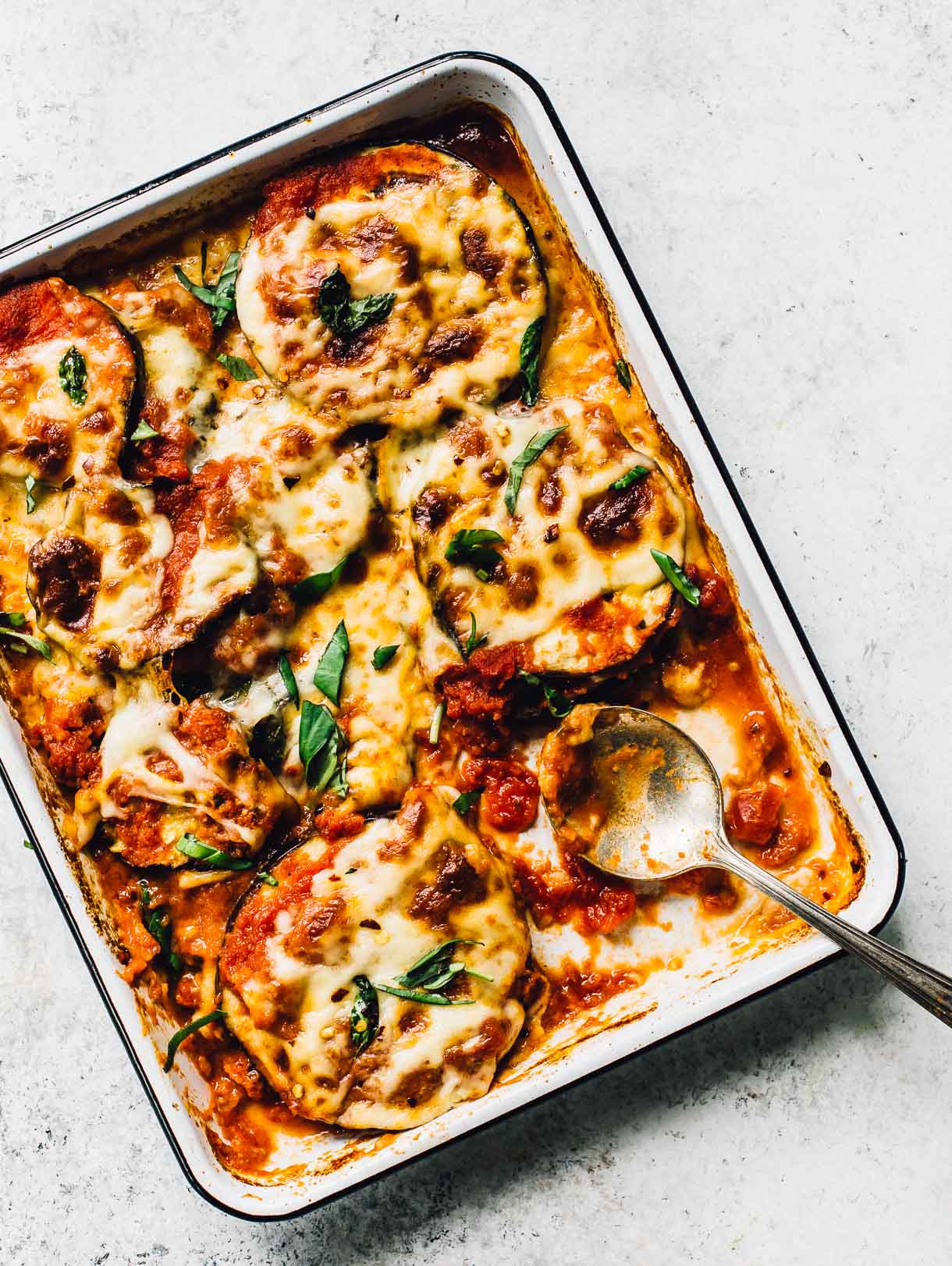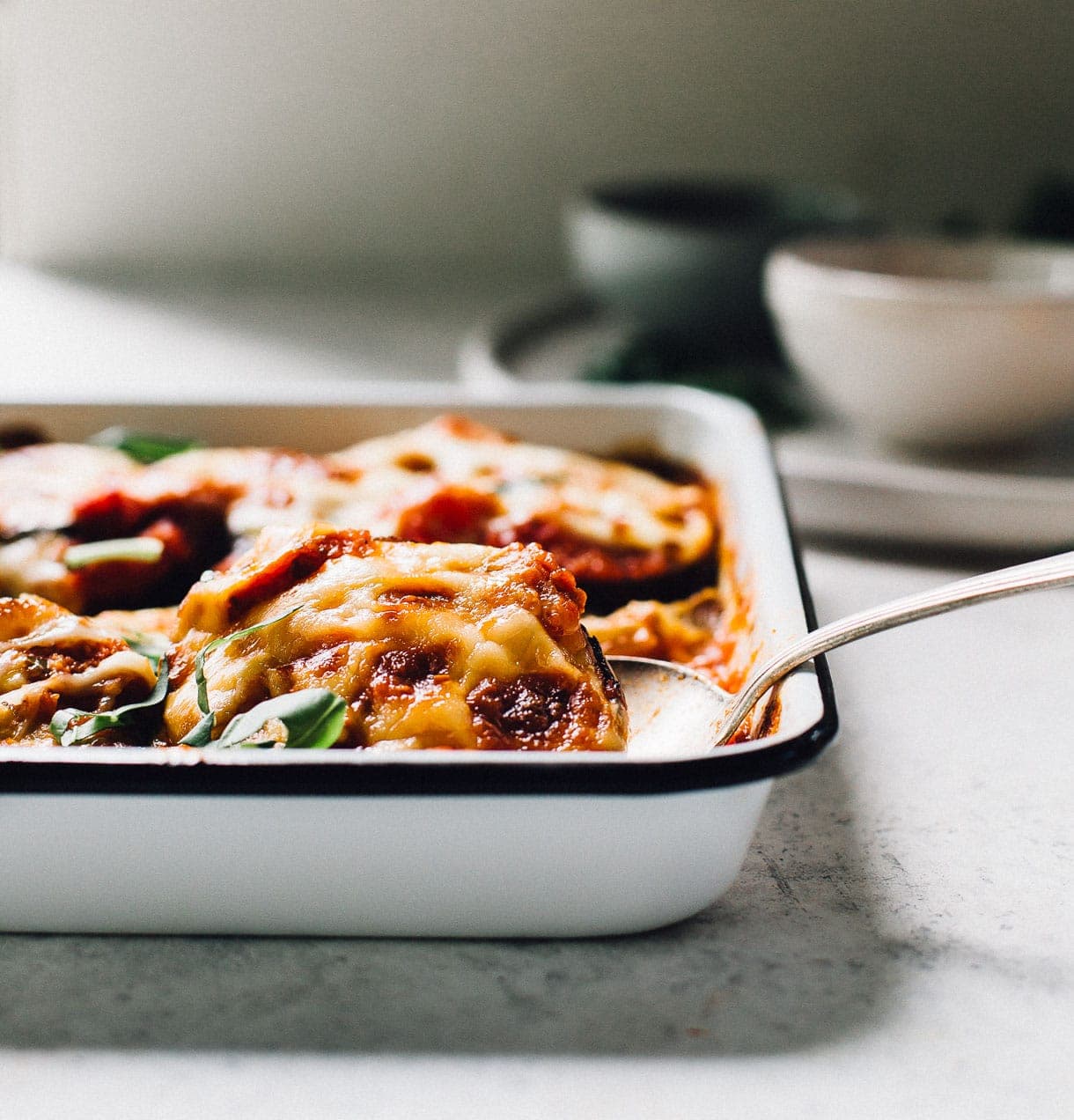 I had two goals in mind when creating this recipe.
First, to help you love eggplant. That they aren't bitter and flavorless, when prepared with a little insight. The tricks I share below got me over my fear of eggplants and taught me how to crave these delightful purple globes.
And second, to show you that muenster cheese is for far more than a deli sandwich.
Actually, now that I think about it, a third thing: that vegetarian meals don't have to be boring or difficult to make! You only need 5 ingredients to make these Cheesy Marinara Baked Eggplant Slices, which is a dish full of flavor and texture. I'd compare the taste to that of an incredible cheese pizza!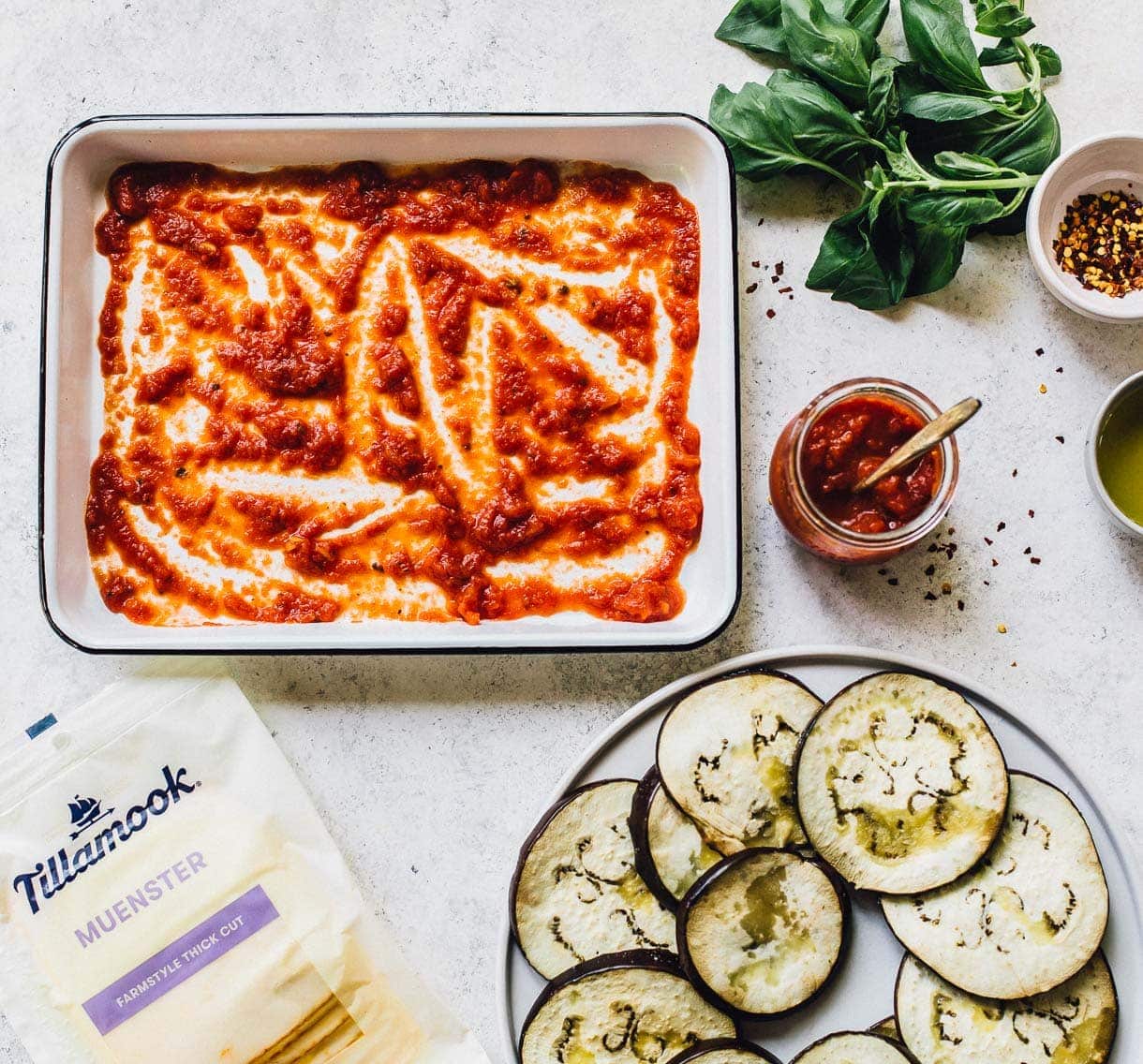 Let's dive into taking the bitterness out of eggplant.
Simply salt the eggplant (generously) while you're waiting for the oven to heat up, then pat the eggplant dry after 30 minutes with a paper towel. The salt draws the bitter liquid out of the eggplant while seasoning the eggplant from the inside out at the same time. It's especially important if you're buying eggplant from a grocery store because they're older, rather than a farmer's market, where the vegetables were recently picked.
Roasting the eggplant slices before assembling the rest of the dishes is key too. It brings out the sweetness of eggplant, and any extra moisture, before the slices are nestled into your favorite marinara sauce. I prefer Rao's, which is incredibly flavorful and just as good, if not better than homemade.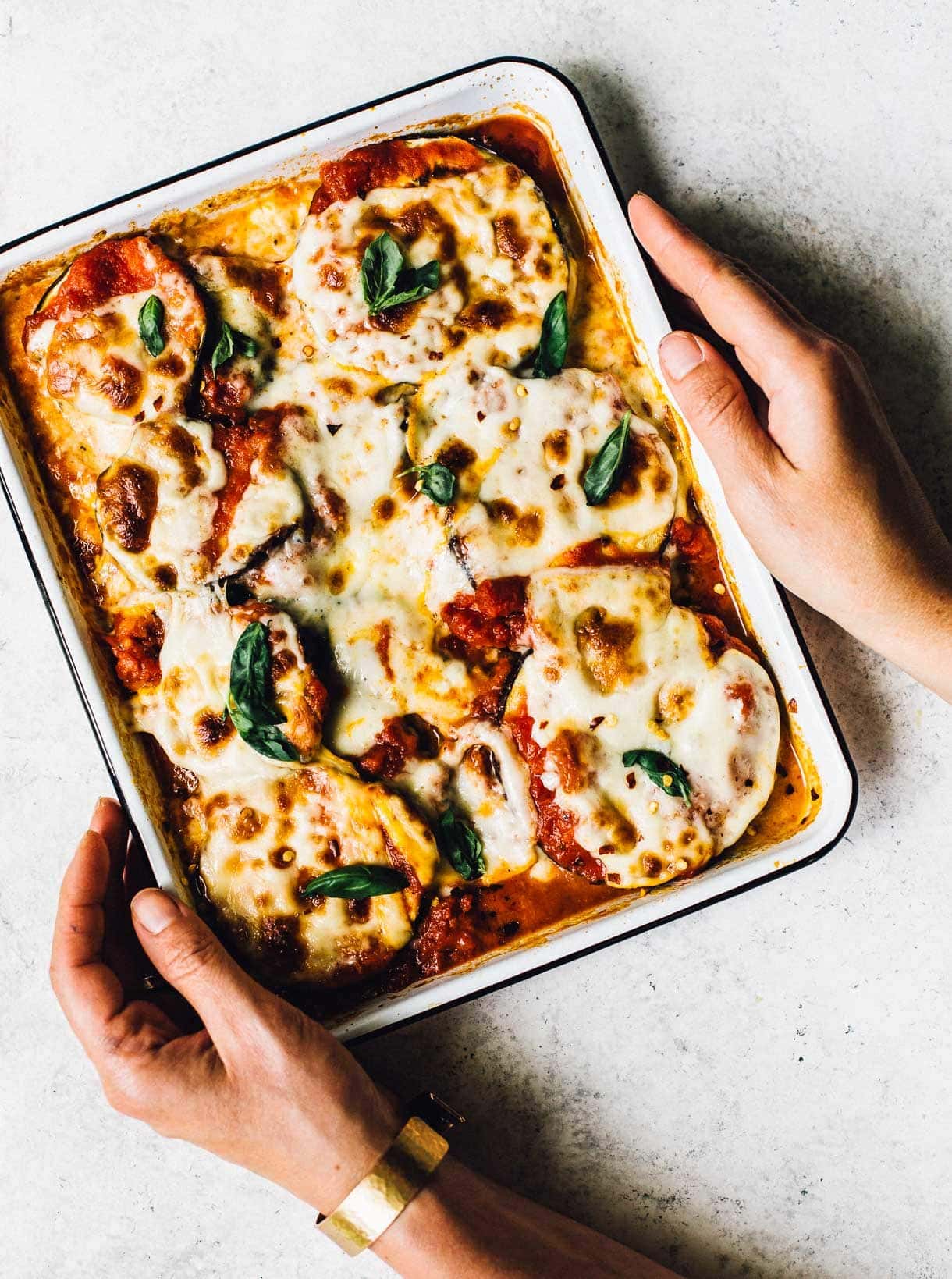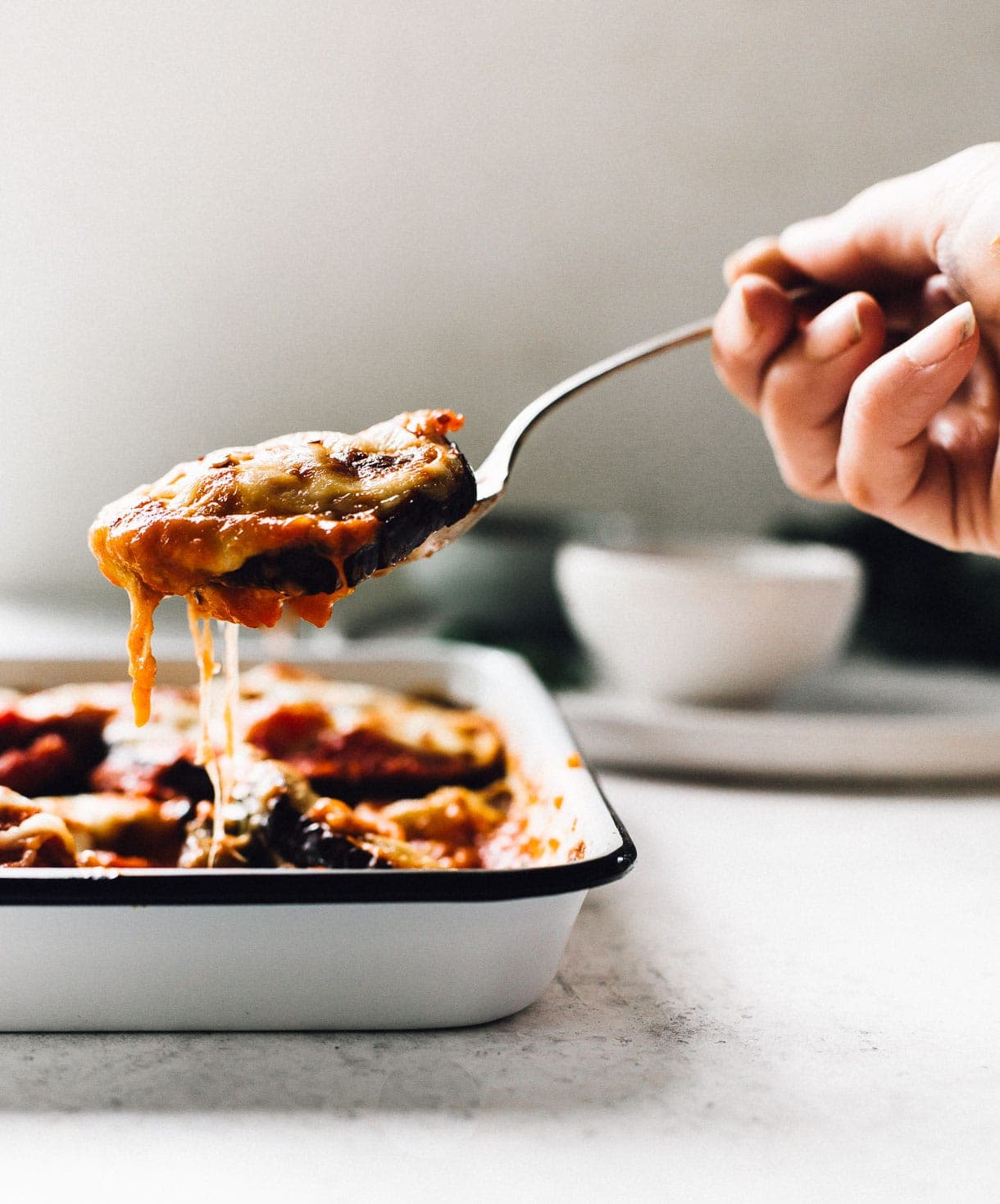 Making Eggplant Marinara
Eggplant, tomatoes, and basil go together so well, a staple pairing in Italian cooking. But whereas you might find mozzarella or parmesan as the cheese component, I've discovered the cheese that that'll give you both flavor and melts wonderfully, that perfect elasticity that makes for epic cheese pulls…. Tillamook Muenster Slices, I'm looking at you!
Under the heat of the oven, it turns this dish into something special. The Muenster has a mildly nutty flavor, and browns and bubbles like a champ.
Assembling this layered dish is easy. You'll cover the bottom with marinara sauce, add a layer of the roasted eggplant slices, spread a dollop of marinara on their centers, then a layer of the Muenster slices, fresh basil leaves. Then top each stack with another slice of eggplant, more marinara and a final layer of Muenster.
Two layers of cheesy goodness. A gluten-free dinner recipe that will be a hit.
And exactly what your summer abundance of eggplant is begging to be turned into!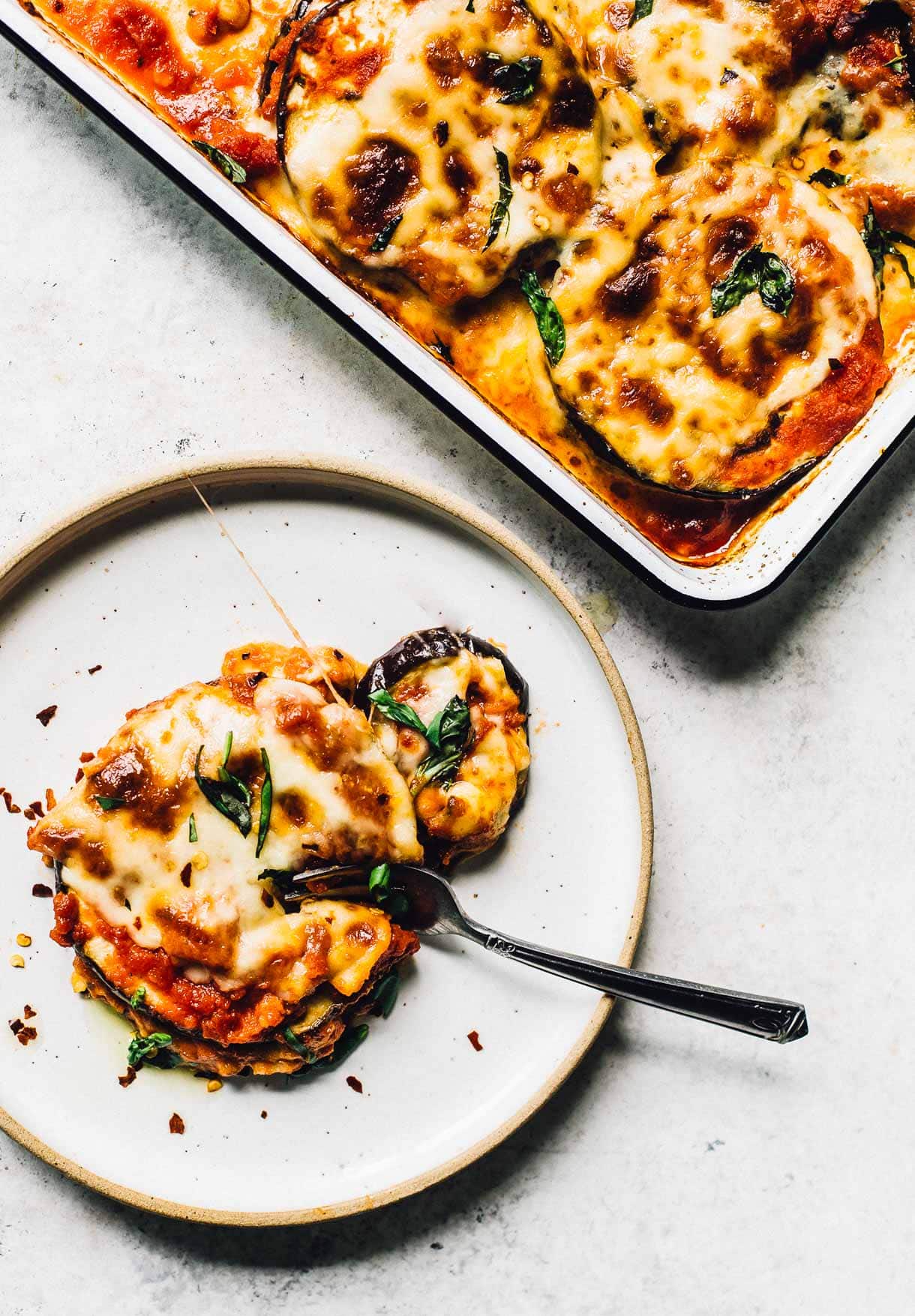 More Eggplant Recipes: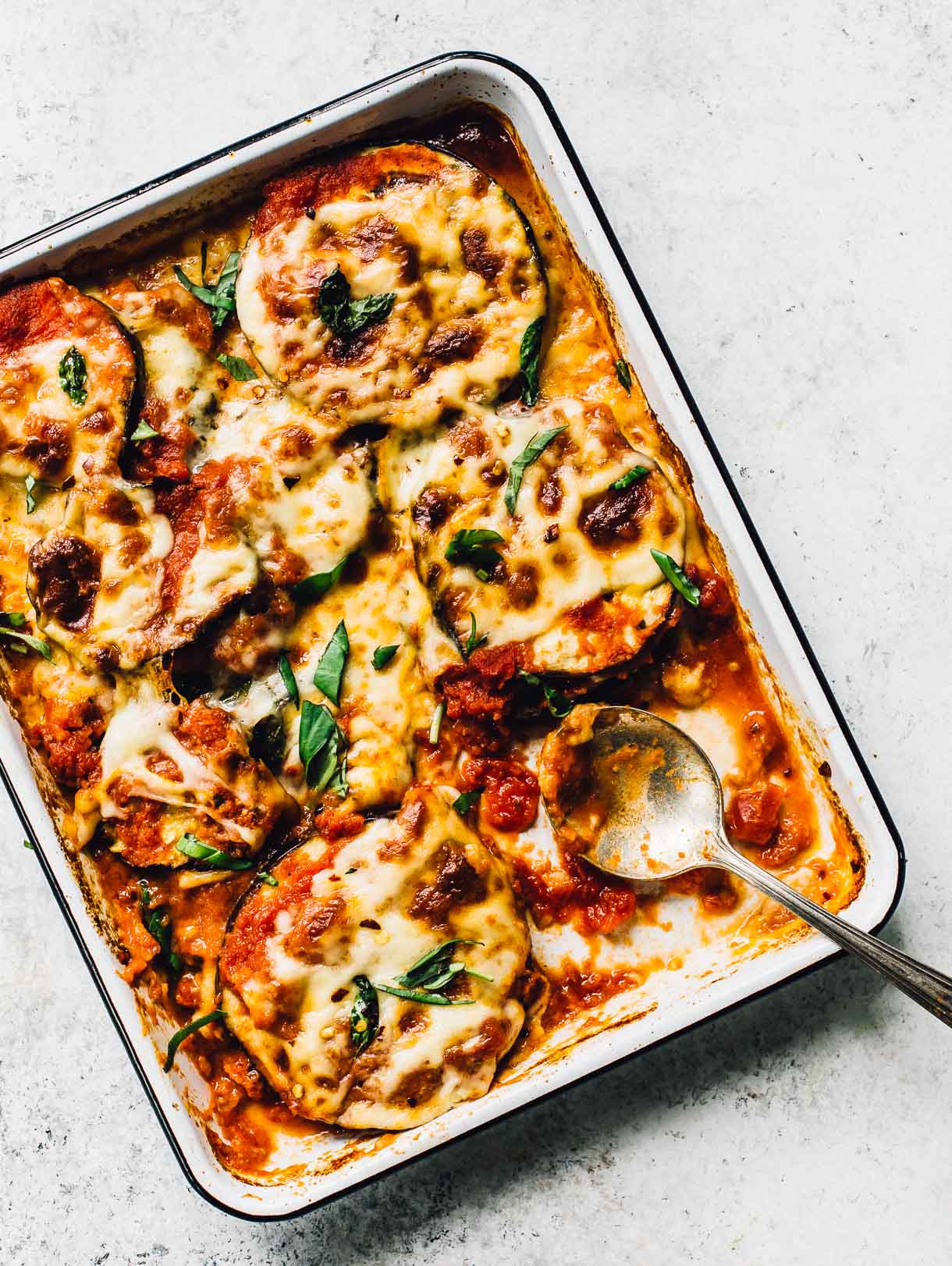 1

large eggplant

or 2 small eggplants, ideally longer and skinny than wide in shape

2

tablespoons

olive oil

2

teaspoons

kosher salt

1

25 ounce jar garlic marinara sauce,

preferably Rao's because it has SO much flavor which is important for the dish

1

(8 ounce package) muenster cheese slices

1/4

cup

fresh basil leaves
Preheat oven to 375 degrees F.

Cut top of eggplant. Slice horizontally into 1/2 inch thick slices. Toss with salt and let sit while oven heats up. After sitting for 30 minutes, pat eggplant dry with paper towels.

Arrange eggplant slices, laying flat, on a parchment paper lined baking sheet. Drizzle with olive oil.

Bake for 15 minutes, then remove from oven.

In a shallow baking pan, spread about 1/2 cup marinara sauce on the bottom of the pan. Nestle eggplant slices into pan, it's fine if they are touching.

Put a dollop of marinara sauce onto each eggplant slice. Top with torn muenster slices, then a leaf of basil. Top each stack with another eggplant slice, then spread about 1 cup of sauce over the entire dish. Top with torn muenster slices, to cover the dish.

Bake for 20-25 minutes, until dish is bubbling and cheese is golden brown. Remove from oven and top with more basil and red pepper flakes. Serve.
Leftovers will last for 3 days in the refrigerator.