From rhubarb crisp to pie, jam and sauce, ice cream to muffins, these popular recipes are a delicious way to embrace this Spring ingredient. There's even a few rhubarb cocktails included too! With it's tart and tangy flavor, rhubarb goes incredibly well with things like strawberries, raspberries, mint, and ginger just to name a few. To preserve rhubarb, you can freeze it, which you'll find details on in the post.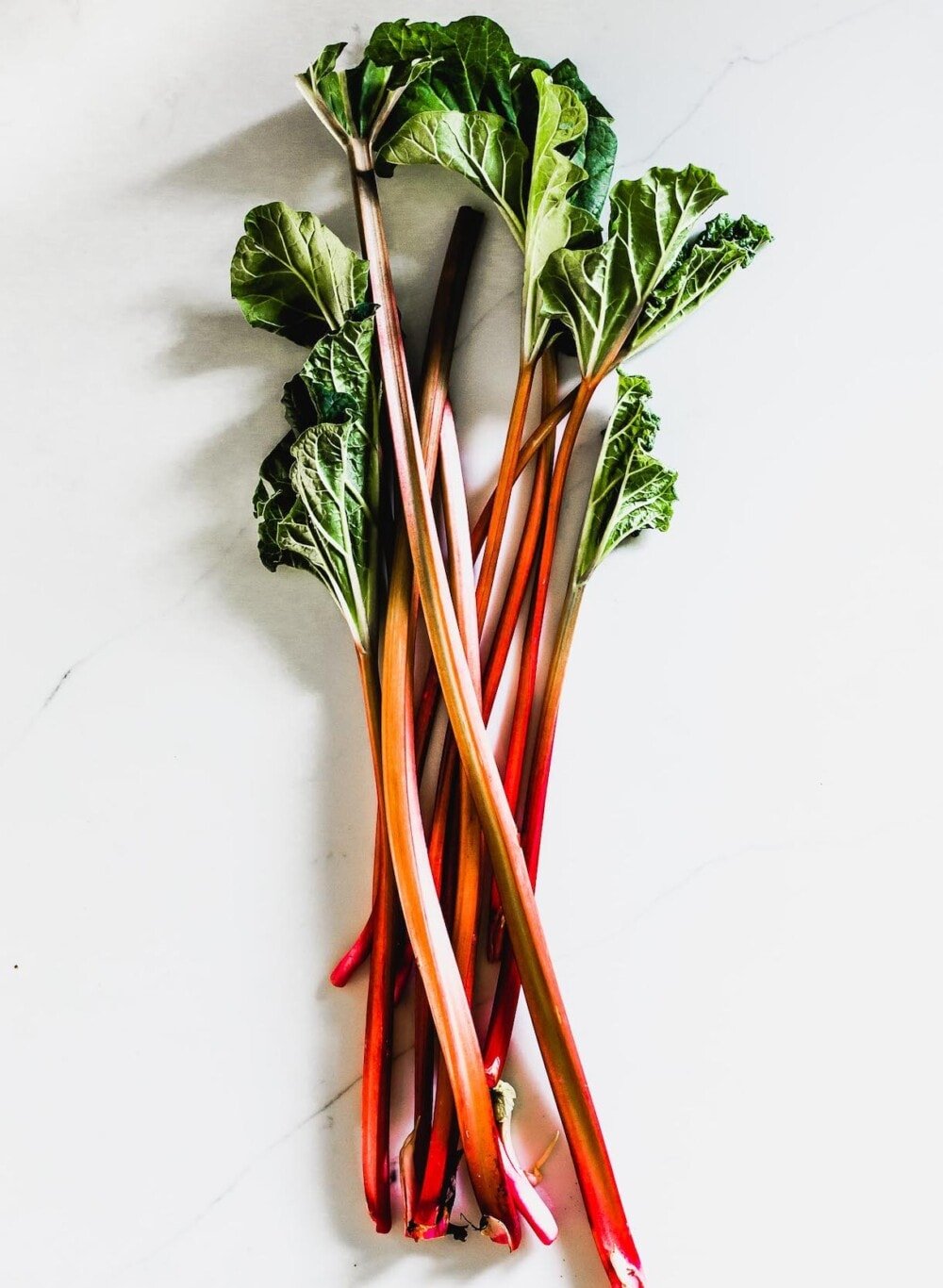 I'm harvesting an armful of rhubarb every day from my garden right now, and maybe you are too. Or you've picked some up from the farmer's market and are excited to use, but just aren't sure how. I have plenty of delicious recipes in this post for you to make the most of your bounty, from rhubarb cobbler and pie, to crisp and bars, and even cocktails.
What is rhubarb?
This perennial plant is technically a vegetable, even though it's used like a fruit in cooking and baking. The long, pinkish red and green stalks grow from the ground when warmer temperatures return in April or May, depending on where you live. Rhubarb has a tart and puckery flavor, so it's an ideal addition to desserts, contributing wonderful flavor and counter to the sweetness. It's an ingredient I use often when making gluten-free desserts.
The leaves of rhubarb are poisonous to humans and animals, so be sure to toss them in the compost or garbage.
Rhubarb flavor pairings:
As I mentioned, rhubarb has a particular tartness that goes well with sweeter flavors, and warmer herbs and spices. Here are a few ideas for you to play with in your kitchen!
any type of berries, but especially strawberries
vanilla
almond
cardamom
lemon
apples
mint
ginger
When to harvest rhubarb:
Rhubarb is a spring plant, best harvested beginning in May until the 1st week in July. During this time, the stalks will be firm, crunchy, and juicy with their best flavor. When the stalks are 12-18 inches long, go ahead and harvest and use for cooking.
Do you have to peel rhubarb before you cook with it?
Rhubarb is easy to cook or bake with, no peeling needed! Just remove the leaves (which are poisonous), and trim the root end. Then cut into pieces. The thin outer skin of rhubarb stalks break down with heat, and have a lot of flavor while also contributing to its beautiful pink color.
How to freeze rhubarb:
Freezing rhubarb is easy and an excellent way to preserve it to be used throughout the rest of the year. There's few things better than the smell of rhubarb crisp baking in the depths of winter, reminding you that Spring will come again.
To freeze rhubarb, simple cut the clean stalks into 1/2 inch pieces. Line a baking sheet with parchment paper and spread the rhubarb onto it. Freeze tray for a minimum of 4 hours, or overnight. Transfer frozen rhubarb pieces into a plastic or glass storage container. Rhubarb will last for 9-10 months in the freezer.