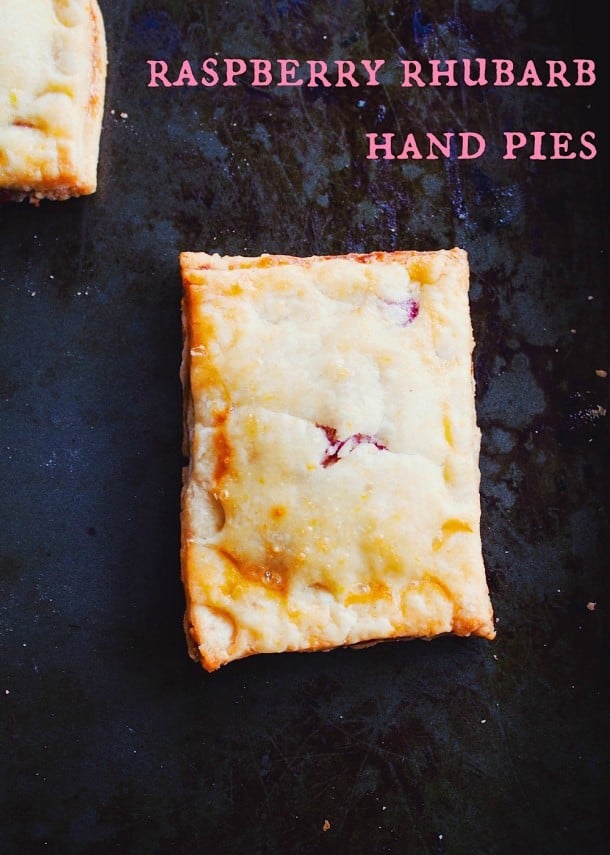 The first rhubarb dessert of the season definitely signals the start of spring for a Minnesota girl. Jams, crisps, buckles and bars — so many recipes I'd love to try, so little time.
I've also vowed to use this vegetable that's usually referred to as a fruit in more savory dishes this year, but not before I made these gluten-free Raspberry Rhubarb Hand Pies.
A gluten free pie recipe isn't usually my first choice when I'm making something sweet, mostly because I want something I can indulge in without a long wait. But today was different. I was in one of those, "I've got plenty of time to dilly dally with a fun project" moods.
And to tell you the truth, once the pastry is chilled and rolled out, it really doesn't take that long for these hot pockets to meet your mouth.
I added just a smidge of polenta (cornmeal) to a pretty standard pie crust recipe because I love the slight crunch and sweetness it gives to baked goods (just as I did with this Upside-Down Strawberry Rhubarb Cake).
Plus it adds a beautiful golden hue once finished, and with a glossing from a farm-fresh egg, these little hand pies shine and glisten.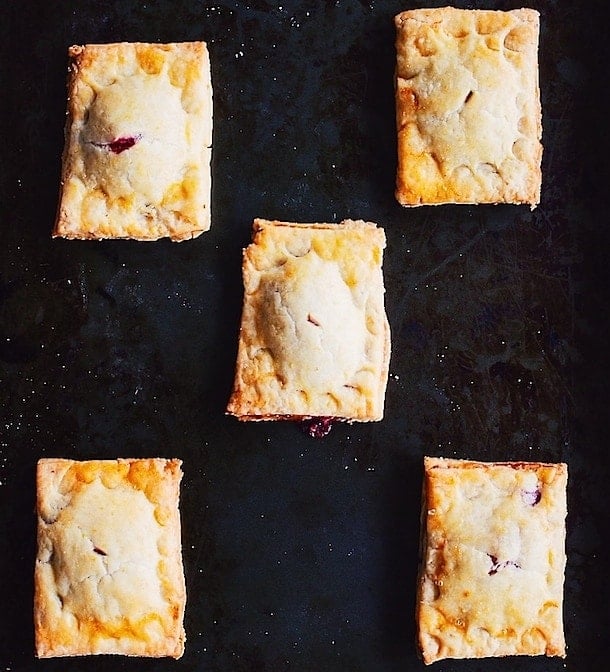 I was so so happy with how buttery, flaky and delicate the gluten-free crust turned out to be. I've learned the key is to not overwork the dough. You want to see lumps of butter when you roll it out, really!
The filling is basically a roasted jam of glorious fruit – diced young rhubarb picked from our tiny backyard and a few raspberries for color. You'll find that the amount of sugar needed varies depending on how tart your rhubarb is.
A short blast from the oven helps soften the fruit and concentrate the natural sugars, so I found I only needed about 1/4 cup of added sweetener for this batch.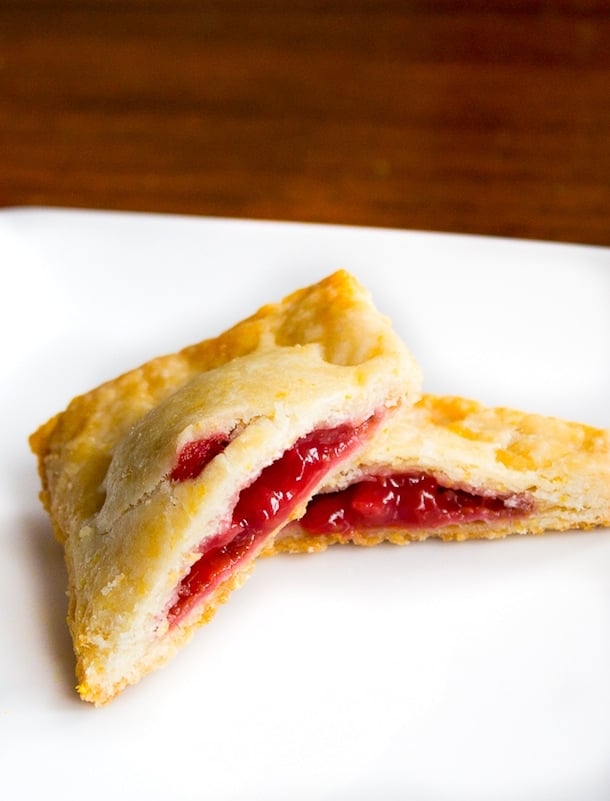 I also realized that this is a perfect dessert for taking to parties because no forks or knives are needed, there's no glass pie plate to drop as you're walking in, and zero clean-up.
I mean, what's better than a portable packet of spring's natural beauty queen?
If you make this gluten free pie recipe, be sure to tag me on Instagram with hashtag #heartbeetkitchen or @heartbeetkitchen!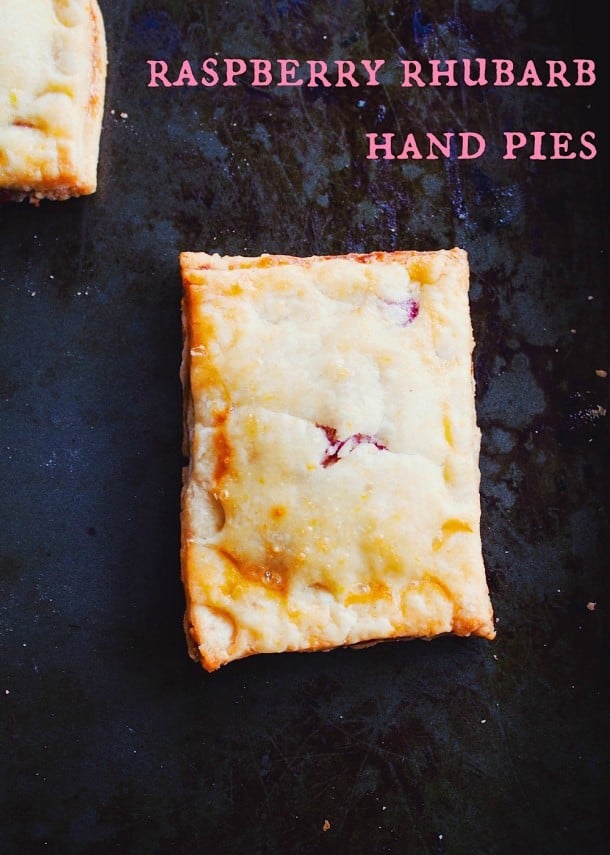 Crust:

130

grams

Cup4Cup gluten-free flour

or your favorite gluten-free flour mix

20

grams

cornmeal

1 1/2

tablespoons

sugar

1/2

teaspoon

salt

7

tablespoons

cold butter

diced

1

tablespoon

greek yogurt

2 to 3

tablespoons

ice cold water

Filling:

6

ounces

of rhubarb

about 3 large stalks, diced

1/3

cup

raspberries

mostly used for the color

1/4

cup

sugar

or more to taste, depending on how tart your rhubarb is

2

teaspoons

cornstarch

zest of one lemon

1

egg

beaten (for washing & sealing)
To make the pastry, put the flour, polenta, salt and
sugar in a food processor fitted with the dough blade. Add the butter and pulse
about 10 times to start breaking up the butter, then process for about 15 seconds,
until the mixture resembles breadcrumbs and there are pea-sized lumps of butter.

Add the water and greek yogurt, pulsing
until the mixture just starts to clump together, adding an additional
tablespoon of water at a time if needed. As long as it sticks together when you
use your hands to squeeze it into a ball, you're set. You don't want to overprocess, there should still be flecks of butter showing.

Flatten the dough and wrap in cling
film. Chill in the fridge for about an hour until just firm.

Preheat the oven to 350 degrees F. While
the dough is chilling, make the filling by putting the rhubarb, sugar, lemon zest and cornstarch in a roasting dish and mixing. Bake for about for about 15 minutes until the rhubarb has softened and shrunk a bit. Remove and mash the
raspberries so that the color fully distributes. Taste and stir in a little more sugar if needed. Set aside.

When the dough has chilled, roll it out
on a well-floured surface or parchment paper until it's about 3mm thick. Chill
the flattened dough for another half an hour or so.

Remove the dough from the fridge and
using pizza cutter, cut out squares about 2 ½ inches wide by 4 inches long.


Place a spoonful of the filling on one square, brush the edges with beaten egg
and place another square over top, pinching the dough around the jam and sides
to seal. Cut a vent in each pie and freeze for about 40 minutes, until firm.

Return oven to 350 degrees. Remove pies
from freezer and brush each with the beaten egg, then bake on a sheet pan lined
with parchment paper for 25 minutes, or until golden brown.