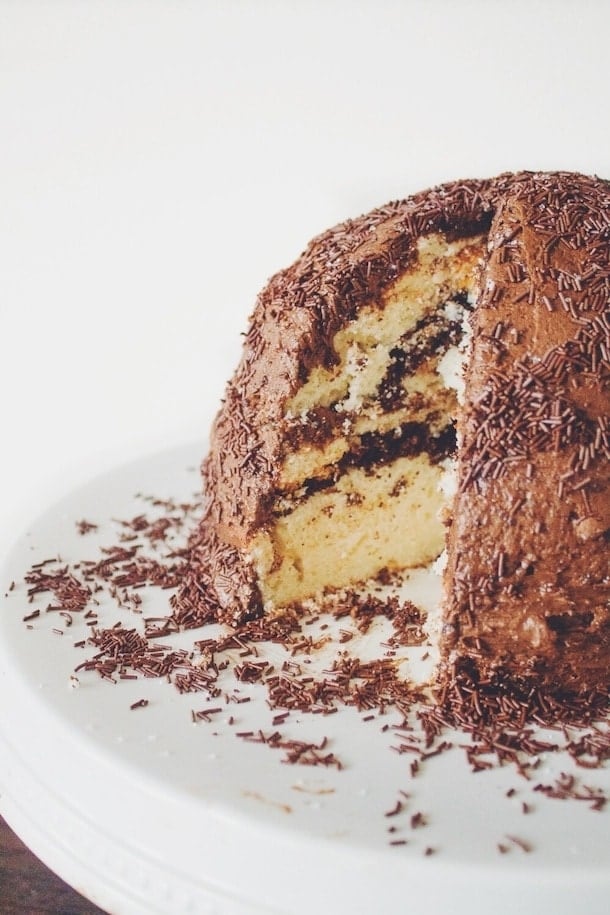 Today's post is bittersweet. It's easy to leave a job when you aren't crazy about what you do or your co-workers are the farthest thing from people you'd hang out with on a regular basis. But when you absolutely love coming to work every day and the people around you are positive, uplifting and hardworking souls, it's "cry as you leave the building" hard. And then it's hard when it's you making your coffee at home instead of the Starbucks barista at 9th & Nicollet, who automatically hands you the soy milk with your "1-inch of room" dark roast. Then you just drown your sorrows with coffee and scraps of this surprise-inside Beehive Cake for breakfast.
Yes, I'm moving on from the great Target digital team I was part of for nearly two years to dive into an opportunity that I just couldn't pass up, one that bridges my two passions, food and social marketing. I will be working behind the social scenes of one of my favorite gluten-free cereal brands (!), as well as some digital strategy behind new products & innovations within this area. I'm very excited for what the future holds.
In celebration and gratitude for the wonderful memories and knowledge I will take with me, there was no other choice than to bake a cake. I've been wanting to "cook-the-book" since the day I got my hands on my super talented friend Amanda's new "Surprise-Inside Cake" book. Her creations are seriously amazing, just check some of these out! The photography of the cakes, which was done by Susan Powers, is enough to make you start drooling the minute you open the book.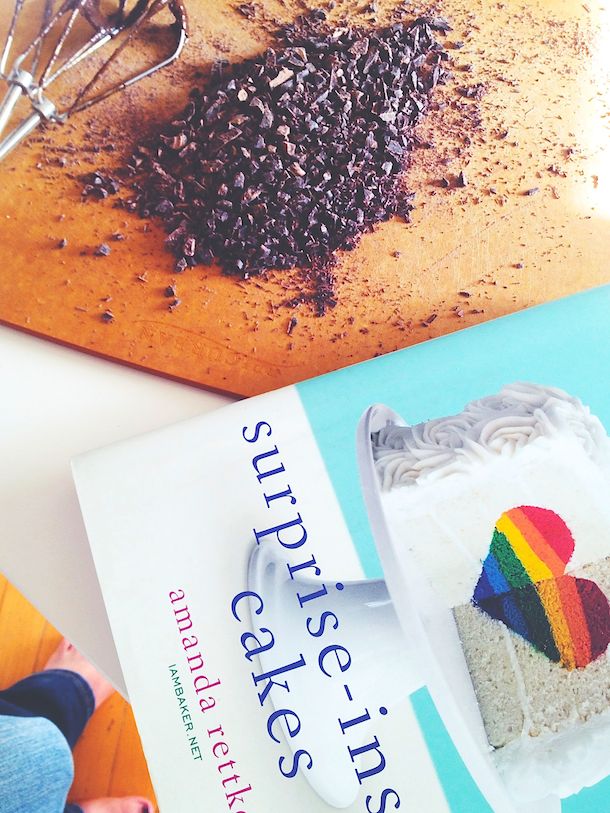 My sights were set on the Surprise-Inside Zebra Cake. I knew I would have my work cut out for me to make this work as a gluten-free cake, but I was up for the challenge. With this particular design you bake three cakes, 2 white and 1 chocolate. You create cones from the white, which are built up & stacked with layers of chocolate so that snazzy zebra stripes are found on the inside and covered with her recipe for chocolate buttercream frosting. Hands down the best damn buttercream I've ever had.
Since there is manipulation and forming that goes along with constructing it, I knew the gluten-free cake base would need to be very moist and compactable. I tried adapting Amanda's cake recipes by using my own gluten-free flour mix in equivalent weights, adding cornstarch to it to make it like cake flour, and also reducing the sugar because gluten-free flours tend to be slightly sweeter on their own. My cakes baked up beautifully and I confirmed they were sweet tooth approved as I nibbled on the scraps as I was assembling.
However a slight user error in the construction combined with the need for my gluten-free cakes to be a bit denser cake called for some creative improvising. And instead of a surprise-inside zebra cake…… this Beehive Cake was born.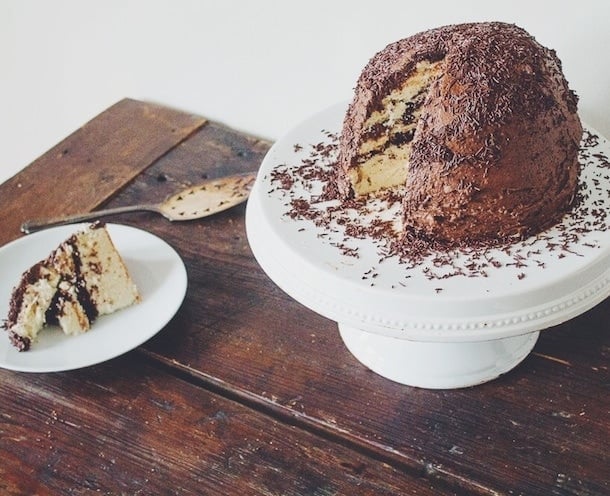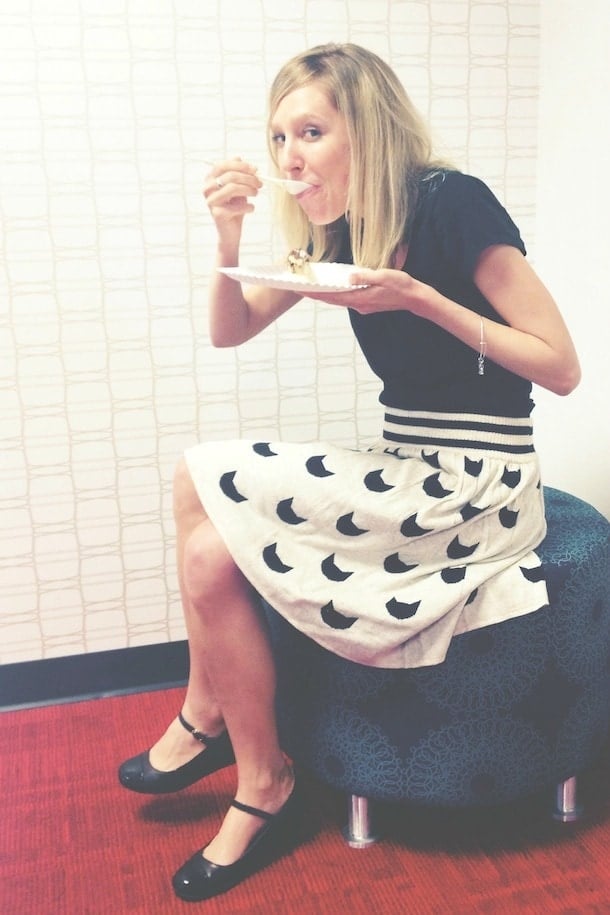 And it turned out to be fun, and it turned out to be completely delicious, as evident by the empty cake platter.
And it turned out to be exactly how I wanted to say good-bye, cat skirt and all.
Lots of love and hugs to you always, my Cartwheel friends. xo