Hope you all had a great weekend! Popping in to bring you this Black Rice Salad with Spring Vegetables & Avocado, which was part of the Naturally Gluten-Free Spring Brunch segment I did on Twin Cities Live. Due to the preparation that goes along with getting ready for the show, I didn't have time to take any pictures. With its bright colors from the radishes, purple cabbage, asparagus and avocado, a recipe alone just didn't do it justice. I happily made it again so you could see this spring beauty.
Originally I used wild rice, but I stumbled upon this whole grain Japonica blend of black and red mahogony rice and decided to give it a try. I'm so glad I did, for a few reasons.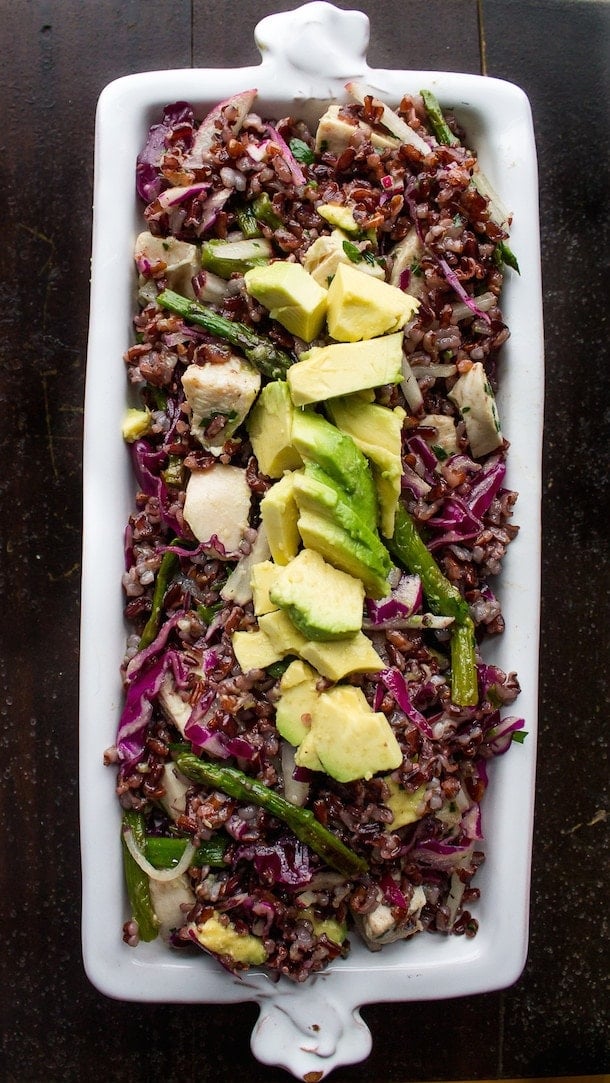 Since these are short & medium grained rices, they cook within 40 minutes and hold a slight chew to them, perfect for salads like this one. And then there's the flavor. The black rice from this heirloom blend reminds me of hazelnuts and brings umami, similar to mushrooms. The mahagony rice not only adds a lovely pink hue, but is slightly sweet and almost tastes like it's been roasted.
As I mentioned, wild rice is great here too if you're unable to find black rice in your neck of the woods. But be sure to head to the market and pick up slender stalks of asparagus and snappy radishes. Although not necessarily a spring vegetable, the avocado is a creamy compliment, as well as a gorgeous burst of color. And if you're in the mood for a vegetarian salad, it's equally as good sans chicken.
Black Rice Salad with Spring Vegetables and Avocado
Serves 4 to 5
1 cup dry black rice (about 3 cups of cooked rice. I'm hooked on this Black Japonica blend)
3 1/2 cups of water
½ teaspoon kosher salt
1 heaping cup of asparagus that have been cut on the diagonal
1 ½ cups cooked and diced chicken tossed with 2 tablespoons minced fresh parsley or cilantro
1 cup thinly sliced purple cabbage
¾ cup julienned radishes
1 large avocado, cubed
Dressing:
1 1/2 tablespoons white wine vinegar
1 heaping tablespoon honey
1 teaspoon Dijon mustard
2 cloves garlic, minced
¼ to 1/2 teaspoon salt
1/3 cup extra virgin olive oil
To make the dressing, whisk together all of the ingredients besides the olive oil. In a slow stream, add the olive oil while whisking rapidly to ensure it emulsifies. I also find that using an immersion blender works well for this. Set dressing aside.
To make rice, bring water to a boil in a medium sized pot. Wash rice thoroughly ,then empty into boiling water with ½ teaspoon of salt. Turn heat down to a simmer, cover pot, and cook for about 40 minutes, stirring occasionally until grains are just tender to the bite but not mushy.
*Before draining the rice you will blanch the asparagus in the hot water. To do this, put asparagus spears in a small strainer (or colander) and dip into the hot water to cover the asparagus. Hold it in the water for 1 minute. Remove strainer and rinse asparagus with cold water. Set aside in a large bowl. Remove rice from heat and drain, then add back to pot and let cool for 5 minutes with lid on. Add to bowl with asparagus.
Mix in chicken, cabbage and radishes, then stir in dressing to coat. Taste and adjust salt if needed. Lightly mix in avocado and serve.