Happy 2014 friends!
During this time of year there's a lot of talk about making better food choices and I want you to know that doesn't mean you have to eat boring, tasteless food. You don't have to embark on a juice cleanse. You don't have to give up meat. You don't have to quit eating after 7pm.
Today marked my second appearance on Twin Cities Live, this time talking about healthy on-the-go meals in mason jars, layered with a rainbow of colors and packed with flavorful fresh ingredients.
Let's face it: we're all busy, whether that be running to the kid's activities, writing a book, or rocking your job like an all-star. Usually I find those chaotic schedules are what get in the way of eating nutritious food. It's definitely easy to heat up a microwaved meal or swing by Chipotle, however…… you can prepare these Greek Rainbow Salads and Buffalo Chicken Quinoa Casseroles early in the week and be set for each day! I promise it will be just as convenient and better for you.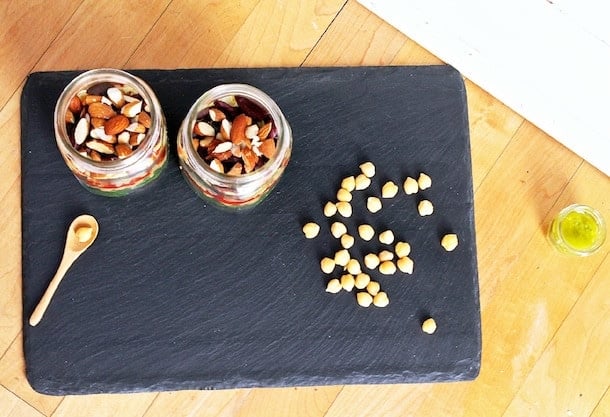 I'm not saying I don't turn to convenience once in awhile, but since I've started making portable, satisfying meals in handy mason jars, I'm better prepared.
Shove them in your purse when you're late for your 8:30 meeting.
or
When you're headed to a 2 hour swim team practice with an already growling stomach.
or
Grab one out of the fridge after running errands like a crazy woman & just don't have the energy to cook.
Know what else they're perfect for? The man in your life who pulls the classic, "But there's nothing to eat in here!" as he stares inside the refrigerator. Since the jars are clear you can line them up on the top shelf and he'll see this hot and spicy buffalo chicken casserole staring right back at him.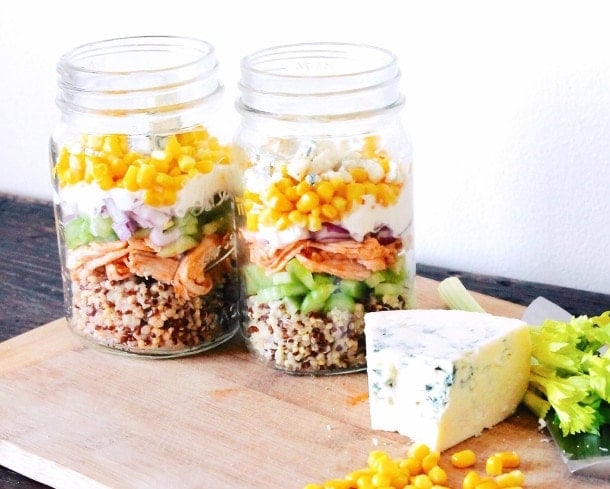 These two meals are just some ideas for you so feel free to adapt the recipes to your liking. Don't like blue cheese? Use salty feta. Can't stand red peppers? Try shredded carrots instead. Not quite sure about quinoa? Keep it whole grain with brown rice. The possibilities are endless!
And a few quick tips to point out:
– You may think pouring the dressing on the salad ahead will make it soggy a day or two later, but it actually helps marinate the vegetables as it sits! Plus spinach doesn't wilt like regular lettuce.
-Most recipes call for 1 cup dry quinoa to 2 cups water, but this makes it too mushy and watery, which is what turns a lot of people off. Using 1 3/4 cups water results in fluffy grains that don't stick together as much.
-You may think about forgoing the fresh herbs used in both recipes, but trust me – your tastebuds will perk up at the flavor bursts they give! It's an easy way to feel like you're eating something straight from the farmers market.
-Make sure to pat the artichokes and red peppers dry after draining them so the excess water doesn't make the salad soggy.
Greek Rainbow Salad in a Jar
(makes 4 pint sized mason jar servings, these are my favorite to use)
1 (5 oz) bag baby spinach
1 (14 oz) can chickpeas, rinsed and drained
1 (15 oz) jar roasted peppers, drained, coarsely chopped & patted dry with a cloth
1 (10 oz) jar pitted kalamata olives
1 (14 oz) jar quartered artichoke hearts, drained, coarsely chopped & patted dry with a cloth
½ cup roasted almonds, roughly chopped
For Lemon Parsley Vinaigrette: stir everything together below except oil, then slowly drizzle in oil while whisking:
2 T fresh lemon juice
zest one of lemon
1 t honey
½ t salt
1 T minced fresh parsley
¼ c extra virgin olive oil
Place 1 ½ c of spinach into each jar, pressing down a bit to get flat. Then layer the jars as follows:
1/3 cup chickpeas
¼ cup chopped roasted red peppers
¼ cup chopped artichokes
2 T chopped olives
Top with sprinkle of almonds
At this point you can drizzle 1 ½ tablespoons of dressing over the top or wait until you are ready to eat it. Either way, when you are ready to eat it (with dressing added) keep cover on the jar and lightly shake to disperse the vinaigrette. Prepared, it will keep for 3 days in the refrigerator.
Buffalo Chicken Quinoa Casserole in a Jar
(makes 4 pint sized mason jar servings)
1 cup dry quinoa
1 ¾ c water
1 clove garlic, minced
½ t salt
2 cups cooked, shredded chicken (a rotisserie chicken from the deli is great for this!)
½ cup Frank's hot sauce, divided (or whatever your favorite is)
1 cup finely chopped celery mixed with ¼ cup chopped fresh cilantro
1 cup sweet corn mixed with ¼ t cumin
1/3 cup diced red onion, rinsed with cold water (makes it a little less potent)
½ c light sour cream
Blue Cheese
Rinse dry quinoa thoroughly in a strainer with cold water. Add to medium saucepan with 1 ¾ c water, garlic, and salt. Bring to a boil over medium high heat, then reduce to a simmer for 12-14 minutes until water is absorbed and little white rings have separated from grains. If this happens before all water is absorbed, drain excess off. Remove from heat and let stand, covered for 5 minutes, then fluff with a fork. Stir in ¼ to 1/3 cup hot sauce (taste and see if it's up to your spiciness level) and set aside.
In a separate bowl, mix together chicken and ¼ to 1/3 cup of hot sauce (taste and see if it's up to your spiciness level). Then layer in each jar:
½ cup prepared quinoa
¼ c celery
½ cup shredded chicken mixture
1 Tablespoon diced red onion
2 Tablespoons sour cream
¼ cup sweet corn
Top with crumbles of blue cheese
Store in refrigerator until ready to use, or if you are on the go it can stay at room temperature for up to an hour. Remove metal lid and heat in microwave for 25 seconds, stir, then microwave for additional 25 seconds. Portions will keep for up to 5 days in the refrigerator.