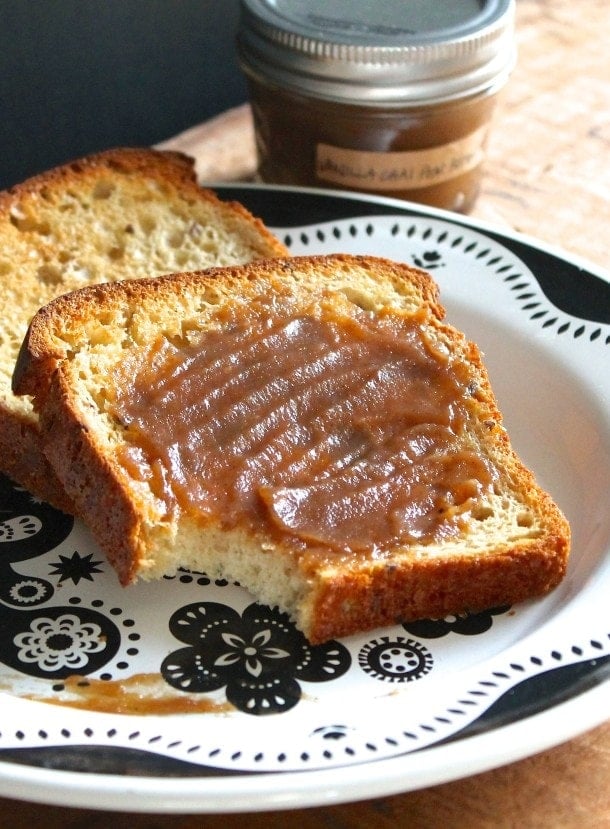 It's been cold…. and unfortunately another round of this "polar vortex" is sweeping across the Midwest as I write this post. 30 years of living in this tundra and yet I had never experienced air temperature of -22 degrees F, a chill that's hard to describe in words except absurd.
But then again we've talked about moving somewhere warm many times, yet there's something I love about being able to bundle up, hunker down, and stay inside with a new cooking project to pass the time, like this Chai Pear Butter.
After hearing a friend wax poetically about Harry and David's famous Riveria Pears several times, I'd been itching to order a box myself. Thankfully, I stumbled upon a great deal and soon I had two boxes coming our way.
I waited a few days and once I could smell a little sweetness from the stem area (that's a sign they're ripe), I closed my eyes and took my first bite with high hopes.
As my teeth sank in and the flesh gave way, the sugary juices dripped down my chin….. and all was right in the world. It was smooth, sweet, and buttery, unlike any grocery store pear I've ever had.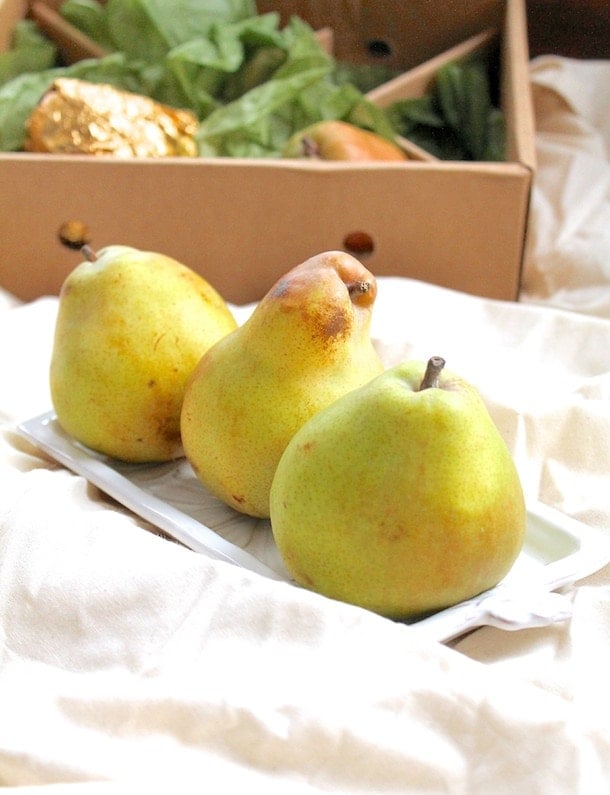 How to Make Pear Butter
Fruit butters are very forgiving and easier to make than jam, no "setting" required. You simply simmer the chopped fruit in a bit of water until soft, puree it in a blender, and let it cook down on the stove just until it's the thickness you desire.
As you can see, I left mine on the stove for about four hours to achieve that deep, caramelized color and flavor. Take inspiration from wherever you like to make the recipe "your own", adding your favorite spices or herbs that compliment the fruit – there really are no rules! Little sugar or honey in this case is needed, as the puree becomes sweet and intense as it simmers away into a lush spread.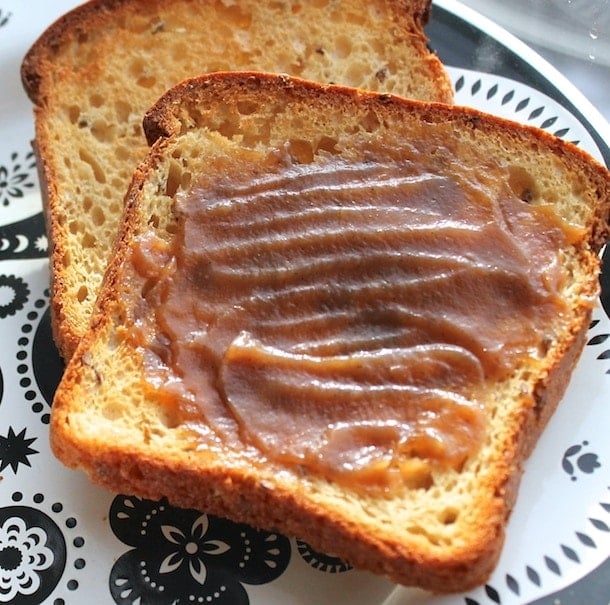 My spark to make this came from the "The Kitchen Pantry Cookbook", which has some seriously great homemade goods in it, like Chai Pear Butter. The recipe is brilliant, steeping the pears during their first 30 minutes with two bags of high quality chai tea.
Not one to leave things alone, I tweaked the recipe by scraping in the seeds of a vanilla bean to give it something special while intensifying that delicate, sweet essence of the pears themselves.
Every time I see those tiny black vanilla specks adorning something I'm eating, it brings me back to my childhood when Mom would bring home Breyer's vanilla bean ice cream, a rare treat since it was much more expensive than plain vanilla Kemps in the red handled quart pail.
Naturally Sweetened Pear Butter
Instead of sugar, I only needed to use about 1/4 cup of my favorite local honey made by Ames Farm for a completely naturally sweetened fruit butter. Adding a pinch of cinnamon and freshly grated nutmeg brings warmth and depth, complimenting the chai.
What to use pear butter for:
Spread on a warm piece of sourdough bread , this smooth pear butter is incredible.
And it turns a bowl of oatmeal into a gourmet breakfast.
You could also add it to a grilled cheese sandwich, as a sweet and savory lunch.
Or as a topping to vanilla ice cream!
---
More Canning Recipes: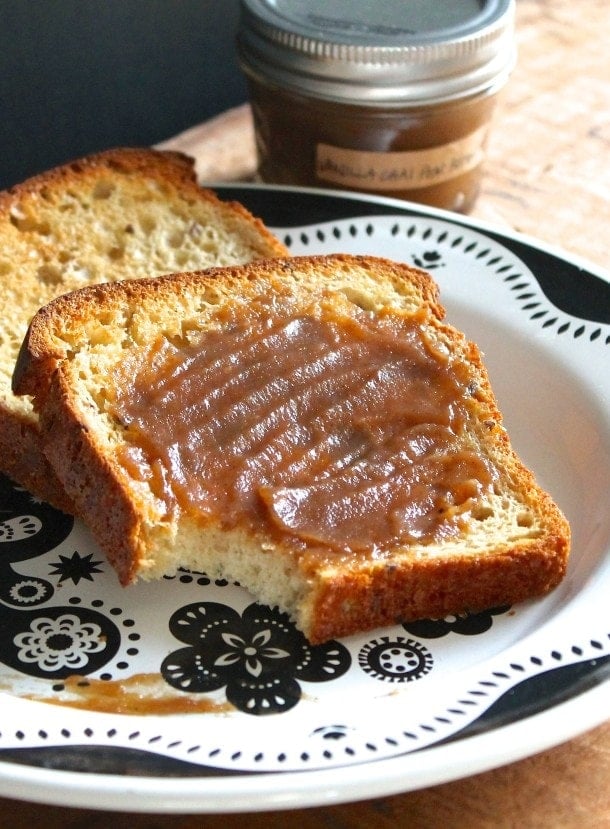 2

pounds

of ripe pears,

peeled and cored

1

cup

of water

1/4

cup

honey or a tad more depending on how sweet you like it,

locally sourced Ames Farm is my favorite

1

vanilla bean,

seeds scraped out

1/4

teaspoon

cinnamon

1/8

teaspoon freshly grated nutmeg

juice of 1/2 a lemon
Place the pears, water, and chai tea bags in a medium-size saucepan. Bring to a boil over high heat. Lower the heat and simmer until the pears are soft and mushy, about 30 minutes. Remove from the heat and allow to cool to room temperature.

When the pears have cooled, remove the tea bags. Purée the cooled fruit in a food processor or blender until smooth. Return the puréed pears to the saucepan. Stir in the honey and vanilla bean seeds. Bring the purée to a low simmer and cook, stirring regularly, until the purée has thickened and is spreadable, about 2 to 3 hours, or longer depending on how thick you would like it. The butter will thicken slightly as it cools; however, make sure you feel it is thick enough before you remove it from the heat—think jam.

When the butter has thickened, remove it from the heat and stir in the lemon juice, cinnamon, and nutmeg. Pour the butter into a clean jar and refrigerate for up to 4 weeks.

OR to water bath can: Pour the hot fruit butter into sterilized clean jars, wipe rims, apply lids/rings and process in a boiling water canner for 15 minutes (starting the time when the water returns to a boil). When the time is up, remove the jars from the water and let them cool on a towel-lined countertop. When the jars are cool to the touch, check the seals by removing the rings and lifting the jars by the edges of the lid. A good seal means that the lid will hold fast.

Label your jars of fruit butter with the variety and the date. Store in a cool, dark place for up to six months.

For step by step canning pictures, this is a great tutorial.