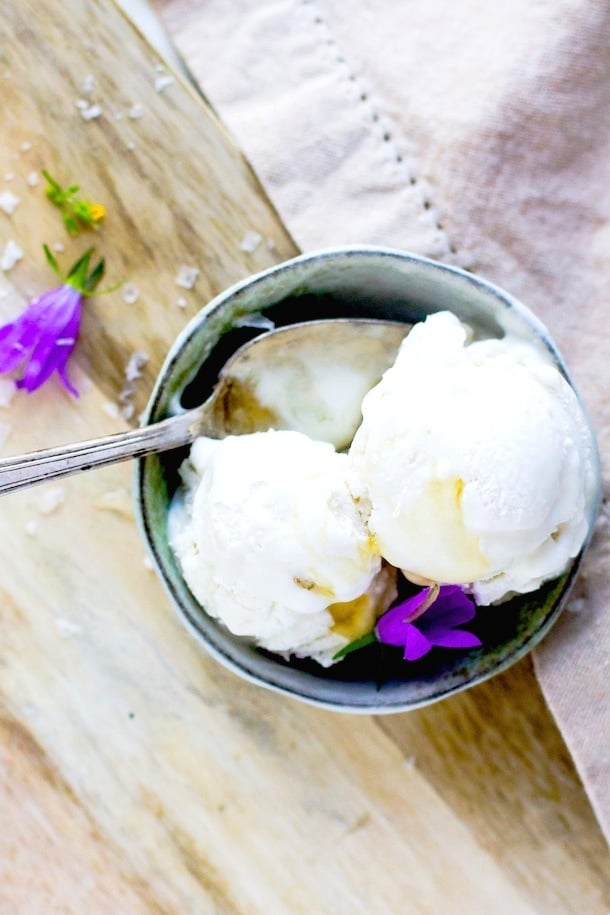 If given the choice of pie, cake, or ice cream, this girl will pick a bowl of the cool creamy stuff every time. No matter what season it is, I have a favorite.
Peppermint stick in the depths of winter, pumpkin ice cream in fall, rhubarb swirl in spring, and my new obsession that's good any time of year – this Salty Honey Coconut Milk Ice Cream. I figured out the secret to making it as creamy as regular ice cream, not a bit icy.
As I've learned after several years of cooking, salt is hands down the key to any irresistible sweet treat. And in this recipe makes the floral honey and soft vanilla flavors shine!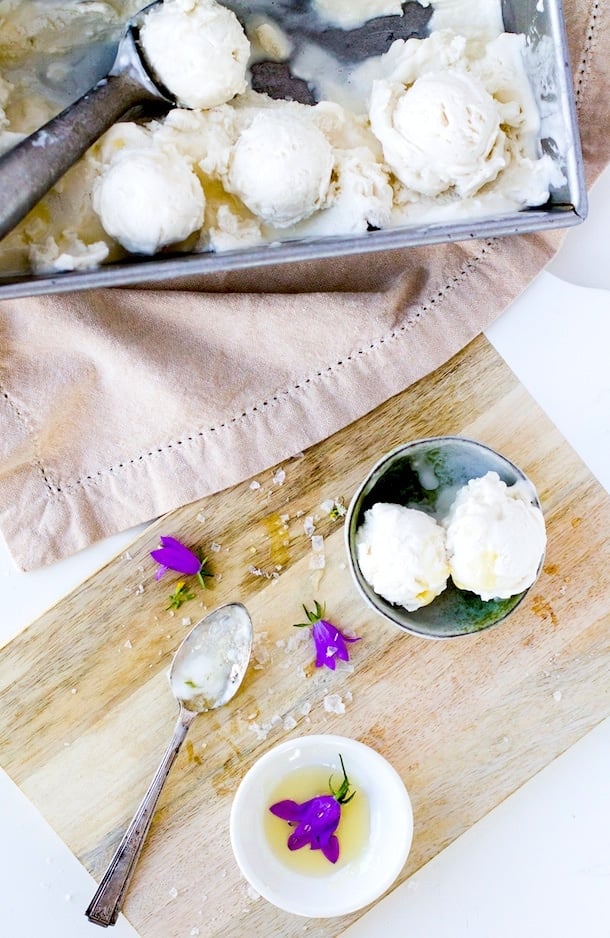 Secrets to silky smooth, creamy, flavorful dairy-free ice cream:
The Kitchn proved that making a slurry of starch and some of the coconut milk gave it the thickness that typically comes from egg yolks. I made mine using tapioca starch, as most people can tolerate that versus cornstarch.
They also suggested using a liquid sweetener instead of sugar to prevent ice crystals from forming. How perfect, as I had already envisioned my flavor combination being Salty Honey!
Sarah of Snixy Kitchen let me taste her amazing vegan vanilla bean ice cream when I was visiting her this spring, and instead of using all coconut milk, she uses 1 part coconut cream to 1 part coconut milk. The higher fat content of the cream is exactly what's needed to replace that of dairy and eggs.
Alcohol – it can be a magic ingredient in cooking too. Jeanine of Love and Lemons adds vodka to her Matcha Coconut Milk Ice Cream, another way to reduce the chance of ice crystals forming. This concept is rooted in the fact that hard alcohol will not freeze solid.
I'm definitely not opposed to buying store-bought coconut, almond or soy ice creams, but I'm always disappointed. I have to set them out for at least 15 minutes before attempting to scoop because they're rock hard, the flavor is kind of dull, and they just don't have the same mouthfeel as regular ice cream.
It was time to give my ice cream maker a workout, which is now my KitchenAid Stand Mixer thanks to its ice cream bowl attachment – if I couldn't love that machine anymore!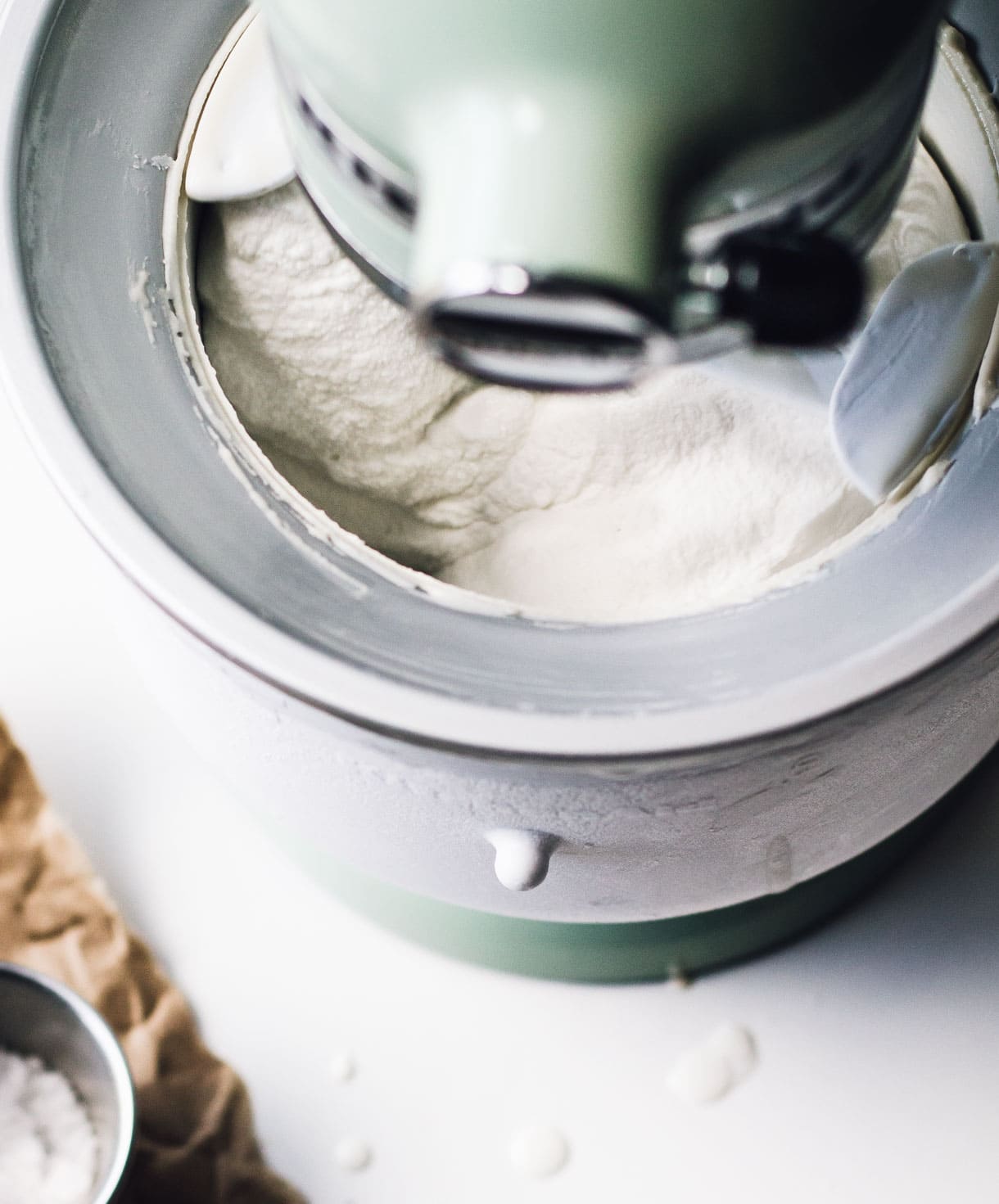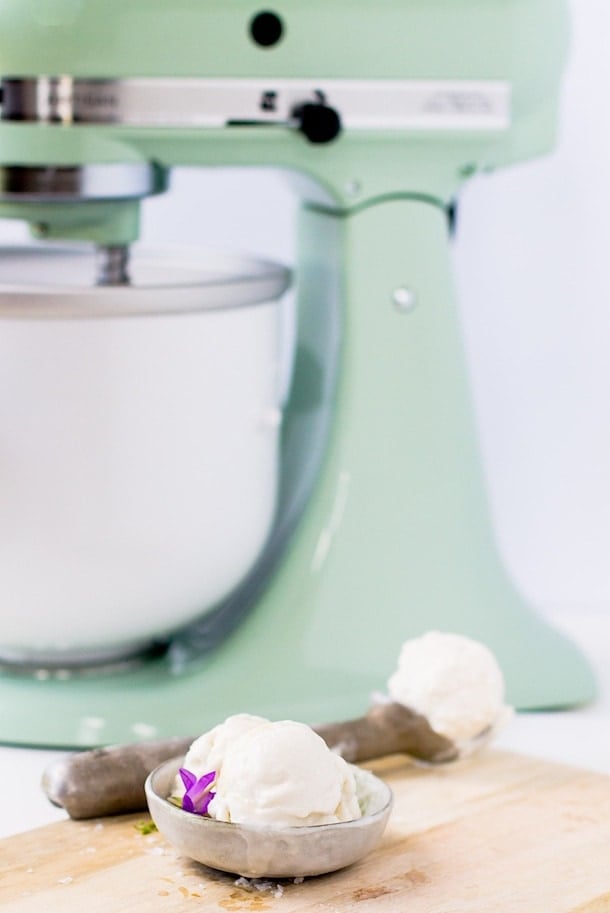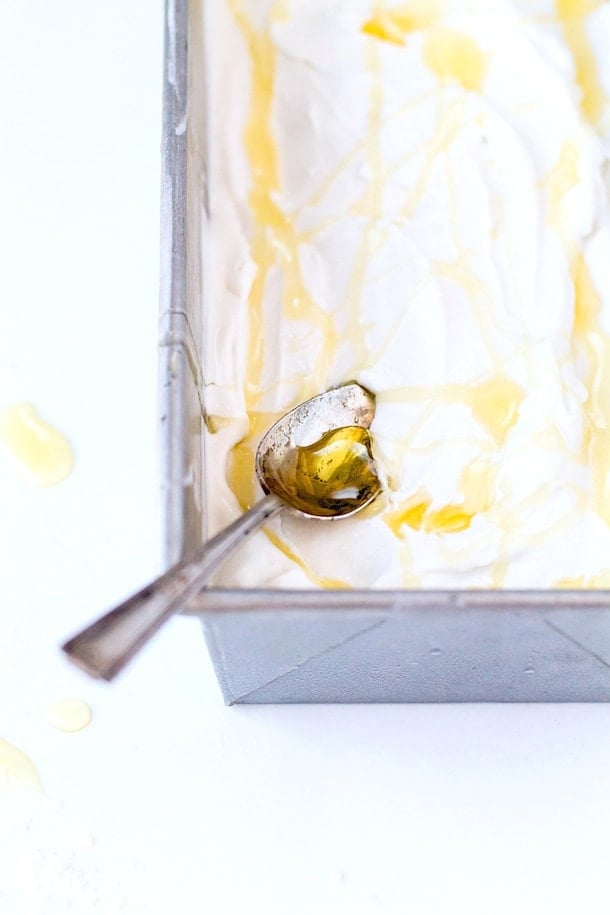 Put them all together and BINGO.
It'll fool anybody who thinks the only way to a scoop of happiness is with dairy. The mouthfeel is so velvety, holding a richness I can only compare to custard. And it scoops like a dream, not one bit icy even after three days in the freezer and being re-froze several times while taking these photos.
This is the real deal. Thick, creamy, lightly sweetened, and perfect for any time of year, but especially now. Enjoy!
More Ice Cream Recipes: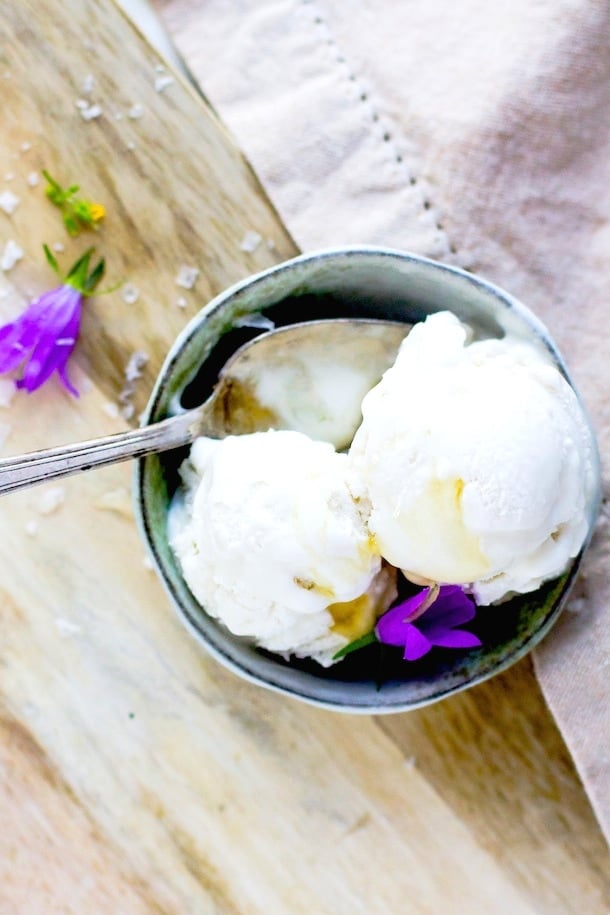 To begin, mix tapioca starch and 2 tablespoons of coconut milk, stirring to dissolve and create a "slurry". Set aside.

In a large saucepan, bring remaining coconut milk, coconut cream, and 1/3 cup honey to a boil. Stir in tapioca starch slurry and boil for 1 1/2 minutes. Then turn down heat and simmer for 3 minutes, until mixture has slightly thickened and will coat the back of a spoon.

Remove from heat, then stir in vanilla and vodka. Pour into a large Ziploc bag, seal, and submerge in ice bath. Refrigerate ice bath for at least 4 hours, or overnight.

Pour ice cream mixture into your ice cream maker. I churn mine with my KitchenAid stand mixer attachment, on "stir setting" (low) for 13-14 minutes, until ice cream is of soft serve consistency. At this point sprinkle in 1/2 tablespoon salt and churn for 30 more seconds.

Remove bowl from Stand Mixer and spread half of ice cream in the bottom of bread pan or other metal container.

Drizzle 2 tablespoons honey and 1/2 tablespoon salt over the top. Spread remaining ice cream over that layer and drizzle remaining honey and salt over the top. Freeze for at least 4 hours before serving.