---
Last year I set out on a mission to perfect dairy-free ice cream, and I quickly fell in love with this Salty Honey Coconut Milk Ice Cream. I'm not vegan, nor intolerant to dairy (I've healed from the issues I had last year), I just really love the taste and the ease of making coconut milk ice cream – no eggs to worry about curdling! The base recipe I created has a few secrets to make it creamy and rich, unlike many icy store-bought vegan pints. You'll see those in the how-to VIDEO above, but basically it comes down to three things:
Instead of using all coconut milk, you'll use coconut cream AND coconut milk, for a higher fat content, similar to what full-fat dairy would be.
Using a liquid sweetener (maple syrup) and a tablespoon of vodka (optional) helps keep the ice cream scoop-able and soft, which has to do with reducing the chance of ice crystals developing.
A slurry of tapioca starch + coconut milk helps thicken and stabilize the liquids, similar to what eggs do in regular ice cream.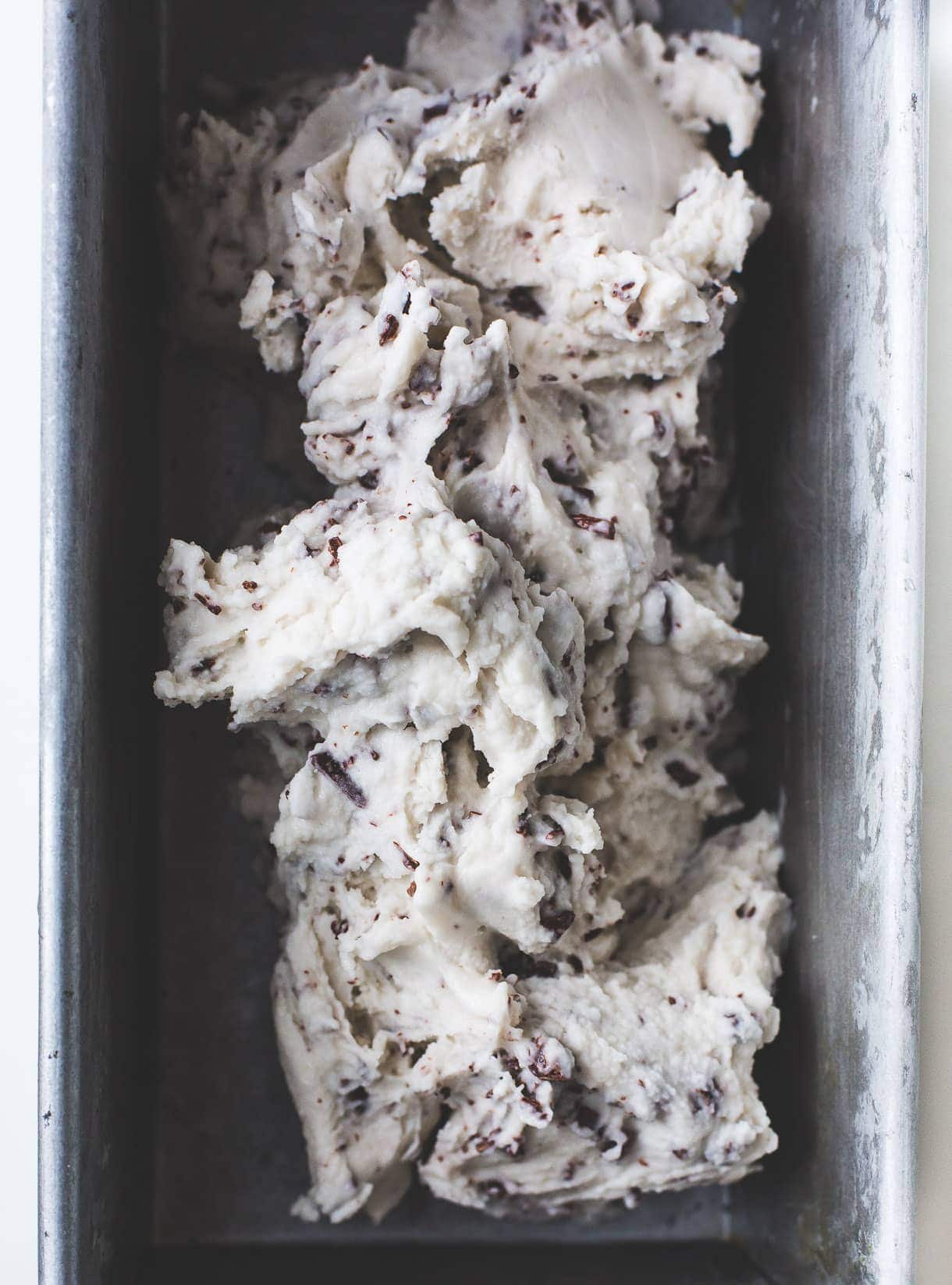 With a really good bar of dark chocolate hand, I decided to go the way of Vegan Chocolate Chip Coconut Milk Ice Cream this time. But it's actually chocolate shards that I finely chopped, similar to stracciatella (italian for "rags or shards"), because chunky chocolate chips freeze hard as a rock in ice cream. No bueno.
Instead, the delicate flakes fuse with the ice cream and literally melt in your mouth.
So velvety and lush, holding a richness I can only compare to custard. And it scoops like a dream, not one bit icy even after being re-froze several times while taking photos.
Whether you're an omnivore, vegan, or different every day , I hope your summer sees a cone stacked high with this chocolate chip delight.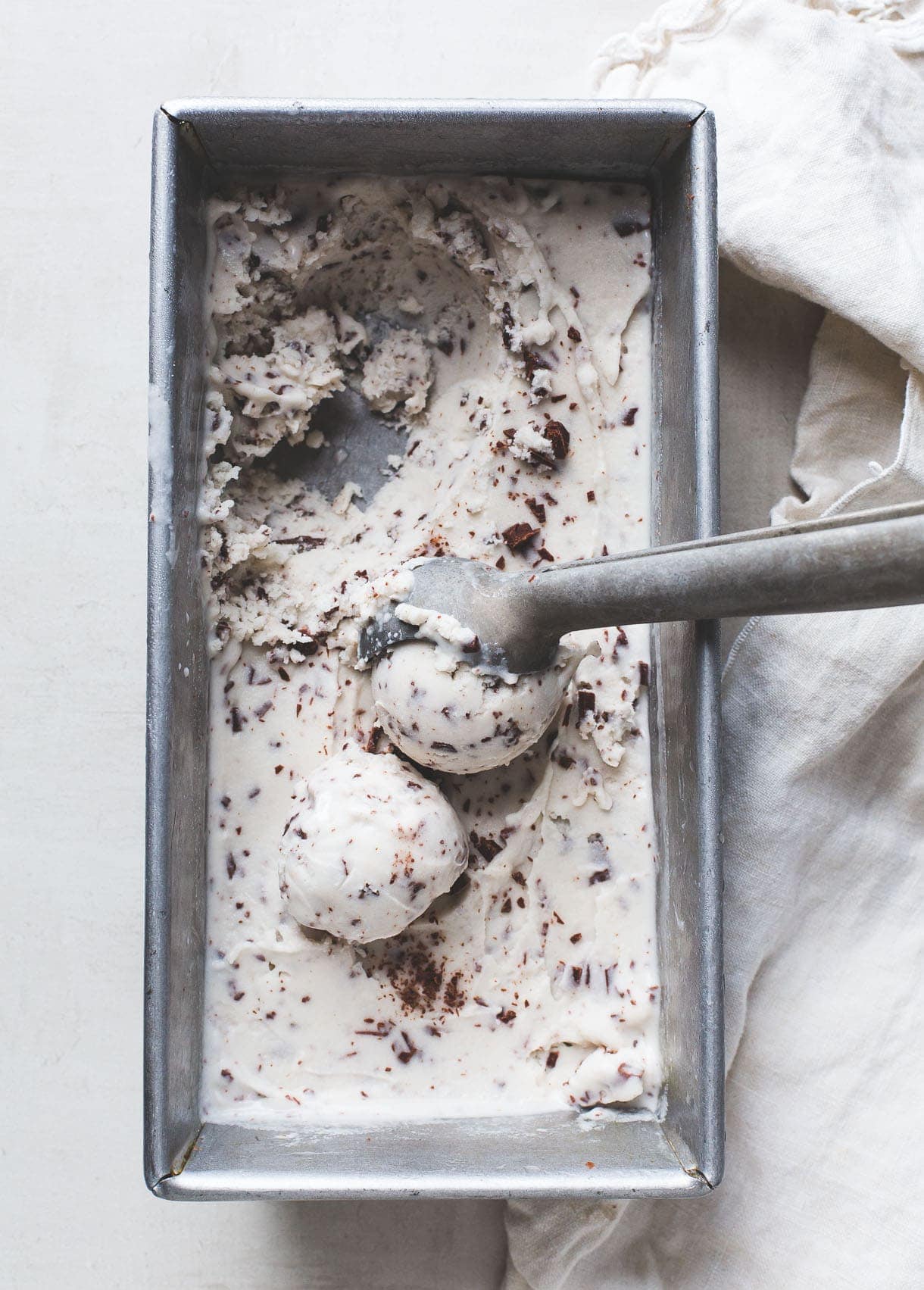 1

tablespoon

tapioca starch

1/3

cup

+ 1 tablespoon pure maple syrup

1/4

teaspoon

sea salt

1 1/2

teaspoons

pure vanilla extract

1

tablespoon

vodka

optional, but helps keeps the ice cream soft

2.5

ounces

dark chocolate

finely chopped
Add coconut cream and 3/4 can of coconut milk to saucepan. Mix 1 tablespoon tapioca starch with the remaining 1/4 cup coconut milk, right in the can, to dissolve. Set aside. Bring liquid to a boil, and add maple syrup, salt, then tapioca starch mixture.

Turn heat down to simmer, and cook for 8-9 minutes, until mixture is thick enough to coat the back of spoon. Remove from heat and stir in vanilla and vodka. Let cool for 10 minutes, then add to a ziploc bag and submerge bag in an ice bath.

Refrigerate for at least 4 hours, up to overnight.

Pour cold mixture into ice cream maker and begin to process. When nearly finished churning and ice cream is consistency of soft serve, add in chopped chocolate, just to mix throughout.

Then spoon into pan and freeze for 4 hours, until ready to eat. Let sit for 5 minutes before scooping.
This blog is supported by Amazon affiliate links. I may make a small commission should you purchase something through them.