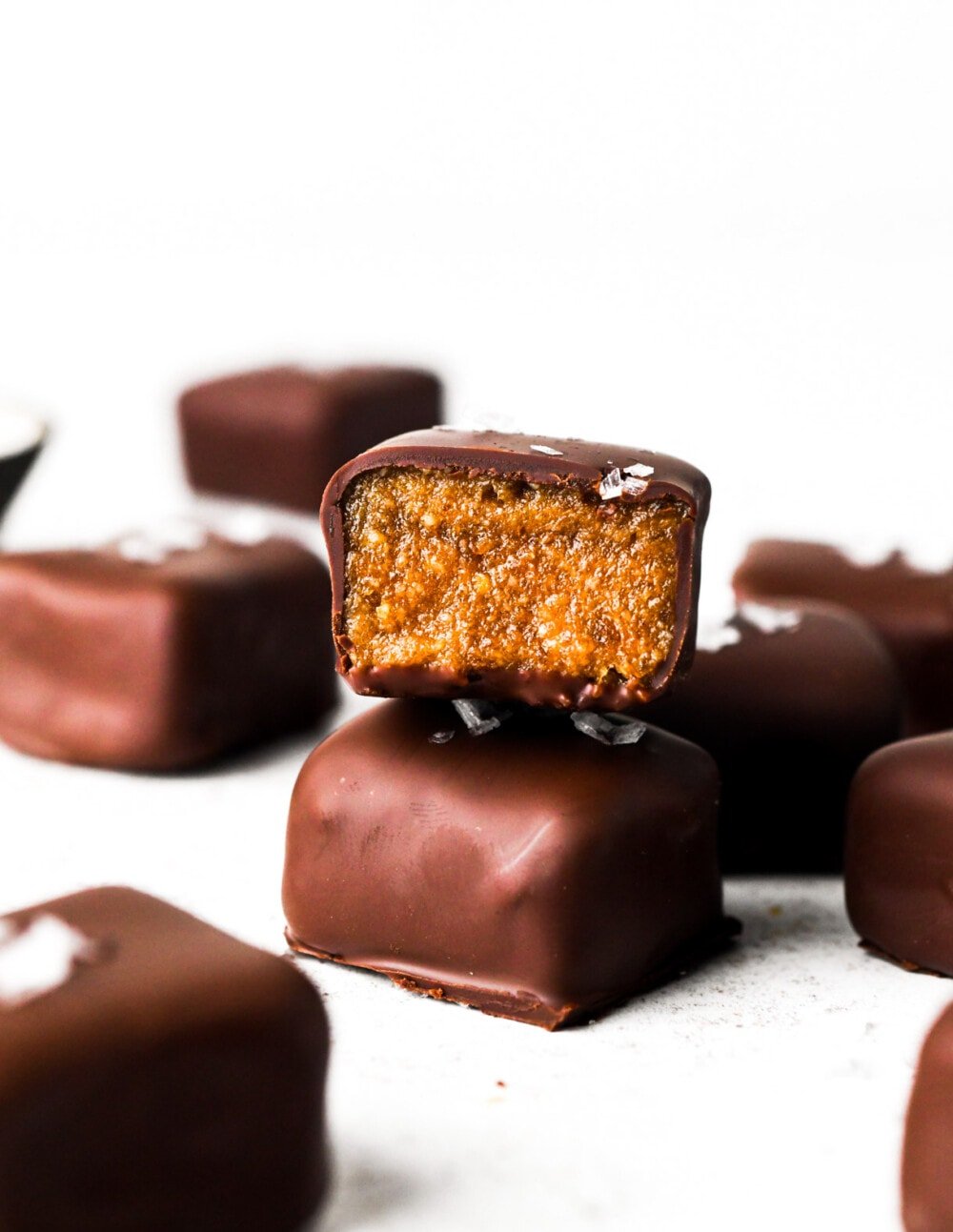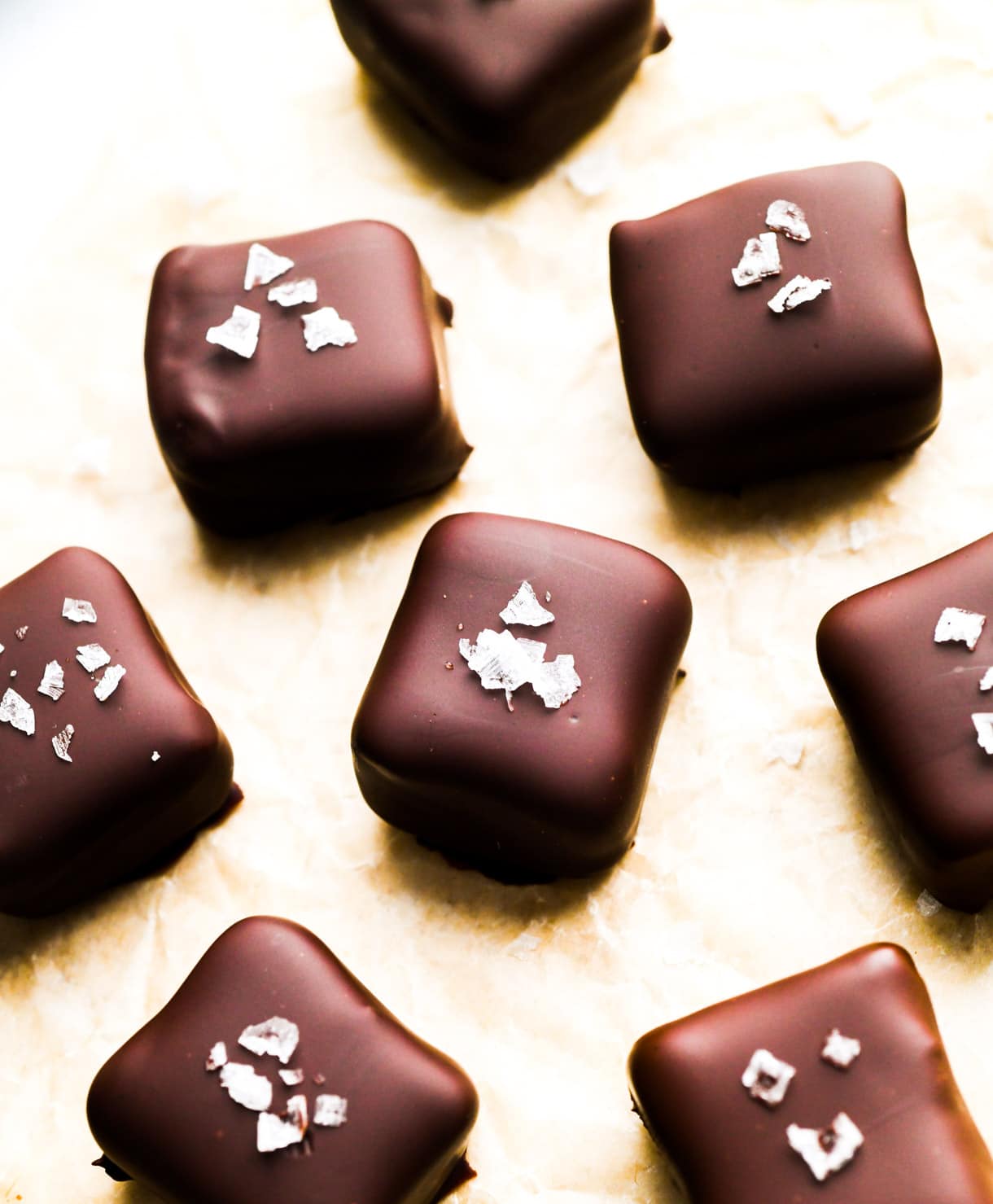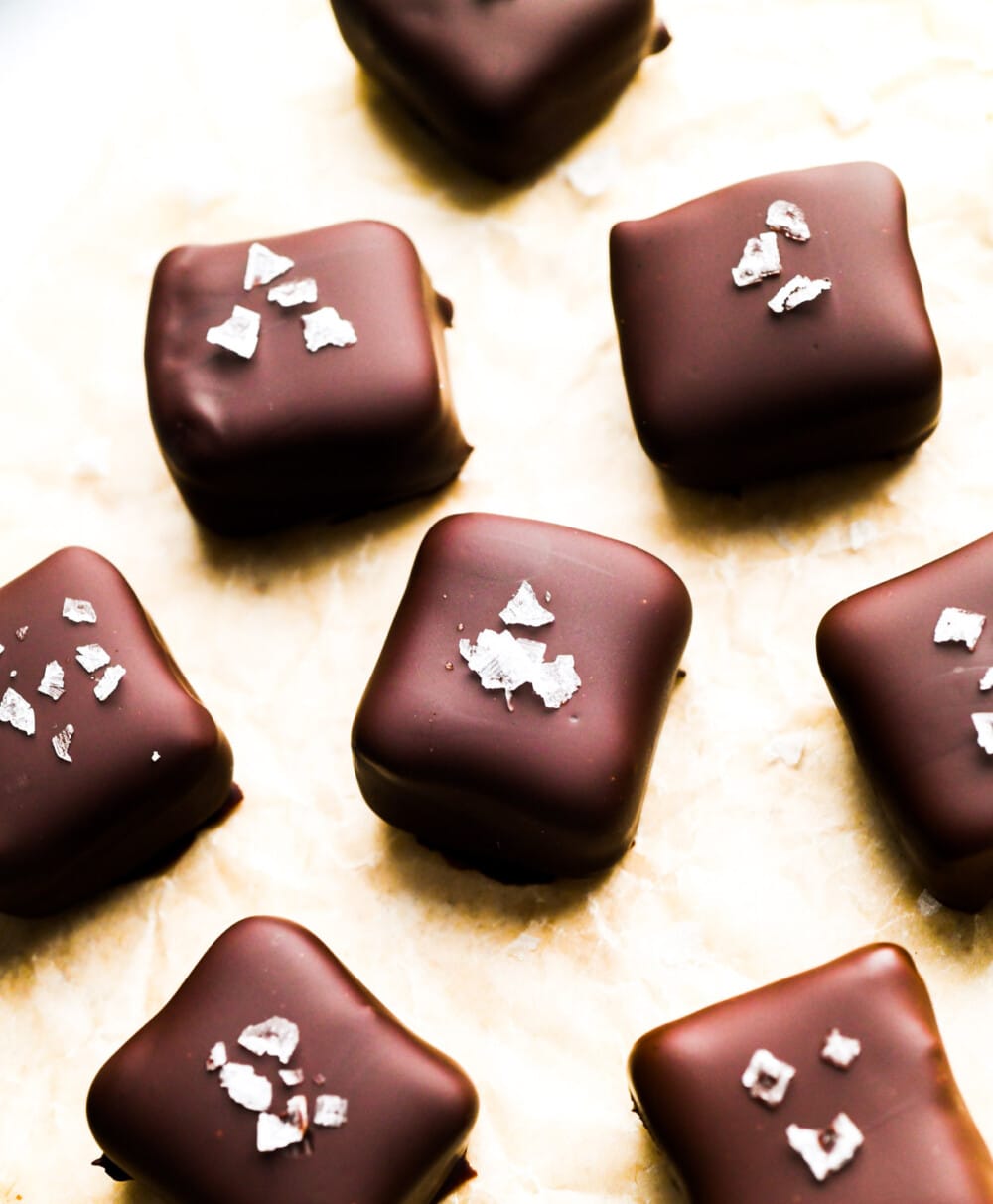 I learned to pick my favorite chocolate out of the iconic Whitman's sample box at an early age, that mustard yellow with printed cross-stitch pattern etched in my mind forever.
Grandma's candy cabinet was my first stop when I skipped into her house, knowing the next few days would be filled with playing cards, seeing my cousins, and watching her cook. She made sure the cabinet was always stocked with the best snacks – homemade caramel corn, salty mixed nuts, and a box of chocolates. Andes Mints were her favorite too, and they seemed quite sophisticated with their green foil wrappers.
Pulling out the flavor map of the chocolate box, my first move was discarding any chocolate-covered cherries and maple cream bon-bons that obstructed my path. My mission was finding the chocolate caramels before any of my cousins snagged them.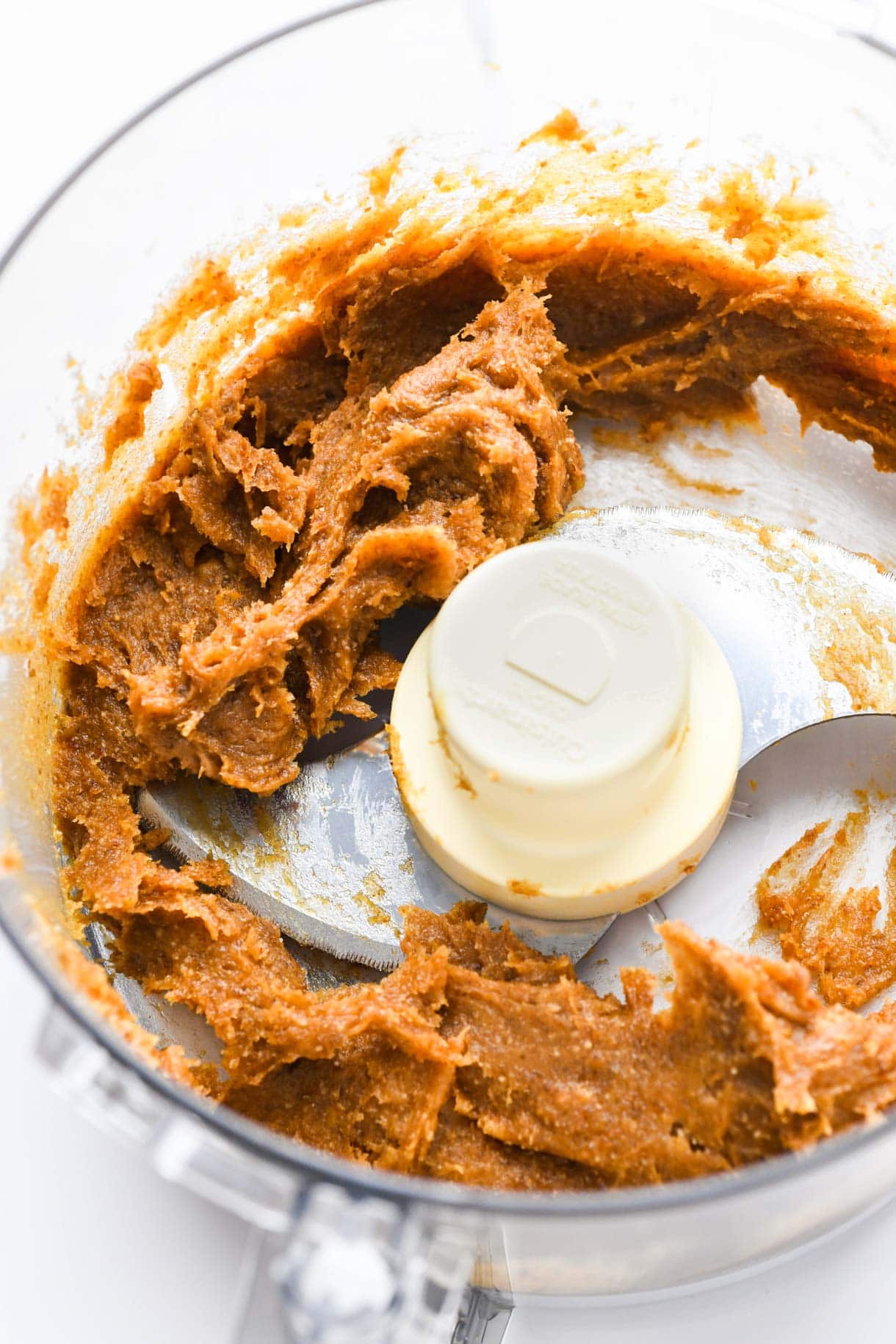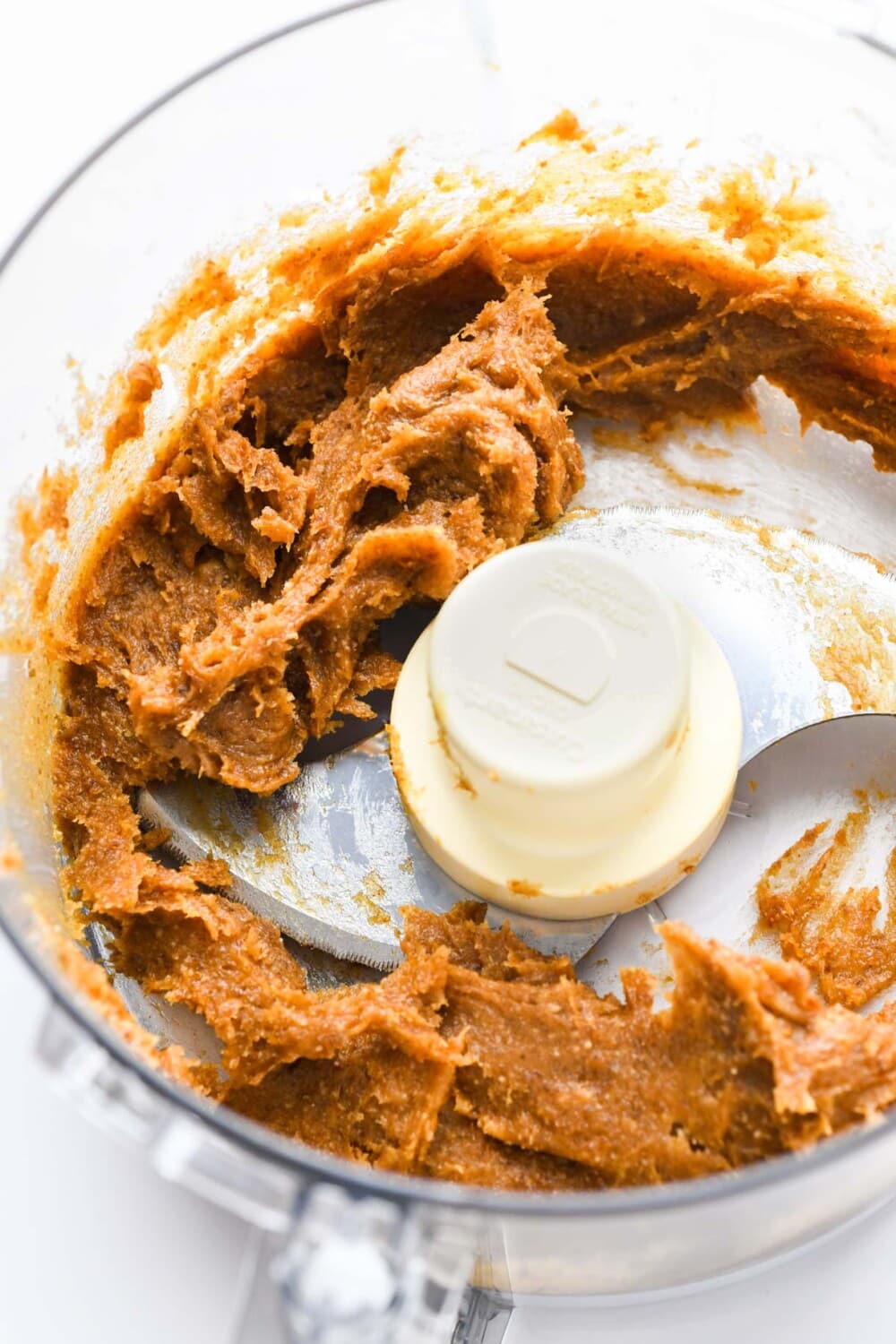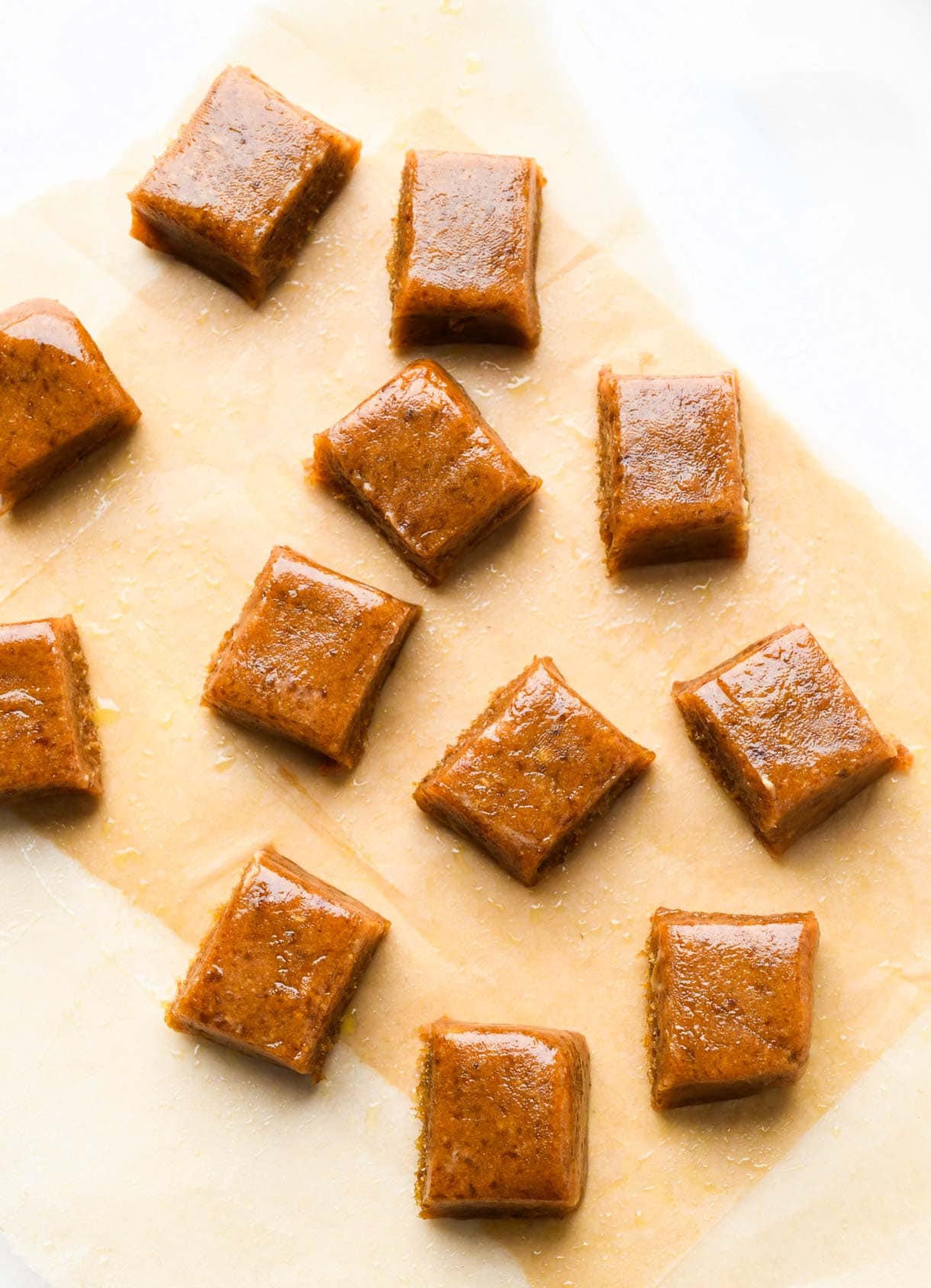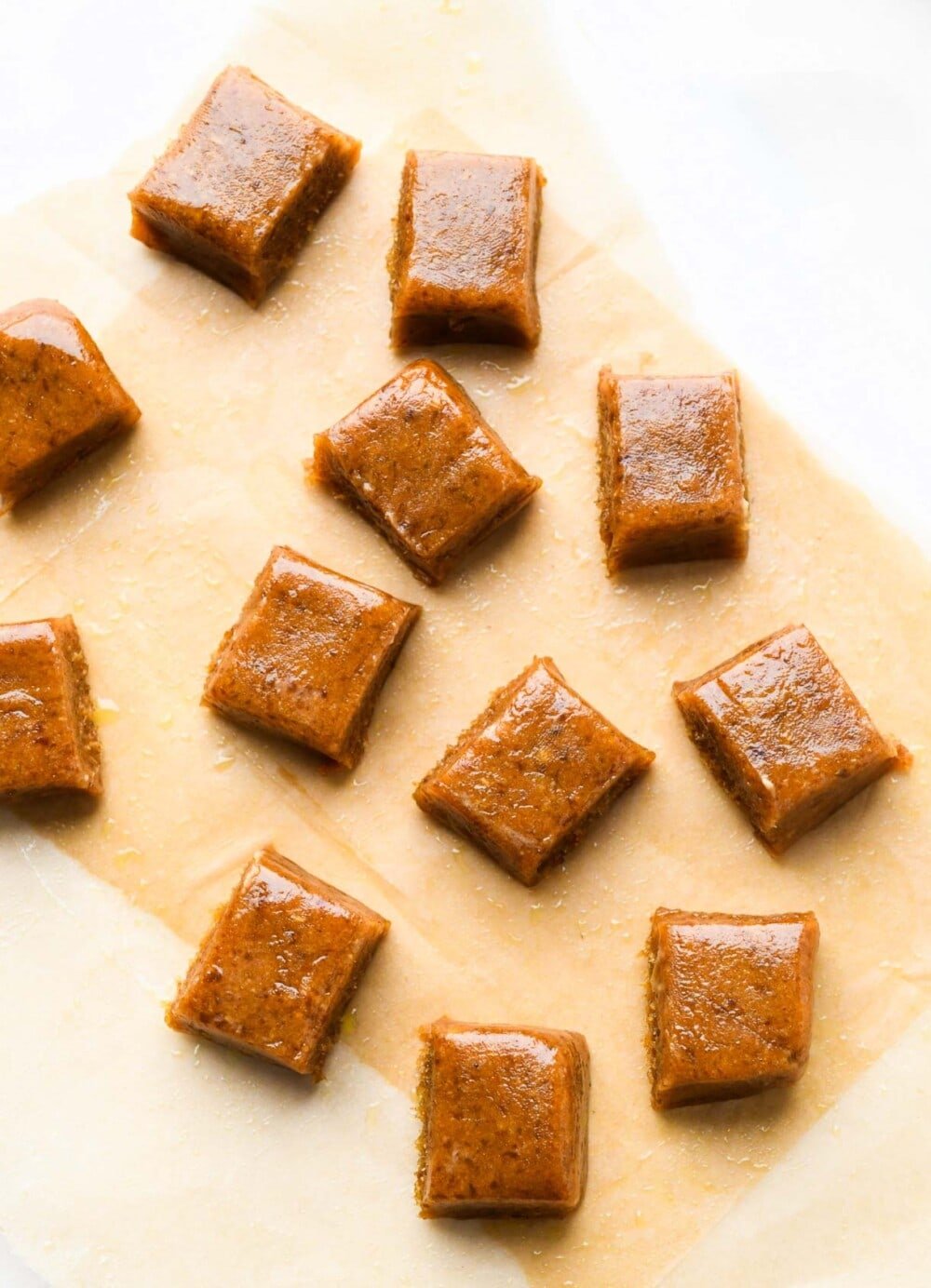 There's just something about biting into the rich, gooeyness of a caramel through the chocolate, cracking just a bit, reminiscent of brown butter and toffee.
So I decided to play chocolatier in my own kitchen this year, and recreate a box of just my favorites with gift-giving in mind. Instead of making traditional caramel with butter and cream, I turned to caramels made with dates instead, because it's easier! No candy thermometer needed. And they're absolutely delicious.
I made them for Valentine's Day last year, and ever since then I couldn't stop thinking about how amazing they were.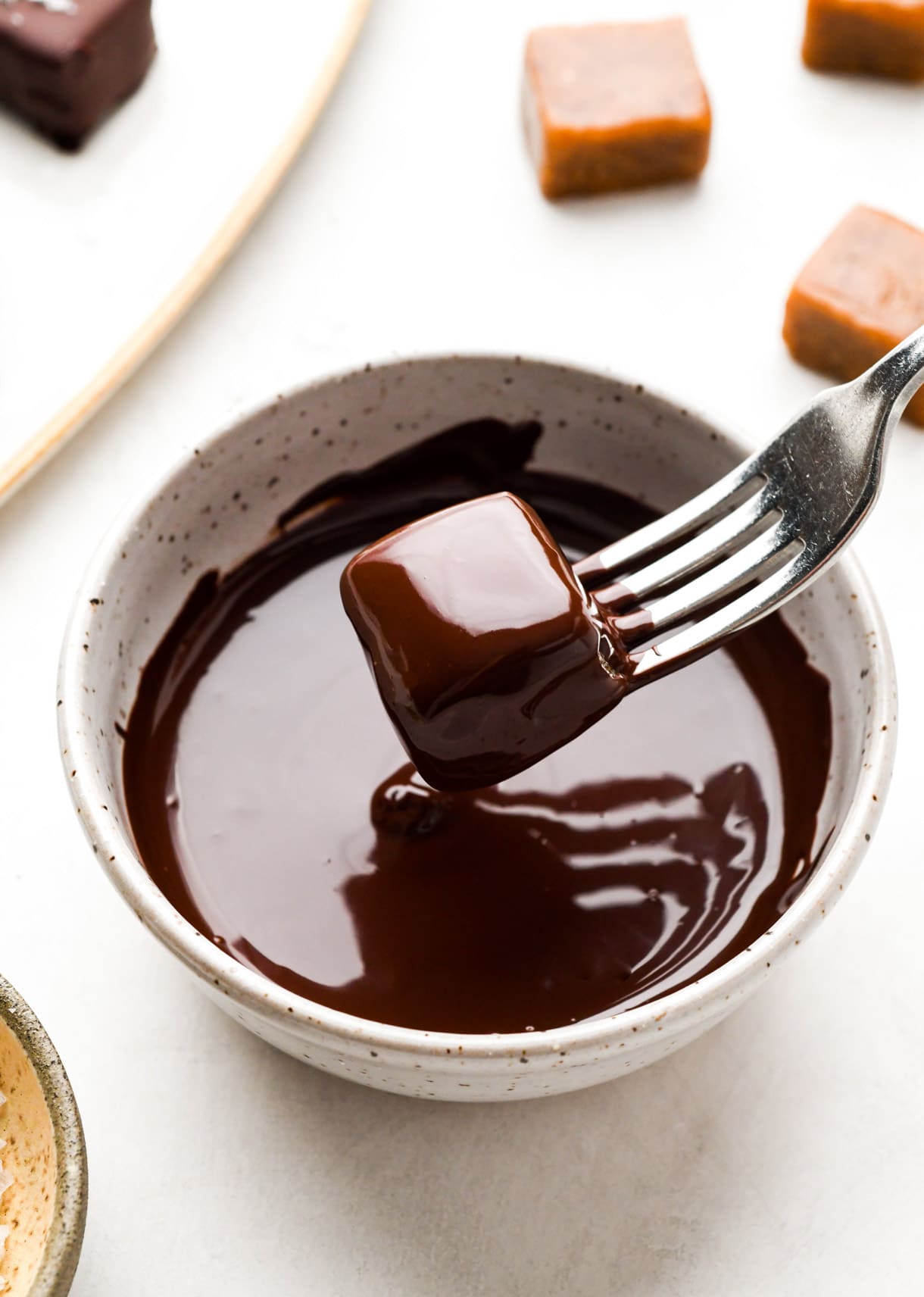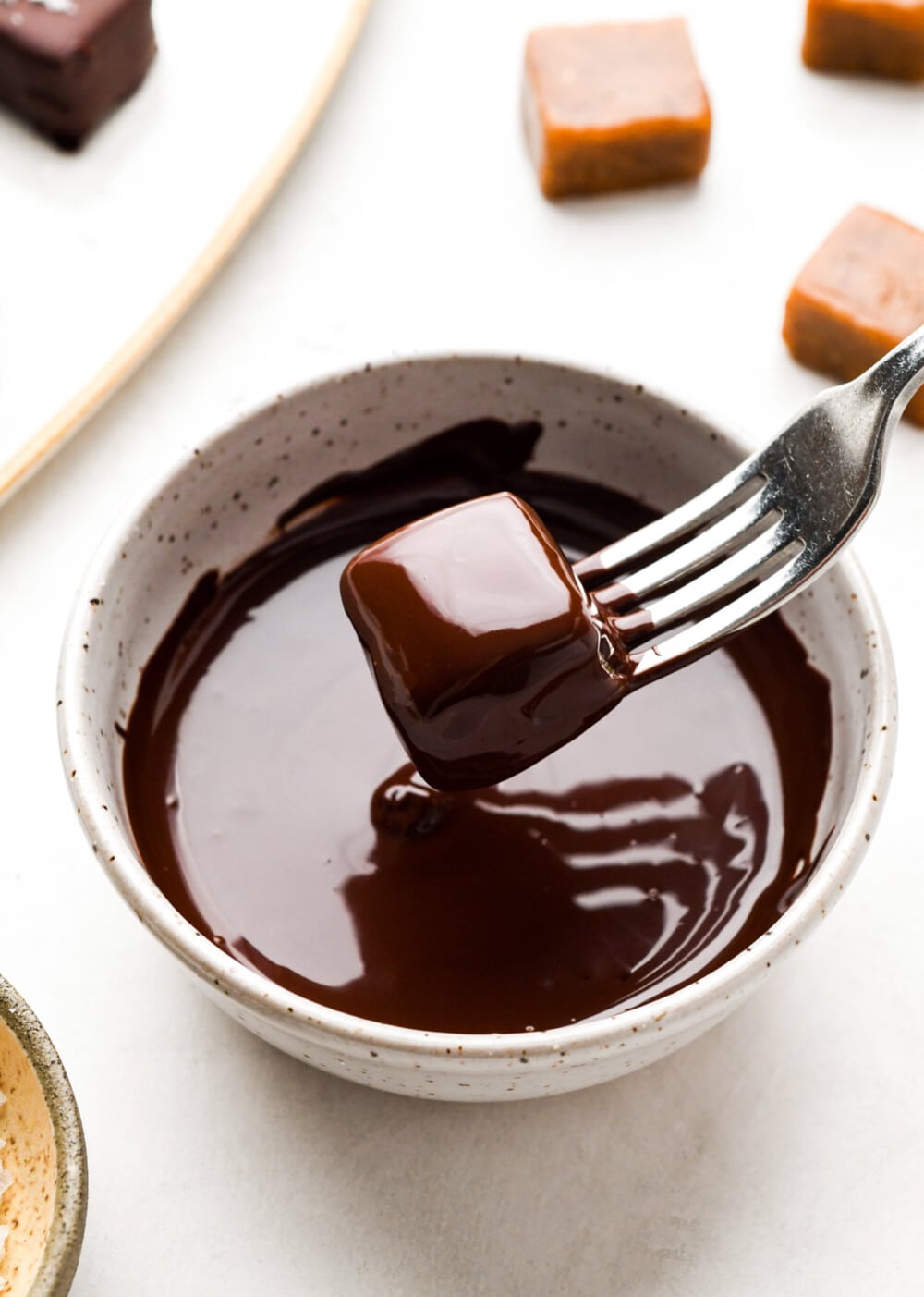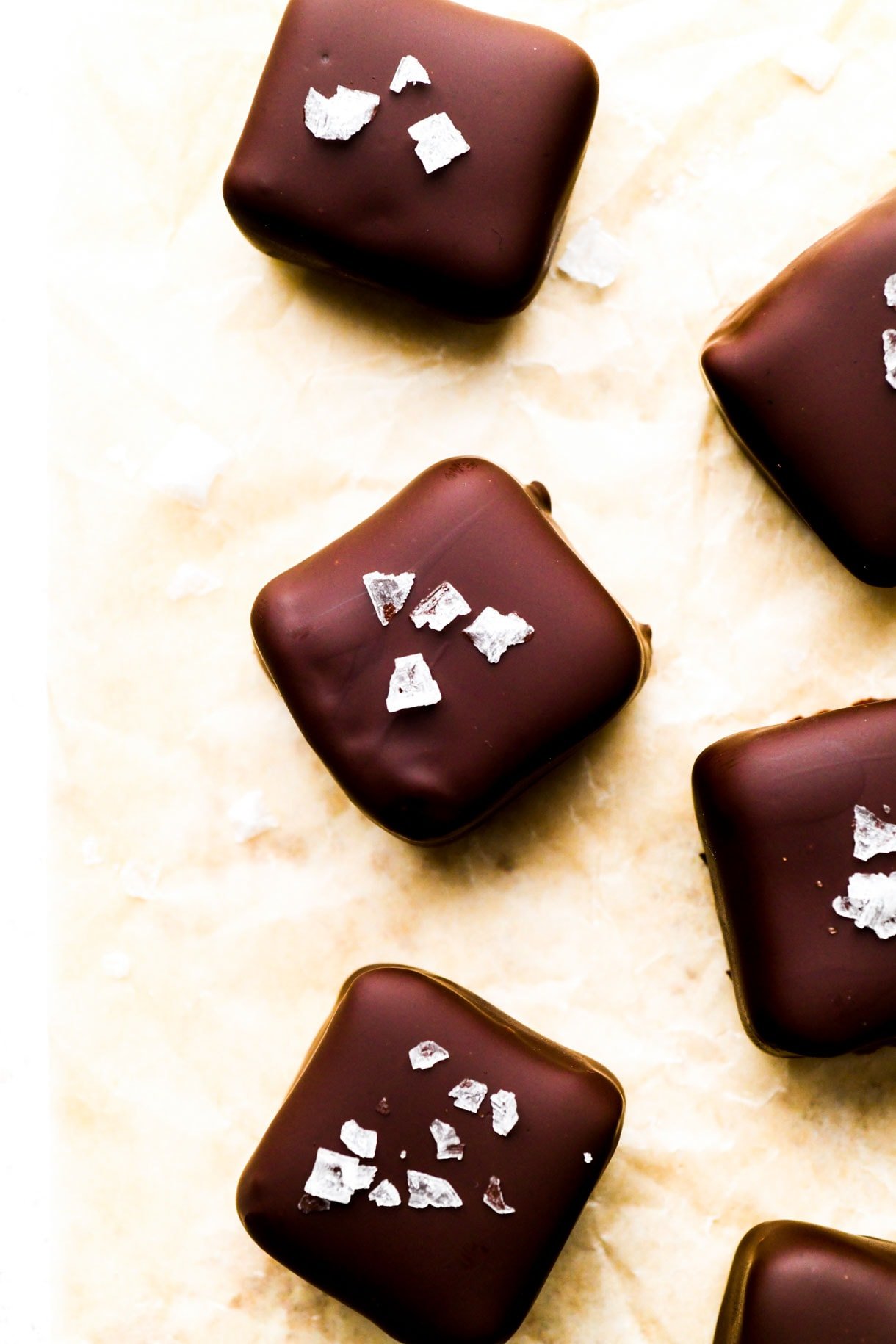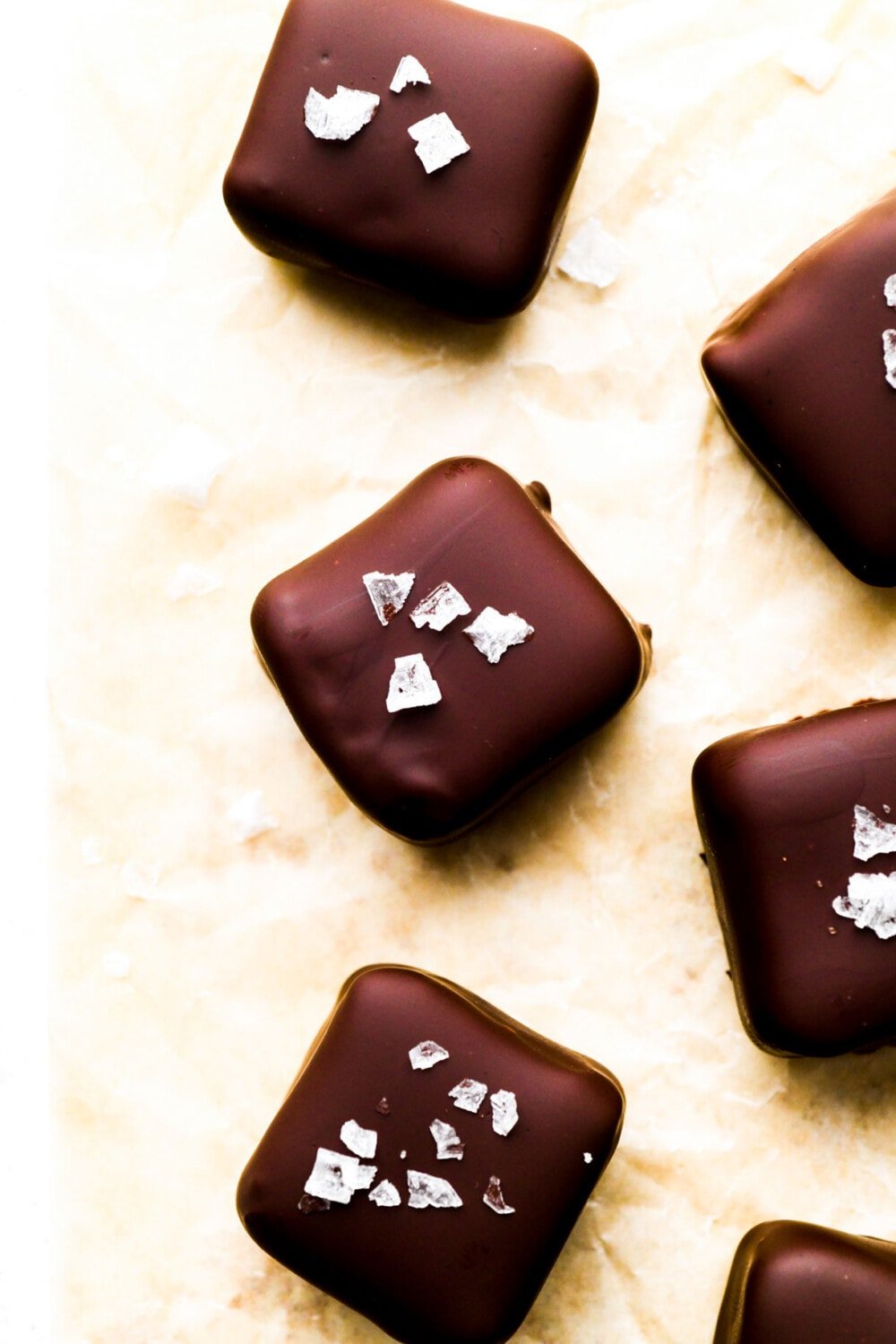 Making Date Caramels:
Vegan date caramels are much easier to make than traditional caramels. No candy thermometer, no cooking!
Using a food processor, you'll blitz sticky medjool dates until creamy and smooth, with a touch of almond flour, almond butter and vanilla.
Super creamy and decadent……
Enrobed in dark chocolate (which I took the time to temper so it would have a shiny, flawless appearance and not have to be refrigerated, notes below), and flaky sea salt……
And to no surprise, my adult self is picking these over any other candy right now as I did with the Whitman's sampler box.
They even look like tiny little presents, just in time for Christmas!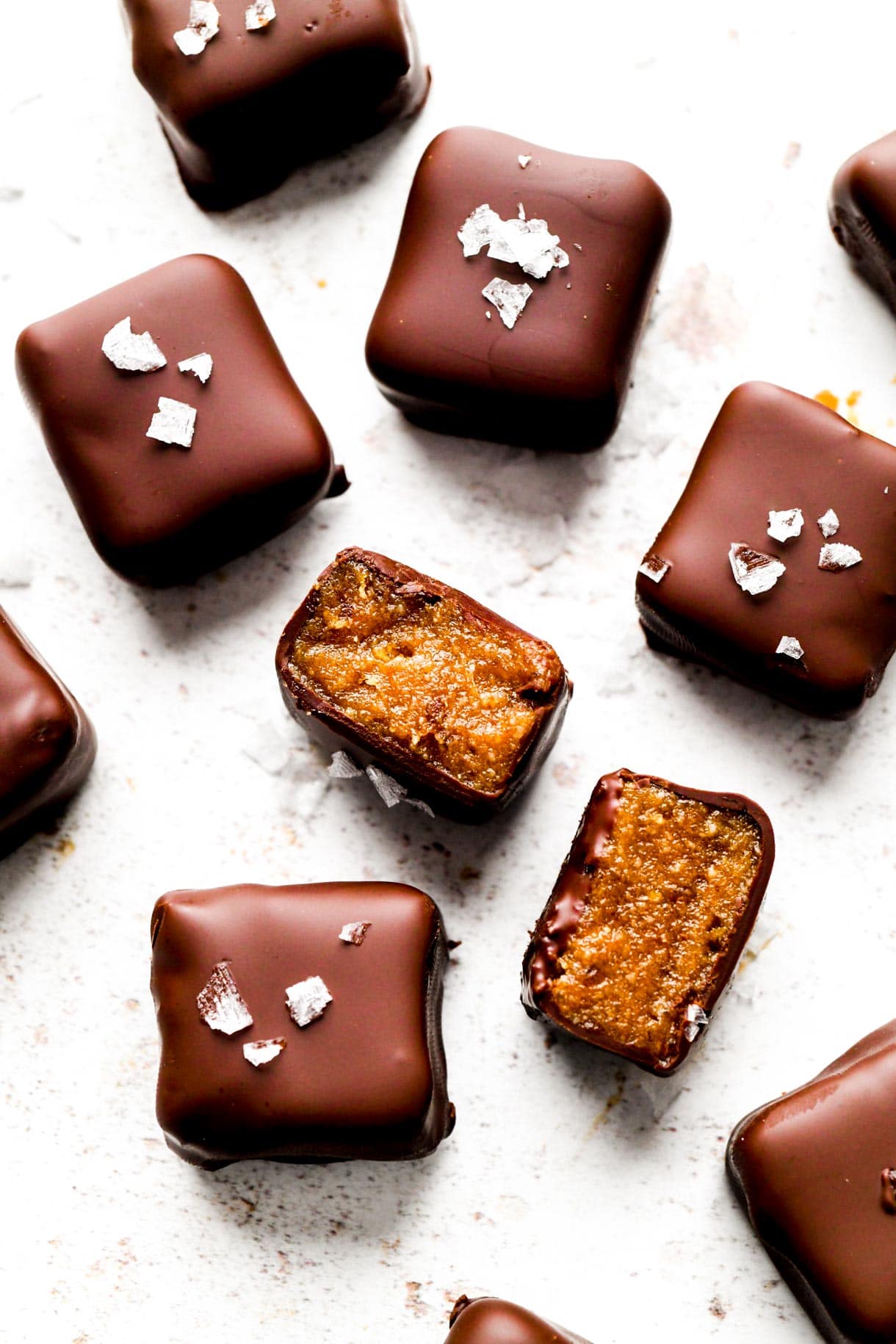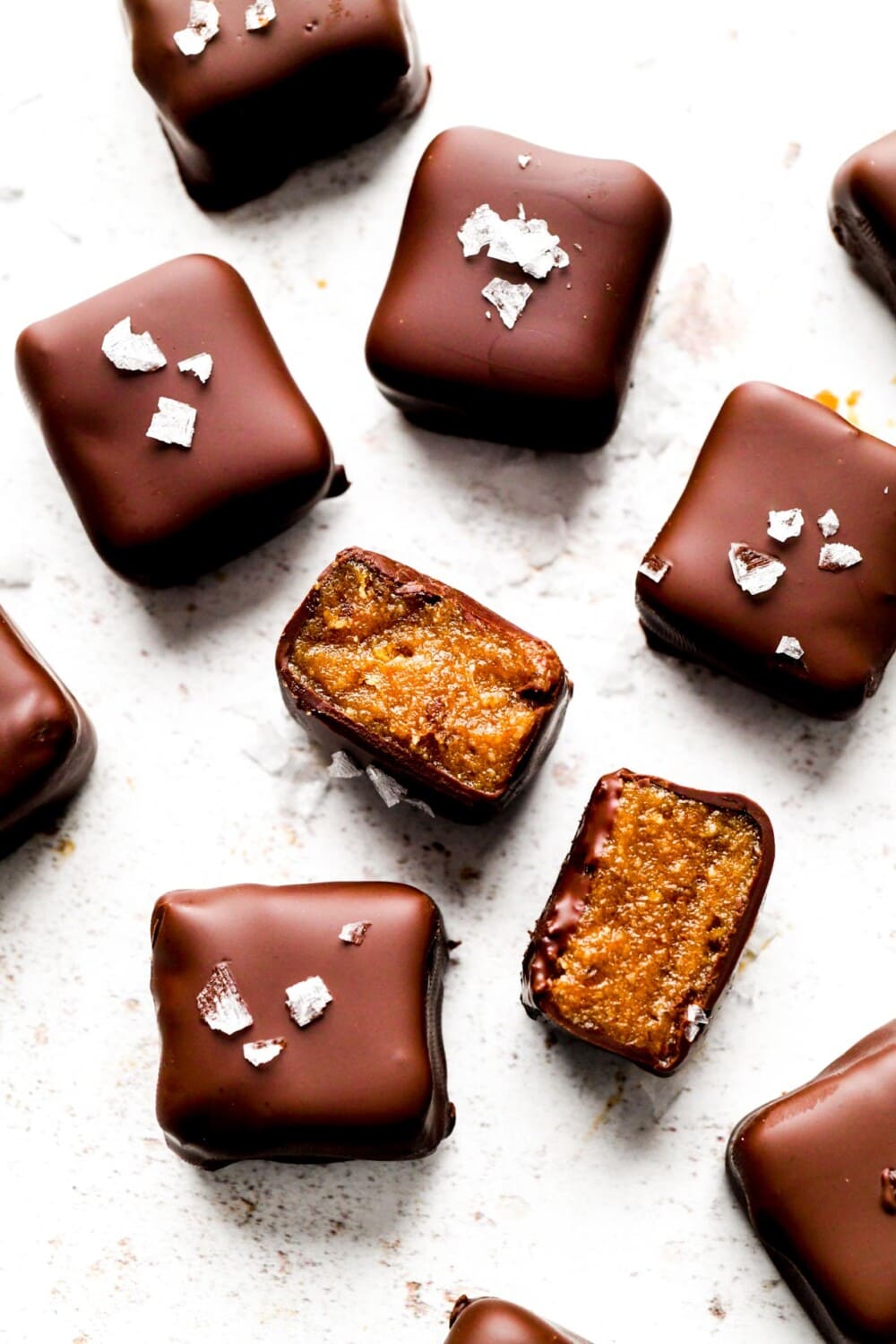 More Date Recipes: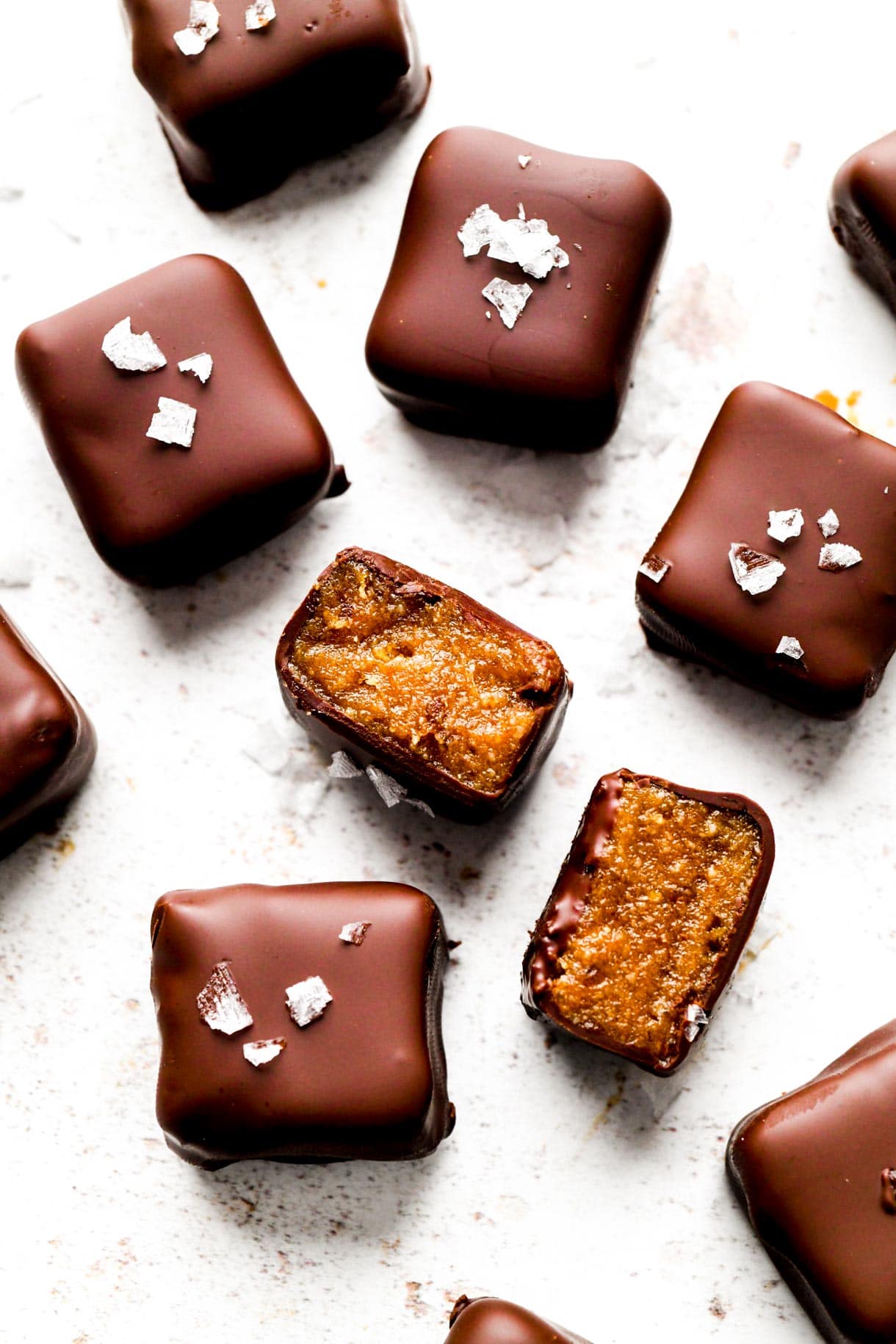 Add dates, almond butter, vanilla, salt and warm water to a food processor. Blend until completely smooth, scraping down the sides to make things easier. Add almond flour/meal and process until incorporated.


Line a small bread pan or narrow pan with greased parchment paper (you can use coconut oil). Scrape date mixture out of processor, and smooth with another greased sheet of parchment paper, using your hand or a spatula to press on top of the paper and make even.

The caramels should be about a 1/2 inch thick.

Place in freezer for one hour. Meanwhile,

temper chocolate using these instructions.

Remove caramels from freezer, and cut into 12 small squares. Then dip and coat with chocolate using a fork, tapping on the side of the bowl to get chocolate to drip off. Set on a piece of parchment paper to dry.

Sprinkle with sea salt as you work, waiting a few seconds so that the chocolate has started to harden a bit and the salt will adhere. Caramels will last at room temperature for 1 week if you temper the chocolate. You can also use the regular method of melting the chocolate over a double boiler or in the microwave, and adding a 1/2 tablespoon coconut oil. If you make this way, the caramels will need to be kept refrigerated until serving.
A note about
tempering chocolate
: Although I've always melted chocolate in a double boiler and added a bit of oil to make it "set", I was frustrated with the condensation that sometimes appears on the chocolate. I also noticed its susceptibility to heat and humidity, melting more easily and spoiling more quickly. Tempering is the process of slowly heating and cooling melted chocolate to certain temperatures while stirring. It's why the chocolate you buy at a gourmet candy store is so perfect. ow that I've done it myself, I have to say it really isn't any more difficult than melting chocolate in the microwave, it just takes a thermometer and a little time.