My journey to living gluten-free started 6 years ago after figuring out it was one of the main contributors to auto-immune responses I was having, showing itself by way of shingles, solar dermatitis, nerve sensitivity, and headaches. What was a bit difficult at first turned out to be the thing that ignited my love for cooking and exploring the world of real food, including this blog.
Navigating food allergies and intolerances can be confusing, especially gluten. There are numerous grains that may look and sound gluten-free (like couscous or farro), hidden sources (like soy sauce), and the big one: cross-contamination (in the field, transportation, or processing) that affects naturally gluten-free foods, such as oats. Additionally, it can be infuriating that some like to think eating gluten-free is just a fad, when in actuality it's as serious of a food allergy as any other.
Last week I was invited to Quaker headquarters in Chicago, who has been milling oats for nearly 140 years, to learn about their process for making gluten-free oats, in both Quick 1-Minute Oats (18 ounce canister) and Instant Quaker Oatmeal (individual packets).
I took home an oatucation, gaining lots of knowledge about this mighty little grain, but more importantly, confidence about the measures Quaker has taken to ensure their oats are truly gluten-free (measuring less than 20ppm by FDA standards), and delicious.
Although this might be a little in-depth, my hope is to be a resource for you so you can be reassured as you look at that canister of Quaker Gluten-Free Oats in the store and know they're safe. This mighty little grain is one that provides our bodies with fiber, and carbohydrates for energy, and it's so exciting that more people are going to be able to share a meal together because of it.
—Let's start with the growing of the oats. Quaker sources its oats from trusted farmers across North America. As I mentioned earlier, inherently oats are gluten-free, however, they could have come in contact with wheat, rye, or barley because they were grown in a field that previously housed these crops, there were particles of them in the air, or maybe some residual grains were left in the truck transporting the oats. And if not kept separated while processing, contamination possibilities strike again.
Reassurance Fact #1: Buying Gluten-Free Oats from Purity Oat Companies Wasn't Good Enough
You may be asking yourself, "Why wouldn't Quaker just purchase clean oats from some of the purity houses that sell them, all of which have 3rd party gluten-free certification?" Well, they tried that – but guess what? Several of the sample batches they tried did not meet the threshold of less than 20ppm. They also didn't meet the taste and texture standards Quaker desires.
I was shocked, and a little worried because as consumers, we trust gluten-free certification seals like those given by GFCO and NFCA. But that's the thing – they're 3rd party, and not regulated by any stipulations other than their own.
—The oats they've sourced land at the Quaker mill and go to a dedicated gluten-free cleaning house, at which point the innovative sorting & testing process begins. Approximately every hour of production, a sample is taken – which equals 3,000 samples (40 grams each) at the groat level (meaning the oat has been removed from the husk) per lot. Which brings me to my next point…..
Reassurance Fact #2: When Quaker began trying to crack the code on this sorting process, they found what makes things so difficult is that oats fall victim to kernel based contamination, meaning stray gluten-containing grains or residue is not evenly distributed, instead being hidden in pockets. So when you are taking samples from a truckload (about 500,000 pounds of oats), the area you test might be free of gluten-containing grains, but you may have missed the area that has a few stray ones hiding, contaminating the entire lot.
—Because of this, they changed their way of analyzing (with mechanical and infrared technology), milling, and processing in order to ensure truly gluten-free oats. If any of the single test samples does not meet Quaker standards, the entire lot is rejected and used for other Quaker products that are not labeled gluten-free (YAY for no waste!). For a more in-depth explanation, read this.
Reassurance Fact #3: Dedicated Storage, Cutting, and Flaking
Once the groats have 'passed' the inspection system, they move into the remaining production phases of cutting, flaking, and finally packaging, . After inspection the oats go through a kiln to stabilize the groat and are then turned into flakes (all happening with dedicated equipment). The packaging lines are shared, however thoroughly inspected with food safety protocols during and after cleaning to ensure any oats packaged there remain uncontaminated.
During the entire process, there are multiple checkpoints to ensure purity.
What may seem like a long journey, a lot of explanation, and years of dedication by Quaker is all in the name of trust and care, so that everyone can enjoy oats. Yes, I was paid to go and learn about the process, and to be honest I was a little skeptical knowing what happened in the industry this past year.
But their transparency and thoroughness was one that solidified how much they care about the needs of their consumers. They understand that traditional quality control methods just don't work for gluten testing in oats. Instead, they treat the processing of gluten-free oats as a food safety issue, which requires a different way of thinking and significantly better control systems.
Although Quaker is a large company, their passion for bringing safe, gluten-free oats in their true form to our tables was definitely evident. It's a great thing for all of us, and reasons like….
So my Mom can go to her grocery store in small town Minnesota, and make oatmeal chocolate chip cookies for me without having to worry.
So the Mom who has had to make a separate breakfast for one child, can now make a fun chocolate banana bowl of oatmeal for the whole family.
So I can rest easy making sweet and savory concoctions, knowing I won't get the auto-immune responses that are triggered when I eat gluten.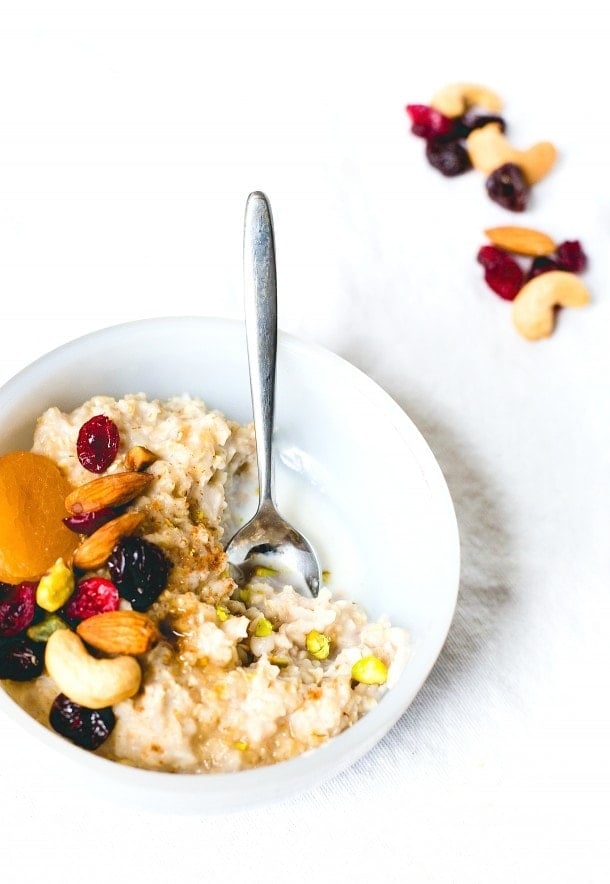 Thanks for reading, and hopefully you'll be making something oatalicious soon. I'll be sharing a recipe next month, so stay tuned. Xo!
Disclosure: I was compensated by Pepsi Co, the owner of Quaker Oats for the visit to their facilities and this post. All opinions are my own, so that I can share the good news and facts with you.