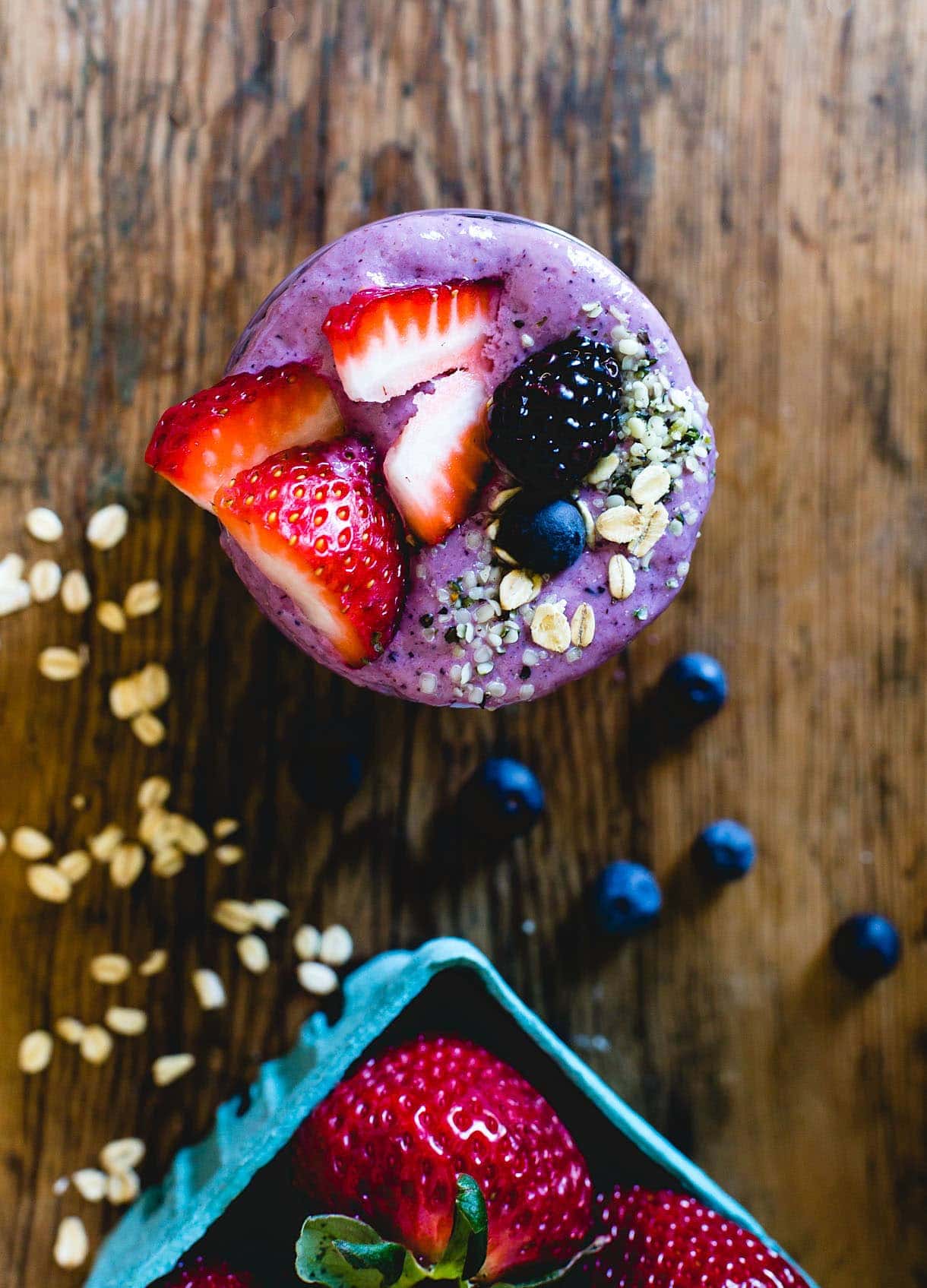 While I was in Long Beach a few weeks ago visiting my friend Meg, she made sure we got to the Sunday farmers market for juicy California strawberries. As their season has just begun in the sunny state, they were freshly picked, evident from the dew still dancing on the wood crate. I ate several before I had even handed over my $5, all that goodness concentrated into one perfect, succulent bite. I stood and coveted the moment, a wide grin beaming from ear to ear as I wiped the juice off my chin.
In Minnesota we have a very short berry season due to the northern climate, typically from early June to mid-July. And although I can freeze some of them after gorging myself for days in response to their fleeting appearance, it just doesn't compare to that experience of eating them fresh.
So imagine my eyes when 10 pounds of blueberries, blackberries and strawberries arrived at my door from California Giant Berries. And although I love eating what my local farmers grow, it's hard for a girl to wait until June to have them in her kitchen.
Let's hop right to it with this creamy, dairy-free Triple Berry & Soaked Oats Smoothie. There are a million smoothie recipes, but there's a little secret to the super thick texture in this one that doesn't come from yogurt or ice……
Often these slurp-able drinks are made with frozen berries, which gives them thickness, but not always the same puckery sweetness as fresh. Or fresh berry smoothie recipes usually include a lot ice to get the texture right, which ends up watering down the flavor. My answer? Soaked oats (as in, overnight oats). By letting these whole grains take a bath in almond milk, they plump up, soften, and when blended, create a thicker, heartier drink.
Added bonus: Soaking the oats makes them easier for our bodies to digest, and because they have a hefty dose of fiber (and manganese – great for bone structure), this smoothie is all the more satisfying.
I really liked the kiss of vanilla and local honey blended in, totally elevating delicious strawberries, blackberries and blueberries. For a healthy fat boost, I added a bit of coconut oil, and extra hemp seeds sprinkled on top.
Thick, wholesome, and hearty. It's a berrylicious triple threat in my opinion. Enjoy!
Triple Berry & Soaked Oats Smoothie
Author:
1/4 cup gluten-free oats
1/2 cup almond milk (or milk of your preference)
1/2 cup blueberries
1/2 cup blackberries
1 cup sliced strawberries
2 teaspoons honey
2 teaspoons virgin coconut oil
2 ice cubes
[url href="http://amzn.to/1UvxJPO" target="_blank" rel="nofollow"]hemp seeds[/url]
Put oats and almond milk in a glass jar. Stir and refrigerate overnight.
Add soaked oats to a blender in the morning, followed by remaining ingredients.
Blend for 30 seconds using a high powered blender, until smooth and creamy. Add a little more milk if you would like. Sprinkle with hemp seeds and extra berries!