This healthy, layered vegetarian egg bake with hashbrowns, cheese, kale & artichokes is full of flavor and great texture. A gluten-free breakfast casserole, too!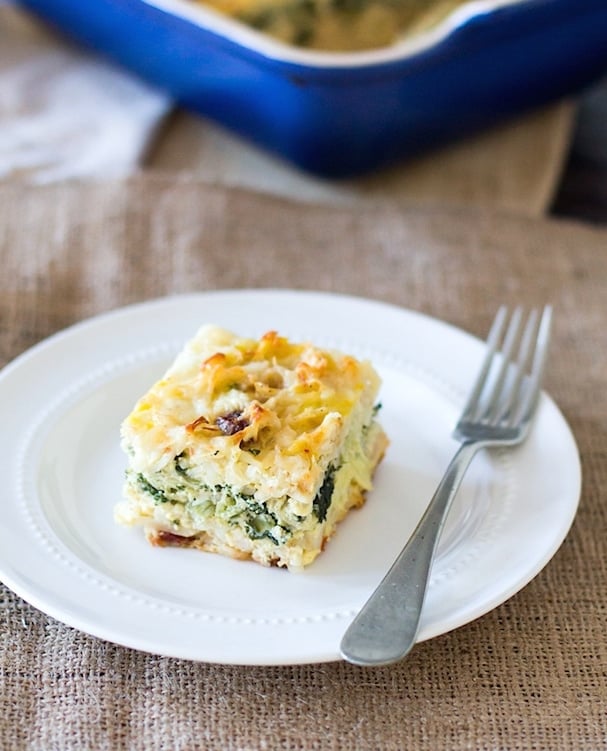 Weekend mornings sets the stage for all sorts of brunch favorites. Crispy bacon, warm cinnamon rolls, smoked salmon & fixins' platter, plus a hearty egg bake get passed around the table, everyone nice and cozy in their pajamas. It's part of a week when we're able to enjoy time with our family and friends, a feeling of joy and gratitude.
One of my favorite parts about cooking for my family is introducing them to real food versions of classics, like this Layered Vegetarian Egg Bake. It's so full of flavor and easy to make.
How to Make a Vegetarian Egg Bake
Not only is this brunch dish easy to make, but it's stacked high with layers of flavors. You'll begin by mixing the hashbrowns with an Italian cheese blend (which is nice & bold so you can get away with using half of what you normally would), sun-dried tomatoes and a touch of sour cream.
Half of that is spread in the bottom of the casserole dish, then the middle layer is packed with chopped artichokes, kale and garlic. (Sound familiar? I had spinach artichoke dip on the brain.) The remaining potato mixture sandwiches the vegetables, then lightly beaten eggs are poured over to soak into all the nooks and crannies.
Topped with a little extra cheese, it's ready for the oven. And in about 40 minutes, out comes a golden brown, healthier egg bake that I think your family will love. A little departure from the classic, but in this case, it's a delicious gluten-free breakfast recipe.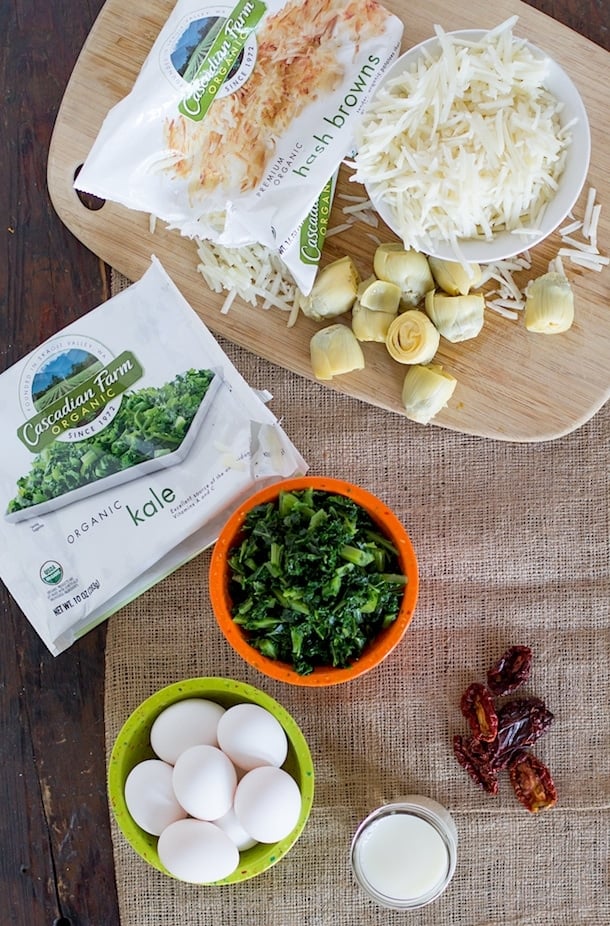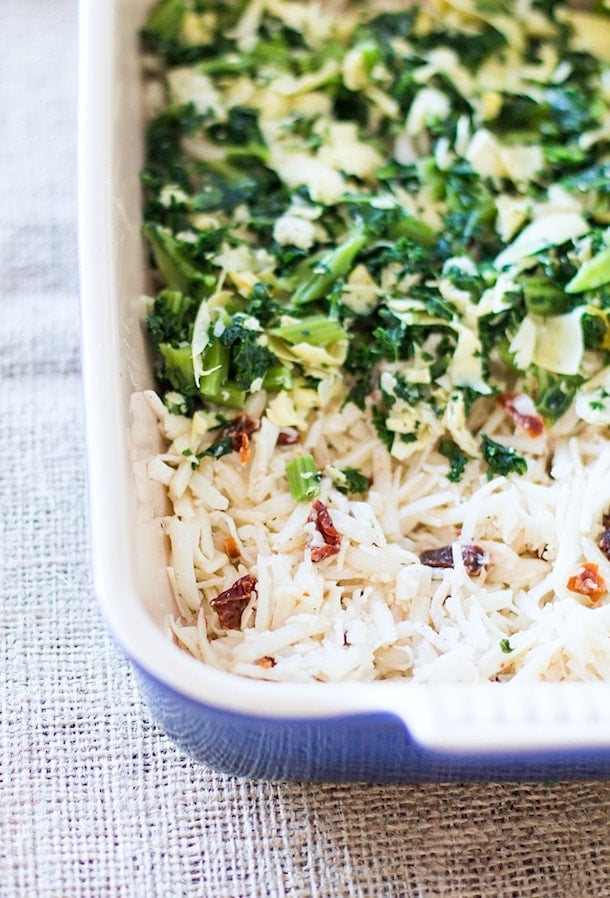 Using Frozen Vegetables for a Vegetarian Egg Bake
With the goal of making an egg bake that was a little healthier, yet just as satisfying, I teamed up with Cascadian Farm and their organic frozen vegetables.
I'm a locavore at heart, but in December, green powerhouses like kale and swiss chard are definitely not at peak of season.When you see them in the produce section, their leaves are often scraggly and a little brown – exactly why I love having the frozen option. They cook up beautifully and taste just as fresh as the day they were picked.
And no egg bake is complete without potatoes! Shredded hashbrowns are such a time saver when it comes to breakfast casseroles.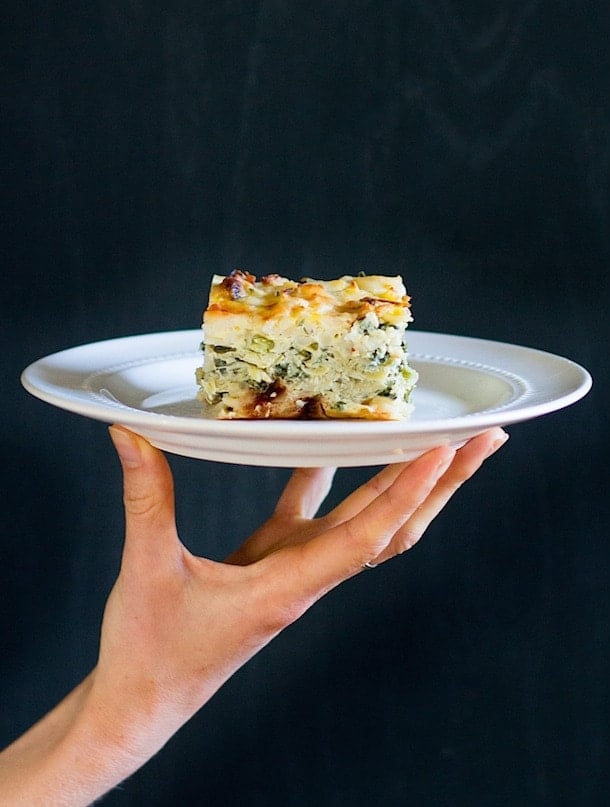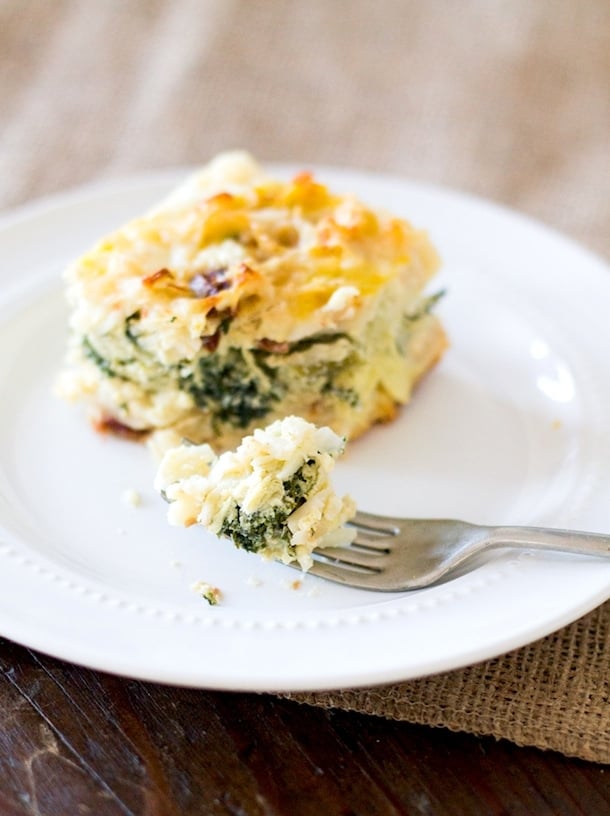 More Vegetarian Breakfast Recipes: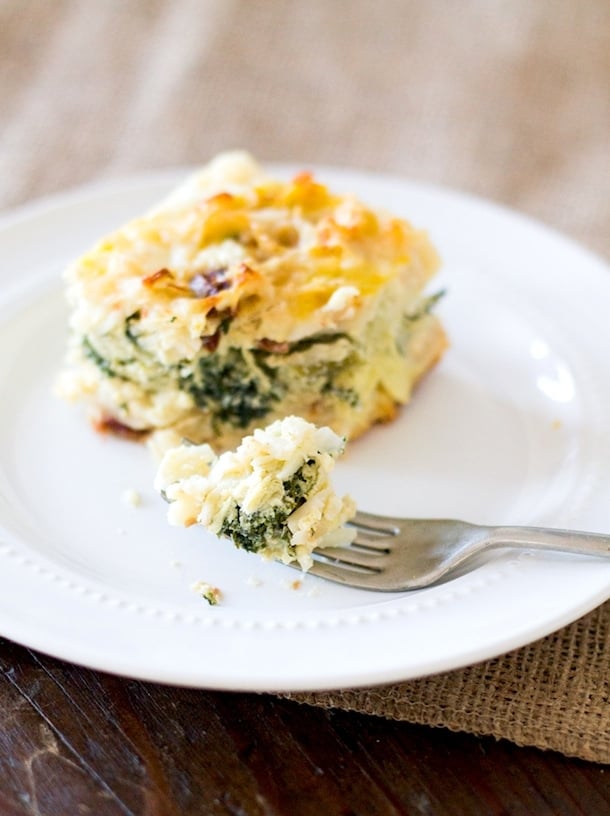 1/3

cup

+ 2 tablespoons sour cream

1 1/4

cups

shredded cheese blend,

divided

1

(16 ounce) bag frozen Cascadian Farm organic hashbrowns

1/3

cup

marinated sun dried tomatoes,

coarsely chopped

1/3

cup

minced onion

1/2

teaspoon

black pepper

1/4

teaspoon

garlic powder

3

cloves

garlic,

minced

1

(14 ounce) can artichoke hearts, drained and coarsely chopped

1

(10 ounce) bag organic frozen kale

3/4

cup

whole milk

8

large eggs

1/2

teaspoon

fine salt
Preheat oven to 375 degrees F. Spray baking dish with nonstick spray. In a large bowl, mix together 1/3 cup sour cream, 3/4 cup cheese, hashbrowns, sun dried tomatoes, onion, black pepper, garlic powder, and 3/4 teaspoon kosher salt. Spread half of this mixture on the bottom of the pan.

Put the kale and chopped artichokes in the middle of a towel and roll up, then wring all of the water out. (This is a crucial step so that the egg bake doesn't become soggy. Over a cup of water came out the vegetables for me!) Add these vegetables to a bowl and stir in minced garlic. Distribute over the top of the first layer. Top with remaining potato mixture, pushing down lightly.

Whisk remaining 2 tablespoons sour cream and milk together in a bowl, then add in eggs, 1/2 teaspoon kosher salt and a few cracks of black pepper. Whisk until beaten, so all yolks are broken up. Pour over the top of layered mixture, then top with remaining 1/2 cup cheese. Bake for about 35 minutes, until middle is not runny (test with a toothpick). Let sit for 5 minutes, then cut and serve.

Leftovers will last for 3 days in refrigerator.