If you didn't quite get to a loaf of sourdough when it was fresh, you can transform days old slices it into a delicious breakfast with this sourdough french toast recipe! Sourdough bread is great for making french toast because it's sturdier texture doesn't collapse or become soggy while soaking. It's easy to make in 20 minutes with just a few pantry ingredients like milk and an egg. Vanilla and cinnamon in the batter give each slice lovely warmth.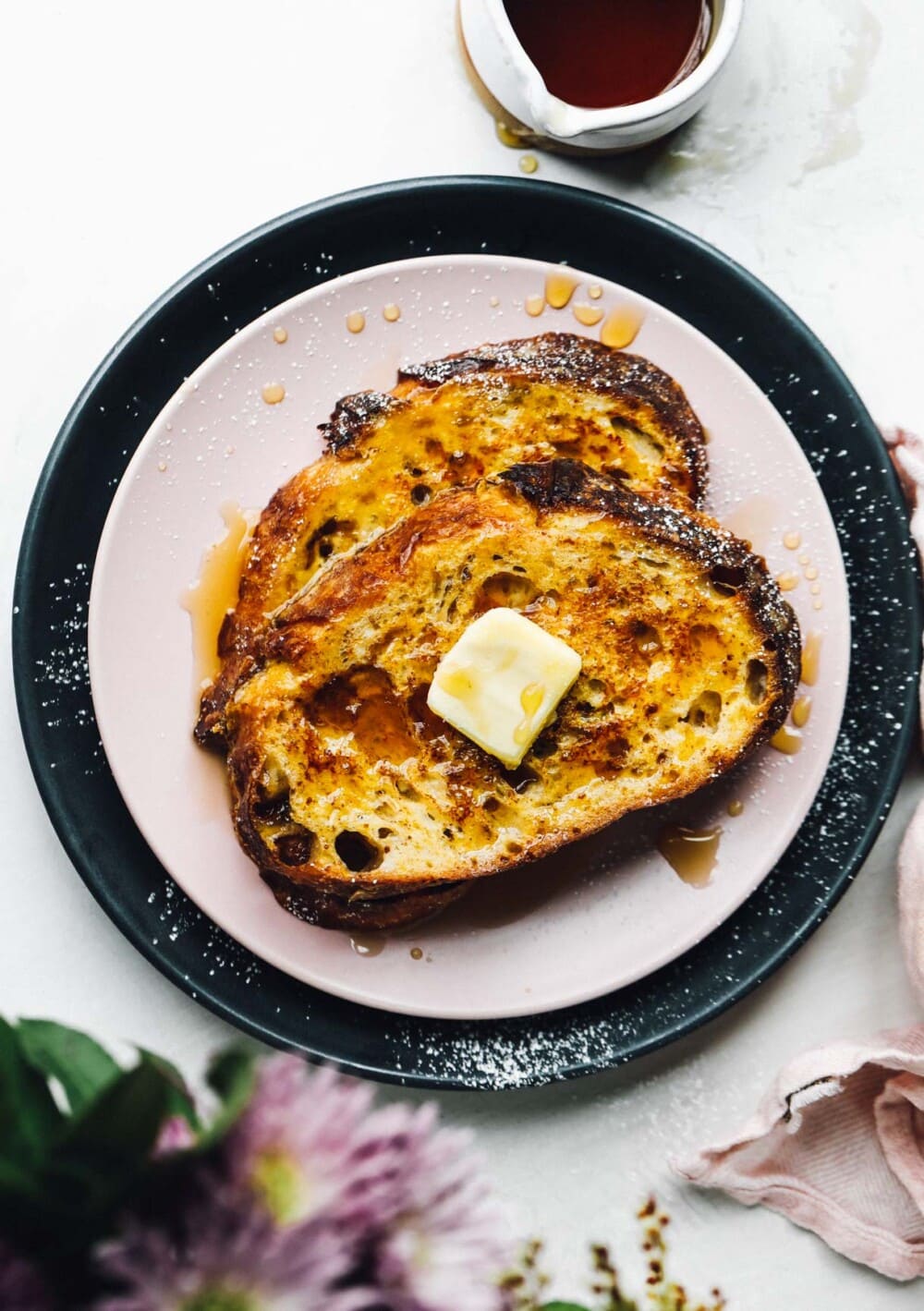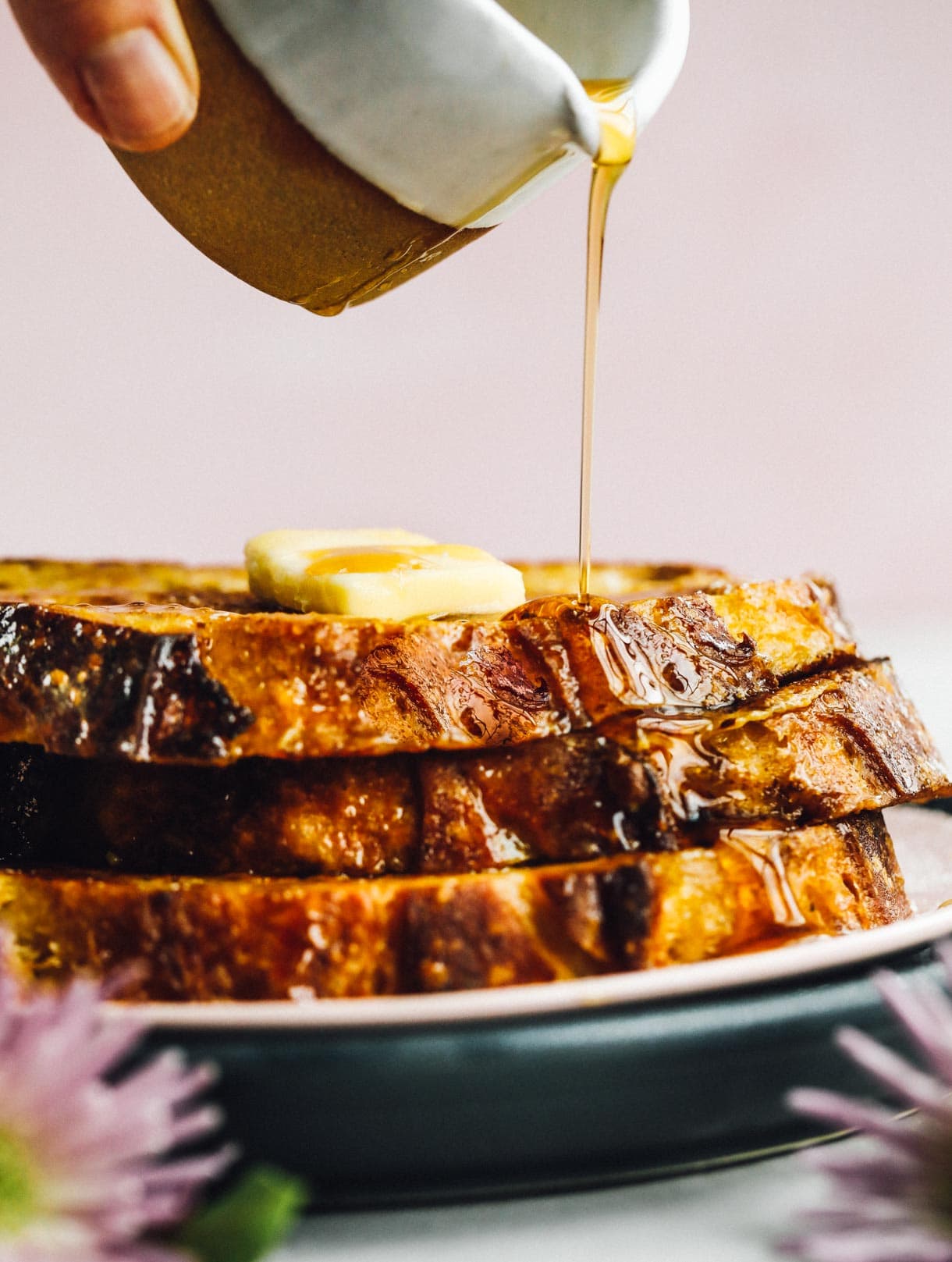 Few things are as humble, easy, and comforting as homemade french toast. It's the weekend breakfast that feels special. And it's the brunch that comes together for announced guests with what you likely always have on hand – eggs, milk, and bread.
French toast is a delicious use for stale sourdough bread.
This is my go-to breakfast recipe for a few-days-old sourdough bread that we just didn't get to. (For dessert, try this sourdough bread pudding!) The reason why sourdough works great for making french is because it has a nice sturdy structure that doesn't get soggy, which can happen with brioche or sandwich bread. When it's stale, the liquid can soak in without the bread collapsing.
How long to soak bread for french toast:
I found the sweet spot for soaking 3/4 inch slices of regular sourdough to be 2 minutes per side. If the bread is heartier, like whole wheat sourdough, you might want to soak it a touch longer. The thicker the bread, the longer it will take the liquid mixture to soak through, and for your French toast to cook.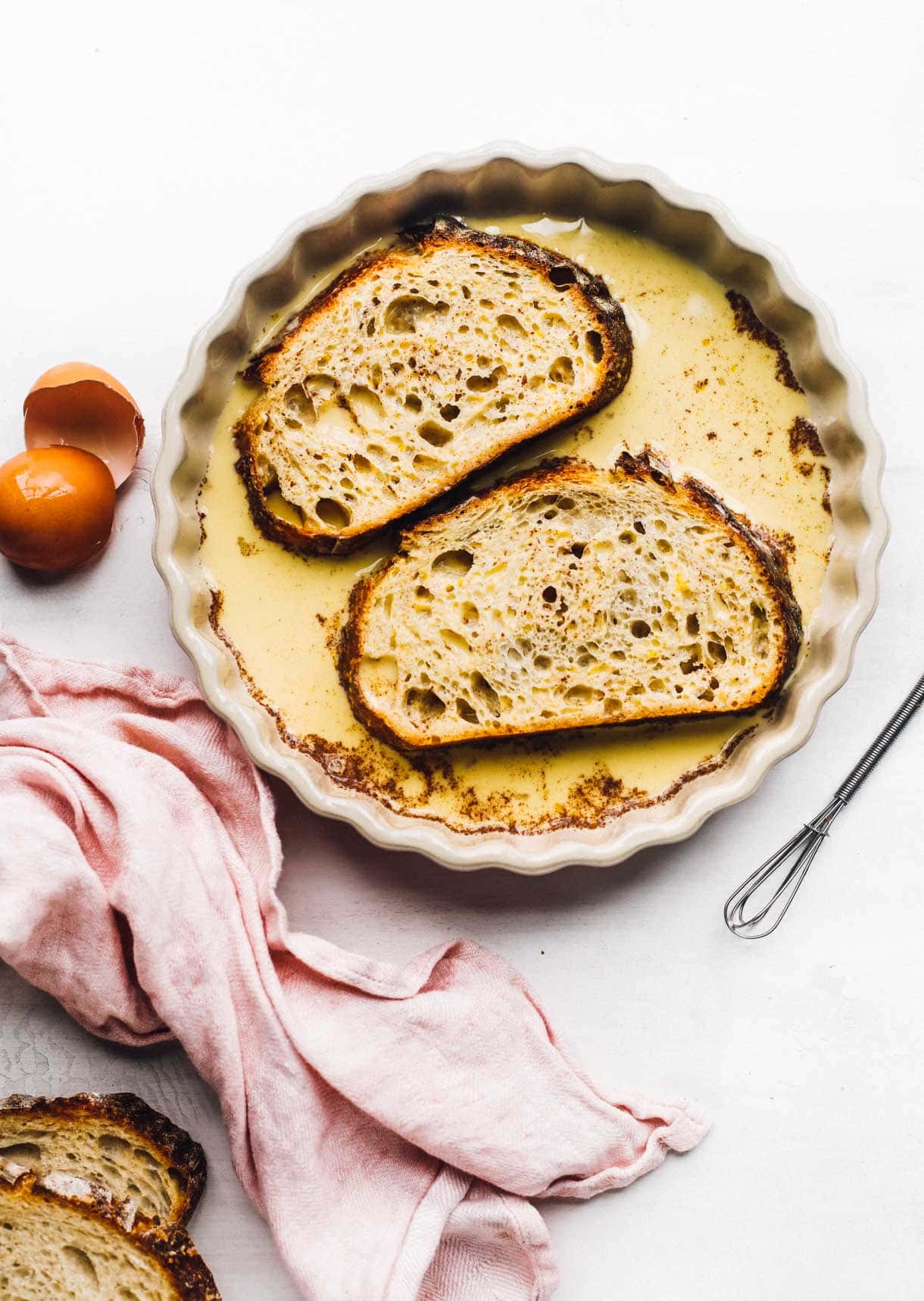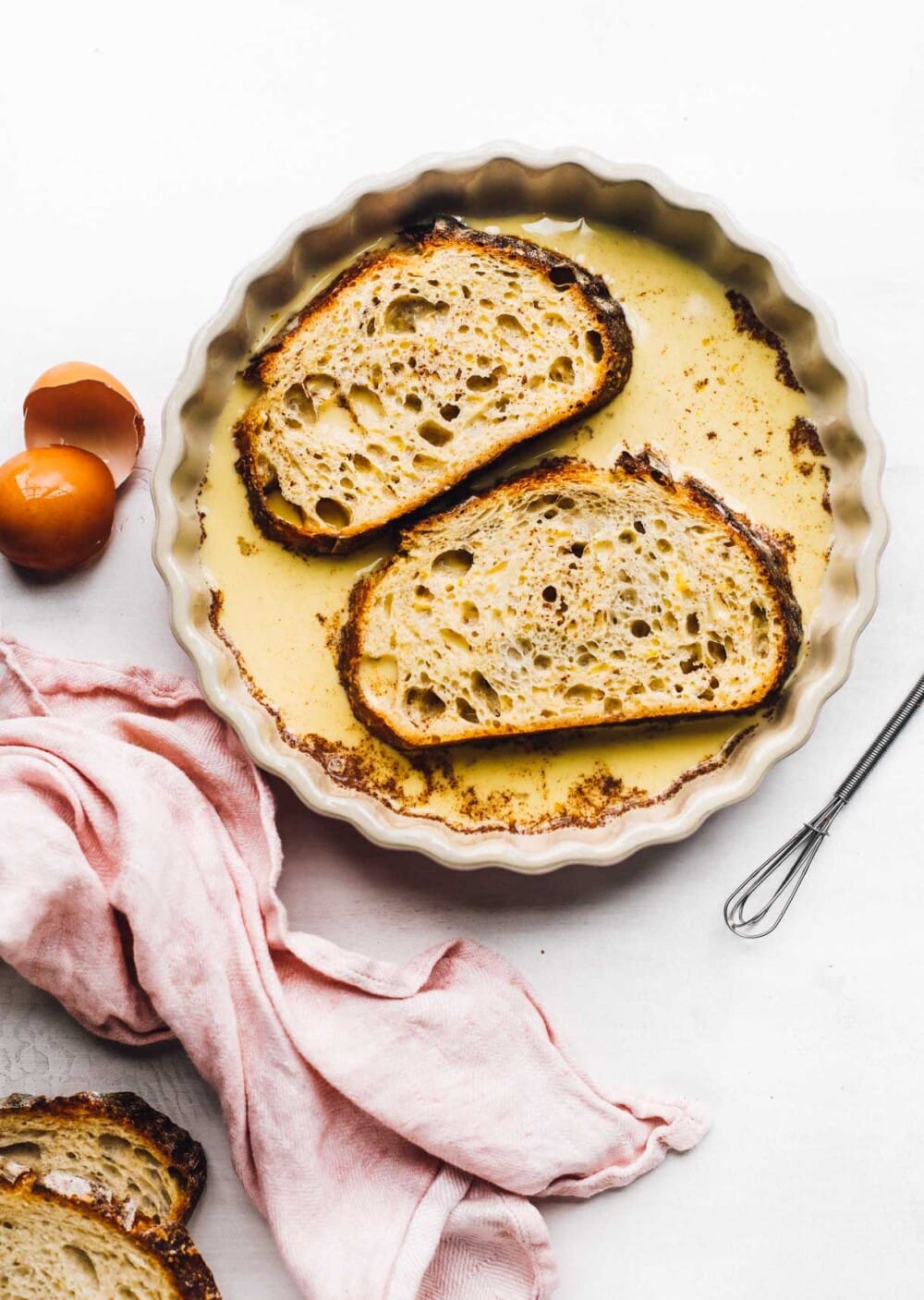 The batter
You'll notice that there is just one egg in this small batch recipe, to a 1/2 cup milk. I prefer a milkier batter over an eggy one, to give the french toast a creamier texture. Too many times I've ordered french toast that tasted too much like scrambled eggs.
And don't forget the salt. It made a big difference in bringing out the warm flavors of vanilla and cinnamon in the batter.
How To Make Sourdough Bread French Toast:
Grab bread that is 3-5 days old. Slice into 3/4 inch slices.
Whisk together milk, egg, vanilla, cinnamon, and salt. Pour into a shallow dish.
Put two pieces of bread into the dish and gently press down. Let soak for 2 minutes. Flip and let other side soak for 2 minutes.
Heat skillet over medium heat. Add butter, swirl pan, then add slices of bread. Cook for 4 minutes per side. If you want to crisp the outer side a bit more, you can turn the heat up a little at the end of cooking.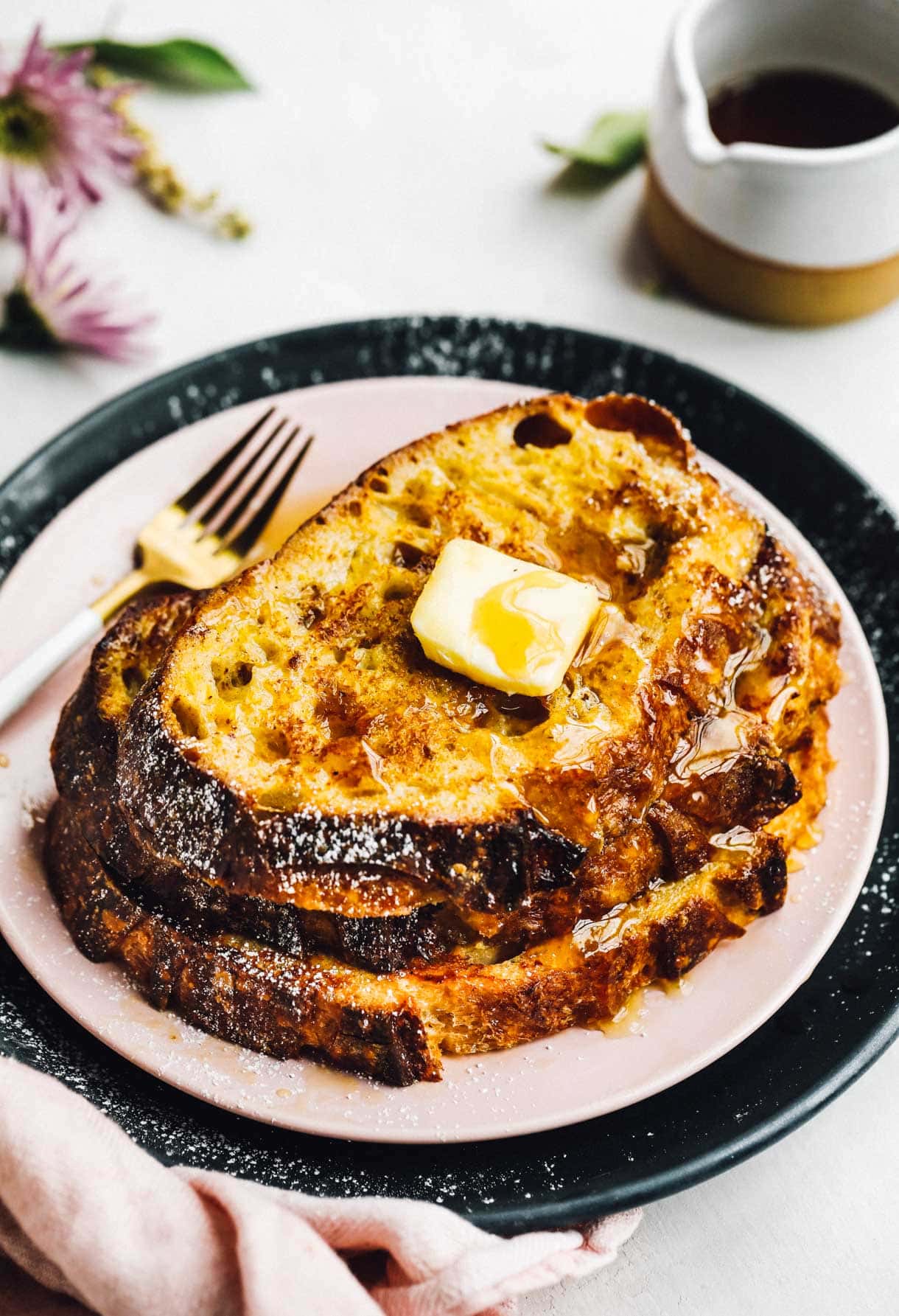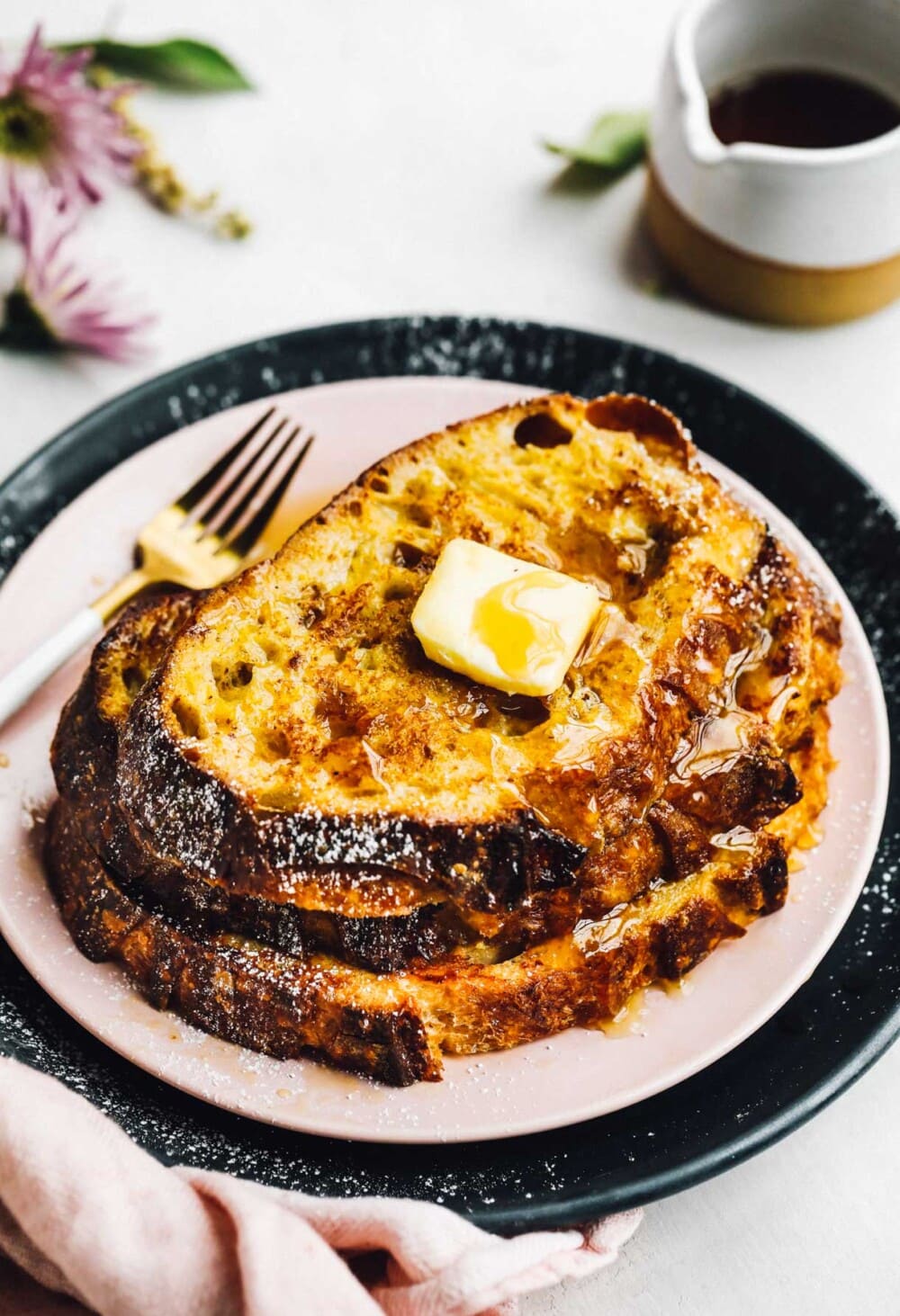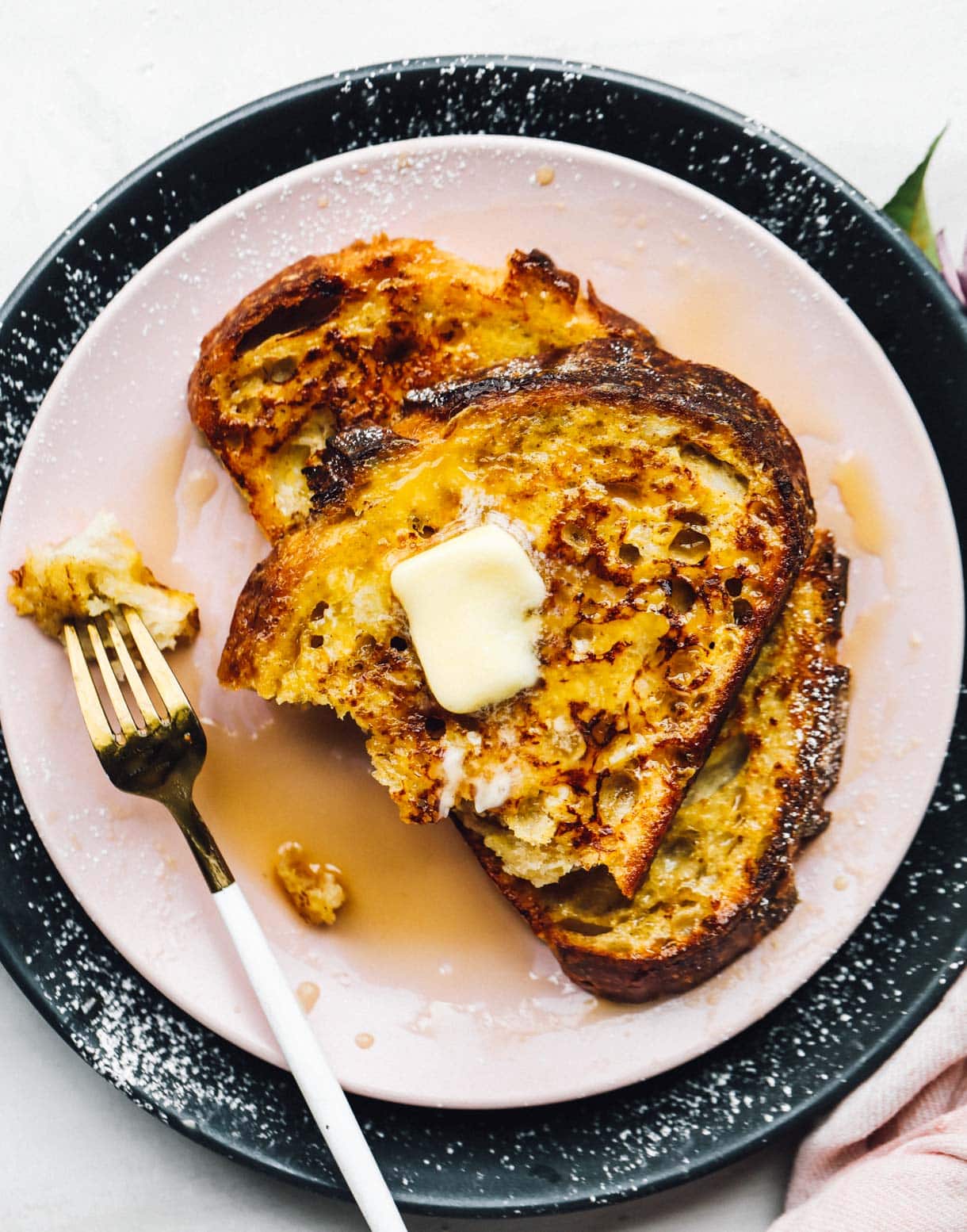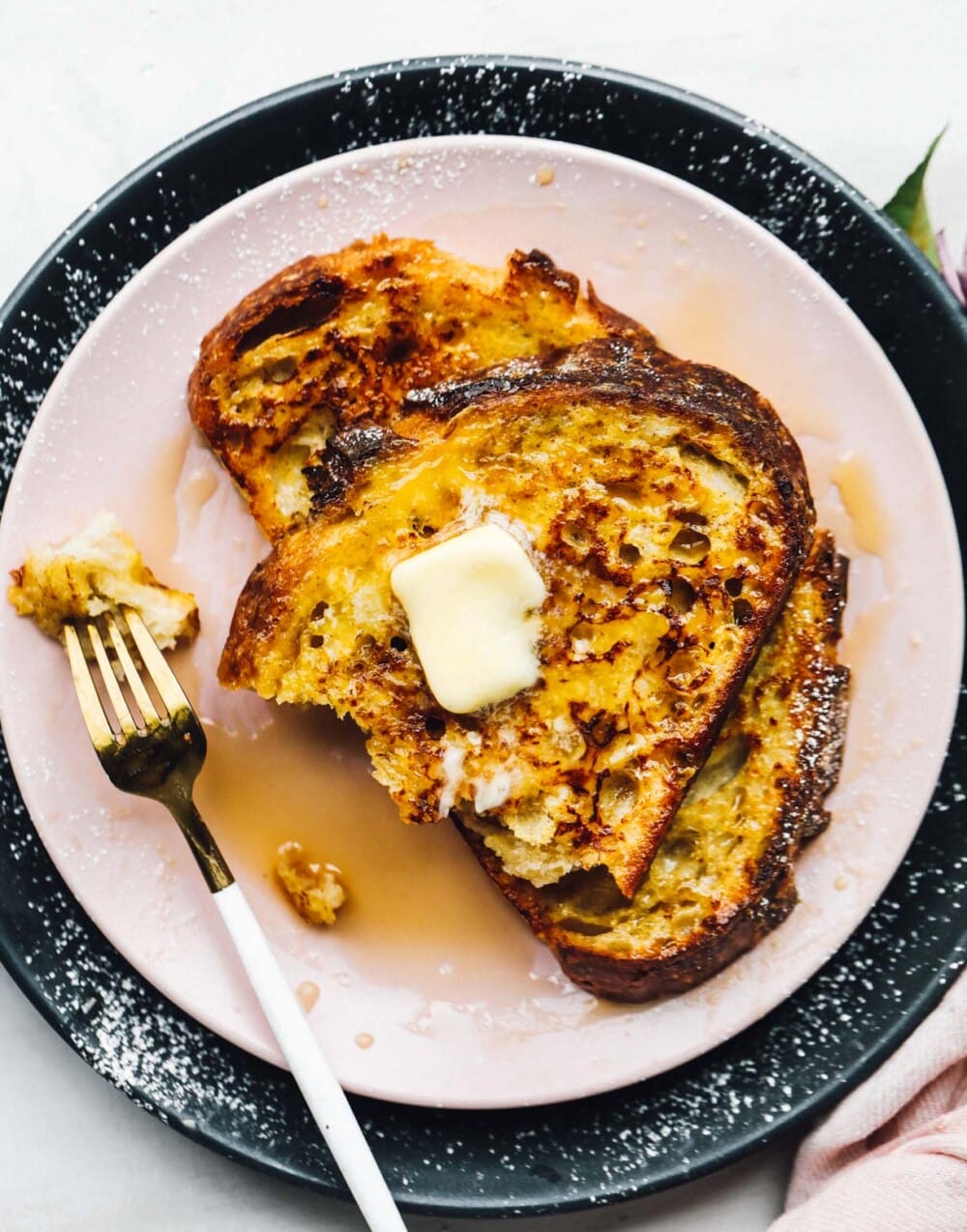 What heat to cook french toast at:
It's important to cook french toast over a medium heat to ensure the inside cooks all the way through and the outside browns without burning. If the pan is too hot, the outside will cook while the inside will be soggy.
I use butter in the pan, as it imparts a noticeable rich flavor to the french toast. Don't skip it!
More Sourdough Breakfast Recipes: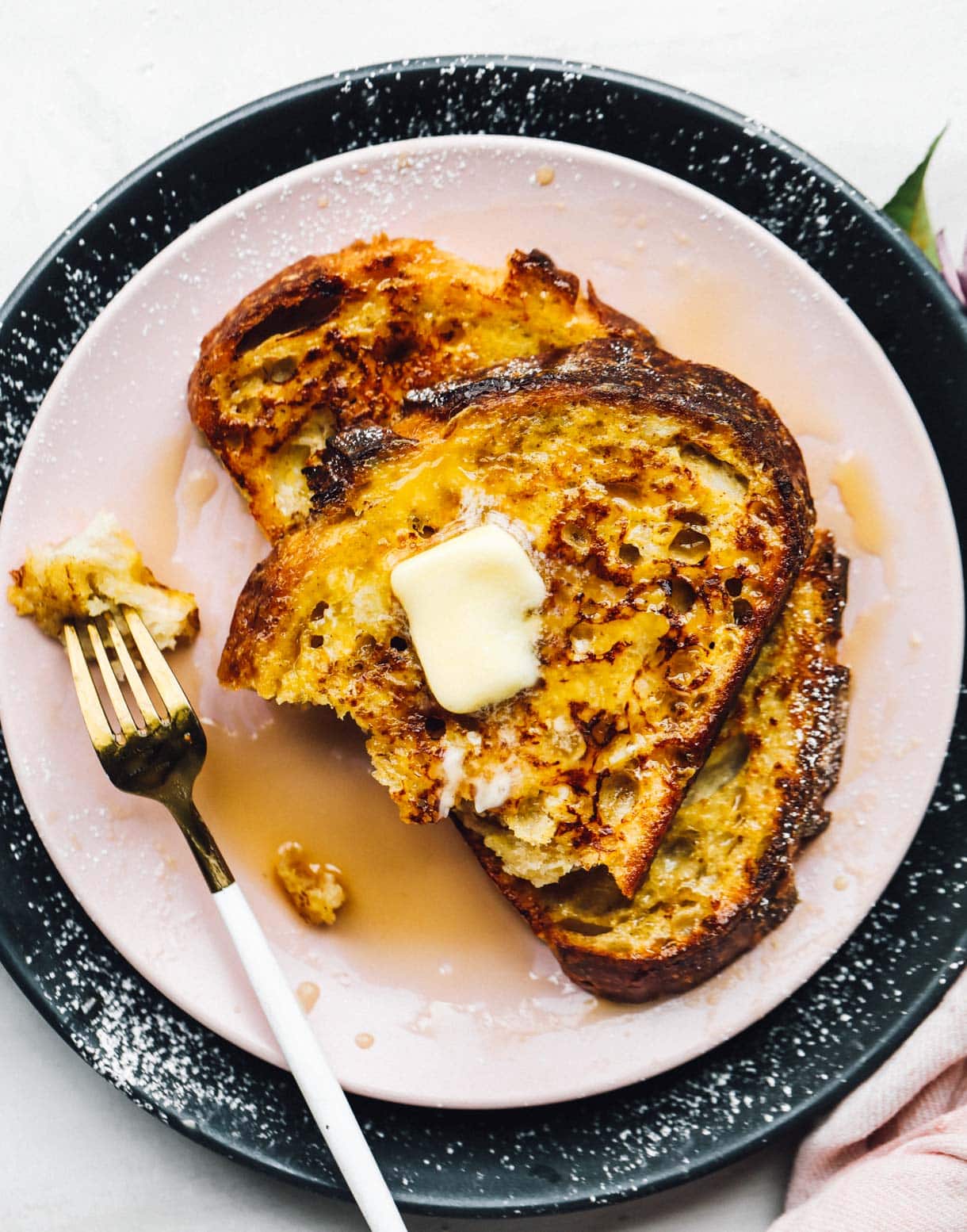 1/2

cup

whole milk

1

egg

1

teaspoon

vanilla extract

1/4

teaspoon

fine salt

1/8

teaspoon

cinnamon

4

slices

stale sourdough bread

cut 3/4 inch thick

2

tablespoons

butter,

divided
Whisk together milk, egg, vanilla, salt, and cinnamon, until thoroughly combined.

Pour into a shallow baking dish. Put two pieces of bread into the dish and press down. Let soak for 2 minutes.

Flip bread and let that side soak for another 2 minutes.

Meanwhile heat cast iron skillet pan over medium low. When bread is ready to be cooked, place butter in pan and swirl to coat. Put bread into pan and cook for 4 minutes. Flip and cook another 4 minutes, until golden brown. If you'd like it more crisp, slightly turn up heat.

Serve warm with maple syrup.