If you're even a tiny bit Scandinavian, Anna's Ginger Thins are probably familiar to you – the crisp spice cookies that go swimmingly well with hot coffee. They were a favorite of my grandmother and her sisters, a special treat she only bought during the holidays, along with angel food candy.
For some reason I was intrigued by the rectangular red box they came in, with a shiny clear window letting you peek inside just enough to spark your curiosity. I remember thinking of them as a grown up Christmas cookie. They weren't gussied up with frosting or sprinkles, glitter or chocolate. And they certainly weren't chewy or fudgy.
Instead they were light and airy, thin and crisp. Full of all the spices that signaled Santa would be coming soon – a hefty dose of ginger, paired with cinnamon and cloves, just like this gluten-free gingerbread cake.
I had all those qualities in mind when making these Five-Spice Ginger Thins, trying to create a gluten-free version of the cookies that have so many memories attached to them.
Tradition holds that you are to put one of ginger cookies on the palm of your hand, make a wish and tap it gently with your finger. If it breaks into three pieces, your wish would be granted. After painting dainty white chocolate lines on them, I placed one in my hand and wished that my grandma was there with me. To my surprise, the thin cookie with my special touch of five-spice powder did break into three pieces.
I love the deep aromatics and flavor that it brings – sweet tones of star anise, cloves, cinnamon, savory fennel seeds and a bit of bite from pepper.
This makes a pretty big batch of cookies (so a good pick for cookie boxes) because ideally you'll roll them out to 1/8 inch thick.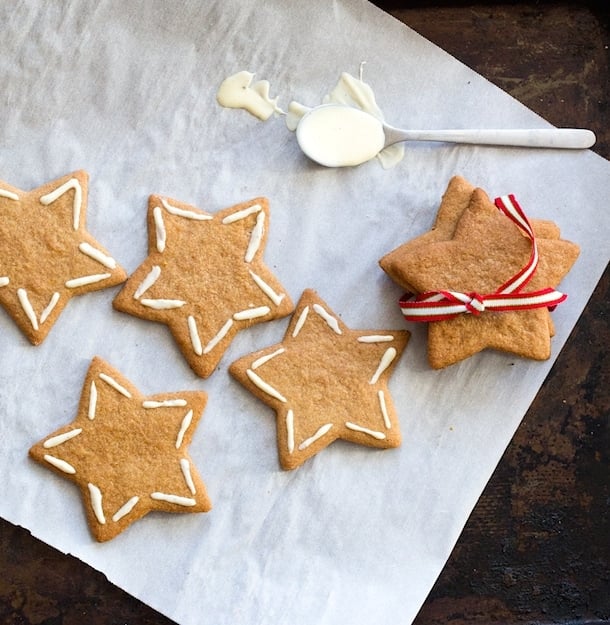 More Gluten-Free Christmas Cookies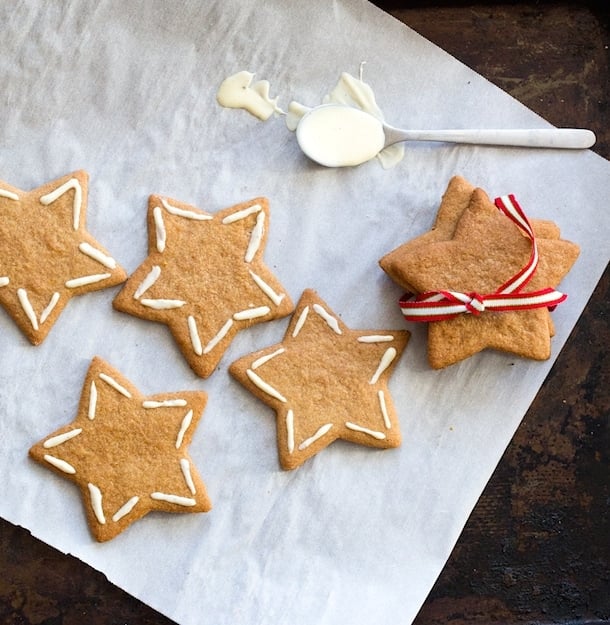 2

teaspoons

five-spice powder

1/2

teaspoon

ground ginger

1 1/2

teaspoons

baking soda

1/4

teaspoon

salt

10

tablespoons

unsalted butter – slightly melted so that you can stir it

the color and consistency of softened ice cream

2

tablespoons

honey

1

cup

sugar

I use organic evaporated cane sugar

1

large egg

melted white chocolate for decorating
Whisk together flour, five-spice powder, ginger, baking soda, and salt in a small bowl.

To a large bowl or in the bowl of a stand mixer, add honey, butter, egg, and sugar and blend until mixture is thick and creamy, about 2 minutes. Add flour mixture and blend on low speed just until dough comes together and there are no flour streaks. Form dough into a disk and chill, wrapped in plastic wrap, at least 6 hours or overnight to allow flavors to develop.

Preheat oven to 325°F. Line 2 large baking sheets with parchment paper. Quarter dough. Keeping remaining 3 pieces wrapped in plastic wrap and chilled. Roll out 1 piece of dough on a lightly floured sheet of wax paper with a lightly floured rolling pin to 1/8 inch thick. Keep dusting flour on top of dough and rolling pin to keep it frm sticking. (If dough becomes too soft to roll out, chill on wax paper until firm.) Use cookie cutter to make shapes, but do not attempt to remove. First, place sheet in freezer with the dough cut in shapes for 5 minutes, then remove and peel away scraps. Place on parchment lined baking sheet, 12 per sheet.

Bake cookies until slightly puffed and a shade darker, about 7-8 minutes. This time can vary depending on the thickness so be sure to watch your first pan closely. Cool 5 minutes on sheet. (If your cookies are a little thicker and puff up, that's okay. They will will flatten slightly as they cool.)

While first batch is baking, roll out and cut another batch, arranging cookies on second lined sheet. Proceed in same manner, then gather scraps and chill until dough is firm enough to reroll, about 10 minutes. Make more cookies with scraps (reroll scraps only once) and remaining pieces of dough, then bake when oven is free.

You can leave them as is (best for shipping) or after cookies have cooled, use a toothpick or paintbrush to paint white chocolate around the stars. To speed things up, drizzle the white chocolate very lightly onto each one.